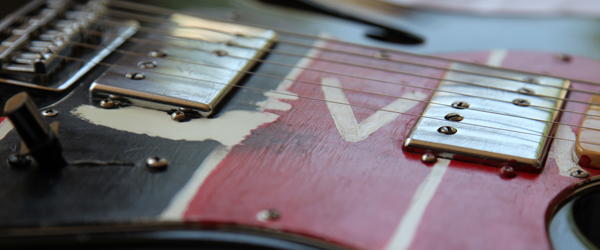 Some reading the England Journal series of articles are probably interested in knowing a little more about my appreciation of Coldplay, and why I would travel thousands and thousands of miles by car, plane, and train to attend a few concerts in another country. As such, I thought I would explain a little more in this supplemental article about my love for the band and their music, details about a charity auction one year ago, and the prize of my pop culture memorabilia collection.
PLEASE NOTE:  This article first appeared in different form on the Original Prop Blog (click here for original), and has been copied to the Rock Subculture Journal after the fact.
As readers of the Original Prop Blog would know, I have an immense fondness for film and television, as evidenced by the existence of this website and my sharing news, information, and opinion about collecting and preserving original artifacts used in these productions. Additionally, my love for music is equivalent to my love of film, and may even surpass it. I have well over 10,000 tracks on my iTunes account and have probably attended over 100 live concert performances from various bands and other recording artists.
For me, I view music as a much more artistic and "pure" and visceral endeavor, when compared with film and television production, which is very collaborative and much more business-driven. I also feel that music truly has a real power that cannot be matched by other art forms. Looking at the history of popular music, it has had the ability to have a real impact on people individually and the culture overall.
I also feel it is really amazing that a performer or a band can go on stage and perform and replicate their art in real time, before an audience, and really engage them on a much more personal level.
So while I absolutely love movie and TV props and costumes, I've always had a real fascination with the prospect of collecting an important piece from a favorite band.
Many friends in the hobby often talk about their "holy grails" in collecting. For me, it was finding a nice piece from one of the "Original Trilogy" Star Wars films, which I was finally able to do two years ago when I acquired one of the original Bapty Stormtrooper blasters.
My other "holy grail", which predated my pursuit of collecting original props and costumes, was to find a stage used and/or studio used instrument from one of my favorite bands. Such pieces don't come available very frequently, and provenance and authenticity is obviously a fundamental consideration, just as with movie props. So until last year, there was never any opportunity to pursue such a dream piece.
A year ago, last December, my favorite band Coldplay had announced their "End of the Decade Clear Out Sale" – a full catalog of stage and studio pieces, put up for auction, direct from the band with their own COA, with proceeds to benefit a very worthy charitable cause, Kids Company.
This was the auction I had always dreamed of. A short video was produced by the band to promote the event, though the scope of the auction was merely hinted at.
As time passed, I imagined what they might auction; though I expected really cool pieces, I wondered just how far they would go with this…
When the catalog was finally made available via PDF, I had one thing on my mind – the "Viva" guitar. For me, that would be the ultimate piece.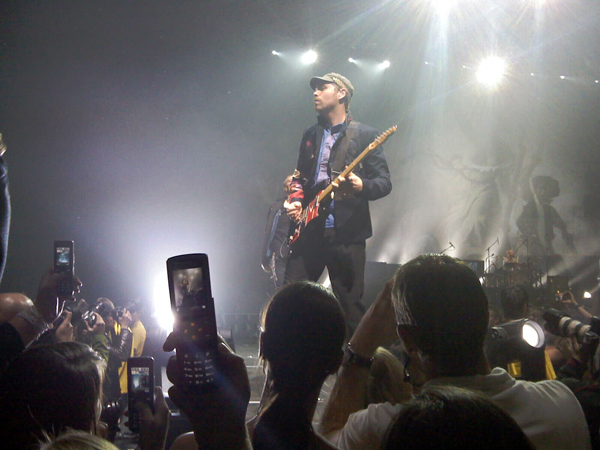 As I went through the catalog, I was amazed at all of the incredible material that they were selling – almost everything was stage and/or studio used. Guitars, pianos, "the globe", and more. Then I finally saw it, Lot 39 – the "Viva" guitar. I couldn't believe it. There was even a photo of Jonny kissing his favorite guitar good-bye, because he did not want to part with it…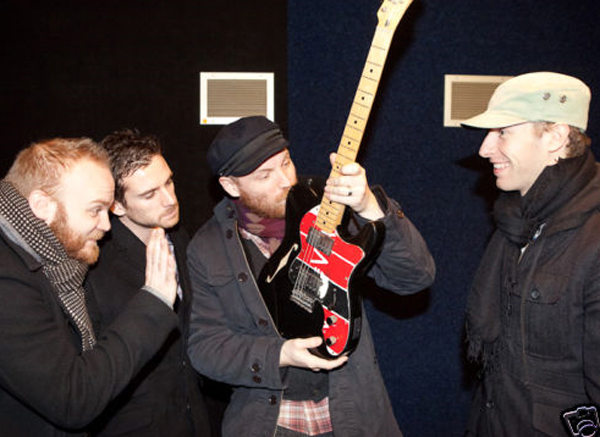 Below is the description from the auction catalog:
LOT 39

Jonny's Black Viva Thinline '72 Telecaster

Auction period: 21-31 December

This was Jonny's main guitar all through the X&Y and Viva tours. Drenched, scorched and thoroughly vibed. He hesitated to sell it as it means a lot to him (he literally kissed it goodbye after the photo was taken). Sounds wicked. Brilliant for feedback! This item comes with a certificate of authenticity, signed by the entire band.

NB: This item will be dispatched after Coldplay's upcoming Latin American tour
I found it to be the most amazing piece in the catalog for a number of reasons. It is the iconic piece from the "Viva" album and era, with "Viva" painted across the pick guard, its appearance in the "Viva la Vida" video, and its prominence in all of the live performances on the tour, consistently being used for a majority of each show.
About the song "Viva la Vida" from Wikipedia:
The song was released on 12 June 2008 as the album's second single, debuting to critical and commercial success. "Viva la Vida" reached the top spot of the UK Singles Chart and Billboard Hot 100, becoming the band's first number-one single in both the US and UK. The song won the Grammy Award for Song of the Year at the 51st Grammy Awards in 2009. The song became the sixth song in digital history to reach the 4 million mark in paid downloads. It has sold over 5 million copies in the United States, becoming only the second song by a British act to reach this milestone.
The guitar also is featured in the LOST video directed by Mat Whitecross filmed on a concert in Chicago, Illinois in 2008.
It is also seen in the LOST+ featuring Jay-Z with Viva La Vida performance at the 2009 Grammy Awards video:
More, this guitar was also used in support of their previous album, X&Y, and that tour (though at that time the pickguard was white), and also appeared in the "Speed of Sound" video.
Critically, it was also used in studio to record tracks for Viva la Vida. Amazing.
It was also used in a number of televised live performances, like the 2006 (below) and 2009 Grammy Awards shows (the latter for which they were awarded "Song of the Year" for Viva la Vida), the MTV European Music Awards (below), at Rockerfeller Center for the Today Show, at the BBC, and others, as well as used for many years over tours supporting the last two albums, with live performances in front of millions of people.
The best produced footage from a live concert from the last tour is the MTV World Stage broadcast from the Tokyo event, in which "Blacky" is used on a number of the songs, with "In My Place" being a great example below:
It even appears throughout the band's interview with 60 Minutes.
The auction itself was spread over several days. Without going into all of the details, I decided to forgo bidding on any other item, and to simply hope that I would be fortunate enough to win the most prized piece listed for sale. Unfortunately, it was the first lot on the last day of a multi-day auction, so most of the pieces I might have otherwise bid on as part of a contingency plan were sold.
Ultimately, with some significant luck and a (literally) last minute decision to up my bid amount, I won the auction – by a mere 15 pounds.
I could not actually believe that I won for some time, as it just seemed unbelievable. To compound that, the band was still touring and using the guitar in their concerts, so I would not actually receive it for many, many months after the auction, as they used it for the Latin America leg of their tour.
As I waited, Coldplay's "Roadie 42" published a really cool video on Coldplay.com, with Chris Martin and Jonny Buckland talking about how Jonny was "playing somebody else's" guitar:
Eventually, I finally received the guitar, and just couldn't believe it. It shipped in it's original flight case (with "TOTP" stickers still on it – I think from the UK "Top of the Pops" show) and of course "COLDPLAY" spray painted on sides of the case. When I opened the case, the guitar had some of the effects butterflies from the live performances of "Lovers in Japan" neatly folded into the guitar body.
After winning the piece, and doing more research, I learned that Jonny actually names his guitars, so I was interested to see if I could learn the guitar's name. Once I had it, it was clear: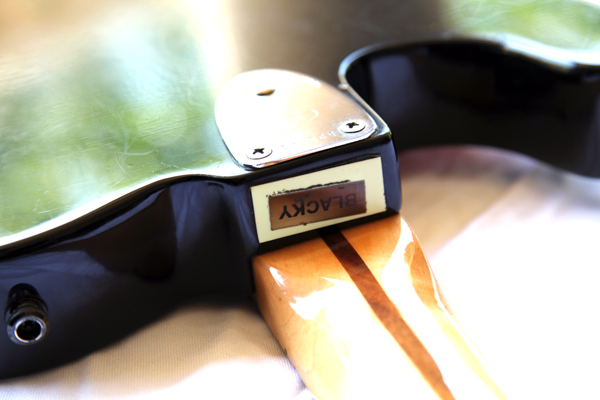 Interestingly, the label is positioned with glow-in-the-dark background so that it can be identified on stage during performances, looking down with guitar on stand.
It is just a beautiful instrument, and an important artifact from the band that any fan would instantly recognize.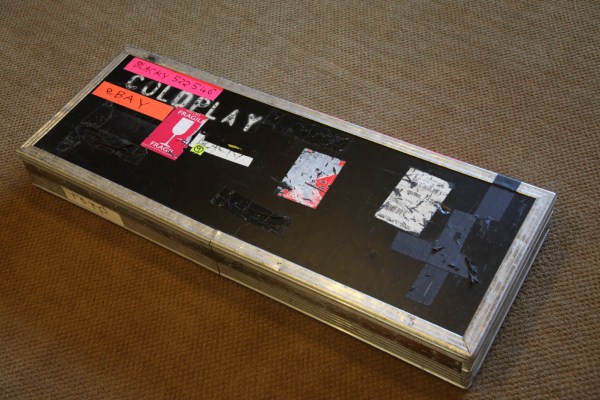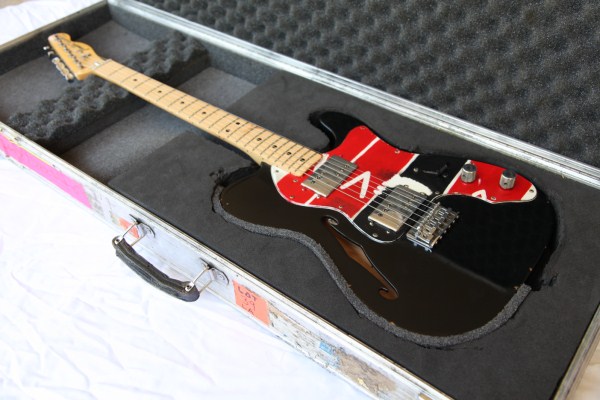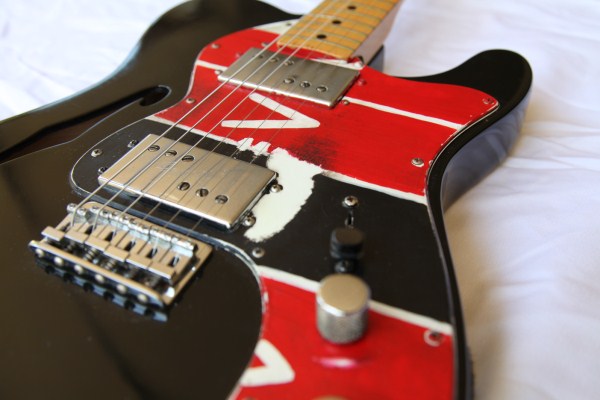 As can be seen, the guitar is painted with the "VIVA" themed artwork that carries across the Viva-era visuals employed by the band: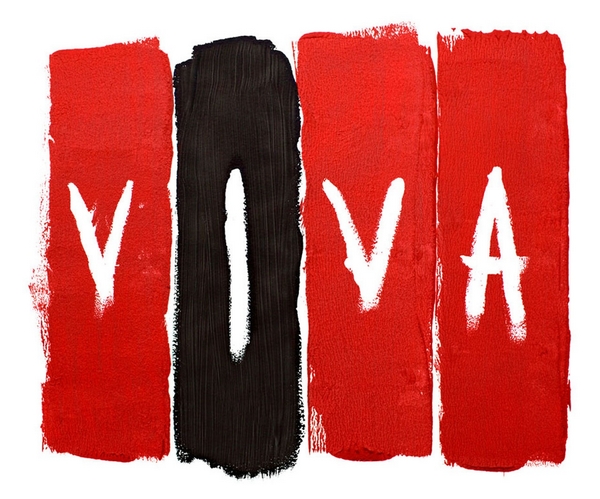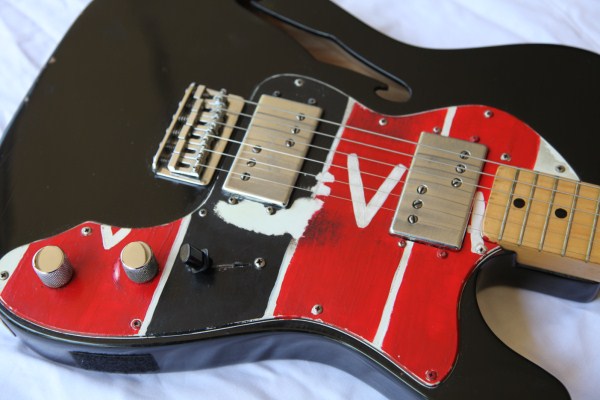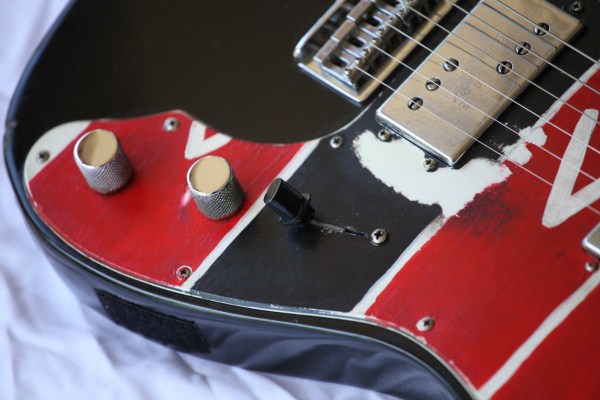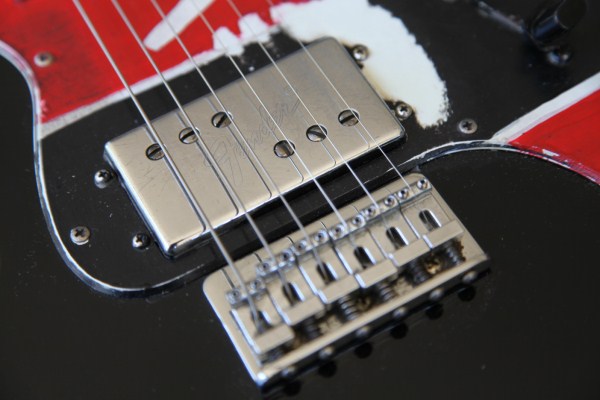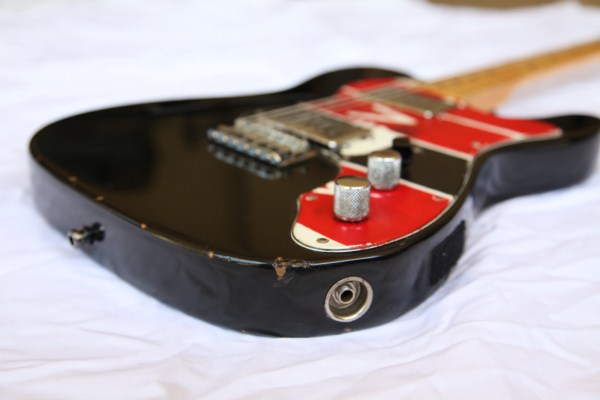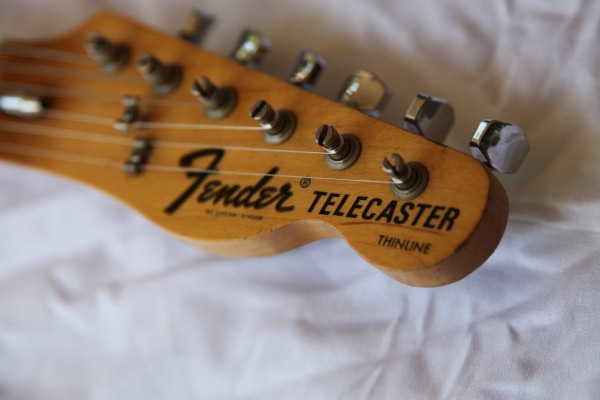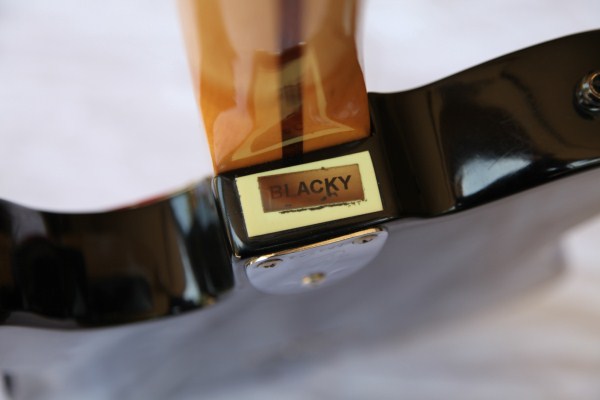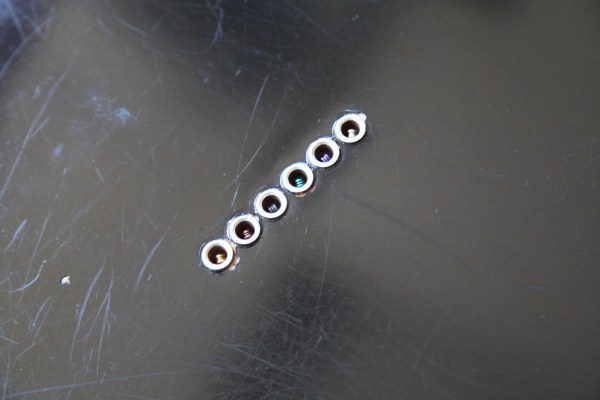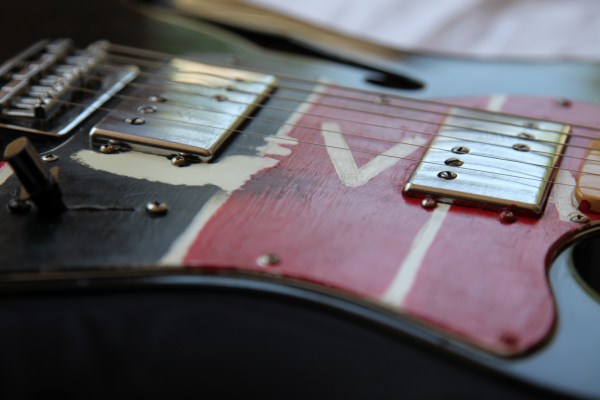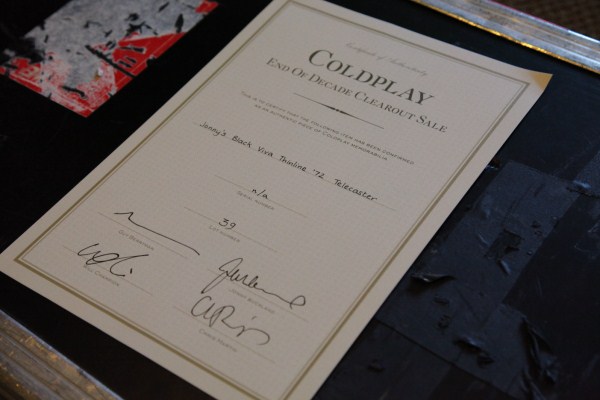 Some months ago, Matt McGinn released "Roadie: My Life On The Road With Coldplay". Matt is Jonny Buckland's roadie and manages his guitars, and writes about them extensively in his book. "Blacky" is referenced a few times (page 99):
This brings us in a nice, neat, Virgoan sort of way to Jonny's onstage setup, i.e. My Job. Well, I could bore the arse off you about this stuff for hours, but really what we've got going on is about as simple a rig as a sonic nutcase like JB can make do with. Walking an echoey line between restraint and abandon is a big part of what Jonny's live playing is about, to achieve which in a huge arena, theatre, dive bar or anywhere else we will need daily:

6 x Vintage Fender '72 Thinline Telecasters (tuned in all sorts of ways from normal, standard tuning right through to a crazy-ass one for '42' that has each string tuned to a different 'F') All Jon's electric guitars have names ending in 'y' – Blacky, Sunny, Browny etc.
More (pages 108-109):
Jonny and I, by comparison, go through about a twelfth of U2's daily string quota. I don't feel the need to re-string all the axes each day, partly because even at high revs his playing is so undamaging and non-corrosive that we could probably go a week of high-octane shows before any strings started to break… well, except for '42' where he absolutely hits the living shit out of poor 'Forty', mid-set, centre stage and on full turbo. I'll redo his main guitar – a gorgeous, heavier-than-normal black and white 1972 Fender Thinline currently painted with the Viva logo – before every gig, simply because he'll usually smack it to fuck on the first few numbers and then use it for about half of the set beyond that. The strings on the other guitars, which might only get thrashed once or twice each night, are cleaned daily and replaced in rotation so as to keep things fresh without being really wasteful.
Acquiring this guitar had inspired me to somehow find a way to someday meet the band in person so that I could 1) let Jonny know it is in safe hands and 2) ask a few questions about it.
In early December, I had an opportunity presented to me that would allow just that, though it would require me to travel to England.
This journey is chronicled in my series of articles, of most significance is the entry for Day 5, which was the day that I personally met the members of Coldplay as well as Matt McGinn.
All articles in this series can be found via the link below: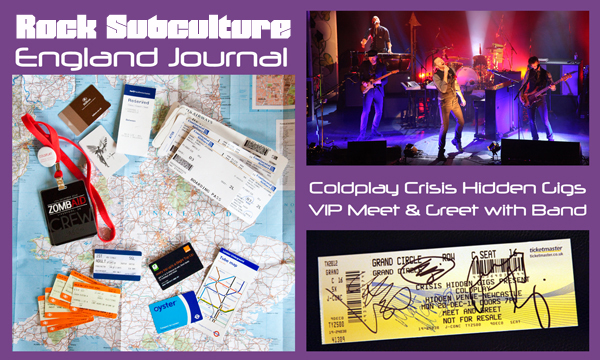 Jason DeBord