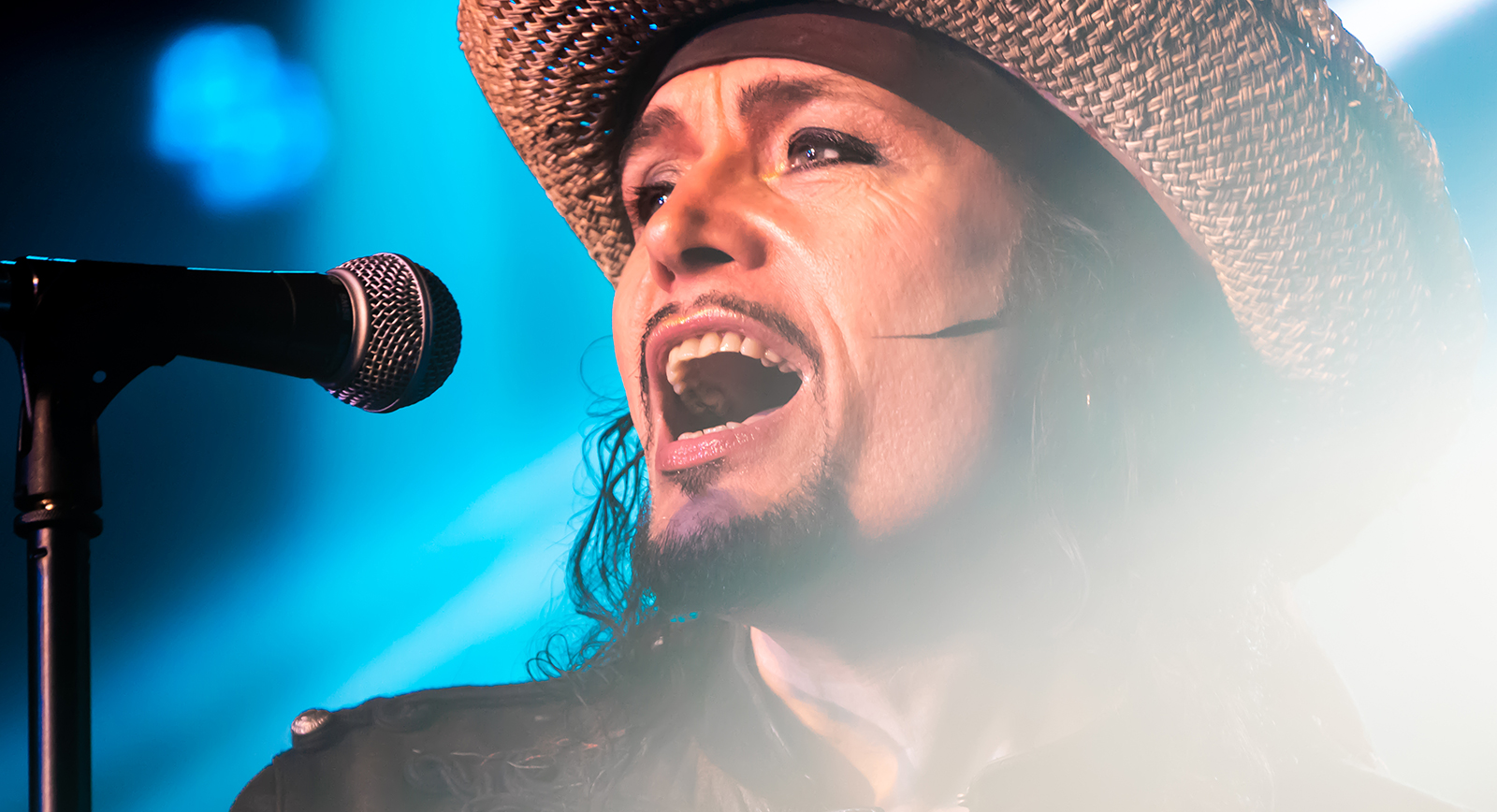 "This next song I've been singing since I first came to the USA many years ago… it still means a great deal to me. It's called Kings of the Wild Frontier." Adam Ant with his amazing band, in front of an enthusiastic crowd at Silver Legacy Resort Casino's Grande Exposition Hall in Reno, Nevada.  Performing artists say things like that all the time, and a jaded concert-goer might consider it mere banter in-between songs.  Not so, with Adam Ant.  After performing that song on Saturday night – originally released early in the New Wave era way back in 1980 – Adam Ant paused for a moment as the heartfelt accolades of the fans in the room showered over him.  For some reason, I happened to capture the moment in video on my iPhone from the video screen off to the side (iPhone video snippet here), and at the time and in review again going through my notes and videos I took another look and Adam Ant has so much emotion and gratitude on his face at that moment that it's genuinely moving to, well, feel him "feel".  He brings so much to the stage with his concert and presumably touring in general these days that I felt so fortunate to just be part of this incredible show that brings his latest North American tour to an end.  It's definitely may favorite show of 2018 thus far, and I can't imagine anything besting the experience.  Truly an icon of music and pop culture for my generation, and I firmly believe his live shows today are the best he's ever given his fans.
Who: Adam Ant
What: Anthems: The Singles Tour
Supporting: Glam Skanks
Venue: Grande Exposition Hall at Silver Legacy Resort Casino
Where: Reno, Nevada
Promoter: Silver Legacy Resort Casino
When: August 4, 2018
Seating: (description)
Somehow this was actually my first show ever at Grande Exposition Hall at Silver Legacy Resort.  I really could not have come away more impressed.
The staff was very nice and helpful (and happy to be there, which can be a rare thing in the word of live performance venues).
The venue itself was a nice size – not too big, and not too small… not really a bad seat in the house.
The stage was low enough to really feel the performance.  The lighting was amazing!  And this is coming from a photographer; lighting in most venues can be okay as a patron but awful for photography – with this venue, it was excellent for both.  Some of the best lighting I've seen this year, if not THE best.  And the sound was equally excellent.  Loud but not too loud and distortion free.  Could fully enjoy without the need for ear protection.  It doesn't really get any better than that.
So my first experience with this venue, and now definitely not my last.
Glam Skanks
Members:
Veronica Witkin (lead guitar, vocals)
Vanessa McNiel (lead vocals)
Millie Chan (bass, vocals)
Cassie Jalilie (drums)
This was my first time seeing supporting band Glam Skanks.  The LA-based band released their debut album, Glitter City, last year.
A young, all-female band, they seemed to find success in connecting with the audience with their opening set on Saturday night.
Set List:
Ladylike
Wild Soul
Fuck Off
Karma
Bitch
Below are some photos of Glam Skanks performing on stage (scroll downward and photos will begin to appear – click any image to open a virtual lightroom with higher resolution versions of each photo):
Adam Ant
Members:
Adam Ant (vocals)
Andy Woodard (drums)
Will Crewdson (lead guitar)
Jola (drums)
Joe Holweger (bass guitar)
A.P. Leach (guitar)
Due to unavoidable conflicts over the past few years, I've not seen Adam Ant live in concert since 2013, so it's been some time.  My wife, Shelley, could not have been more excited about this show, as he was one of her favorite artists growing up, and she'd never seen him in concert before.  In fact, we'd already scheduled in seeing Toto in Reno on the same night as this concert (with incredible seats) and changed things up to make sure we didn't miss this show.  Even with sky high expectations, this concert on Saturday night exceeded all of them… it was such an epic show as well as profoundly personal experience.
As a preface to my thoughts specific to the show, I thought I would also share some background on Adam Ant and his career in music.
Adam Ant is truly a legend of the New Wave, especially its origins in the early 80s. Responsible for an incredible body of work with many hits featuring a unique blend of musical styles and innovations, he was critically vital in his influence on his peers and subsequent artists, not just in music but fashion as well and pop culture at large (would Johnny Depp even have "a look" and style if Adam Ant hadn't come before him?).
Born Stuart Leslie Goddard in the mid-1950s in London, he initially studied graphic design at the Hornsey College of Art, though ultimately dropped out to pursue a career in music. I would imagine that his interests in graphic design carried over into his music as well, and was in some ways instrumental to his understanding of and capitalizing on the shift of popular music featuring a vital visual component.
With the advent of MTV and music videos, Adam Ant featured prominently in rotation on the network in the early 80s as part of the wave of UK imports. Adam Ant's music videos employed his unique and distinctive style, ideas, and imagery.
Prior to launching his own "Ant"-branded band, he played bass in a group called Bazooka Joe, which headlined a live concert in November 1975 and featured the first public performance by the Sex Pistols, who were their supporting act. He then formed a new group called the B-Sides.  In 1977, he adopted the name Adam Ant, and he reformed the B-Sides as Adam and The Ants. It was around this time that Adam Ant also began acting, and was in Derek Jarman's film Jubilee, which also featured some of their music in the soundtrack.
Their debut album, Dirk Wears White Sox, was released in 1979.  Adam Ant approached Malcom McLaren (the Sex Pistols manager) and asked him to manage their band; McLaren ultimately convinced the entire band, sans Adam Ant, to leave the band and reform as Bow Wow Wow with adolescent Annabella Lwin fronting on vocals.
The band was reformed by Adam Ant with all new players, and then released Kings of the Wild Frontier in 1980, which led the New Romantic movement.  "Antmusic" reached #2 in the UK singles charts.  They quickly followed with another album, Prince Charming in 1981, which included two #1 UK hits, the title track and "Stand and Deliver".  The two songs, as well as hit "Ant Rap", included pioneering music videos.
Only a year later, Adam Ant decided to disband the group and record and perform as a solo artist, Adam Ant.  Friend or Foe came out shortly thereafter, in 1982, which featured the hit "Goody Two Shoes", which reached #1 in the UK and #12 in the U.S.
Continuing with his prolific recording regimen, his second solo album, Strip, was released in 1983.  Phil Collins even served as producer and drummer on two songs, including the title song, which was banned (both the song and the video) in the UK.
His third solo album, Vive le Rock, debuted in 1985, which resulted in a subsequent career shift from music to acting, which was his focus for the remainder of the 80s.
Adam Ant ultimately returned to music, with a new album, Manners & Physique, in 1990.
No new work was published for another five years, but Adam Ant had arguably his biggest mainstream success with the title song of that 1995 album, Wonderful, which was quite different from all his music that preceded it.
His most recent album, Adam Ant Is the Blueblack Hussar in Marrying the Gunner's Daughter, was released in 2013.  You can check out my full review of the album (it's amazing) here: LINK
So… Adam Ant… I first learned of him via MTV and mix tapes from my older sister's friend.  This was circa 1981 or so… just as I was hearing acts like The B-52s, Duran Duran, Billy Idol… his music most definitely sounded very "foreign", and the vocals and layered drums played a big part of that for me.  So he along with a handful of others were instrumental in the dramatic shift in the sound and style of music from the 70s to the 80s.
One of the first videos I remember seeing was "Desperate But Not Serious", which featured horns (which aren't part of his current live tour) and dual drummers (which are part of the stage performance today).  Also a longstanding fundamental part of his image – his overt sexuality in themes, ideas, and images (in fact, at one point MTV named him their "Sexiest Man Alive").  Another early favorite was "Stand and Deliver", with his Victorian/pirate outlaw style appearance and trademark painted stripe across his face. "Goody Two Shoes" was more of a rockabilly throw back type of sound – a song you could imagine Elvis singing (or even the Stray Cats).
The current tour, dubbed "Anthems: The Singles Tour", did not feature any of the new music from the 2013 album, Adam Ant is the Blueback Hussar in Marrying the Gunner's Daughter, nor the massive hit "Wonderful" (though taking a look at the set list on the stage, it looked like it was a toss-up between that and "Young Parisans".
Speaking of the set list, here is an image of it:
Adam Ant and his band played a blazing 25-song set, which is listed below…
Setlist
Beat My Guest
Vive Le Rock
Dog Eat Dog
Apollo 9
Friend or Foe
Ant Music
Room at the Top
Desperate but Not Serious
Cartrouble
Young Parisians
Prince Charming
Zerox
Gotta Be a Sin
Puss 'n Boots
Can't Set Rules About Love
Christian D'or
Strip
Kings of the Wild Frontier
Greta X
B-Side Baby
Stand and Deliver
Encore:
Goody Two Shoes
Lady
Red Scab
Physical (You're So)
As mentioned, I'd not seen Adam Ant live since 2013, and I can't believe how amazing he looks today.  Not only does he appear physically fit, but I think anyone would have a hard time keeping up with his energy on stage.  He's does not come across like an aging 80s pop star phoning it in…  I imagine that he carries the spirit of his younger self guided by the wisdom of a veteran of the entertainment industry.  But first and foremost, he is there to put on an amazing show for his fans.
The entire performance is framed by Adam Ant style…  the slow burn entrance onto the stage, the style and fashion from Adam and his bandmates, the technical quality of the show…  everything is done to perfection.
Adam Ant still carries that post punk torch, and all of the songs retain that edge (obviously some more than others).  More, he and his band really "contemporize" the songs we all know and love and bring them up to date while realizing them live on stage in a way that just exudes authenticity.  The music has never sounded better.
And that is really what it all comes down to…  though I believe some of the original music had tongue in cheek stylings, Adam Ant respects the work as an archive of music that means something to his fans as well as pop culture at large, and this comes through in how he presents it today.  He amassed such an eclectic body of work that I think might it collectively may even transcend how it was perceived at the time (maybe even by Adam Ant himself).  But the work as a whole features so many amazing songs and really ground-breaking songs that it is even all the more impressive in retrospection.  What was done then looks even more innovative today.  It was such an interesting time for both music and pop culture, and somehow Adam Ant had a big impact on all of it.  He was a real visionary.
With this show on Saturday night, Adam Ant also seemed different from what I remember of his shows just five and six years ago… he's much more engaging with the audience, and a bit more chatty and relaxed.  Really in his element.
About halfway in, he said "this next song involves a bit of audience participation… if you fancy that. If you want to join in, at the end of the song, the words you gotta sing are "Prince Charming [cheers]… Prince Charming, ridicule is nothing to be scared of…"  The audience was more than eager to make that song an interactive experience.
Another interesting thing was the crowd that turned out for this show.  With most artists, there is a kind of narrow range of fan "profile", I guess.  Adam Ant fans don't seem to fall into that category.  Sure, there was the occasional fan with the iconic make up or hat, but most in attendance were just sort of from every walk of life.  Which would suggest "casual" fans, but it seemed like everyone knew every lyric to every song, A-side or B-side.  As if there is this quiet unidentifiable group of hard core Adam Ant fans that "get it" and get him and come out with great enthusiasm whenever his tour comes around again.
This was an all-seated concert, but with the encore the venue and fans had a sort of unspoken understanding that it was then going to transition into a friendly GA standing show, as people stood all around and against the stage for the lengthy four song encore.
The evening was capped off with a rather long rendition of "Physical (You're So)", which clocked in at around 8 minutes if you include the band bowing at the end.
And that band…  really perfectly suited for their roles.  This was my first time seeing Will Crewdson on lead guitar and he was remarkable.  At one point during the show, Adam Ant made a comment about why have one drummer when you can have two, and that foundation on the music is really part of what makes it all so unique.  At times, I would watch Andy Woodard and Jola playing complex beats in unison and it was almost mesmerizing. Joe Holweger on bass really brings the most "post punk" aspect alive in the music, and A.P. Leach on guitar kind of brings all the parts together.  Really a tremendous band.
Like I said in the opening, this was my concert of the year thus far.  More than that, at times, seeing lots of shows, you don't feel "the magic" and it can become a bit routine.  This was a show that reminds me again of why I do all of this.  It was such a tremendous experience that reached all the way back to the childhood me that originally stumbled upon this artist and music.  I really can't wait to have another opportunity to see Adam Ant live.  One of the best tours I've seen in a very long time.
Below are some photos of Adam Ant performing on stage (scroll downward and photos will begin to appear – click any image to open a virtual lightroom with higher resolution versions of each photo); NOTE PLEASE DO NOT COPY AND SHARE THESE PHOTOS ON SOCIAL MEDIA (per my agreement with the Artist, photos can only be used within this article – thank you!):
Jason DeBord