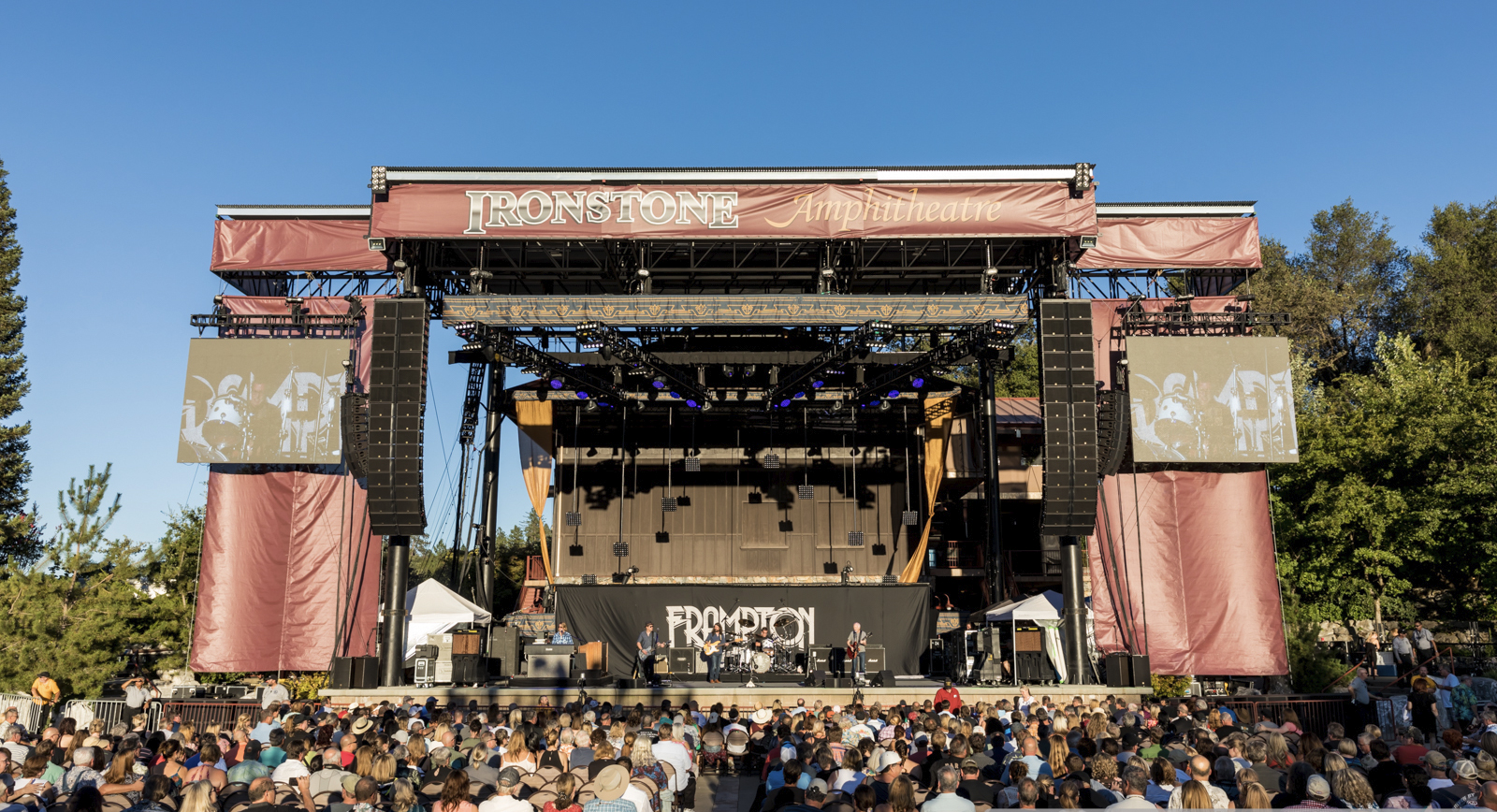 Richter Entertainment Group's Summer Concert Season at Ironstone Amphitheatre in Murphys will be happening in June, July, August and September this year. Artists include Toby Keith, Little Big Town, The Isley Brothers, The Commodores, The Family Stone, Willie Nelson, Alison Krauss, Foreigner, Jason Bonham's Led Zeppelin Experience, Queensryche, Counting Crows, Live, Creedence Clearwater Revisited, America, Stone Temple Pilots, The Cult, Bush, Culture Club, The B-52s, Tom Bailey from Thompson Twins, and more!
Ironstone Amphitheatre is one of my all-time favorite venues.
Richter Entertainment Group assembles an eclectic mix of musical artists, styles and genres every year, all benefiting from the state-of-the-art concert facility with top quality sound and lighting to placed each artist in the spotlight to showcase their music.
The amphitheatre features traditional assigned seating in the section directly in front of the stage, with a vast area behind that is designated general admission and allows patrons to bring their own lawn chairs and blankets with an opportunity to find the best spot from which to enjoy the show.
Learn all the details about these upcoming concerts and where to buy tickets on the official websites at www.ironstoneamphitheatre.net and www.richtergroup.net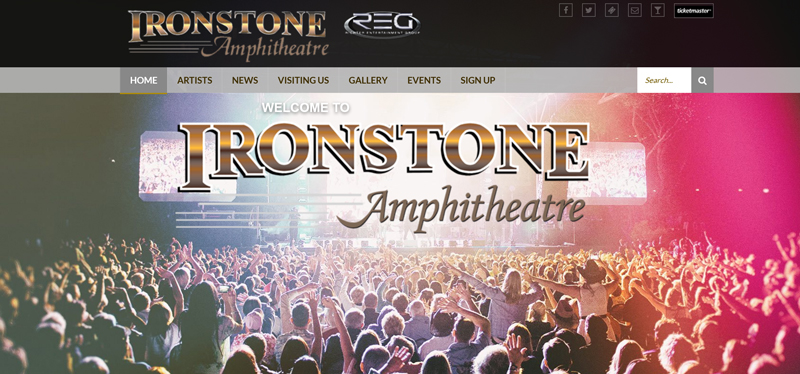 Below is the list of dates and artists for the 2018 Summer Concert Season at Ironstone Amphitheatre at Ironstone Vineyards:
Saturday, June 16th – Toby Keith
Sunday, July 1st – Little Big Town with Granger Smith
Tuesday, July 3rd – Counting Crows with Live
Saturday, July 21st – The Isley Brothers and the Commodores with The Family Stone
Saturday, July 28th – Willie Nelson and Family with Alison Krauss
Sunday, July 29th – Foreigner with Jason Bonham's Led Zeppelin Experience and Queensrÿche
Sunday, August 19th – Creedence Clearwater Revisited with America
Friday, August 31st – Stone Temple Pilots with Bush and The Cult
Sunday, September 16th – Boy George and Culture Club, The B-52's and Thompson Twins' Tom Bailey
We continue to serve as the official photographers for Richter Entertainment and will cover shows in upcoming features.
Click on the image below for the latest and up to date full Rock Subculture Journal schedule of pop and rock music concerts/tours coming up for review (2018 Rock Subculture Schedule):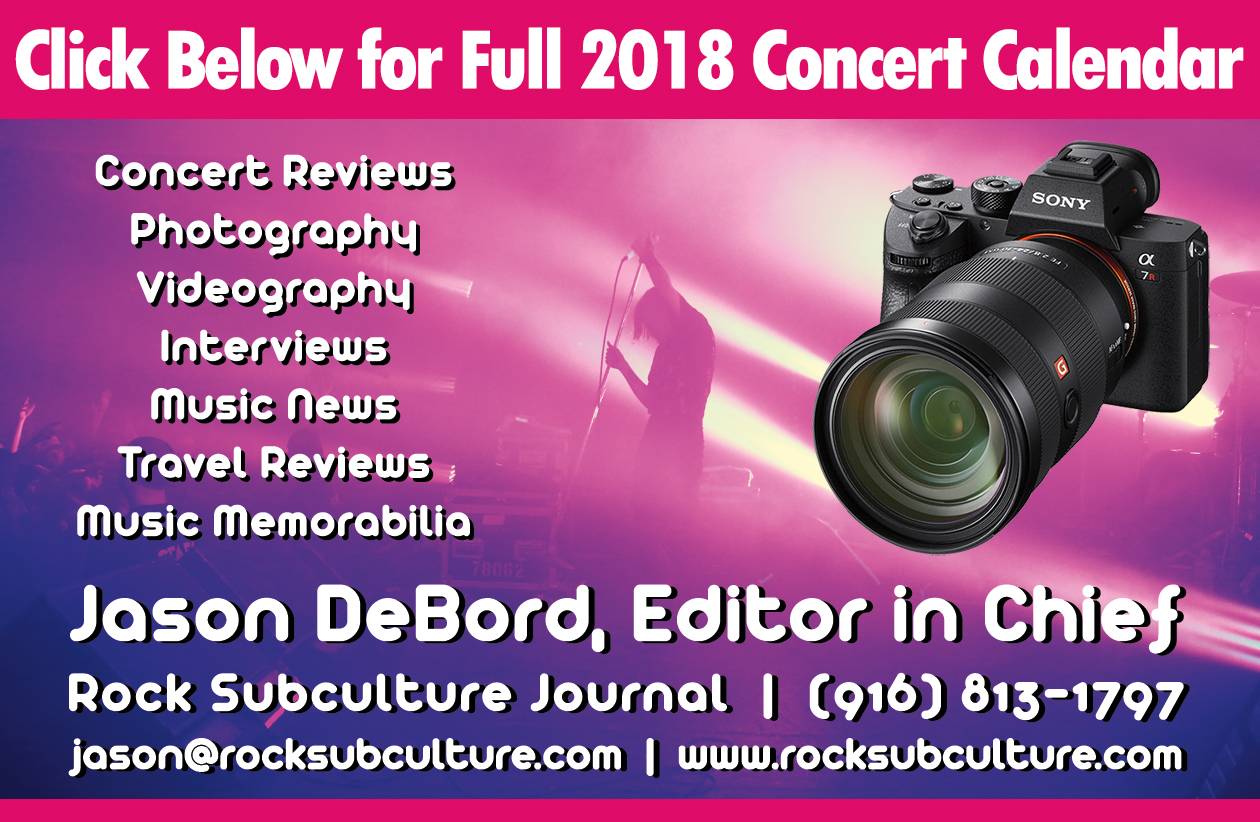 Jason DeBord