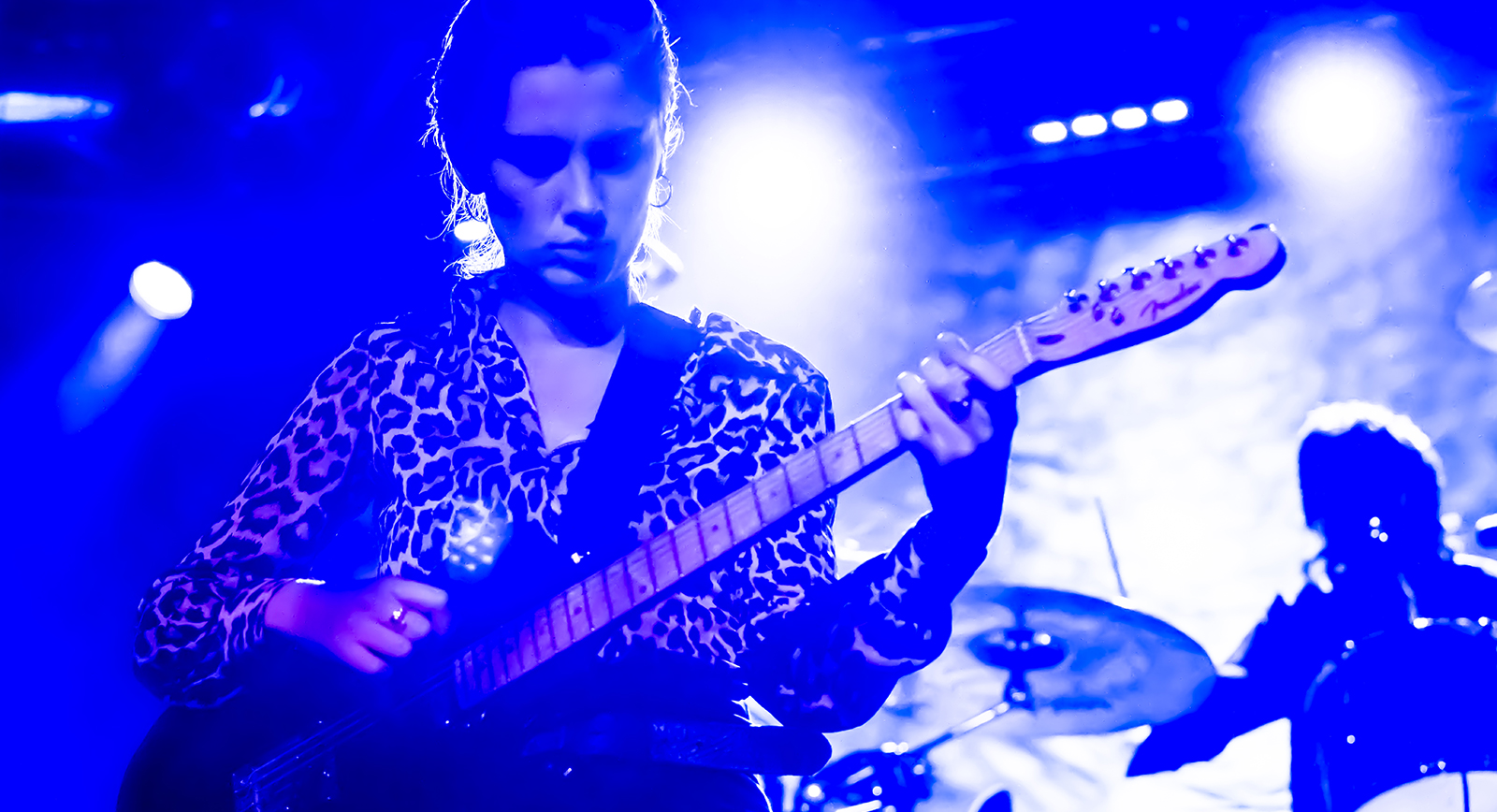 "How we doing out there?" Ellie Rowsell with Wolf Alice at a rare appearance in Sacramento at Ace of Spades Saturday night, a few shows into their massive schedule taking them all over the world in 2018.  In addition to their own headlining shows, they are playing gigs in support of Queens of the Stone Age as well as shows across the festival circuit.  I've been following the band since 2015, and now with two studio albums under their belt (sophomore effort Visions of a Life came out late last year), they are better than ever, with a massive amount of killer songs to fill up their sets.  I've always seen them as a band made to play live, and they did not disappoint.  This concert will certainly rank among the top at the end of the year for me personally, so I can't recommend enough getting out to one of their shows if they stop in at a city near you.
Who: Wolf Alice
Supporting: The Big Pink
Venue: Ace of Spades
Where: Sacramento, California
When: March 17, 2018
Seating: (photo pass; all photos taken for this event using a pair of Sony A7R III)
The Big Pink
The Big Pink are an electronic rock band from London.  Fronted by guitarist and vocalist Robbie Furze, they have a number of additional individuals participating in studio and on stage.
Signed with 4AD, they've put out two albums to date – A Brief History of Love in 2009 and Future This in 2012.  Most recently, they put out the 4-song EP Empire Underground in 2016 and just this year a cover of one of my favorite songs of all time… "Blue Monday".
I went into the show completely unfamiliar with them, but really loved their music.  I've already jumped over to iTunes and bought up most of what is available.
The funny thing is that during the show in my notes I wrote (shorthand to myself): "slightly less crooked early 90s era Sonic Youth (no screwdrivers)".  I had to smile when I went on their Facebook page today to see that they list Thurston Moore as an influence…  so I guess I'm picking up a bit of what they are putting down.  Regardless, it's really quite an awesome style of music, and it really lends itself to live play.
I feel that they were a perfect pairing with Wolf Alice and I am glad to have had a chance to get exposed to their music.  I will follow.
Set List:
How Far We've Come
King City
Last Days
Television
Hypnotize
Blacksand
High Times
Velvet
Below are some photos of The Big Pink performing on stage (scroll downward and photos will begin to appear – click any image to open a virtual lightroom with higher resolution versions of each photo):
Wolf Alice
Members
Ellie Rowsell (vocals, guitar)
Joff Oddie (guitar)
Joel Amey (drums)
Theo Ellis (bass)
I was lucky enough to see Wolf Alice live several times since early 2015, so I've been a witness to their growth and significant upward trajectory over the past few years.
I first saw them live at Popscene at Rickshaw Stop in March 2015, and that first impression was with very little exposure to their recorded music.  I subsequently delved into the music that they'd released up to that point and I was astounded at the quality of their music – all of it was simply amazing.
I attended two more shows that same year – at The Independent and then at The Chapel – so I was able to experience their live set before and after the release of their debut album, My Love Is Cool, which I named in my end of the year feature as The Best Album of 2015.  You can read my in-depth album review in my October 2015 concert review.
Each member of the band brings so much to their music…  and in a way that reflects the diversity in their music, song to song.  An unlikely marriage of styles and genres that just works and becomes something that is still cohesive and a style all it's own.
Ellie Rowsell possesses a distinct and unique charisma and quiet confidence; she performs with a real ease.  Since I last saw them, I would say she is an even stronger presence on stage and I was particularly struck by the moments in which she put down the guitar and took the microphone off the stand to truly showcase her vocals and connect a bit more with the audience with maybe some vulnerability.
Joff Oddie continues with his signature controlled intensity on guitar that adds real complexity to their songs and drives a lot of the changes throughout.
Joel Amey is the solid foundation upon which everything flows, and he has the most rock and roll style of the group.
Theo Ellis has transitioned from what I used to perceive as joyful and playful into a bit more of a showman and rocker, eventually going shirtless and at one point standing atop Joel's kick drum.
Of course, they have evolved significantly since 2015, and the last time that I personally attended one of their shows was in support of CHVRCHES in 2016.  So a lot has happened since then, including the release of their sophomore album, Visions of a Life.  I'll be honest and say that the follow-up to My Love is Cool did not have quite the same impact.  It struck me as slowed down a bit… less poppy… less rocky…  but as time has gone on and I've had time to spend with it, I had grown to appreciate much more, though in a different way.
But then hearing from Visions of a Life for the first time on Saturday night, it finally came alive for me.  Maybe it is because I was first really introduced to Wolf Alice live, and before their first album was released.  So it was kind of an organic process of hearing the live versions of the songs, and then the studio versions after already being acquainted with the music.  With the second album, for me personally that experience was flipped.
Now having heard the songs live, I put them on par with the initial wave of songs from the early EPs and My Love is Cool.  In fact, I can better understand their evolution in the process and growth.
I guess I am a firm believer in the view that Wolf Alice should – must – be experienced live.  I like it a little rougher around the edges and louder, I suppose.
It got me thinking, and I would love it if Wolf Alice would do what Oingo Boingo had done in the past and put out a (sort of) live album with Boingo Alive.  But not a typical live album with the sounds of the crowd, but recorded live in studio with no audience.  Just the pure performance.  Or like the old Peel Sessions.  Like with the Pixies (with At The BBC), who are another band who fully come alive… live.  Then as fans, we could have the best of both worlds – the more polished studio albums, as well as a more rough around the edges LOUD quiet LOUD live album with versions of the songs that capture the spirit of the live shows.
Some bands are just suited for that treatment.  Heck, KISS built their careers on Alive!, which was a double album with live tracks from their first three studio albums…  that was their real breakthrough as a band, because it was a tribute to their live shows which is where they built their initial following.  I am just dreaming here, but I think Wolf Alice doing the same would help to further catapult their band into the mainstream.
In any event, I absolutely loved the show at Ace of Spades on Saturday.  Go see this band.  They get better every year.
Set List:
Heavenward
Yuk Foo
You're a Germ
Your Loves Whore
St. Purple & Green
Don't Delete The Kisses
Planet Hunter
Bros
Lisbon
Silk
Beautifully Unconventional
Formidable Cool
Sadboy
Space & Time
Moaning Lisa Smile
Visions Of A Life
Fluffy
Encore:
Below are some photos of Wolf Alice performing on stage (scroll downward and photos will begin to appear – click any image to open a virtual lightroom with higher resolution versions of each photo). Apologies that there are almost no photos of Joff Oddie… stage right was in complete darkness  – so very challenging to capture any moments.
Jason DeBord