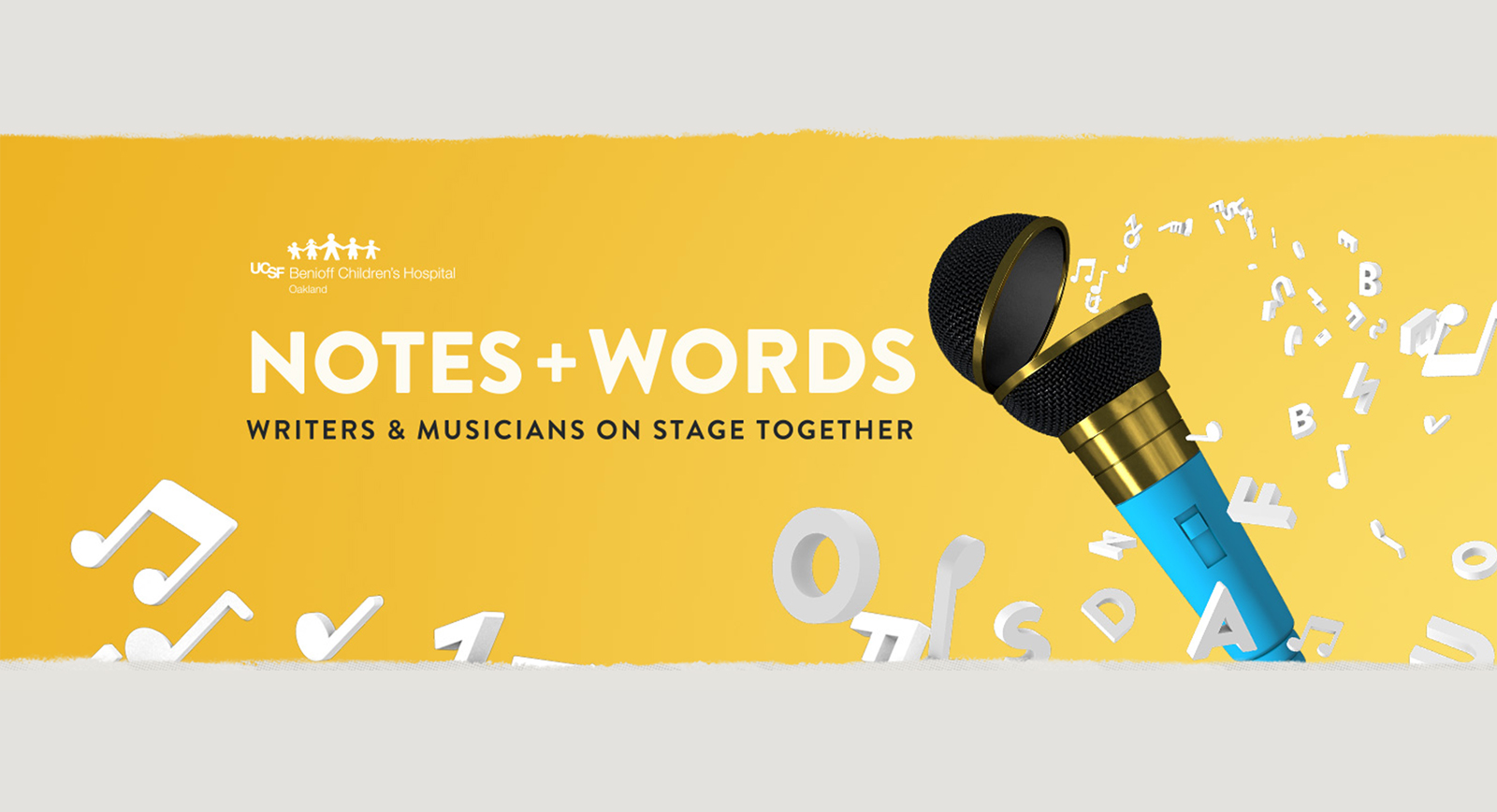 The annual Notes & Words: Benefit For UCSF Benioff Children's Hospital Oakland event will be held at Fox Theater Oakland on Saturday, May 12th.  As per tradition, it will feature both writers and musicians on stage, this year including musicians Dave Grohl (Foo Fighters, Nirvana), Emmett Reed, and the Oakland School for the Arts and writers George Saunders and Kelly Corrigan. Notes & Words is an annual benefit concert created to support the UCSF Benioff Children's Hospital Oakland; the Children's Hospital & Research Center Oakland provides the highest quality medical care to children throughout California.
Visit the official Notes & Words website for information about and links to purchase tickets (General admission tickets will go on sale March 6th): LINK
If you cannot attend, you can still support the UCSF Benioff Children's Hospital Oakland via donations to their website – you can learn more about the event and their mission at www.notesandwords.org: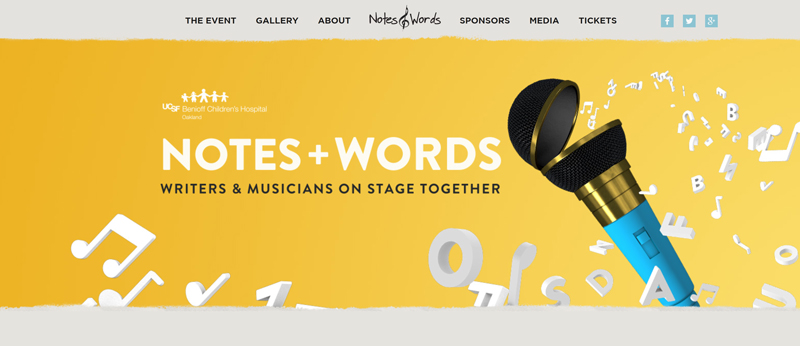 Below is a video preview with highlights from last year's event:
You can check out my review of past years' events here:
Here is a special message from the organizers of the event:
EXTRAORDINARY CARE FOR ALL KIDS

At UCSF Benioff Children's Hospitals, the world-renowned pediatric specialists at our Oakland and San Francisco campuses deliver hope and healing to children throughout the Bay Area and around the globe.

More than 100 years ago, our Oakland hospital was founded on the belief that all children deserve access to world-class medicine. In addition to outstanding clinical care, we address our patients' developmental and emotional needs through programs like music therapy, art classes, therapy dog visits, massage, and much more. We also help ensure the health of our community, advocating for vulnerable children living in at-risk situations and providing early interventions for kids facing challenges like asthma, obesity, and diabetes.

Because insurance only covers a fraction of all that we do, we depend on philanthropic support to help transform children's lives. Families come to us for compassion, innovation, and hope—and it takes generous partners like you to make that possible.

More about UCSF Benioff Children's Hospital Oakland:

100 YEARS STRONG AND COUNTING

Back in 1912, Alameda County nurse Bertha Wright, social worker Mabel Weed, and a group of similarly civic–minded women founded the "Baby Hospital" that we know today as UCSF Benioff Children's Hospital Oakland. They believed that every child – regardless of race, gender, or financial circumstance – deserved quality healthcare.

The practice of medicine has changed dramatically from when we first opened our doors, with remarkable advances in technology and improved delivery of healthcare services. Yet the moral and philosophical grounding of the founders' mission has remained the same for every member of the UCSF Benioff Children's Hospital Oakland team ever since.

We look forward to continued success, but we know we can't do it alone. To help us provide a better future for children in the community and all over the world, we need people just like you.

DID YOU KNOW?

UCSF Benioff Children's Hospitals Oakland is one of only five American College of Surgeons Pediatric Level 1 trauma centers.

UCSF Benioff Children's Hospitals are ranked among the nation's best children's hospitals in nine pediatric specialties.

More than 3,500 doctors, nurses, researchers and other dedicated staff care for over 75,000 patients each year at the Oakland campus.

Our patients reflect the diversity of California: last year, we provided translation services to families in more than 55 languages.

We are committed to providing the highest quality of care to all children, regardless of a family's ability to pay.
Click on the image below for the latest and up to date full Rock Subculture Journal schedule of pop and rock music concerts/tours coming up for review (2018 Rock Subculture Schedule):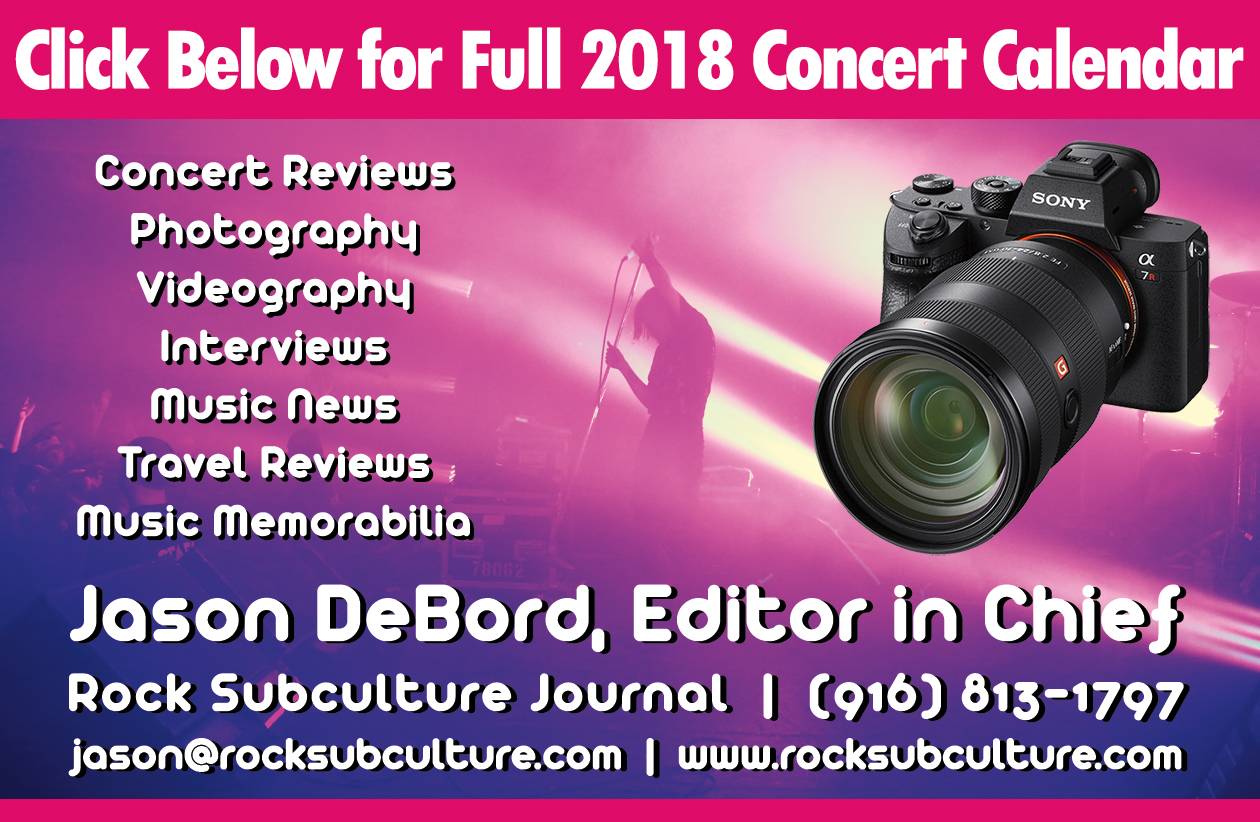 Jason DeBord