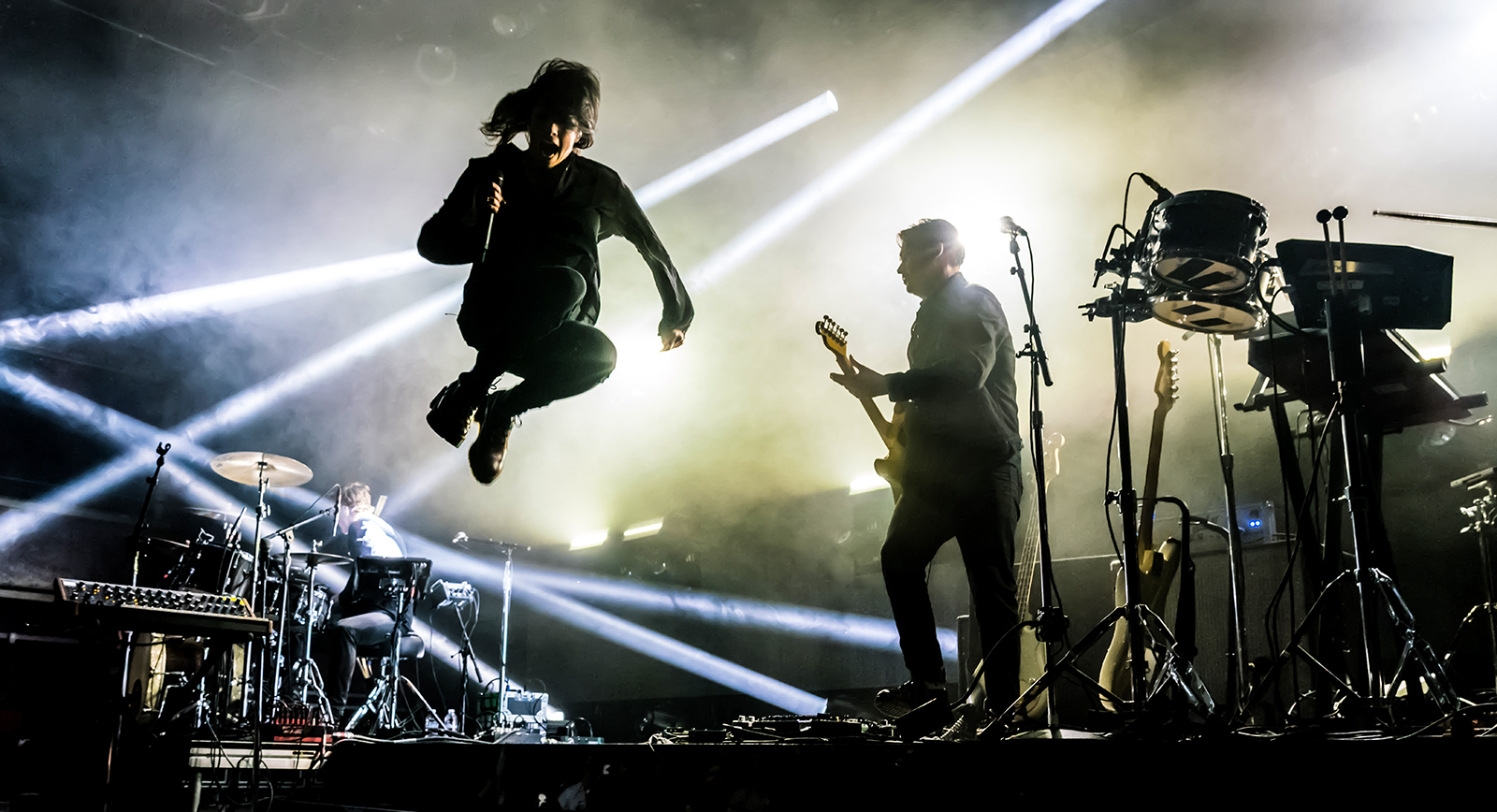 "San Francisco, the great and unexpected joy in my adult life is that I make music and I get to play it every night people with that I care about…" K.Flay taking a moment to express gratitude to the sold out crowd at The Fillmore in San Francisco on Wednesday night.  In the midst of a North American headlining tour prior to supporting Imagine Dragons in a massive world tour, it was a rare chance to see the rising artist before she starts moving on to much larger venues (which she will soon likely be headlining herself), as the masses continue to catch up to her unique sound and amazing album, Every Where Is Some Where.  No stranger to the San Francisco bay area, K.Flay was a transplant to Oakland while she was attending Stanford and beginning to craft her sound and style in music.  This was my first show of 2018, and she absolutely set the bar high for everything that follows, as I will be surprised if anyone can top this concert event.
Who: K.Flay
What: Every Where Is Some Where Tour
Supporting: Sir Sly
Venue: The Fillmore
Where: San Francisco, California
Promoter: The New Alt 105.3 Presents
When: January 17, 2018
Seating: General Admission (Photo Pass)

This was a long sold out show, and there were also special VIP tickets made available which included a meet and greet with K.Flay and the band as well as a pre-show acoustic set.  You can still get these at some future dates at www.kflay.com.
Sir Sly
Members:
Landon Jacobs
Jason Suwito
Hayden Coplen
Sir Sly is an alternative band from Los Angeles that was formed in 2012.
To date, they've released two studio albums: You Haunt Me in 2014 and Don't You Worry, Honey in 2017.
Their latest single, "High", made my Top 50 Songs of 2017 list.  You can check out the official video on YouTube.
This was my first time seeing Sir Sly live, and I'm even more of a fan now.  They definitely have more of a raw sound live that provides a nice contrast to their slick production style on their studio recordings.  They had great energy and had the crowd going throughout their set.  Definitely a band to check out and keep an eye on…
Set List:
Astronaut
Fun
Altar
Change
Ghost
Headfirst
Gold
High
&Run
Below are some photos of Sir Sly performing on stage (scroll downward and photos will begin to appear – click any image to open a virtual lightroom with higher resolution versions of each photo):
K.Flay
Members:
K.Flay
Justin Thomas "JT" Daly (guitar, xylophone, piano, bass)
Josh Lippi (guitar, bass)
Will Baldocchi (drums)
Kristine Meredith Flaherty – K.Flay – was born in Illinois, and has had an interesting journey in music, which I believe will build into great critical and commercial and mainstream success in 2018.
With regards to finding her music and discovering her deep well of gifts and talents, you can place me squarely in the mainstream.  I'd heard of her but never actually listened to any of her music until about a month ago.
I'm a tough audience, as I tend to find music – it doesn't find me.  I don't pay attention to Spotify lists and such, and tend to proactively find music and buy it.  I'm pretty old school, and I don't really stream music.  The only opportunity lies in my sometimes jumping through SiriusXM stations while driving, and that is how I first heard K.Flay, as one of the alternative stations was playing her breakthrough smash hit, "Blood in the Cut".  I heard it, and I thought "who is this?"
I then sought out her latest album, Every Where Is Some Where, and I picked it as my second favorite album of 2017.
Then I wanted to see and hear what she was like live, and went to YouTube and found one of her incredible sessions with Audiotree…  I was blown away.  I loved her even more live.  Amazing.
I can't be alone in coming so late to this talent…  I'm wondering if "Blood in the Cut" is her "Smells Like Teen Spirit" – that song that carries not just an artist, but a different style of music to the masses.
Interestingly, her music is finding a broader audience with her new album, which is coming at a time in which we are undergoing this cultural shift… with women in pop culture undergoing a reevaluation of everything… and here is this strong female music artist with confidence and ideas, an education and talent, who has built this career over years of hard work, who isn't selling sexuality like many female artist in music, and has even described herself as a tomboy.  So she is a totally different female artist in a time in which many are looking for something different.
And it's been a path that hasn't come easy, and with hard choices.  Years ago she signed with RCA Records and released a few EPs.  She ultimately left RCA even though she would lose the rights to dozens and dozens of songs written while under contract with them.  But rather than let that drag her down, she has continued to create new and different styles of music and many new songs.
She released her first album, Life as a Dog, as part of a PledgeMusic campaign.
Seeing her live at The Fillmore on Wednesday night, it kind of reminded me of seeing Imagine Dragons at the bottom of the bill of Not So Silent Night in 2012 and knowing that they would blow up, then seeing them play The Independent (500 capacity) a month later and then fast forward one year and they were headlining a show at the massive SAP Center (17,000 capacity).  In both cases, that knowing feeling that I was witnessing artists destined for greatness and much larger stages was the same.
Funny enough, it was Dan Reynolds of Imagine Dragons who also saw that same potential in K.Flay, as he signed her as the first artist to his own Night Street Records (part of Interscope Records), which lead to her latest album Every Where Is Some Where.  K.Flay will begin touring with Imagine Dragons in about a month, interspersed with her own shows as well.
Which brings us to that music…  I can't think of anyone in the past decade that has successfully mixed and crossed over to so many different styles and genres of music.  Song to song and even within the same song.  With roots in hip hop, she has expanded to alternative, rock, and more.  Yet there is this cohesion running through all of it.
And live on stage, transitioning from a more hip hop oriented song to a song that has more rock underpinnings works remarkably well.
I've always been a fan of music with a lot of changes (i.e. New Order) and loud quiet loud (like Pixies) and K.Flay incorporates similar structural styles to her own songs.
I was fortunate enough to do my photography for the show from the pit in front of the stage, and I was at a position before they came out for their set where I could see K.Flay and her bandmates huddled together in a group hug and high fiving each other before they came out onto the stage.  It's always so refreshing to see bands and artists who are still at that point where it's an adventure and exciting and challenging, and bringing that energy to the stage.
K.Flay has a great stage presence…  a natural performer.  And for the life of me I don't know how she remembers all of those lyrics and how she can spit them out so fast with certain songs.
They have a great stage set-up that transcends what you typically see at a venue the size of The Fillmore, which makes sense since they are stepping up to giant arenas once they catch up with the tour with Imagine Dragons – it takes a lot more to fill those spaces, and K.Flay is ready.  They have an awesome light show and monitors dropped behind them with an assortment of video visuals that accompany the music.
It was awesome to hear all those songs I've recently become a fan of live on stage.  I knew it was going to be excellent, but it still exceeded my expectations.  Her band really adds so much to the music, and it's really so well-suited for a concert.
So we'll see where K.Flay lands by the end of 2018.  With two Grammy Awards nominations for Best Engineered Album, Non-Classical (for Every Where Is Some Where), and Best Rock Song (for "Blood in the Cut"), she is about to be exposed to a much larger audience…
Set List:
Make Me Fade
Giver
Black Wave
Dreamers
Can't Sleep
Wishing It Was You
Champagne
It's Strange
Hollywood Forever
Mean It
The Cops
So Fast, So Maybe
High Enough
FML
Blood in the Cut
Encore:
Below are some photos of K.Flay performing on stage (scroll downward and photos will begin to appear – click any image to open a virtual lightroom with higher resolution versions of each photo).  As mention in the past two months, I've switched completely out of Canon for Fuji and Sony.  This was the first concert I've ever used Sony gear.
Jason DeBord