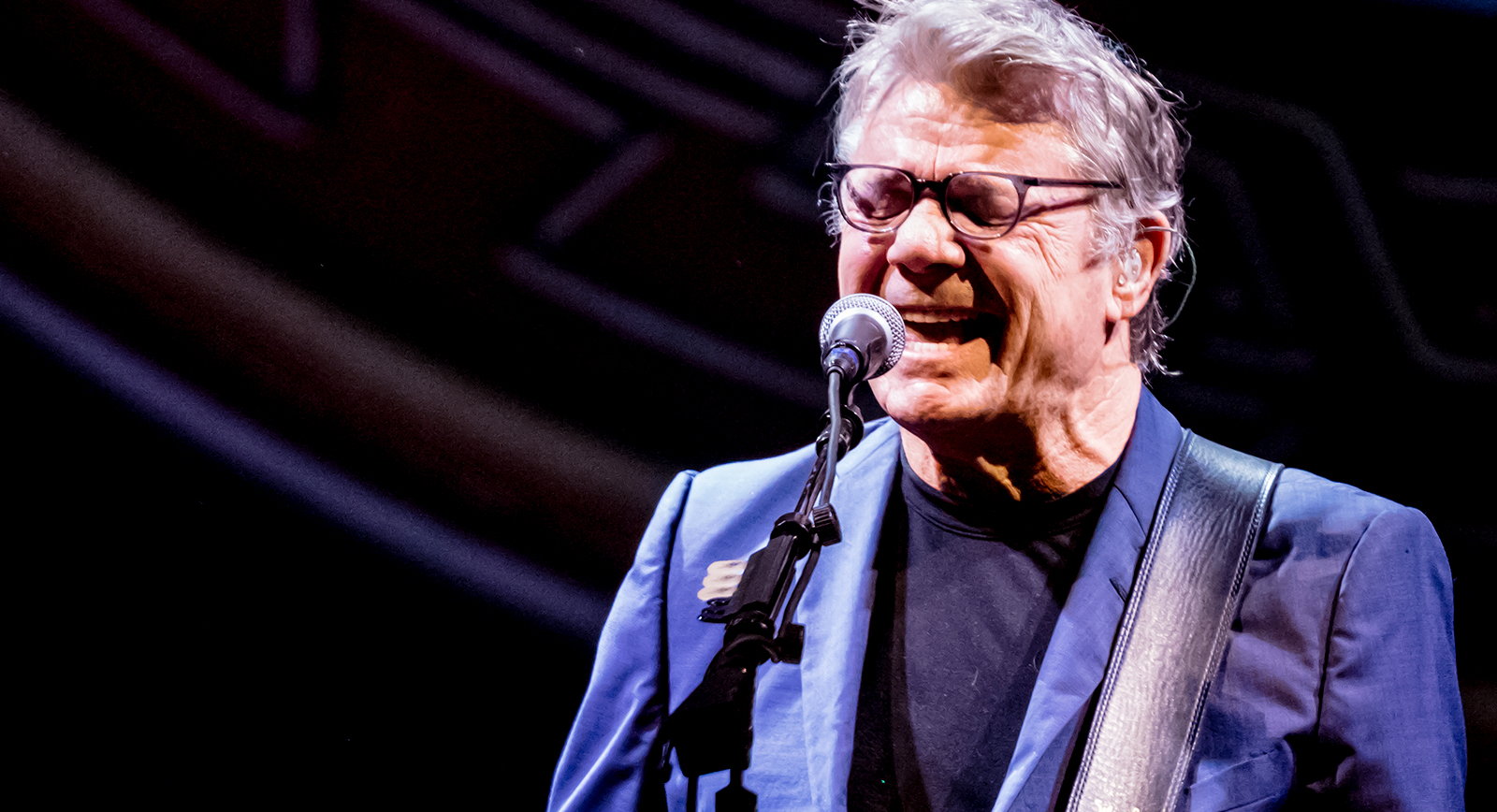 "This is the 34th city on this tour.  And I woke up this morning with the cold from hell.  I made it through thirty three and a half days.  But however we do have a really great treat in store for you…  let's get together and welcome Mr. Peter Frampton to the stage.  We've been having a really great Summer playing lots of different American blues tunes and we're going to do three of them for you.  This very first one we do you already know, it's called  "Mercury Blues" by K.C. Douglas".  Steve Miller of Steve Miller Band on stage with co-headliner Peter Frampton playing to a sold out crowd at Ironstone Amphitheatre on Sunday night, bringing their popular tour to an end.  Both artists have made visits to Murphys in recent years, but it was nice to enjoy them on the same stage.  The crowd went wild for their performances both together and apart, as they had fans up on their feet much of the night.
Who: Steve Miller Band
Who: Peter Frampton
Venue: Ironstone Amphitheatre at Ironstone Vineyards
Where: Murphys, California
Promoter: Richter Entertainment Group
When: August 13, 2017
Seating: (house photographer)
Richter Entertainment Group's Summer Concert Season at Ironstone Amphitheatre in Murphys is now half way through it's season this summer. Artists have included Toby Keith, Boston, Joan Jett & The Blackhearts, John Mellencamp, The Moody Blues, Jason Mraz, Lindsey Buckingham and Christine McVie, with just two shows left – Willie Nelson and then Kenny G & George Benson.
Richter Entertainment Group assembles an eclectic mix of musical artists, styles and genres every year, all benefiting from the state-of-the-art concert facility with top quality sound and lighting to placed each artist in the spotlight to showcase their music.
The amphitheatre features traditional assigned seating in the section directly in front of the stage, with a vast area behind that is designated general admission and allows patrons to bring their own lawn chairs and blankets with an opportunity to find the best spot from which to enjoy the show.
The greater setting of Ironstone Vineyards is stunning a beautiful – one of the rare concert venues where you can show up hours early and just take in the scenery, do some wine tasting, as well as have a stellar meal.
Learn all the details about this year's concert line-up and where to buy tickets on the official REG website at www.richtergroup.net.
This was definitely one of the biggest crowds that turned out this season.
Peter Frampton
Members:
Peter Frampton (vocals, guitar)
Rob Arthur (keys, guitar, vocals)
Dan Wojciechowski (drums)
Adam Lester (guitar, vocals)
Paul Peterson (bass, vocals)
Peter Frampton also made an appearance at Ironstone Amphitheatre in 2016, as part of his tour with Lynyrd Skynyrd.
As with last year, he spoke about his legendary live album, Frampton Come's Alive! and also told the story of his 1954 Gibson Les Paul that he played with Humble Pie and solo, before it was thought lost forever in a 1980 cargo plane crash.  The guitar was miraculously tracked down by fans and Frampton was reunited with the guitar in 2012.  It was originally gifted to him at a Humble Pie show in 1970, and he used it to record Humble Pie's Rock On and Rocking the Fillmore as well as his own live album, Frampton Comes Alive!, which is one of the top-selling live albums of all time.
Of course, Peter Frampton is an English singer-songwriter, best known for his incredible, pioneering guitar playing.  He has a number of top songs always in rotation on classic rock radio, as well as his iconic look from back in the day.
Though associated with "classic rock", he seems like he's been pushing the envelope for what rock and roll even is his entire career.  One interesting contraption on the center of the stage Sunday night was his "Framptone" "Talk Box", which allows him to talk with/sing with his guitar with pre-Auto-Tune technology.
He looks amazing and full of life, which goes hand in hand with his rich music.  He's definitely one of the most interesting figures active in rock and roll today, and pretty amazing he travels and tours as much as he does to give fans new and old alike an opportunity to experience his special brand of music.  He's put out 18 solo records since 1972 (most recently this years Acoustic Classics) and even won a Grammy in 2006 for "Best Pop Instrumental Album".
Maybe the most interesting moment was their cover of Soundgarden's "Black Hole Sun", which they also covered last year, but in May of this year singer Chris Cornell had committed suicide, which gave their performance of the song a different feeling.
Set List:
Something's Happening
Lying
Lines on My Face
Show Me the Way
Black Hole Sun (Soundgarden cover)
(I'll Give You) Money
Baby I Love Your Way
Do You Feel Like We Do
There were four more songs on the set list for possible encores, but the time was up by the time they finished the main set.
Below are some photos of Peter Frampton performing on stage (scroll downward and photos will begin to appear – click any image to open a virtual lightroom with higher resolution versions of each photo); shooting location was soundboard which is quite far from the stage:
Steve Miller Band
Members:
Steve Miller (vocals, guitar)
Kenny Lee Lewis (bass, vocals)
Gordy Knudtson (drums)
Joseph Wooten (keyboards, vocals)
Jacob Petersen (guitar, vocals)
Steve Miller Band was founded by singer/guitarist Steve Miller in the mid-60's in San Francisco.  With a number of huge hits spanning not just decades but entire music movements, Steve Miller Band has stood the test of time, and, indeed, become a pillar of what is rock and roll today.
Live on stage, he always has a natural style and ease, and he is long accustomed to playing to massive crowds at large, outdoor venues.
Being a fan of everything 80s, the highlight for me was "Abracadabra", which was played early on (it's probably not one of his favorites, nor is it among the hardcore fans, I would imagine) and I was particularly impressed with Steve Miller's natural guitar effects on the song, and his delivery on vocals that was a slight twist on the familiar studio version.
They played a very lengthy set and it all seemed to suit the atmosphere and mood of the crowd quite well, taking everyone back to a time when rock and roll was something altogether different.
As mentioned in the opening, the special bonus was the joint performances with Peter Frampton for "Mercury Blues", "All Your Love" and "Stranger Blues".
Set List:
The Stake
Swingtown
Abracadabra
Living in the U.S.A.
Take the Money and Run
Mercury Blues (K.C. Douglas cover)
All Your Love (I Miss Loving) (Otis Rush cover)
Stranger Blues (Elmore James cover)
Dance Dance Dance
Wild Mountain Honey
Serenade
Space Cowboy
Shu Ba Da Du Ma Ma Ma Ma
The Joker
Fly Like an Eagle
Rock'n Me
Encore:
Jungle Love
Jet Airliner (Paul Pena cover)
Below are some photos of Steve Miller Band performing on stage (scroll downward and photos will begin to appear – click any image to open a virtual lightroom with higher resolution versions of each photo); shooting location was soundboard which is quite far from the stage:
Jason DeBord