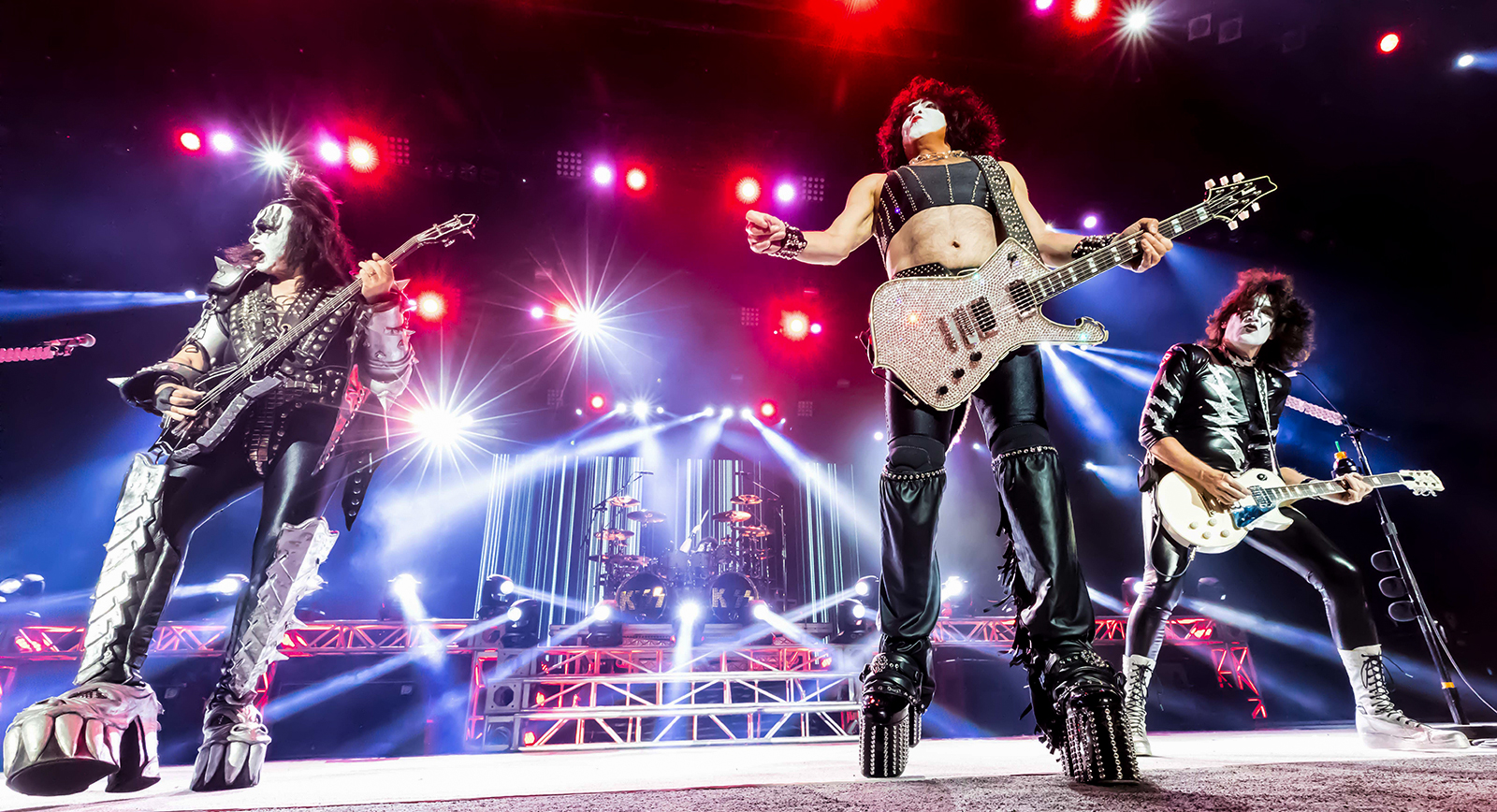 "Are you ready?" Paul Stanley of KISS getting the audience prepped to sing along with "Say Yeah", a song off of their 2009 album Sonic Boom.  24 studio albums (including their four solo albums), live albums and countless other impressions on pop culture at large going back to 1974, KISS have been a rock and roll phenomenon going strong for over four decades.  I am not personally a KISS "fan", so this is written from the review of someone who has been alive as long as they've been together, but never before attended a KISS concert.  They are one of the biggest bands of all time and real icons in rock, so I finally took an opportunity to see what they've always been best known for – live concerts.  And now having experienced it, I can say that their reputation for putting on an amazing show is well deserved.  High energy, high production, and filled with many of the innovative elements that other artists have since copied over and over, it was really something to see and hear and feel.  I really could not have been more impressed and I really have a lot of respect for the band and their crew that help put it all together.  If you are a member of the KISS Army, you know all of this; if you are more like me and had never seen the band before, I give my highest recommendations to go and check it out.  And I am glad I was able to take in my first KISS show at Grand Sierra Resort & Casino's Grand Theatre as it is one of the best concert venues for this type of show.  Everything was top notch.
Who: KISS
Venue: Grand Theatre at Grand Sierra Resort & Casino
Where: Reno, Nevada
Promoter: Grand Sierra Presents
When: April 21, 2017
Seating: General Admission (with photo pass)
The Grand Theatre at the Grand Sierra Resort and Casino in Reno has become one of my favorite venues since their renovation back in 2015.
The venue boasts a one acre large stage (one of the largest in the world) that from 1978 to 1987 was host to MGM's "Hello Hollywood Hello".  The entire venue has been redesigned by John Sergio Fisher & Associates.  With a standing room-only GA floor space in front of the very wide and deep stage, the theater also features theater-style seating going up to the back of the venue.  Added since my last visit are some new special seating areas up higher on the far sides of the two walls.
Both inside and outside of Grand Sierra Resort, there is a huge PR push for their music-related attractions.  They have a giant high resolution vertical electronic billboard running the length of the main tower as well as a high tech sign along the street, as well as similar efforts inside the property.
The layout of the venue is awesome, with the GA standing floor with a stage that is relatively low considering how vast it is…  quite long as well, it offers a lot of opportunity for being right up front and gives the artists a nice platform with which to move around and engage the audience.
There is assigned seating that goes up and back, above the main general admission floor, and there is honestly not a bad seat in the house.  With some venues, you feel "too far back" or decidedly on one side or the other – at Grand Theatre, everything feels centered and sounds great.  You feel like you are getting much more than your money's worth as it all "feels new" and your senses can tell you where money has been invested into it to make a richer experience… from the sound system to the lighting to the new LCD screens behind the stage, it's all quite state-of-the-art.
In terms of sound, it was exceptional as I've come to expect, based on all of the concerts I've attended.
As with my past experiences, the staff at Grand Sierra Resort impress.  I attend a lot of concerts, and the staff at the GSR are consistently very friendly and professional.  I give the venue my highest recommendations!
Doors opened at around 7:00 for the 8:00 show start time (though the show started
KISS
Members:
Paul Stanley (vocals, rhythm guitar) – "The Starchild"
Gene Simmons (vocals, bass guitar) – "The Demon"
Tommy Thayer (vocals, lead guitar) – "The Spaceman"
Eric Singer (vocals, drums) – "The Catman"
Being a casual KISS follower, the hard core fan probably won't find my thoughts too interesting, but hopefully the will enjoy the photos further down.
As an overview, KISS is one of the best known and most successful rock bands of all time.  They became KISS in January 1973 (coincidentally, the month and year that I was born), but their origins go back further.  Founding KISS members Gene Simmons and Paul Stanley previously performed and recorded as Wicked Lester.  After finding drummer Peter Criss in a Rolling Stone ad, Wicked Lester became a trio and they began to experiment with on stage make-up and costumes.  By January 1973 they added Ace Frehley as lead guitarist, and they changed their name to KISS, with Frehley creating the iconic logo with a Sharpie and ruler.
Success was not immediate.  They seemed to have gained some popularity from their live concerts first, with studio recordings not making as much traction.  It was their first live album, Alive! (released in 1975), that really put them on the map and had huge sales, gaining Gold status and giving them their first Top 40 hit single, a live version of "Rock and Roll All Nite".
It was a sharp upward trajectory for the band from that point forward, with huge concert success, studio album sales, and merchandising.  In 1977 to 1979 alone, they had over $100 million in merchandising sales.
1978 was a huge year for the band, with the release of their second live album, Alive II, which was their fourth platinum album.  The same year, all four members released solo albums on the same day.  The band was really innovative early and and continued to do things quite differently from their peers, and reinventing rock and roll from creating personas and characters to adding exciting elements to live shows to how they created products and merchandising for what became not just a band but an iconic band.
By 1979, they had developed some internal challenges and friction, and Criss played his last live show with KISS (for what would be 17 years).
In 1983, the band decided to retire the make-up and costumes, which did not come back into play until 1996 with the original line-up reuniting for the "Alive/Worldwide Tour".
Over the years, the band has gone through some line-up changes, with Tommy Thayer and Eric Singer performing with founders Paul Stanley and Gene Simmons today.
To date, KISS has sold over 100 million records and they were inducted into the Rock and Roll Hall of Fame in 2014.
Quite an impressive career and series of accomplishments, and they are still going strong today.
The show at Grand Theatre was sold out and it was fun arriving and seeing the more enthusiastic of the crowd putting on KISS-inspired make-up and wearing related clothing.
The band is known for offering pretty stellar meet and greet experiences with their tours, and the one that occurred for this show it looked pretty amazing, with the band not only meeting fans but putting on a special intimate acoustic set as well before the concert, in the lobby of the concert venue.
I try to attend a shows for a wide variety of music genres and styles of music, so I get a chance to see what kind of crowds that artists draw to their shows.  I have to say that the crowd that turned out for this KISS show is one of the best I've been among in some time.  People were very excited and happy, but friendly and social too.  And the age range spanned the full gamut, from great grandparent age to kids, the band still attracts and creates new fans of all ages.  The Nevada Veteran's Coalition were even honored at the show.  Mayor Hillary Schieve presented KISS with the keys to the city for the work that they do on behalf of veterans.
Some artists of a seasoned stature keep things short for the concert itself, and play through the most familiar hits quickly and call it a night.  Reading thoughts from hard core fans on the popular KISSfaq.com online forum for this show, it would seem that the set list for this concert was well respected.  The band seems to be all about "fan service"; keeping things fresh for the dedicated fans as well as making the show fun for newer fans.
Being born in the early 70s myself, even not being a dedicated follower of the band, I remember them always being a part of pop culture, with their instantly recognizable make-up designs as well as appearances on toy shelves and even in Marvel Comics.  So it was really quite fun for me to look up on the stage and see these "characters" come to life on stage, all these years later.
While the music and musicianship was impressive in and of itself, all of this was augmented in KISS style with blood and pyrotechnics and guitar smashing and all of these special elements that the band is known for…  and given that they play to big audiences and large venues, they are one of those rare artists that can make the show engaging and exciting no matter where you are seated.  They filled the place with sights and sounds the way that only KISS can deliver.
All in all it was really an excellent show and I'm so happy I've finally seen them live, and it really inspired me to turn out for one of their shows again in the future.
Set List:
Deuce
Love Gun
Shout It out Loud
Hide Your Heart
I Love It Loud
Crazy Crazy Nights
Firehouse
Flaming Youth
Cold Gin
War Machine
Say Yeah
Shock me
Lick It Up
Let me Go, Rock 'N Roll
Black Diamond
Psycho Circus
Detroit Rock City
Rock And Roll All Nite
Below are some photos of KISS performing on stage (click any image to open a virtual lightroom with higher resolution versions of each photo; apologies I did not get as many photos of Tommy Thayer – I was under a two song shooting limit and the pit was tight so got all my shots from one position and he was on the other side):
Jason DeBord