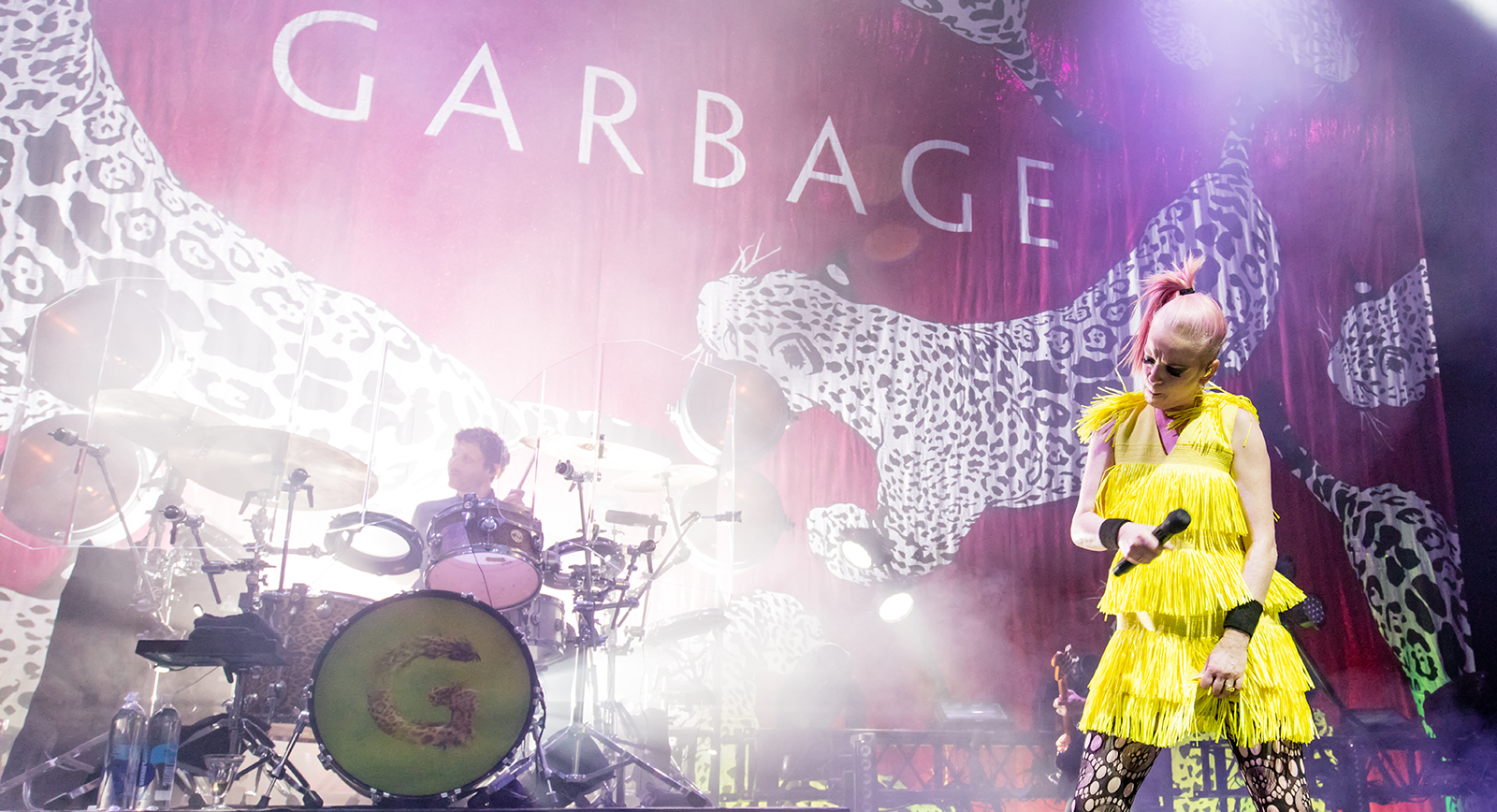 "It's a very special evening for us, because this is the culmination of a lot of hard work… we're about to take a month's vacation, so tonight's party night!" Shirley Manson of Garbage, playing before thousands at The Masonic in San Francisco, the band's last U.S. show on their current tour (sort of, with a special one off show in Los Angeles next month). With this tour, they are supporting 2016's new studio album, Strange Little Birds.  As a follow-up tour to last year's "20 Years Queer Tour", we now see the band looking to the future more than reflecting on the past, though there is still some of that too, with stories about the birth of their music in the 90s and of course they are still playing those fan favorite songs and hits.
Who: Garbage
Supporting: Cigarettes After Sex
Venue: The Masonic
Where: San Francisco, California
Promoter: Live Nation
When: September 24, 2106
Seating: (photo pass)

Cigarettes After Sex
Members:
Greg Gonzalez (vocals, guitar)
Phillip Tubbs (keyboards)
Randy Miller (bass)
Jake Tomsky (drums)
Opening for Garbage on this tour was Cigarettes After Sex, who were founded in El Paso, Texas in 2008.  They had a very… I guess you could say "low energy" set (especially compared with Garbage) with really low lighting.  But their music was great and I think, coupled with Garbage, it created an interesting contrast.  More of a dream pop sort of band, they branched out into an unlikely cover of REO Speedwagon that actually worked.
Below are some photos of Cigarettes After Sex performing on stage (click any image to open a virtual lightroom with higher resolution versions of each photo):
Garbage
Members:
Shirley Manson (vocals)
Duke Erikson (guitar, bass, keyboards, percussion)
Steve Marker (guitar, keyboards)
Eric Gardner (sitting in for Butch Vig on drums, percussion)
Eric Avery (touring on bass guitar)
Missing on this portion of the tour was Butch Vig, with a message on the official website stating:
Due to acute sinusitis and doctor's orders to not fly, Garbage's Butch Vig was unable to drum on the first leg of Garbage's tour running through June 18th.  The infection has not healed as quickly as doctors hoped, and Vig is once again under orders not to fly.  Eric Gardner (Gnarles Barkley, Tom Morello) will be sitting in for Butch through August.

"I'm very disappointed I'm going to miss the upcoming shows, but the doctors want me to err on the side of caution. Thanks to all our fans for understanding. I will be back!" BV
I've attended Garbage shows several times since they reformed, reviewing their shows at The Palms in Las Vegas and The Warfield in San Francisco in 2012,  The Palms in Las Vegas in 2013, and the Fox Theater in Oakland in 2015.  As such, I've borrowed some background thoughts about the band from prior features…
1995…  funny enough, in addition to it being a key year for Garbage with the release of their debut, self-titled record, it was a big year for me personally as well, which makes it easy to transport myself back to that year and recollect and reminisce about what a different time it was…
It was such a different time in music – (long defunct) Napster didn't even launch until years later, in 1999!  It was the Golden Age of the compact disc, and the idea of trading music and buying music online did not exist.  As such, MP3 players didn't come out until a few years later in 1997, and didn't take off with the mainstream for sometime afterwards (again, see Napster, which disrupted the music industry to such an extent it is still reeling today).
The Internet was in its infancy in 1995 – it was more about AOL and CompuServe and Usenet newsgroups than how it is used today, being ubiquitous in our lives from our phones to our televisions to work and play.  We weren't anywhere near as "connected" with one another 20 years ago, and that is reflective in everything, including the very personalities of people as you skew to younger and younger generations.  Technology has not just touched people's lives, but changed our culture dramatically.
I've always referred to the 90s as my least favorite decade since I was born (in 1973) in terms of music overall… and 1995 gave us "The Macarena".  And the people celebrated.  'Nuff said.
So how exactly did Garbage emerge in this atmosphere that would appear to be at odds with them in most every way?  I still haven't figured that out.
The alternative rock band formed in 1994. All of the men in the band are American while Shirley Manson is Scottish. They found success with many hit singles and their music and sound is very much their own. The most recognizable songs to casual listeners would be "Stupid Girl", "Only Happy When It Rains", "Supervixen", "Vow", "Queer", and it's likely that most would have heard their title track to the James Bond film, "The World Is Not Enough".
The group disbanded around 2005/2006, while each pursued other projects.
To the surprise of many, the band reformed and released a new studio album in 2012, Not Your Kind of People.  I think that even they were caught off guard by the enthusiastic reception, and toured in 2012 and 2013.  I really loved this album.  To be totally honest, their latest Strange Little Birds did not connect with me as much as the former…  but I tend to love what is pop at heart mixed in with other genres and vibes, but this new album feels short on the pop and joy to me.  The funny thing is, as I listened to it I kept thinking to myself "this is so joyless", and then during the song "Magnetized", the following lyrics dropped: "You bring your light, I'll bring the pain, You bring your joy, I'll bring my shame", and that kind of summed up the album for me.   But it is cool to see Garbage out there trying new things, and I'm not criticizing the artistry of it all but just my subjective reaction to it as a whole.
Regardless, the mix of old and new seemed to work well with the crowd…  which is one of the wonderful things about Garbage – their fans.  They are one of those rare bands that turn out a majority of concert goers who would probably rate the band at or among the top.  And this meeting of band and fans at these shows always created such a kinetic energy as excitement builds and Shirley and company feed off the crowd and then deliver it back with their performance.  Truly a unique experience.
All in all, it was a great show, and over the past few years it's been awesome to see the band transform into a confident "band" that is out there making new music, trying different things, and putting fans first in creating experiences and memories.  One of my favorite bands to go see live.
Below is a photo of the set list: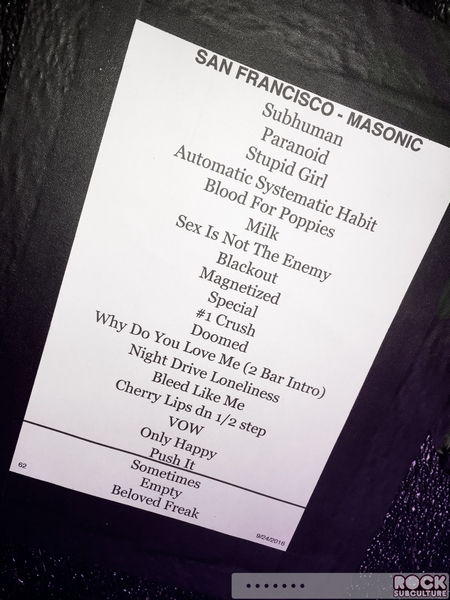 Below is the set list from the show at the Fox Theater in Oakland…
Setlist:
Subhuman
I Think I'm Paranoid
Stupid Girl
Automatic Systematic Habit
Blood for Poppies
Milk
Sex Is Not the Enemy
Blackout
Magnetized
Special
#1 Crush
Even Though Our Love Is Doomed
Why Do You Love Me
Night Drive Loneliness
Bleed Like Me
Cherry Lips (Go Baby Go!)
Vow
Only Happy When It Rains
Push It
Encore:
Sometimes
Empty
Beloved Freak
Androgyny
Below are some photos of Garbage performing on stage (click any image to open a virtual lightroom with higher resolution versions of each photo):
Jason DeBord