"San Francisco.  It's been a while."  Ronny Moorings, to what appeared to be a sold out crowd at DNA Lounge on Thursday night, with Clan of Xymox's first show in Northern California in over a decade.  Ronny founded Xymox/Clan of Xymox in the Netherlands in 1981, and remains the sole original member, singing all of the vocals as well as playing guitar.  A pioneer of Darkwave music, the mix of Synth Wave, Post-Punk, and Gothic Rock had it's golden age in the 80s among contemporaries like Bauhaus, Joy Division, The Cure, Sisters of Mercy, Siouxsie and the Banshees, Cocteau Twins, and Depeche Mode.  A rare visit not only the San Francisco, but the U.S. in general, this was one of just a few shows in California this week.   With a playlist featuring classic and new Xymox songs, it was an incredible showcase of a unique style of music that Ronny has kept alive and relevant for over three decades now.

Who: Clan of Xymox
Supporting: Anthony Jones
Supporting: DJs Xander and Omega
Venue: DNA Lounge
Where: San Francisco, California
When: March 19, 2015
Hosted By: Dancing Ghosts – The Darkwave Dance Party
Seating: General Admission (front row center + roaming; also photo pass)
I've always been a fan of DNA Lounge in San Francisco, which features a fantastic layout for a concert venue, with a squarish GA floor and "U" shaped balcony outlining it above, giving people an opportunity for a variety of vantage points.  It is also has one of the best lighting set ups for a club of its size, and an excellent sound system.  All of the above are likely reasons why Prince himself chose to do a series of shows there a few years ago.

I arrived about 30 minutes before the 7:00 door time, and there was only one person in line, visiting from London and just happened to be in town for this show.  Funny enough, he used to work a bit for Clan of Xymox, had been to over a dozen of their shows in Europe and the UK, and had some history with them, so it was awesome talking with him as we waited.  Just as interesting, in chatting about shows I've been to in London, he'd been at a number of them himself (like Front 242 at KOKO in 2011 and Depeche Mode at the O2 in 2013).
Once inside, even 30 minutes after doors, the place was very empty.  But, I've noticed with some shows in the Bay Area, fans show up pretty close to show time, and that was the case here as well.  By the time Anthony Jones took to the stage, it was difficult to even get from one side of the floor to the other, with people packed in really tight.  So by all appearances, it would seem to have sold out.
I don't remember the last time I've seen a crowd like this one, pretty hardcore goth through and through (and I've been to a number of concerts by The Cure in recent years – those audiences have nothing on Clan of Xymox when it comes to living the part).
You can also listen to the show for the next two weeks streaming/online at the DNA Lounge Archives:  LINK
Ronny of Clan of Xymox also did a DJ set at The Cat Club in San Francisco the night following this concert…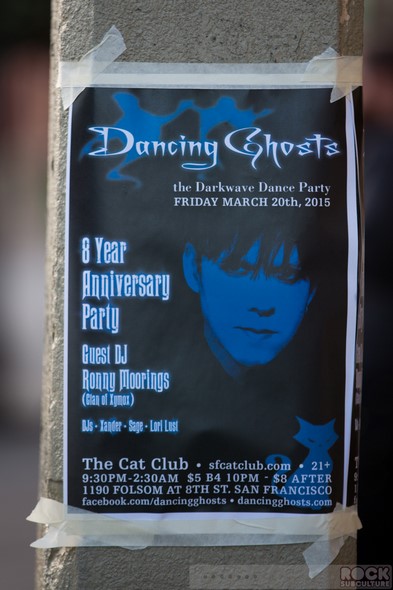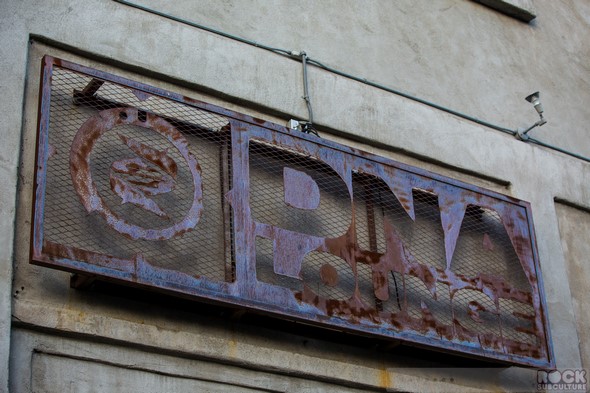 Anthony Jones
Members
Anthony Jones (vocals)
Laela Peterson-Stolen (viola)
Elyse Ader (violin)
Unwoman (Erica Mulkey) (cello)
Metling Girl (DJ)
Ariellah
Anthony Jones is a composer and vocalist from the Bay Area.  All of his music sales benefit the Wolf Mountain Sanctuary in Lucerne, California.
I was not familiar with Anthony Jones prior to the concert and came away extremely impressed with his music as well as his "show", for lack of a better word.  He and his fellow artists put on an awesome performance that felt like something more along the lines of what you'd expect from a high production show in Vegas more than a supporting slot at a concert in a club in San Francisco.
His music is also highly impressive, with a cinematic/soundtrack vibe and bit of a influences from a variety of cultures outside of the U.S.
A very unique combination of original songs and covers, all were tied together with a very consistent and singular style and approach that was also unique for a rock/pop style concert setting.
They put in a solid show as well, performing for about an hour with music and periodic performances from a very skilled dancer, which complimented the mix of sound which included their DJ, a string section, as well as co-vocals as well.
Below are some photos of Anthony Jones performing on stage (click any image to open a virtual lightbox with high resolution versions of each photo):
Clan of Xymox
Members
Ronny Moorings (vocals, guitar)
Mario Usai (bass)
Sean Göbel
Daniel Hoffmann
As a funny aside, I never imagined I would see two 4AD bands in the same week, but that's exactly what happened, as I caught Kristen Hersh (of Throwing Muses) at the City Winery Napa on Monday and the Clan of Xymox on Thursday.  I guess stranger things have happened…
I personally discovered what was at the time simply "Xymox" circa 1989 with the release of their third studio album, Twist of Shadows.  I don't recall even how I discovered them, but really loved those songs, and then went backwards through their catalog.
It wasn't long thereafter that original members Anka Wolbert and Pieter Nooten left the band, following their fourth album in '91, Phoenix.
Anka and Ronny formed the band in the Netherlands in 1981, then Pieter Nooten and Frank Weyzig joined them in Amsterdam.  Their first official release was Subsequent Pleasures in 1983, then went on tour supporting Dead Can Dance and were signed to the legendary 4AD.  The self-titled debut album came in 1985.
In the early 90s, with Ronny taking the reigns of the band, there was a shift in style as the two LPs that came next had more of an acid house influence.  By the late 90s, there was a shift back to a sound with more of a Gothic and Industrial foundation, with new albums (Hidden Faces in 1997, Creatures in 1999, and Notes from the Underground in 2001.
The most recent album, Matters of Mind, Body and Soul, came out last year.  The latest has been widely hailed by fans as among the best works.
I never had an opportunity to see Xymox live back when I first discovered them, and they have until this show been on my list of hope, so to say.  While they have shows and festival headlining appearances in Europe, concerts in the U.S. are quite scarce.
The production from a technical level was great, with quality sound and lights throughout (save for one unplugged monitor during the first song which Ronny quickly identified).
The way in which the music was recreated live was astounding.  Really clear highs and lows without distortion, beautiful vocals (suited to this style of music), and the full sound one who is a fan might hope for…
I've found a lot (maybe a majority) of bands with a lot of low frequency tend to overproduce it at live shows, and it comes across distorted (not in a good way) and muddy, but everything seemed well dialed in for this concert.
The one funny/surprising part of the show was when Ronny prompted the audience to clap along to one of the songs…  not something you'd expect from an artist with mostly dark music.
They closed out the encore and show with a cover of Shocking Blue's "Venus", which most will associate with Bananarama, but it was originally written and recorded by the Dutch band in 1969.
I really love the whole event and I'm so glad I finally had a chance to see Xymox live after first hearing their music many decades ago.
Below is a photo of Ronny's setlist (note: "Heroes" was not performed):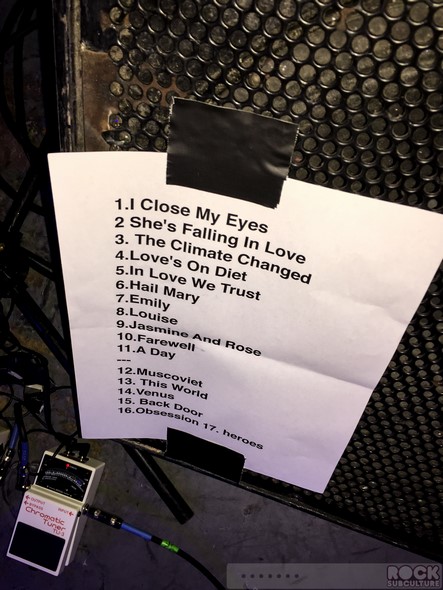 Below is the setlist as played at the DNA Lounge on March 19, 2015:
I Close My Eyes
She Is Falling in Love
The Climate Changed
Love's on Diet
In Love We Trust
Hail Mary
Emily
Louise
Jasmine and Rose
Farewell
A Day
Encore:
Muscoviet
This World
Venus (Shocking Blue cover)
Back Door
Obsession
Below are some photos of Clan of Xymox performing on stage (click any image to open a virtual lightbox with high resolution versions of each photo):