Day 3 of Caprices Festival in Crans-Montana, Switzerland  showcased entirely different styles of music from Day 1 and Day 2, and drew a different crowd as well.  This shows just how dynamic the overall line up is for this festival, to the point where in many cases there is nearly no crossover at all.  Personally, Tori Amos has been the highlight for me thus far, and may remain so for the balance of the 9-day concert event, as she is one of my all-time favorite music artists.  Also of headliner stature, Roger Hodgson – The Legendary Voice of Supertramp – performed as well, and I count his "The Logical Song" as one of my all-time favorites, and it was really a special moment for me to finally see and hear it performed live.  Also performing was Noa, who I was not previously familiar with, but for being first on the bill for The Moon at Caprices, she filled out the capacity of the vast indoor special purpose space quite well.  Each of the three artists actually seemed to turn out their own fan base, as I noticed the crowd shifted from set to set.  All in all it was an awesome night, and that is one of the best performances I've seen Tori Amos put on (and I've seen her a number of times).
If you want a general overview of this special festival, check out my ongoing coverage as well as the official site as www.Caprices.ch.
Below is my artist-by artist summary of thoughts and photos from each set, listed in order of appearance (first to last).
Noa
Who: Noa
Where: The Moon at Caprices Festival
When: March 10, 2013

Achinoam Nini (Hebrew: אֲחִינוֹעַם נִינִי; born Aẖinóʻam Nini and known outside of Israel as Noa).  Noa is an artist whose work is crafted with the world in mind – she has recorded songs in a stunning 11 languages – Italian, French, Spanish, Galician, English, Arabic, Hebrew, Thai, Hindi, Yemenite Jewish and Arabic!
Her band, led by guitarist and long time collaborator, producer, and co-composer led the rest of the band in an opening number, and then she came out with a cover song, and then moved onto her own material.
Her more formal style (with a mix of world music) certainly served as a contrast to the other artists who have performed thus far, and it was obvious that she turned out many fans who knew her music well.
You can check out a video snippet of the performance over at 20 Minutes Online here: Caprices 2013: extrait de concert de Noa
Below are some photos from Noa's set (click any image for higher resolution):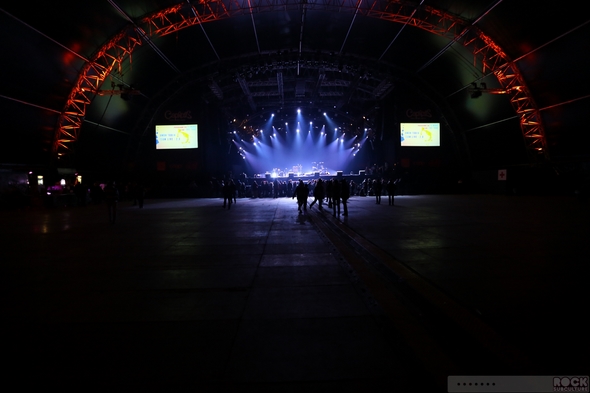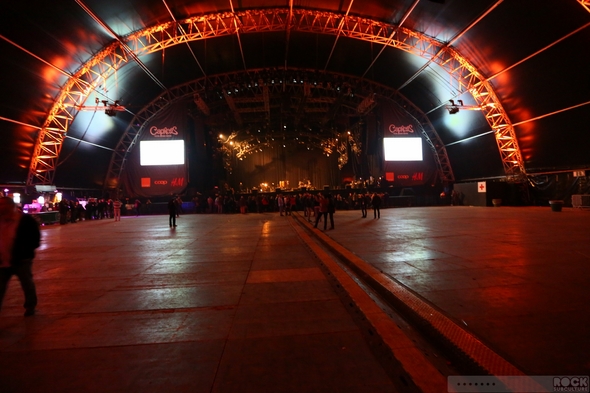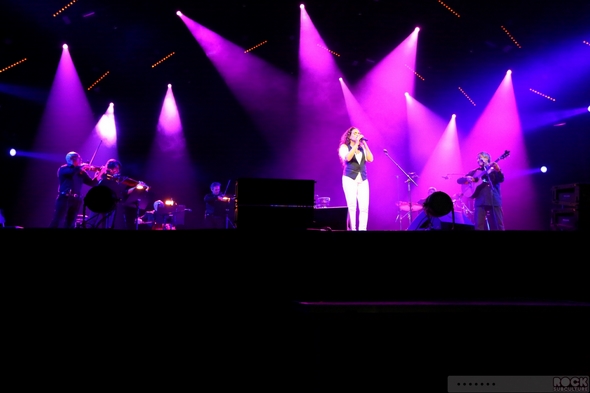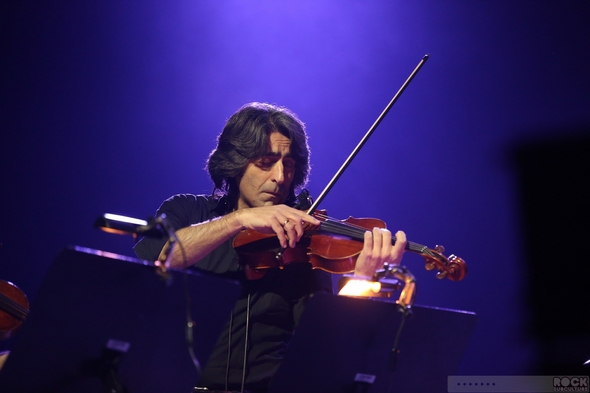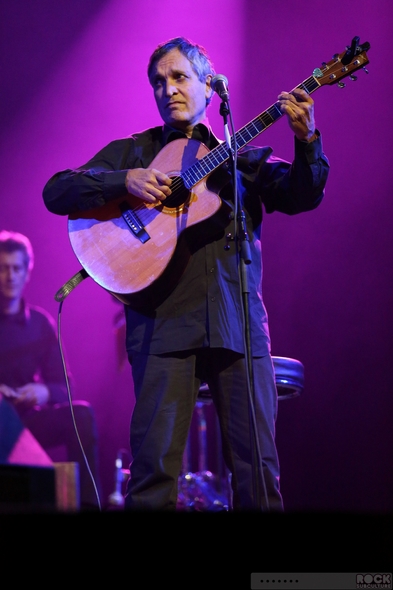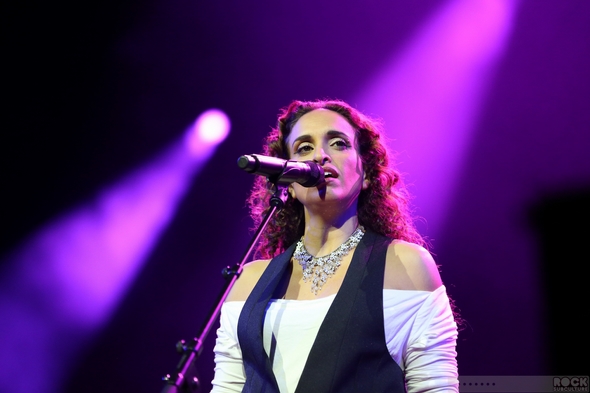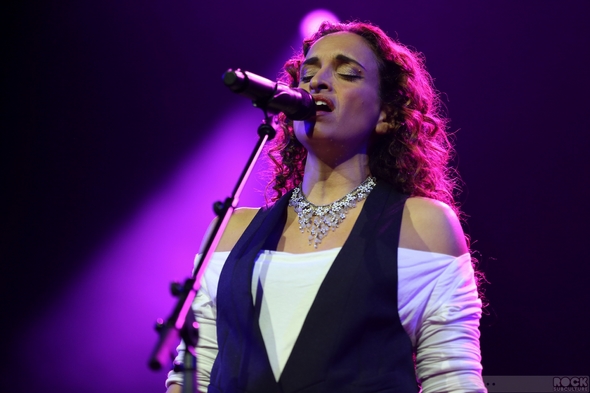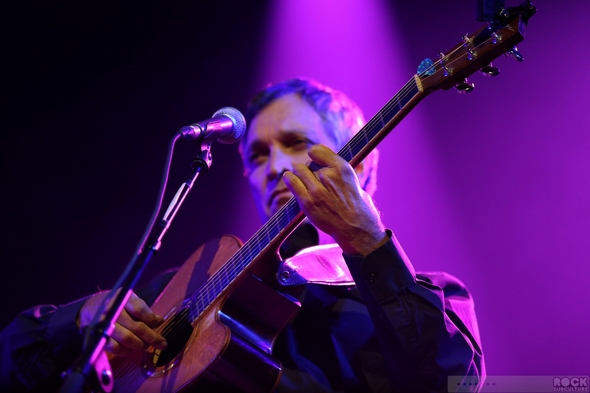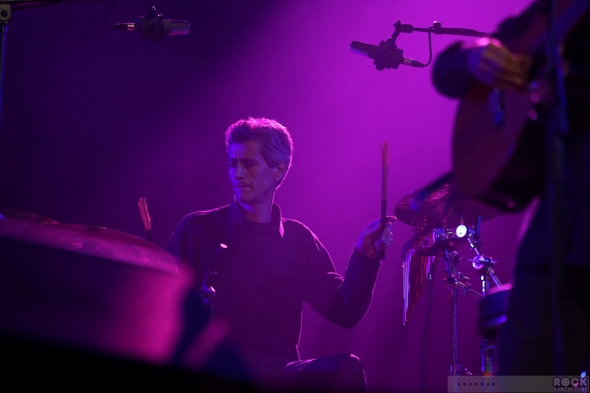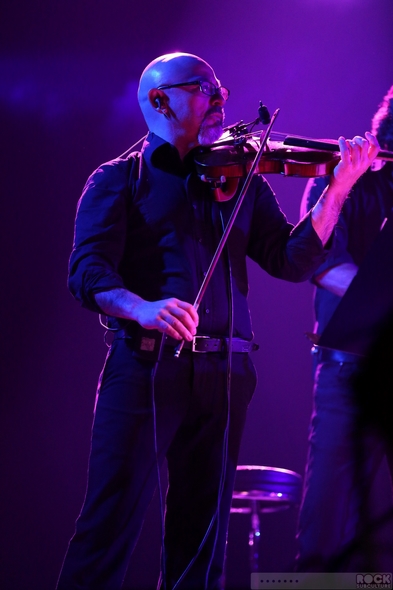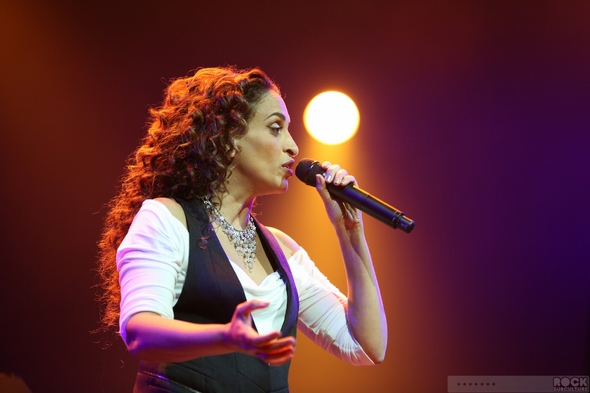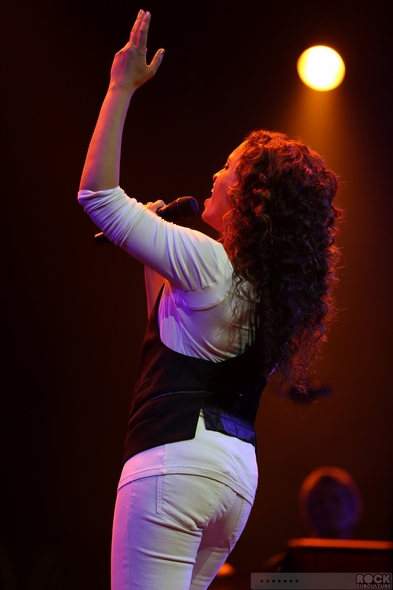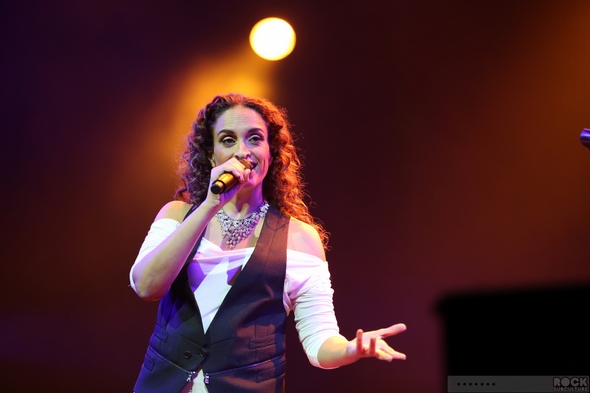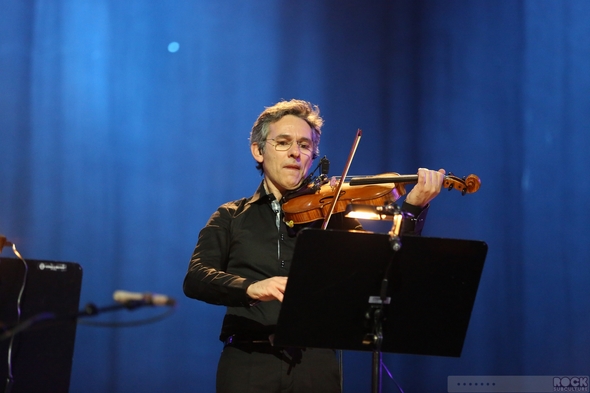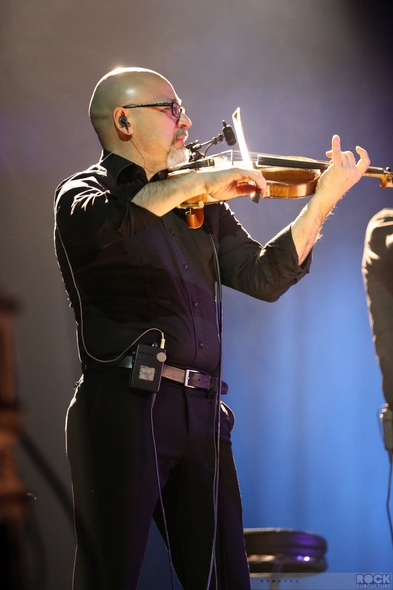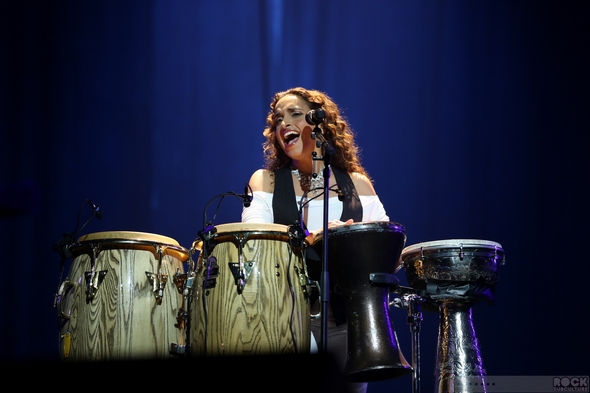 Roger Hodgson

Who: Roger Hodgson
Where: The Moon at Caprices Festival
When: March 10, 2013

Roger Hodgson is best known as "the voice" of Supertramp.  Born in the UK in 1950, he has had a very interesting career and musical journey.  Per his bio, he was the first boy in his town to learn how to play an electric guitar, so music and innovation has been a part of his life since childhood, having even recorded a single in studio as a guitarist for an early band when he was only 19 years old.
Later, he ended up in a band called Argosy, in which Sir Elton John was also a member.
He found real success in the business as a result of responding to an advertisement by Supertramp's Rick Davies in Melody Maker, and auditioned for the guitarist position with the band (though ended up on bass initially).  In a twist of fate, following the recording of their eponymous first album, Roger was back on guitar and he and Rick found themselves in the shared role of lyricist.
They found their biggest success with their 1979 album, Breakfast in America. 
In their time with Roger involved, he was the chief songwriter for "Breakfast in America", "The Logical Song", "Take The Long Way Home", "Give a Little Bit", "It's Raining Again", and others.
Ultimately Roger left the band to embark on a solo career as well as spend time with his family, where he relocated to California, and recorded three solo albums in that time.
His appearance on stage at Caprices Festival last night was his first this year, and outside of a show in Florida later this month, his tour schedule immediately includes Australia, Germany, France, and England through early June, but then it really expands to a number of other countries, including circling back to the U.S. for some additional dates.
For the set last night, it was just Roger Hodgson and Aaron MacDonald, with both on keyboards, with Roger on piano and guitar as well, and Aaron on wind instruments, harmonica, tambourine, and whatever else might be needed.
The sound quality was amazing, and Roger's voice was spot on, as was his instrumentation.  It was a stellar show, and a great set list.
As mentioned in the opening, I'm a huge fan of many of their hits, especially "The Logical Song".  For me, it's not really derivative of anything before (in sound or poetry-like lyrics) or after.  Just a brilliant song, and my take on its meaning is that its as much about music itself as anything – seeing life with innocence, questions, an open mind…  daring to be different and creative, rather than being a cog in a bigger machine (in which cogs have some purpose, but its usually not too significant, and surely the cog has no idea what impact it has on the larger world).
In any event, it was a brilliant live take on the song, and a highpoint for me not just for this festival, but I'm sure will remain so at the end of the year, after having attended over 100 shows.
The pair have great chemistry on stage, and Aaron helps Roger to shine and handles the supporting sound with real skill and musicianship.
Roger Hodgson is one of those people who seems like they were born to perform.  He was very engaging with the audience, even shifting into French language.  He seemed to be enjoying it as much as the audience, and this came through in the music.
Really an awesome show, and when I get the opportunity, I will certainly see him again.
As a funny aside, I was having lunch yesterday at an Italian restaurant, in an enclosed outdoor patio, and a series of trucks went by with large trees stacked on the backs of them.  Restaurant staff and a few other customers pointed to me, and one said "for your friend".  I guess I stick out like a sore thumb in the Swiss Alps, and they thought I was associated with the festival.  Funny enough, some of these trees ended up on the stage just for Roger Hodgson's set, so I had to laugh at that development.  In any event, I get the sense that Mr. Hodgson is a friend to his fans, so maybe the Swiss are more prescient than I gave them credit for at the time.
Below are some photos from Roger Hodgson's set (click any image for higher resolution):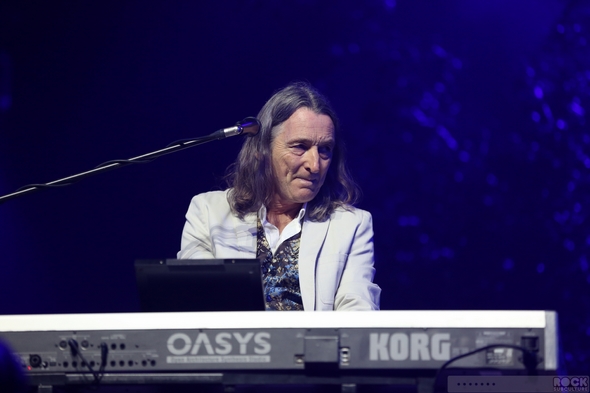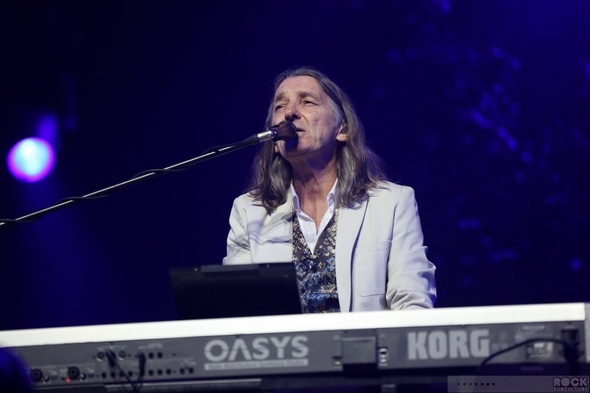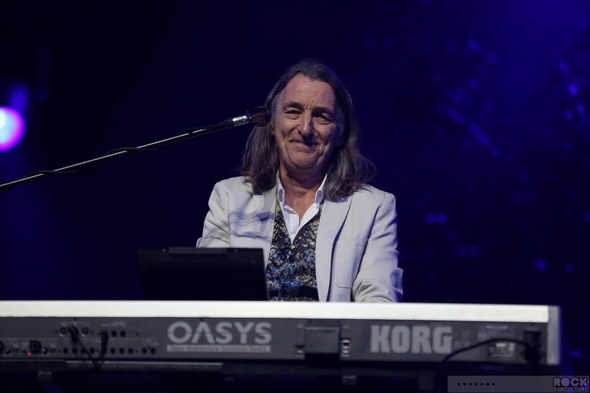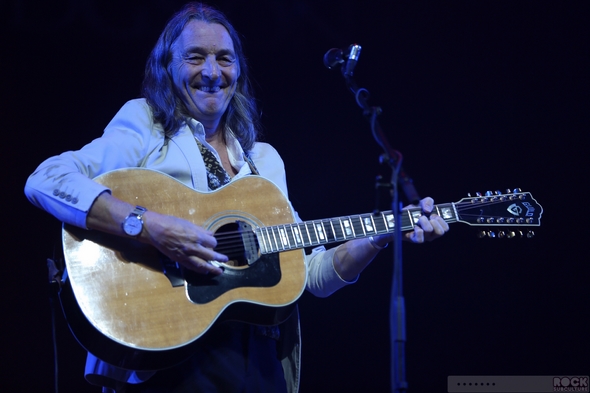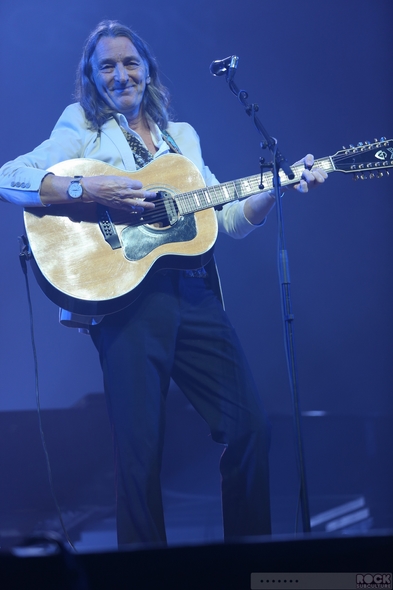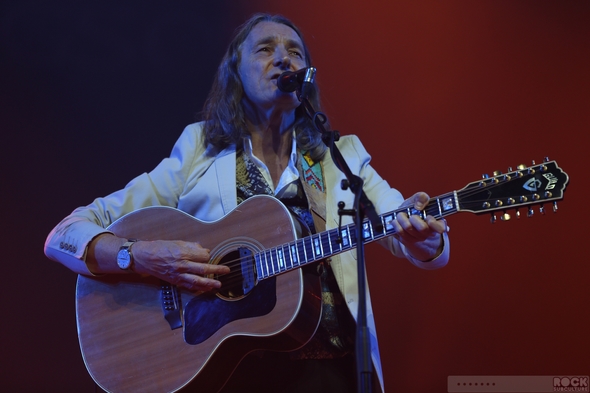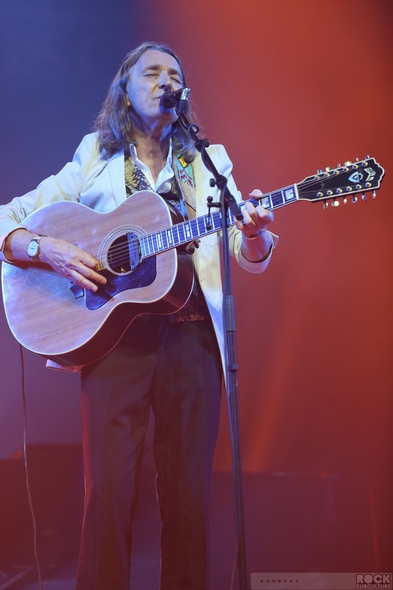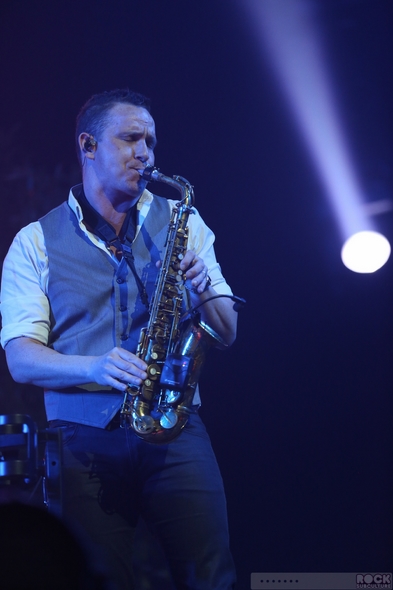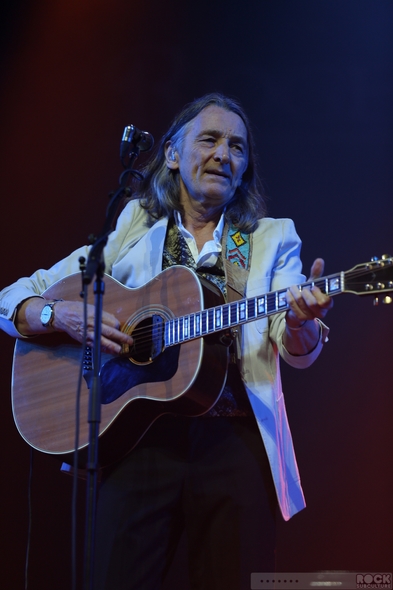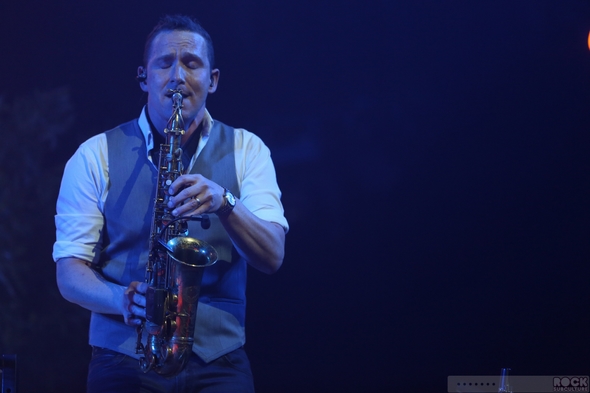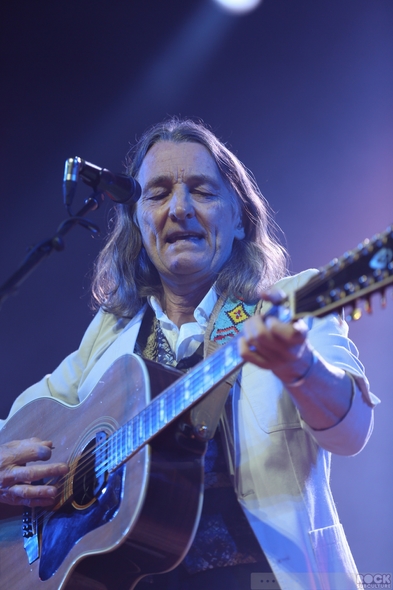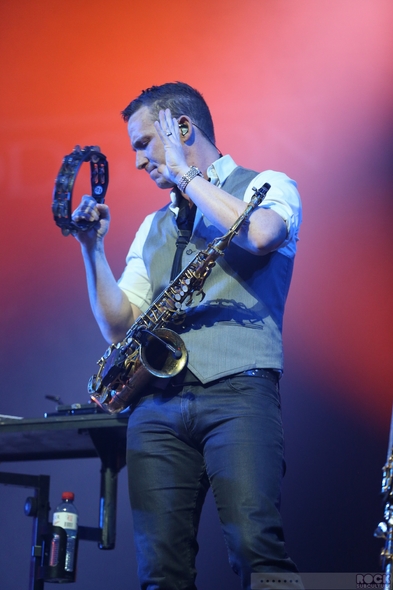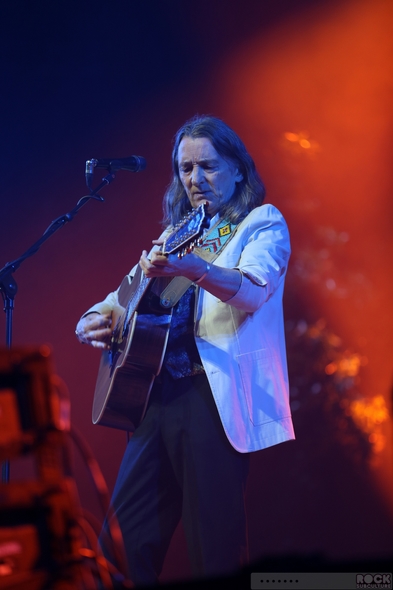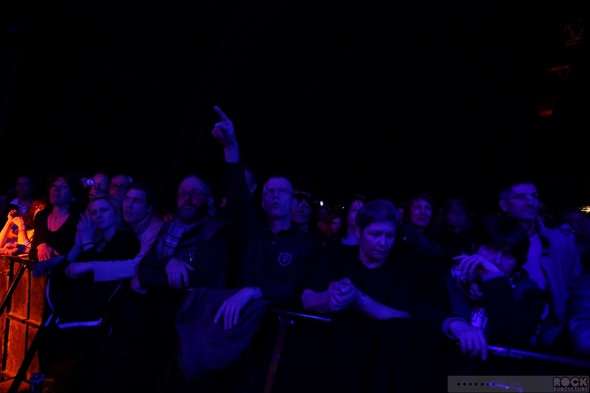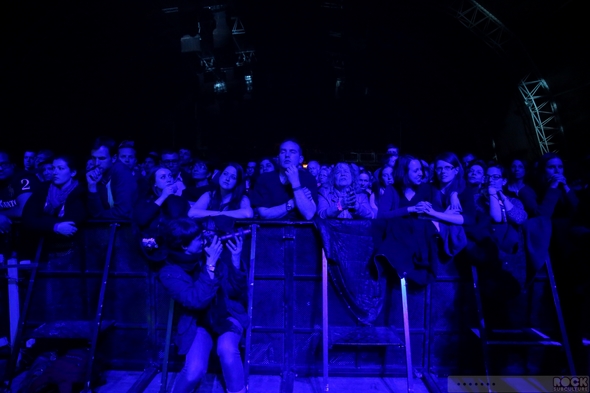 Tori Amos

Who: Tori Amos
Where: The Moon at Caprices Festival
When: March 10, 2013

I actually originally learned of this festival by way of Tori Amos, in that I was looking at her website at the start of 2013 to see if she had any new concert dates for this year, as she is a favorite artist of mine and it had been far too many years since I had seen her live.  I'd never heard of Caprices Festival previously, so my random search led me down a path that resulted in traveling from California to Switzerland for this special 9-day event.
I first learned of Tori Amos and her music as a result of my love of comic books growing up.  I started attending San Diego Comic Con annually before I was even old enough to drive, and I was a huge fan of Neil Gaiman and his Sandman series of comic books.  I would go to the convention, and in those years, artist Dave McKean (who "made" those amazing covers to the comic series) would have a booth and display his art, including the original artwork for those covers (much of which was made with real world items).
In any event, I had opportunity to speak with Neil time and again (Comic Con was much different in the late 80s and early 90s than it is today – artists and writers were very accessible), and he had told me about Tori, and then they began a series of kind of sending messages back and forth via their respective art forms, and lyrics from one of Tori's songs found their way into an early issue of Sandman, and it just so happened that I saw Neil again at a signing at a small comic shop in San Francisco, if I remember correctly.  So that was when I went out and bought Little Earthquakes, which had just recently debuted.
Unbelievable album.  Just so singularly unique, powerful, musical, and with such raw energy and emotion and power.  I've always loved piano in rock and pop songs, but it is rarely the focal point.  Tori changed everything with this album (and obviously has been a huge influence to all variety of female singer-songwriters that followed).
I absolutely loved this album, and it was immediately clear how and why Tori and Neil were admiring of each others' works.  It is as if they are spiritual twin brother and sister.
Just as rare, Tori is not one of those artists who opens large with an album and then nothing that follows measures up, or the sophomore and subsequent efforts simply don't match up to the inspiration and quality.
If you look at her prolific output, it is obvious she is always looking to grow as an artist and try new things, as well as have new things to say.  She is one of the artists who is trying to keep the album format alive, as hers always seem to be built upon conceptual foundations and new musical paths.
In addition, she does two things that I personally love, that most artists avoid…  she rerecords and reworks her own material, and she does some of the best cover versions of other artist's work than anyone.  She has such a unique and immediately identifiable style – not just the fact that she plays piano and keyboards – but her very unique style, emotion, and delivery.  She also has a crazy ability to take requests during shows and just do a cover live and with no prep.  She is truly a musical genius, and I'm beyond trying to figure out how she does what she does – it's literally like magic.
In the past few years, she has released two new studio albums with strong concepts – Night of Hunters (an all acoustic work with string and wind instruments accompanying her piano) and last year's Gold Dust, wherein she reworks past songs (including some of my personal all-time favorites), but also in more of an orchestral style.    I ranked the latter among my top ten favorite albums of last year in my 2012 Year In Review.
Though it has been years, I have seen Tori Amos many times, going back to her Under The Pink album, if I remember correctly, so have seen different presentations, ranging from just her and a piano to her with a full band (regrettably did not make any of the more recent orchestral-oriented shows).  I must admit though that I prefer just her on the stage, and I think that is when the magic most frequently happens, because more than any artists, she can be incredibly spontaneous, and with her appearance at Caprices Festival, she didn't disappoint on that front either…
Backing up a little…  I've been here in Switzerland for three days now, and as I was standing in the photo pit to shoot the first set last night – I heard English spoken with an American voice!  Some Americans came out from New York for the show, so it really shows the dedication of her fans (they were also accompanied by a guy from the UK, and they recognized some other fans from Scotland, so there was definitely a strong show of support for Tori here in the Swiss Alps).
I thought I had set my phone to record some poor quality audio so I could piece together the set list for the night, but maybe I wasn't so swift after all.  Hopefully one of the other fans in attendance was more attentive than I.
She did some awesome covers to be sure though…  Depeche Mode's "Personal Jesus", Nirvana's "Smells Like Teen Spirit", The Cure's "Lovesong".
The funniest moment in the show was when she forgot a line, and after an expletive, totally created a new song on the fly which might be titled "Don't Pick Up The iPhone", in which she also relayed a pretty funny anecdote with the overall message being no good deed goes unpunished.
As far as her own music goes, she did stunning versions of "Take To The Sky", "Precious Things", and "Little Earthquakes".
She played for well over an hour and a half, but I could have listened to her all night.  She was amazing, and her sound filled the large space masterfully.
Hopefully I'll have another opportunity to see her perform again this year…
You can check out a video snippet of the performance over at 20 Minutes Online here:  Caprices 2013:extrait de concert de Tori Amos
Below are some photos from Tori Amos' set (click any image for higher resolution):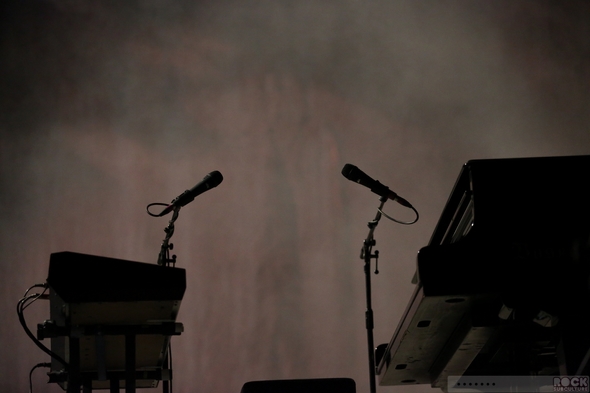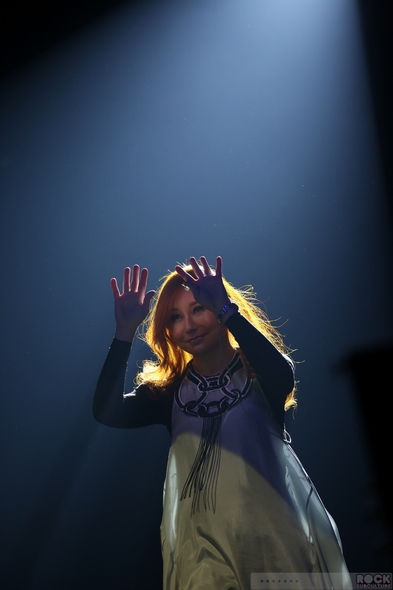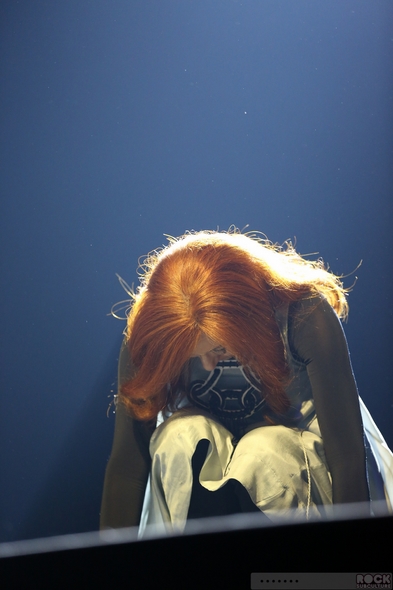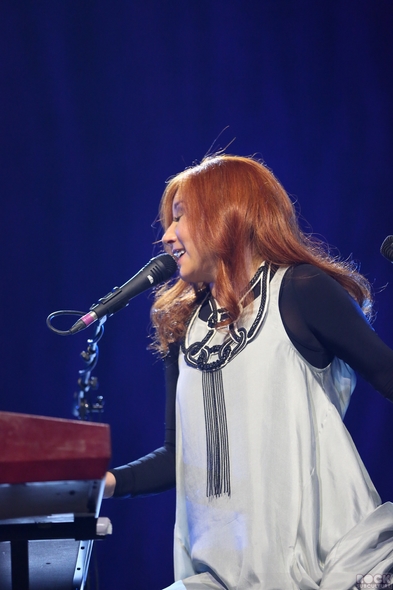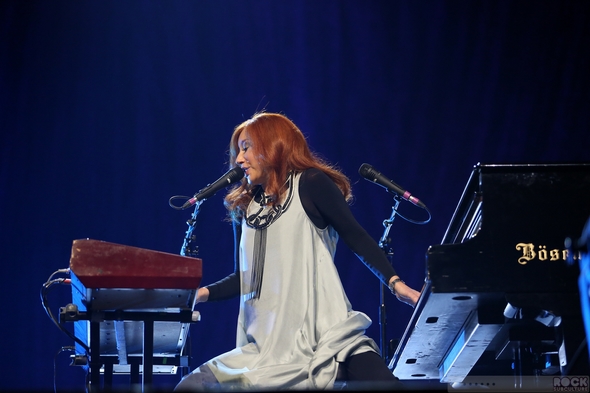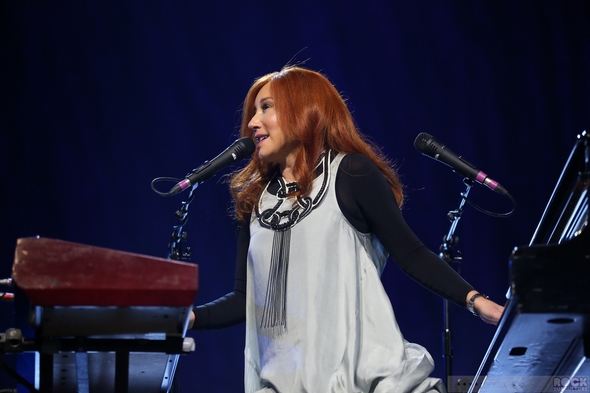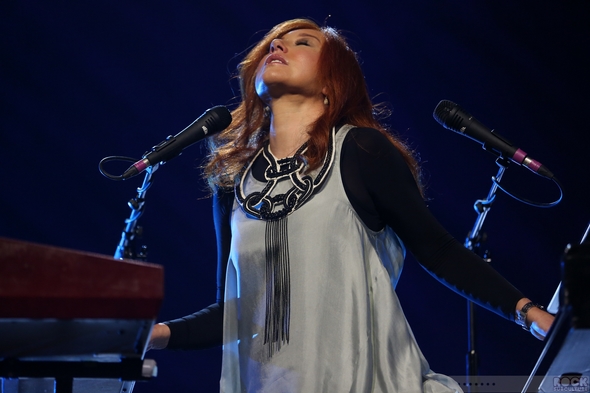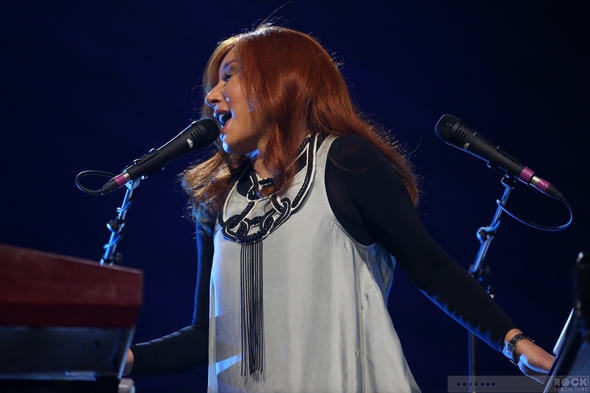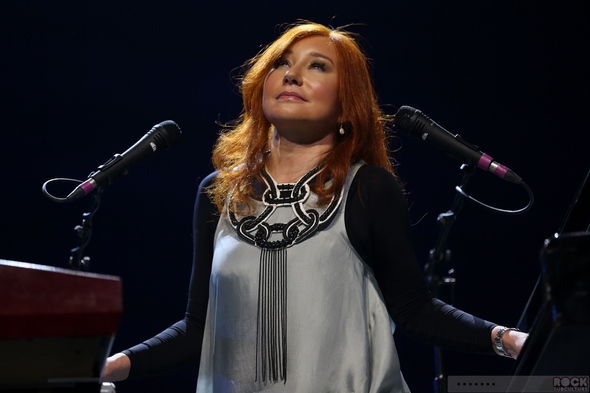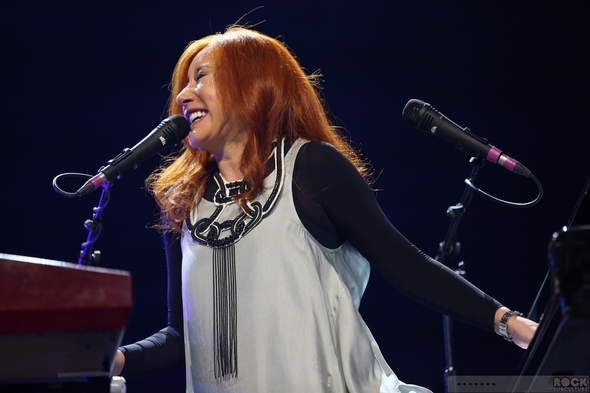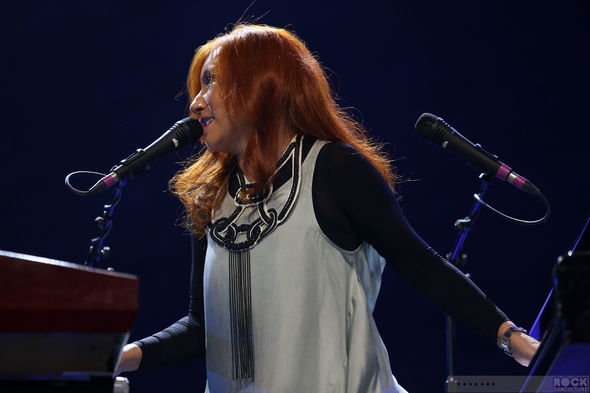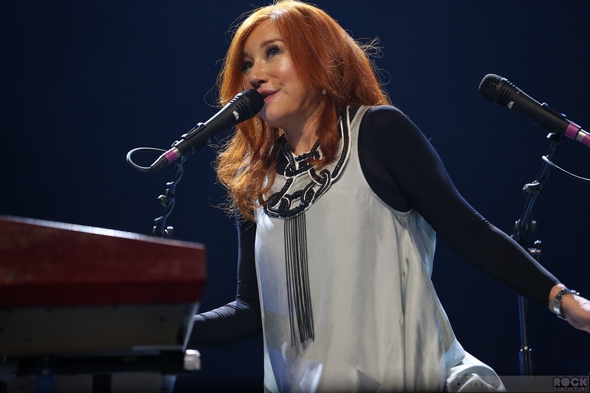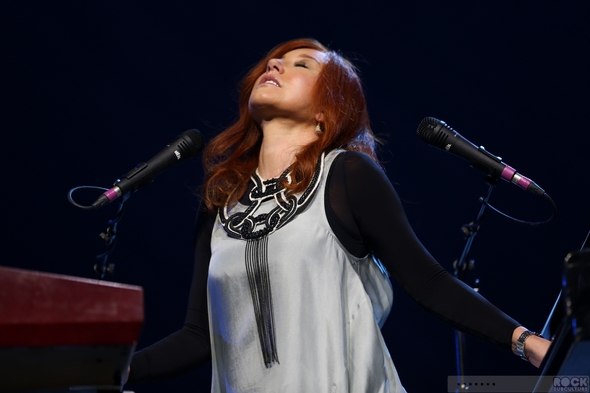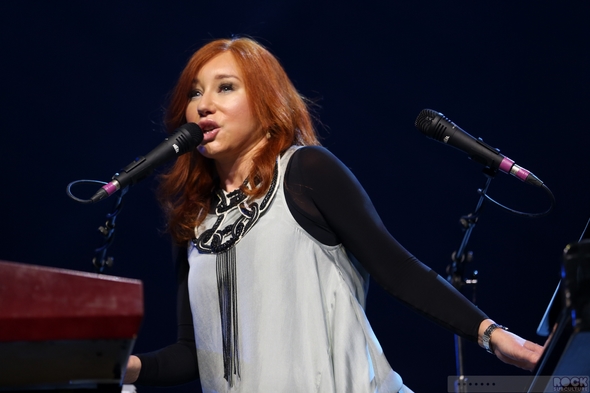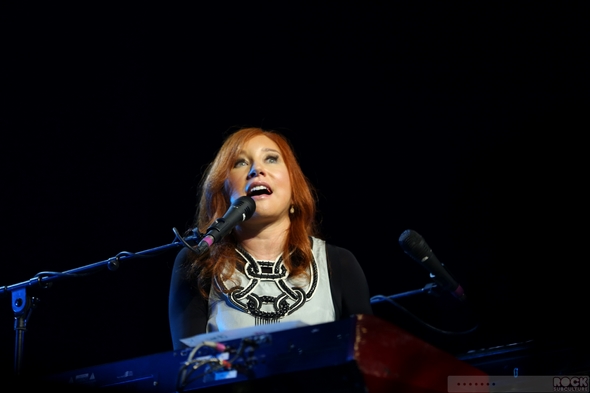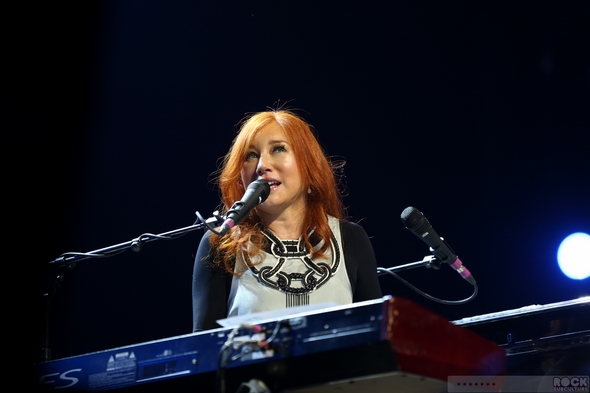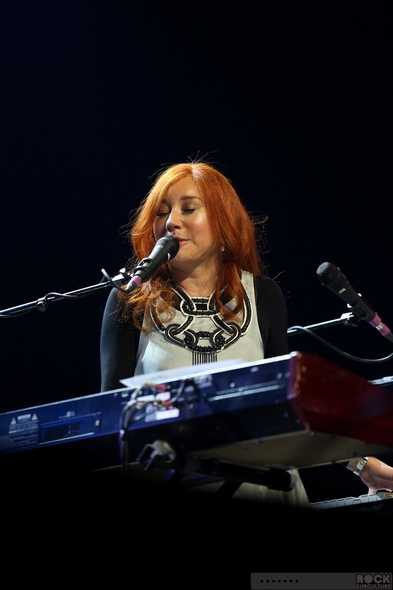 More coverage for Day 4 will be coming tomorrow…
All ongoing coverage of Caprices Festival will be found via the following link: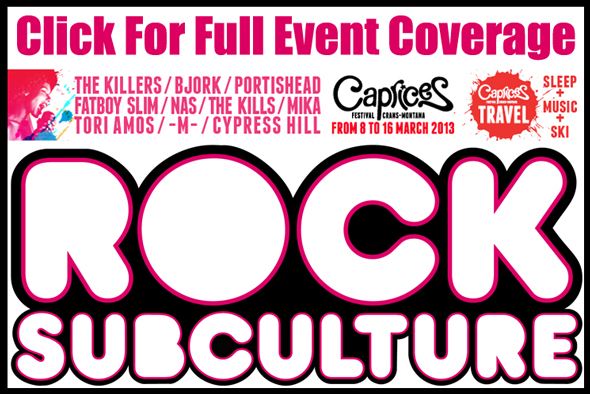 Jason DeBord