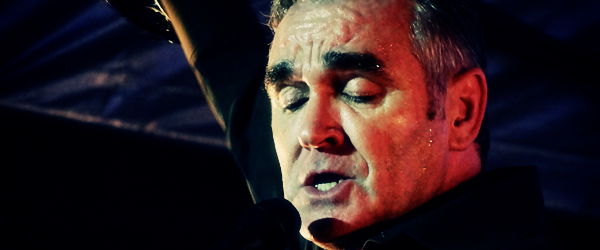 After a string of health-related challenges over the past 30 days, Morrissey appears to be back in the swing of things with a bit of ethics-related controversy with a Jimmy Kimmel Live! booking this week and since having played a successful show last night with an excellent set list in San Diego… with two more shows in Los Angeles in coming days, and then up to Northern California for a Mondavi Center show in Davis (rescheduled from last year), which I'll be attending and reviewing.  Additionally, tomorrow a number of new dates will go on sale, and some missed dates have been rescheduled, so this will serve as somewhat of a housekeeping announcement.
The Rock Subculture Journal rated the Morrissey shows attended in Maui and Oahu in Hawaii and in Stockton, California as the best of last year, as part of my 2012 Year in Review.
As reported back in early January, Morrissey had outlined a fairly lengthy U.S. tour, some of which were rescheduled dates from last year after some had been canceled due to his mother's health.
On January 24th, shows in Flint, MI, Minneapolis, MN, and Chicago, IL were scrapped, at the time attributed to "band member illness".  A few days later, a show in Sparks, NV was cancelled due to scheduling conflicts.  The next day, six more shows were canceled – Asheville, NC, Nashville, TN, Atlanta, GA, Lawrence, KS, Clear Lake, IA, and Lincoln, NE – after being diagnosed with a bleeding ulcer and other ailments.
On January 31st, Morrissey posted an artful statement via the premiere news site for the legendary artist at true-to-you.net:
The reports of my death have been greatly understated. Once admitted to the William Beaumont Hospital at Royal Oak in Michigan, I received treatment for concussion, a bleeding ulcer, and Barrett's esophagus. The positive from all of this is that there are now no known ailments left for me to try.

I am fully determined to resume the tour on February 9 at the Chelsea Ballroom in Las Vegas. If there's an audience of any kind in attendance, I just might die with a smile on my face, after all. If I am not there, I shall probably never again be anywhere.

Equally, I am determined to play Flint (Michigan) if it kills me (which, on the face of it, it almost has.)

Thank you to everyone present at both Brooklyn (New York) and Melbourne (Australia) during recent weeks for two of the best nights of what might charitably be termed my "career". My debt to you will outlive time itself.

pause at my headstone,

MORRISSEY

31 January 2013.
A few days later, shows in Las Vegas, NV and Phoenix, AZ were cancelled.  And then more a few days after that, scratching all the Texas-based gigs in El Paso, TX, Austin, TX, Pharr, TX, Beaumont, TX, Dallas, TX.
By mid-February, another three shows were canceled – Denver, CO, Salt Lake City, UT, and San Francisco, CA – and a lengthy statement published via true-to-you.net:
I am terribly sorry that the next three shows have been moved back. The worst is for the best. I am certainly on the road to recovery, but caution and prevention demand further IV blood work lest I keel over and die before your very eyes. I apologize to an almost annoying degree for any trouble I've caused to anyone by way of travel plans and dog-sitters and ticket-outlay and re-molded hairstyles. I should be as fit as a ferret for San Diego. Please don't be too appalled if you see me out and about this week in the Hollywood area. Perversely, it's all in accordance with doctor's orders: to have myself re-integrated with the call of the greasepaint and the smell of the crowd; the flash of light and the full thrust of mosh-pit sound. Illness turns the body into a complete stranger, and I'll be testing the capabilities of my strides at the most unlikely music shows this week. The will to get on with it runs strong. Even death can be used as a springboard. For those scholars who are heatedly curious, my ulcer is now under reins, even if neither asleep nor dead, but the continued cause for concern is a slightly embarrassing absence of blood – most of which the bleeding ulcer relieved me of. Anemia sets its own terms with quite obvious biological conclusions, and I have spent these last weeks under expert medical care in Los Angeles with an almost erotic dependency on various IV drips. Sitting around reading indecent books is no substitute for continuing the tour, but my progress holds great promise and Flint shall not escape quite so lightly. We are all at the mercy of biological chance, and I once again beg for your liberal tolerance. If you bump into me this week at a heavy rock show, please understand that I'm lowering myself into the cut and thrust after weeks on ice – horizontal, with sockets empty of eyes. In the midst of the abyss, I'm saved by the news that tickets for the tour continue to sell very well, and my straightjacket twitches with excited gratitude. But the patient must be patient. Our goal, now, is San Diego, by which time my blood-work shall have finally taken its course and I shall be shot from a cannon and might even be equipped with an extra eye. We just never know, do we? Being on life's danger list, I've found, actually prevents you from thinking about how you are, and there's a bread-like warmth in giving in to whatever was meant for you and whatever wasn't. The only critical mistake might be to confuse your pre-med with creativity – which is certainly worth the confusion if it renders you not fully present in your own life. Finally, I gorge myself on thanks for the many and varied messages of support that I've received over these recent four weeks. They have yanked me out of prolonged mood dips and cured a crisis of spirits. I fully realize that the word 'cancellation' in every known dictionary is followed by my own name, but no morale drops as low as my own at the mere suggestion of re-jigging shows. I sincerely ask for your pardon and your understanding. As for those of you who claim to now be officially sick to death of me – if this is really true, then why exactly are you reading this? As a matter of fact, I am even prepared to humble myself to nothing before those who carp; you see, any hospital-stay leaves us in danger of becoming unnecessarily agreeable. Life will right itself.

Whatever happens, I love you.

Morrissey

Los Angeles

16 February 2013
Morrissey then broke into mainstream media news by way of his refusal to appear in the same broadcast as the cast of reality series Duck Dynasty on Jimmy Kimmel Live!, releasing the following statement via true-to-you.net prior to recording of the weekday late night show:
Morrissey is thankful for being invited to perform on Jimmy Kimmel Live tomorrow, February 26. However, he cannot morally be on a television program where the cast members of Duck Dynasty will also be guests. Morrissey would be honored to play the show, if Duck Dynasty were removed.

Morrissey stated, "As far as my reputation is concerned, I can't take the risk of being on a show alongside people who, in effect, amount to animal serial killers. If Jimmy cannot dump Duck Dynasty then we must step away."
Jimmy Kimmel, who I usually find to be quite funny, addressed this in a lame fashion, along with a really dumb skit with principals from Duck Dynasty.  Morrissey released a statement in response, which circulated throughout mainstream media outlets worldwide:
I was disappointed with last night's Jimmy Kimmel Show wherein our smiling host managed to ridicule depression (70% of Americans have experienced depression according to the National Institute of Mental Health). He then found time to ridicule healthy eating (the obesity epidemic in the U.S. costs $147 billion per year in medical expenditure), and he also ridiculed the notion that animals should be entitled to the possession of their own lives. Furthermore, he found time to jokingly promote gun-ownership – hugely amusing for the parents at Sandy Hook, no doubt. He also promoted his special guests Duck Dynasty – who kill beings for fun. None of the above issues are, of course, as important as Jimmy Kimmel himself, who has finally revealed his show to have an overwhelming loss of meaning. Tune in and relive the intellectual fog of the 1950s.
Morrissey did perform on stage for a sold out crowd at Balboa Theatre in San Diego last night, and next in Los Angeles at Staples Center tomorrow and Hollywood High School Saturday night.
Tomorrow, the following added dates will go on sale:
Apr 3 – Richmond VA – The National
Apr 6 – Philadelphia PA – Tower Theatre
Apr 8 – Flint MI – The Whiting Auditorium
Apr 9 – Indianapolis IN – Murat Theatre
Apr 30 – San Francisco CA – Warfield
Additionally, the show at The Cosmopolitan in Las Vegas has been rescheduled to April 20th, and other canceled dates have been rescheduled as well.
The Rock Subculture Journal plans to cover the concerts at Mondavi Center in Davis, CA on this coming Monday, April 20th at The Cosmopolitan in Las Vegas, and April 30th at The Warfield in San Francisco.
Below is the current list of concert dates as of the time of this writing.
Mar 01 – STAPLES Center @ Los Angeles, CA
Mar 02 – Hollywood High School @ Los Angeles, CA
Mar 04 – Mondavi Center UC Davis @ Davis, CA
Mar 06 – The Moore Theatre @ Seattle, WA
Mar 08 – Arlene Schnitzer Concert Hall @ Portland, OR
Mar 09 – Regency Ballroom @ San Francisco, CA
Mar 14 – Foro Sol @ Distrito Federal, Mexico
Mar 18 – Liberty Hall @ Lawrence, KS
Mar 19 – Rococo Theatre @ Lincoln, NE
Mar 22 – Orpheum Theatre @ Minneapolis, MN
Mar 23 – Chicago Theatre @ Chicago, IL
Mar 27 – Surf Ballroom @ Clear Lake, IA
Mar 29 – Ryman Auditorium @ Nashville, TN
Mar 30 – Cobb Energy Performing Arts Centre @ Atlanta, GA
Apr 02 – Orange Peel @ Asheville, NC
Apr 03 – The National @ Richmond, VA
Apr 06 – The Tower Theatre @ Philadelphia, PA
Apr 08 – The James H. Whiting Auditorium @ Flint, MI
Apr 09 – Murat Theatre @ Indianapolis, IN
Apr 12 – Jefferson Theatre @ Beaumont, TX
Apr 13 – Pharr Events Center @ Pharr, TX
Apr 15 – PALLADIUM @ Dallas, TX
Apr 16 – Austin Music Hall @ Austin, TX
Apr 19 – Marquee Theatre @ Tempe, AZ
Apr 20 – The Chelsea at The Cosmopolitan of Las Vegas @ Las Vegas, NV
Apr 23 – Tricky Falls Theater @ El Paso, TX
Apr 26 – Temple Hoyne Buell Theatre @ Denver, CO
Apr 28 – Kingsbury Hall @ Salt Lake City, UT
Apr 30 – Warfield Theater @ San Francisco, CA
The best sources of news for all things Morrissey are the aforementioned True To You zine and the official Morrissey Facebook page.
Click on the image below for the latest and up to date full Rock Subculture Journal schedule of pop and rock music concerts/tours coming up for review (2013 Rock Subculture Schedule):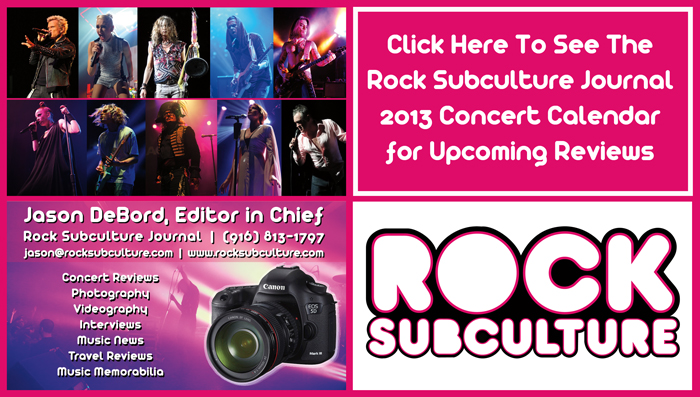 Jason DeBord