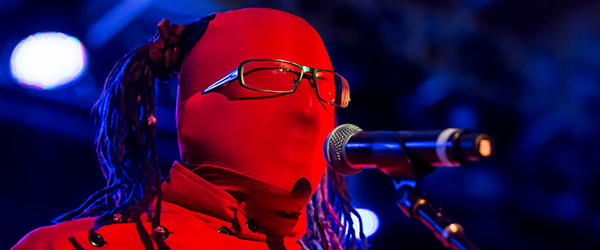 "Oh, somebody wants to hear, "What's On Your Mind?".  Peer pressure him into letting it go… Dude.  Or is he telling us to hurry the fuck up?"  Kurt Harland, singer and front man for Information Society, displaying a mix of confidence and humor at their concert at Thunder Valley Casino Resort on Saturday night.  Live shows from the New Wave/synthpop band are very rare these days, and the guy shouting out the name of the song that made them very famous with the masses circa 1988 didn't have the same appreciation for the full spectacle and show they put on as the rest of the crowd, who couldn't seem to get enough of their unique style of music, whether it was old favorites from the 80s and 90s or new songs from the newly released (and excellent) _hello World, which came out late last year.   This concert event promoted by WorldOne Presents was marketed as "80's Rewind Fest Presents: PURE ENERGY", and it was a special winter edition of their "80's Rewind Fest" series.   This concert boasted additional special guests Book of Love as well as local opener, Self.Same.  Though the three founding members of Information Society have gone off to create lives and careers outside of their band, you wouldn't know if from this concert.  They brought a ton of excitement and style on stage.  Given their amazing new studio album and their ability to put on a fantastic live show, hopefully it represents more InSoc coming in our future.

Who: Information Society
Who: Book of Love
Supporting: Self.Same
Venue: Thunder Valley Casino Resort – Outdoor Amphitheater
Where: Lincoln, California
Promoter: WolrdOne Presents
When: January 31, 2015
Seating: (photo pass)
This show was one of WorldOne Presents' "80s Rewind" concerts, though on a smaller scale from the massive Summer shows which feature deeper line-ups.

I've been a huge fan of both Information Society and Book of Love since the late 80s, and, in fact, have seen both bands at their own headlining shows in recent years, having gone to see Information Society's concert at King King in Hollywood 2012 and having caught up with Book of Love at the DNA Lounge in San Francisco in 2013.
I also featured as guests on my "Rock Talk" podcast program Paul Robb of Information Society in 2012 and Susan Ottaviano of Book of Love in 2013.
The show at Thunder Valley's Plano Hall kicked off around 7:30 and ended at around 10:30.
Below are a few images of DJ Tom Tom who kept the hall jumping with a killer mix of 80s era music leading into the live show and in-between sets, Eddie The Web Guy from Jack FM 93.7, and Jim from WorldOne Presents, who put on the show:
Self.Same
Members
Tony Windle (synths, keytar)
Christine Cahill-Reams (vocals)
Scott Reams (synths)
Local band Self.Same opened the night with a three song set, including a unique cover of Yazoo's "Don't Go" and their own original song "Fragments", with the latter including the presentation of the accompanying music video on the big screens.  You can find more of their work on SoundCloud…
They definitely have more of a contemporary sound, though with some 80s era influences, including the employment of a keytaur (which appears to maybe be the same model as one used by the legendary Howard Jones today).
Self-Same put on a great set with the sound dialed in quite nicely to kick off the evening.
Below are some photos of Self.Same performing on stage:
Book of Love
Members
Susan Ottaviano
Ted Ottaviano
Lauren Roselli Johnson (not present at this event but still with the band)
Jade Lee (not present at this event but still with the band)
When I last saw Book of Love in 2013, the group of four had been reduced to three, with Jade Lee not present at that show.  This time around, it was left to just Susan Ottaviano and Ted Ottaviano (no relation, funny enough) to perform on behalf of the band.
The New Wave synthpop band from Philadelphia, which was formed more than 30 years ago, have in the past couple of years started working together and recording together again, with the occasional live show like this one Saturday night.
While it was an Information Society headlining show, there seemed to be a pretty good contingent of fans who turned out specifically for Book of Love.
The first time I saw Book of Love live was in 1991…  I skipped my high school senior prom to go to their show at the now very long defunct "The Edge" in Sacramento.
The band of course is made up of Ted and Susan Ottaviano, Lauren Roselli and Jade Lee.
Famously, they toured with Depeche Mode in 1985 and 1986 as part of their Some Great Reward and Black Celebration tours, and had a number of huge hits of their own, including "Boy", "Pretty Boys and Pretty Girls", "I Touch Roses", and their (sort of) cover of Mike Oldfield's "Tubular Bells" from The Exorcist.
Their debut eponymous studio album was released in 1986, though it was not mastered on CD until November 1988.
I remember that I had bought my first CD player in early 1988 (the first CD that I ever bought was Best of OMD, which came out in March 1988) and my first introduction to Book of Love and their real quality of their sound of music in this new format was the Sire Records sampler CD Just Say Yes Volume II: Just Say Yo.  It was a phenomenal CD series, and that particular one had "Tubular Bells/Pretty Boys and Pretty Girls [Regan's House Medley]".  People forget how poor the sound quality was on cassette tapes (and of course younger generations have never heard one played), and Book of Love had that clean, layered, perfectly arranged sound that was something new and fresh.
I can't stress enough how much that 14:26 long track completely blew my mind, and made me a lifelong Book of Love fan.  It was such an incredibly inventive and perfectly produced piece of pop music, that still sounds better than most of what is being made today, and still sounds contemporary.  I loved the intensity, the changes, the contrasts.  One of the best mixes of two pieces of pop music ever, and funny enough, matched by Depeche Mode's own "Behind The Wheel/Route 66 (Mega-Single Mix)" which was included on the same sampler.  Both were brilliant mixes of an original and inventive cover.
Their second studio album, produced by Flood, was released in June 1988, so I remember buying both the first and second I think later in the year.  They were very prolific in that time, and followed-up a few years later with Candy Carol in 1991, which was the tour with which I saw them live in concert.
Their last original studio album was Lovebubble in 1993, and then no new music was recorded until their did their best of in 2001.  Of course, the entire music industry and landscape changed drastically in 1993, with Nirvana shifted the world toward raw guitar sounds, and the synthesizers that ushered in the 80s were suddenly something of the past.  The band split up to pursue different things.
Getting back to their show at Thunder Valley, it was a fantastic set.  Funny enough, even with just the two of them, it seemed to go much more smoothly than the show at the DNA Lounge a little over a year ago… the were more at ease and enjoying it, and the sound was perfectly attuned for the space, allowing us to hear the clean sound and all that treble and bass.
Below is a photo of the set list from the show: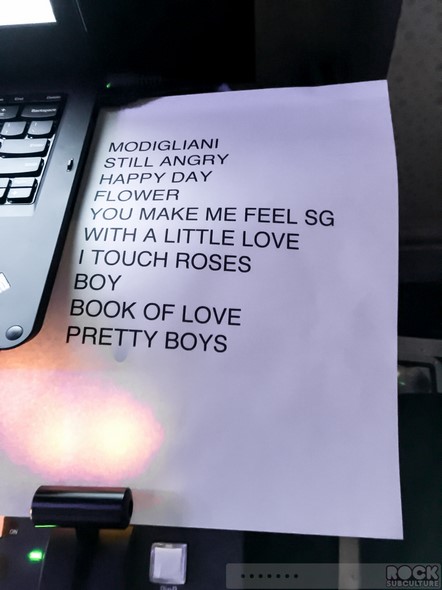 Below is the set list…
Setlist:
Enchantra (Intro)
Modigliani (Lost in Your Eyes)
Still Angry
Happy Day
Flower
You Make Me Feel So Good
With a Little Love
I Touch Roses
Boy
Book of Love
Tubular Bells/Pretty Boys and Pretty Girls
The one song performed that wasn't played at the DNA Lounge show in 2013 was "Flower In My Hand" (and Susan literally had a flower design in the palm of her hand).
Their set was limited to one hour, so it was a bit shorter this time around, though they got to their biggest/best known hits.
Hopefully this will be the first of many more live dates in 2015.  Their music translates well into live shows, and it is awesome that they have a solid following to support them and their work.
Below are some photos of Book of Love performing on stage (click any image to open a virtual lightbox to view larger versions of each photo):
Information Society
Current Touring Members:
Paul Robb (founder – synth, various)
Kurt Harland (founder – vocals, electronic drums/effects)
James Cassidy (founder – synth, bass guitar, various)
Mike Wimer (percussion)
Zeke "Falcotronic" Prebluda (various, video producer)
Though they had been performing for many years before, Information Society had a huge mainstream hit in 1988 with the song, "What's On Your Mind (Pure Energy)", off their eponymous album, and thus, it is this song that they are most known and recognized for by the public at large.
The band was formed in Minneapolis, MN in 1982, and they were and still are true pioneers in electronic music.
Following their 1988 hit album, they continued to release new material with favorable results, though Robb and Cassidy left the band in 1993, with Harland continuing on through 1998, with no real activity at all until 2006, and new material again started to come out.
I really enjoy the fact that Information Society was so ahead of the curve on a number of pop culture and musical innovation fronts, that the mainstream is just recently starting to catch up with them.  During the 80s, electronic and synthesizer styles of music were viewed by many as faddish, and "geek" pop culture was something to be enjoyed quietly (secretly even), not celebrated.  They were also way out ahead of most with samples, which blew up quite some time after InSoc was developing that trend in their own work.
Obviously a lot has changed, with a series like The Big Bang Theory being the #1 comedy on television, the explosion of popularity with Comic Con in San Diego, the ubiquitous nature of the Internet and technology, and the like.  Information Society have been consistent in playing a part in cultivating the sub culture into something that has since widely been accepted as at the very least valid, if not cutting edge cool.  They were also way, way ahead of the game when it came to personal computing and the Internet.
I had a great love of this band once I discovered them along with the mainstream, though they'd been producing and performing music around five years prior to that… but once I found them, I've followed them ever since, along with Paul Robb's solo efforts (Think Tank and Brother Sun Sister Moon and other HAKATAK artists)
I personally discovered them in '88 with that self titled album, and played it front to back over and over.  I was in high school at the time, and it served as one of my "soundtracks" when I was heavily into artwork, drawing, and painting sessions that often went all night long.  So I think I've got a lot of their music imprinted in my brain like the grooves in vinyl.
Thoughts on _hello World
I actually didn't even realize that _hello World was released until earlier in January (or I would have ranked it high in my Top Ten list for 2014).  It is an amazing album with songs that are as great as their classics for sure (maybe even better since they have all matured as artists over many years since).  It is very distinctly the work of InSoc, with the trademark sounds, samples, changes, and experimentation.
The opener, "Land of the Blind", features a bit of an homage to "What's On Your Mind" (at least one little snippet I hear early on), and is maybe the most classic-sounding of the lot.  "The Prize" is prefaced with their clever sort of samples and such and it has a fast, frenetic pace as it ramps up.  Both of these songs are very catchy and fit in well with the best of their catalog.  "Where Were You" sounds almost Depeche Mode-like… there are some elements that remind me of "Personal Jesus", but it also sounds a bit NIN in the intro, and then it takes a sharp turn into distinctly InSoc territory, and kind of weaves around back and forth for the balance of the song.
"Get Back" was released as a single in 2014, which I did find last year and ranked in my best songs of the year.  I love this one as well – it really sounds like classic InSoc and makes me so glad the guys are back together and recording new music.  I think that this song alone shows that they are still as good as they ever were – if not better – and it's exciting that they are still capable of making new music in the sound and style that I and many others love to hear.
"Jonestown" is a heavily layered, anthemic sort of song that takes _hello World into different territory that feels more like it could pump up the crowd in a stadium-sized live venue.  "Dancing with Strangers" has an interesting horn sound on the lead in, mixed in with an eclectic grouping of sounds which mix into a unique kind of vocal delivery by Kurt, though that switches over to more of his traditional singing as it goes along.  This is maybe the most unique song on the album – much more experimental and original, but it all works beautifully.  Like "Where Were You", this one shows the band is interested in exploring different musical territories and styles, even if it means employing some real invention.
"Beautiful World" features Gerald C. Casale from Devo, which is a cover of their song.  To be perfectly honest, this is the one song I didn't care for on the album.
"Creatures of Light and Darkness" is amazing, but I'm a sucker for traditional piano sound, especially mixed into a contemporary song with powerful beats and synths.  Fantastic song.  Love it.  More traditional song structure (though it does go through it's own changes) and slower pace – this one works brilliantly, especially in contrast to the more pop-oriented songs on the album.  "Above and Below" also slows things down a bit, and is another highlight illustrating the other side of InSoc.  Beautiful song!  Definitely one of their all-time best (all albums).
"Let It Burn" is definitely the most cinematic of the songs on _hello World, at least on the lead in.  Like the others, it shows how intuitive the band is at layering different sounds and beats seemingly effortlessly.  I would rank them among the very best from the past 30 years at doing this masterfully.
The album closes out with "Tomorrow the World", which is a more stripped down ballad framed by strings, though of all of them, it is absolutely vocal-driven.
Definitely one of my favorite albums of 2014, even if I didn't find it until into January of 2015.  In any event, I went back and slipped it into my 2014 Year in Review's "Best Albums of the Year" list retroactively.
Thoughts on the Concert at Thunder Valley
This show was quite different from the one I attended in 2012, as the band has a lot of new material to work with and perform live.
2014 was a big year for the band, with the new studio album, _hello World, as well as their album of remixes for their new (excellent) song,"Get Back", and an album of remixes for their classic song, "Running" (Running 2K14), Engage! Classic Remixes Vol. 2, another remixes album called Modulator, and their Land of the Blind EP.  Obviously a lot of new music for fans to learn about and catch up with, but as has always been the case with Information Society, it is top quality work.
As with the 2012 show I caught, founding members Kurt Harland, Paul Robb, James Cassidy were up front with two "red shirt" members (a la doomed Star Trek crew members) at the back of the stage (Mike Wimer and Zeke "Falcotronic" Prebluda).  Videos produced by Zeke played throughout the show on the screen at the back of the stage.
Below is a photo of the set list from the show: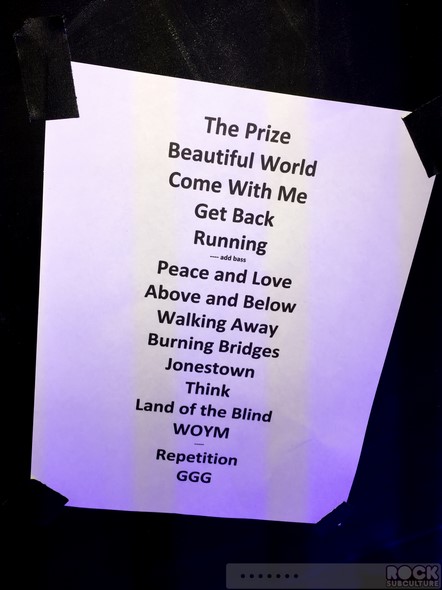 Below is the set list…
Setlist:
The Prize
Beautiful World (DEVO cover)
Come With Me
Get Back
Running
Make It Funky
Peace & Love, Inc.
Above and Below
Walking Away
Burning Bridges
Jonestown
Think
Land of the Blind
What's on Your Mind (Pure Energy)
Encore:
There was original supposed to have been a second encore song, but I speculate that something went wrong during Repetition and thus they decided to scrap that last one, but it may have been skipped for other reasons.
In any event, this was one of the most interesting set lists that I've seen in a very long time.  I would characterize it as "fan service" oriented, as it is full of surprises (and definitely not designed for the "What's On Your Mind" shouter that was referenced at the start of this article.
First and foremost, they played a lot of brand new music.  "The Prize", Beautiful World", "Get Back", "Above and Below", "Jonestown", and "Land of the Blind" are all songs released in 2014 and found on their latest, _hello World, comprising about 40% of the stage time.
Two of the songs – "Running" and "Burning Bridges" – featured vocalists other than Kurt in their original recordings.  "Running" was originally released on Creatures of Influence in 1985 with Murat Konar on vocals.  Traditionally, the band refused to play this song live.  "Burning Bridges" was recorded for Synthesizer with Christopher Anton on vocals (and album that Kurt did not participate on).  So it is interesting that these two songs were included, but very cool in that it goes against expectations.
Their most famous and eponymous album released in 1988 was represented by "Make It Funky", "Walking Away", "What's On Your Mind (Pure Energy)", and "Repetition".  So there were two more songs from the new _hello World than from Information Society.  Again, quite interesting, but there is that confidence that I also mention in the opening.
Filling out the set was "Peace & Love, Inc" (from the album of the same name) and "Think" from Hack.
Obviously, many more favorites from different eras were not played, but they have a deep catalog with a lot of great music, and I personally like the approach of playing a lot of new material and unexpected material to make it a more interesting experience.
With this live show, comparing with 2012, they seemed to have found their groove on stage, and brought more fun with them as well.
Kurt, Paul, and James did costume changes on stage, stripping off the first set to reveal their colorful suits beneath.
All in all, it was a "sandbox" sort of show…  where what is created by them on stage is uniquely InSoc.  At one point, Kurt even brought his deep into sleep two year old onto the stage, holding him on his shoulder as he sang away (the child never woke up!).  They were all very engaged with the audience throughout – Kurt even dove into a couple's selfie without them even realizing it!
Awesome, awesome, fun show.  Their U.S. shows seem pretty rare these days, but I'd love to catch more of them this year if any opportunity arises.  Highly recommend checking them out, but short of that, picking up some of their new music as well.  They've still got "it".
Information Society Concert Photography
Below are some photos of Information Society performing on stage at Thunder Valley.
Click any image to open a virtual lightbox to view larger versions of each photo: