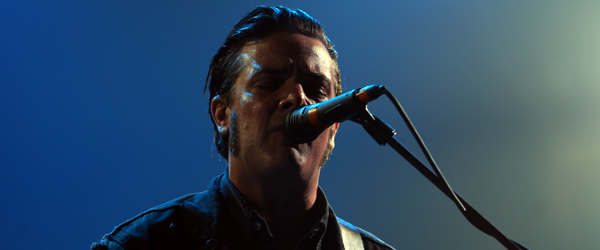 This article features the latest in an ongoing series of "Rock Talk" podcast audio interviews for the Rock Subculture Journal. My latest guest is Peter Hayes of Black Rebel Motorcycle Club. The band will be releasing their seventh studio album,  Specter At The Feast, next week, and the full album can be streamed on their official website at www.BlackRebelMotorcycleClub.com.  This special edition of the podcast was recorded prior to their gig at Caprices Festival in Crans-Montana, Switzerland on March 14th, 2013.
The audio interview can be heard in its entirety in the player embedded below, and is also available as a free download from iTunes HERE.
Podcast: Play in new window | Download
Subscribe: Apple Podcasts | RSS
You can use the following links to learn more about Black Rebel Motorcycle Club, their music, the new album, and their upcoming live dates for 2013:
Official Website: www.blackrebelmotorcycleclub.com
Facebook: facebook.com/BRMCOfficial
Twitter: twitter.com/BRMCOfficial
YouTube: youtube.com/user/BRMCOfficial
Special thanks to Peter Hayes for taking the time out of his day in Switzerland yesterday to invite me over and chat with me about their music.  It was a real pleasure to have a chance to meet him as well as Robert Levon Been and Leah Shapiro prior to the show.  They were also kind enough to pose for a photo for me at their resort (click on image below for higher resolution):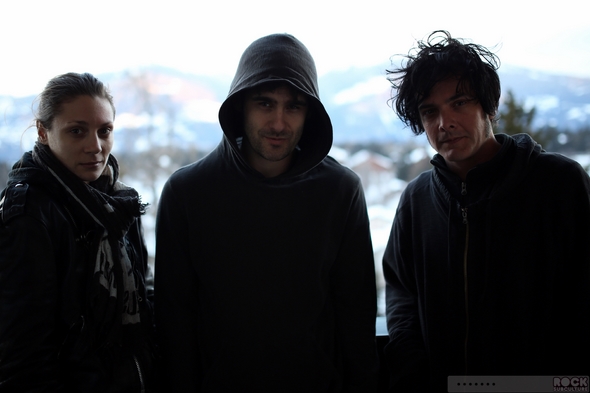 I'd highly recommend checking out the new album, as well as catching their live show if possible – they are an awesome band.
I reviewed the concert in separate coverage for Day 7 of my ongoing reports on Caprices Festival in Crans-Montana, Switzerland, which can be found HERE:
All ongoing coverage of Caprices Festival will be found via the following link: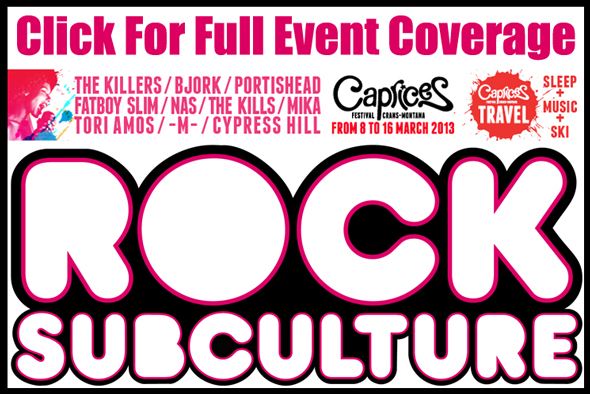 Jason DeBord