Marina & the Diamonds will be touring the United States this May, in support of her critically acclaimed 2012 sophomore album, Electra Heart.  Joining the Welsh singer-songwriter will be Chari XCX, who's debut album is expected prior to the tour.  Dates announced will go on sale February 1st and 2nd.
Full details about the tour can be found on www.marinaandthediamonds.com:
Below are the full list of dates officially announced this week:
Thursday 2nd May: Showbox – Market – Seattle, WA
Friday 3rd May: Commodore Ballroom – Vancouver, BC
Saturday 4th May: Wonder Ballroom – Portland, OR
Monday 6th May: Warfield – San Francisco, CA
Tuesday 7th May: Observatory – Santa Ana, CA
Thursday 9th May: Boulevard Pool at The Cosmopolitan of Las Vegas – Las Vegas, NV
Friday 10th May: House of Blues – San Diego, CA
Saturday 11th May: Club Nokia LA Live – Los Angeles, CA
Monday 13th May: Club Sound – Salt Lake City, UT
Tuesday 14th May: Gothic – Denver, CO
Thursday 16th May: Granada – Lawrence, KS
Friday 17th May: The Pageant – St. Louis, MO
Sunday 19th May: The Varsity – Minneapolis, MN
Monday 20th May: Vic – Chicago, IL
Wednesday 22nd May: St. Andrews – Detroit, MI
Thursday 23rd May: Sound Academy – Toronto, ON
Friday 24th May: Corona – Montreal, QB
Tuesday 28th May: Mr. Smalls – Pittsburgh, PA
Wednesday 29th May: Rumsey Playfield – New York, NY
The Rock Subculture Journal will be covering the show on May 6th at The Warfield in San Francisco.  We covered Charli XCX last year in her appearance with Santigold at Club Nokia.
Click on the image below for the latest and up to date full Rock Subculture Journal schedule of pop and rock music concerts/tours coming up for review (2013 Rock Subculture Schedule):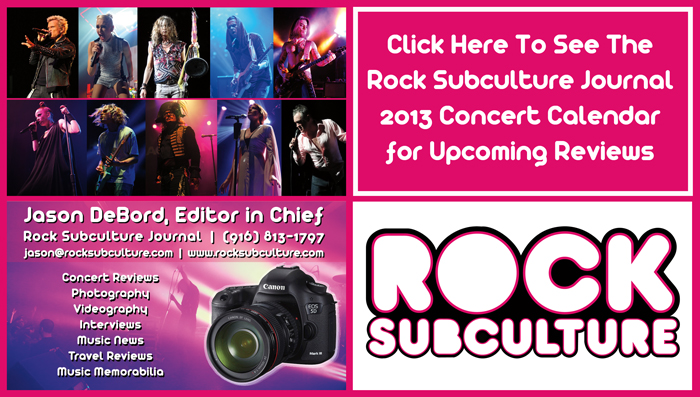 Jason DeBord