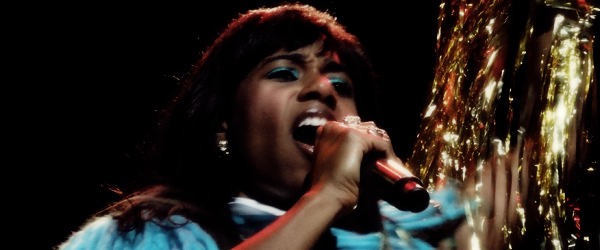 Santigold has been on my "must see list" for a while, and with their latest tour, they did not schedule any Northern California shows, so I made a special trip to Los Angeles to see them last night, at one of my favorite venues, Club Nokia.  I have been a fan since the release of their first album, and have become an even bigger fan with the release of their second album, Master of My Make-Believe.  It was an absolutely fantastic night that felt like a giant celebration, with two great opening artists, so enough with the preface and I'll get right to it.  The thing that most struck me about Santi was her natural ability to make those magic connections with individual members of her audience, one by one – her eyes seeking out and locking onto people with a special smile, expression, or gesture.  Wonderful stuff, and her music is so uniquely her – rare when a newer artist can produce and deliver such genuine art.  I really can't recommend enough picking up her albums and seeing her do her thing live, with her awesome band.
Who: Santigold
Supporting: Charli XCX
Supporting: DJ Ivy
Venue: Club Nokia
Presented By: Goldenvoice and KCRW
Where: Los Angeles, California
When: June 1, 2012
Seating: General Admission Floor – VIP Pit Section (as well as photo press pass)
As noted, there were two opening acts for the show, which I'll discuss first, then go into the full review.
DJ Ivy
Starting out the night was DJ Ivy.  I've seen a full spectrum of DJs used to open concerts – some are good, some are great, some are just terrible.  I'd never been to an event with DJ Ivy before, and I'd count her among the absolute best.  Just great music, a nice variety and mix of music, and she was just dialed into what she was doing, and feeling the music as well.  She was just awesome, loves her craft, is so obviously a natural at it, and I'd absolutely pay good money to go to an event in which she was the only attraction – she's just awesome.  You can learn more about her at her official site, www.djivyla.com, on her YouTube channel, on Facebook, and on Twitter.
UPDATE 6/5/12: You can now download DJ Ivy's full 52 min opening set from her official site as an MP3 right here: LINK
Below is a snippet of video and a few photos of DJ Ivy from the Club Nokia gig: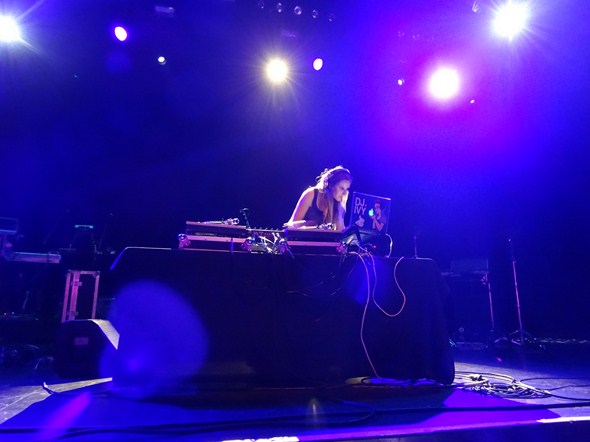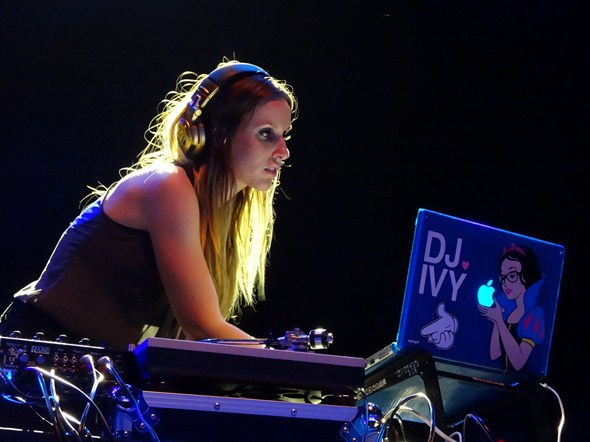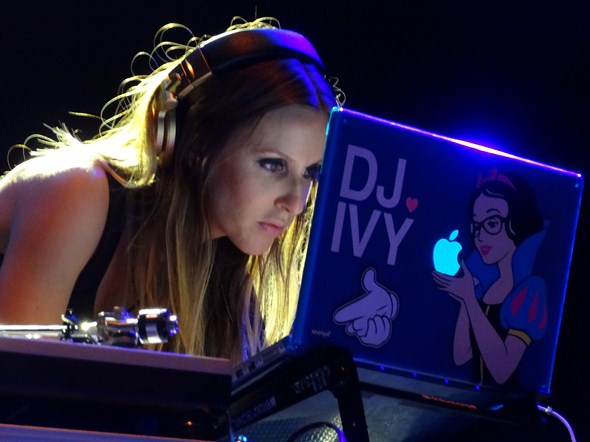 Charli XCX
After DJ Ivy, Charli XCX took the stage.  This was a three piece band on stage, and I have not found too much information about them on the Internet (though you can link from here to their official site, their YouTube channel, their Facebook page, their Twitter account, and Soundcloud), but I really enjoyed their performance as well.  Her music really infuses different genres and subgenres that I am a fan of, and Charli really knows how to come alive on the stage.  I really hope that she continues to break out and find success, as she really has incredible potential.  She will also be supporting some of the upcoming Coldplay concerts this Summer, and is scheduled to have a EP, "You're The One", released on June 12th.
Below is one full song I shot in video followed by still photograph taken during their set: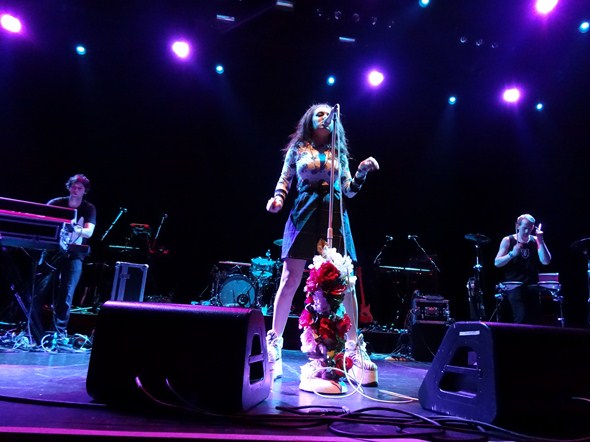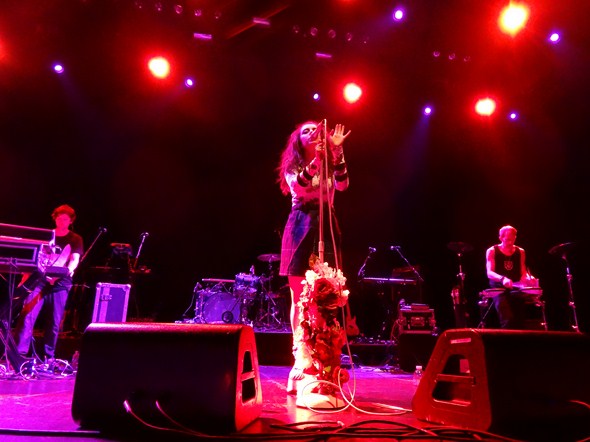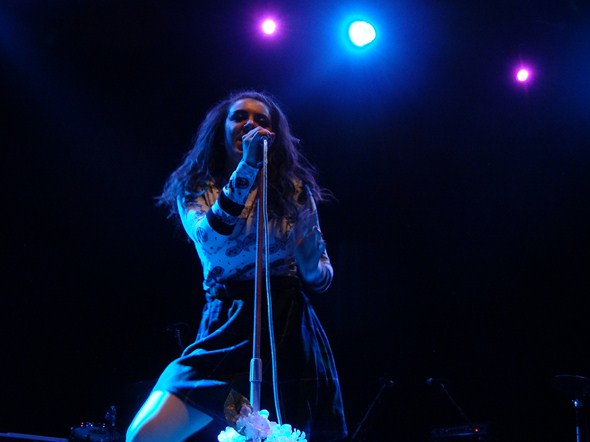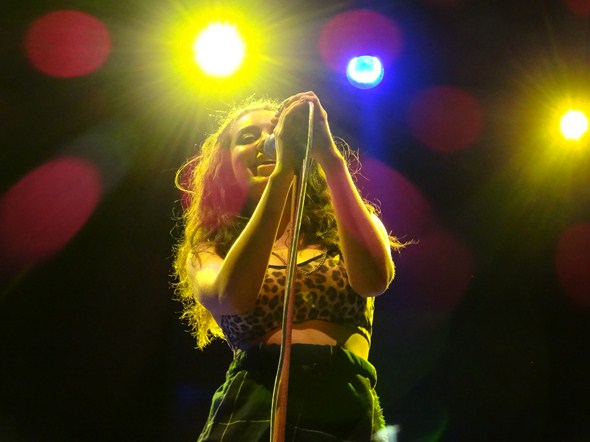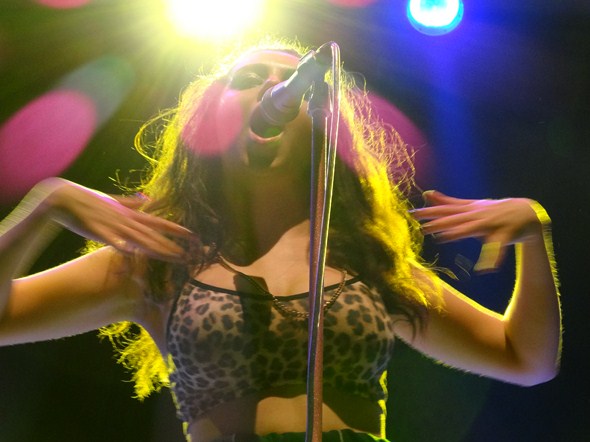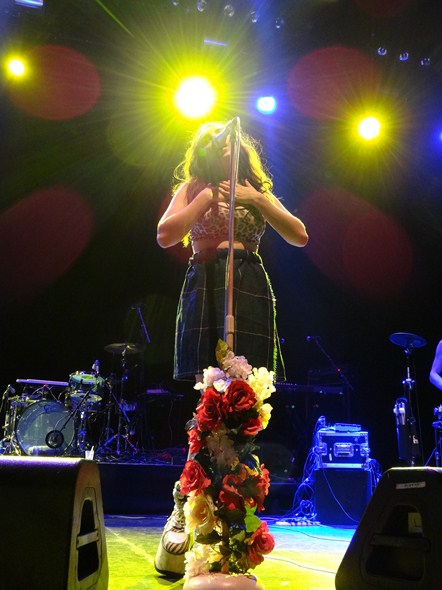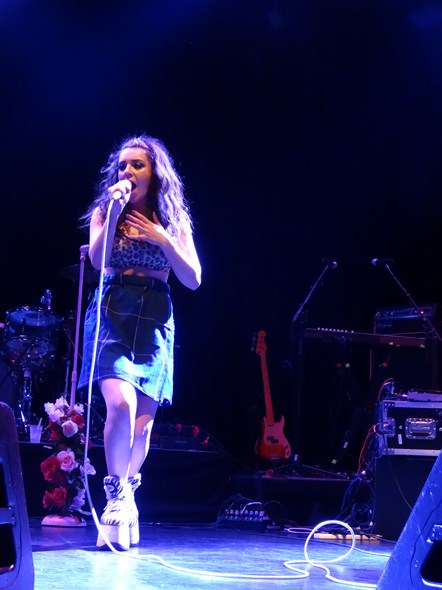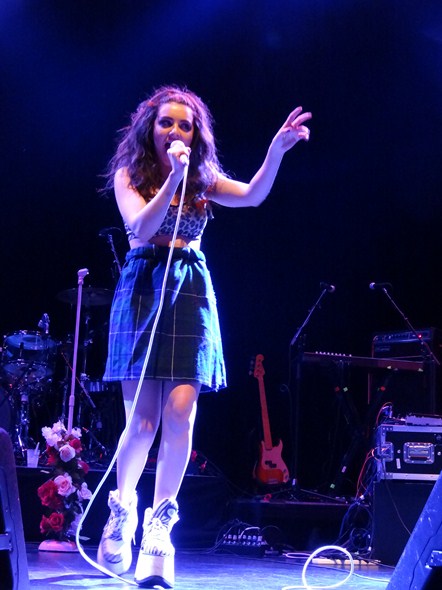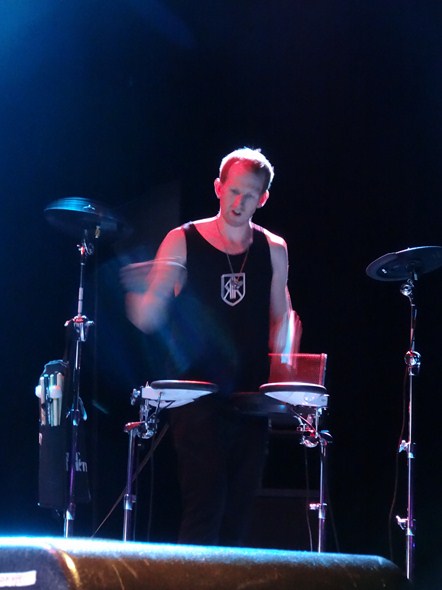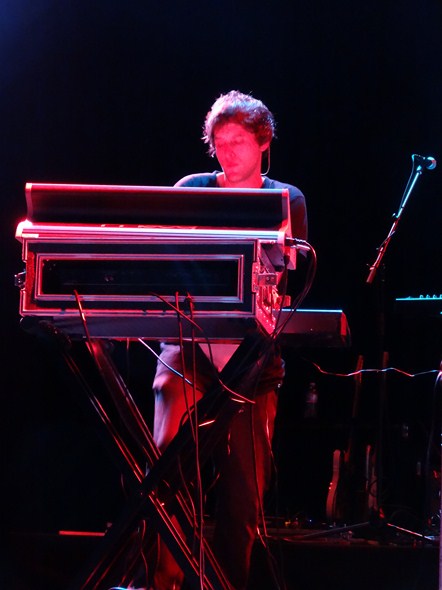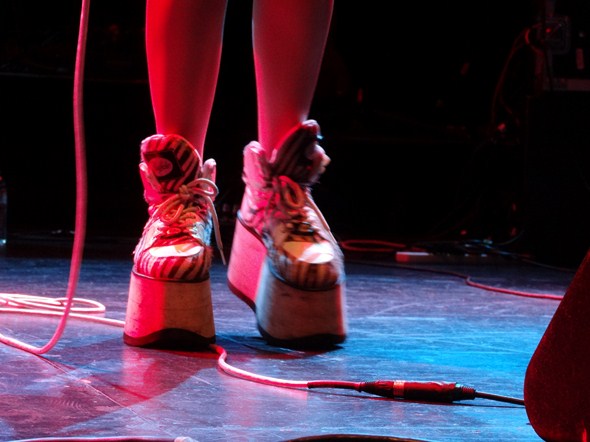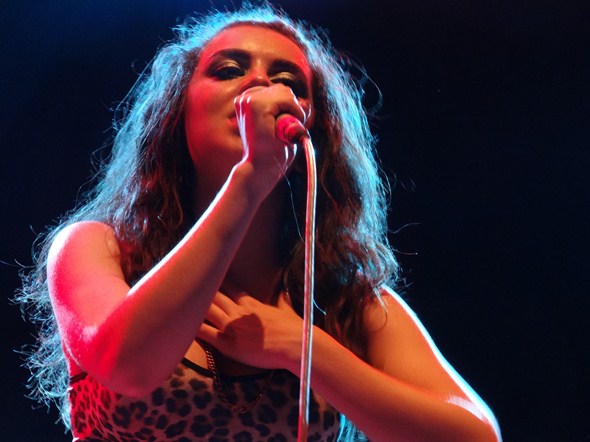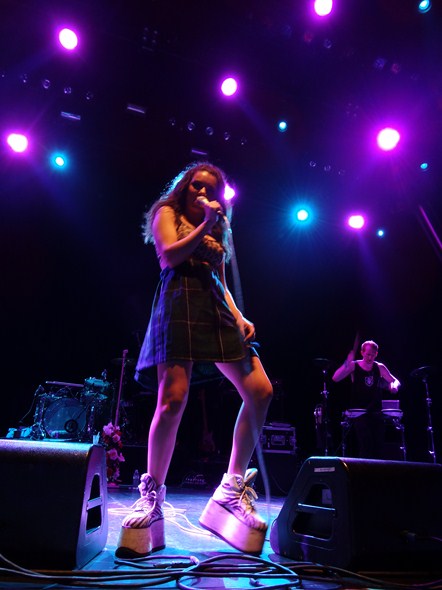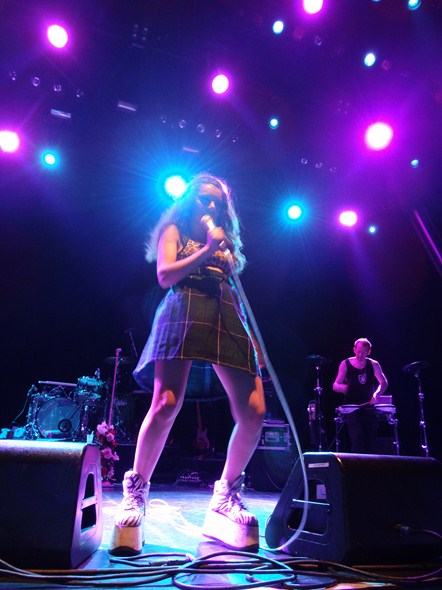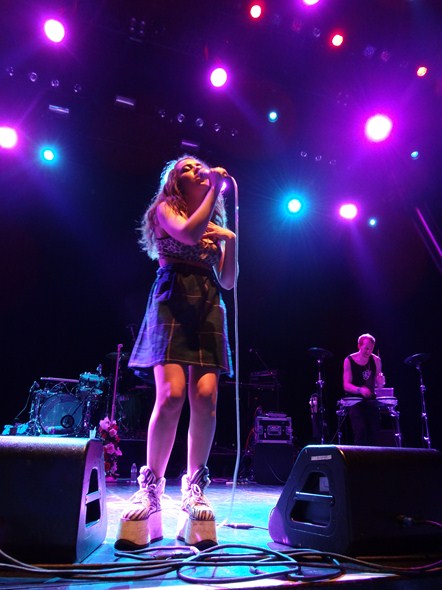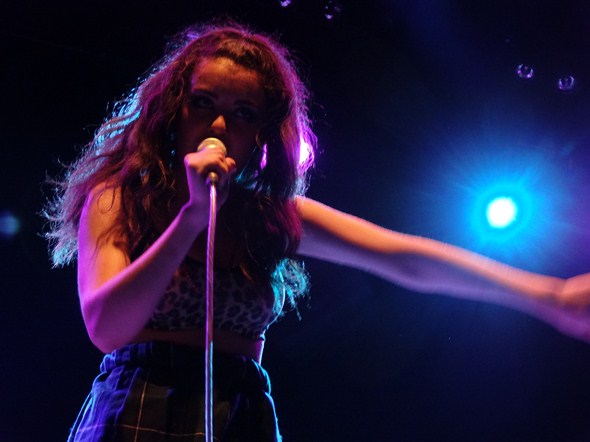 Santigold
So obviously I bought the tickets originally for the top of the bill, Santigold.  I was a huge fan of their eponymous debut album.  Such a unique sound, diversity within the songs on the album, and just great tracks.  A few hooked me in and then I just fell in love with the entire album.  I'd never seen them live though, but once their sophomore effort was released one month ago, I knew I had to see them live, and, as explained, I was willing to jump on a plane to make it happen.  I'd seen Coldplay earlier this year at the same venue, the wonderful Club Nokia, so that made it a definite on my schedule.  I also added in the MusiCares event here the night before (with Billy Idol, Heart, Alice in Chains, and others), so had the privilege of seeing two special shows back to back.  But more than anything, I wanted to see Santigold live.
I did have a small world moment a few days leading up to this – a friend in L.A. called me out of the blue, and I told her I was coming in town for a visit and why, and it ended up she and her husband are acquainted with Santi and her husband, so as it ends up, their joined me for this show, which was awesome.
So who is Santigold?
Santigold (also Santogold) is the stage name for Santi White, who was born in Philadelphia, Pennsylvania, but now has very strong ties to New York.  She worked in the music industry before releasing her own music as Santigold, though prior to that, she was a singer for a punk rock band called Stiffed.  With her initial touring, she worked for acts such as Coldplay, M.I.A., The Beastie Boys, Björk, Jay-Z, and The Streets.  Santi has collaborated with a lot of artists, which really reflects the diversity in her own sound and influences.
I was really anticipating their new album, Master of My Make-Believe, and when it came out, it truly exceeded my expectations.  It definitely stakes out some new territory, and while a bit different, it's very cohesive within the album itself.
My favorite track off the new album is definitely "God from the Machine".  I just think it's a brilliant piece of music.  The funny thing is, three days after the release of Master of My Make-Believe, I was scanning my Twitter feed and saw a tweet from NPR Music asking "What's the best song that you heard this week?", to which I tweeted in response, "@nprmusic The best newly released song I've heard this week is "God From The Machine" by @Santigold off their new album ‪#bestsongallweek".   To my surprise, my tweet was retweeted by Ricky Blaze, who collaborated on the song!  One of those unexpected moments that shows the magic of the Internet.
So… getting to the concert…
For this show, I had a photo press pass arranged, which sanctioned me to take photos from the galley (the space in-between the stage and the GA Pit barricade) for the first few songs; however, I was hoping to shoot from the crowd, as close to the front of the GA Pit as I could get.  I arrived sometime after 4:00 PM for the 8:00 PM doors (with Santigold not expected on stage until after 10:00 PM), and was surprised to find just two gentlemen waiting in line.  But… they'd been there since noon.  So I give them the made-up award of most dedicated Santigold fans in the Los Angeles area.  They were kind enough to pose for the photo below (they came to represent in style as well!):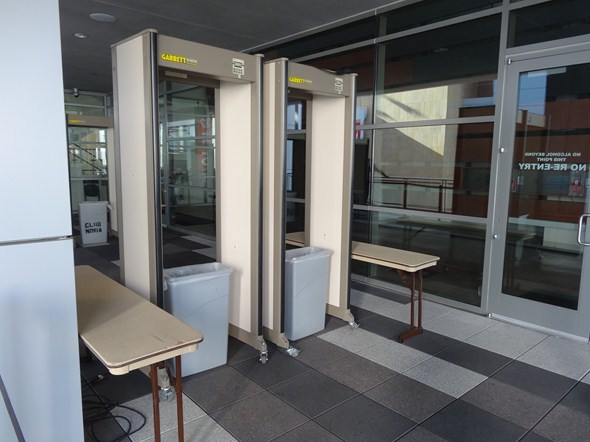 The first to arrive and form a line
So being third in line, I knew I could get the desired position along the barricade, so my friends en route… we decided to skip out pre-show dinner and wait it out.
Ultimately I did get my press pass and we did make it to front center of the barricade with our new friends (and, to note, all of the fans in attendance we just awesome all around – really great group of people).
Since I've already covered the opening acts, I will continue on here with the Santigold portion of the show.  Skipping to the end, I did end up getting Santi's own set list that was taped to center stage (you can see it in many of my photos further below), so I have posted here first to provide the outline of the set and sequence of the songs: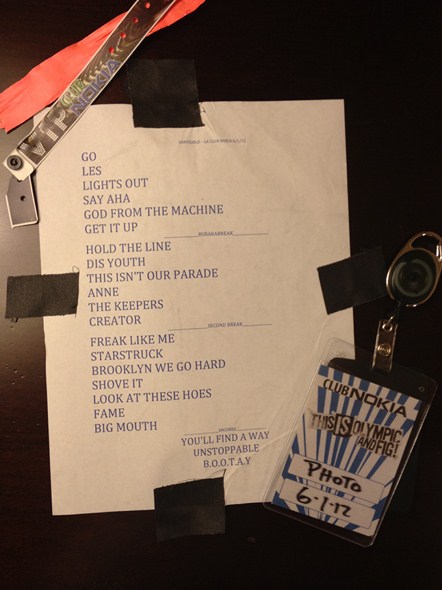 Obviously, it was an incredible collection of songs, so I couldn't have been more pleased on that front (save for the exclusion of "I'm A Lady").
I know I've covered this already, but I was just really struck and touched by how warm, friendly, and engaging Santi was…  and just a complete and total lack of ego.  She just has such an awesome vibe about her – you want to be her friend!  Again, skipping ahead a bit, for one song (I think it was "Creator" if I remember correctly – it's 4 am as I type this sentence!), she invited people (a lot of them!) up onto the stage to dance with her as she performed.  It was just such a cool gesture (which I've only seen with one other artist this year – Terri Nunn of Berlin) and just illustrated both her love for and trust of her fans.  And a little while after that, she jumped off the stage and climbed up onto the barricade to dance and interact some more with the audience.  I just get the sense she really, really loves sharing her art, and is really compelled to have this substantial connection with those who come out to her shows.  It's really awesome.
With the performance itself, one thing that really stood out for me is how much she, and the performance, sounds spot on with the albums.  A lot of bands and artists can sound very different going from studio to stage.  One band that's always sounded very much the same to me is The Pixies, and now with this experience, I can included Santigold with that achievement.
I really enjoyed the performance all around – Santi's stage presence, her awesome dancers/vocalists and their cool/unique choreography, the rest of the band, the use of the stage.  Everything just worked very well, and all in all, the night absolutely exceeded my high expectations.
I'm a huge fan of Santigold's work and would really encourage people checking out both albums, and catching this tour if there is an opportunity.  She's a brilliant artist, and seems like such a wonderful person.  I also really loved DJ Ivy and Charli XCX and would love to have an opportunity to see them again as well.  Brilliant night all around.
I shot several videos of the songs performed, but am currently at a hotel with slow Wi-Fi, so additional videos will be added to this article as I have opportunity to upload them to YouTube…
"Disparate Youth":
"God In The Machine":
"Lights Out":
"Big Mouth":
"Starstruck":
"You'll Find A Way":
Below are photos I took at the event: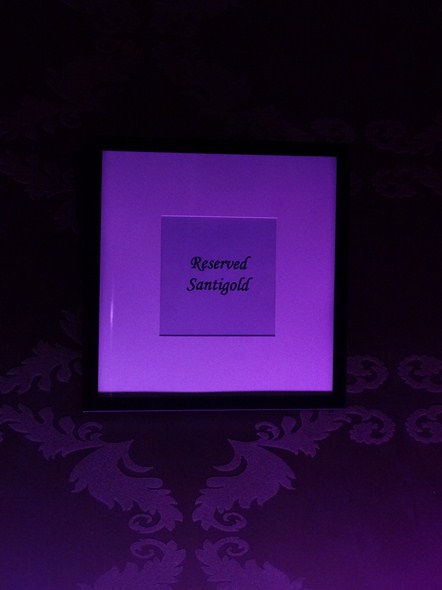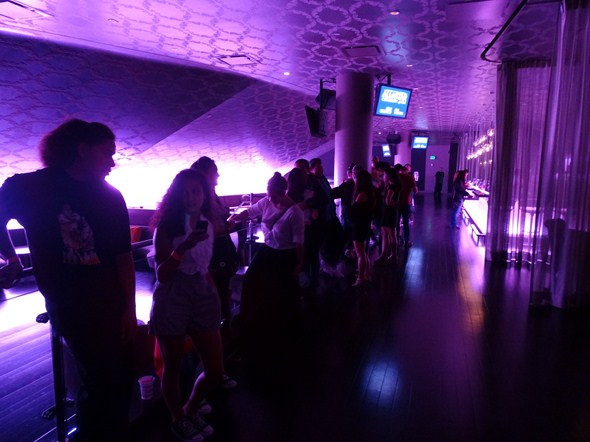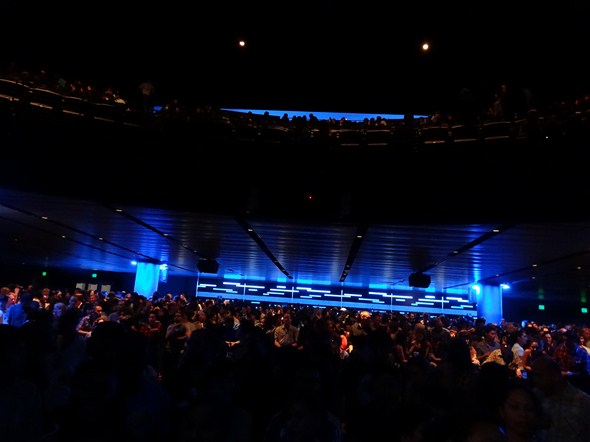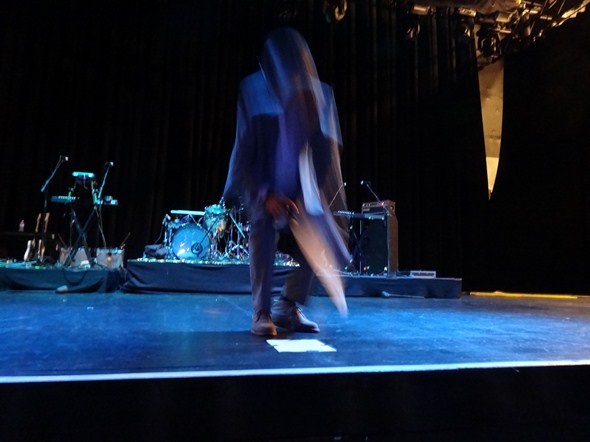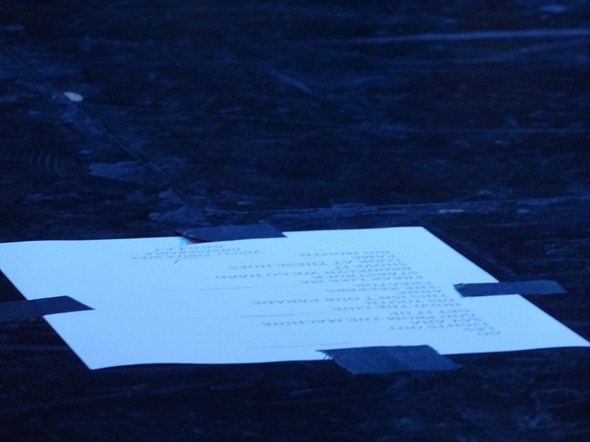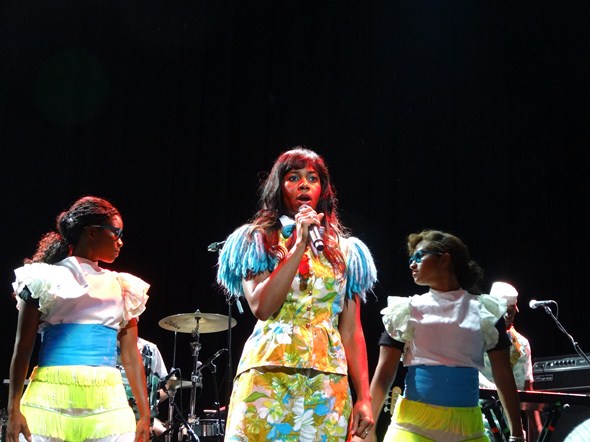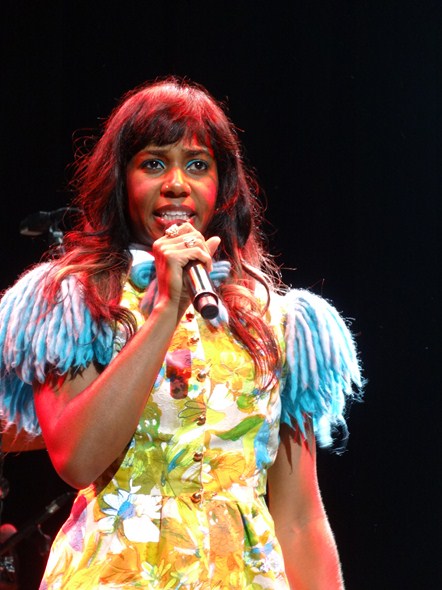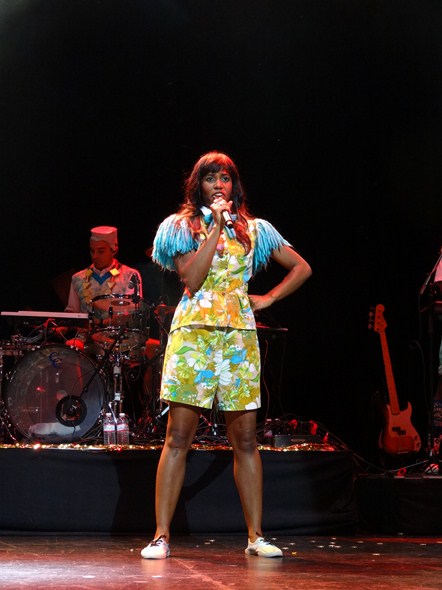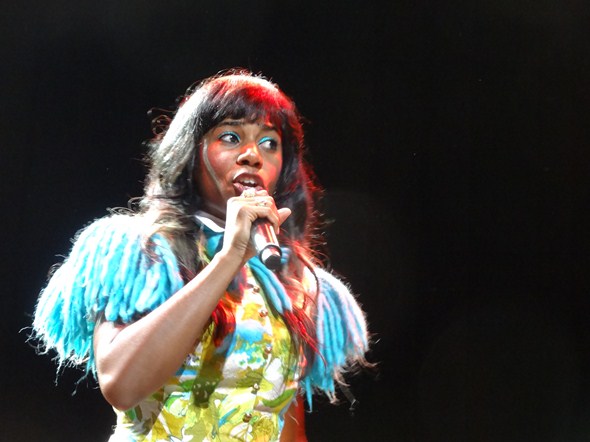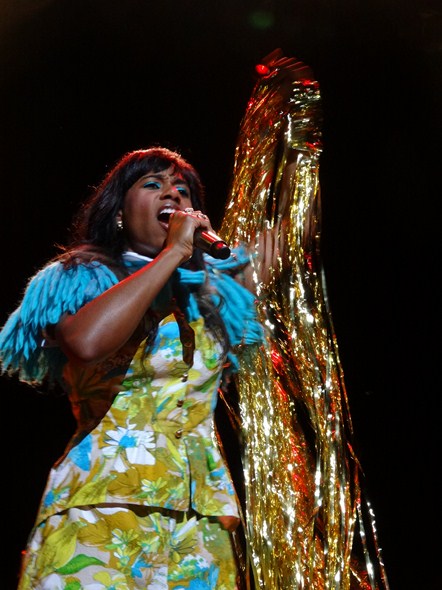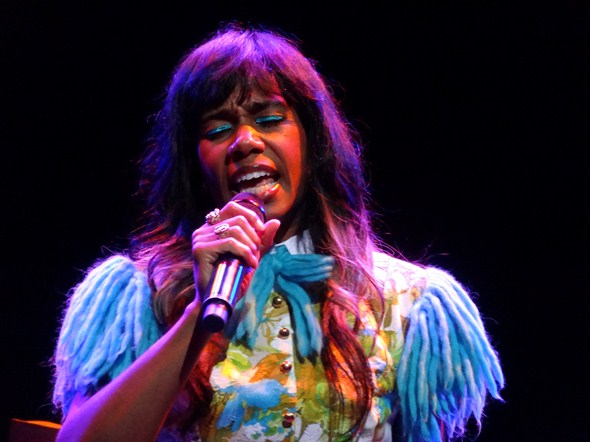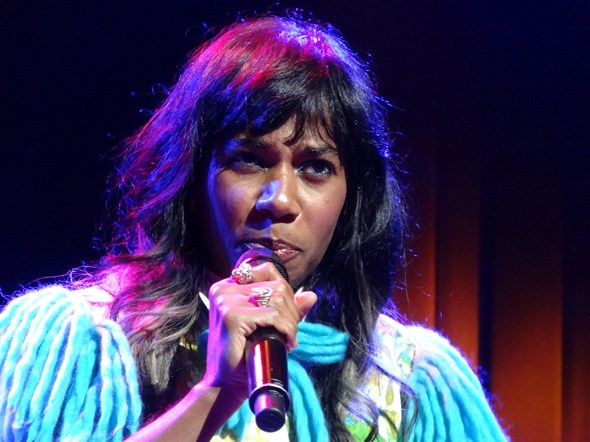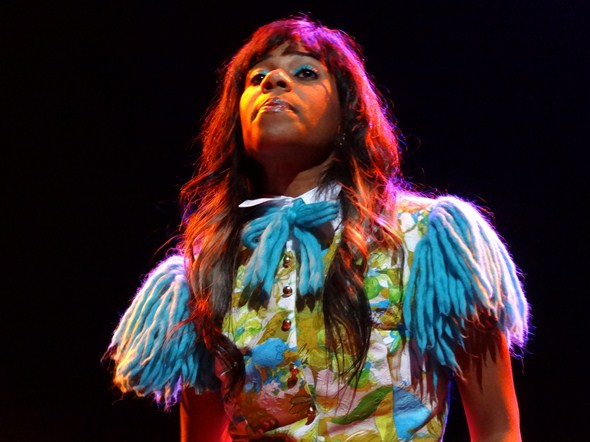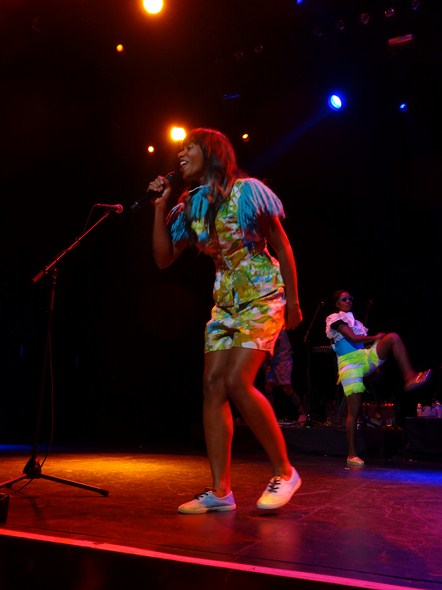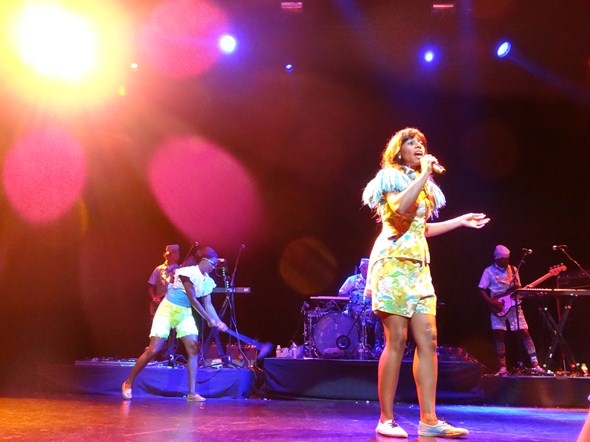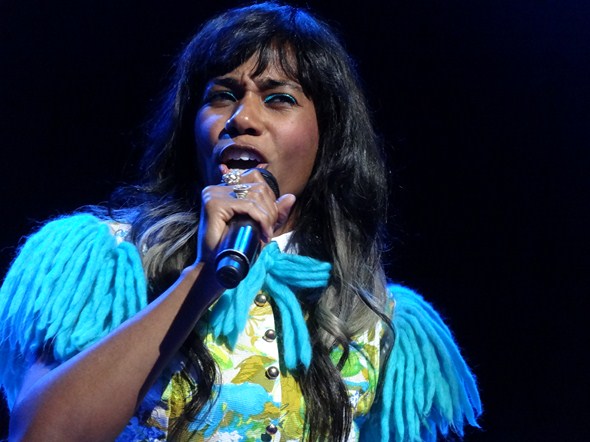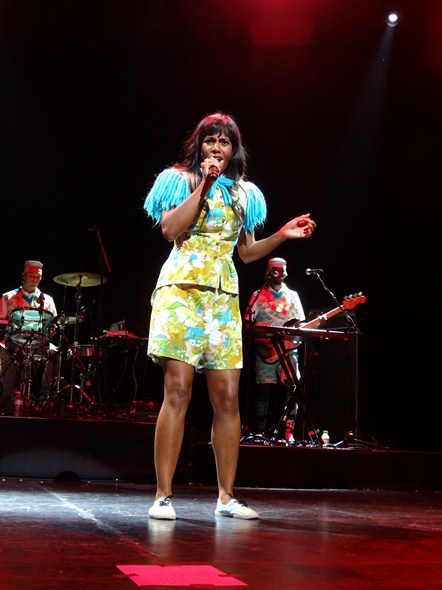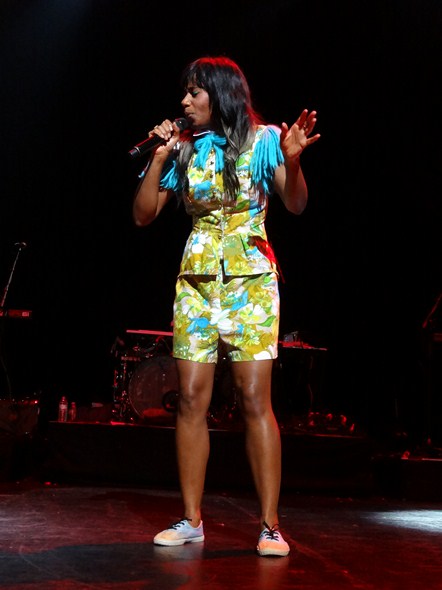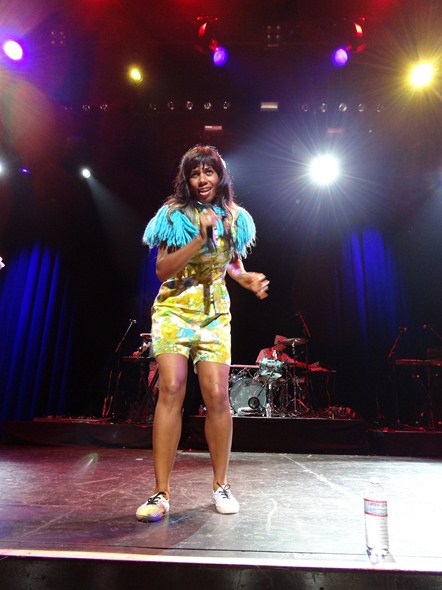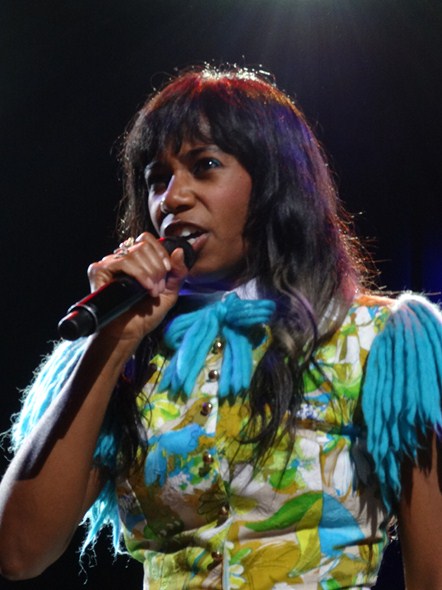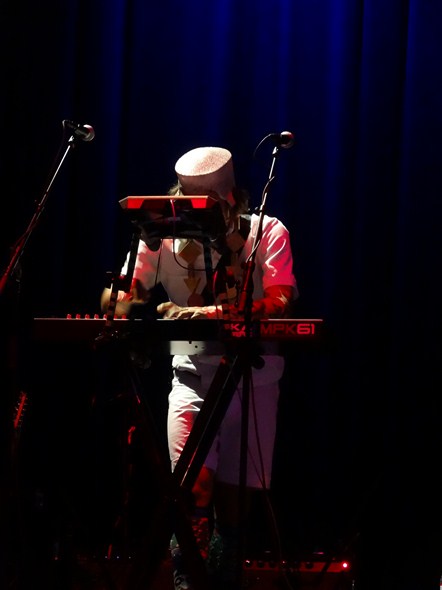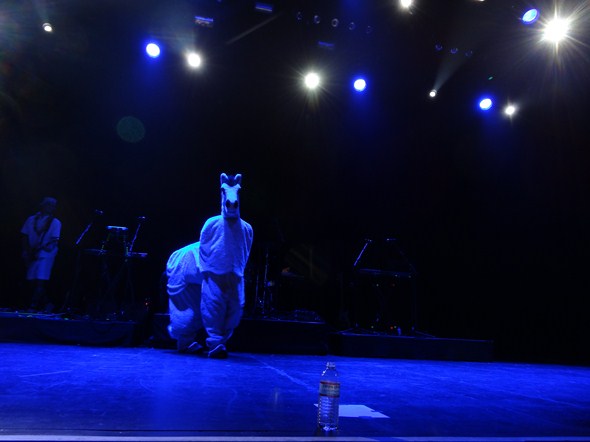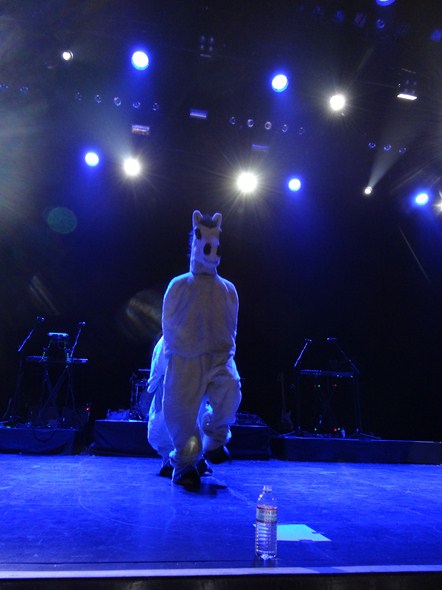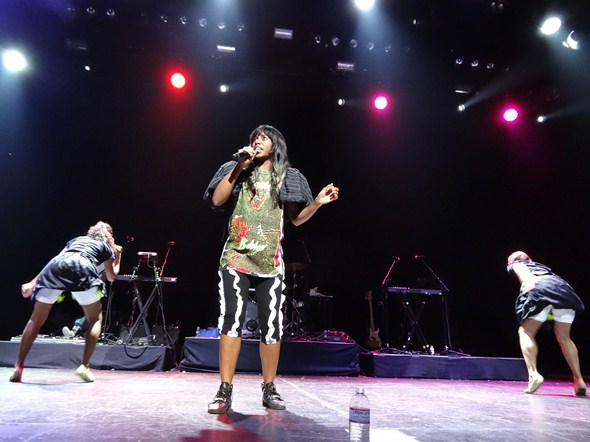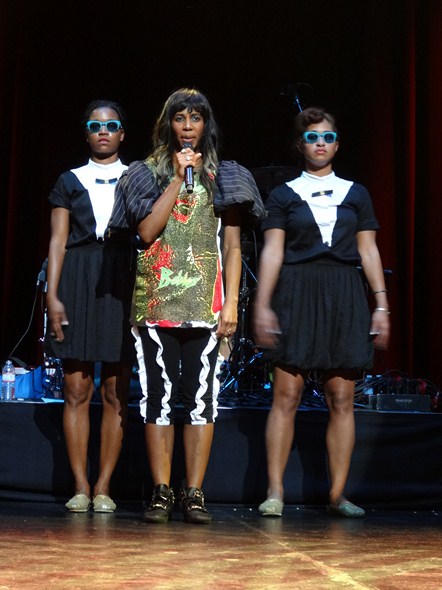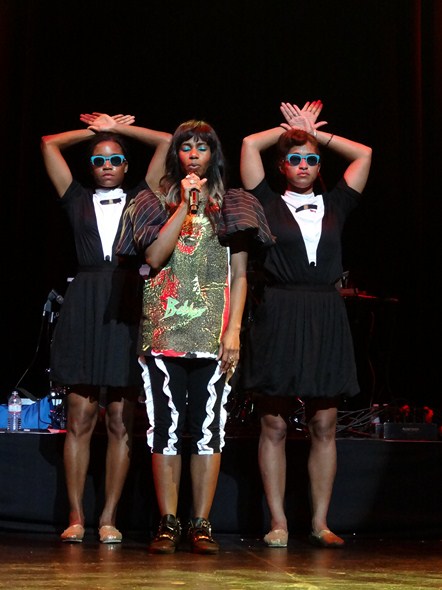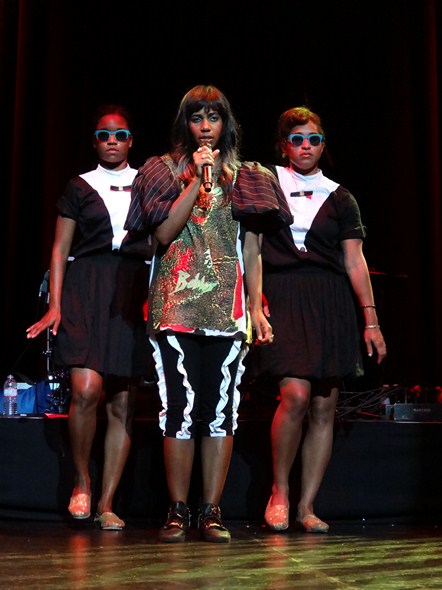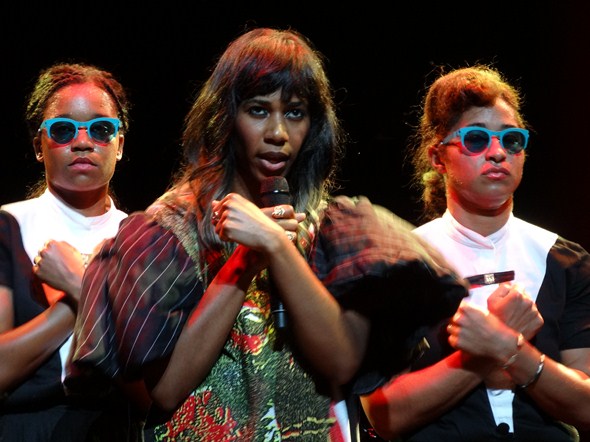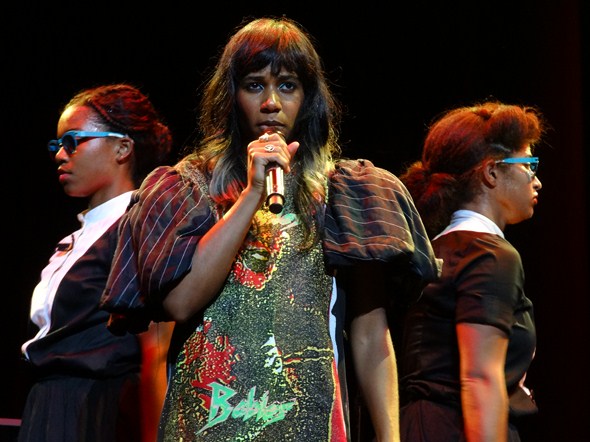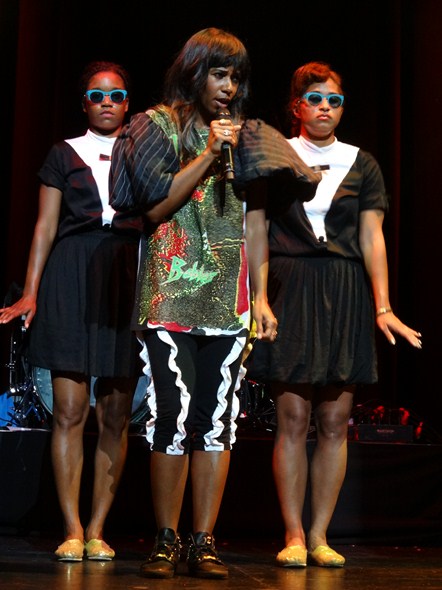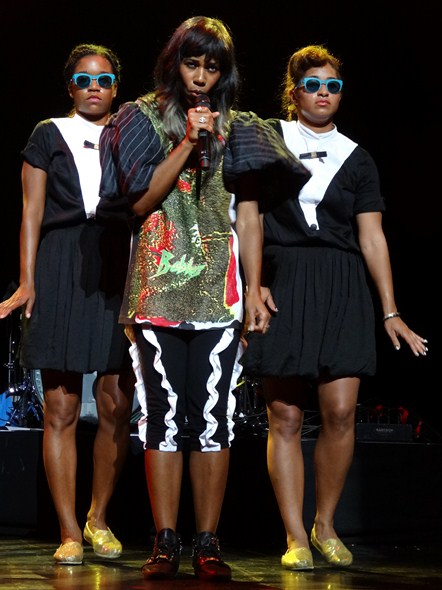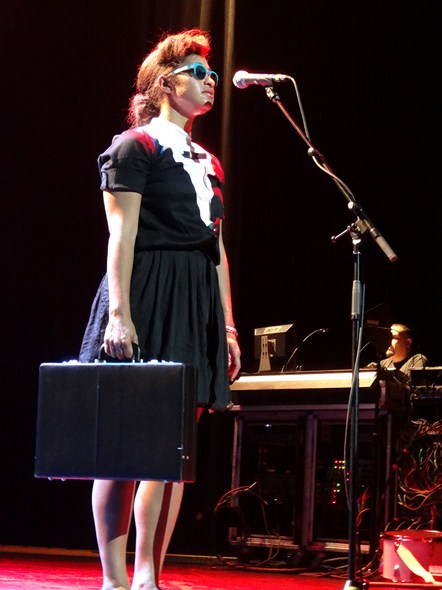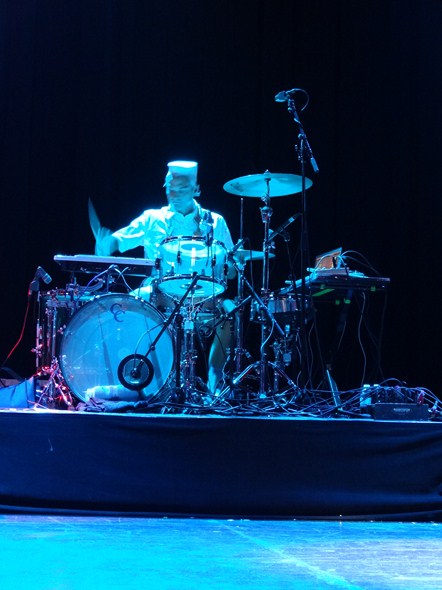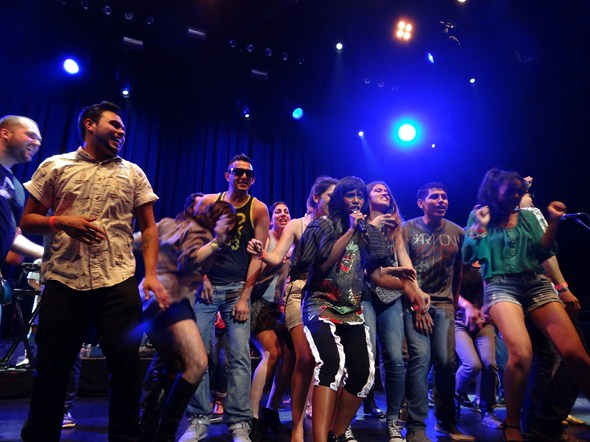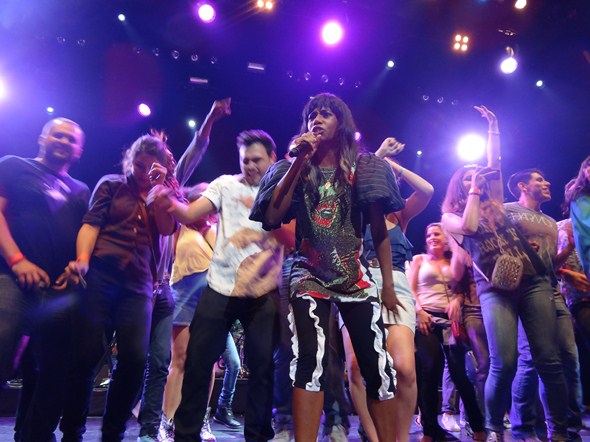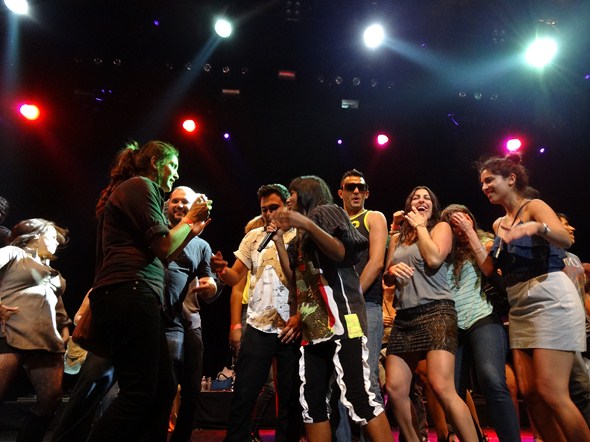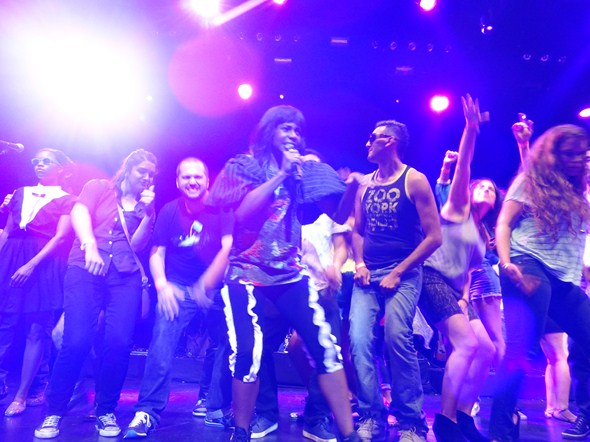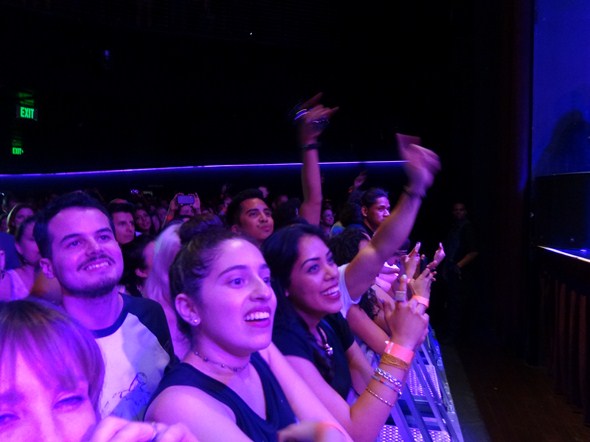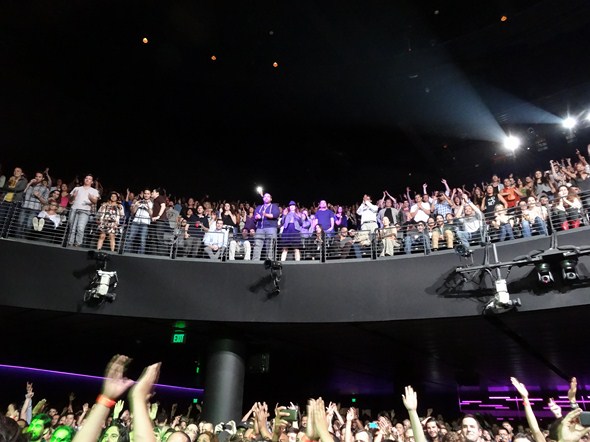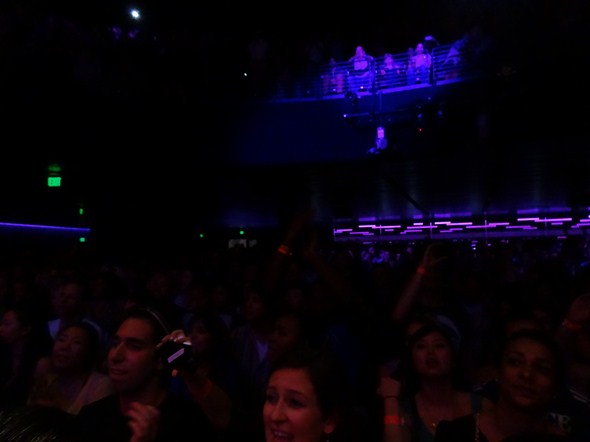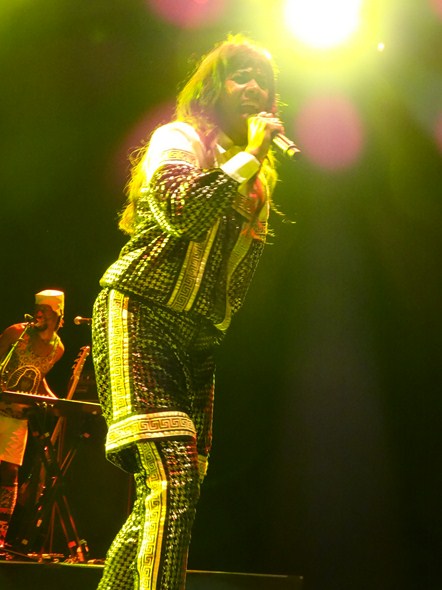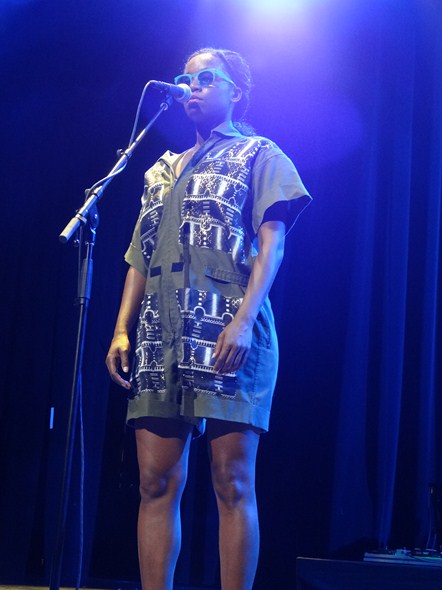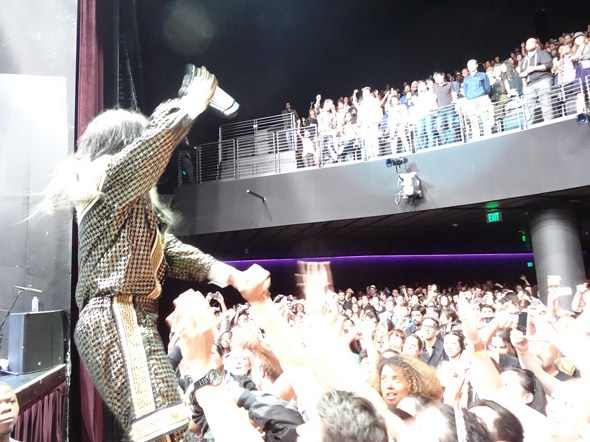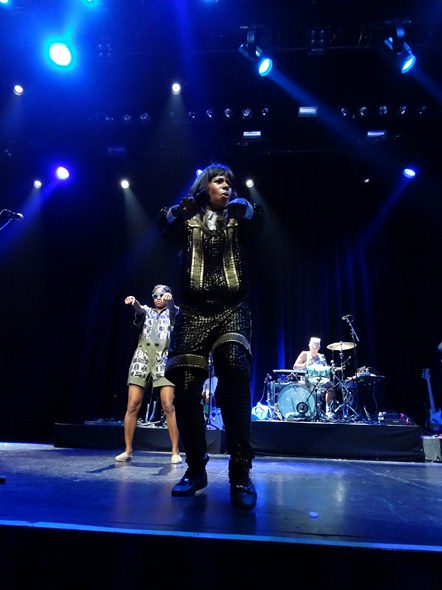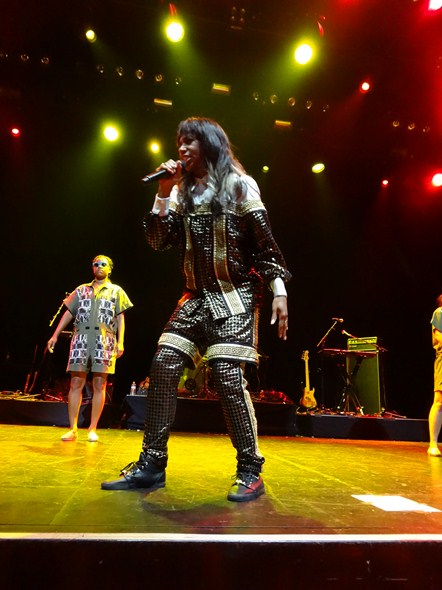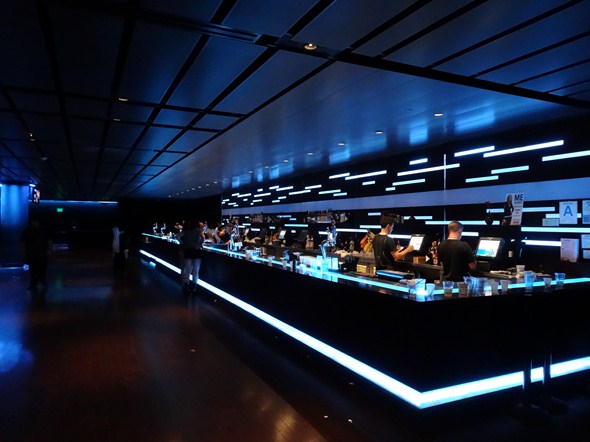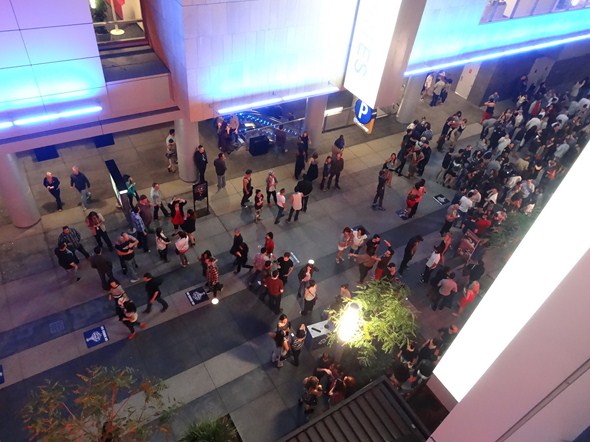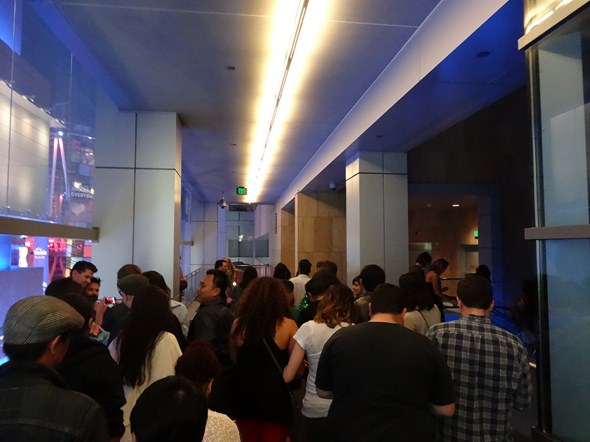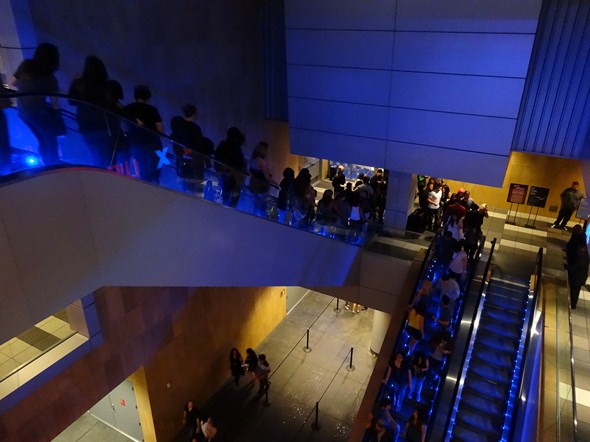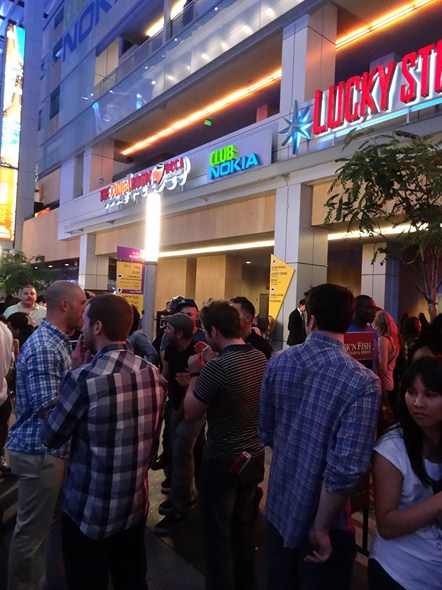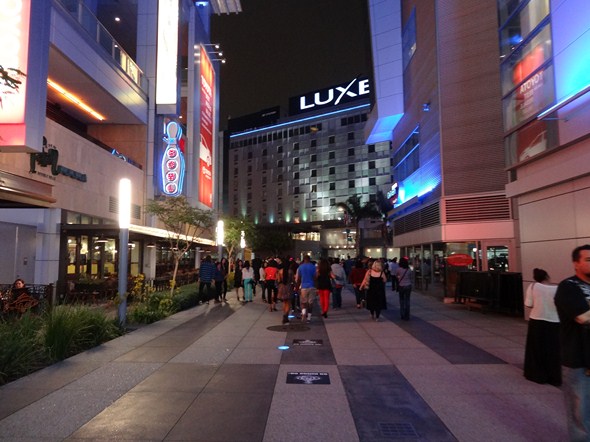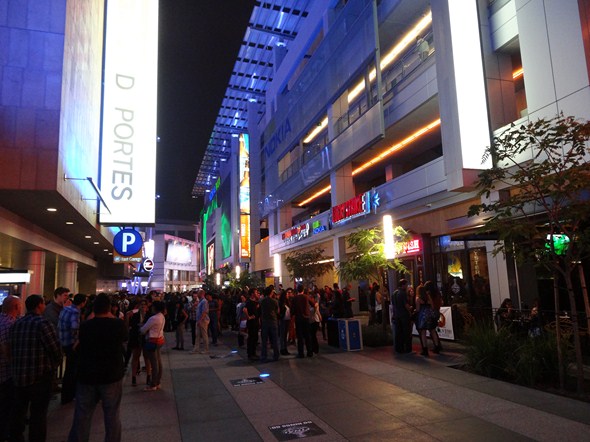 Jason DeBord