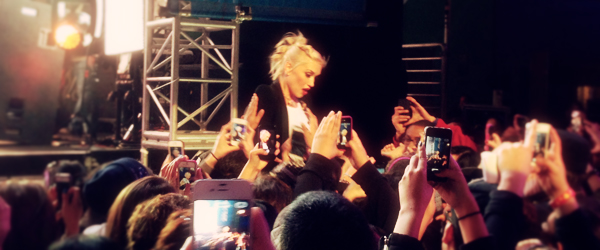 No Doubt served as the special musical guest for Jimmy Kimmel Live! last night, as part of a special episode debuting the new 11:35 PM time slot.  In addition to performing two songs for the benefit of the television audience, the band put on a good number of additional performances for this concert with eight songs in total, which was awesome for the fans in attendance who either got free tickets through 1iota or won them from the World Famous KROQ.  Having just seen the band about a month ago as part of their seven-night residency at The Gibson Amphitheatre, it was awesome to catch them again so soon, and again opening with the title track to their latest album, Push and Shove.  During the high energy mini-concert, the band made some news by announcing that they will be doing a world tour starting this Summer.  As with the Gibson gig, the members of the Anaheim band (Tony Kanal, Tom Dumont, Adrian Young, Stephen Bradley, and Gabriel McNair) seemed to be having the time of their lives on stage, and were dressed to the nines in their own stylish versions of tuxedos.  Brilliant show and awesome crowd.

Who: No Doubt
Show Title: Jimmy Kimmel Live! Block Party
Venue: Behind El Capitan Theater
Where: Hollywood, California
When: January 8, 2013
Seating: Priority Tickets Through 1iota.com (was about five rows of people back from slight to right of center stage)
Note: Click on any image in this article for higher resolution copies of each photo
Panoramic shot of stage and crowd prior to No Doubt taking the stage
As noted in my most recent review of the band, No Doubt is an Anaheim band that formed in 1986, though it was with 1995's Tragic Kingdom where they had their phenomenal mainstream breakthrough, with a series of hits. With their unique blend of ska, punk, and pop, they were part of a second New Wave of acts associated with the 90s that were rebranded Modern Rock, and then as well as today the band is at the top of that group.
Most fascinating for me is that each of the band's albums from Tragic Kingdom on (Return to Saturn in 2000, Rock Steady in 2001, and now Push and Shove) have been excellent, which is unusual for most groups, who often struggle along the way in trying to find a balance between reproducing and building on success while trying new things artistically. For whatever reason, with No Doubt it just seems to work. I would personally have a difficult time ranking their work as each album has real stand out tracks but at the same time are great albums through and through.
In music today, the notion of the album is definitely (and in my opinion unfortunately) in the decline, with younger music fans being pretty fickle and being very song/track-oriented… in the music world of my own youth, we bought albums. Today, many simply buy the one or two tracks from an album via iTunes, etc., and disregard the rest of the album (and in some cases don't pay much attention to the artist that created it).
Which brings us to Push and Shove. Given that the band has not worked together for some time, I candidly had low expectations about this one, so was completely shocked at how awesome it is… in my 2012 Year in Review article published last week, I named Push and Shove as one of the Top 10 Albums of the Year, and the song of the same name one of the Top 10 Songs of the Year.  I also rated the Gibson show as one of my Top 10 Concerts of the Year.  So I am a big fan and supporter of the band and their music.
I flew in for last night's concert early yesterday morning.  I found a line started already by the time I arrived at the lot behind the El Capitan Theater, and joined it a little after noon.  Unlike Northern California where I live, it was actually hot in Hollywood, with the sun beating down on those camped out along the chain link fence perimeter of the outdoor concert space.  I don't think I spoke with or came across anyone who wasn't a longtime hardcore No Doubt fan, so it was kind of a No Doubt party atmosphere.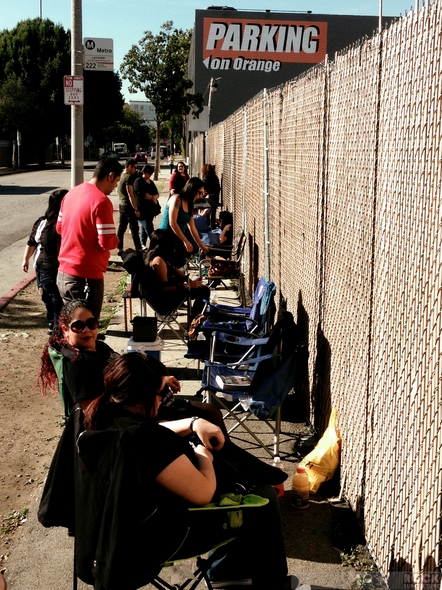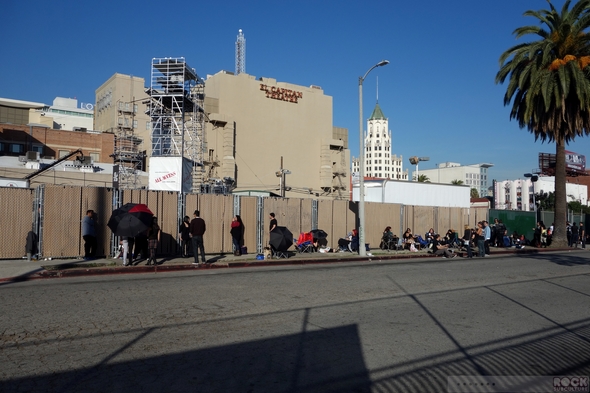 A gentleman from NoDoubt.com came down the line to interview fans for the site, as he did at the Gibson shows as well, so it was fun to see some of those get taped.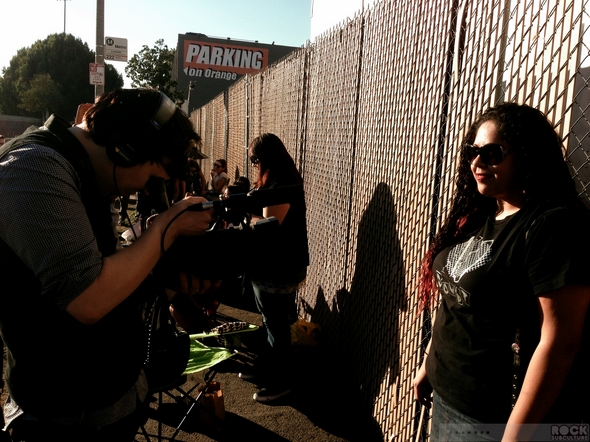 It was also somewhat of a reunion of Night 6 of the Gibson Amphitheater shows, as I had arranged to meet up with about half a dozen of the people I met at that concert, and came across a few more as well.  As noted in the prior article, one young girl's dream came true when she was brought on stage and got to meet Gwen Steffani and get not only her autograph but a kiss on some artwork she created of the iconic singer.  I had been in touch with her mom to share some photos that I took at the show, and wouldn't you know as I was waiting in line they came walking down the street.  So I had a chance to catch up with them.
At one point, at around 4:00, Gwen Steffani actually drove by the line in her Porche and waved to us, which was a nice surprise.  I don't remember ever seeing an artist driving him or herself to a show, but No Doubt always struck me as a very down to earth and unpretentious band.
A bit later, we got to hear the sound check, just on the other side of the fence, and get a peek through breaks in the fence and over the top of it…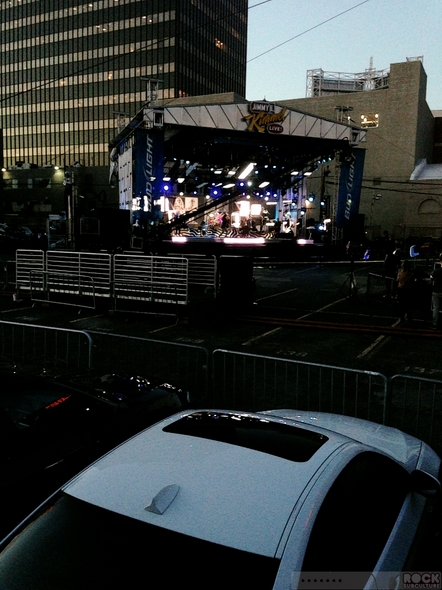 Eventually all of my friends arrived and we were ultimately processed by 1iota and split into two lines ("priority" and non-priority), though there were alternate lines put together in the meantime, which were given higher priority over "priority", such as radio station winners, website winners, and I assume friends and family or other types of VIPs.  So while I was about 20th in line when I arrived a little after noon, by the time we made it into the outdoor venue, there were probably a few hundred people already lined up in front of the stage.  But it is a small venue, so there is not really a bad spot so long as you don't have someone in front of you who is taller.
For those who have never done one of these shows at JKL!, you are not allowed to bring in any cameras or photography equipment, save for a cell phone, so this article will have an unusually limited number of photos, and unfortunately the quality is poor (shot with an iPhone 5).  I totally understand the reasoning for prohibiting cameras for shows like this, so if you want to find some nice and contemporary No Doubt imagery, please check out my review of the 6ths show at the Gibson late last year.
The good news is that the first two songs of the set from last night appeared on the JKL! show, and are already available on YouTube on the official JKL channel (embedded below), so watching these is the best way to get a sense of how awesome the show was last night.
My only prior experience with one of these block party shows was for Coldplay about a year ago, which was an amazing show, but left something to be desired as far as some of the organization went – they have definitely employed several improvements in their process since, and this show went much more smoothly and was not chaotic at all (at least from my perspective).  In one funny moment, a few fans later cut through the crowd to the front, someone complained to security, and they were actually escorted to the back, which was a surprise, and backed by a chat of "Na Na Hey Hey Kiss Him Goodbye" from the crowd.
The fans are led into the venue to time it so we can watch the live recording of the studio portion of Jimmy Kimmel Live! inside the El Capitan Theater, on a screen up behind the stage.
Eventually, Don Barris comes out onto our stage to prep us for the show and warm up the audience.
No Doubt coming onto the stage, each in their own custom version of a high fashion tuxedo, really brought the relatively mellow crowd to life, with thunderous applause, cheers, jumping, and waving.
They kicked things off with "Push and Shove", followed by "Hella Good".
The sound was actually much, much better in person at the show than hearing it played back in video form above.  The sound system was awesome, with incredible highs and lows (though Gwen's mic was turned a little low on "Push and Shove", and perfect on the rest of the set).  But I think the edited/polished videos broadcast on JKL and now YouTube give a different feeling and vibe from what I got being there in the audience.  It sounds like the band's sound was taken directly from the soundboard, with bits of audience mixed in here and there, whereas the audience was very loud and cheering and singing the entire time.
Everything that followed was for the fans in attendance, not broadcast for Jimmy Kimmel Live!
Below is a photo of the set list from last night's show (note: "Just A Girl" was skipped over):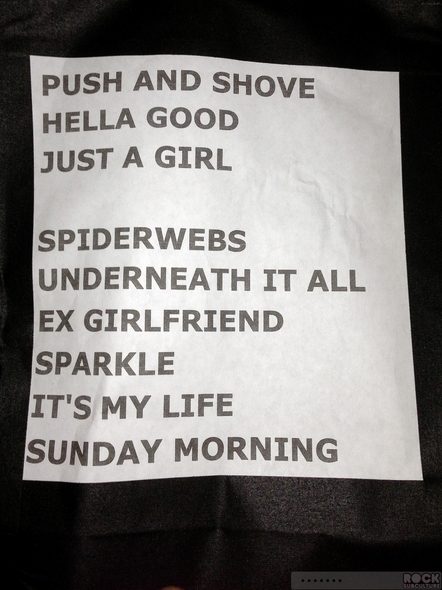 Set List:
Push and Shove
Hella Good
Spiderwebs
Underneath It All
Ex-Girlfriend
Sparkle
It's My Life
Sunday Morning
During the show after the show, Gwen Steffani was pretty interactive with the audience, at one point bringing a fan onto the stage who wanted autographs from band members put on her body to turn into tattoos.
One woman behind me had a sign up asking for an autograph on her latest album, and Gwen called her out and she went up and got her request.  To say she was thrilled is putting it mildly.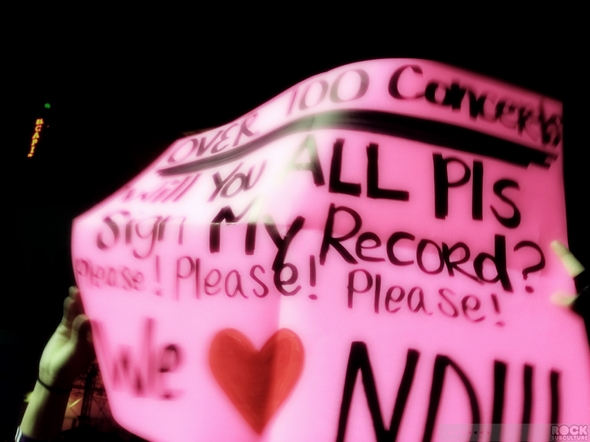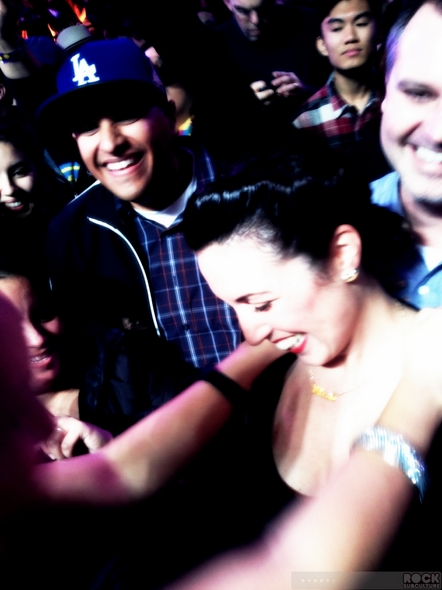 As noted in the opening, toward the end, Gwen announced that there will be a tour starting this Summer, which is awesome news.  I really can't wait to see them again – they are an amazing band to see live and I love pretty much all of their music.  It was a great experience to have a chance to see them in a relatively small venue like the show last night, especially one packed with really dedicated and enthusiastic fans.
Gwen Steffani was even kind enough to stay after the last song to sign more autographs for fans.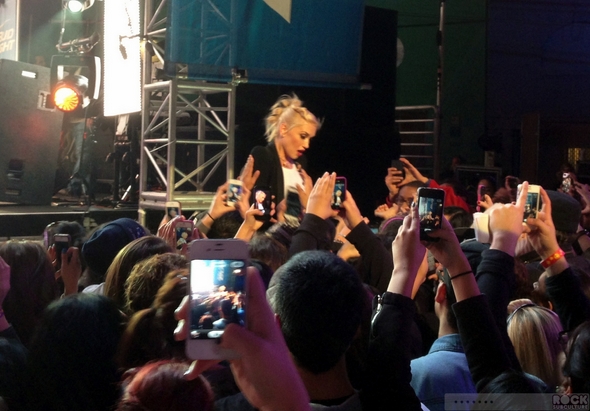 Really an awesome night with good friends, old and new.  And No Doubt made it as much about the fans as the music.  Special thanks to Jimmy Kimmel Live! for making it happen.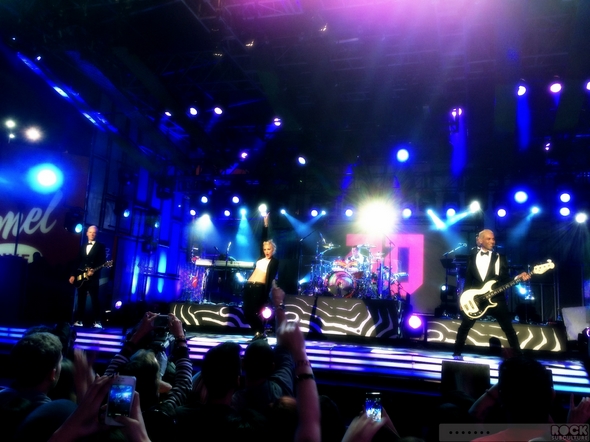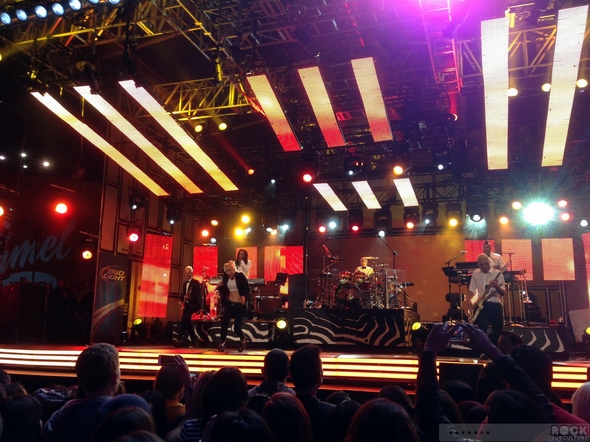 Jason DeBord