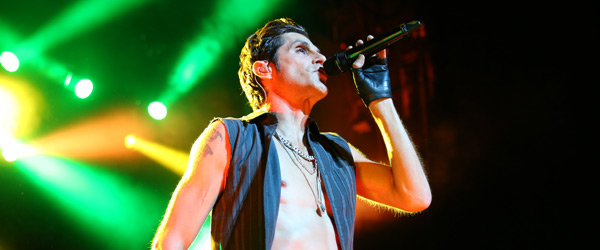 As reported in my review of the Jane's Addiction concert in Davis, California last month, Maestro Dobel Tequila has partnered with Perry Farrell to give away the latest Jane's Addiction album, The Great Escape, via download from their official site.  In addition, they have produced a new video featuring Perry Farrell talking about the end of their latest tour, and are sponsoring the give-away of some free swag, including the new book from photographer Danny Clinch.  Follow the jump for details on all of the above, including a chance to win the exclusive book (not on sale anywhere) with photos of Perry Farrell.
FREE ALBUM
You can download their latest album, "The Great Escape Artist", for free (while supplies last) from sponsor Dobel Tequila's website here:
If you "like" Dobel's Facebook page (click here) via the link, they will redirect you to the page to download the album.
CONTEST
If you would like to enter the contest for a chance to win some free swag, you need to:
"Like" the Dobel Facebook page (found here:

www.facebook.com/dobeltequila

), and
"Share" a link to this article on your Facebook page (copy this short link: bit.ly/janescontest) and "Tag" your share by typing "

@dobel

" and choosing "Maestro Dobel Tequila" from the Facebook drop down list (you must "Like" Dobel's page first),
Send me an e-mail (at [email protected]) letting me know that you've entered the contest, along with your e-mail address so that I can get in touch with you if you've won.
The winner, selected at random, will win both items:
A beautiful leather bracelet from Dobel
The new photography book from photographer Danny Clinch, featuring Perry Farrell at the inaugural Lollapalooza in Sao Paolo Brazil (not sold in stores)
This contest is limited to residents of the continental United States, and winners must provide proof that they are 21 years old or older.  Winner(s) will be selected 12/13/12.  Please review and agree to Sweepstakes Rules published at the bottom of this article prior to entering the contest.
VIDEO
Below is the video which features Perry Farrell talking about this tour:
Learn More About Jane's Addiction:
Official Site: www.janesaddiction.com
Facebook: www.facebook.com/JanesAddiction
Twitter: www.twitter.com/janesaddiction
Jason DeBord
Sweepstakes Rules

The Sweepstakes (the "Sweepstakes") is limited to residents of the continental United States and shall be construed according to, and governed exclusively by, the applicable laws of the United States.  Do not participate in the Sweepstakes if you are not a legal resident of the United States currently residing in the United States at the time of entry or if you do not fall within the eligibility requirements set forth in the Official Rules below.

OFFICIAL RULES

NO PURCHASE OR DONATION NECESSARY.  A PURCHASE, DONATION OR PAYMENT OF ANY KIND WILL NOT INCREASE YOUR CHANCES OF WINNING.

PROMOTION DESCRIPTION: By participating in the Sweepstakes, each entrant unconditionally accepts and agrees to comply with and abide by these Official Rules and the decisions of Original Prop Blog, LLC ("Sponsor") or its affiliates, PO Box 4680, El Dorado Hills, California, 95762, which shall be final and binding in all respects.

ELIGIBILITY: Only legal residents of the fifty (50) United States who are 21 years of age or older and located in the United States and the District of Columbia at the time of entry are eligible to enter the Sweepstakes. Void in Puerto Rico, all U.S. territories and possessions and overseas military installations, and where prohibited.  Participants must show proof of age (a photo of a current driver's license or equivalent ID).


HOW TO ENTER: See instructions contained within article for instructions.

PRIZE/ODDS: Prizes are non-assignable and non-transferable. No cash alternative or prize substitutions will be allowed except that Sponsor retains the right to substitute a prize of comparable or greater value (or at Sponsor's election, the cash value of the applicable prize) in the event a stated prize is unavailable, in whole or in part, for any reason. Odds of winning depend on the number of eligible entries received during the Promotion Period.  Sponsor is relying upon delivery of prizes by Dobel Tequila.

WINNER SELECTION AND NOTIFICATION:  The drawing for each winner will be conducted on or about two (2) business days following the Sweepstakes end date stated in the article.  Each potential winner will be randomly selected from all eligible entries received from the beginning of the Promotion Period through the end of the Promotion Period.  The Sponsor will attempt to contact each potential Grand Prize winner by telephone or email using the contact information given at the time of entry.  If the selected entrant cannot be reached within two (2) business days after the date of the draw or after two (2) attempts to contact, whichever comes first, or if the selected entrant is otherwise ineligible, Sponsor shall have the right to choose another entrant from the remaining eligible entries.  This process shall continue until the available number of prizes has been awarded.  Sponsor shall have no liability for any winner notification that is not received for any reason.

DISPUTES:  By entering the Sweepstakes, each entrant agrees that: (i) any and all disputes, claims, and causes of action arising out of or connected with the Sweepstakes or any prizes awarded, shall be resolved individually, without resort to any form of class action; (ii) any and all claims, judgments and awards shall be limited to actual out-of-pocket costs incurred, including costs associated with entering the Sweepstakes, but in no event will attorneys' fees be awarded or recoverable; and (iii) under no circumstances will any entrant be permitted to obtain any award for, and entrant hereby knowingly and expressly waives all rights to seek, punitive, incidental or consequential damages and/or any other damages, other than actual out-of-pocket expenses, and/or any and all rights to have damages multiplied or otherwise increased.

VENUE/JURISDICTION: EACH ENTRANT HEREBY IRREVOCABLY CONSENTS AND SUBMITS TO THE EXCLUSIVE JURISDICTION OF THE STATE AND FEDERAL COURTS, AS APPLICABLE, LOCATED WITHIN THE COUNTY OF EL DORADO, IN CONNECTION WITH ANY PROCEEDING ARISING OUT OF OR RELATING TO THIS SWEEPSTAKES OR THE WAIVES ANY OBJECTION TO VENUE IN SUCH COURTS.

WINNERS LIST:  For the list of prize winners or a copy of the Official Rules, mail a self-addressed, stamped envelope Original Prop Blog, LLC at P.O. Box 4680, El Dorado Hills, Calfornia, 95614 such that it is received by no later than six (6) months following the end of the Promotion Period.