"I try to think about tomorrow, but I always think about the past… about the things that didn't last… if I could go to the beginning, then for sure I would be another way… make it better for today…"  Pixies (the "loud quiet loud" band) are a quiet band on stage in-between the generally quick songs, so we are left with the music, and the lyrics within, to try to figure out what is going on with them.  It was less than one month ago that they released their sixth studio album – their second without founding bass player and vocalist Kim Deal – and their first with new full-time member Paz Lenchantin.  The new album serves as fuel for this tour, with just four rare dates in Calif0rnia this month as prelude to many shows across Europe, England, Australia and New Zealand, keeping them busy until early next year.  So it was interesting seeing them and hearing some of their new music performed at Ace of Spades in Sacramento on Wednesday night.  The Pixies in Sacramento.  A rare thing indeed.  One of my all-time favorite bands playing in the city where I was born, and where I first saw the band way back in 1990, about a quarter of a century ago.  A different time.  So much has changed, but so much about the band remains the same.  I've taken the new album, Head Carrier, for a spin and those lyrics above stuck with me.  Interestingly, the vocals on that particular song are delivered by Paz, who is no Kim soundalike (on vocals or bass), though obviously the message in those lyrics is for Kim.  So the Pixies in 2016 is older, mature, different… and the band is at once both old and new; looking backwards and forwards.  The album sounds quite different from everything that came before (even 2014's Indie Cindy).  And I think that the sentiments expressed in that song, "All I Think About Now", kind of sums up this new iteration of the Pixies.  With this live show, the old and the new were mixed together to create a different sort of Pixies show, giving something fresh to both new and old fans alike.  But there are still those songs that carry on and remain classic to those who were with it at the time, in the band's short-lived first incarnation in the late 80s and early 90s.  The concert was a tribute to that as well.
Who: Pixies
Supporting: Waterstrider
Venue: Ace of Spades
Where: Sacramento, California
Promoter:
When: October 26, 2016
Seating: (photo pass)

As mentioned, I was born in Sacramento, so I can take liberty in being a little critical…  For being the capital for the largest state in the U.S., it's a bit of a "bubble" town.  It doesn't attract a steady flow of live shows for artists in genres that I follow.  And for the few local shows that I do turn out for, particularly downtown, it feels more like a "scene" for young people to be… seen.  Not so much a group of fans of a particular artist at a show, because they are fans.
So with this concert, it was kind of an odd assortment of people including some in the audience who didn't seem that into the Pixies, apart from the fact that someone must have told them that the Pixies are a cool band.  The surprising thing is that my perception of this "scene" and viewpoint on this were validated by a strange review of the show in the local paper, the Sacramento Bee, which confirmed that it was more about the audience and the bubble-like shackles around the town than the actual artist and show (see "Pixies' rare club show attracts who's who of Sacramento cool kids", from a perspective that is completely devoid of self-awareness and fully immersed in it's bubble world and its hierarchy).
Anyway, I wouldn't have mentioned that here if not for the strangely titled Sac Bee article, naming off a "who's who" list of "cool" people I've never heard of… as though that is more interesting or important than the concert itself.  A reflection of the narcissistic times we live in today.
Apart from that, it was a completely sold out show and packed inside.  While the self-declared "cool kids" were I guess on display, there were some in attendance who were at least old enough to be fans the first time around as well as some fans who actually come from outside of the Sacramento cultural bubble, and some who dare to leave it from time to time.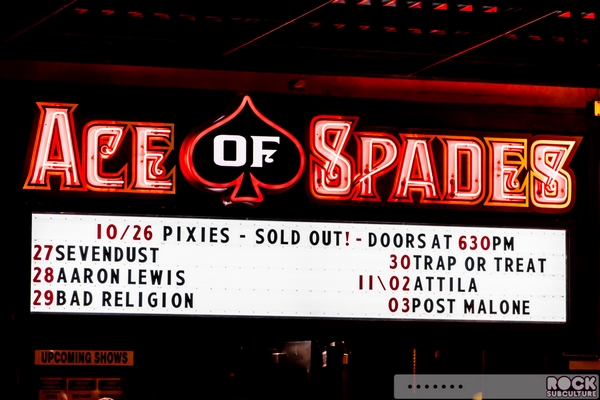 Waterstrider
Members:
Nate Salman (vocals, guitar)
Drew Brown (guitar)
Scott Brown (bass)
Walker Johnson (drums)
With their initial set of come back shows in 2013, Pixies had some killer acts supporting them.  So good that I became an instant fan of both (Meg Myers and Reignwolf).  So I was interested to check out who would be supporting the show this week.
Again, they did not disappoint, with Waterstrider opening.  I'd never heard them prior to the show, and I came away super impressed.  Excellent songs that were impactful on first listen.  Maybe most unique about their sound is frontman Nate Salman's vocals.  The only point of comparison that came to me was Jimmy Somerville of Bronski Beat (think "Smalltown Boy").  Really cool tones and highs – not something you hear very often.  Their music is full of soul and earnestness.  Highly recommended.  Check them out.
Below are some photos of Waterstrider performing on stage (click any image to open a virtual lightroom with higher resolution versions of each photo):
Pixies
Members
Black Francis (vocals, guitar)
David Lovering (drums)
Joey Santiago (guitar)
Paz Lenchatin (bass guitar)
As mentioned, Pixies just put out their sixth studio album, Head Carrier, on September 30th.  This is the first album from the band to feature Paz Lenchantin on bass.  Pixies will embark on a tour of Europe, England, and Australia in November, December, and March.
It was a strange show for me personally, because of the last Pixies concert I attended at Henry Miller Memorial Library in Big Sur in 2014… I predicted that one would be the best ever, and so it's a little odd to follow-up such a uniquely epic show with one that is a little more traditional (how can you ever compare an intimate show in the woods in Big Sur with a club show?).
So who the heck are the Pixies?
Black Francis (AKA Frank Black, AKA Charles Michael Kittridge Thompson IV) and Joey Santiago met in college at the University of Massachusetts Amherst.  A few years later in 1986 they recruited Kim Deal and, failing to get her sister Kelley to join on drums invited David Lovering to become part of the group, soon after dubbed Pixies.  They literally began as a garage band, rehearsing in a garage and ultimately playing small gigs in the Boston area.
Pixies were soon after signed to the now legendary 4AD based on their demo, "The Purple Tape", which became the basis for their debut, Come On Pilgrim.  Their first full-length album, Surfer Rosa, came out in 1988.  The follow-up and what many regard as their best album, Doolittle, came out in 1989.
Keeping on their prolific pace, the band released Bossanova in 1990, and Trompe le Monde in 1991.  Then they broke up.
Kind of like The Smiths before them, they created all of this brilliant music, and just as quickly, it all came to an end.
So much amazing music in such a short period of time, and at a pace in which the masses could never catch on, let alone catch up.  But those who went along for the ride knew that this band was something very special, and the Pixies had an impact and influence on others in music that sent ripples through the soundscape in the late 80s and early 90s and beyond.  Even Kurt Cobain himself said Nirvana was "basically trying to rip off the Pixies."
I discovered the band in the late 80s, and they became a favorite immediately.  They were making music unlike anything I'd heard before.  Such crazy ideas and unusual pacing and hooky songs.  They were at times irreverent a decade or two before that became "a thing".  They were so far ahead of their time that many just couldn't wrap their head around this style of music that they invented.  But it spoke to me, and became part of the soundtrack of my life.
Getting back to the show in Sacramento this week, it was at once a typical Pixies show as well as something a bit new and different.
Black Francis came out wearing a sport coat and dark sunglasses and the look suited him.
The whole band was backlit on stage except for David, who was bathed in more light due to his proximity to the sources of light in the back.
The show seemed to take off without a set list (I did not spot one on stage), which is consistent with their inherent improvisational nature.
There was a deliberate effort to mix in the new songs with the old.
Below is the set list per setlist.fm, which feels pretty accurate though I did not take notes:
Debaser (Doolittle)
Isla de Encanta (Trompe le Monde)
Talent (Head Carrier)
Monkey Gone to Heaven (Doolittle)
Magdalena 318 (Indie Cindy)
River Euphrates (Surfer Rosa)
Bel Esprit (Head Carrier)
Classic Masher (Head Carrier)
Um Chagga Lagga (Head Carrier)
Crackity Jones (Doolittle)
Subbacultcha (Trome Le Monde)
Tenement Song (Head Carrier)
I've Been Tired (Indie Cindy)
Gouge Away (Doolittle)
Might as Well Be Gone (Head Carrier)
Mr. Grieves (Doolittle)
Ed Is Dead (Come On Pilgrim)
Hey (Doolittle)
Where Is My Mind? (Surfer Rosa)
Here Comes Your Man (Doolittle)
Vamos (Surfer Rosa)
Plaster of Paris (Head Carrier)
Bone Machine (Surfer Rosa)
Wave of Mutilation (Doolittle)
All I Think About Now (Head Carrier)
Velouria (Bossanova)
Planet of Sound (Trompe le Monde)
Encore:
Ana (Bossanova)
Cactus (Surfer Rosa)
I think that the most interesting thing is the lack of songs from Indie Cindy – only two and excluding "Bagboy".  I have read that the band themselves maybe aren't into that album, but I actually love it.  But impressive that they worked in so much material from the newer still Head Carrier into this show.
More than most bands, the Pixies have a studio sound that closely resembles their live sound, so the new songs sounded good mixed in with the old.  And of any band, the Pixies were made to play live.  They do it brilliantly.
Overall, they do what they do – deliver a ton of music in their unique style.  For some reason, after finishing my photography and watching the show from the back of the venue, I found myself wondering what the experience is like for Black Francis?  To have been a pioneer in music, and gone off and done his thing without the rest of the Pixies, and then coming back to a new formation of the band.  I was wondering what he "gets" (for lack of a better term) from the audience, if anything?  There are those artists who feed off the energy of the crowd, and then feed it back.  That doesn't strike me as what is happening with Black Francis at all… quite the contrary.  He seems to have an internal motor that drives him to do what he does.  A mystery.  But some things in life are more interesting if you never quite figure them out.  Maybe he is out doing his thing, to show a younger generation what "cool" really means.
Below are some photos of the Pixies performing on stage (click any image to open a virtual lightroom with higher resolution versions of each photo):
Jason DeBord