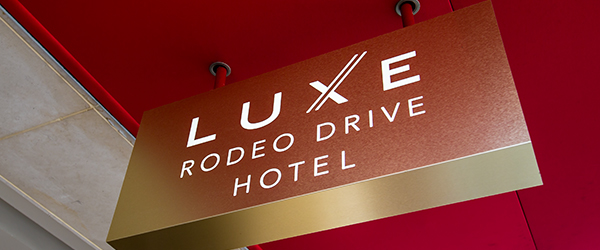 This is part of a continuing series of my impressions and experiences staying at various hotels and resorts while traveling to attend concerts worldwide. This stay was during my recent trip to Beverly Hills in June 2015. This review is for Luxe Rodeo Drive Hotel.
Property: Luxe Rodeo Drive Hotel
Location: Beverly Hills, California
Address: 360 N. Rodeo Drive, Beverly Hills, California 90210
Phone: (310) 896-4050
Website: www.luxehotels.com
Room Type/Class: Superior Room (Room 328)
Date: June 24 – June 28, 2015
TripAdvisor Page/Reviews: LINK
Booking Source: Direct
Overall Rating: 3.5/5 [Note: Score is totally subjective based on price, location, and comparison to "like" properties within same area and price range]
This stay was arranged for business in the area in late June.
Location is a big factor with any hotel and resort selection, though of course it takes on a whole new meaning with a destination like Beverly Hills.  The Luxe Rodeo Drive Hotel clicks all of the requisite boxes, featuring not just the famous 90210 zip code but being right in the center of the action on Rodeo Drive (hence the inclusion of the street in the name of the hotel itself).
If you want to be within walking distance of much of what Beverly Hills has to offer, that is probably the biggest benefit the property has to offer.
Arriving in your own car, you might be at a loss as to how to access the hotel to check-in – there is no valet or signage as to what to do if arriving at the proper address street side.  I was able to find a temporary/short-term parking space close by, and found that the valet is actually on the opposite side of the entrance, in the rear alley.  So you actually have to get back in your car, drive down two blocks, turn right, look for a narrow alley, and travel back two blocks to the rear of the hotel.  Not too luxurious.
Check-in was easy enough, and the room key is needed to get the elevator to your floor (only going up; not down).
I had the most basic room on offer, the "Superior Room", which is extremely small.  At only 182 sq ft, it is mostly a small bed and small desk and a little bit of room to walk around three sides of the room.  The bathroom is comparatively large (maybe one third of the total square footage).
All in all, everything is fairly modest and aged, but clean and tidy.  The bathroom in particular was especially aged and out of date.
There is a 42″ LED television mounted across from the bed, a Keurig coffee maker, and a stocked fridge and other pay-for-use snacks on top of the dresser.
The view was nothing to get excited about, looking down at the alley below.  One problem which I saw mentioned in other reviews is the noise from the alley, particularly on garbage pick-up morning.  Sometime around 6:00 AM, a garbage truck spent upwards of 40 minutes emptying dumpsters and crushing the contents, making the prospect of sleep out of the question.
There is free wi-fi, but it was down for the majority of one of the nights that I was staying.
There is A/C, but it was challenging to find the "sweet spot" wherein it wouldn't keep kicking in at a high volume every few minutes.  It was challenging to find an adjustment wherein it wasn't frequently blowing freezing air and making a lot of noise.
The property offers a restaurant on the main level – inside as well as curbside – that seemed very popular.  Strangely, the table arrangement actually makes it difficult to enter and leave the hotel, as two of the tables pinch the entryway with seated patrons, forcing one to squeeze by (or ask them to move if you are with luggage).
The staff was nice and friendly, and even two days after checking in and not using valet, the valet still remembered me by name.
Overall, it was a nice stay but nothing too impressive outside of the location.  The room was super small (reminding me of European properties) and I would say it is barely adequate for one person traveling alone but way too small for more than one.
The rates are high, as would be expected in prime Beverly Hills real estate, but they don't quite put the "Luxe" in luxury.
Below are some photos taken during my stay:
Jason DeBord