The Ting Tings have launched a special PledgeMusic campaign for their upcoming album, Super Critical, offering different editions of the new studio album as well as other extras, such as t-shirts and hats, setlists, handwritten lyric sheets and more.  The album is finished and due for release in the UK next week.  This will be Katie White and Jules De Martino's third album, and it was co-produced by Duran Duran's founding member and former guitarist, John Taylor.  The first hint at their new sound came with the disco-infused "Wrong Club", and marks a different direction from a band that has always been growing and evolving.  Updated with U.S. Dates as of November 21st…
I personally rated their last album, Songs from Nowheresville, as my favorite of 2012, and the single "Hit Me Down Sonny" as my favorite song of that year.  While it wasn't a huge critical success (I may be its biggest fan), I feel it was an undiscovered/under-appreciated gem that may find an audience in the future, the same way that the Beastie Boys' Paul's Boutique did many years later.
I've really been looking forward to a new album and tour from The Ting Tings for some time, so I was very excited to learn of their building touring schedule and the release of the new album.
I've also always been fond of PledgeMusic, so was happy to see the two cross.  I pledged for a set of the autographed drumsticks (now gone) and one of the handwritten lyric sheets (requesting "Hit Me Down Sonny").
You can learn more about the PledgeMusic campaign on the official site at www.pledgemusic.com/projects/thetingtings: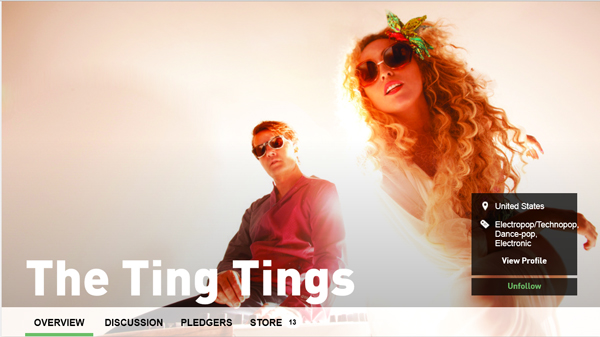 Currently, upcoming concert dates are limited to Europe, the UK, and Japan, but I expect that will expand soon.  You can keep up to date on all things The Ting Tings at their official site at
www.thetingtings.com
:
Below is the list of dates announced thus far…
30/10/14 · UK     XOYO – London
30/10/14 · UK     XOYO – London
15/11/14 · Belgium     Brussels – Botanique Rotonde
16/11/14 · Netherlands     Amsterdam – Paradiso
17/11/14 · Germany     Cologne – Gebaeude 9
18/11/14 · Germany     Berlin – Bi Nuu
20/11/14 · Switzerland     Zurich – Plaza
21/11/14 · France     Paris – La Fleche D'Or
23/11/14 · France     Brighton – The Haunt
24/11/14 · UK     Bristol – Thekla
25/11/14 · UK     Newcastle – The Cluny
26/11/14 · UK     Glasgow – King Tuts
28/11/14 · UK     Leeds – Belgrave Hall
29/11/14 · UK     Manchester – Deaf Institute
30/11/14 · UK     Portsmouth – Wedgewood Rooms
3/12/14 · Japan     Osaka – Big Cat
5/12/14 · Japan     Tokyo – O-East
Update with U.S. dates!
19/01/15 · Canada Toronto, ONT – Virgin Mobile Mod Club Buy Tickets
20/01/15 · USA New York, NY – Bowery Ballroom Buy Tickets
21/01/15 · USA Brooklyn, NY – Rough Trade Buy Tickets
23/01/15 · USA San Francisco, CA – Popscene @ Rickshaw Stop Buy Tickets
24/01/15 · USA Sacramento, CA – Harlow's Buy Tickets
26/01/15 · USA West Hollywood, CA – Troubadour
Jason DeBord