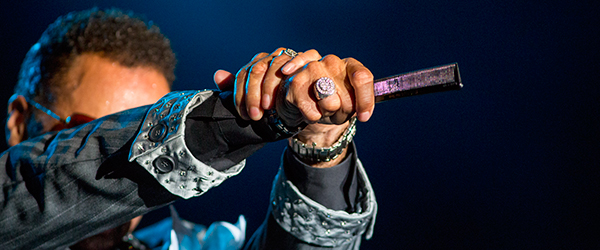 "Sacramento… you may notice a bit of moisture forming on my forehead… falling down my face…  I know what you're thinking.  You're thinking, 'Morris has lost it.'  You may even be thinking, 'Morris is not cool anymore.'  But let me fix that shit for you, Sacramento.  Just like you take a cool bottle of champagne out of the refrigerator, and you set it on the counter… what does it begin to do?  See, it sounds like you all don't know.  See, it begins to condensate, Sacramento.  Because that's what you do when you're cool from the inside out…   So please understand, Morris is not sweatin'.  I'm condensatin'.   And, hell yes, Morris Day is still cool!"  Words from the legendary Morris Day from Morris Day & The Time (now The Original 7ven), headlining the Big Block Party by WorldOne Presents at Thunder Valley Casino Resort Saturday night.  Having come on stage after the sun dropped out of view, which hit a high of 100 degrees, it left me wondering if the sweat rolling off everyone in the sold out concert venue was from the heat of the day, or the heat coming off the stage from the outrageous funk band, who followed the incredible line-up of Sheila E., Guy, and Doug E. Fresh.
What: The Big Block Party
Who: Morris Day & The Time
Who: Sheila E.
Who: Guy
Who: Doug E. Fresh
Support: DJ Gino
Venue: Thunder Valley Casino Resort – Outdoor Amphitheater
Where: Lincoln, California
Promoter: World One Presents 
When: September 13, 2014
Seating: (photo/press pass)
WorldOne Presents excels at giving fans of the 80s what they love (hence their tagline, "giving the people what they want"), whether it is R&B and funk or New Wave.  And they always seem to deliver on the line-up, and did so again with their Big Block Party this year.
The first thing someone might say about this concert is that it was hot.  Literally.  It was just sweltering out there Saturday night, long after the sun went down.
Doors opened at 5:00, and the bulk of the seats were pretty empty circa the 6:00 scheduled start time.  Shortly thereafter, Doug E. Fresh took to the stage, and almost immediately a majority all of the seats filled in – it's rare that the first artist on a full bill such as this one can pack the place in, but he certainly did.
Overall, the gigs were interactive, with Aaron Hall from Guy and Sheila E. both performing out into the audience, and Morris Day & The Time bringing many fans onto the stage to dance at one part of their set.  So it all lived up to the name of the event, the Big Block Party, and the audience was kept moving set to set by DJ Gino spinning all the familiar hits, leaving space in for the audience to fill in key chorus points from time to time.
As is their tradition, WorldOne Presents gave away two sets of front row seats in a Facebook-liking contest….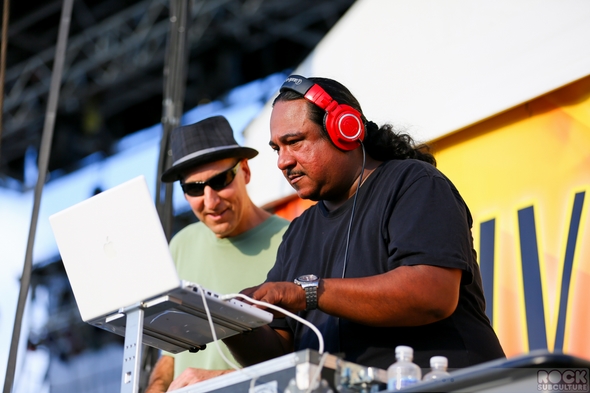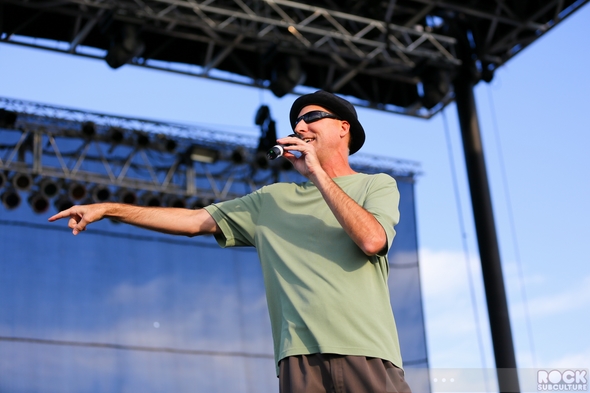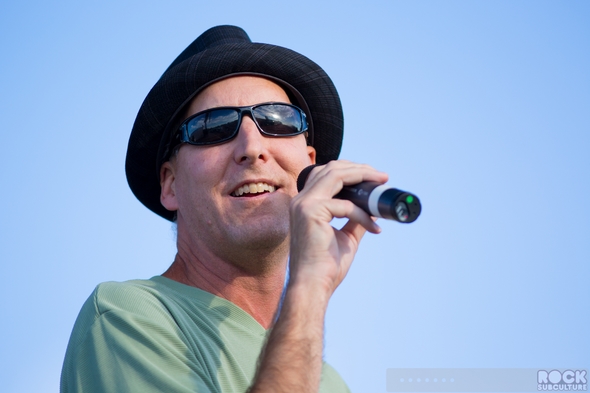 Doug E. Fresh
"The Human Beatbox", Doug E. Fresh is a pioneering rapper (who made significant contributions to Hip Hop in the early 80s) as well as a record producer.
He is quite collaborative, even in the beginning of his career, working with the Get Fresh Crew and MC Ricky D (now known as Slick Rick).
Doug E. Fresh and Slick Rick had their first big break via "La Di Da Di" and "The Show", viewed as early classics of the form.
With albums in the 80s and 90s through a number of record companies and a number of singles, Doug E. Fresh has been prolific with his output and collaborations, and consistent with his quality and contributions to pop culture.
Doug E. Fresh's set at Thunder Valley was perhaps the most intellectually interesting one, framed as a bit of retrospective into 80s pop culture, especially television, playing bytes from theme songs to different shows and reaching out to the audience for reactions.
He kept building and building all along, culminating in a spectacular showcase of beat boxing in a way that he innovated and only he can deliver.
Below are some photos of Doug E. Fresh performing on stage (click any image for higher resolution version of each photo):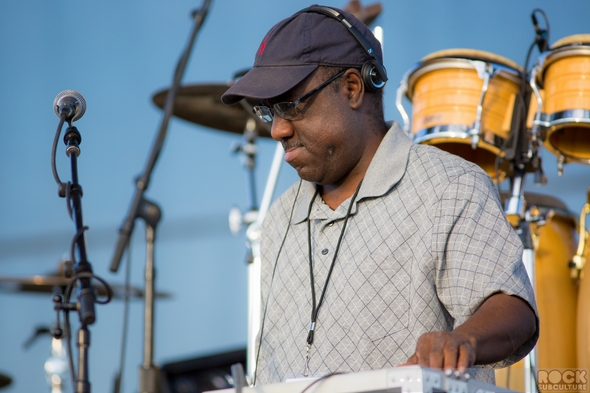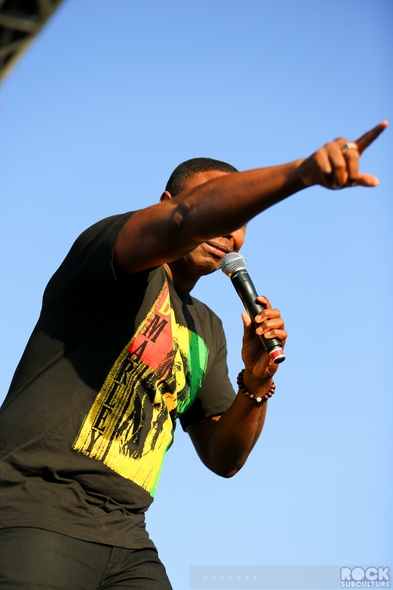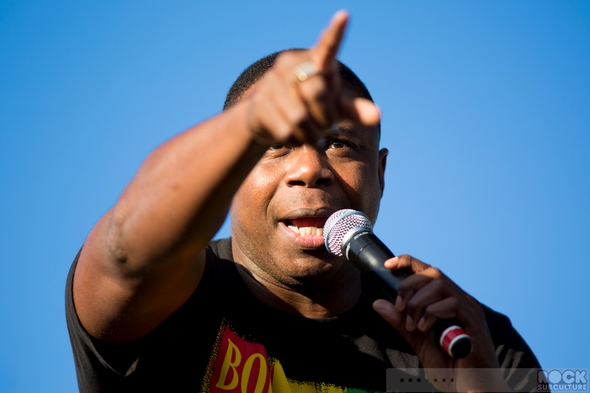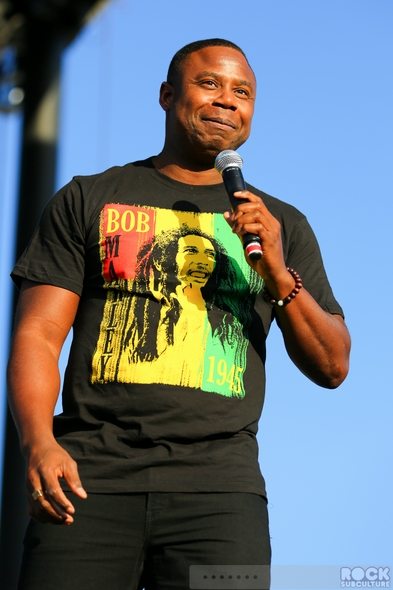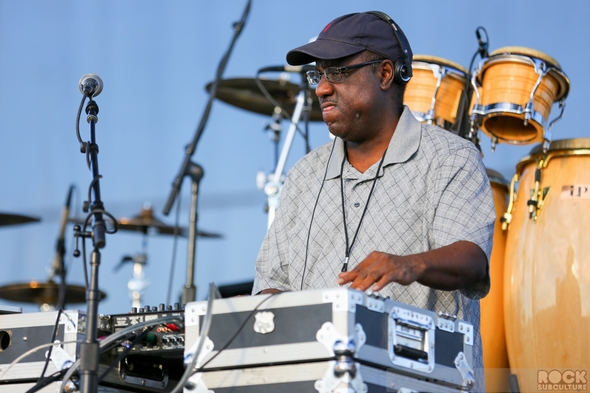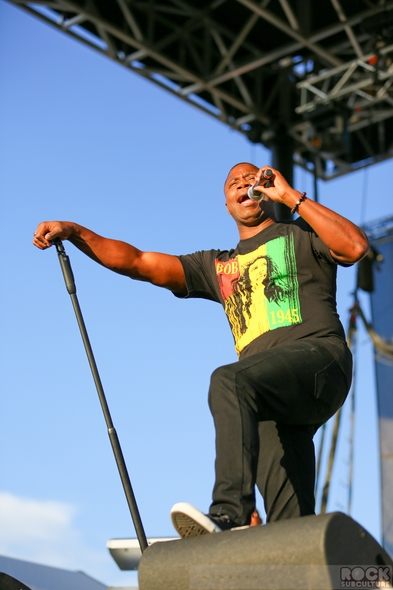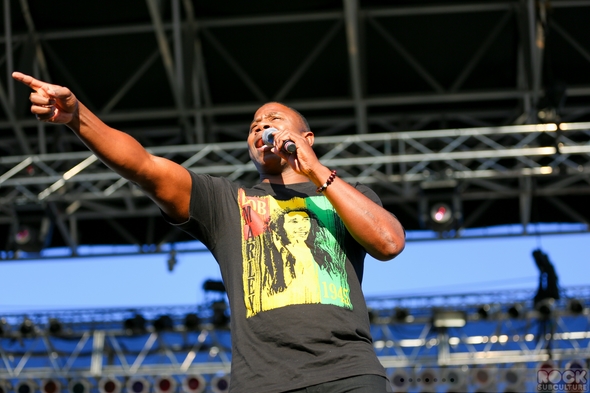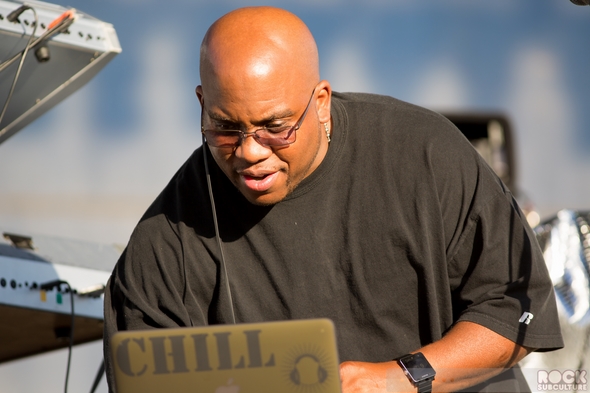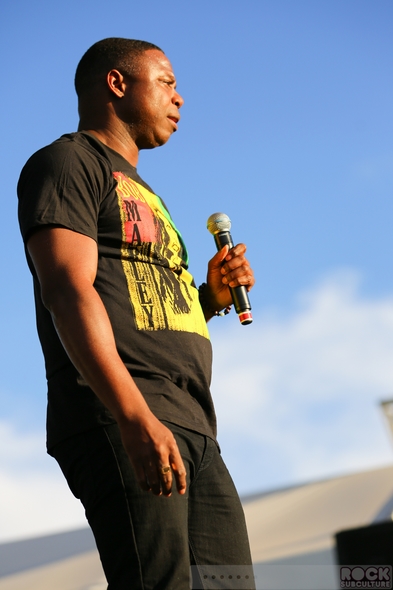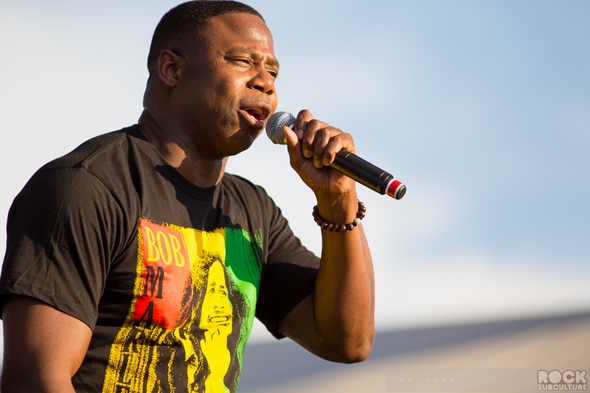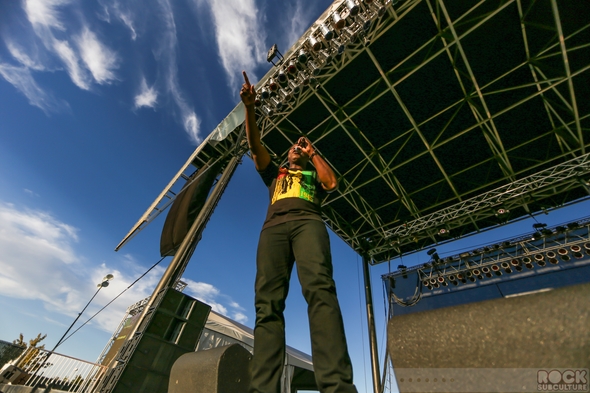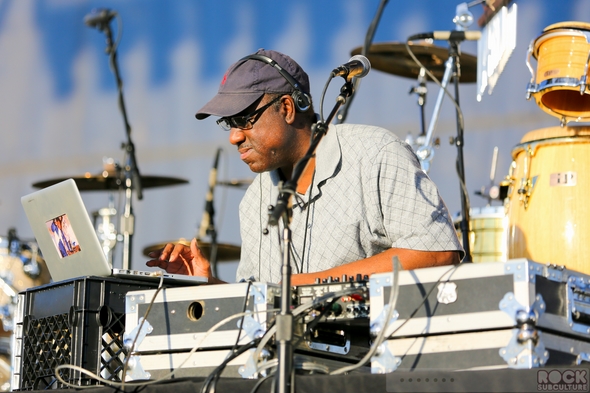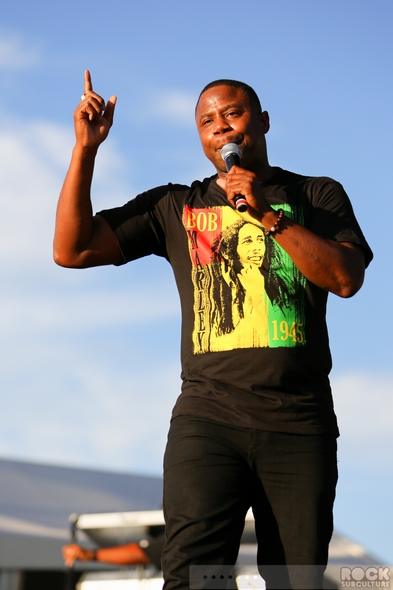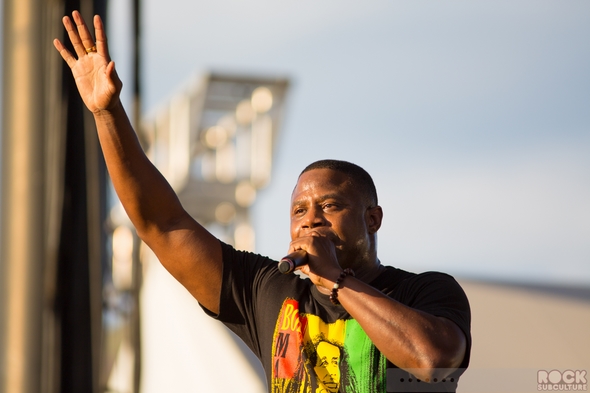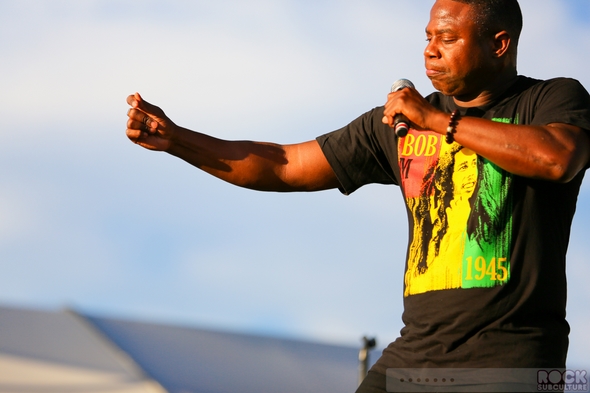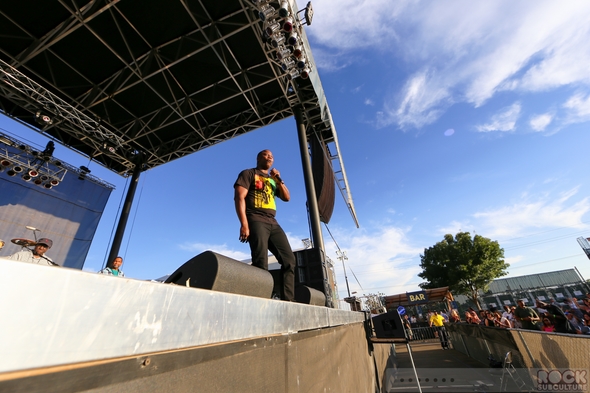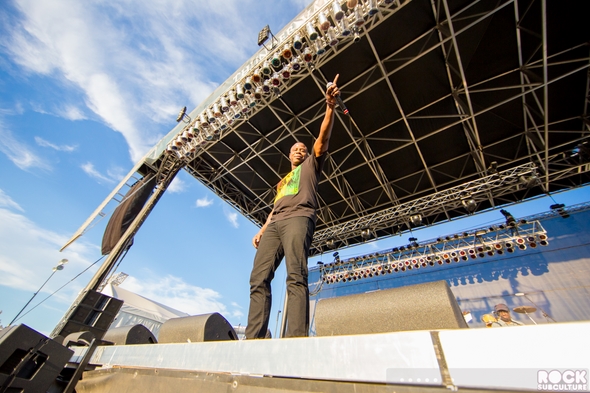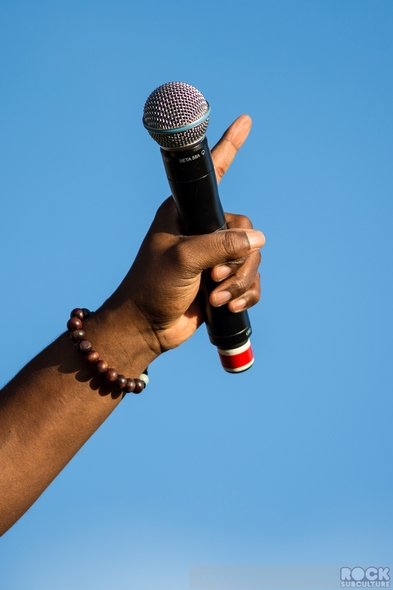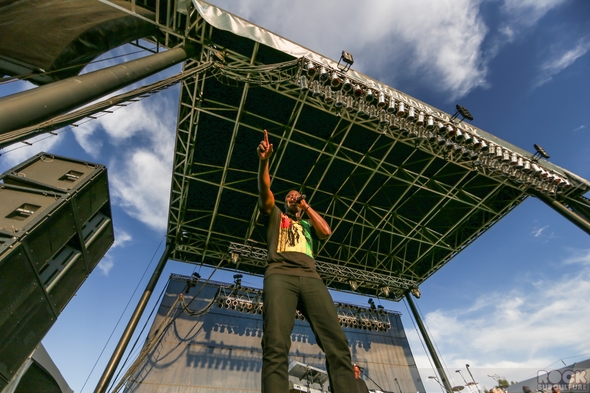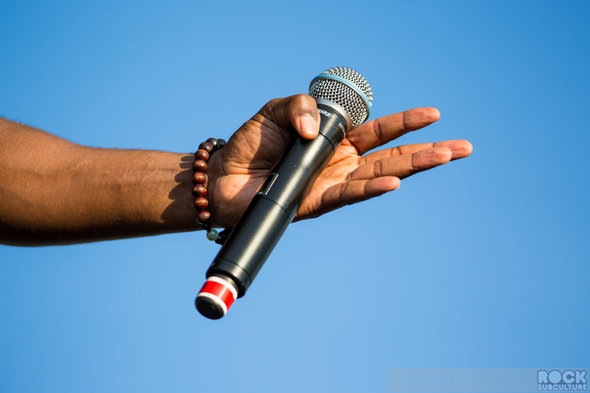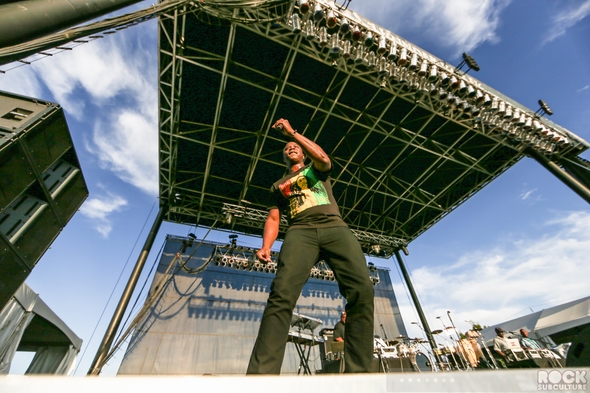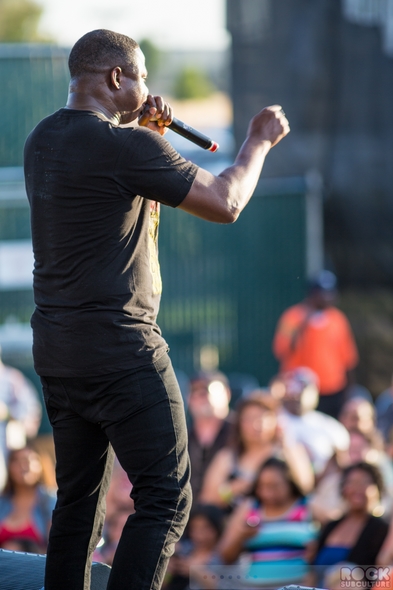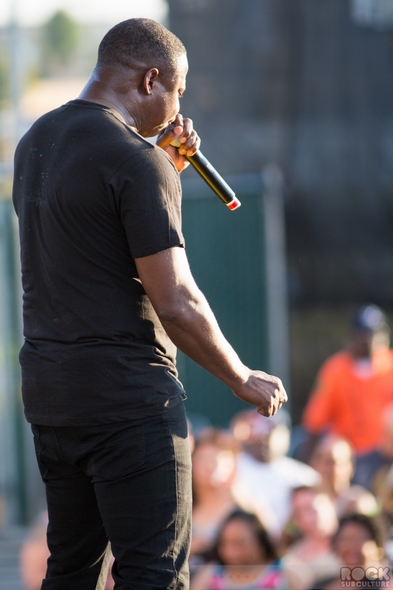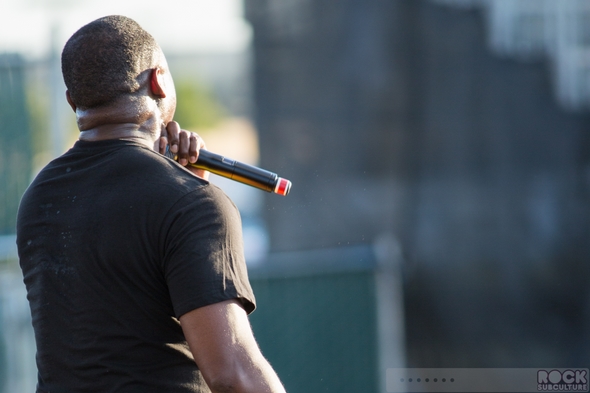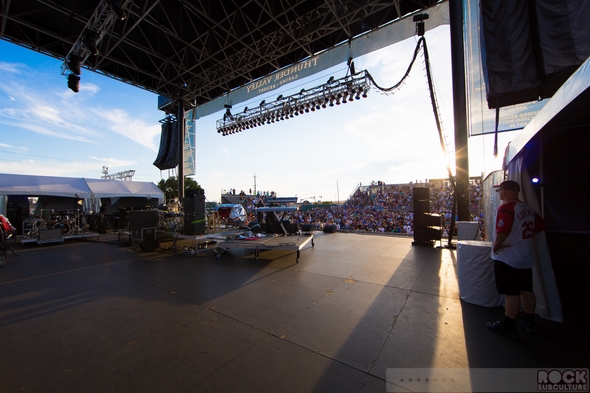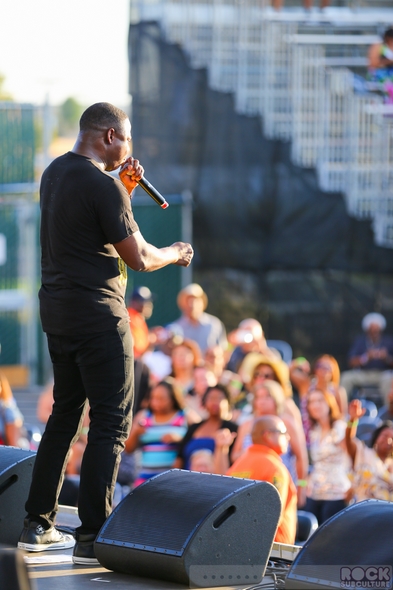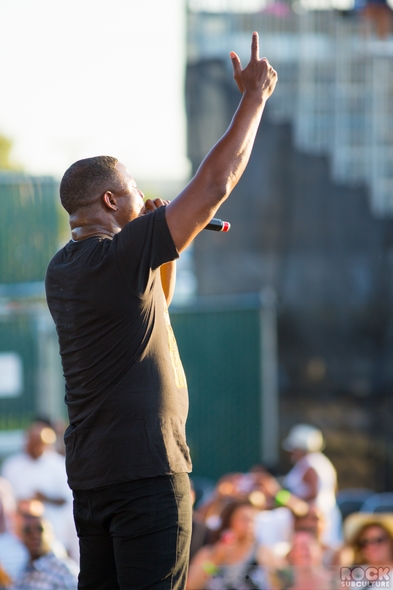 Guy
Members
Teddy Riley
Aaron Hall
Damion Hall
Guy is a hip hop group that was formed in the late 80s in Harlem.  Founding members, Teddy Riley and Aaron Hall worked together on other artists' projects, including Bobby Brown's megahit, "My Prerogative".
Their self-titled debut album was released in 1988.  After recording the album, the third founding member, Timmy Gatling, left the group and was replaced by Aarron Hall's younger brother, Damion.
They released another album, The Future, in 1990, and with two studio recordings under their belt, had collectively put out an impressive number of now classic R&B hits.
The group went their separate ways afterwards, for a variety of reasons, and starting coming back together for reunions in the mid-90s.  In 1999, they got back together to produce and record a third studio album, Guy III.  They split up again thereafter, and have had periodic reunions from the mid 2000s through to today.
They are strongly associated with the New Jack Swing style of music.
They made a very strong showing Saturday night, and out of the context of their history, you would believe that they have been touring and performing together frequently for the past few decades.
From playing together, their dance choreography, and some of the entertaining ways that they bring their music to life on stage, they quickly won over the crowd and amped things up as the night went along.
One of the highlights of their set is when Aaron Hall jumped into the crowd to perform, making his way all over the venue floor and interacting with fans.
Below are some photos of Guy performing on stage (click any image for higher resolution version of each photo):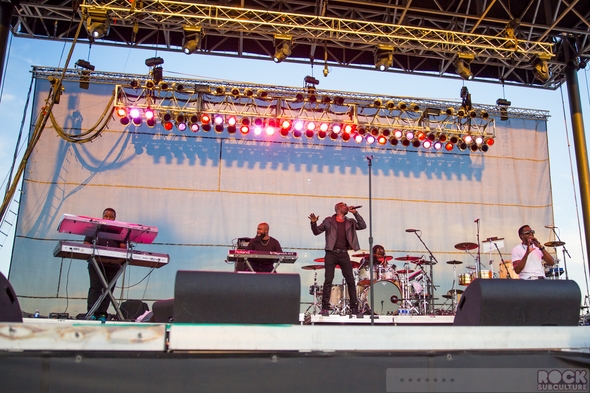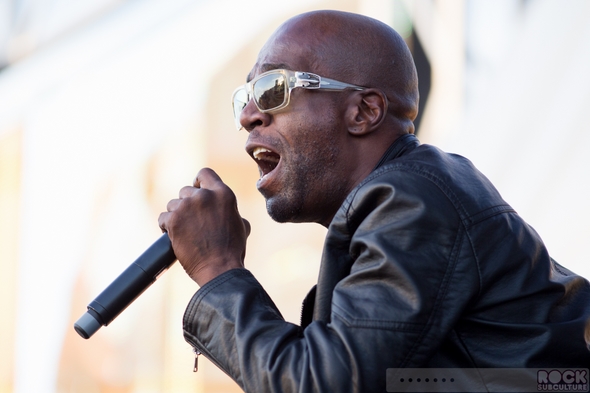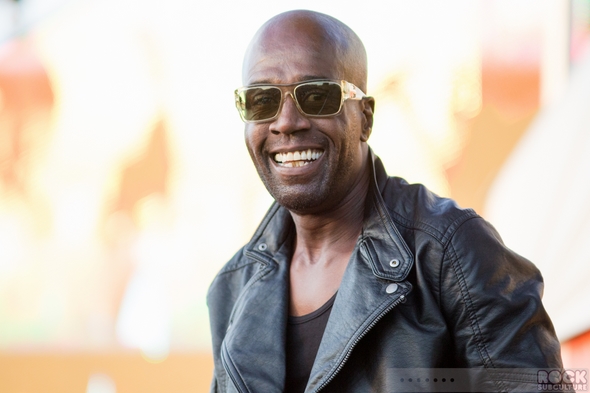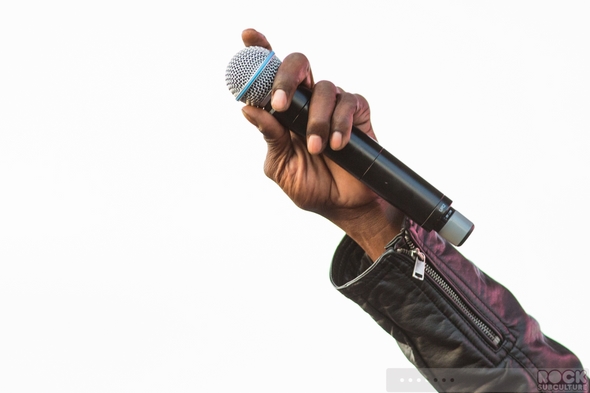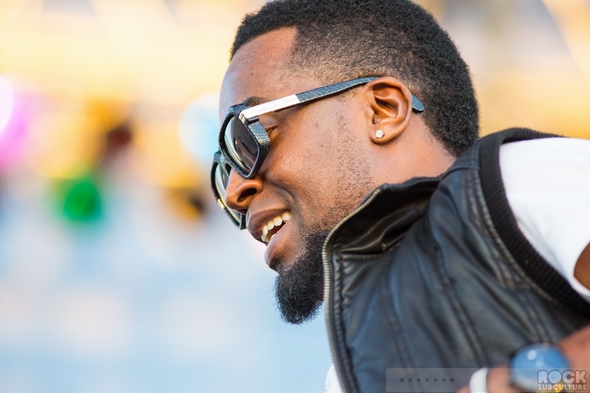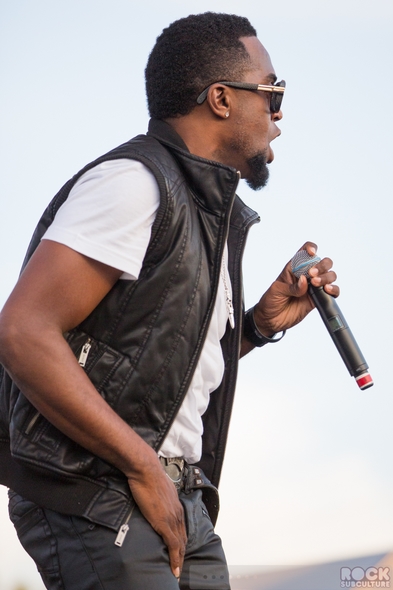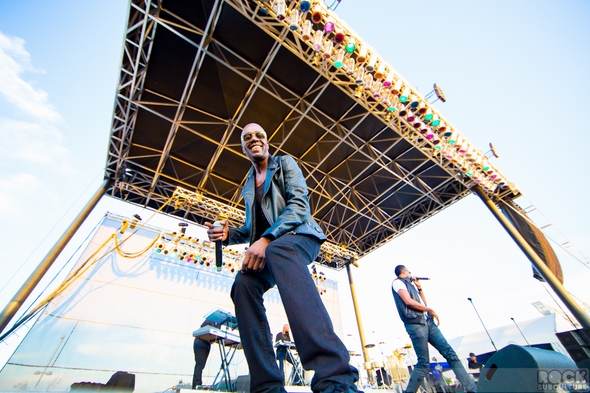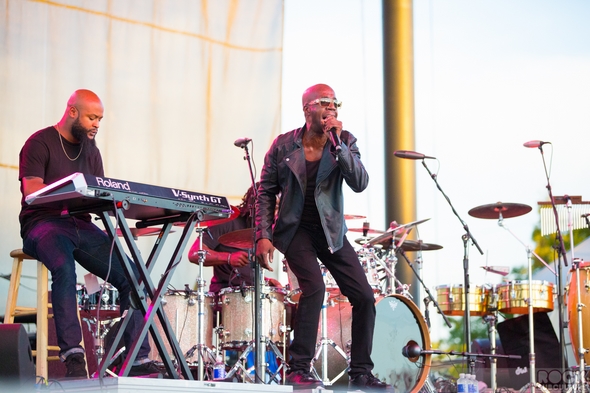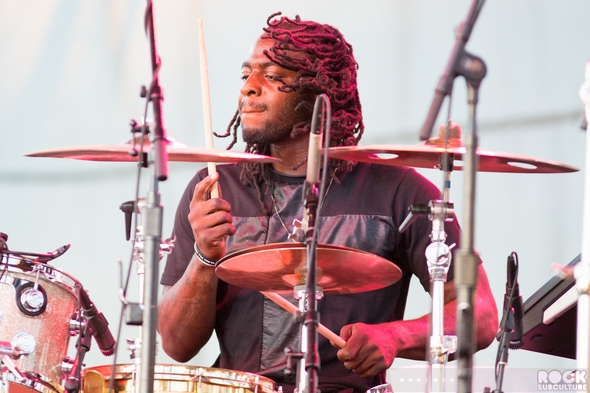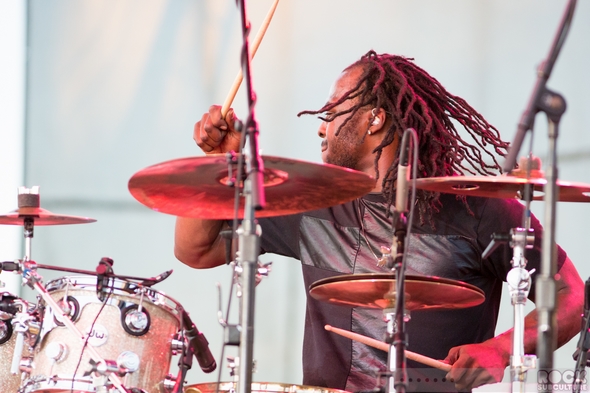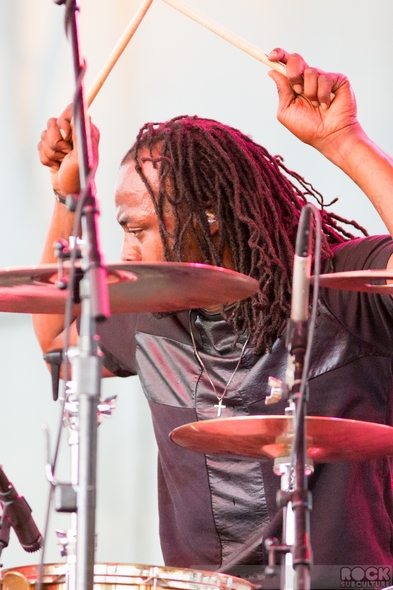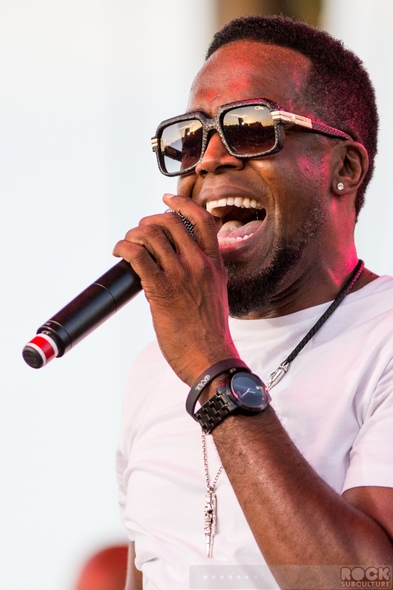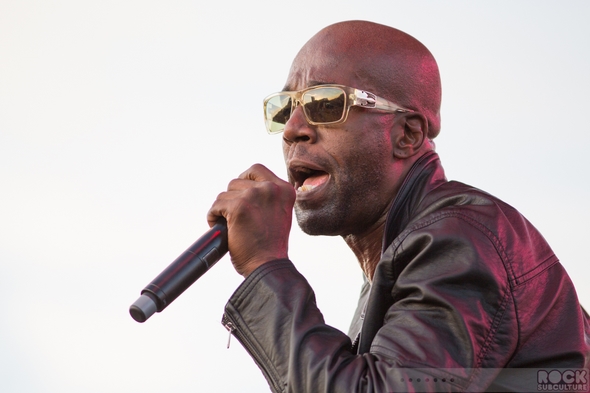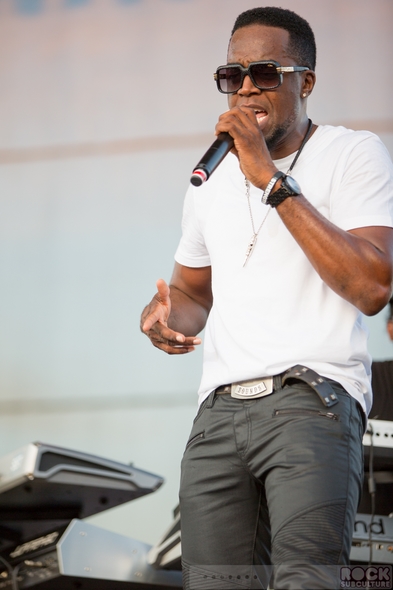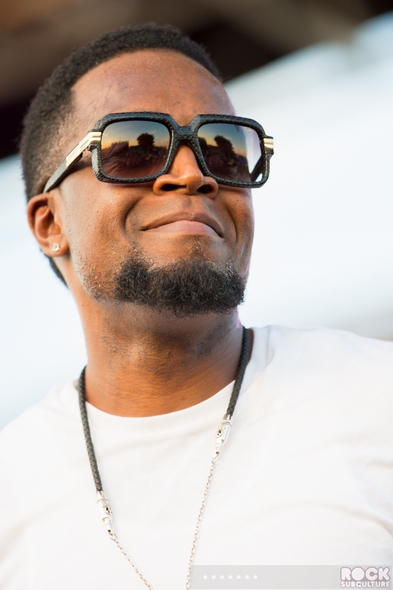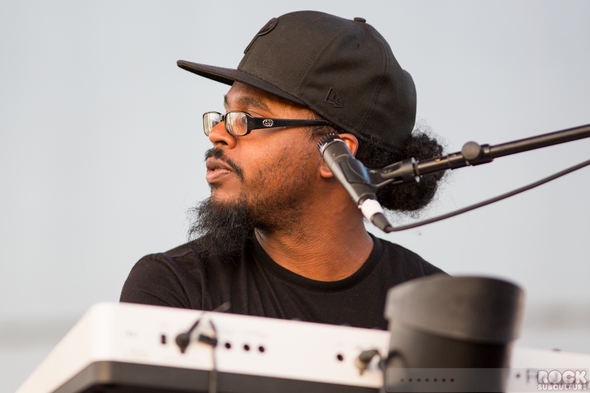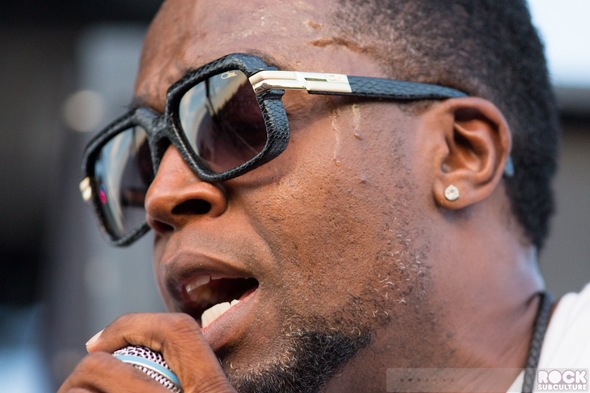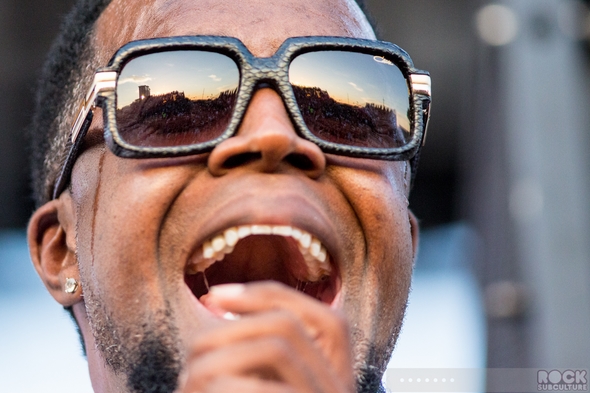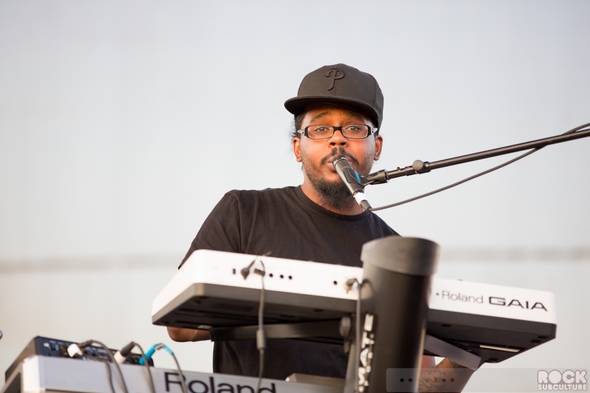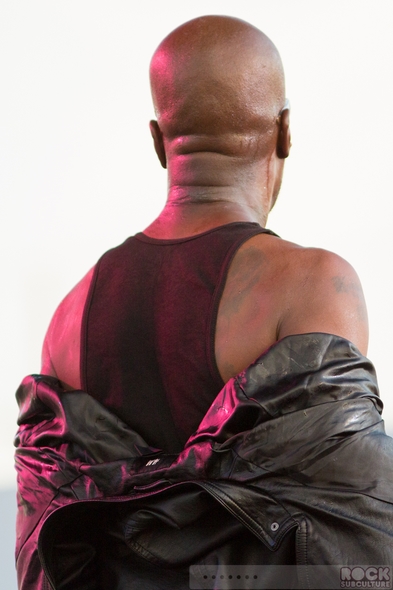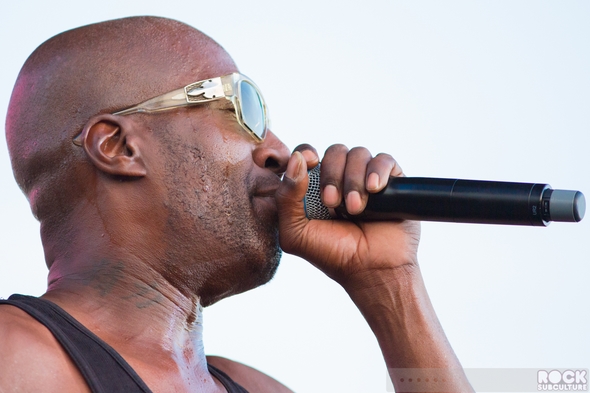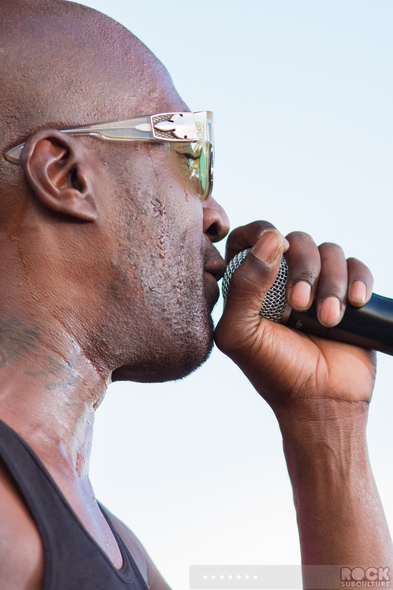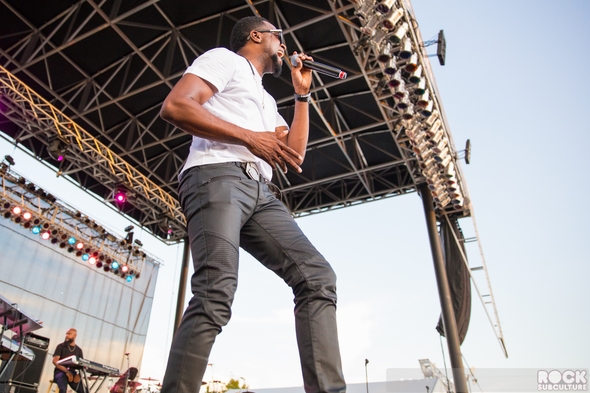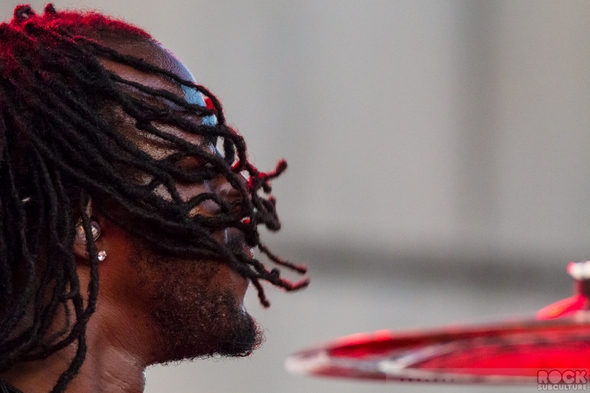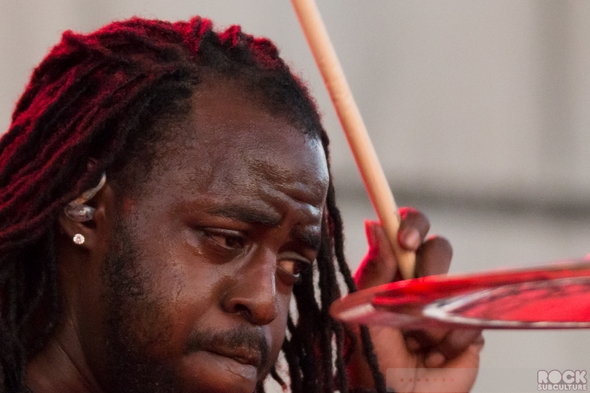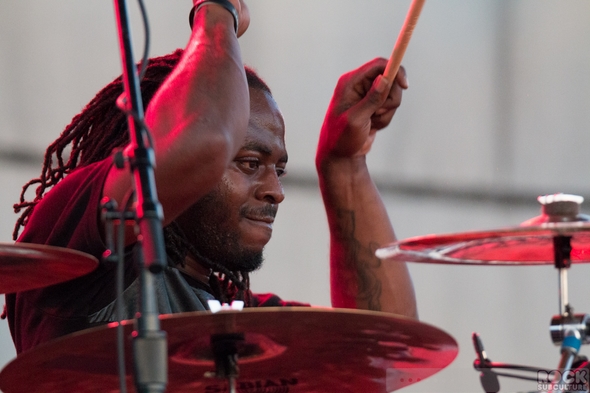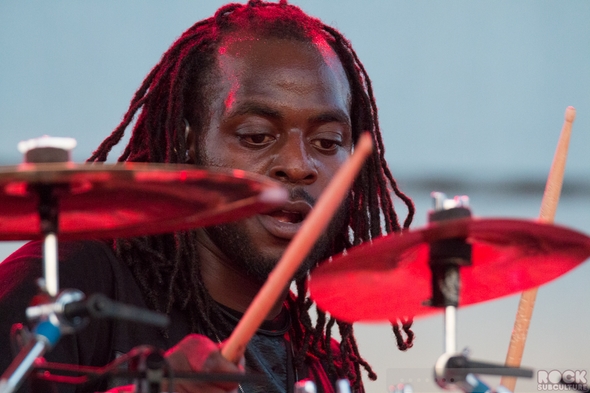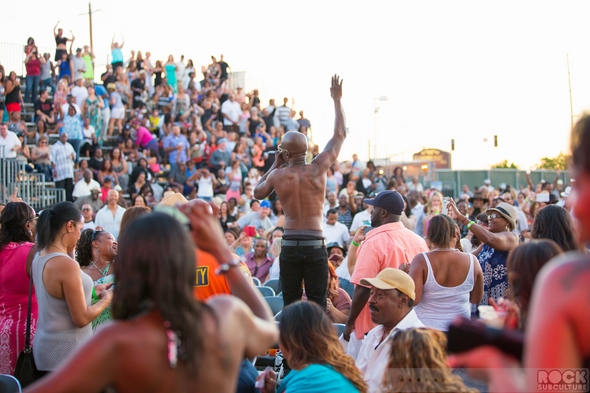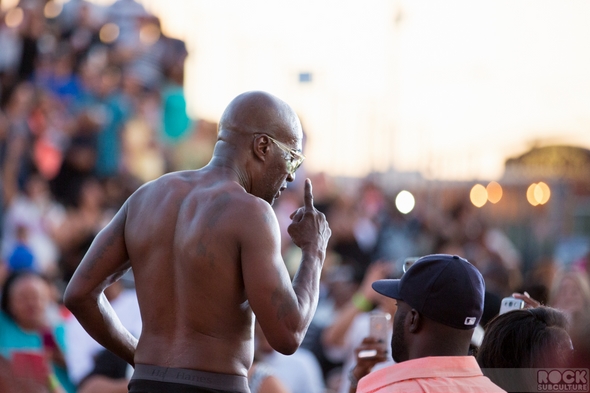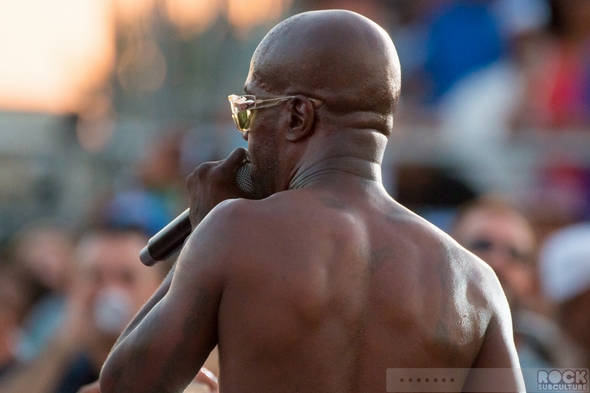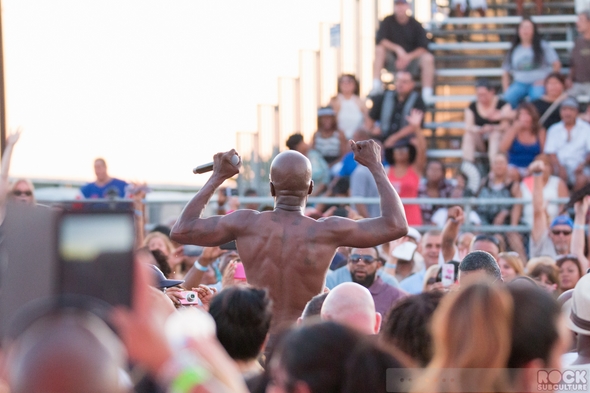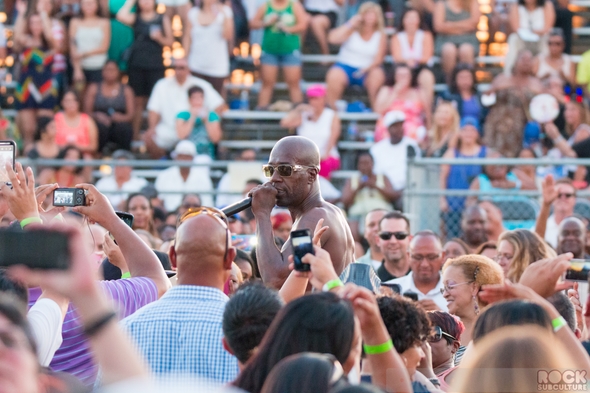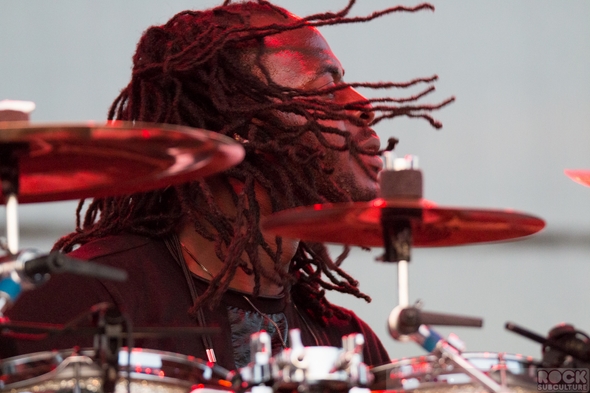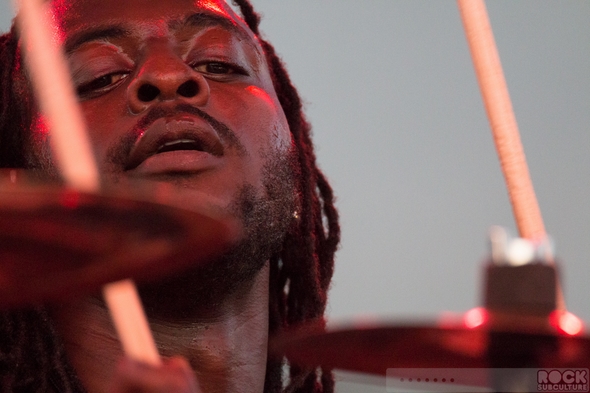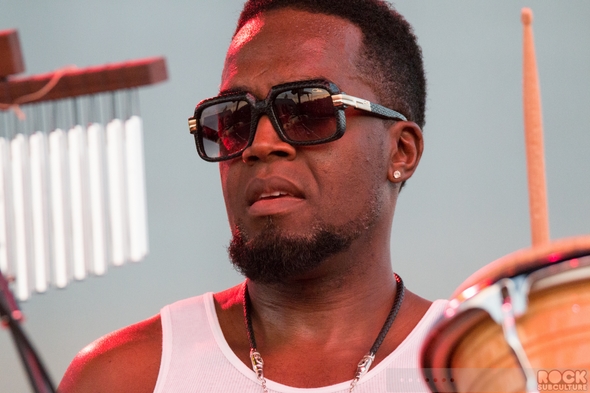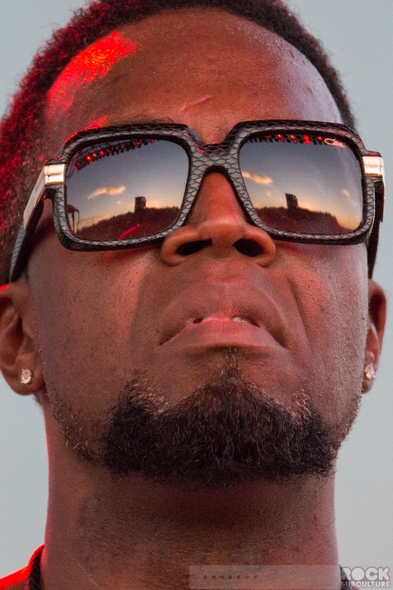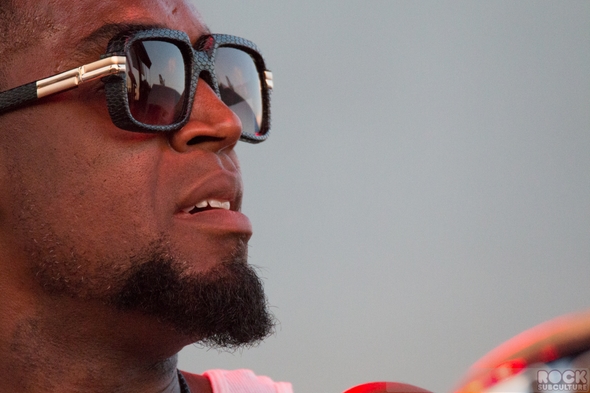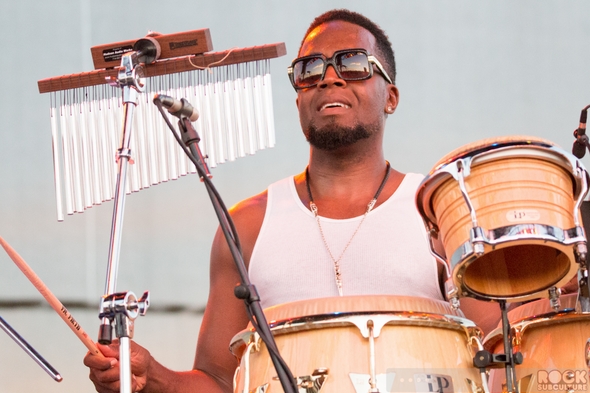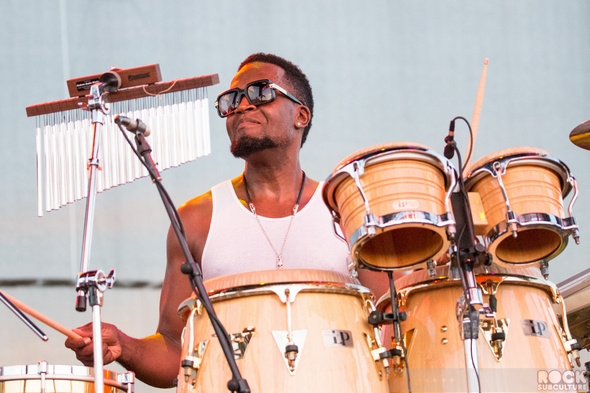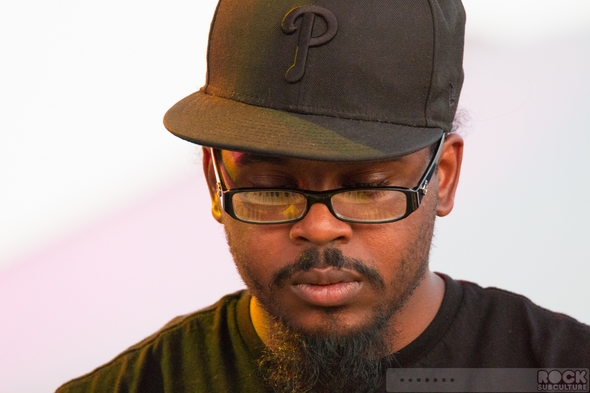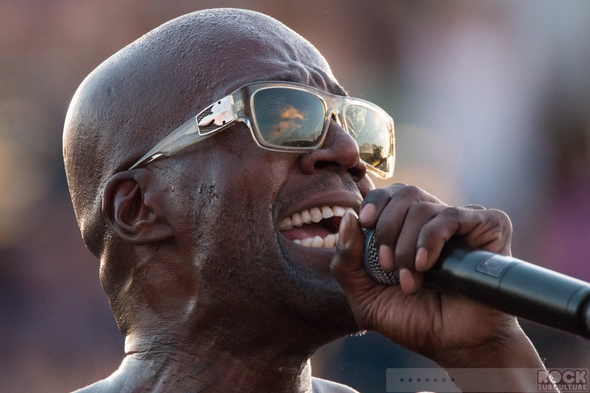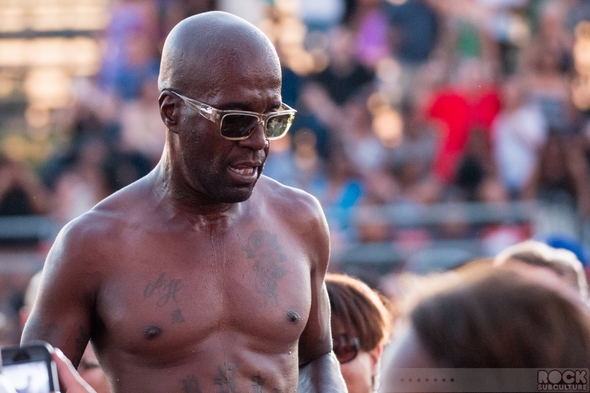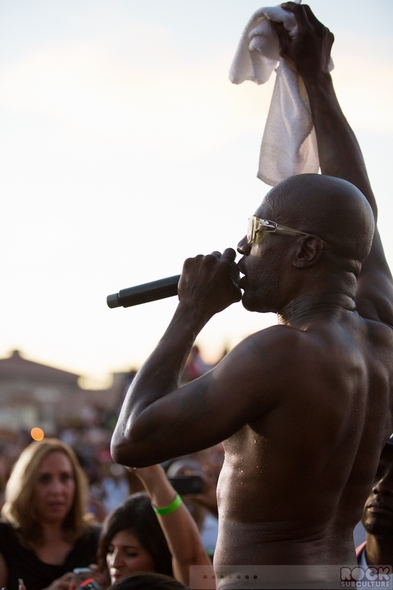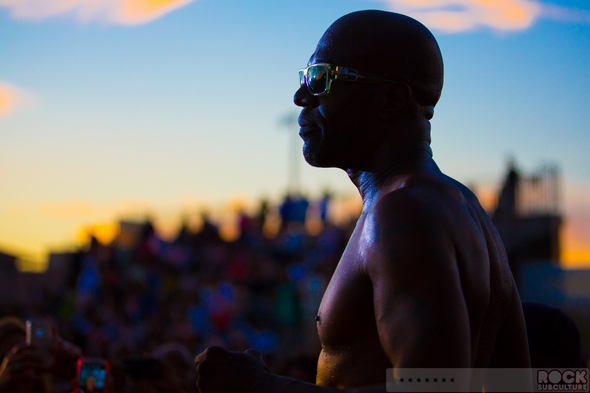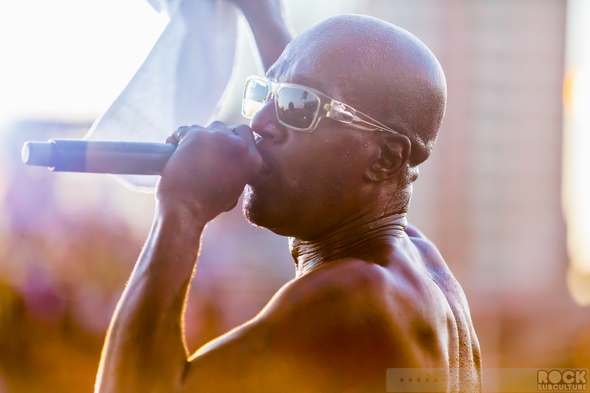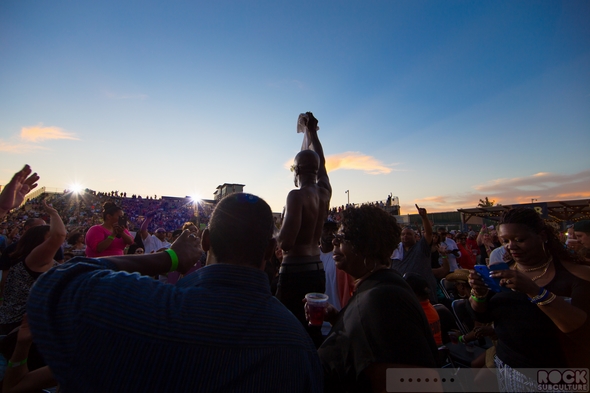 Sheila E.
Singer-songwriter Sheila E. (Sheila Escovedo), with work that crosses Latin, pop, R&B, rock, jazz, and funk, with a unique mix of powerful vocals, drums, and percussion.
She is currently celebrating 40 years in music with her new autobiography, The Beat of My Own Drum – a memoir, which was released this month.
The Grammy Award-nominated artist has worked with notable stars including Prince, Lionel Richie, and Ringo Starr, but is also from a family of musicians, including her father Pete Escovedo, godfather Mario Escovedo, and uncles Alejandro Escovedo, Mario Escovedo, Javier Escovedo, Mario Escovedo, and Coke Escovedo.  She is also aunt to Nicole Richie.
Sheila E.'s first recording was in 1976 with Alphonso Johnson on "Yesterday's Dream".  In the early days, she played with Marvin Gaye, Herbie Hancock, Diana Ross, and Lionel Richie.
She met Prince at a concert in 1978, and collaborated on Purple Rain, contributing vocals to "Let's Go Crazy" and "Erotic City"; she also had a small part in the film.
Some of her most famous songs came as a result of her relationship with Prince, including "The Glamorous Life" (which he wrote and she recorded) from her debut solo album of the same name.
"A Love Bizarre", also written by Prince and Sheila E., was on her second album, Romance 1600.  The original song is  over twelve minutes long but the single version was edited down to under four minutes.
Further into their careers, Sheila E. was Prince's drummer and lead his band during Sign "O" The Times, Black Album, and Lovesexy.
Sheila E. has released a number of albums since, and also has toured with Ringo Starr & His All-Starr Band, and later on tour with C.O.E.D. (Chronicles of Every Diva).
She has been very active and collaborative over the years, working with a number of artists on a variety of projects.
Her last studio album, Sheila E ICON, came out late last year, and was her first solo album in over a decade.
Sheila E really rocked the house last night, and was a virtuoso in terms of being a musical performing, with strong vocals throughout, of course her trademark work on her drum kit framing the whole affair, but also rocking both bass and electric guitars, depending on the song.
One of the highlights was their cover of Prince's "Erotic City", with sax player Eddie M. filling in the Prince vocals.  Her accompanying band was strong, and they delivered an exciting set of music.
Below are some photos of Sheila E. performing on stage (click any image for higher resolution version of each photo):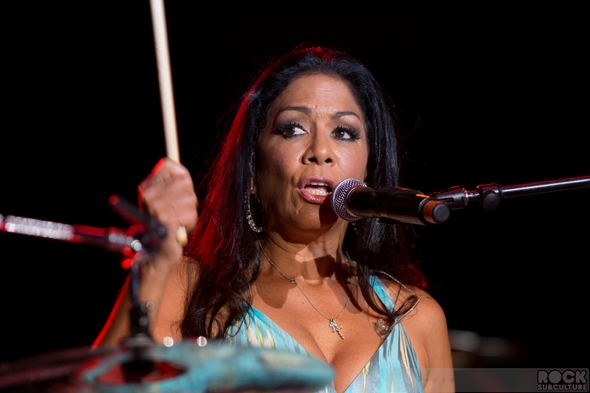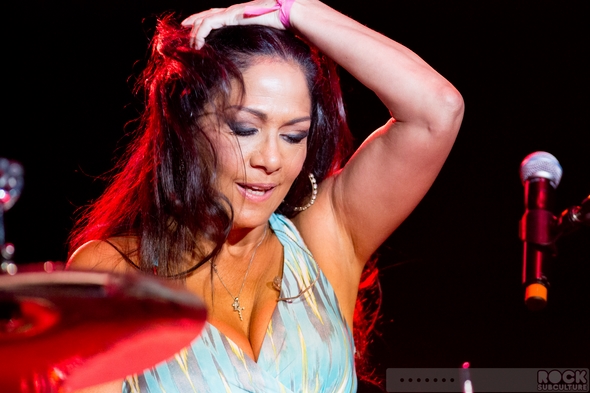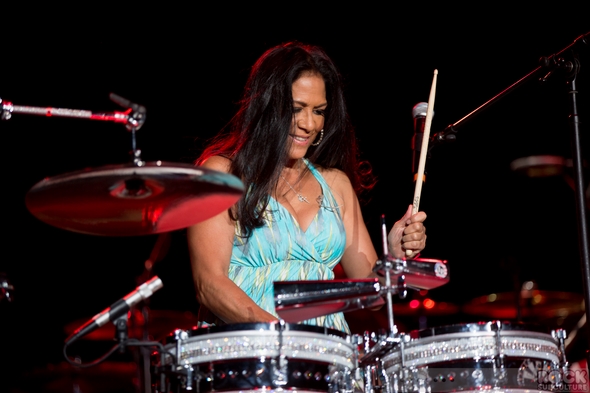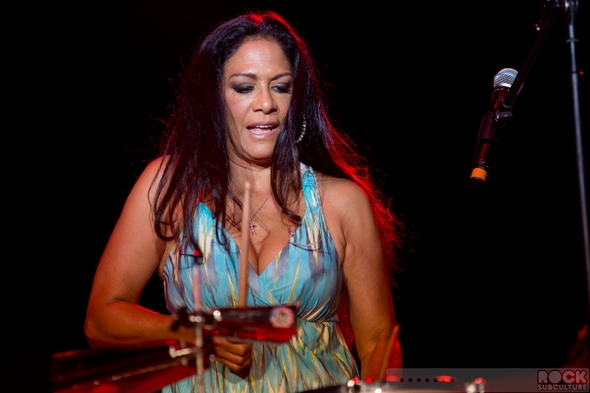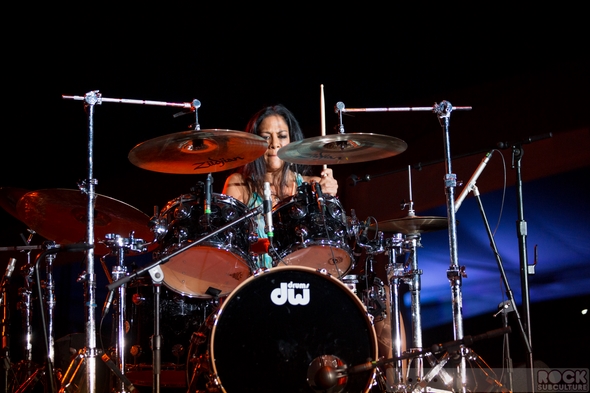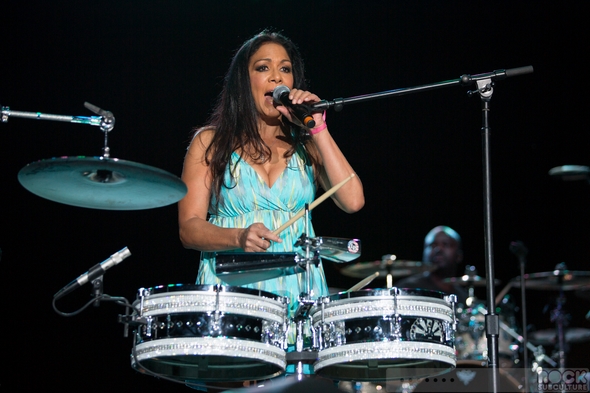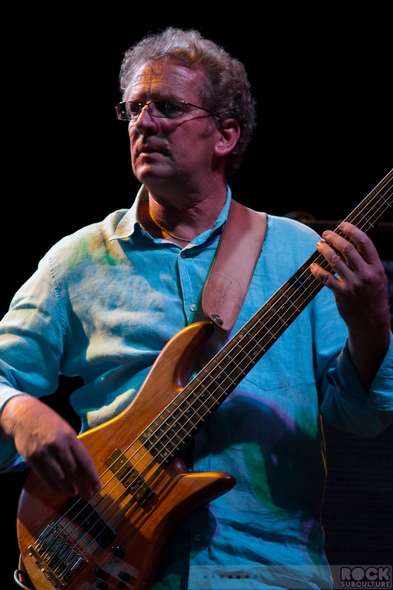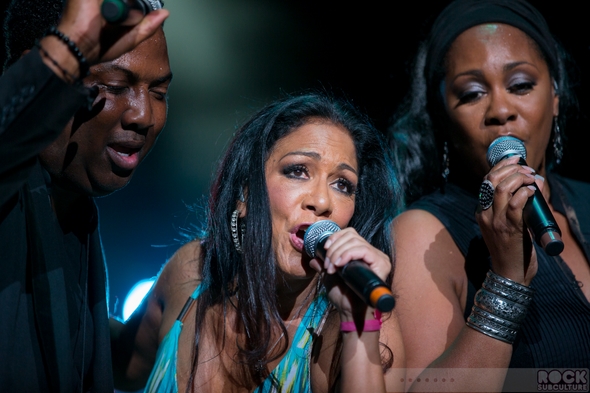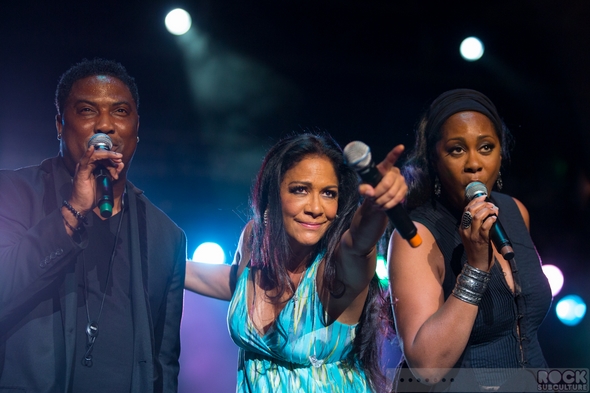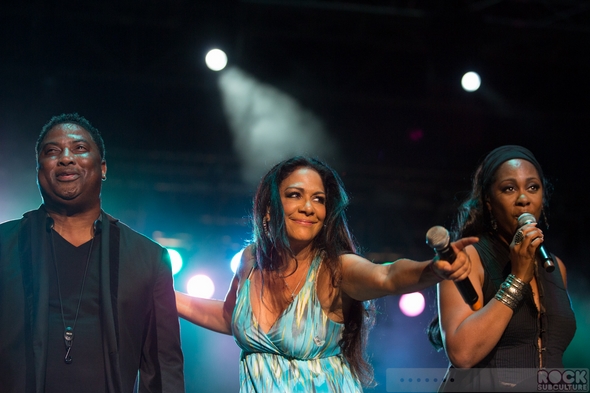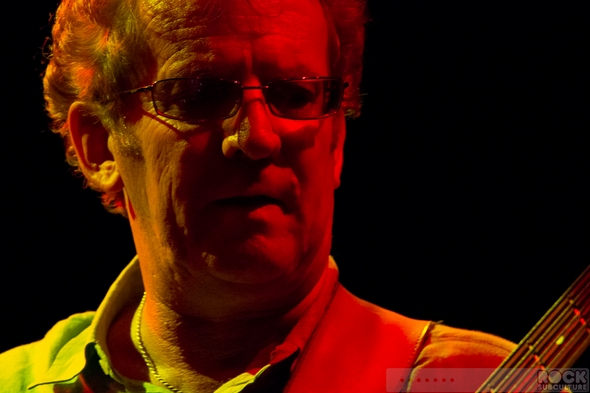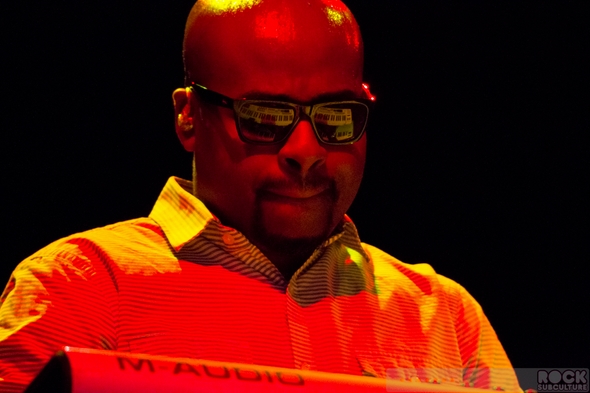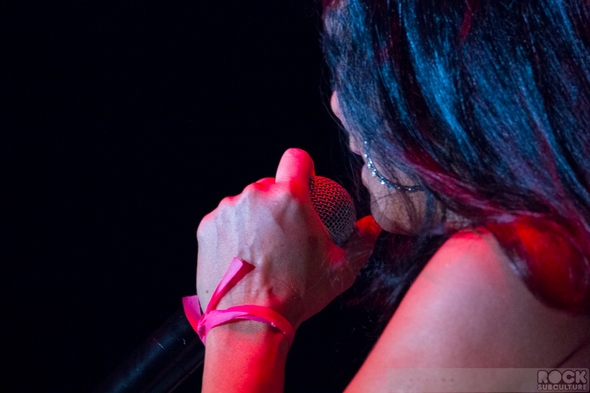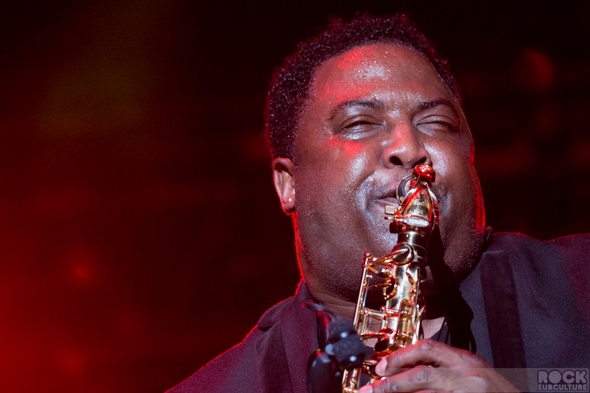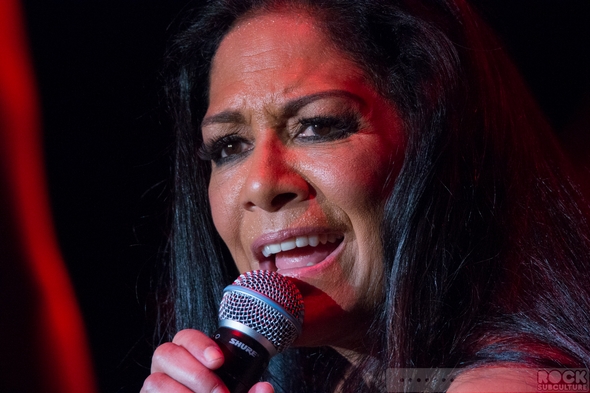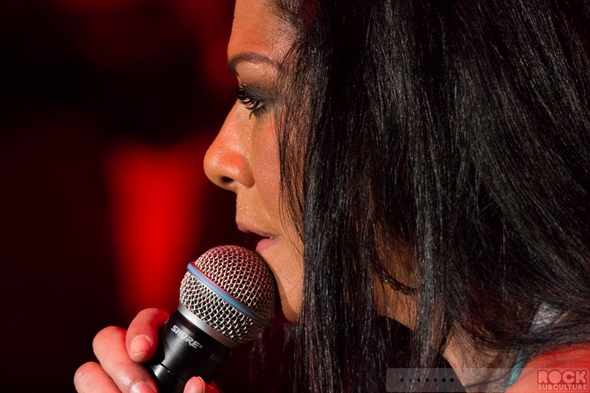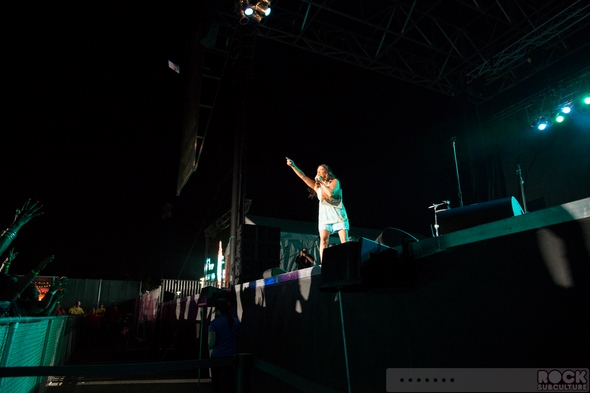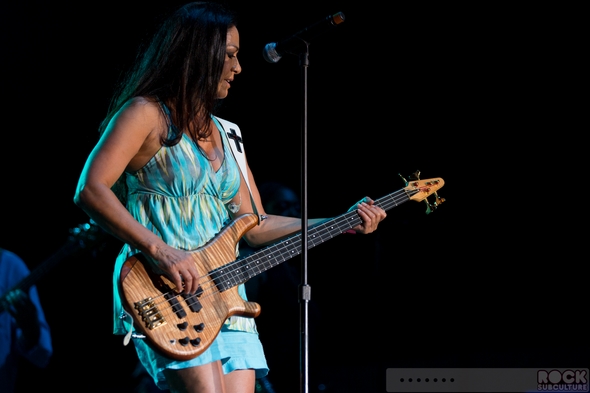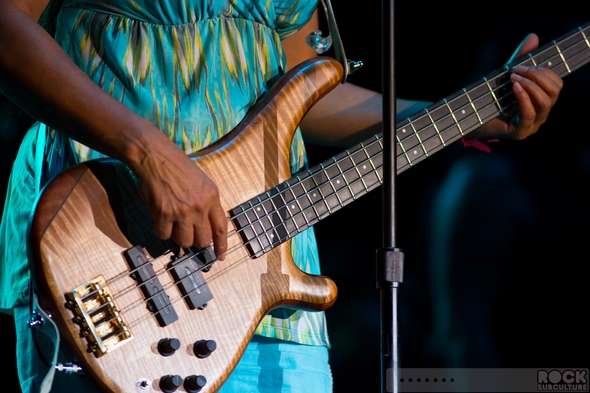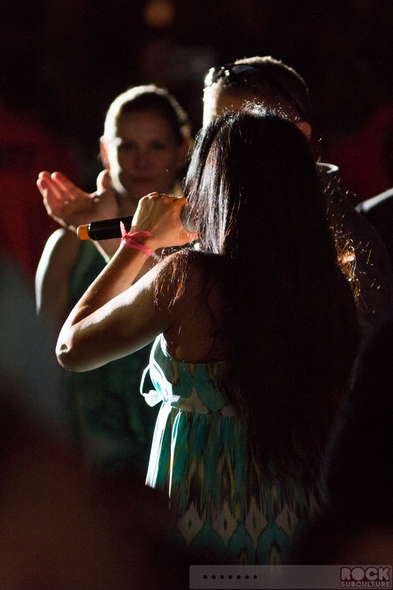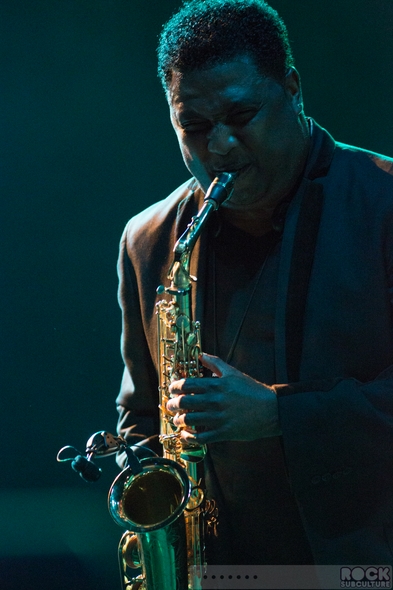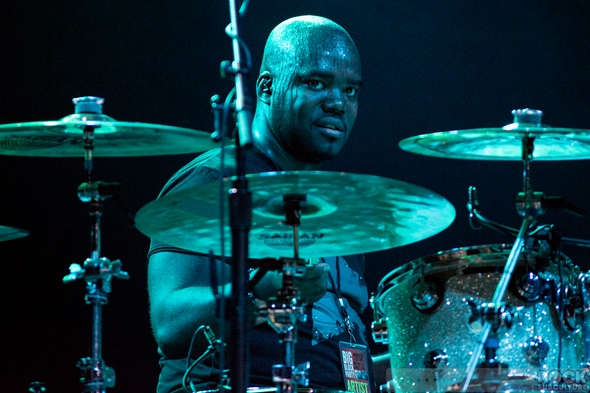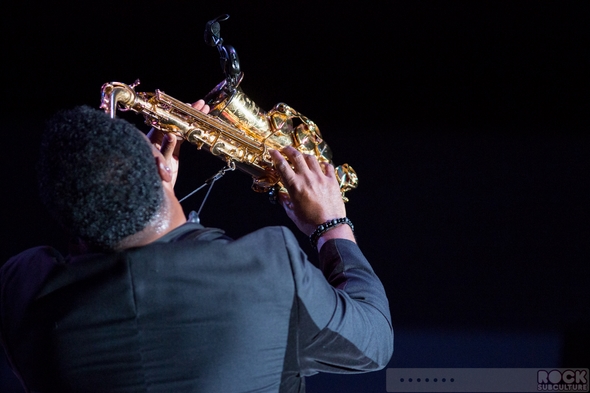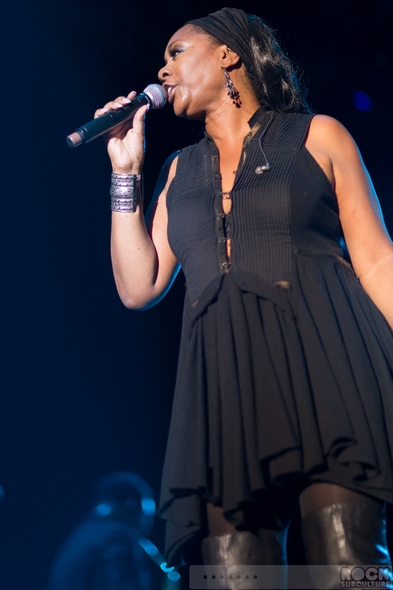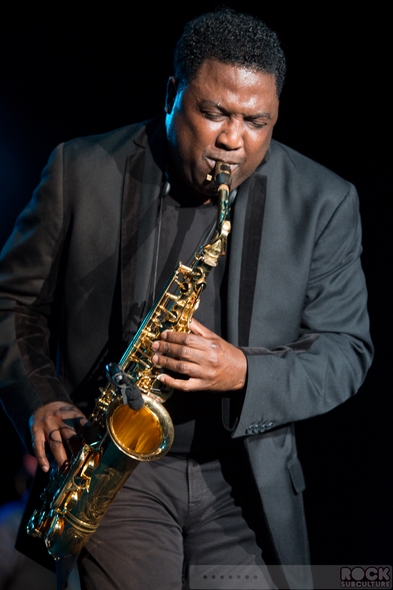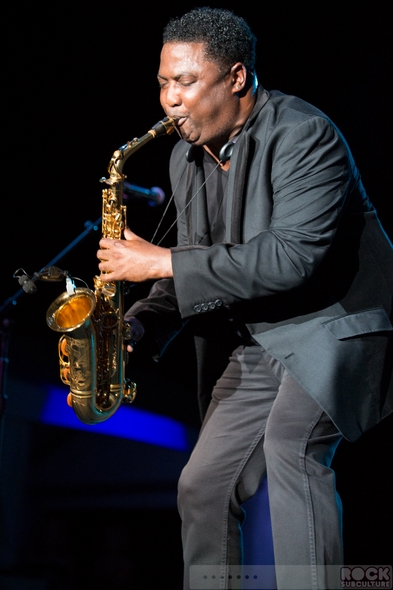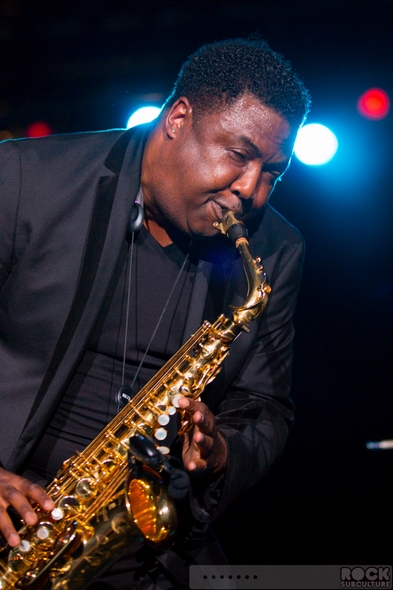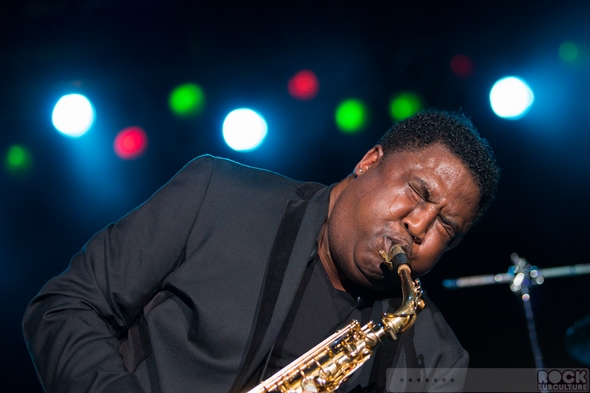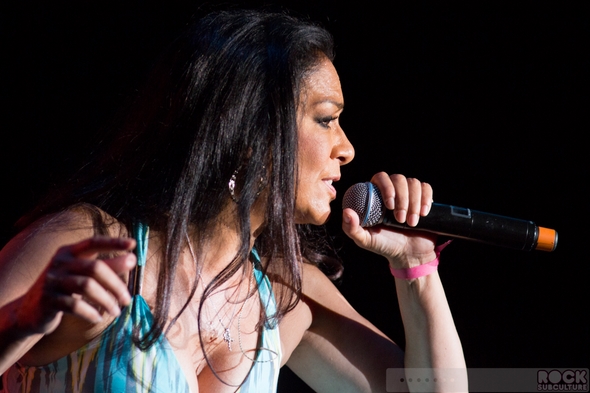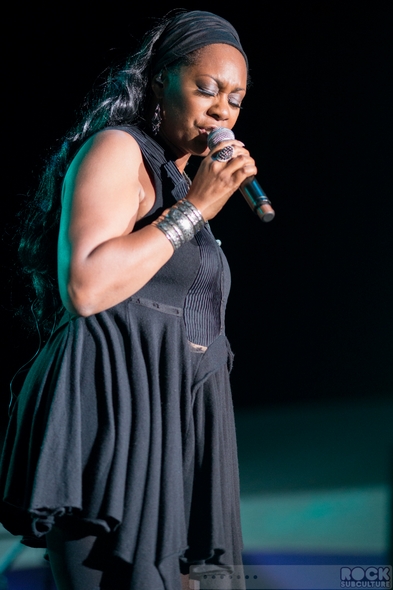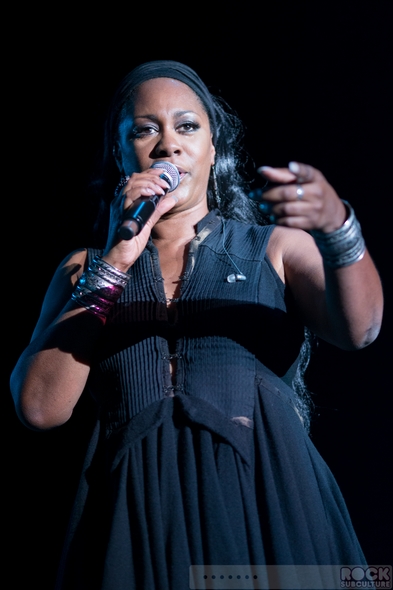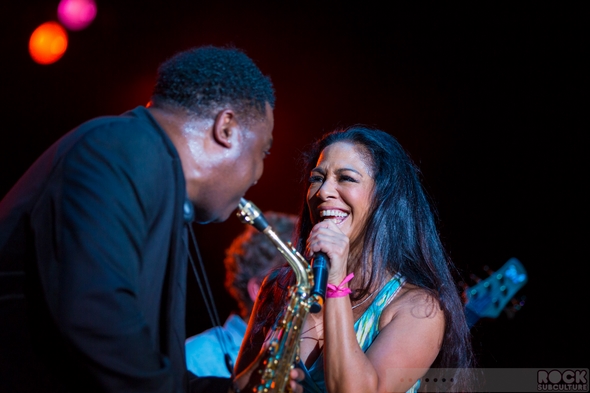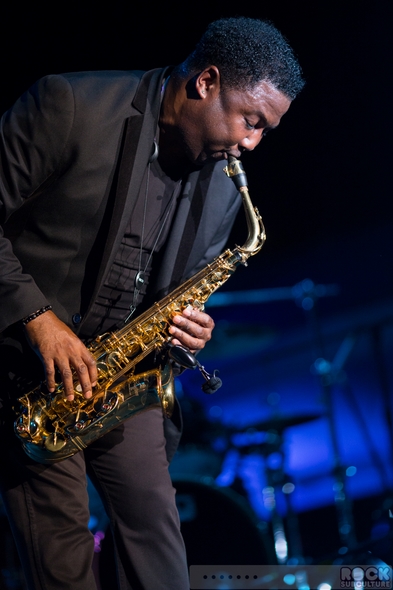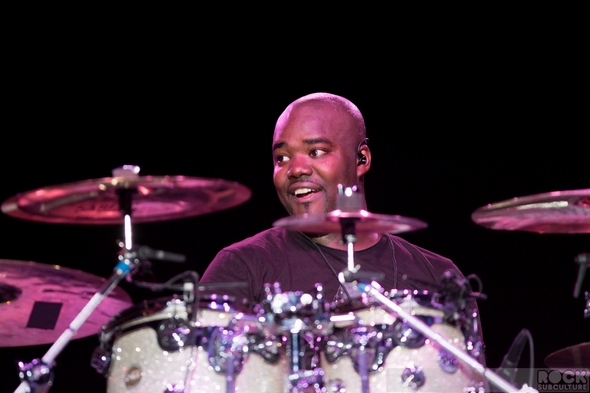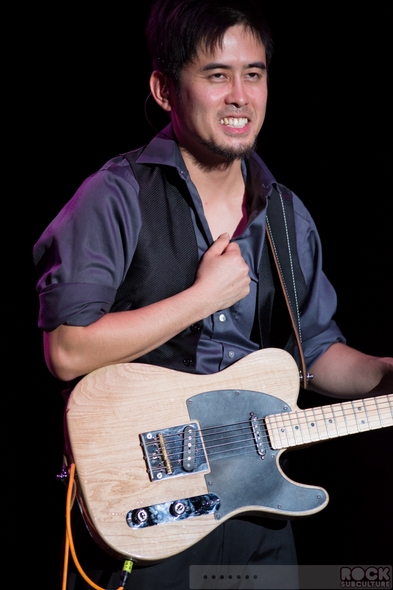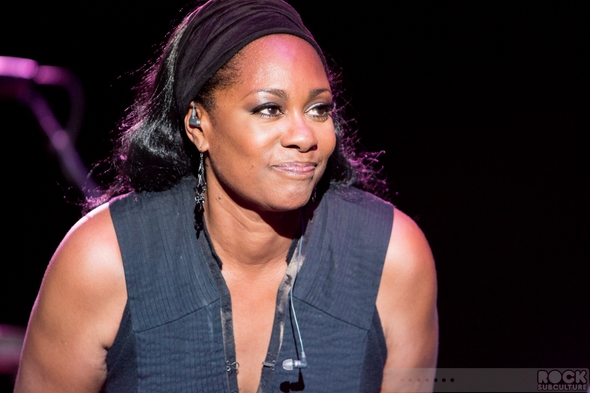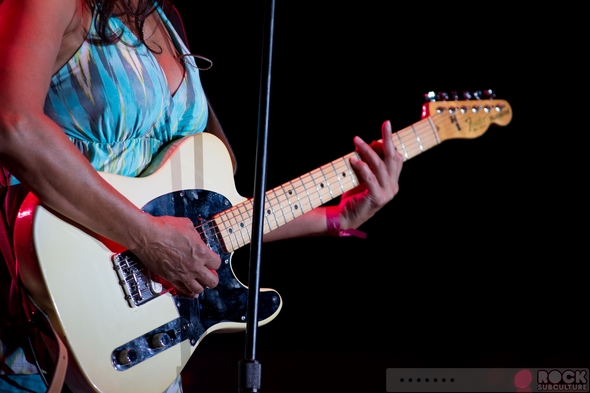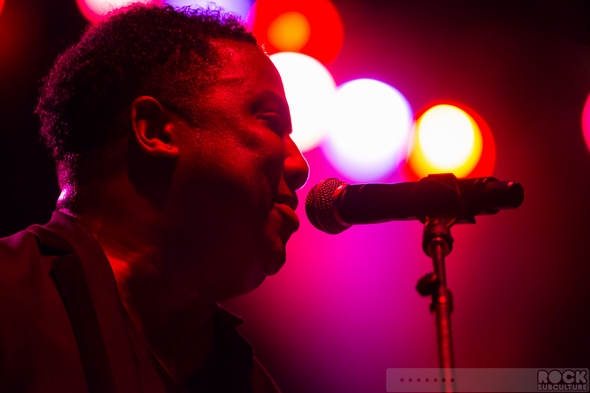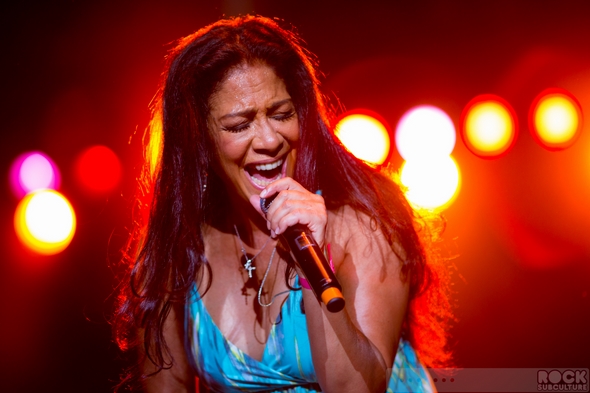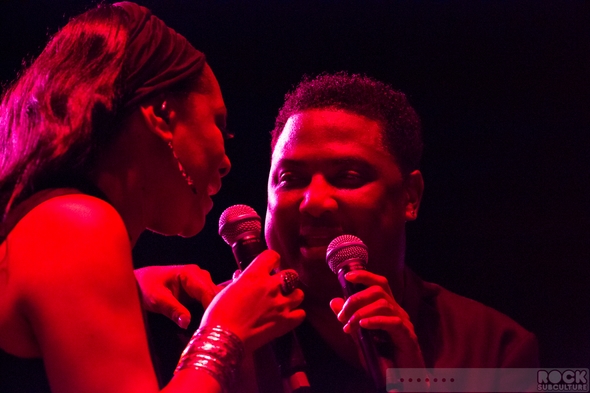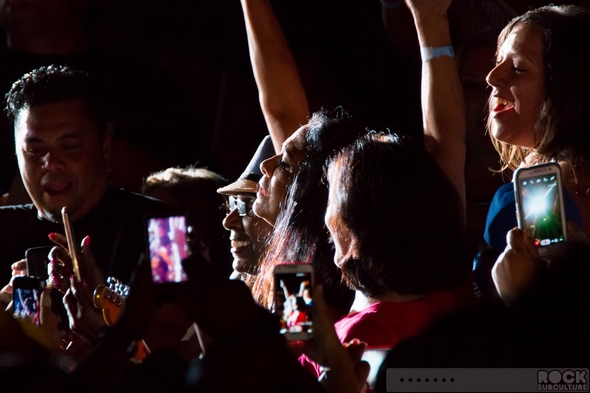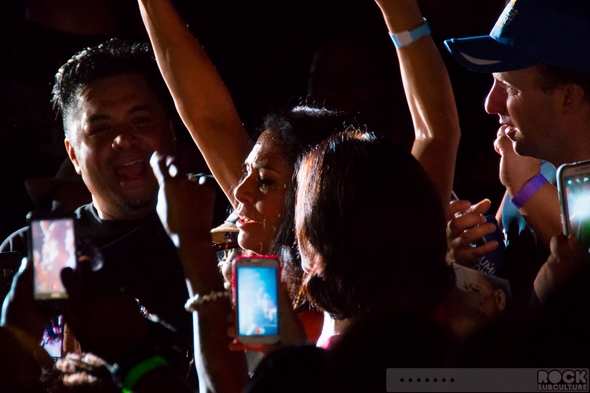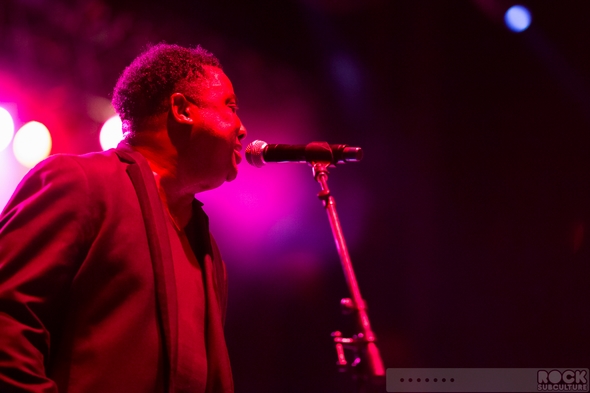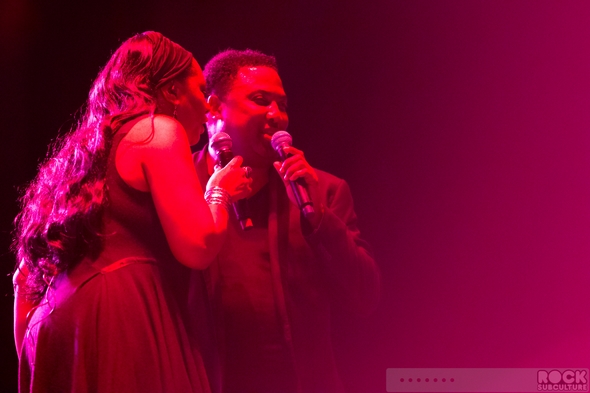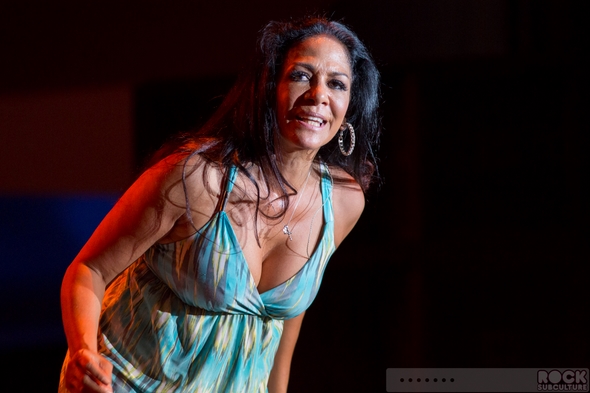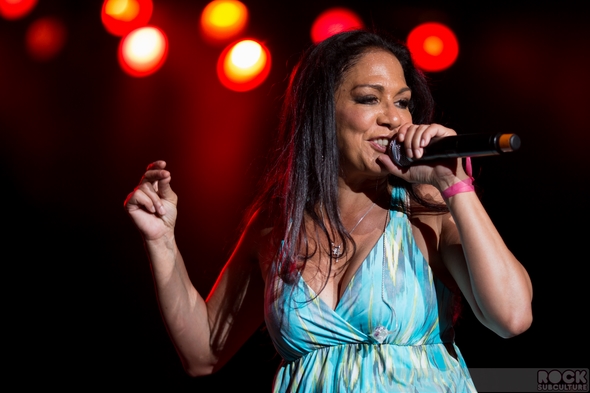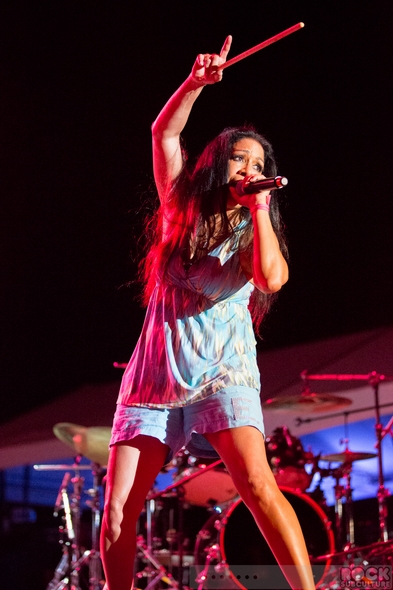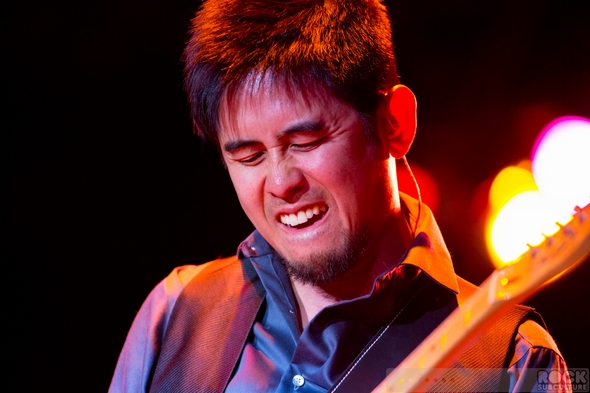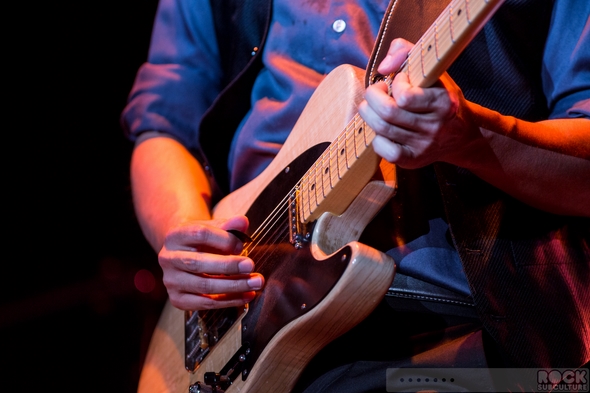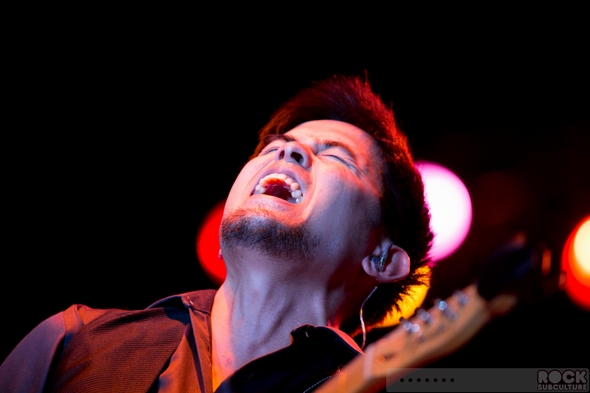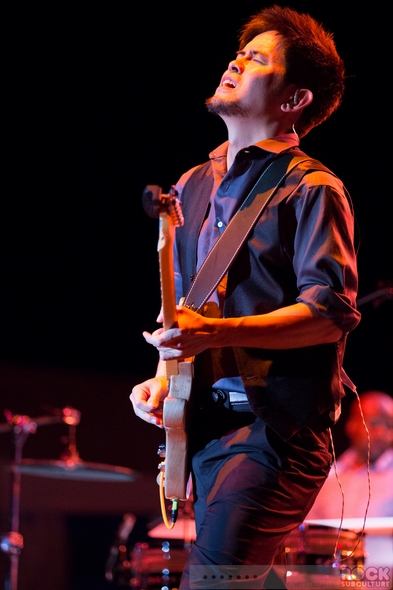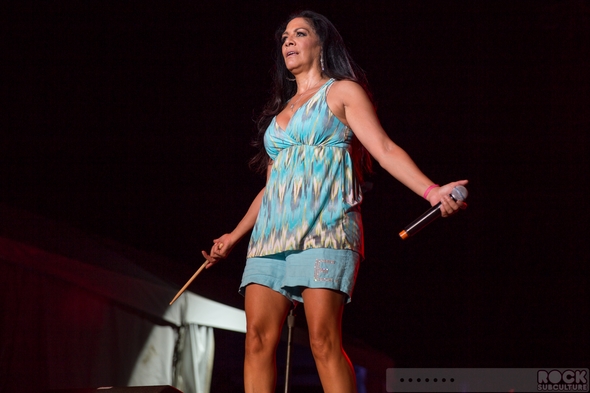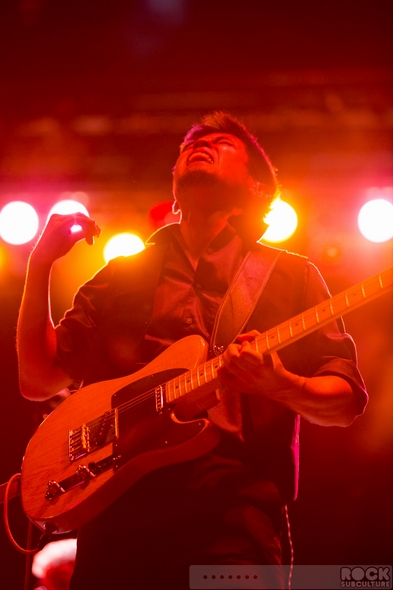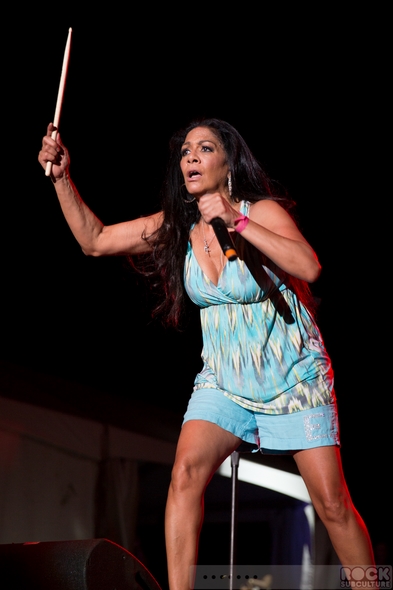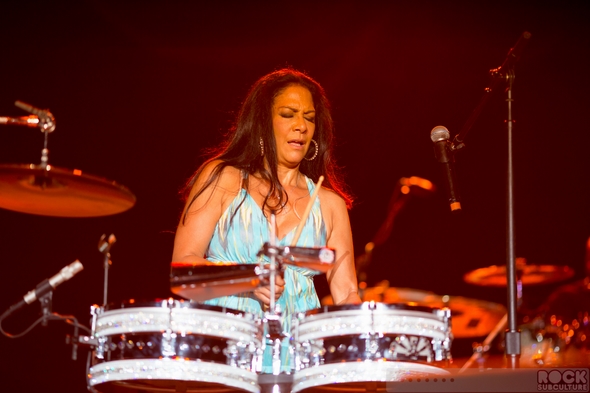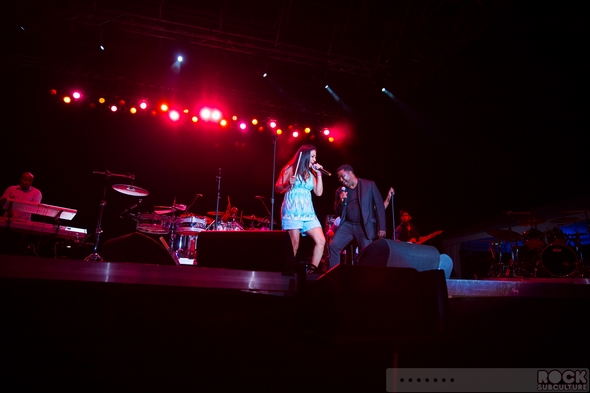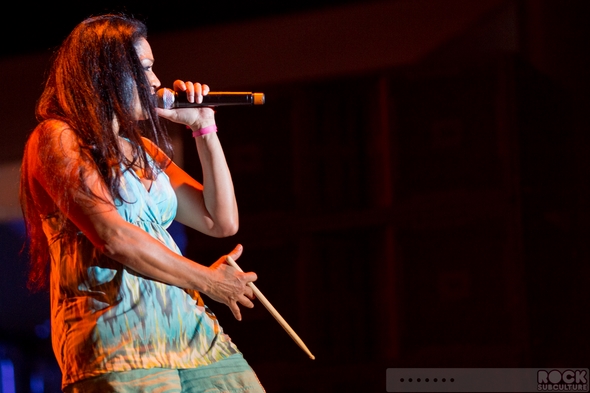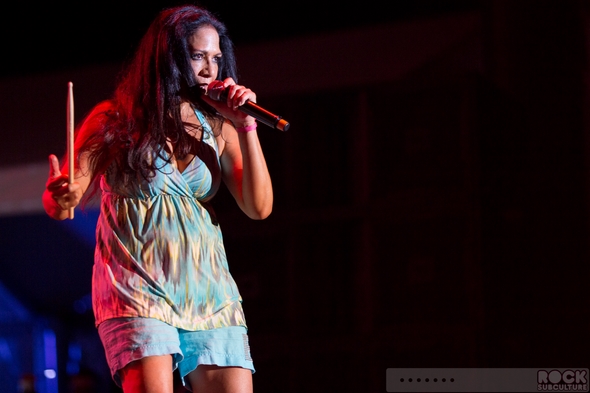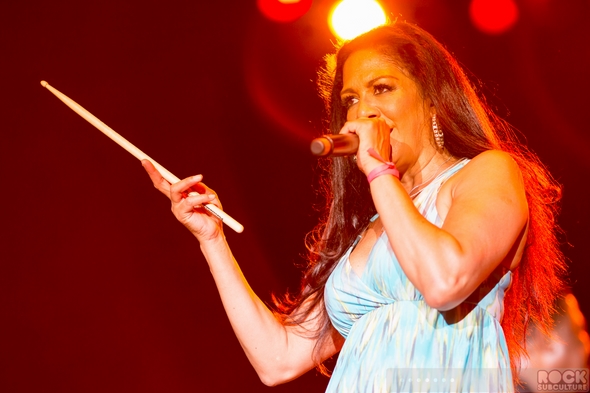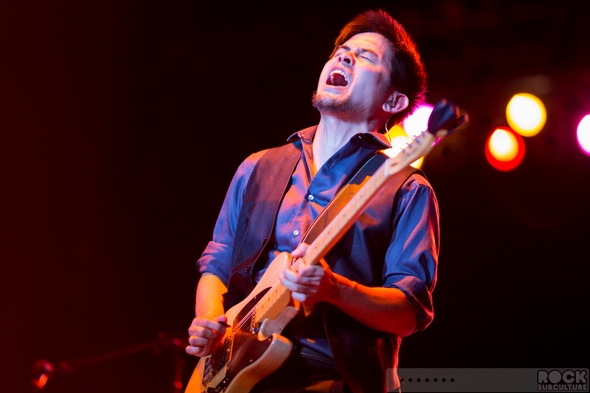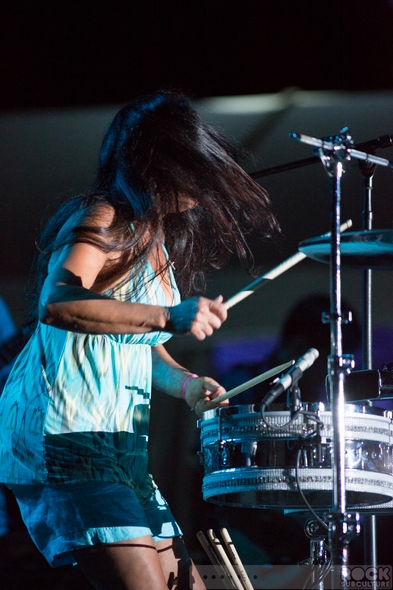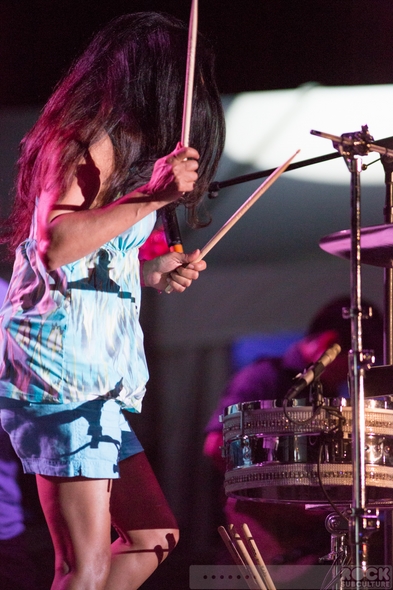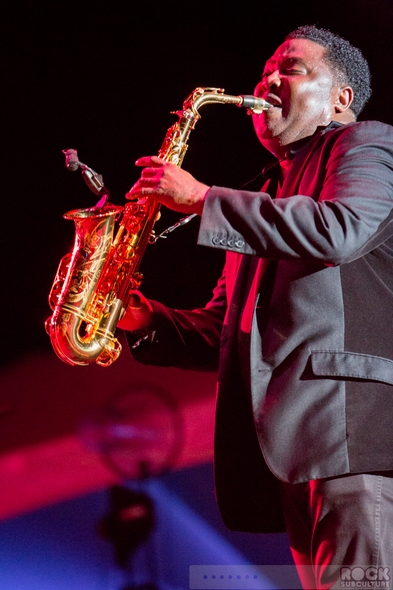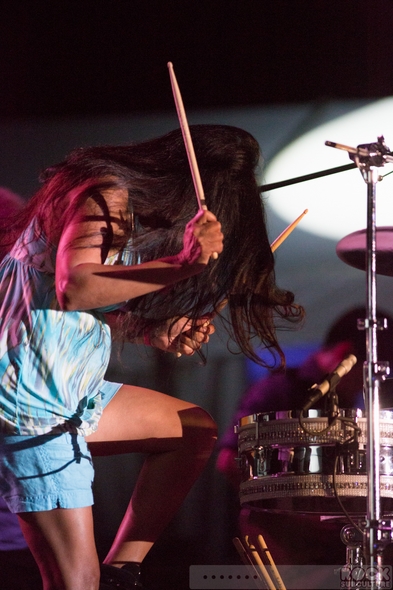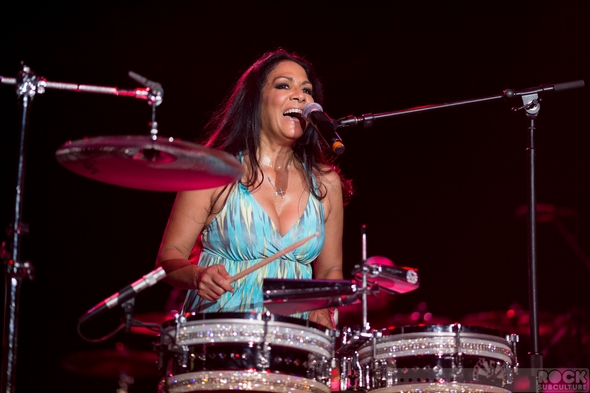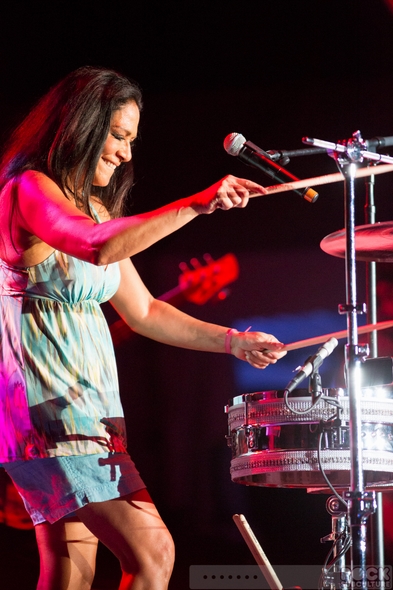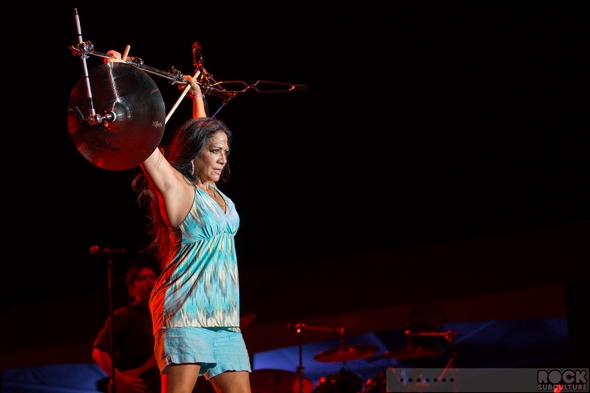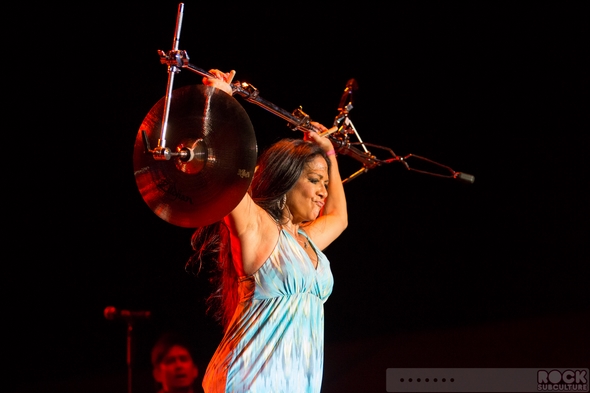 Morris Day & The Time (The Original 7ven)
Members
Morris Day (lead vocals, backing vocals)
Monte Moir (keyboard, backing vocals)
Jimmy Jam (keyboard, backing vocals)
Terry Lewis (bass, backing vocals)
Jerome Benton (backing vocals, percussion)
Jellybean Johnson (drums, guitar, backing vocals)
Ricky "Freeze" Smith (bass, backing vocals)
Torrell "Tori" Ruffin (guitar, backing vocals)
I think that there is so much background and history to cover about Morris Day & The Time, it could take me longer to recap it than I spent at the entire concert Saturday night.
People who were paying any attention to music or pop culture in the early to mid-80s would immediately associate Morris Day & The Time with Prince, and with the landmark album, Purple Rain and associated film that was released in 1984.  Morris Day and his band served as competitors in the film, and their song, "Jungle Love", became a huge hit in its own right.
Prior to that, they performed the backing music to the hit song, "Nasty Girl" by Prince protégé girl group Vanity 6 (which also appeared in the film, Beverly Hills Cop).
Fascinatingly, Prince wrote and composed all of the songs on the first eponymous album by The Time before the band was truly formed, only allowing vocals to be recorded by Morris Day.
Prince and Morris Day grew up together, and apparently Day was behind the song "Partyup", which Prince recorded on Dirty Mind and did give him credit.
The band The Time was created by Prince as part of his deal with Warner Bros. as an outlet to create music in a different style from his solo material.
The Time was formed with some members of an existing Minneapolis funk band, Flyte Time.  This included Jellybean Johnson (drums), Jimmy Jam (keyboards), Monte Moir (keyboards) and Terry Lewis (bass), as well as Jesse Johnson (guitar) and Jerome Benton.
Those who have followed The Time and their careers closely hail them as one of the best old school funk bands of all time.
Due to the structure and ownership of the band and ongoing issues and rivalries with Prince, members had come and gone over the years, and Morris Day himself left to pursue a solo career and acting as well.
The band's original members did reunite in 1990 for the Graffiti Bridge album and soundtrack, as required by Warner Bros. more than out of any desire by Prince to make it happen.
Over the years, there have been a variety of reunions and reshuffling of members, new and old.
They did supposedly put together a fifth album in the late 90s, but were not able to come to terms with Prince to complete and release it.
In 2011, the core original members decided to change the name of the band to afford themselves the freedom to produce and release new music, so they reformed as The Original 7ven and released the album, Condensate in 2011.
In any event, I am a huge fan of Prince (and of all living musical artists today, consider him a real genius), but I do suffer some disappointment in trying to sort out his relationship with fellow artists that he's worked with in the past, as there sometimes seems to be some conflict and such.
Having said all of that, I just love The Time…  is there a genuinely cooler band on the planet?
One interesting thing to me, about music in general, is how it compares and contrasts with actors in film in television.  People became fans of actors based on roles that they play, and who they are is kind of lost, or maybe not relevant.  With musical artists, often the star is the star.  They can be the same on and off stage.  I suspect that Morris Day and The Time are different…  there seems to be a bit of exaggeration and role-playing involved, which makes the whole affair larger than life and fun.
The put on a high energy show and the band was in top form.
Two things that The Time have done is stay classy and funky.
Jerome supplied some character and comedy by periodically bringing a mirror up to Morris to check his hair, pulling a comb out of his suit jacket…
The crowd seemed to love their set, and it was great to see the band on a big stage with a big sold out audience.  They are definitely worth checking out live if you ever get the chance to see them perform, and I hope to see them again soon.
Below are some photos of Morris Day & The Time (The Original 7ven) performing on stage (click any image for higher resolution version of each photo):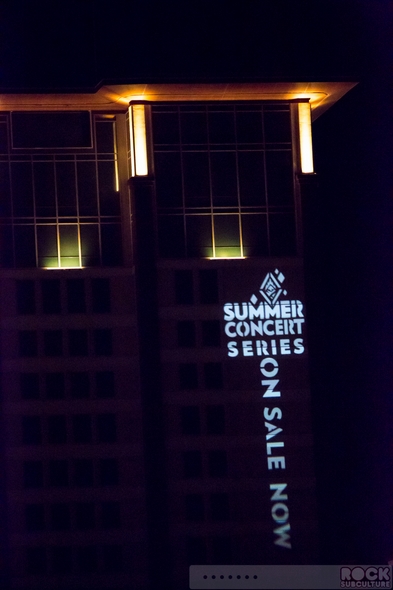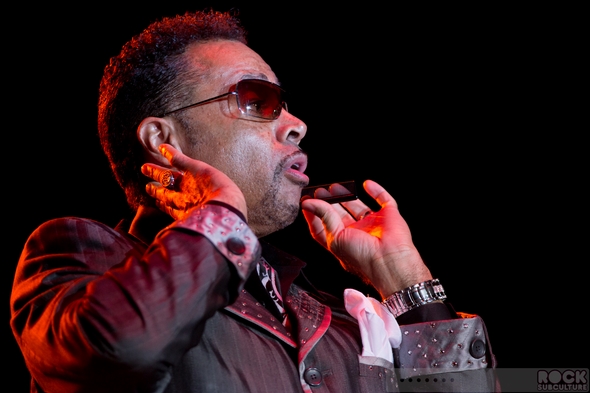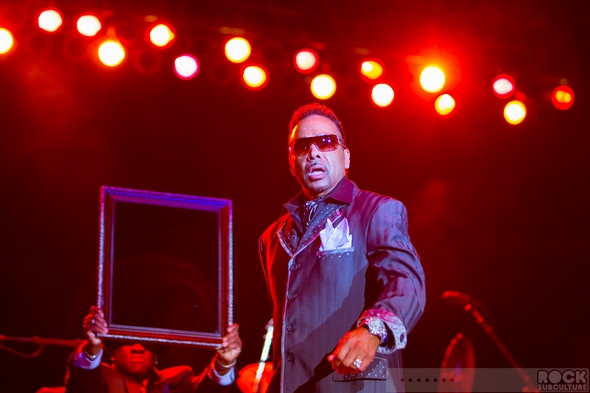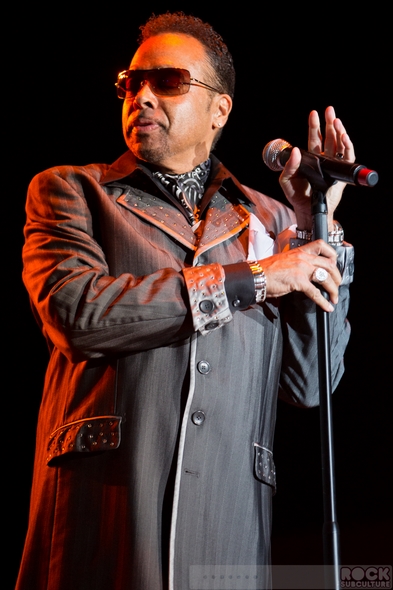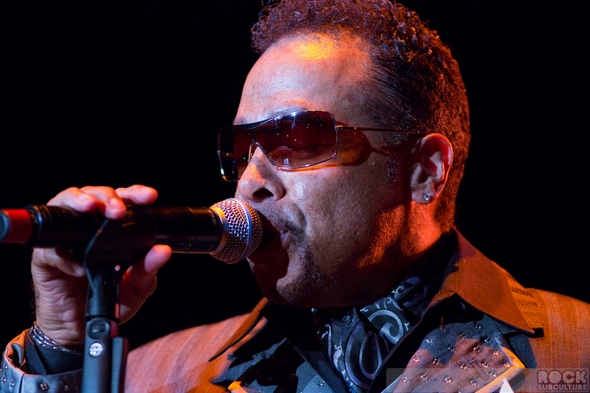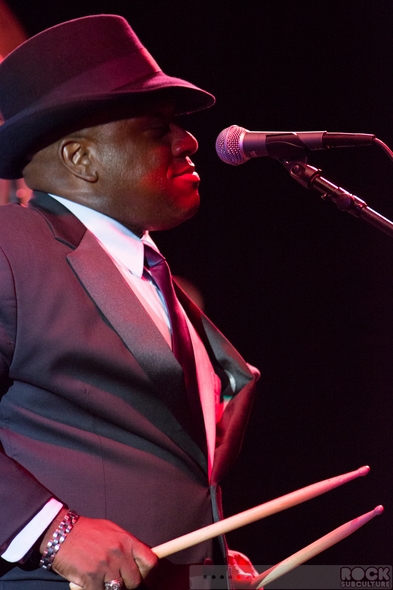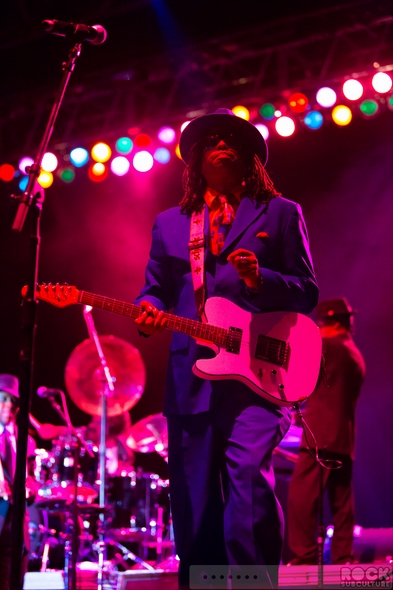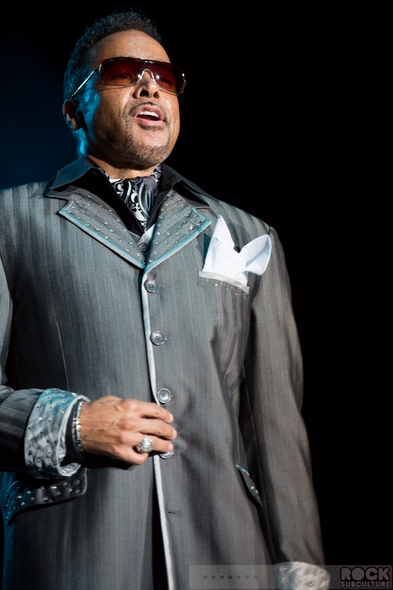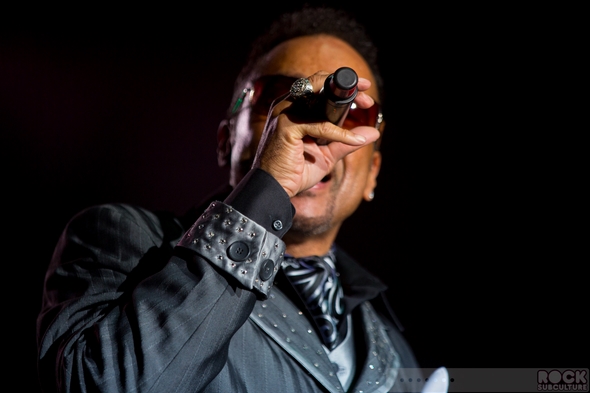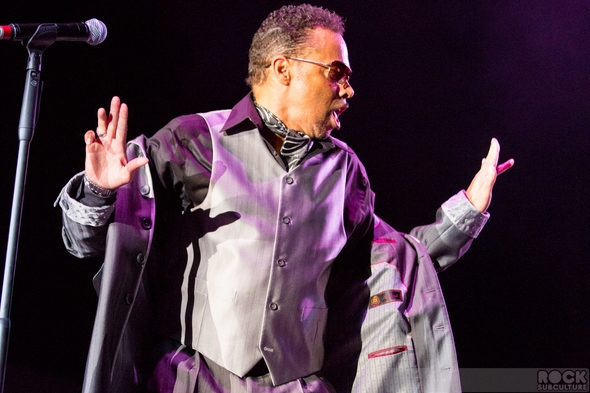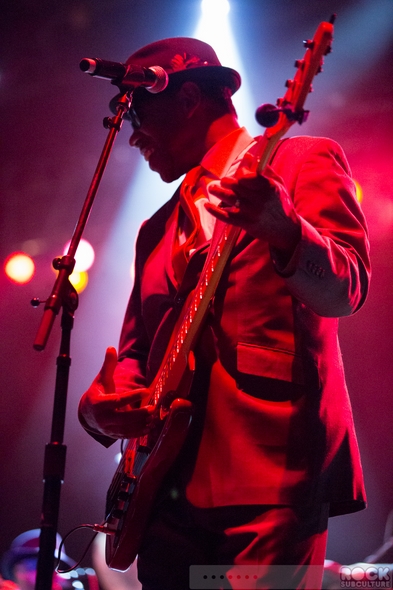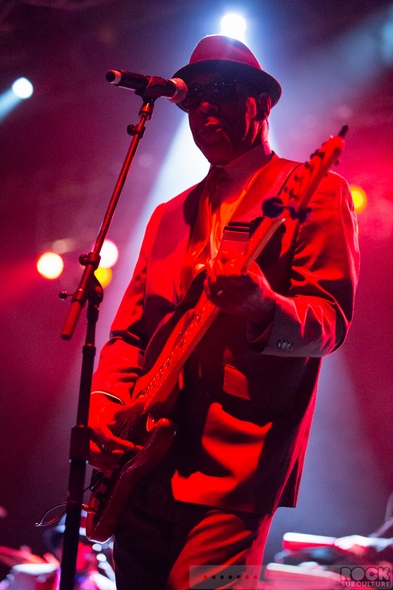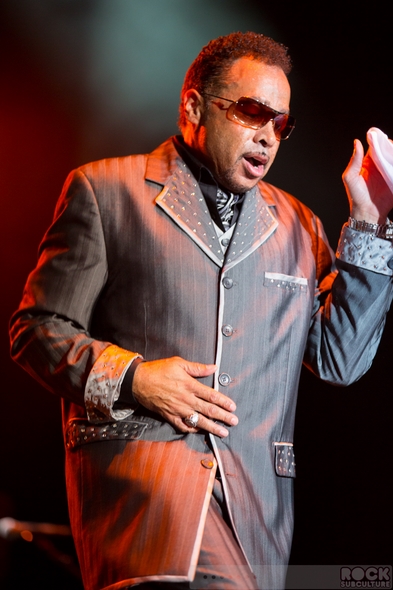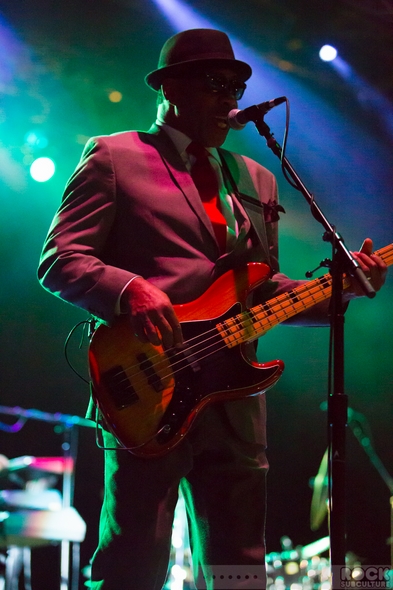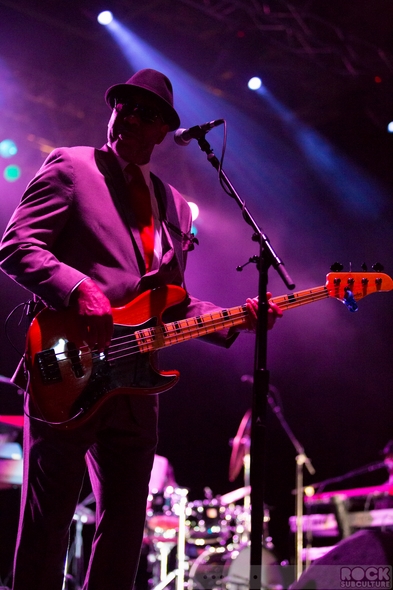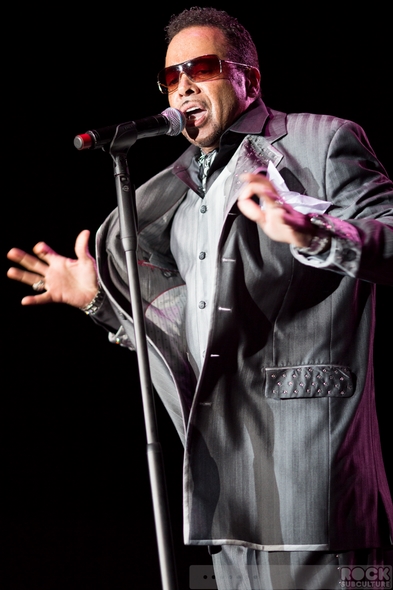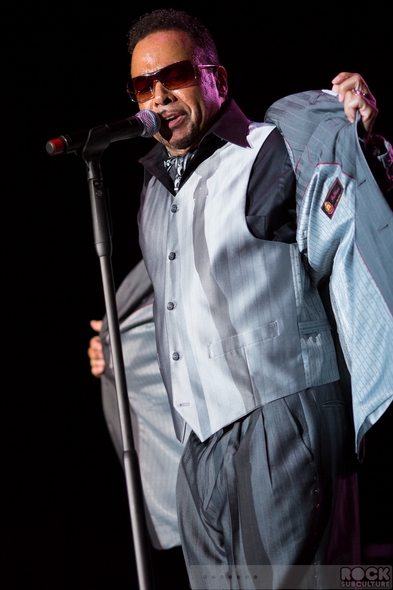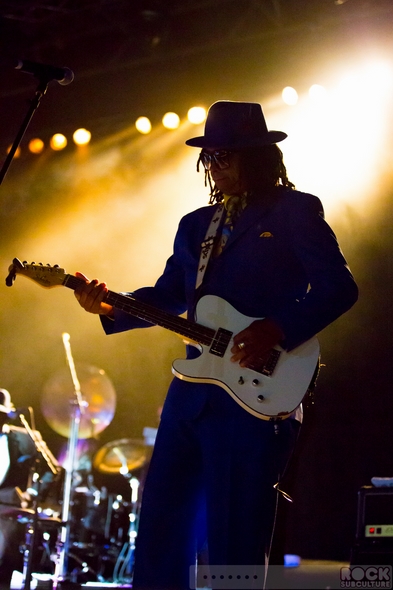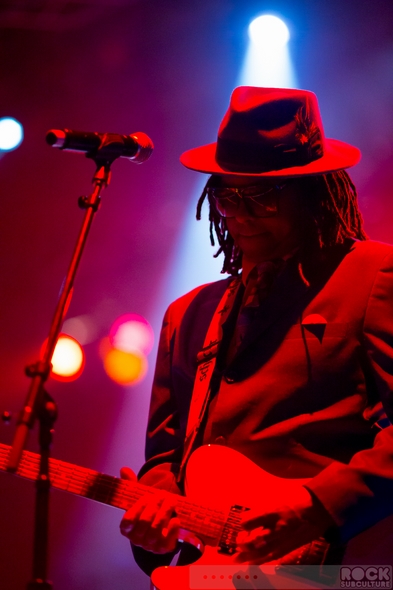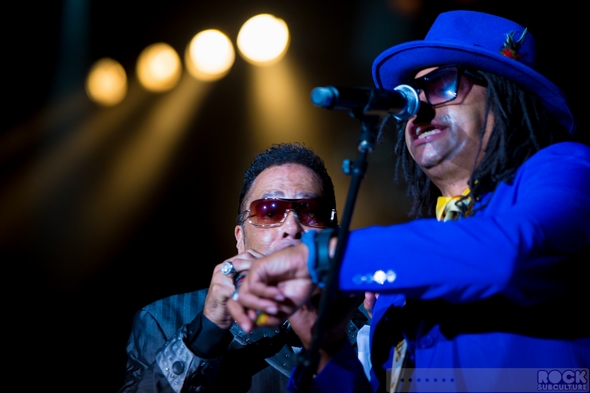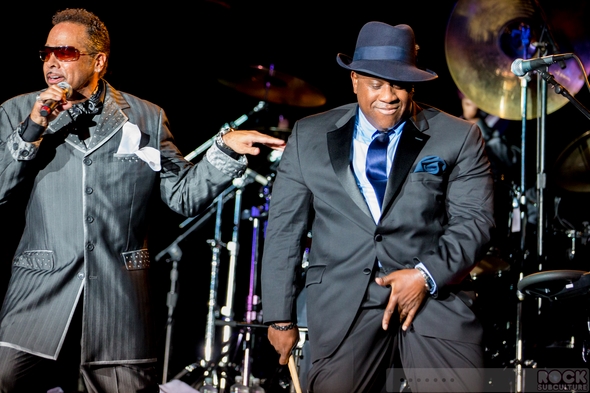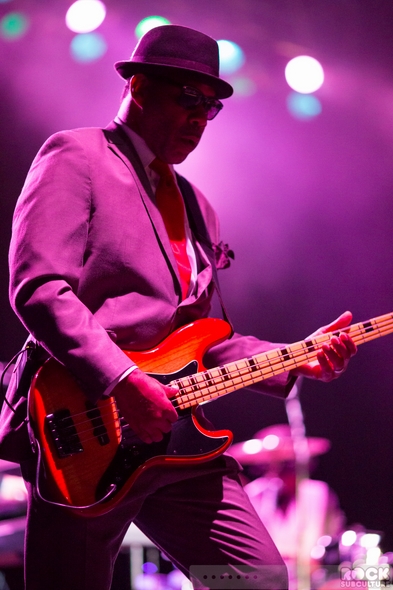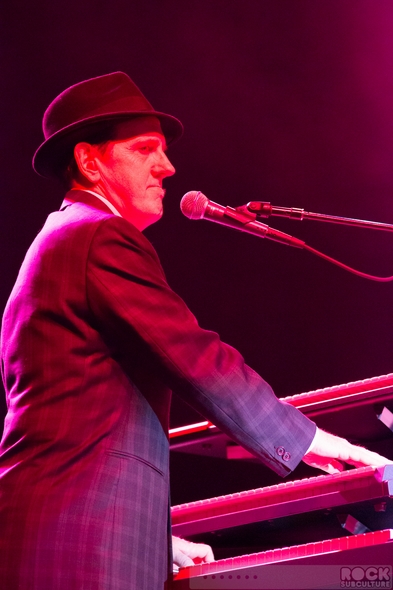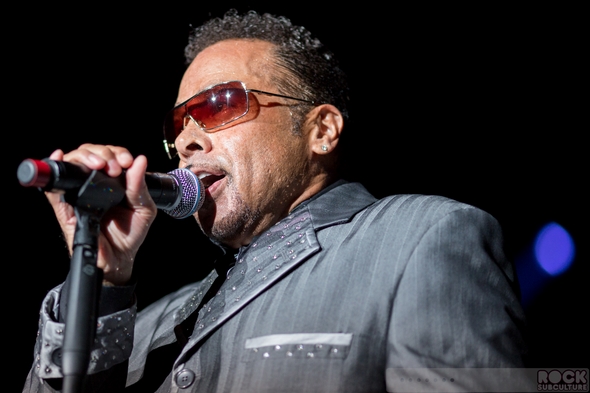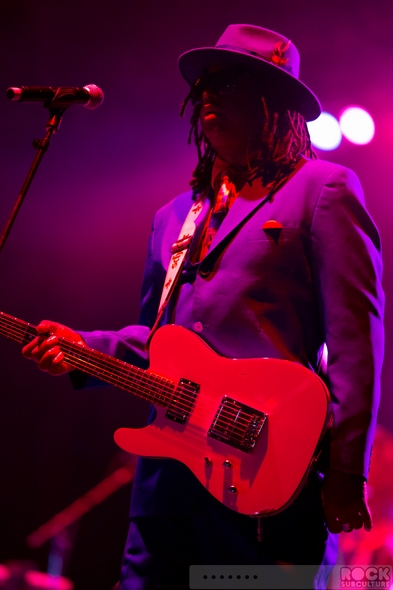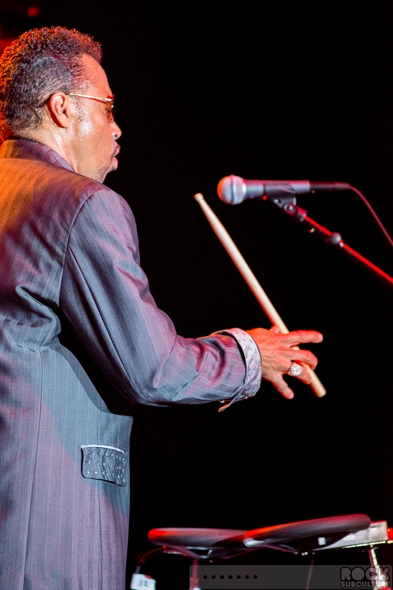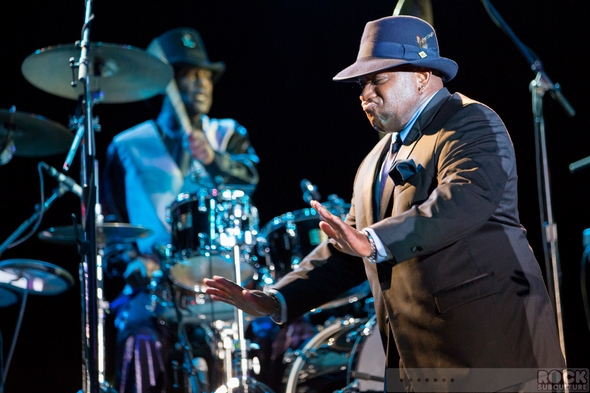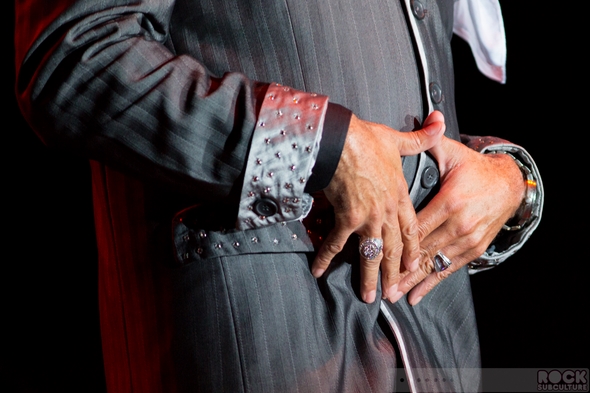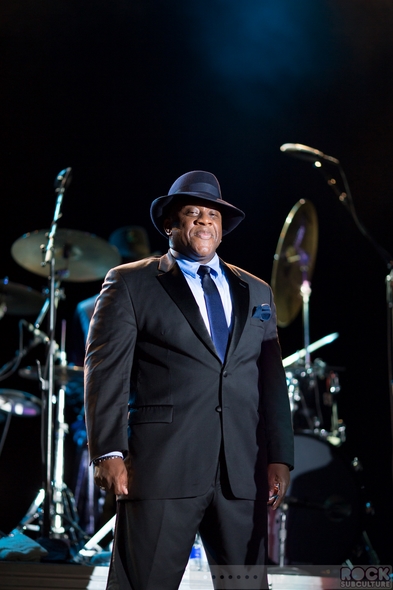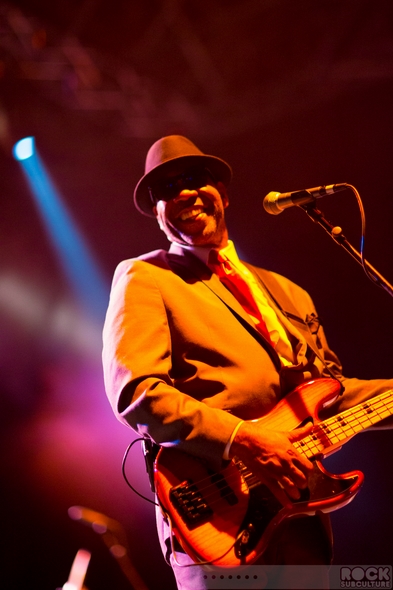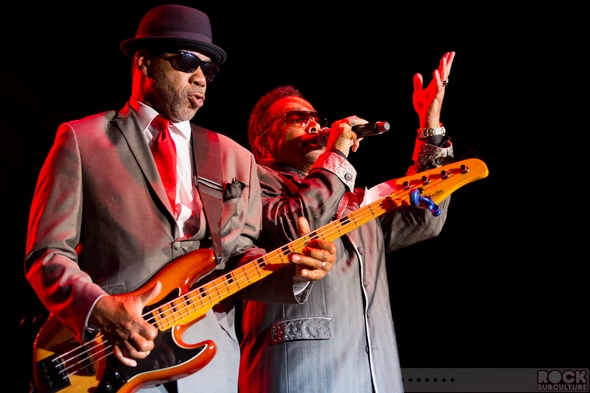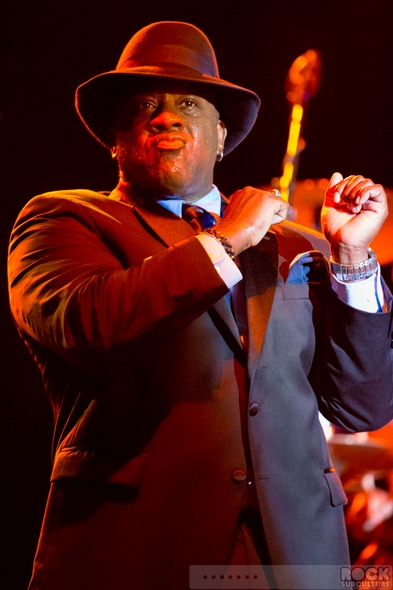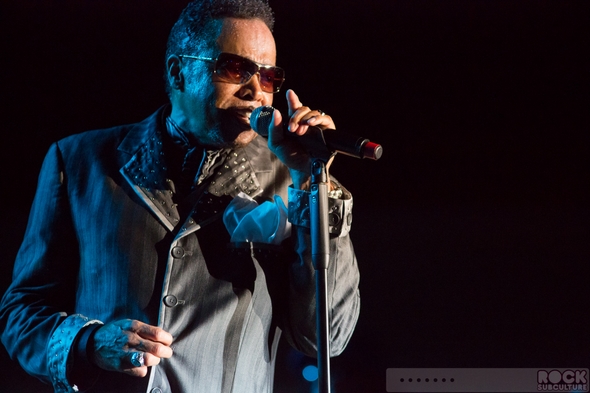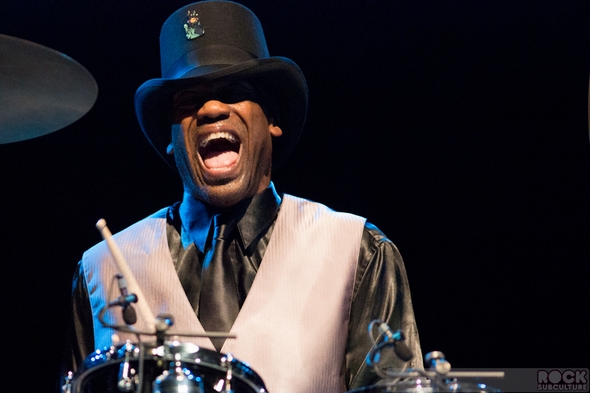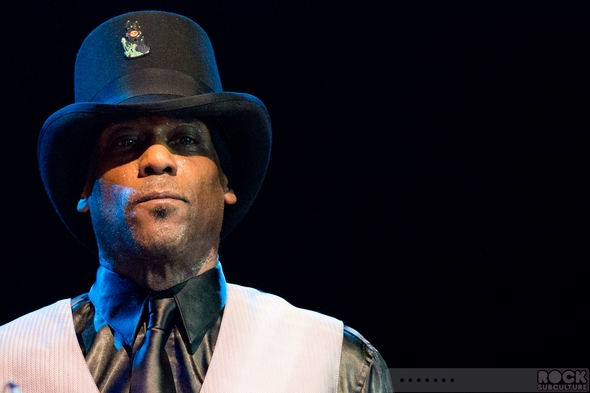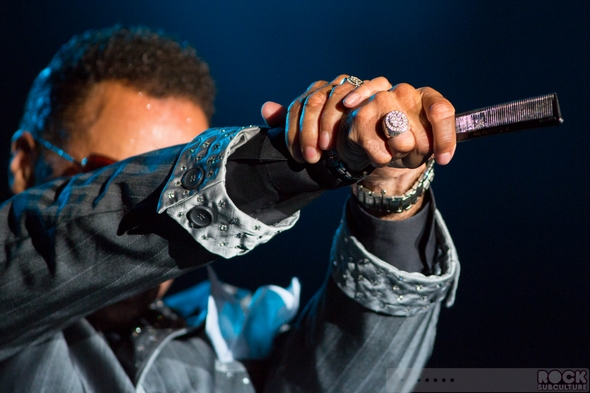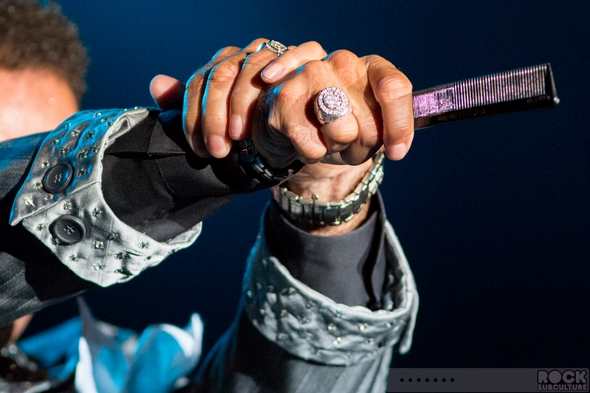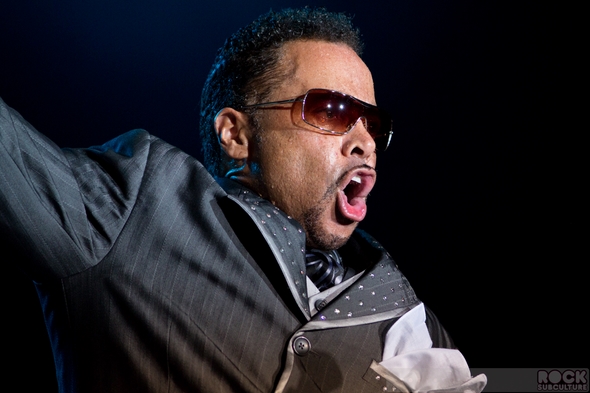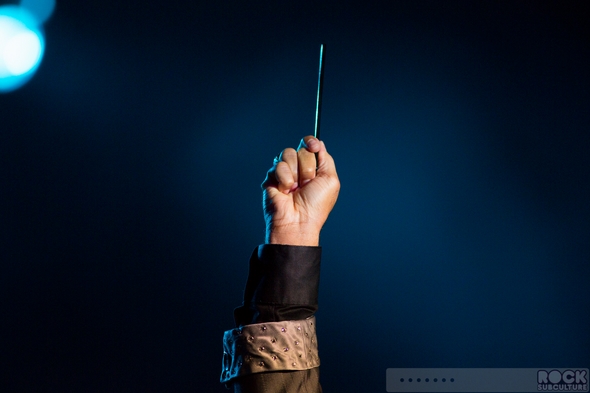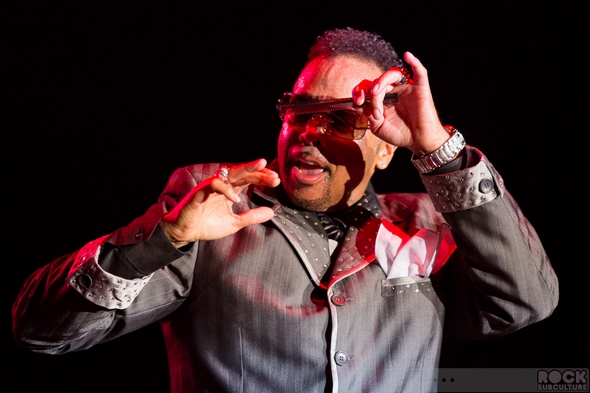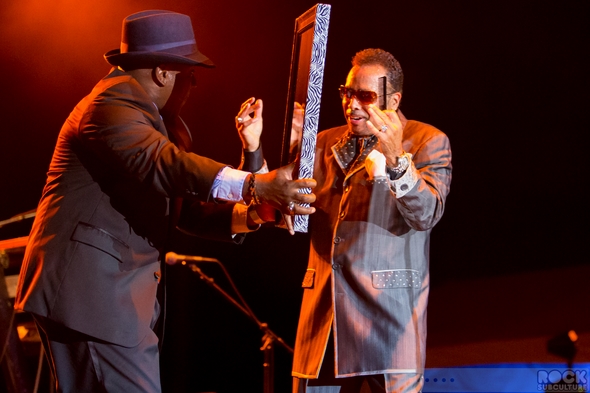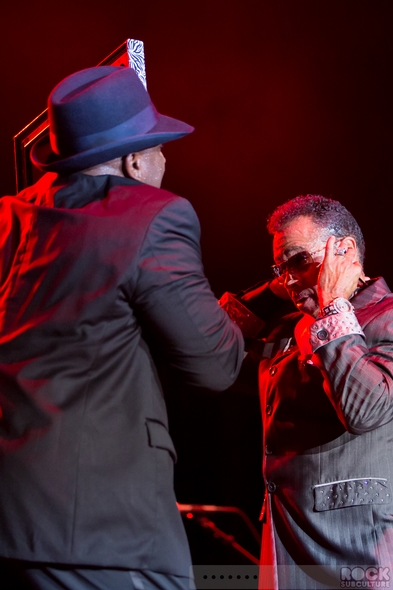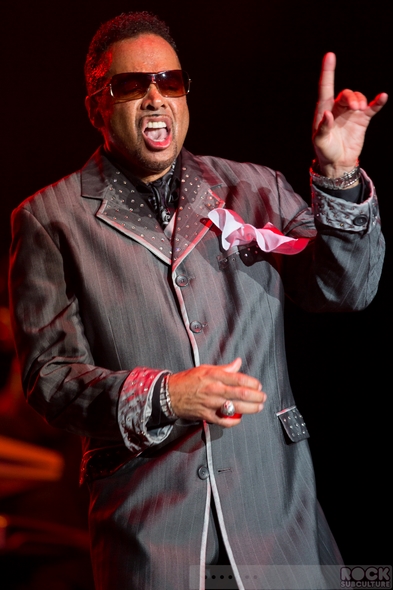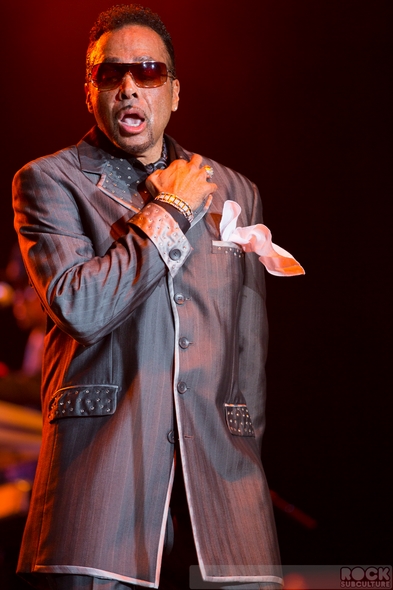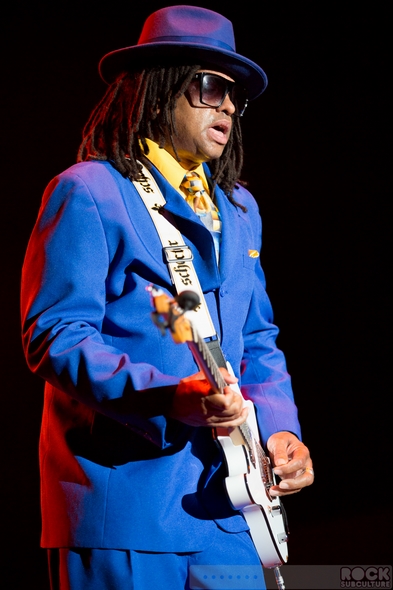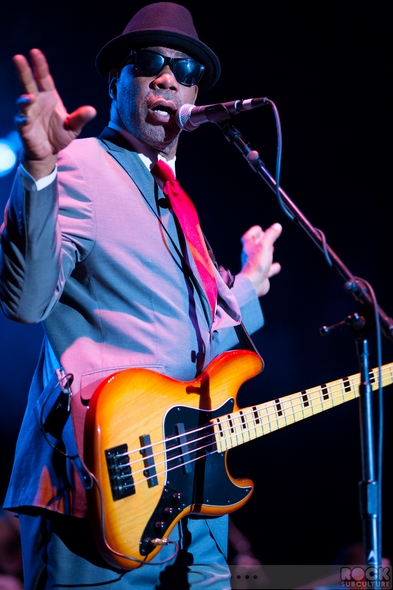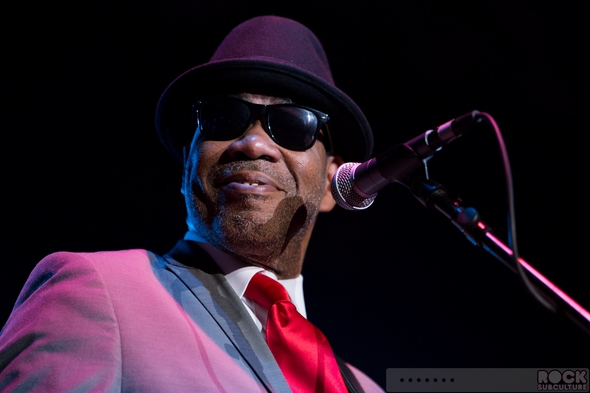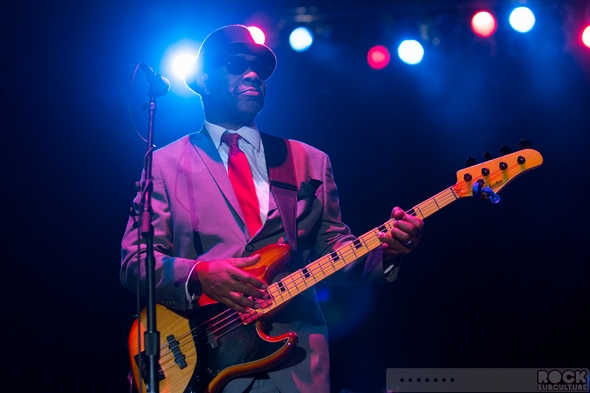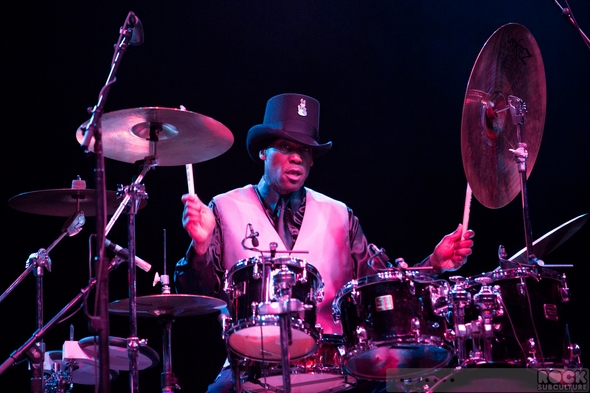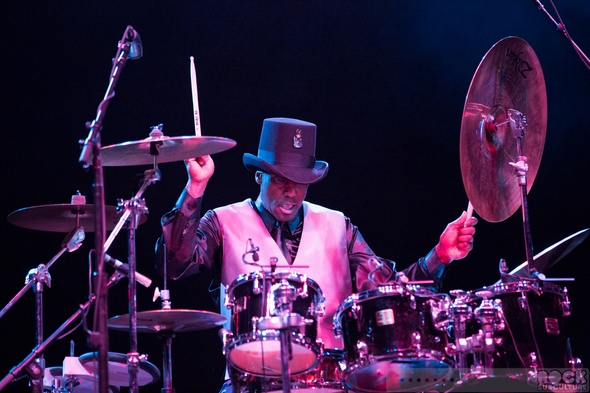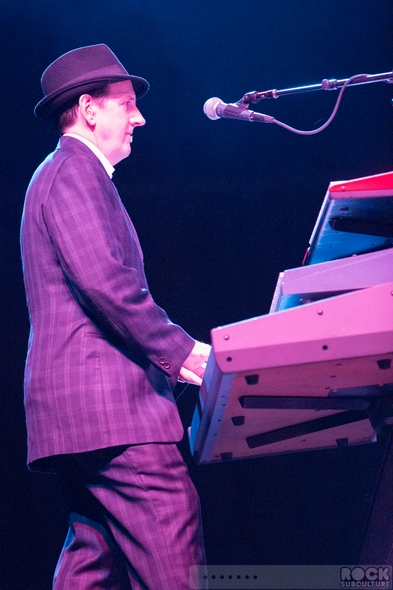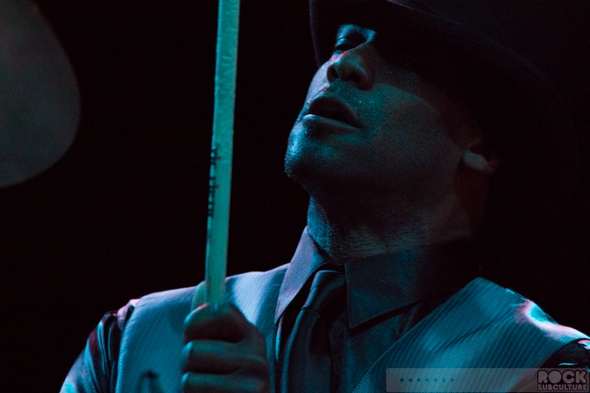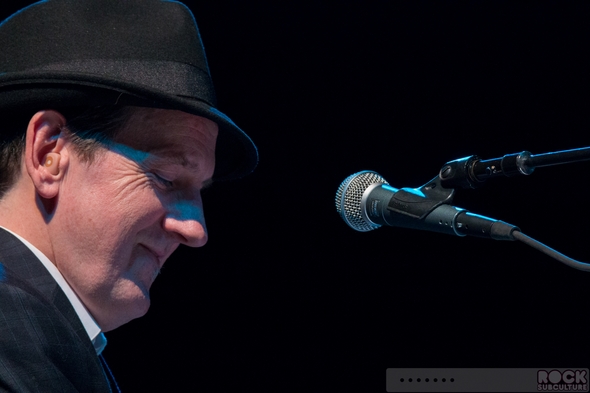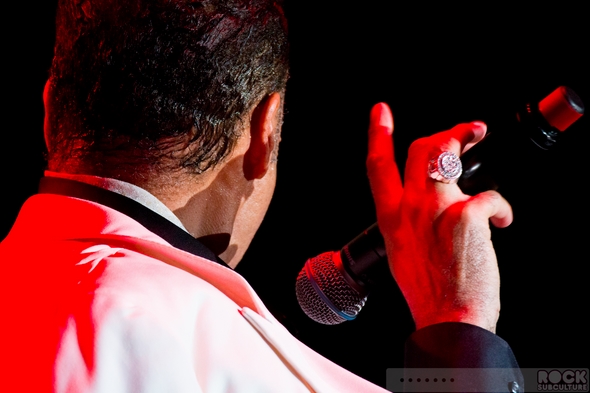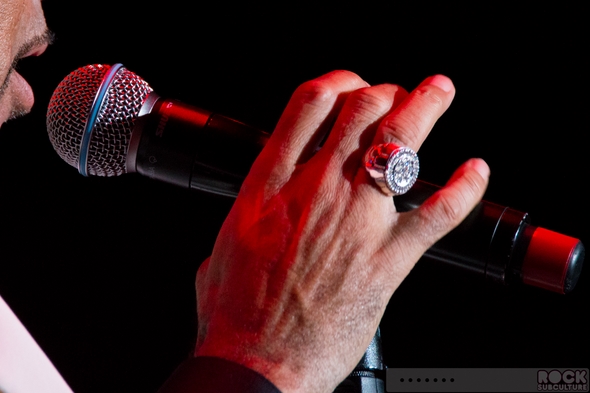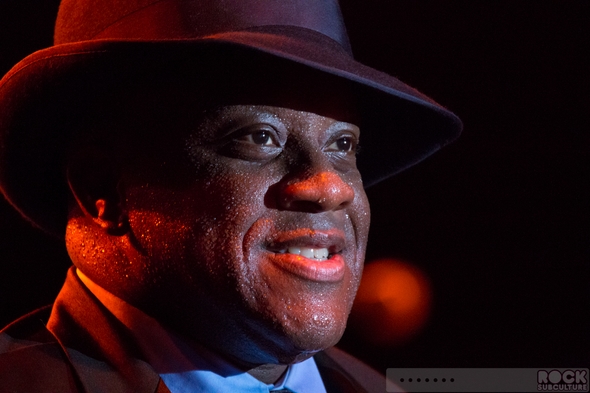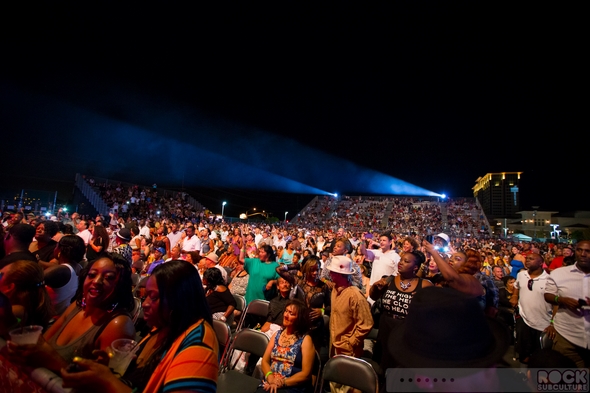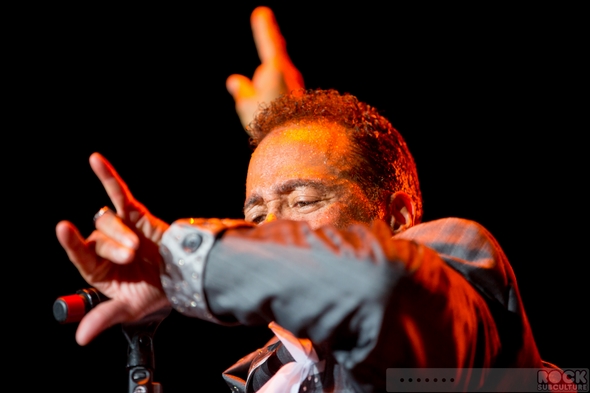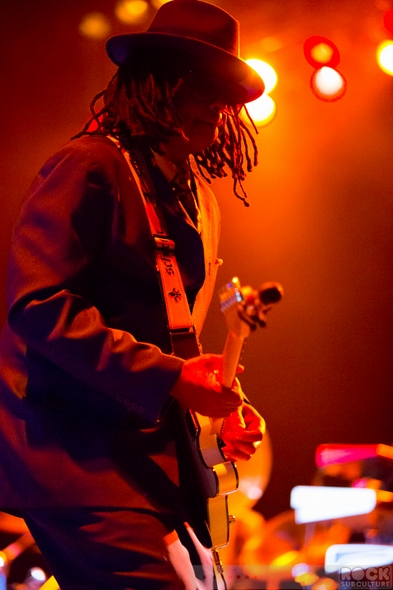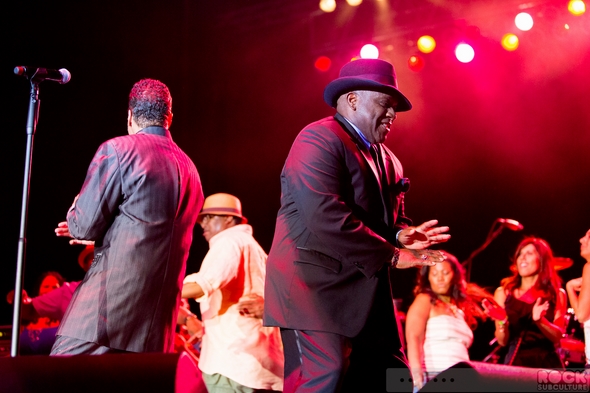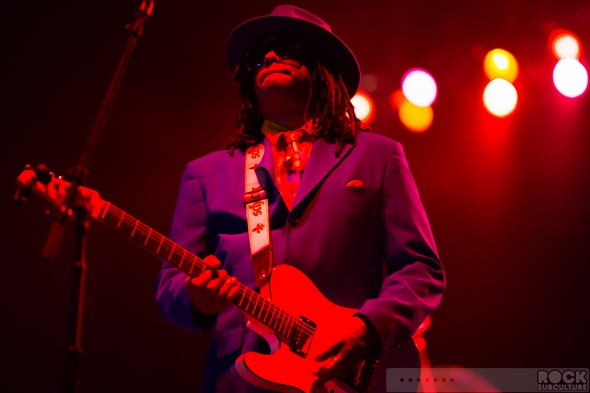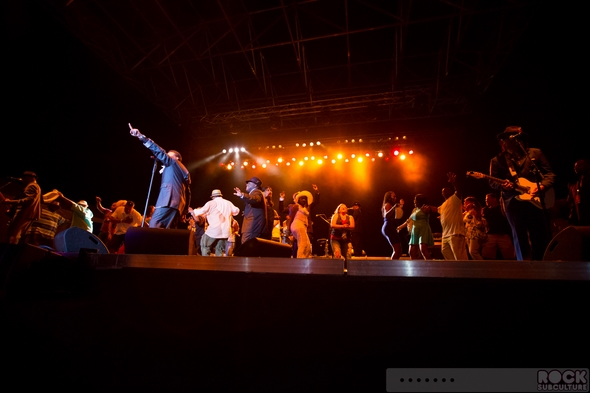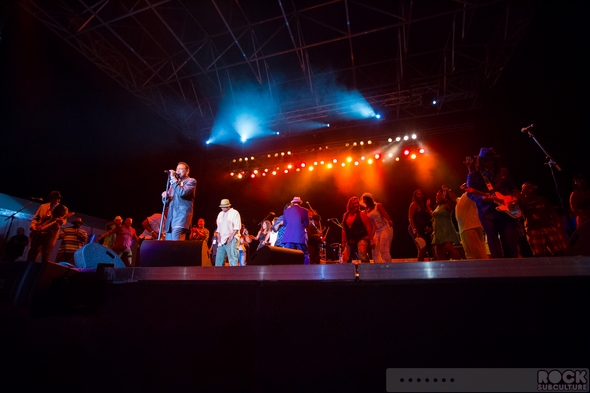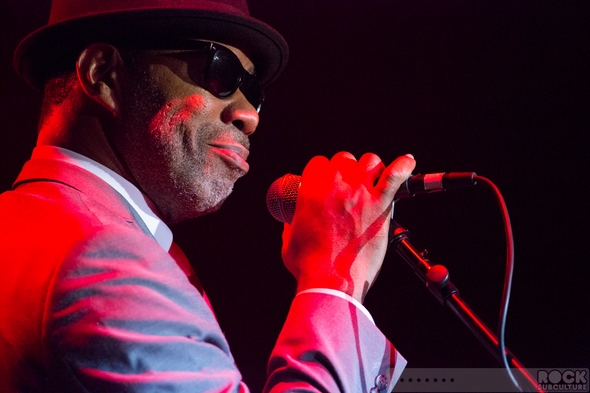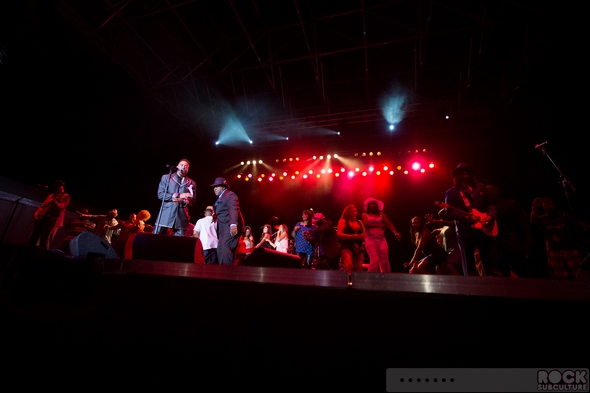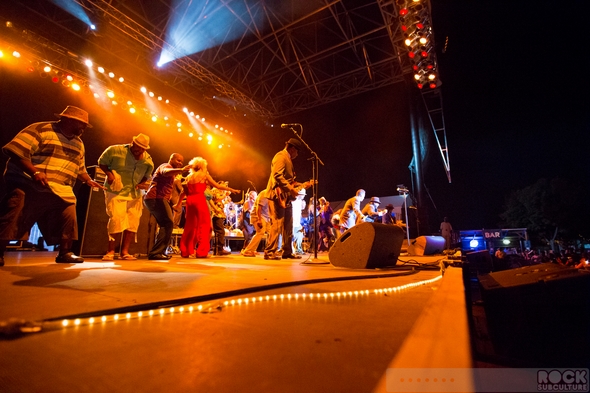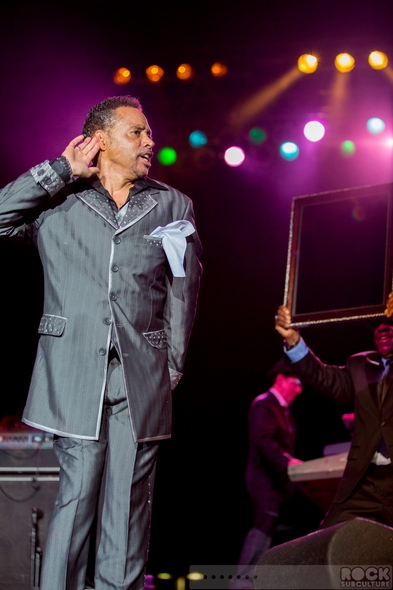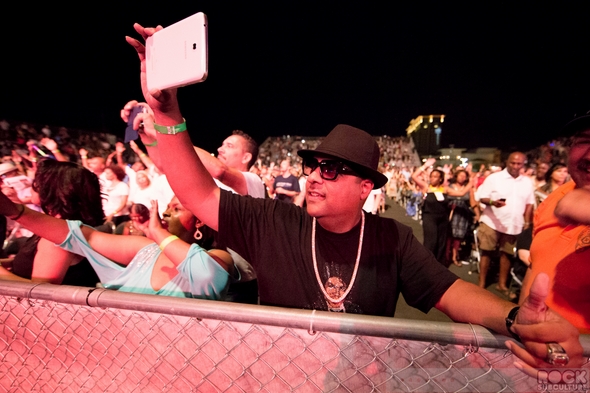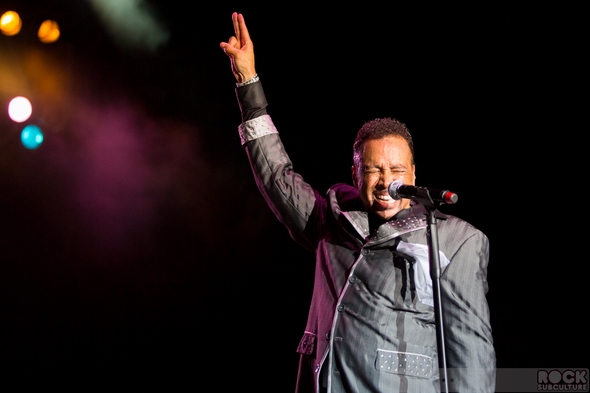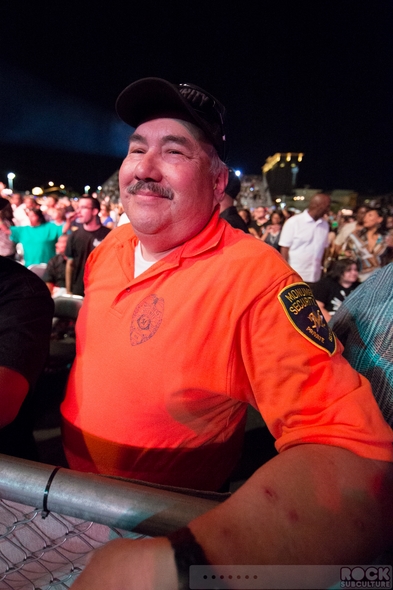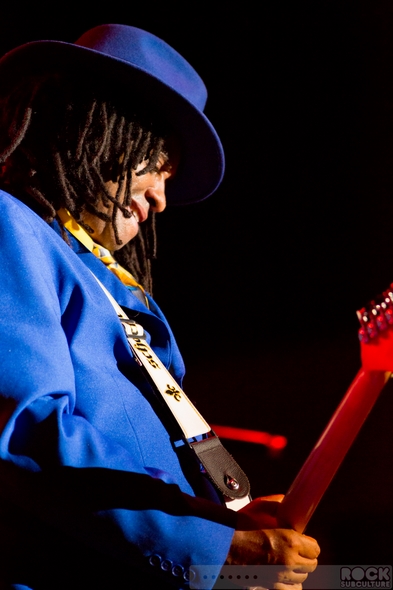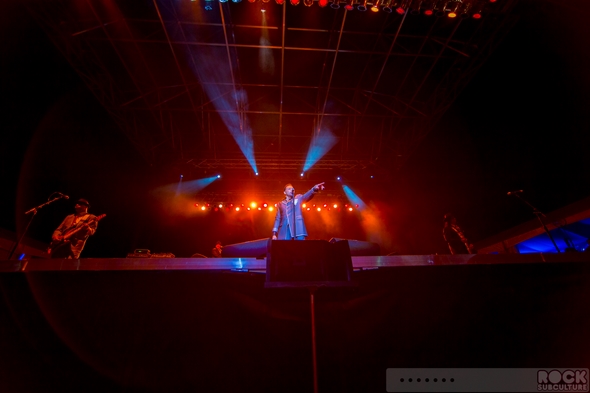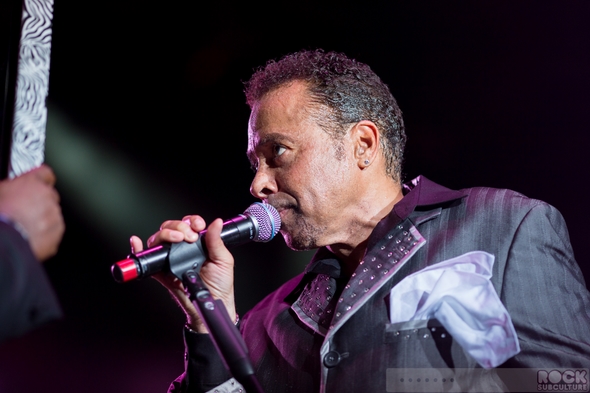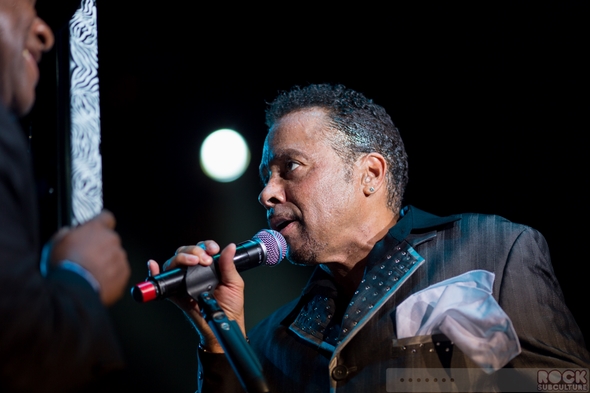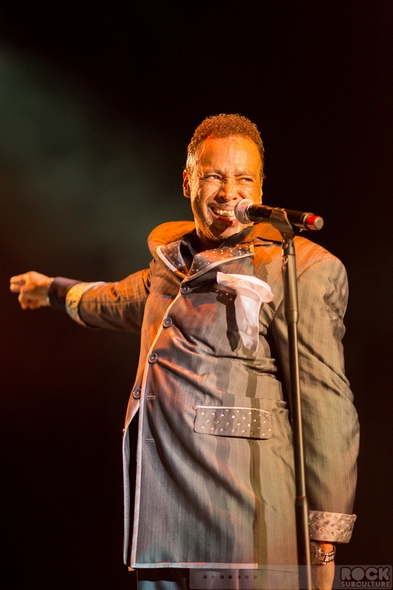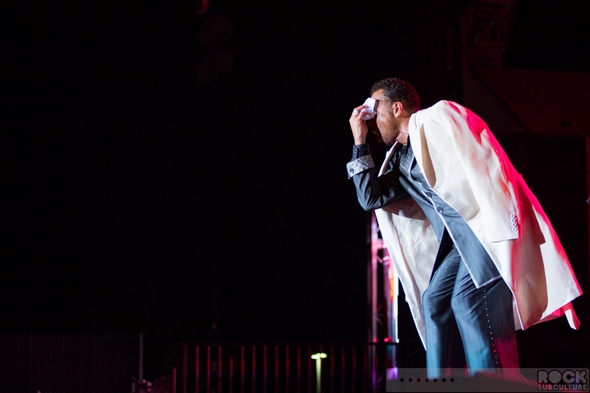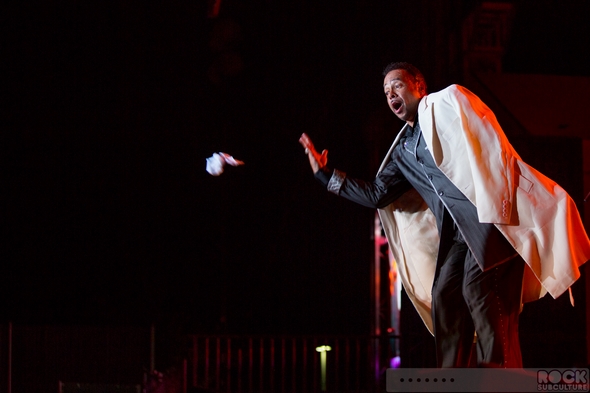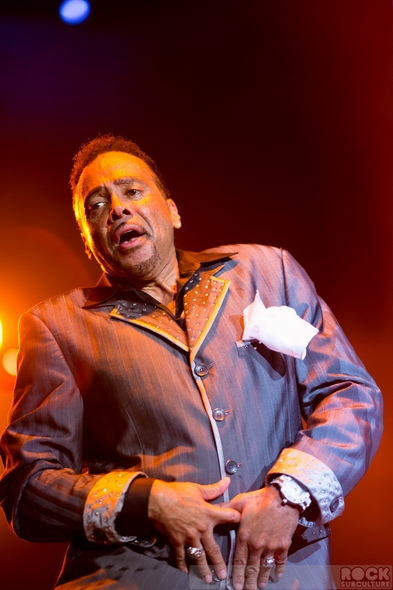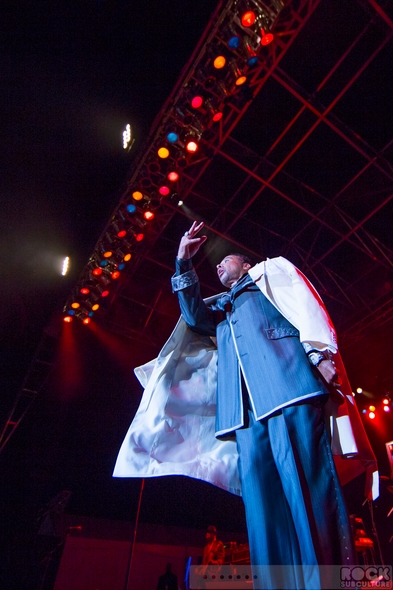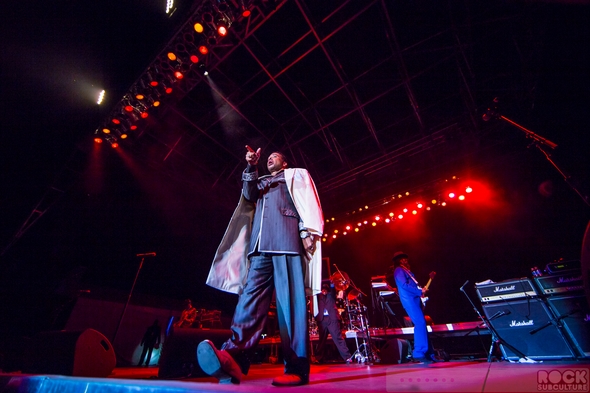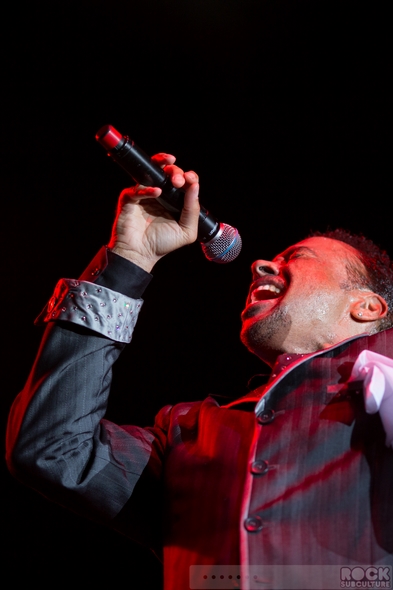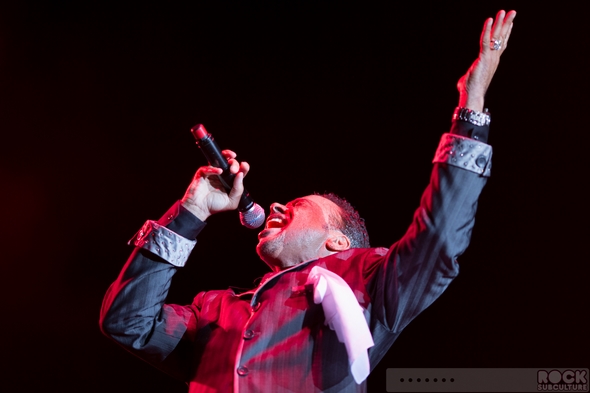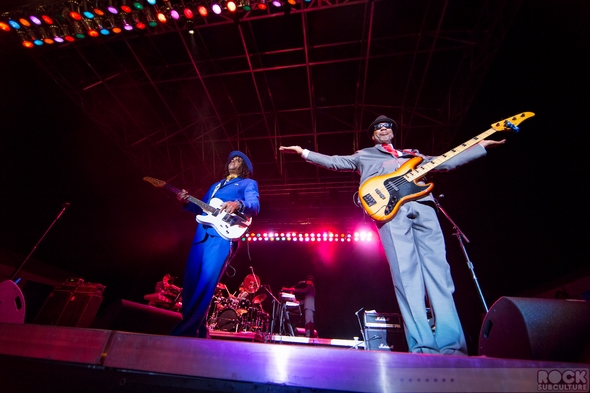 Jason DeBord