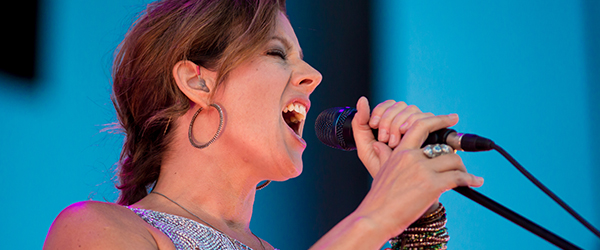 "It enabled me to finish writing a bunch of these songs and create more of a positive spin.  A hopeful, hopeful spin.  This one is for my sweetie; it's called "Brink of Destruction"…  which is not a very positive title, now that I think about it.  [laughter]  …but, I don't know, I like it; I like the dark side…  and, you know, you walk to the edge and you look over and you go, "holy shit, do I want to jump?" and, yeah…  I always do."  Sarah McLachlan talked about loss, and love, and new love, and like her music, it all reflects a very complex and deep feeling soul behind that soulful voice and heartfelt words.  She is probably the most gifted vocalist to emerge in the past few decades, and having an opportunity to hear her in a live venue is definitely a memorable experience.  Over the course of two hours, Sarah and her extremely talented band put on a showcase concert that hit on all cylinders – sound, lighting, audience interaction and some storytelling about some of the songs, as well as several Q&A opportunities (fans wrote down questions which she drew at random).  Truly an "evening with" performance if there ever was one.  Sarah has been writing and recording amazing songs for many years now, and her latest – Shine On – has quality that is right there with the best of it.  End to end, the event presented a kaleidoscope of feeling and emotion, and Sarah can connect with people with her music unlike anyone else – she is truly peerless on many levels, and this is definitely one of the best tours going this year.

Who: Sarah McLachlan
Venue: Lake Tahoe Outdoor Arena at Harvey's
Where: Stateline, Nevada (South Lake Tahoe)
Promoter: Another Planet Entertainment
When: June 24, 2014
Seating: Section 5, Row 1, Seat 27 (center section, front row, left of center mic; also photo pass first three songs)
"I think one of the most important things, that this album is for me, and this period in my life, is about gratitude.  About recognizing all of the things, daily, that I'm grateful for, and there are many in my life….  I'm just so blessed, and I try to carry that with me every day." – Sarah McLachlan
As noted, this was "An Evening With…" style of show, so there was no opening/supporting artist on the bill.

Lake Tahoe isn't just one of the most beautiful places in California – it is really a special place above and beyond our special state.  Though Harvey's Outdoor Arena nearly straddles both California and Nevada, hence it is situated in Stateline, Nevada.  It was popular back in the day, as gaming/gambling was legal in Nevada and not California, so it is an historic vacation and holiday destination for people in Northern California, as it offers the natural beauty of Lake Tahoe (truly one of the most beautiful lakes in the world) as well as entertainment that, back in the day, one used to have to go further to enjoy (Vegas, and the not nearly as far away Reno).  But Reno and Vegas don't have Lake Tahoe.
A great quote from Sarah McLachlan during the show, illustrating that even she experienced Lake Tahoe as a special place pre-concert today (an aside during one of her Q&A sessions):
You know like when your at the beach, and it says, 'leave only footprints?'  I stole a couple of those big ass pine cones; I'm taking them home with me.  I hope you don't mind, but holy crap are they big!  I've never seen such big pine cones!
The Summer Concert Series put on by Another Planet Entertainment and Harrah's is always pretty great – they bring out awesome artists, and the weather is spectacular.
For those that haven't been, the seasonal concert venue is all outdoors, with a high and wide stage, seats filling the floor, and some bleacher-style seating along the back and rear sides.
With last night's show, doors were at 7:00 and the show started promptly at 8:00.  This was actually my first time seeing Sarah McLachlan live, so I was really looking forward to this show, and she and her band most definitely exceeded my (admittedly high) expectations.
The sound was dialed in perfectly – shows in which I forgo earplugs are rare – doing so in a venue of this size is very, very rare.  Kudos to the crew and sound technicians.
One mystery about the show (for me anyway) was the couch set up at the left side of the stage…  was it maybe for some acoustic set later in the show?  No… it was actually explained by Sarah once things got going that it was her "living room set-up", because she liked to bring home with her on tour.  Throughout the concert, fans who won the ongoing "Join Me On Stage" contest were brought up to enjoy the show from the comfort of these couches on the side of the stage!  Always the innovator, I thought this was an awesome idea by Sarah, and kind of underscores how she does things quite differently…
Sarah McLachlan
Members
Sarah McLachlan (vocals, guitar, piano, ukulele)
Jon Evans (bass guitar, vocals)
Curt Bisquera (drums)
Joel Shearer (guitar, vocals)
Vincent Jones (keyboards, piano, vocals)
A Grammy Award-winning artist who has had huge critical and commercial success (with over 40 million albums sold), singer-songwriter Sarah McLachlan has certainly broken through mass consciousness of pop culture worldwide, with hits like "Angel" and others not just receiving tremendous play on radio but being used in film and television, it would be hard to find someone who doesn't have at least a general awareness of this artist.
Born in Nova Scotia, she has been active with her music career since the late 80s, though she has always forged her own path in style and genre.  The multi-instrumentalist started training with her voice and taking piano and guitar lessons at a young age.  At 17, she was even part of a rock band, The October Game, and was even offered a recording contract prior to finishing high school.
Sarah recorded her first studio album, Touch, in 1988, and then her second, Solace, in 1991, in collaboration with Pierre Marchand.  She broke through with some international success with her third album in 1993, Fumbling Towards Ecstacy, which included the song "Possession".
1997's Surfacing is her bestselling album, with many well-known staples of pop music from the past few decades, including "Building a Mystery" and "Angel".
Sarah has been very innovative in the music industry, and was a pioneering force in changing the business and perception of female performers touring in concert, and founded Lilith Fair, which featured all-female band line-ups, and also raised millions of dollars for charities.  With her success, she has been very philanthropic, supporting her own Sarah McLachlan School of Music and the ASPCA.
Sarah has been both collaborative and prolific in her work, crossing over into different genres (like with her vocals on Delerium's "Silence" and Darryl McDaniels' "Just Like Me"), contributing to the Toy Story 2 soundtrack (as the singing voice of Jessie), and doing a Christmas album (2006's Wintersong).
As an artist, she is renowned as a phenomenal live performer, with her live album Mirrorball having tremendous success as an audio-product as well as live DVD.
This year, she released her latest studio album, Shine On, which was inspired by the loss of her father, which she discussed during the course of the show last night.
I've seen many artists struggle with trying to integrate new music into a show in which a good portion of the audience turned out for the "greatest hits".  To my estimation, Sarah had no such problems.  She framed the show by mostly playing one new song from Shine On and then one of her older hits, which provided a rhythm that worked wonderfully.  The new material also blended in with the better known songs well, and this format seemed to keep the audience engaged throughout.  I'm a really big fan of the new album, so it was great to hear new and old all put together in this manner.
Below is the set list from the show, which was broken into two bigger halves (with a break in-between) and a four song encore…  the show ran from 8:00 to 10:15, with about a 15 minute break, so it was about two hours overall.
Set One Setlist:
Flesh and Blood
Building a Mystery
In Your Shoes
Adia
Answer
Broken Heart
Fallen
World on Fire
Loving You Is Easy
Monsters
Stupid
Set Two Setlist:
Song for My Father
I Will Remember You
Brink of Destruction
U Want Me 2
Love Beside Me
Fumbling Towards Ecstasy
Witness
Fear
Sweet Surrender
Possession
Encore:
Beautiful Girl
Angel
Ice Cream
The Sound That Love Makes
Many artists can perform for an entire show without saying much of anything to the audience.  Sarah McLachlan was engaging from the start, which I think made it a much more intimate experience no matter where a fan was sitting.  She talked a lot about the new songs and the ideas and inspirations behind them.  She also took part in the aforementioned Q&A, randomly pulling handwritten questions from the audience from a hat.  I was surprised that she answered one in particular (falling into the realm of none of anyone's business), but she seems very comfortable being open about her life, which makes sense given that all of her songs are about real things, people, feelings…  one of those rare artists who writes about things, rather than just looking for words that rhyme with one another over a catchy beat or riff.
I captured much (maybe all) of the Q&A with my iPhone, so thought I would transcribe some of that here for fans, since obviously each of these sessions will be unique to each show…
Audience Question:  Do you have a pre-show ritual, and if so, what?
"…having some quite time and warming up my voice, and drinking lots of hot water with lemon.  And then we all have a little love in with the band.  We all hold hands and have a little pep talk."
Audience Question:  What has been your most favorite place to travel?
"…I've been so lucky I've gotten to go all over the world.  Australia/New Zealand was pretty rad.  I love New Zealand in particular.  I loved getting to go to Russia – that was pretty incredible.  But I have to say, my heart is in Tofino, which is in the west coast of Vancouver Island…  And, in general, the entire Pacific Northwest, that is sort of my happy place."
Audience Question:  Hi Sarah, are you single, and would you like to move to Tahoe?
"I'm not.  I'm very taken.  But thank you, Dan, that's sweet of you."
Audience Question:  How can you be a great singer, and an artist also?
"Thank you.  I think this person is referring to the fact that I doodle.  It's basically to keep my fingers out of my mouth. I draw pictures all the time, and they end up on t-shirts and posters and stuff like that…  I think really visually.  I think when I started writing songs all those years ago I had no idea what to say, so I thought really visually and tried to write stories about my visions, and drawing always sort of helped that along.  Especially when I couldn't really write anything – the whole writers block thing, which happens to me a lot – I draw, or I paint, and that really helps."
Audience Question:  What is the most exotic place you've had sex?
"Um…  God, now I feel really boring!  Um…  Exotic?  Um…  Probably…  What's that thing on the front of the boat?  The bow of the boat.  Yeah.  It was at 10 PM.  It was in Desolation Sound, which is in the middle of nowhere… it's glorious; there's no one around for miles.  We went there and there were no people for four days, except us, it was rad.  Semi-exotic, anyway…"
Audience Question:  Who's your favorite rock band?  Excluding yours?
"Oh, that's cute, I'm really not a rock band.  But we have moments!  We have moments!  Who's my favorite rock band?  Uh…  is Pearl Jam a rock band?  [Cheers]  I'd say…  They're probably… Yeah…  Oh, they pissed me off!  They played so long in Vancouver, but I'm 46, and shit man, I gotta stand up for three and a half hours?  I'm such a chair dancer!  And I got the seats on the side on purpose so I could just sit and enjoy the show and shake my booty and sittin' there and everyone sat up right away and never sat back down…  Anyway…"
Audience Question:  Sarah, you are amazing.  What are you thinking when you're singing?
"Um…  hopefully about the song, that I'm singing.  But it's sort of a…  Really, it's an interesting question, actually.  I should really think about it, but…  I'm completely, utterly in the moment.  And it's more of – I'm not actually thinking about anything…  it's more of a feeling.  I'm feeling.  I'm feeling wide open. [loud cheers] Connected.  And… yeah, I mean, that, to me…  for me… that's why I was placed on this Earth.  To make music, and to share that with people.  And this is very much where I feel the most grounded, and alive, and full of passion…  So it's just being in the moment, and feeling that connection and energy, which is just really pretty magical."
Audience Question:  What was the most emotional song to sing or write?
"Well, there's been a few…  Because I do write from such an emotion place, although I don't tend to write when I'm 'in it', because I have no sense of objectivity, and I've tried a couple times, and it's drivel.  You wouldn't want to hear it, because it's so pathetic and self-indulgent…  you don't want to hear it…  Um…  Uh…  Oh, God… "Songs of My Father", I think – it was a hard one to write, but I really wanted to honor him.  It felt great – it feels wonderful to sing that song.  But so many of the songs, they're like my children in some ways – I can't say one's more favorite than the other – there's some days you want to kill them; and some days you just love them to death.  You always love them no matter what.  I think I'm getting kind of off topic here…" 
It was definitely a very full and insightful show, on many levels, and really underscores the power of live music, and how – when done right – concerts can be really amazing experiences.
Sarah's band was incredible – each and every one of them – and they did a magnificent job bringing her music to life on stage.  And I was fascinated when Sarah mentioned that last night was the first with them for Jon Evans – I would never know it from his playing.  He was amazing, and I have even more admiration knowing it was his debut with Sarah and the rest of the band.
She is quite charming on stage, and funny as well (which I've tried to capture a little of with some quotes, but I can't do justice to the context or her delivery).  She also has a bit of swagger in her performing, and it was fun to see her up close.  As an example, during one of the songs toward the end, on guitar, she would drop her guitar pick at certain breaks in the song to pick with bare fingers, then pull another pick, then bare handed – just like the overall show had a sort of framework and rhythm, so, too, does her playing and performing.
Definitely one of the most original and gifted and interesting artists in pop music today.  A must see tour even for the casual fan, because it is likely you will walk out of her show with a much great admiration and appreciation for her work and how she lives her life with such earnestness and honesty.
Below are some photos of Sarah McLachlan and her band performing on stage (apologies to Curt Bisquera and Vincent Jones as up front for photography, with the high stage, it was difficult to get photos of the pair in the back of the stage); click any image for higher resolution versions of each photo below: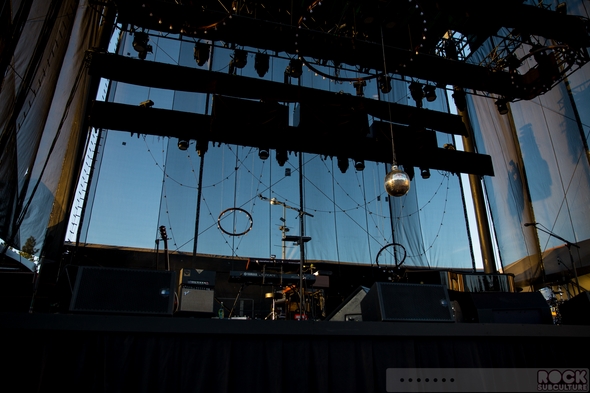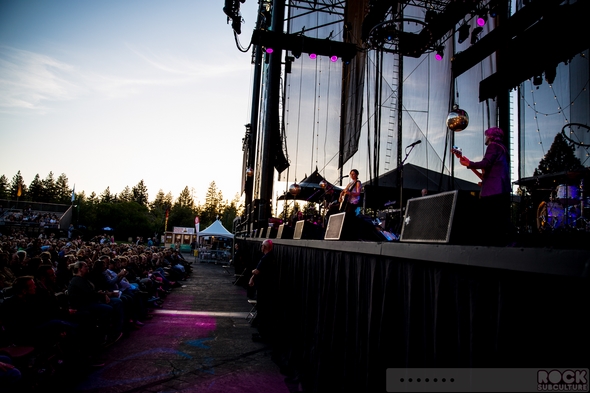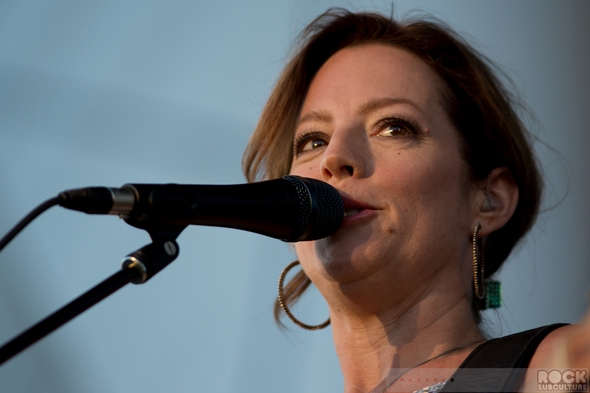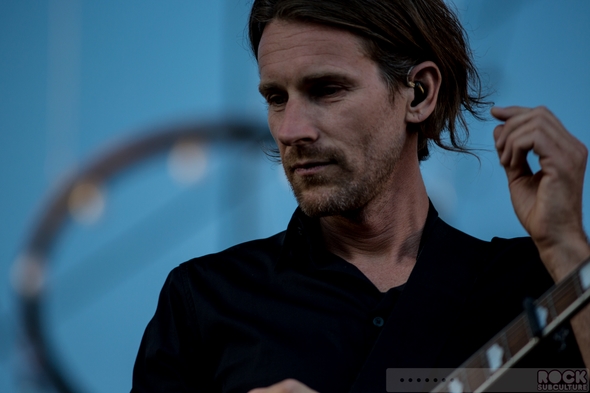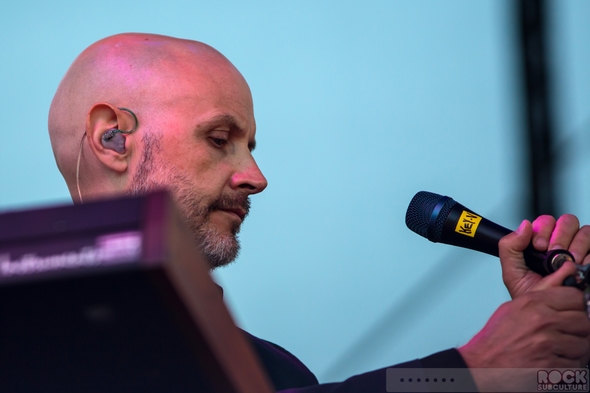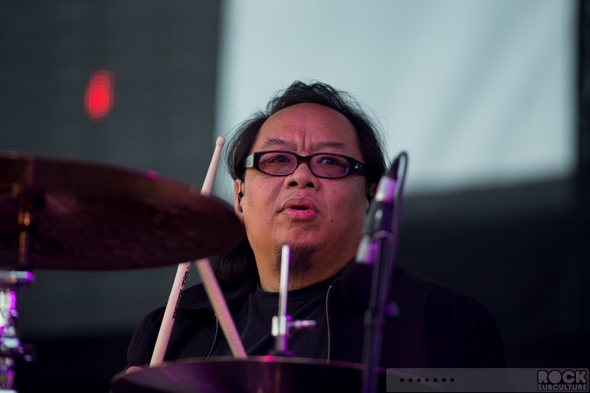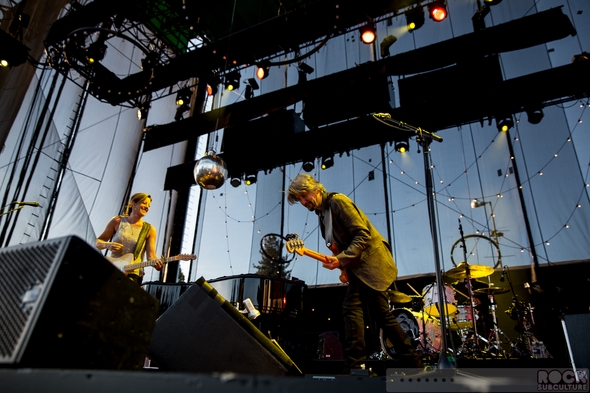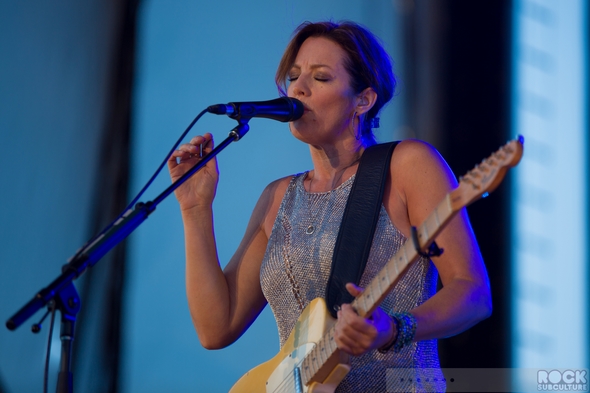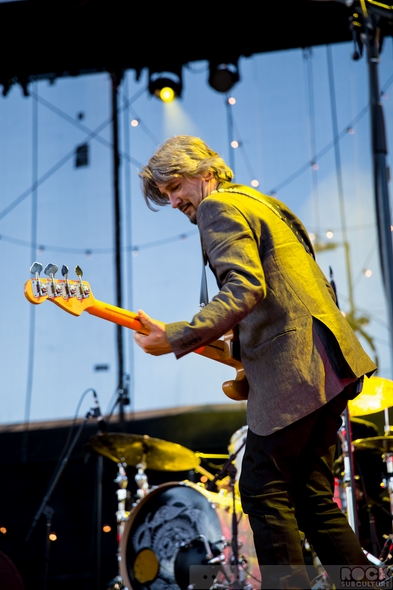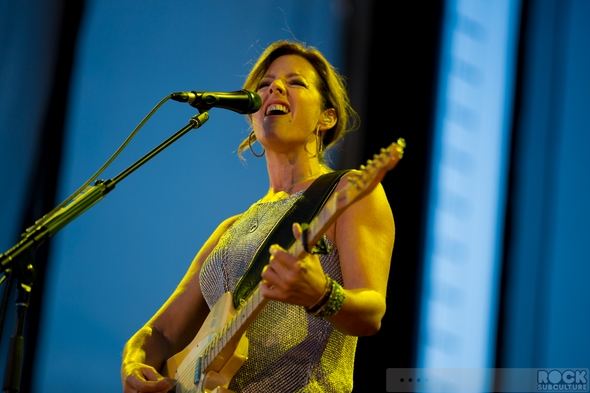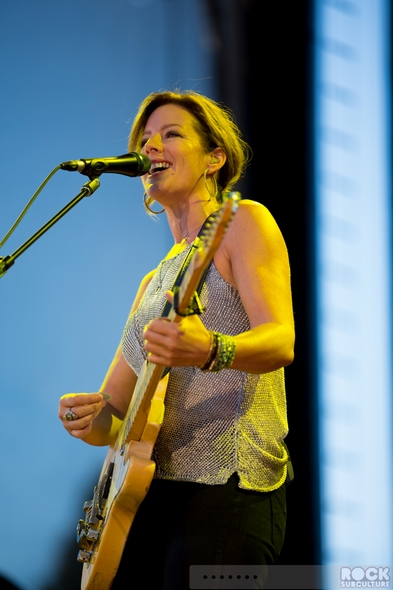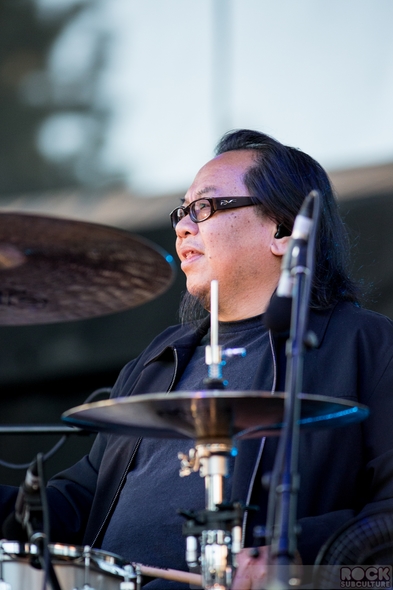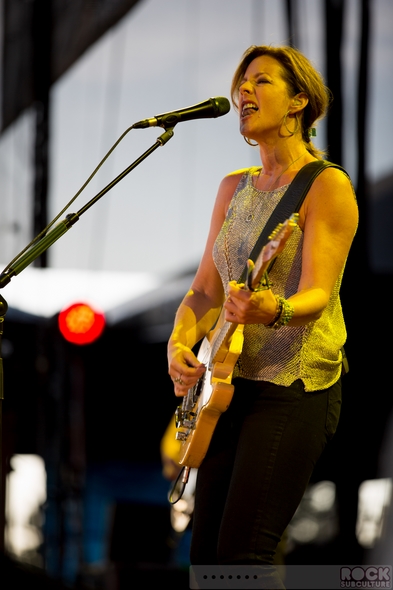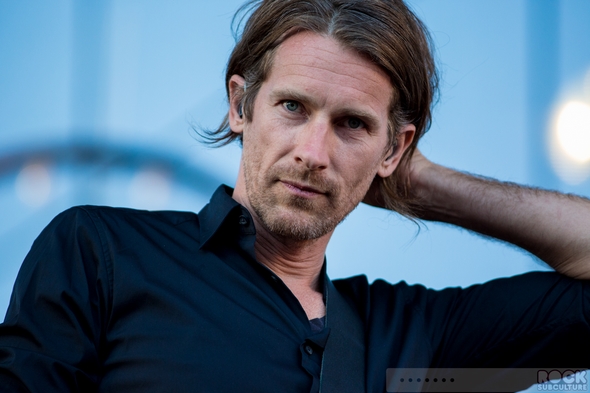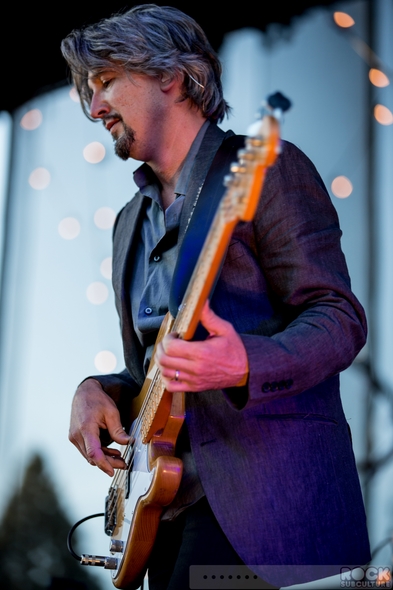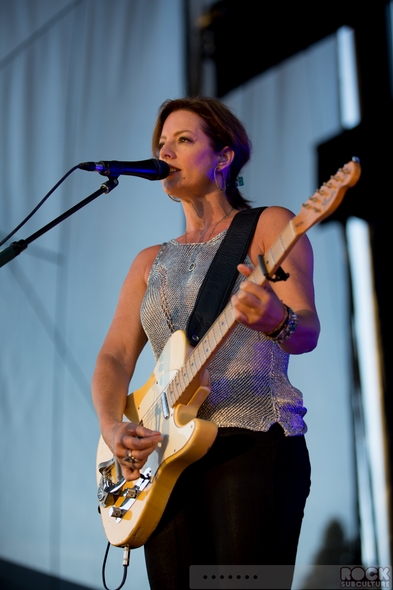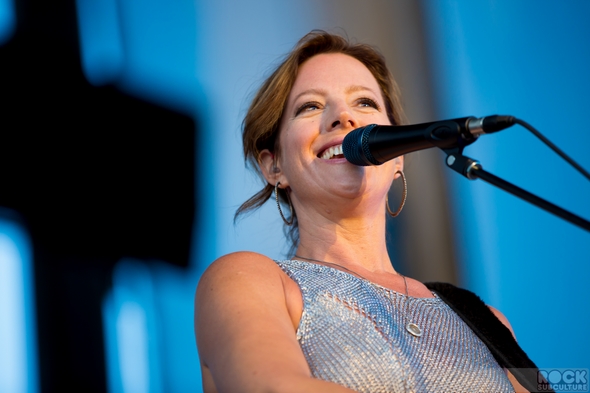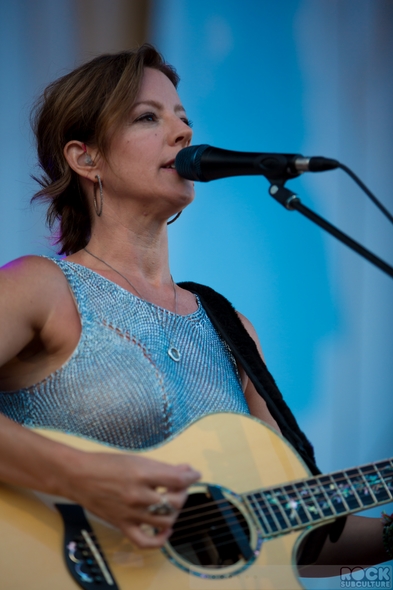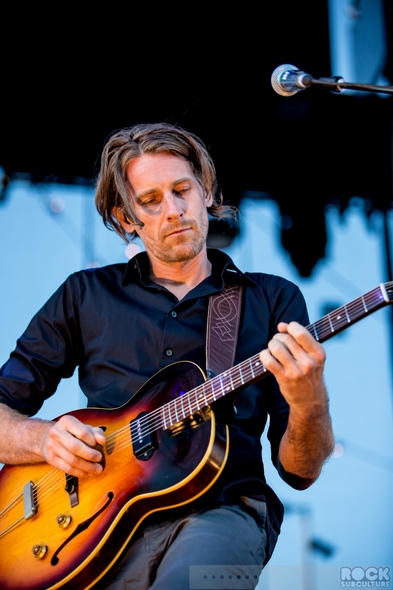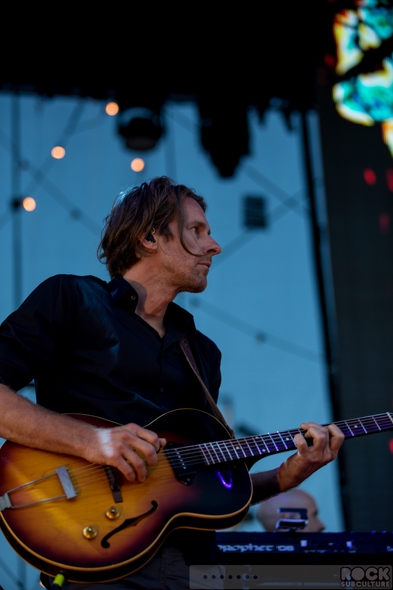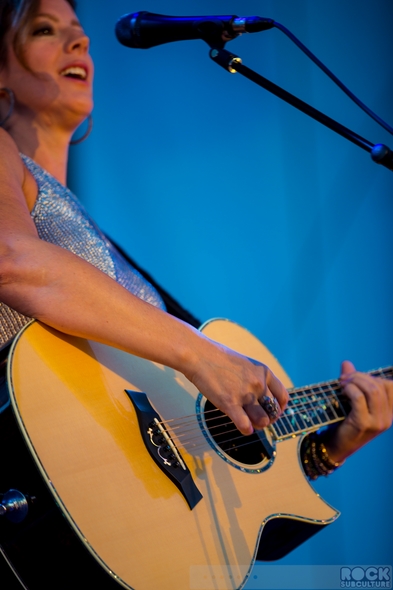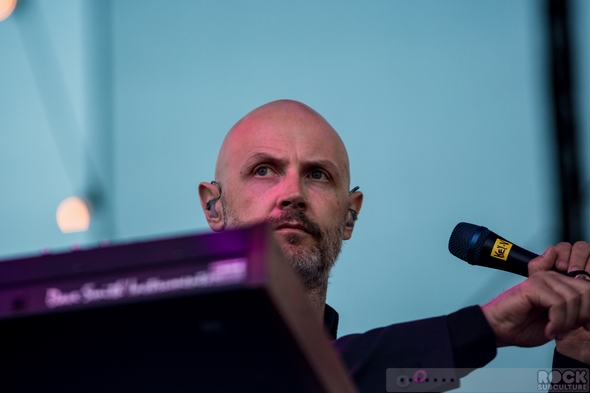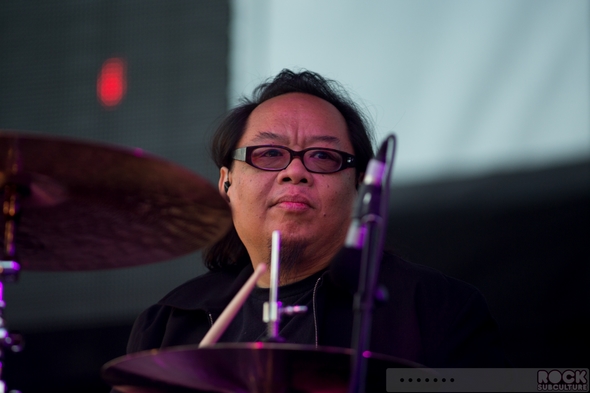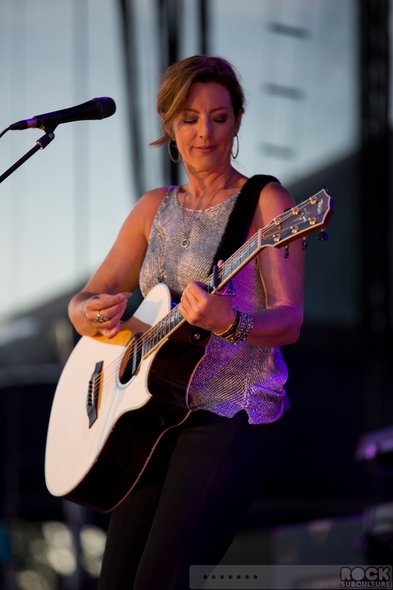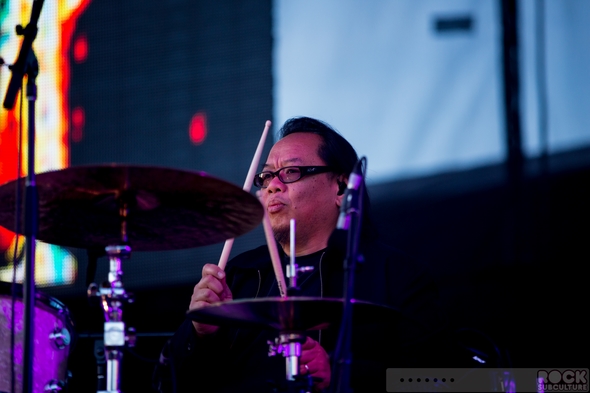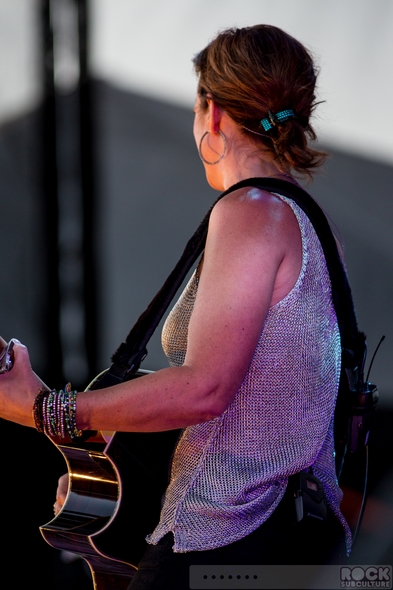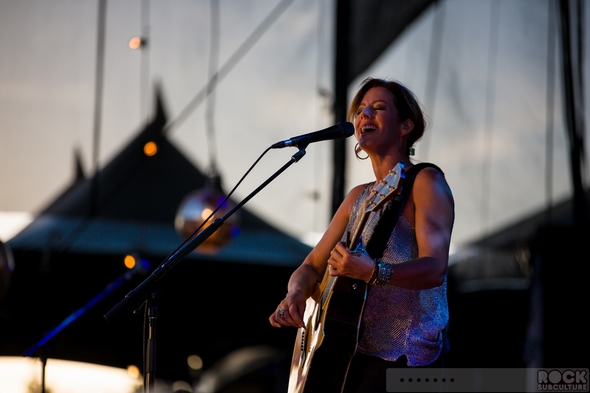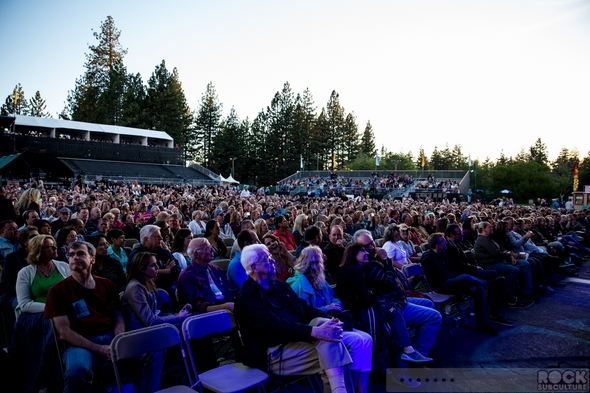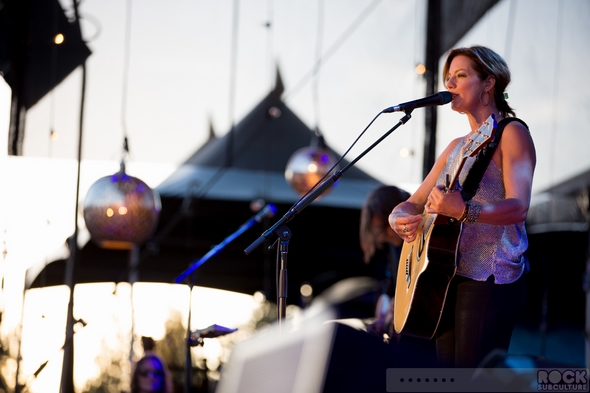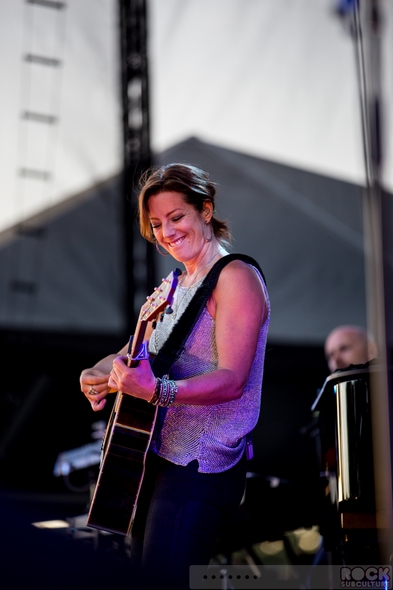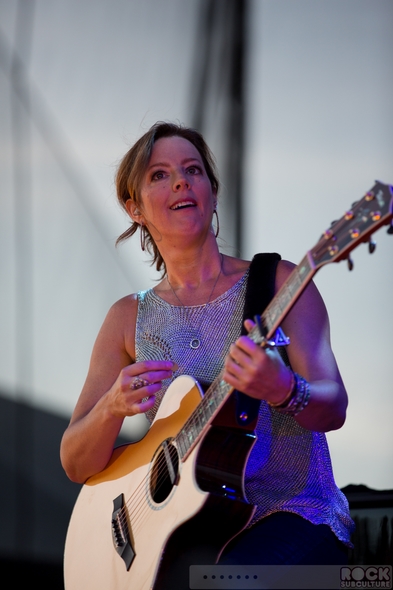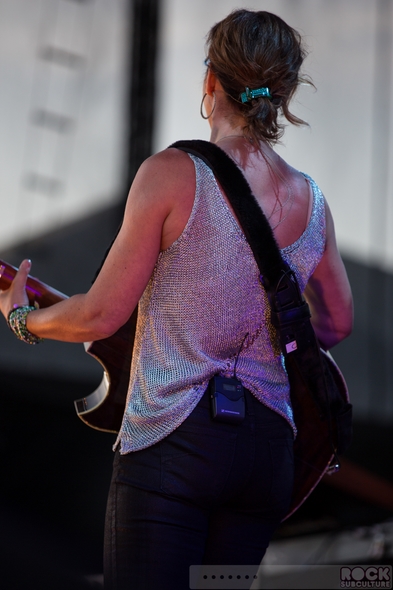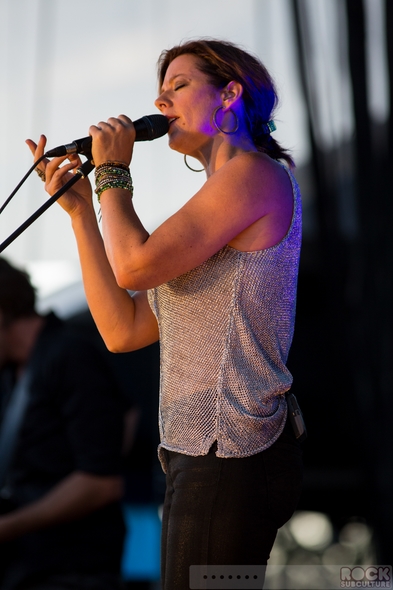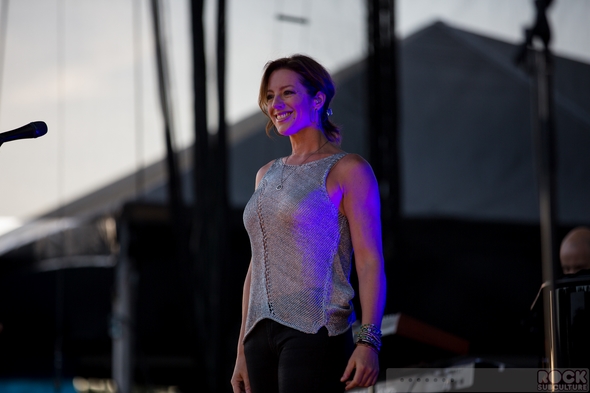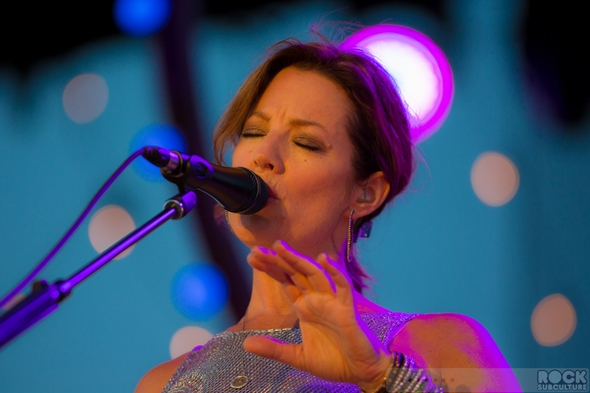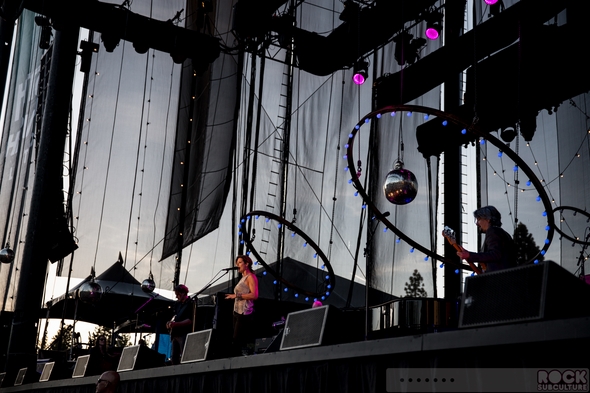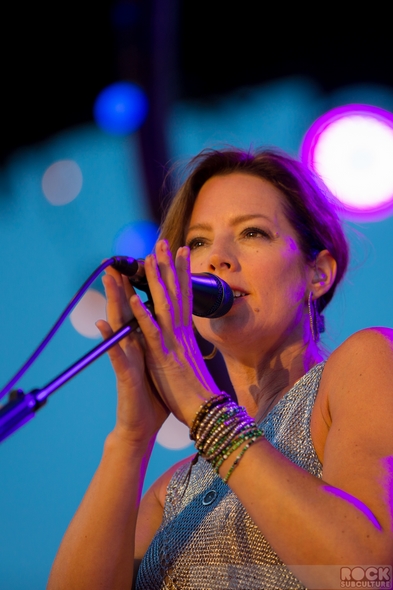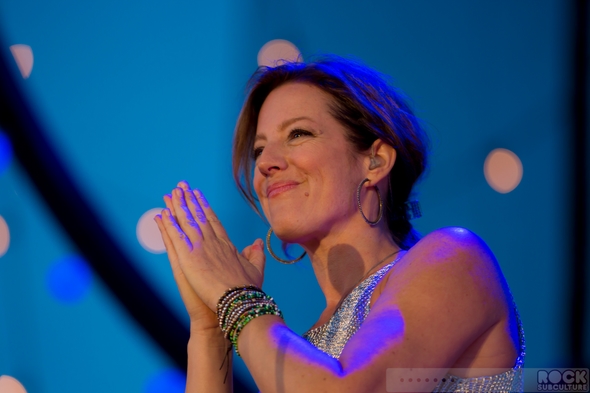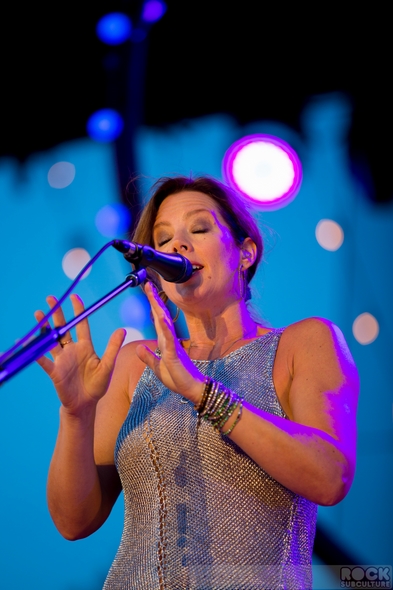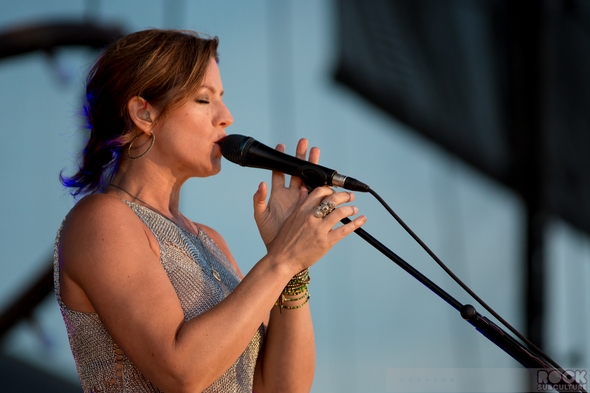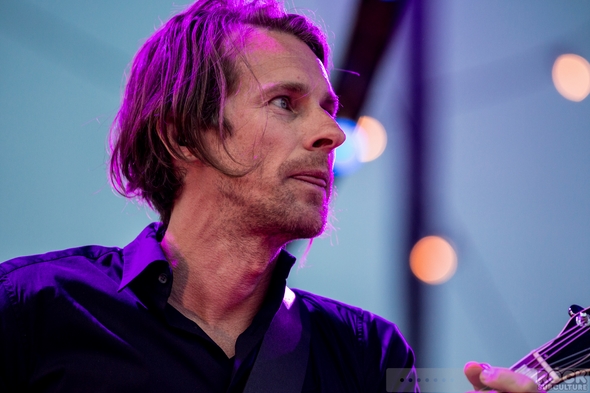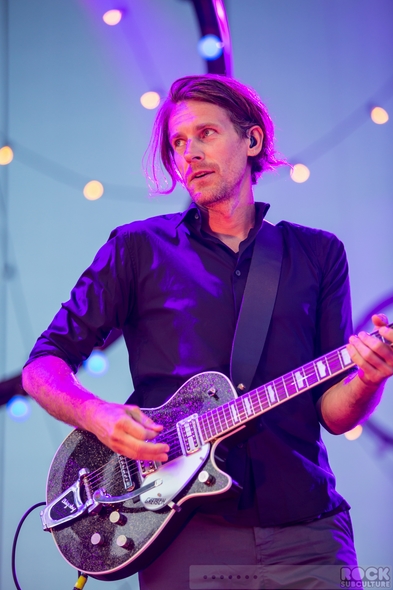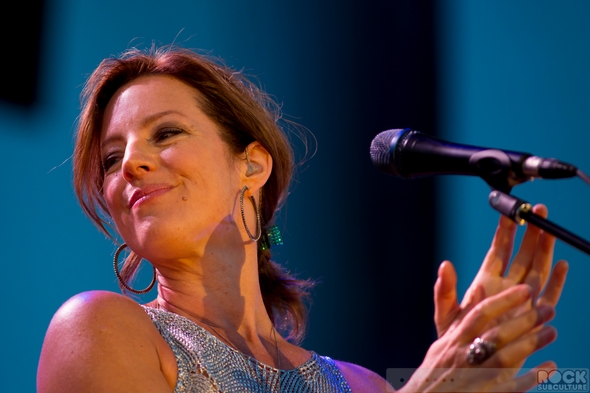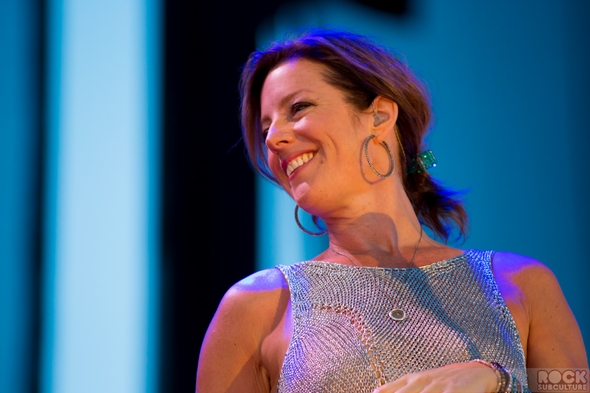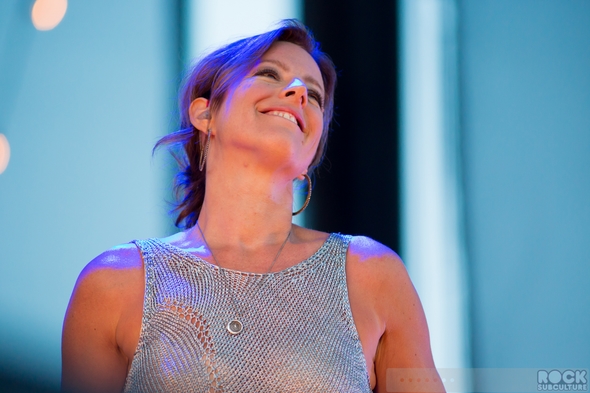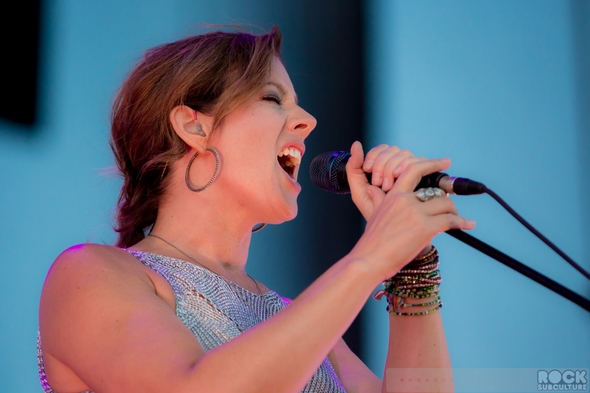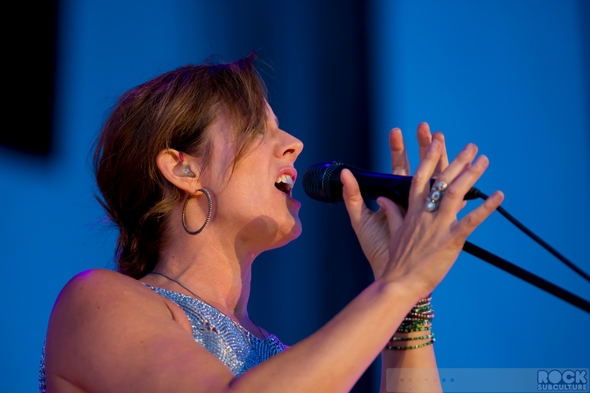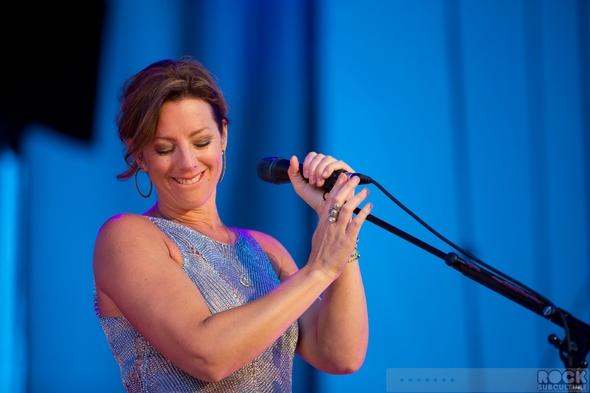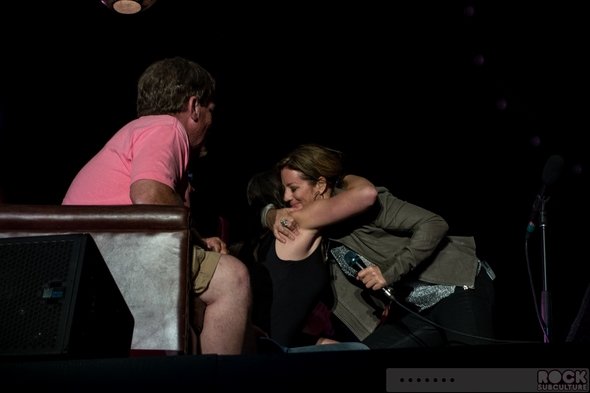 Jason DeBord