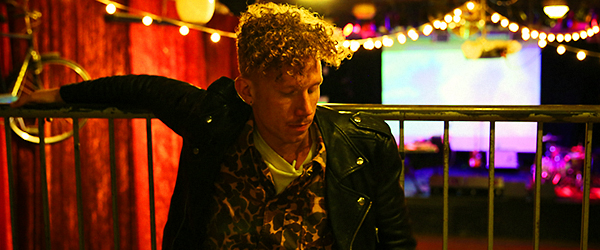 This article features the latest in an ongoing series of "Rock Talk" podcast audio interviews for the Rock Subculture Journal. Today's guest is Erik Hassle. He released his latest work as an EP, Somebody's Party, which debuted earlier this year.  He is also one of the songwriters for the current single, co-featuring Rihanna, "Can't Remember to Forget You".  Erik is just finishing up his U.S. tour with MØ, and took time before his concert at Popscene at Rickshaw Stop last night to participate in this interview.  The full concert review with photos from the live show can be found in my separate article (see: "MØ with Erik Hassle at Popscene at Rickshaw Stop | San Francisco, California | 6/3/2014").
As I had an opportunity to meet with Erik in person, the interview is available as a video on YouTube as well as the regular audio-only podcast which can also be streamed below or downloaded from iTunes.
The audio interview can be heard in its entirety in the player embedded below, and is also available as a free download from iTunes HERE.
Podcast: Play in new window | Download
Subscribe: Apple Podcasts | RSS
I also shot Erik's performance of "Pathetic" at the same show, which can been seen on YouTube as well.
You can use the following links to learn more about Erik Hassle, his music, upcoming live dates, and other news:
Official Website: www.erikhassle.com
Facebook: www.facebook.com/erikhassle
Twitter: www.twitter.com/erikhassle
YouTube: www.youtube.com/user/tensper
Instagram: www.instagram.com/erikhassle#
Soundcloud: www.soundcloud.com/erikhassle/
Special thanks to Erik Hassle for meeting with me last night.
Jason DeBord