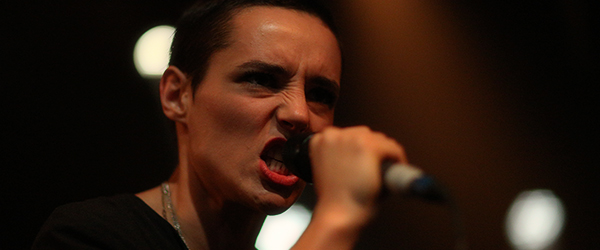 The real thing.  Real, authentic rock artists can't be manufactured… they are born.  And standing witness to the phenomenal performance by London-based post-punk revival rock band Savages, I had a deep feeling that maybe they were born a few decades later than when they should have been, yet it makes them that much more powerful.  Having been born in 1973 myself, I was too young and on the wrong continent to catch the original shows put on by pioneering artists such as Bauhaus, Sex Pistols, Siouxsie and the Banshees, and The Cure…  but I had this deep sense and feeling in watching Savages at The Independent last night that maybe what I felt like experiencing their show is what it may have felt like back in the day with those iconic bands.  This was the second of two sold out shows in San Francisco.  It was a different sort of show – unlike any of the 75 or so others I've attended thus far this year, and the many more going back years prior to that…  there is nothing contrived or manufactured about Savages.  Nothing at all – it is just pure post-punk art at its finest, in the best format of all – a live concert performance.  They have brought something new to this space that hasn't been felt in decades – even by those original players still recording today.  A true resurrection.  And given the state of society and culture today, it could not be more timely.

Who: Savages
Supporting: Duke Garwood
Venue: The Independent
Where: San Francisco, California
Promoter: Another Planet Entertainment
When: September 29, 2013
Seating: General Admission Standing (front row left of center; also photo pass first three songs)
This was my second show at The Independent this week, and as with the fantastic Little Boots show on Tuesday, since there is no photo pit, I always show up way before doors just to ensure I can get a good position for photography without having to wade through a crowd of people who put in their time, especially at smaller, intimate venues such as this one (capacity is 800, and it was long sold out).
Duke Garwood
Members
Duke Garwood (vocals, guitar, clarinet)
Johnny Hostile (bass)
Duke Garwood plays alto clarinet on Savages' "Marshal Dear", the closing song off their Silence Yourself debut.  Johnny Hostile, joining him on stage on bass, is actually the producer for Savages on this album.
Like Savages, he also hails from England; born in 1969, he actually comes across older and wiser, with a mountain man appearance, donning a full beard and flowing hair, all of which both feeds and runs counter to his music at the same time.  A relative veteran, he played guitar with The Orb's on their single "Perpetual Dawn".
He has been releasing music under his own number since 2005, with five studio albums in the past eight years.  The latest, Black Pudding, is a collaboration with Mark Lanegen.
His supporting set last night was my first exposure to his work.  While I would characterize it overall as perhaps experimental in style, it felt to me somewhat jazz-like – not in sound, but in the way (for me at least) jazz is kind of sophisticated in an otherworldly sort of way…  in how you can't really hook in or anticipate where it is going.  It is more atmospheric than anthemic, if you know what I mean.
I think it worked wonderfully in setting a mood and tone for what was to come, and that transition was made even stronger by way of Jehny Beth from Savages joining Duke and Johnny on stage with supporting vocals for the final song of their own set.
Since the show, I've checked out some more of Duke Garwood's music online, to compare and contrast his studio sound versus the live renditions of some of the same songs.  I've come away quite impressed – he definitely has more of a blues and rock sound, but in package that is both contemporary and a throw back to faraway times.  Funny enough, if I heard it out of context, I would never imagine it was coming from an Englishman.
Below are some photos of Duke Garwood and Johnny Hostile performing on stage: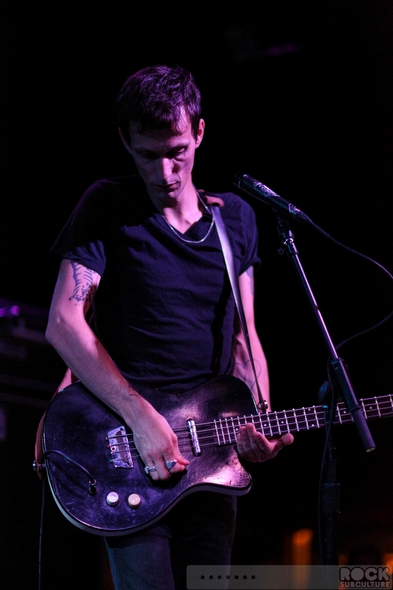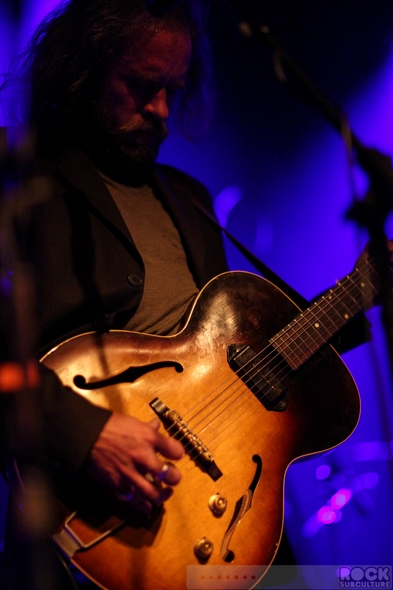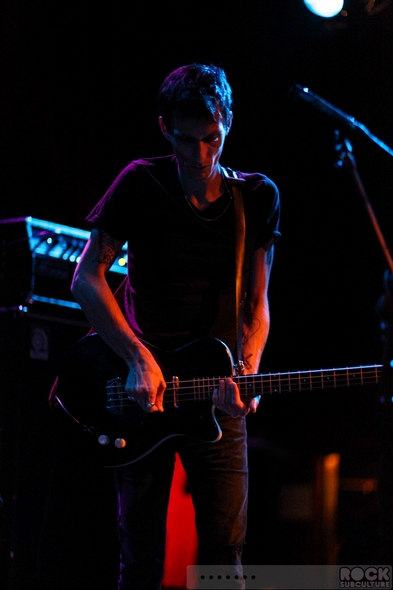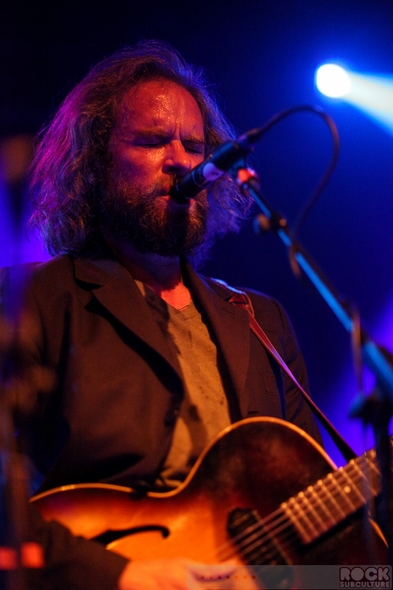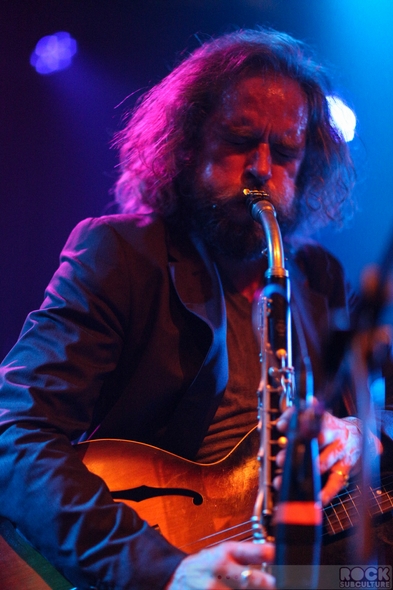 Savages
Members
Jehny Beth (vocals)
Gemma Thompson (guitar)
Ayse Hassan (bass)
Fay Milton (drums)
Savages recorded Silence Yourself with producers Johnny Hostile and Rodaidh McDonald for Pop Noire, and their 38-minute debut, which was released in May, has been nominated for the Mercury Music Prize Album of the Year, which is a huge accomplishment.
As a manifesto of sorts published on their Facebook page prior to the release of Silence Yourself, the shared the following:
SAVAGES' INTENTION IS TO CREATE A SOUND, INDESTRUCTIBLE, MUSICALLY SOLID, WRITTEN FOR THE STAGE AND DESIGNED WITH ENOUGH NUANCES TO PROVIDE A WIDE RANGE OF EMOTIONS. SAVAGES ARE A SELF-AFFIRMING VOICE TO HELP EXPERIENCE OUR GIRLFRIENDS DIFFERENTLY, OUR HUSBANDS, OUR JOBS, OUR EROTIC LIFE, AND THE PLACE MUSIC OCCUPIES INTO OUR LIVES. SAVAGES' SONGS AIM TO REMIND US THAT HUMAN BEINGS HAVEN'T EVOLVED SO MUCH, THAT MUSIC CAN STILL BE STRAIGHT TO THE POINT, EFFICIENT AND EXCITING.
A friend of mine had seen them earlier this year and raved about them, so I picked up the album and eagerly anticipated catching them live the next chance that I could.
I consciously avoided checking out any live videos online, prior to this concert, as I really wanted to go into this one with no expectations or preconceived notions of what they might be like in concert.
With their studio recordings, I've always gotten a very strong Bauhaus sort of vibe from them…  the best, the atmospherics, the basslines, and the completely different approach on guitar.  Vocally, on some songs Jehny has a decidedly Siouxsie Sioux sound, while on other songs not at all.  I think she has a lot of versatility and great instinct in bringing a different kind of vocal to songs to paint different kinds of emotional landscapes.
On their single that was released last year, with "Flying to Berlin" and "Husbands", this was such an amazing debut that positioned them as a serious post punk rock band with an immediate, real and unique identity unlike any band over the past few years.  A familiar "setting" of late 70s/early 80s post punk sort of atmosphere, but completely new and contemporary and exciting.
The debut album…  Silence Yourself, is most definitely one of the best albums of 2013 (and I expect to place on my own end of the year Top Ten list), it opens brilliantly with "Shut Up" (which follows a mood-setting excerpt from John Cassavetes 1977 film Opening Night), which for me is one of the best songs of the year.
Getting to last night's show, the band definitely sets out to create a different experience, apparently not interested in convention and adhering to the typical concert going expectations.
Posted to the front door was a sign that read as follows:
Our goal is to discover better ways of living and experiencing music. We believe that the use of phones to film and take pictures during a gig prevents all of us from totally immersing ourselves. Let's make this evening special. Silence your phones.
I am a lover of technology, but I know I'm not alone in feeling fatigued over the persistent sea of cell phones held straight up in the air at shows, both blocking the view of the crowd and blinding them with the bright screens of their smartphones projecting back on everyone unfortunate enough to be behind it.  A constant distraction from the purpose of concerts – to leave the everyday behind and become immersed in the music.
In our increasingly narcissistic, social media-oriented culture, for a lot of people concerts have become more about telling people that you are there, while you are there and during the actual set, than about enjoying it without creating distractions for ourselves.
To the credit of the audience, to my eyes all but one complied with the posted request (and the one who didn't couldn't have been more obvious, recording video from the side, standing elevated on a platform, hand up in the air as high as he could reach).
So the band came out onto the stage in darkness…  overall, the show started quiet and mellow and built up to a frenzy toward the end.  I got the sense that this is a very contemplative band that put great thought into the audience experience.
It is not a random, thrown together set list and phoning in a concert.  This is a band, I imagine, that creates amazing music with the thought of how it will work in a live show.  The album serves the live concert experience, more than the tour serves as a vehicle to promote album sales.
With some bands, you get the sense that its players love music, and want to be a part of a band, involved in the scene and lifestyle.
Savages, I speculate, are about creating art – being a part of and player in that art – and making a statement.
And the members of this four piece all seem to play flawlessly together, and each component of what each brings to the proposition seems to have equal weight; a perfect balancing act of powerful sounds and perspectives, pulling and tugging and supporting one another…  like some kind of complex machine seemingly spinning out of control, under the expectation it will all burst apart, yet it all seems to move and shift in a weird sort of symphony of the impossible.
Beginning in that darkness, and careful sort of way with "I Am Here", Jehny seemed almost timid…  a bit shy and uncertain of the crowd.
Visually, Jehny kind of looks like a cross between Natalie Portman circa V for Vendetta and 80s era Sinéad O'Connor with her short hair and slight stature.
Her movement on stage seemed kind of familiar, but it took me a little while to place it.  David Byrne of the talking heads, but more feminine.  But only in certain moments.  At other times, she has a kind of prowling way about moving around the stage, and as she seemed to gain in confidence, she moved to the edge, past the monitors, and hovered over me, leering and pointing out across the audience.
Holding a glassy stare, I wondered if she was looking at people or through people.  She has tremendous intensity, and it is no act.  During each song, she wore her varied emotions on her face.  Overpowering us with the music, this way she had of projecting emotion was unreal.  Pain, anger, despair, fear… power.
Watching it all unfold up front, I have a real appreciation for Jehny as a front woman for her band, as she seems to be one of those rare artists who really transform when the music is going… and between songs you get the core of who she is… but the music makes her come alive and thus bring the music alive in a way that other artists simply can't match with their respective works.
Jehny is also often moving her hands in a way that reveals which elements from her band that she is drawing on at different times – sometimes Fay's relentless and varying beats, other times Ayse's overpowering basslines, and frequently Gemma's fucking incredible work on the guitar.
When entering a concert venue with no security pit for photography, I always make every attempt to find a fixed position from which to get some drummer shots, so I had a perfect point of view to witness Fay's work on her kit.  In the live setting, she is absolutely the foundation upon which everything else follows cue and layers upon, and she is a brilliant drummer.  Many of the songs feature a very complex mosaic of beats, and not only is she technically flawless, she fuels much of it with intense emotion, giving it all an edginess and soul that could never be reproduced by the best of technology-driven music that we are accustomed to today.
Ayse on bass contributes, for me, a lot of the spirit of that late 70s/early 80s sound.  As we've said goodbye 70s and beyond, in popular music, the bass guitar overall seems to have faded more and more into the horizon.  It was, however, critical to that distinct, vintage, post-punk sound, and Ayse brings it back.
Funny enough is that I saw Joy Division bassist Peter Hook (my all-time favorite bass player) just two nights earlier at Mezzanine, and I could feel a lot of parallel in the respective live concert experiences.  Between Hooky's son Jack and Ayse with Savages, it is awesome to see two young artists carrying the torch for a lost art.  Ayse has "it", and that is probably a gift that is most rare among bass players.  Savages brings it back.
Gemma on guitar…  I don't even know where to begin.  Her approach to her art is totally unique and singular.  It's not about repetitive riffs, but creating a varying, unpredictable landscape, but something that has enough hook and slight pop elements to bring you along.  She adds tremendous texture to the whole thing that brings it all alive.
Toward the end of the set, Savages did away with the tradition of pretending to end the show to come back for the encore everyone knows will come, and just played through the whole set, end to end, doing it their own way.
As things winded up, and then down, the went into a cover of Suicide's "Dream Baby Dream written by Alan Vega and Martin Rev", with which Jehny's emotions coming over her face perhaps reached its pinnacle.
For the last two songs, the band brought Duke Garwood and Johnny Hostile back on stage, first for "Marshal Dear", wherein Jehny played piano.
They closed out with non-album track "Don't Let The Fuckers Get You Down", which was kind of a microcosm of their overall set – starting out quiet and uncertain, and building into a pounding, confident, explosive ending.
And then, it was all over.  Definitely an unforgettable experience, and I'm left with wonder about the future of this band…  probably the most exciting new band to come around in a long, long time.  Watch them.
Below is the setlist from the concert at The Independent Sunday night: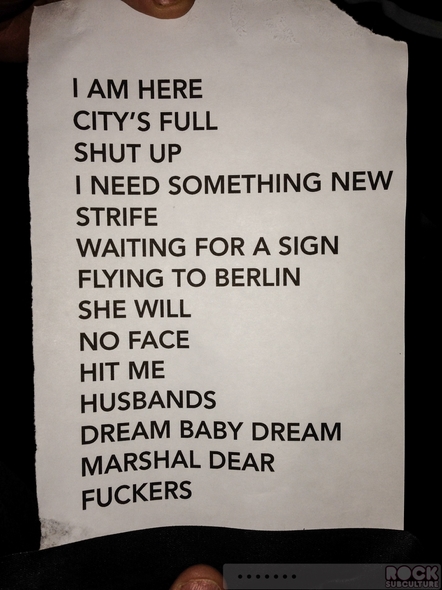 Set List:
I Am Here
City's Full
Shut Up
I Need Something New
Strife
Waiting for a Sign
Flying to Berlin
She Will
No Face
Hit Me
Husbands
Dream Baby Dream (Suicide cover)
Marshal Dear (with Duke Garwood)
Fuckers (with Duke Garwood and John Hostile)
Below are some photos of Savages performing on stage (click any image for higher resolution versions of each photo):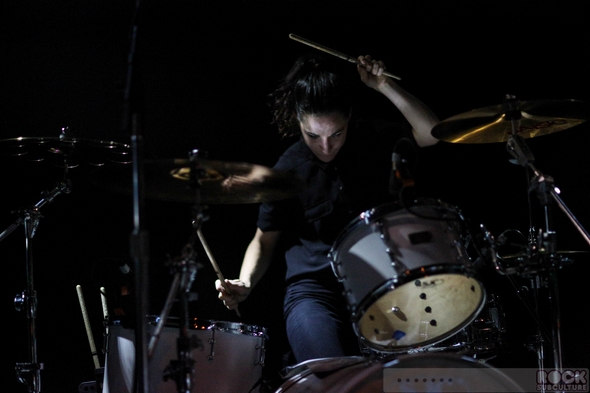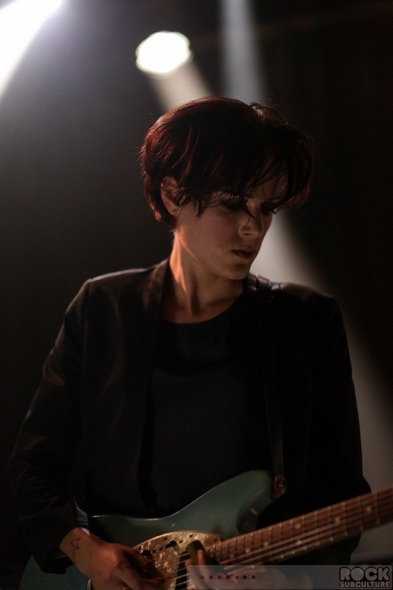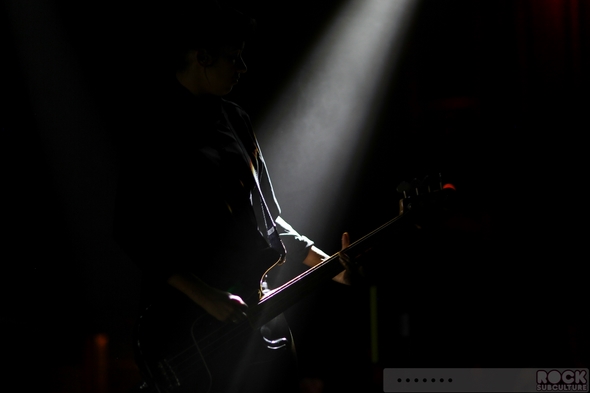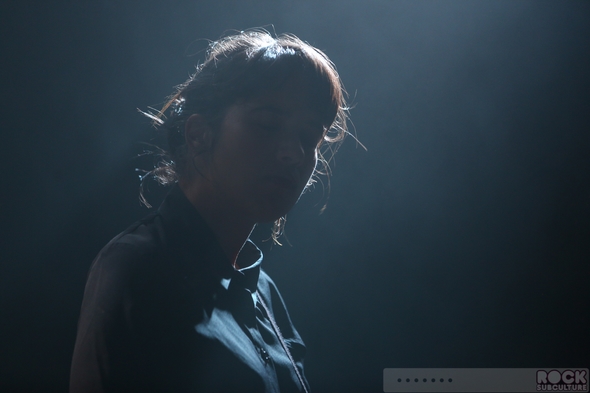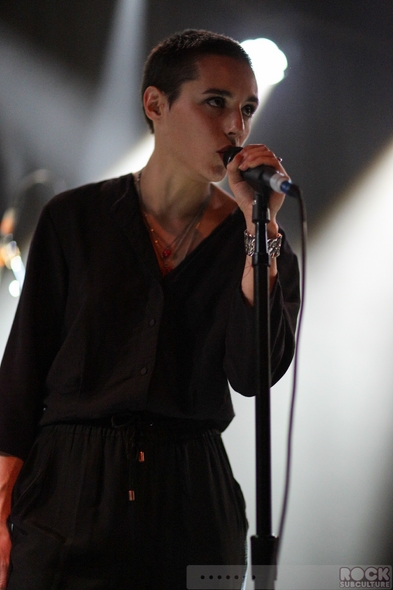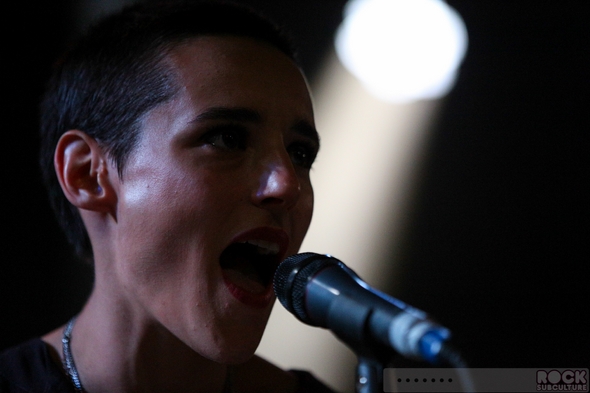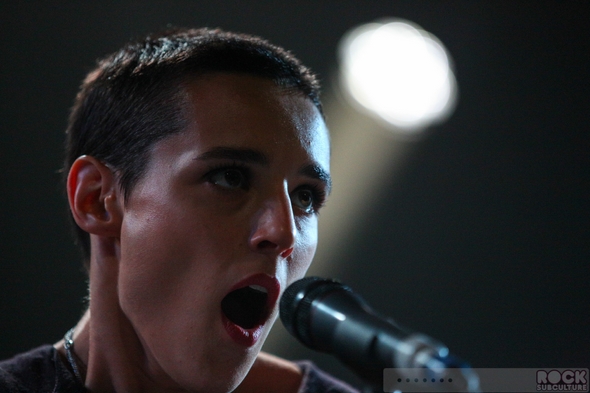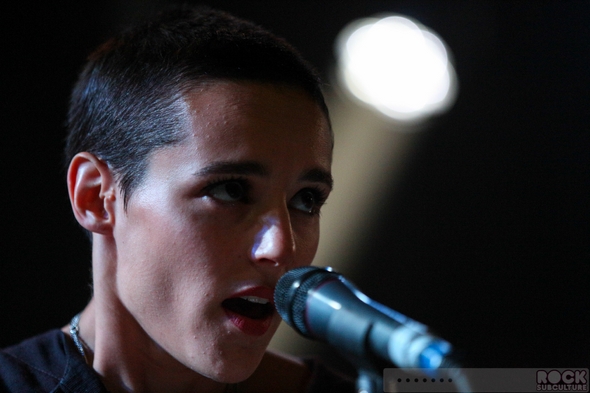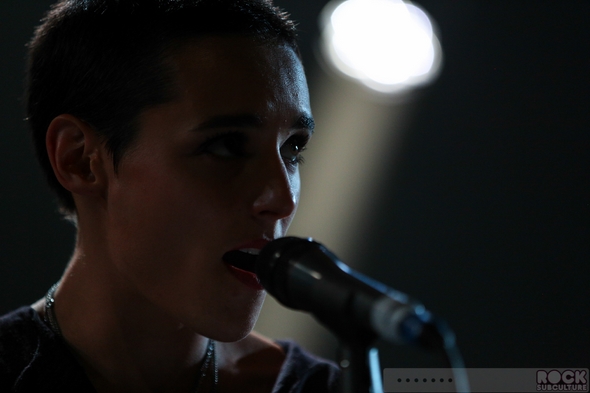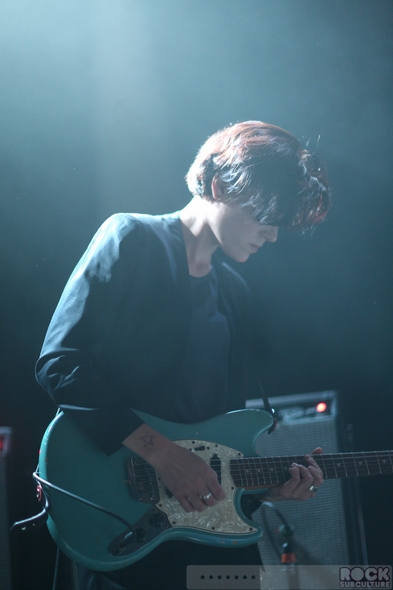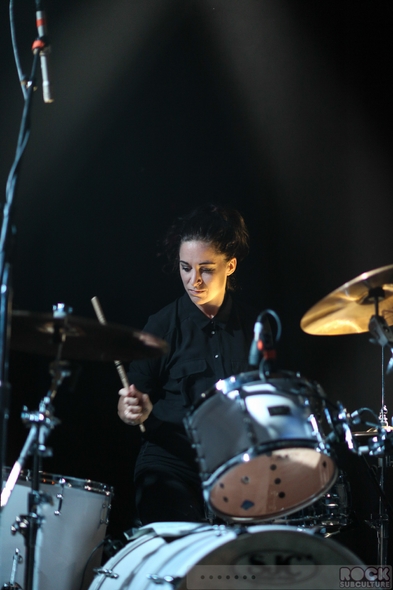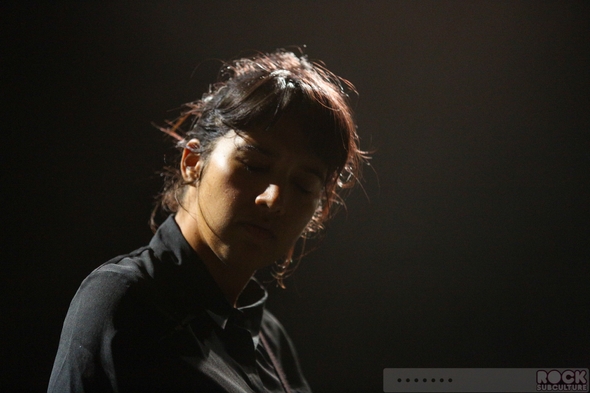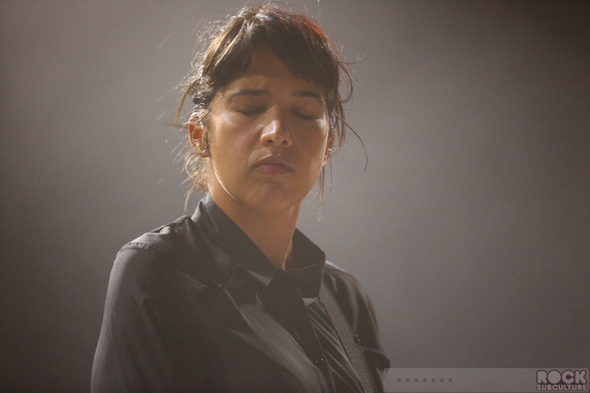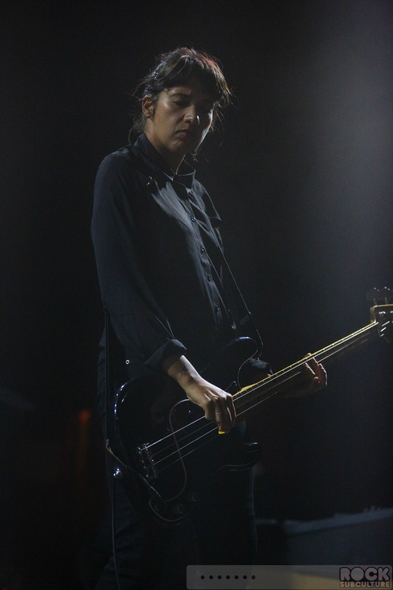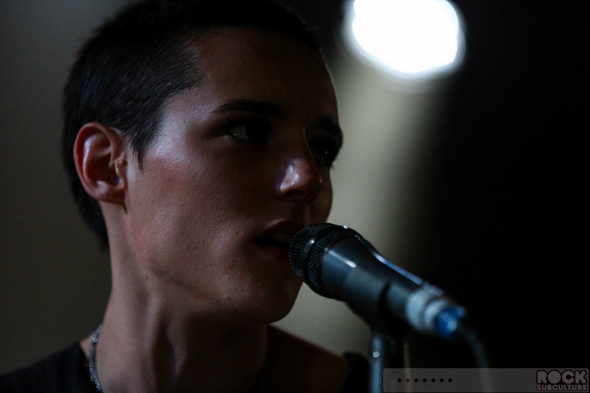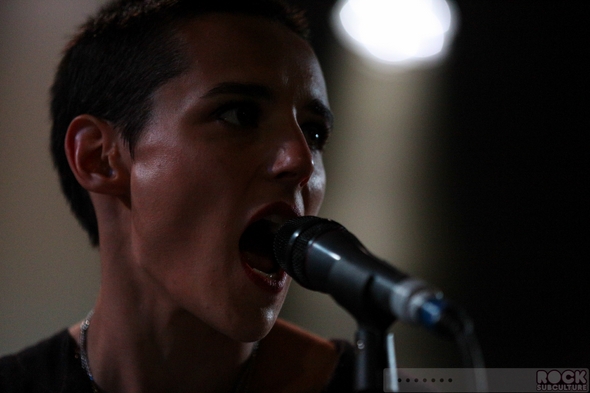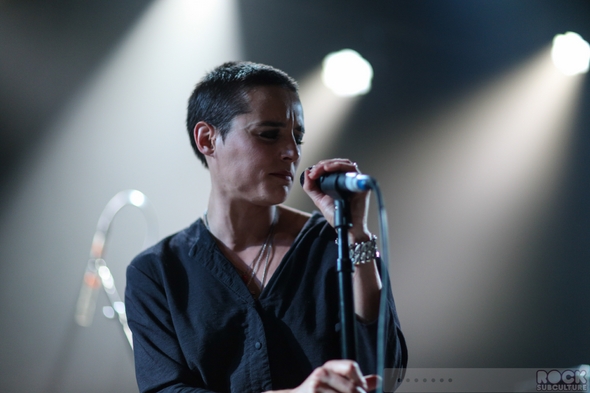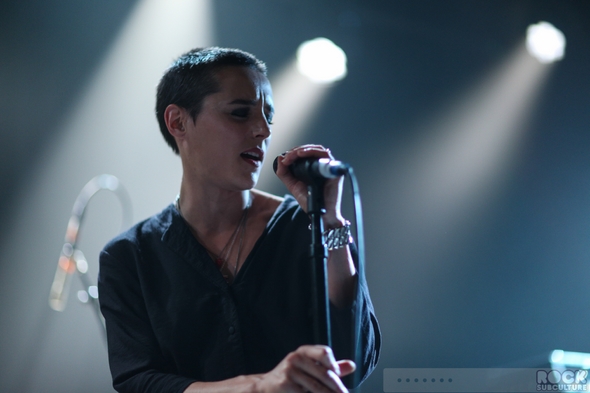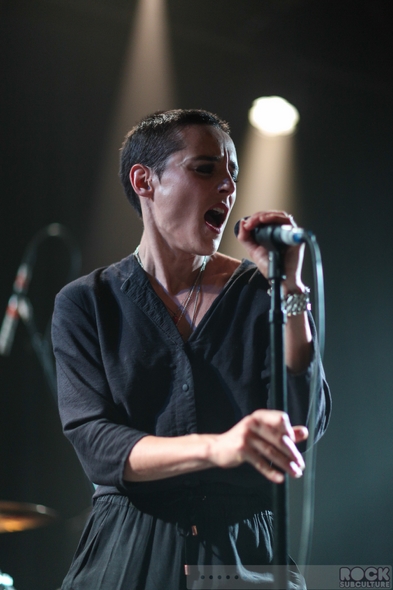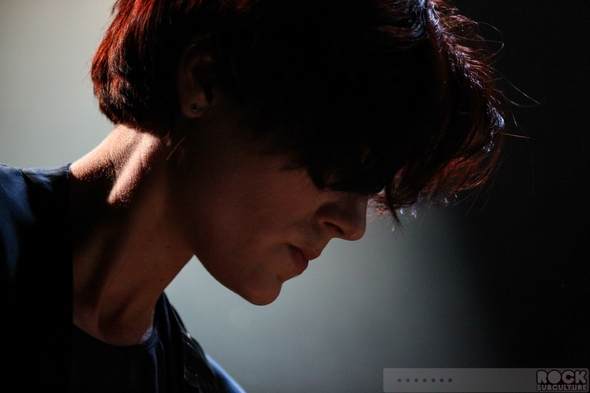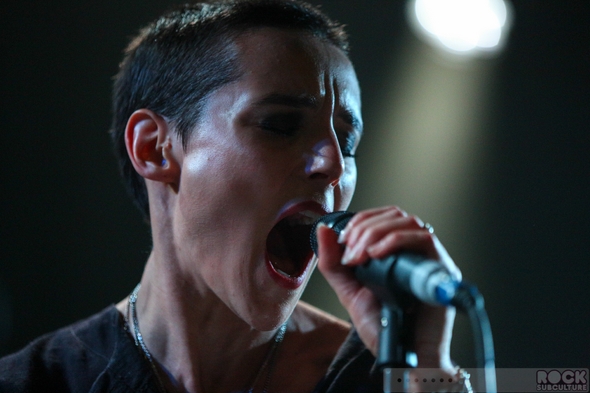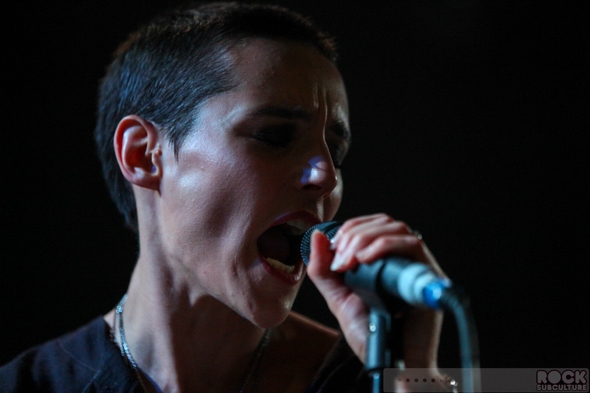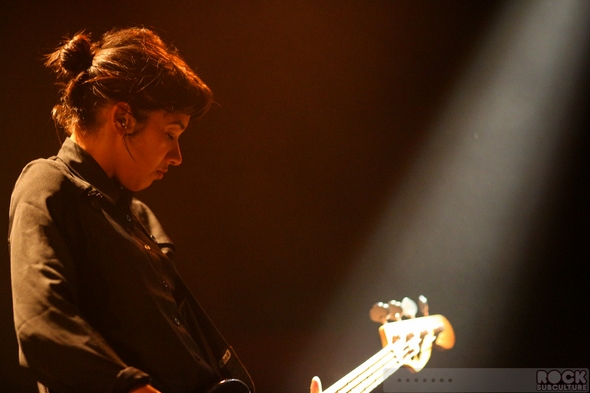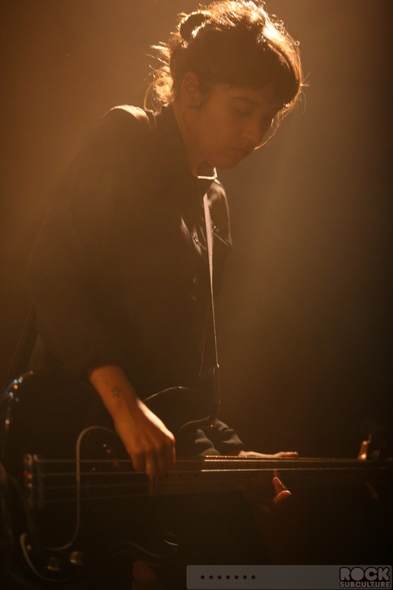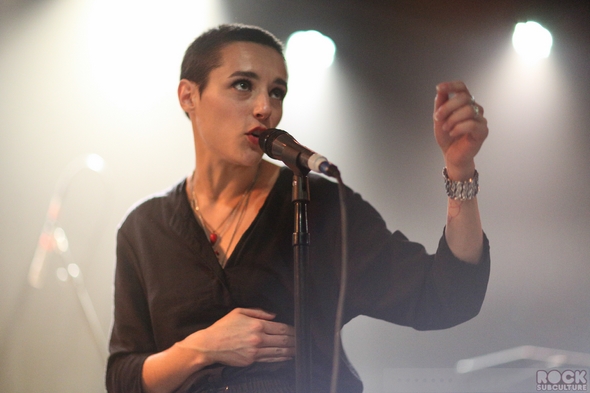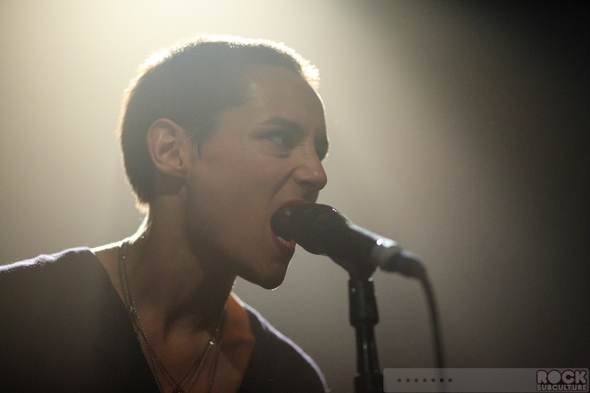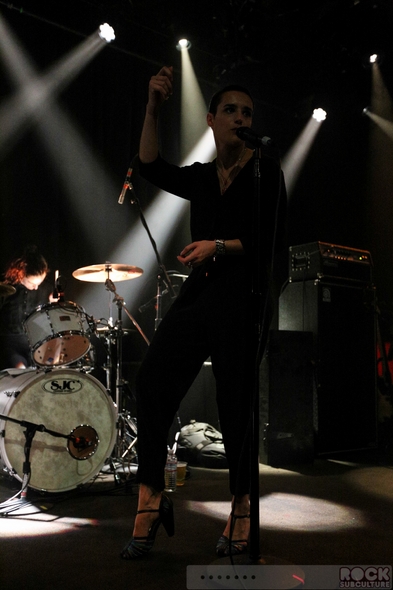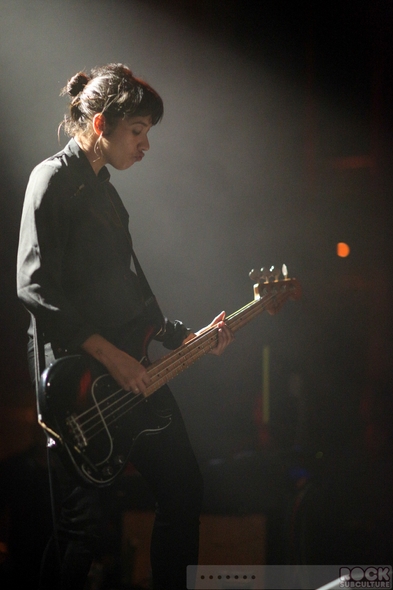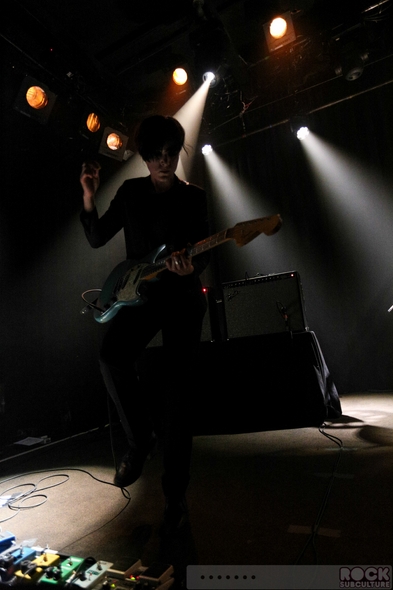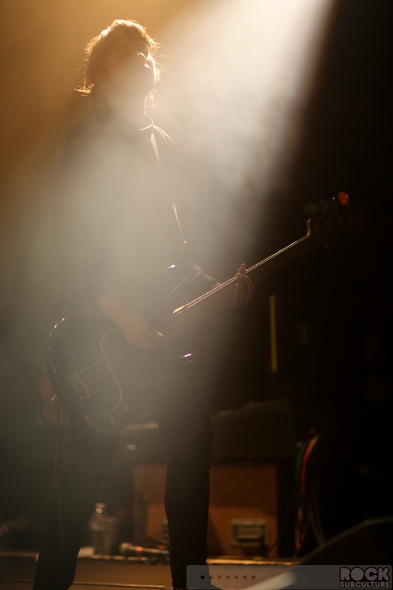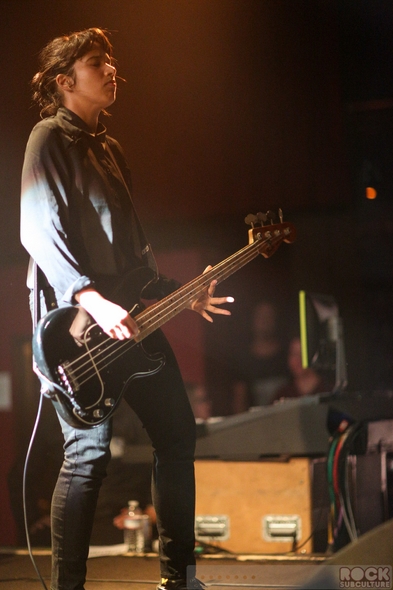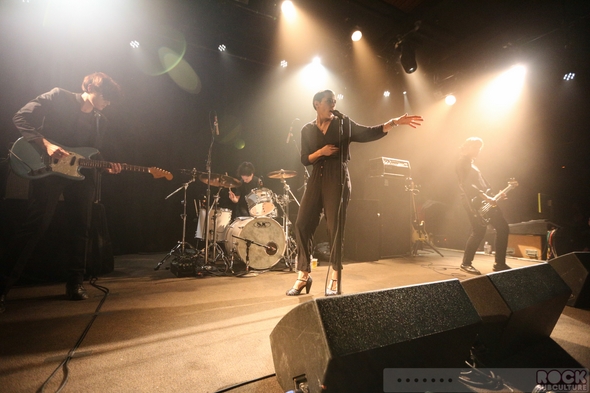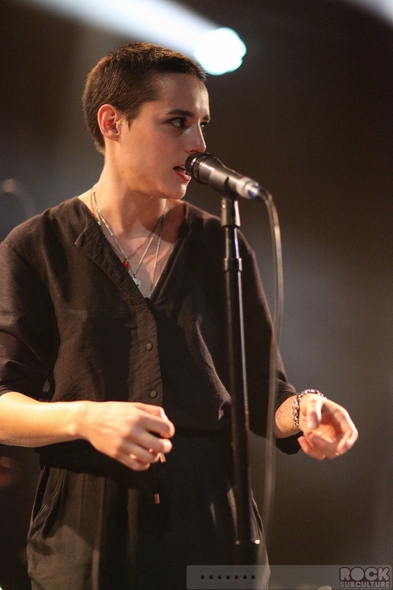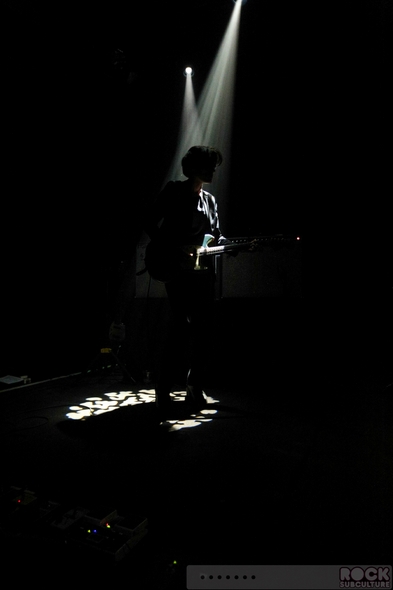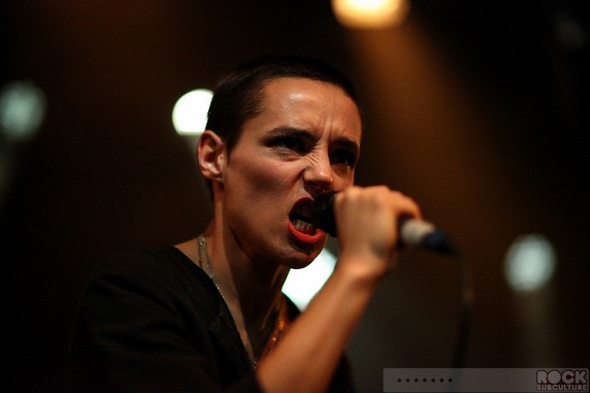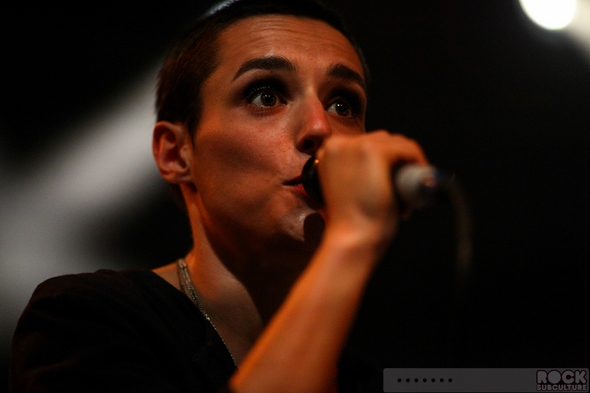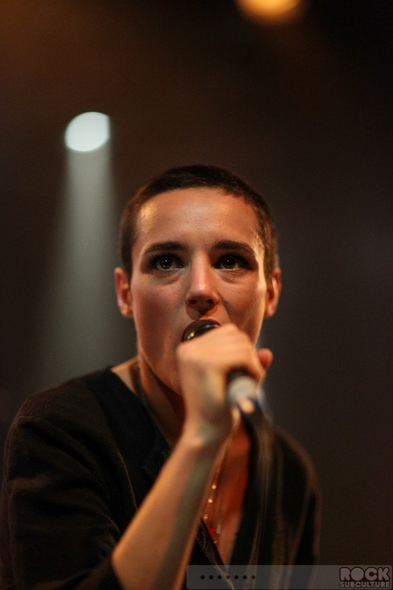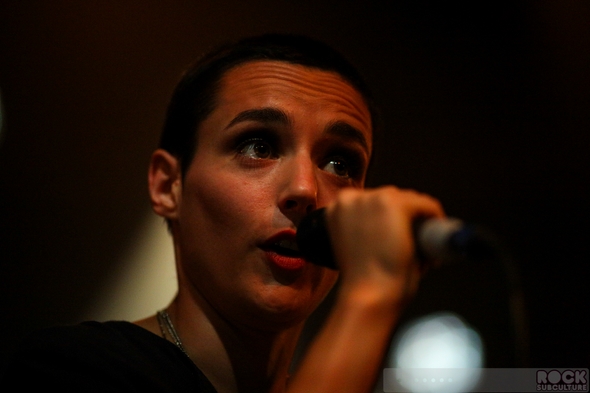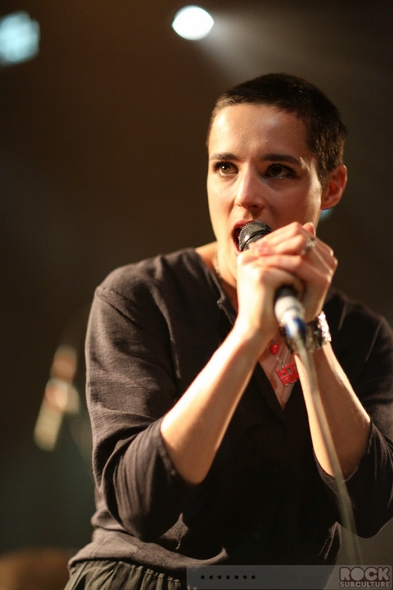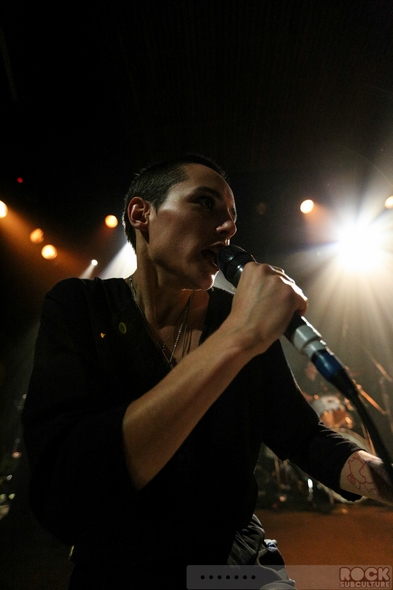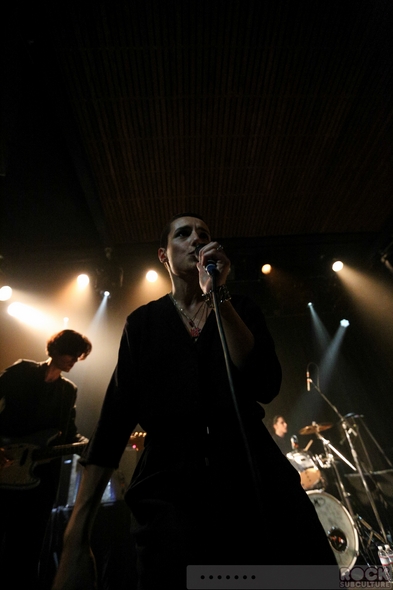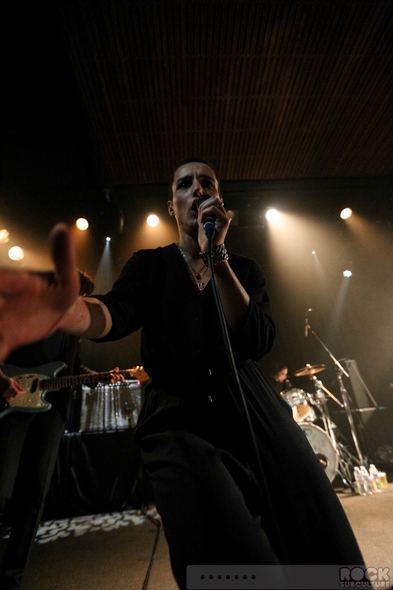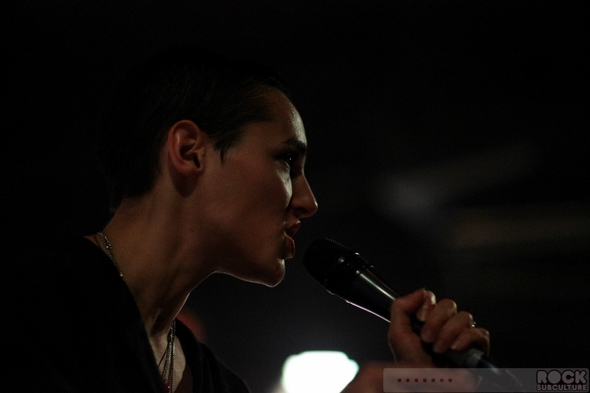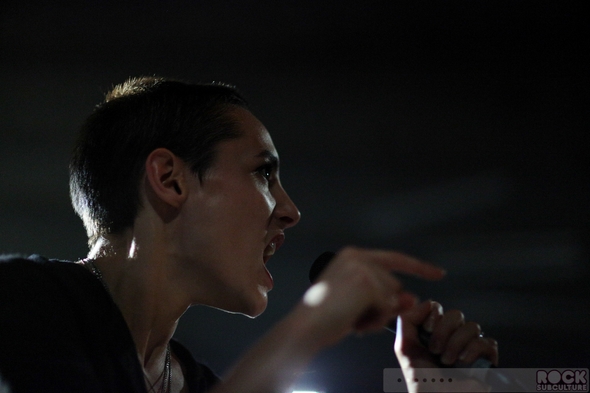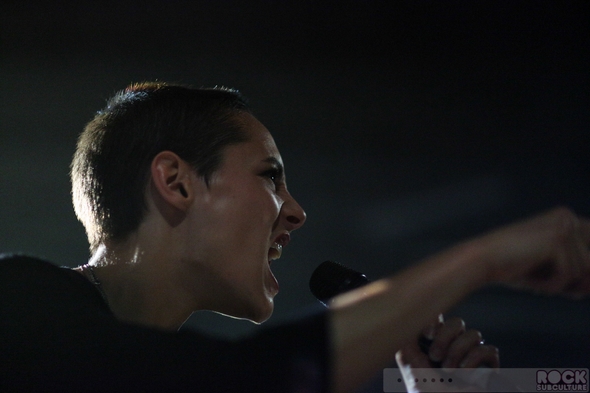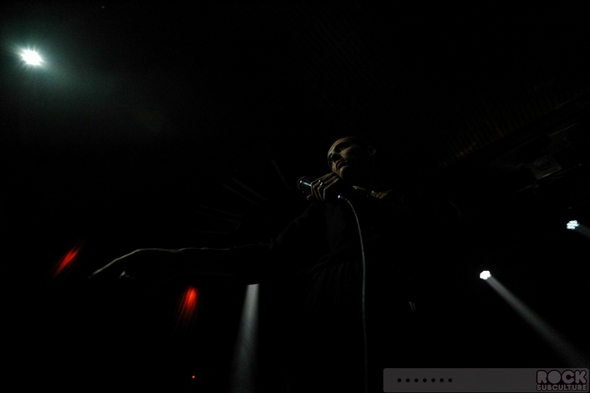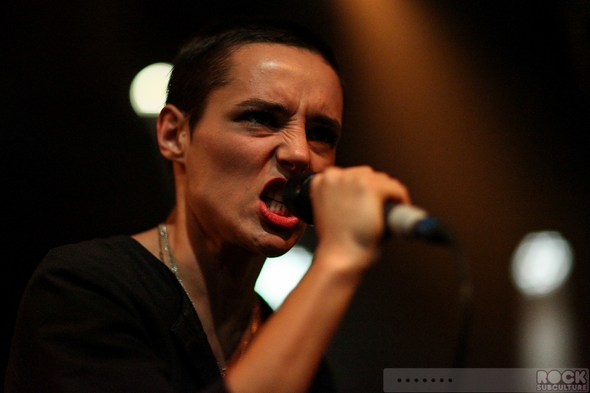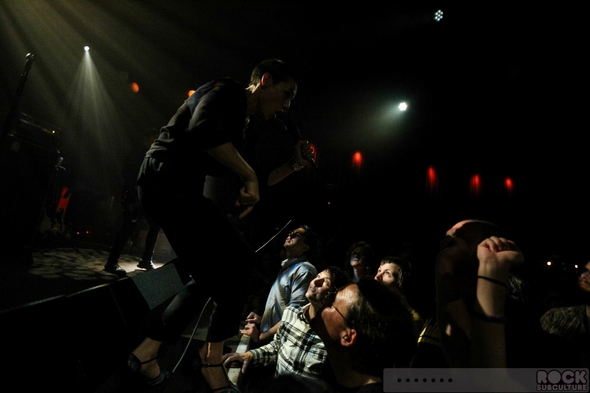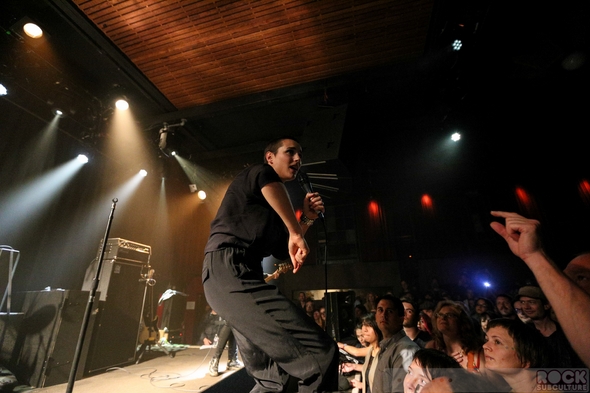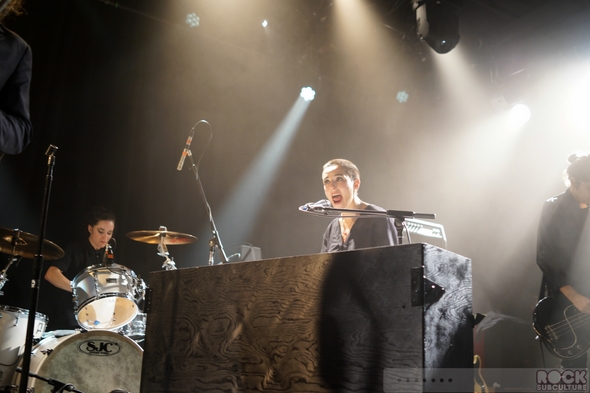 Jason DeBord