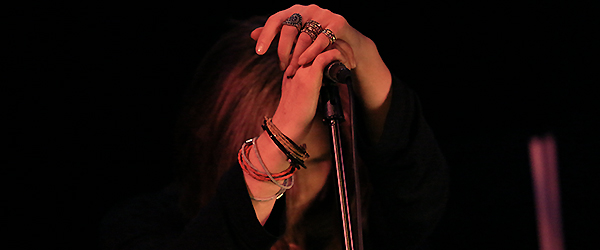 "I don't know if you guys will get this song or not, being that you're from California…" part of Margo Timmins' introduction to the last song of the night, "Fuck, I Hate The Cold", at Yoshi's San Francisco last night.  If music is the soundtrack to our lives, songs by the Cowboy Junkies must be intended for those more soul-searching and contemplative, raw moments.  They slow things down a bit and make you feel more thoughtful and introspective.  The band – a real family affair, together and producing new music and touring for more than 30 years – last year completed Volume 4 of the Nomad series…  an ambitious four albums added to their catalog over a scant 18 months.  The concluding work in that series, Wilderness, explored themes that included "fragility, emptiness, loneliness, beauty, chance, loss, desperation"; though timeless areas of focus, it all seems especially fitting for these times, with much of their music being a bit of post-modern Blues.

Who: Cowboy Junkies
Venue: Yoshi's San Francisco
Where: San Francisco, California
When: May 2, 2013 (Late Show at 10:00 PM)
Seating: Main Floor Table 2, Seat D (Table Against Stage, Left of Mic; also photo pass first three songs)
This was structured as "an evening with…" style show, with no supporting or opening act.  In fact, Cowboy Junkies played two sets last night at Yoshi's San Francisco – an 8:00 PM show and a 10:00 PM show.  I attended the latter.  The first show was technically "sold out", though the second show, based on a scan of the tables within the intimate venue inside, appeared quite close to being sold out, with just a handful of open seats.

Yoshi's San Francisco is one of my favorite venues in the Bay Area, in that it is quite different from other venues (apart from it's sister property of the same name in Oakland).  Yoshi's as a brand celebrated it's 40th anniversary last year, but you wouldn't know it was that old looking around the 5-year old San Francisco location, which is quite modern and stylish in appearance.  Also on site is their Michelin-rated restaurant with food service on the concert side as well.  Inside, there are tables nicely spaced on the floor and small balconies above.
As people settled in for the show to follow, I got the sense that a good majority of the audience in attendance were big fans of the band, and quite familiar with their huge musical catalog.
Members
Margo Timmins (vocals)
Michael Timmins (guitar)
Alan Anton (bass)
Peter Timmins (drums)
Jeff Bird (touring member, multiple instruments – guitar, harmonica, etc.)
Founded in Toronto in 1986, the band features a unique blend of different genres and styles of music, including folk, rock, country, blues, indie, and more.  Mostly a family affair of siblings, they garnered significant mainstream attention with their 1989 release of their first single, a cover of the Velvet Underground's "Sweet Jane".
Cowboy Junkies make the kind of music that begs to be played on vinyl.  Digital just feels too… sanitary.  Especially their more bluesy songs.  It just screams for a more "real" recreation, so of course going to one of their concerts, I always imagined, would be to hear them as they are really meant to be heard.
This was my first time seeing Cowboy Junkies live, so I was pretty excited about the experience, and they did not disappoint at all.  Margo's voice sounded as amazing as you might expect from their studio recordings, with that special quality that kind of defies description.  Her voice is so uniquely her own, there is no mistaking it. She is also very engaging with her audience, reaching out to each of us with her gaze and she sang their songs.
The sound quality at Yoshi's was fantastic.  With so many concerts I go to, everything is over cranked, which requires ear plugs and results in distortion (either too much bass, too much treble, or both).  It is so refreshing to be able to sit against the stage at a show, sans ear plugs, and truly enjoy the sound raw, and hear every note, every nuance.  There was great separation between the vocals and each instrument, so you could just let it all soak in and enjoy it.  True musical bliss.
As one might expect, Margo is a very warm presence on stage, making the whole show feel like a nice intimate gig among friends and family.  It wasn't long before they went off script and deviated from the set lists taped on the stage.  A very fluid show, and really suits their music and themes, kind of playing what struck them at the moment as the right song.
It was really a great set, covering a wide range of both their catalog and representative of some of their different musical styles.
I'm actually a big fan of their new Nomad series, and they started with some selections from those albums, making special note of their album, Demons, which is a collection of covers of Vic Chesnutt songs, mentioning that they are huge fans and suggesting we check out his work.  They are obviously big fans of music themselves, and also highlighted the work of their touring collaborator, Jeff Bird, and his own work (which can also be found on the official Cowboy Junkies website).
I ended up sitting right in front of Michael Timmins on guitar, and it was fascinating watching him play guitar in such close proximity.  He, Alan, and Peter struck me as the consummate musicians…  no pretense and completely disinterested in attracting attention from the audience at all – they just go to work bringing their songs to life with emotion and preceision, and make the music the star of the show.
I ended up thinking that every Cowboy Junkies show is probably fairly unique, and hope to have a chance to see them again in the future, as they put on an amazing show.
Below is a photo of one of the set lists from the stage: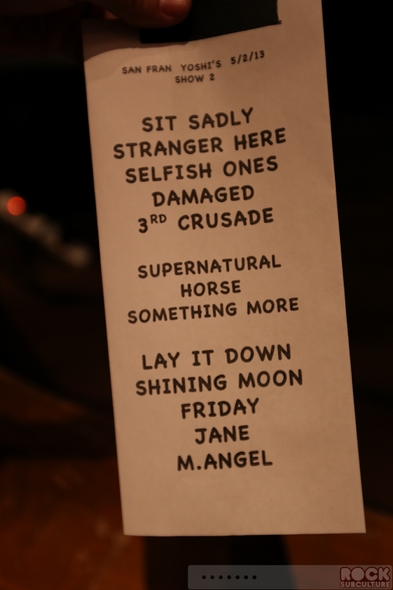 However, they did deviate a bit from the set list as pictured.  This is as best as I could recreate… (if anyone who was there has any edits, please let me know – I know from "Sing in My Meadow" forward it is correct from my notes)…
Setlist:
Sit Sadly
Stranger Here
We Are The Selfish Ones
Damaged From The Start
3rd Crusade
Sing in My Meadow
Renmin Park
Supernatural
A Horse in the Country
Something More Besides You
Lay It Down
Shining Moon
Good Friday ("I don't know where I am")
Sweet Jane
Misguided Angel
Encore:
Walking After Midnight
Fuck, I Hate The Cold
Below are some photos taken at the Cowboy Junkies event at Yoshi's San Francisco (click any photo for higher resolution image):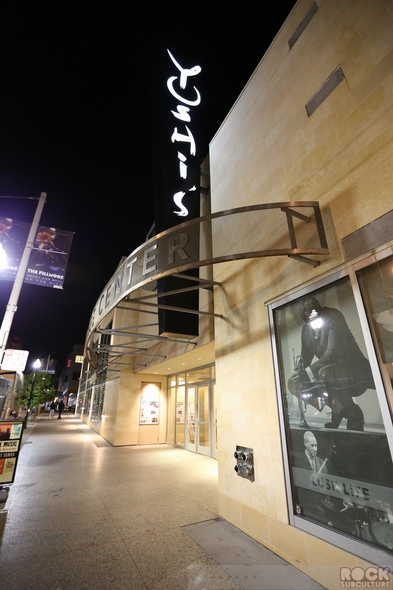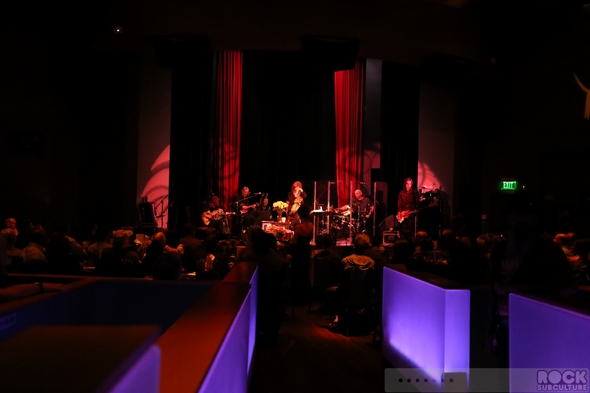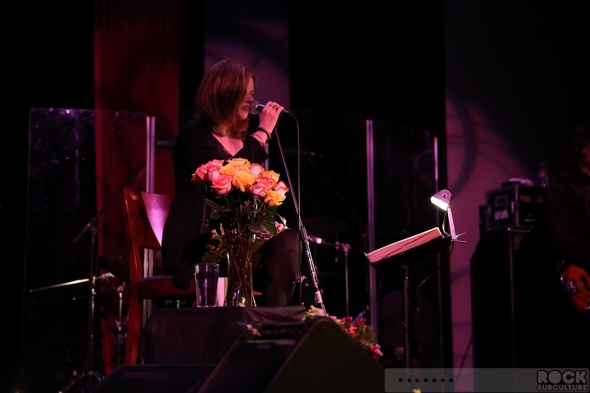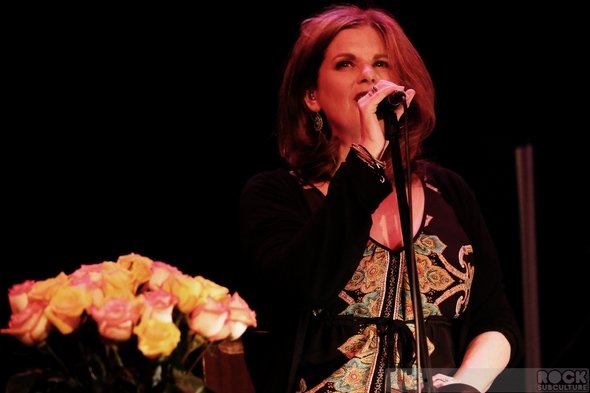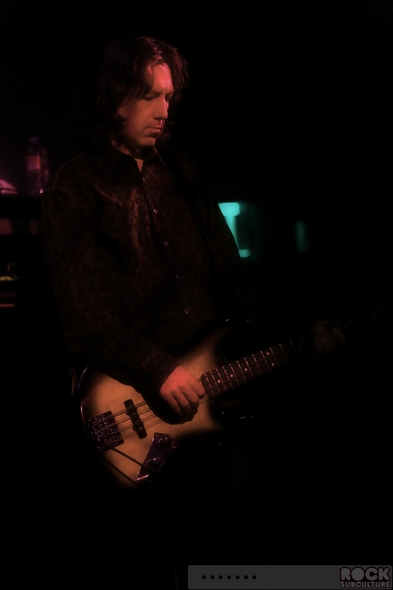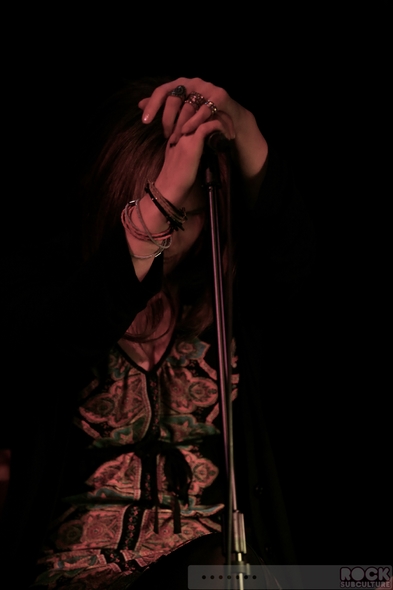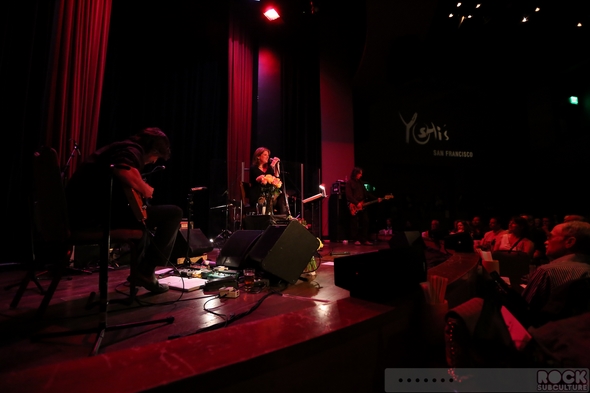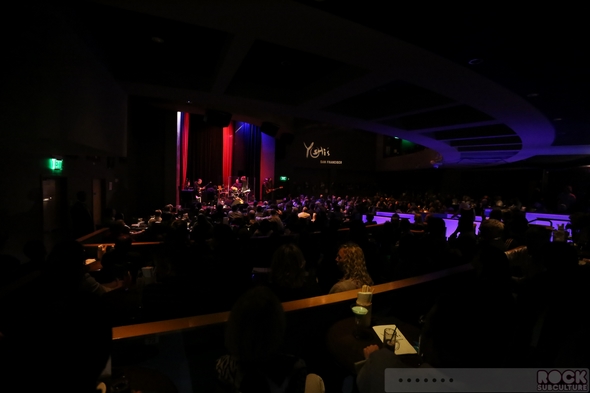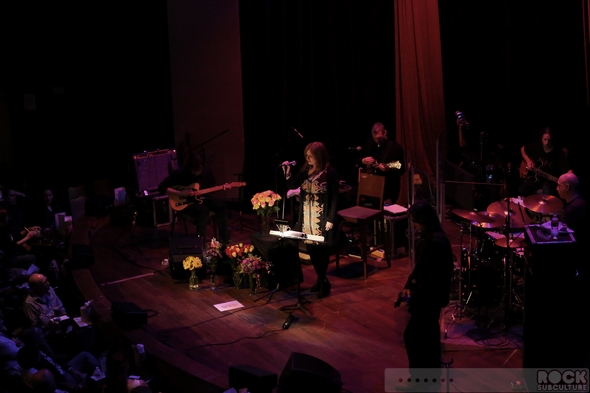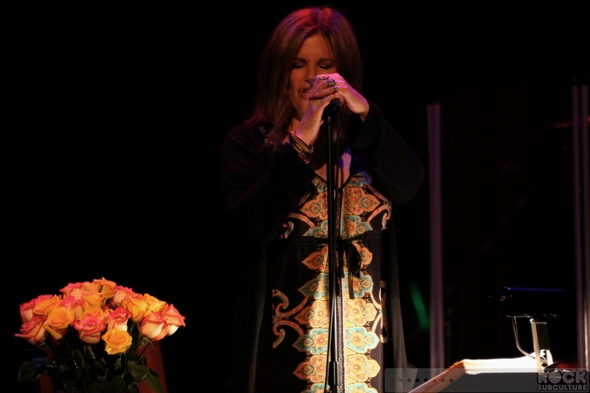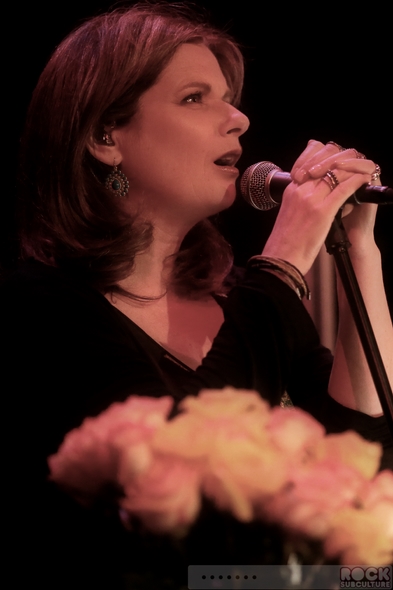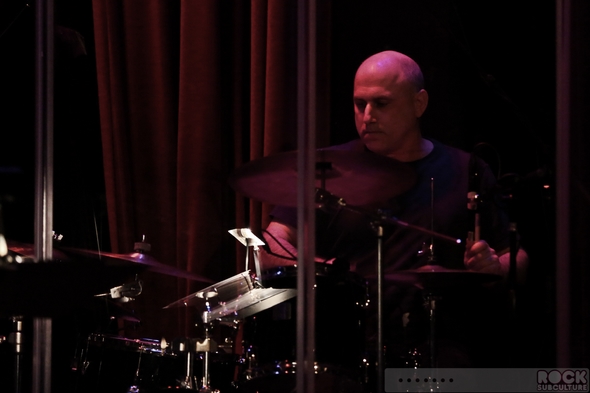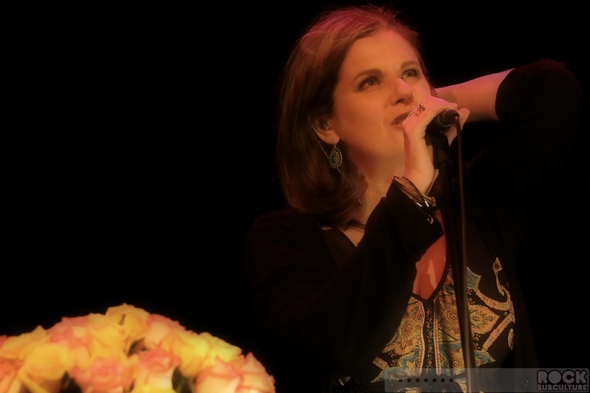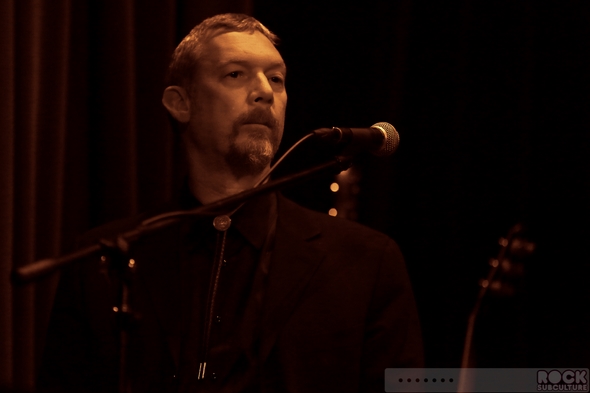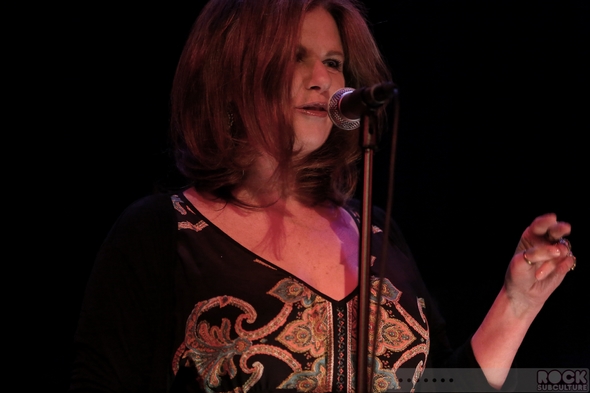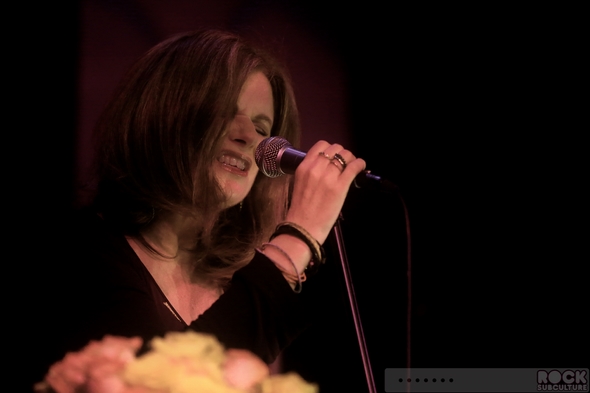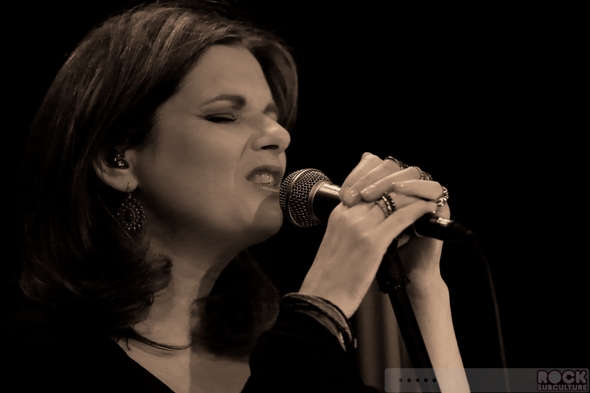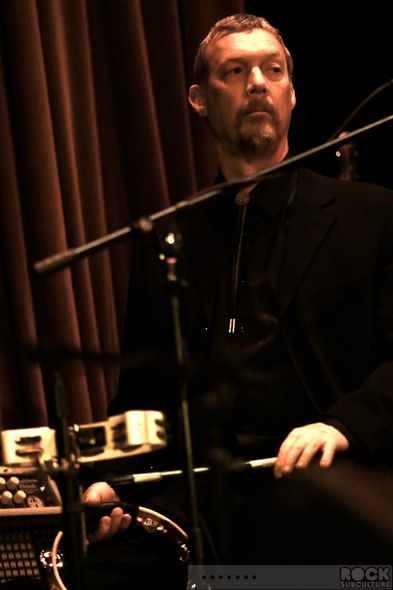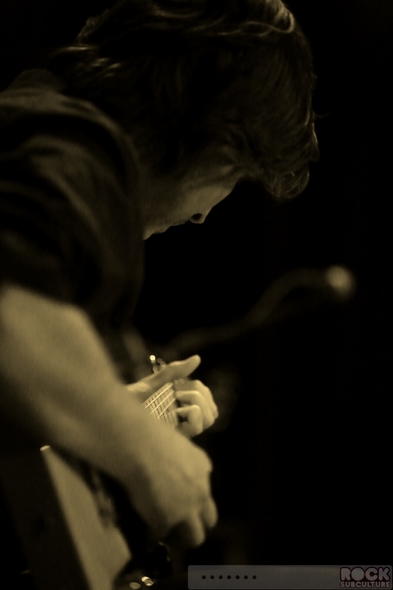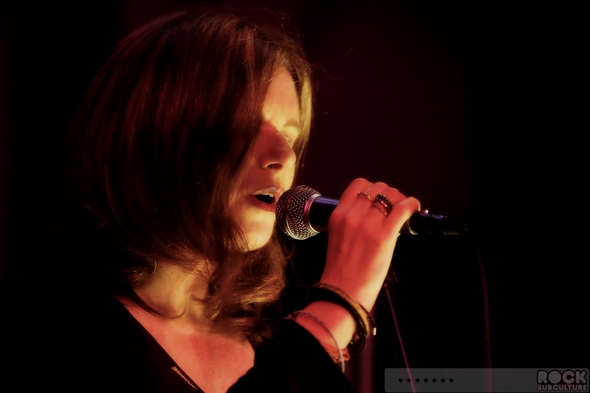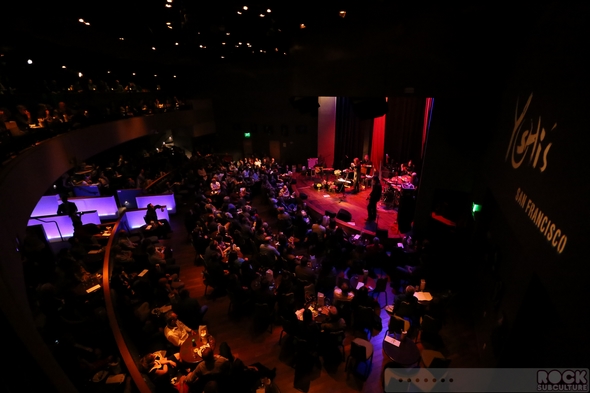 Jason DeBord