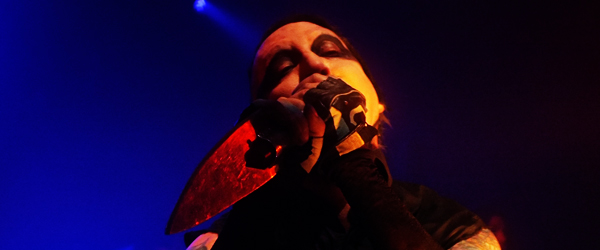 Going to a Marilyn Manson concert is quite an experience, and probably not understood except by those who have done the same.  To draw a comparison with the art world, it is akin to going to art museums in London and stopping in at the Tate.  Except not to confuse matters… not in the past two weeks during Kraftwerk's residency.  That's something else entirely.  In any event, he puts on quite the impressive show, and is maybe the modern day rock concert equivalent of circus freak sideshows, only with Manson, though his band is supporting, it is decidedly a one man attraction.  Most striking is how interactive it is – not just the literal interactions with the audience (and there are many), but his ability to lock onto members of the audience with his eyes, in a kind of staring match version of "chicken", to see if he can make it striking enough to have you look away first (benefits of being right up close).  He's a natural performer, though interestingly comes across quite different off stage (more on that later).  Really an exhilarating evening and hosted courtesy of Marilyn Manson's unique and stylish version of reality.

Who: Marilyn Manson
Who or Supporting: Butcher Babies
Venue: Modesto Centre Plaza
Where: Modesto, California
Promoter: JMAX Productions (meet and greet portion – Adventures in Wonderland)
When: February 15, 2013
Seating: General Admission (front row first 3-4 songs, then roaming floor)

This stop towards the end of Manson's tour (which I thought a week or so ago might have gone the way of Gaga and ended early due to on stage illness – it did not) took place at Modesto Centre Plaza, which is a venue I'd never been to before.  Ordinarily I would have caught it at The Warfield in San Francisco, but realized that Modesto was actually about 30 minutes less drive time for me, so thought I would check it out.

The venue is attached to a Double Tree hotel, and with circumstances one might expect in a Judd Apatow film, counter programming over there was some kind of farmer's/growers conference…  which makes for a funny contrast of participants between the hotel and the concert activities.  Funny note – spent some time hanging out with a nice gentleman from San Francisco with very stylish attire, a mohawk, and some cool tattoos, and he put some stuff in his room and came back into the venue as things were getting along, and he said that one of the people in the competing reality over there shot him the comment, "nice costume!" (remarking on his everyday clothes).
Backing up a bit to the start…  I arrived around 5:00 PM, to a modest line out front.  I had taken advantage of the special VIP package for this show, and at this stop there was a no professional photos policy, so went in as a regular concert goer and started talking with some of the others waiting around for the pre-show meet and greet with Manson himself.
As a side benefit, these are always fun because there is opportunity to talk with some of the really hard core fans of the artist, and this was an even more enthusiastic group than usual, for other artists.
I did my own informal quiz of the two dozen or so in this group, and asked what other bands/artists they like, who is their favorite, etc.  I must have asked at least half, and I'm pretty sure it was unanimous that Marilyn Manson was the favorite of all of them.  Especially endearing were the two friends who traveled from Oregon to catch the show, one of who declared several times it was the greatest day of her life.  It's awesome to see that there are still young people today who appreciate music and get a thrill out of the live experience and meeting their favorite artist.
Funny to me is how many in attendance were about half my age.  Though Manson has been on the scene since '93 or so, some of his big fans at this show were just born around the same time.  So in twenty years, he is still making new fans with his message and unique, genre-bending music.
Kudos to those in charge of the meet and greet, as it was one of the better organized ones I've been part of, and went quite smoothly.
Each of us actually had two chances to meet Manson… the first time, meeting him to autograph whatever we might have brought along.  Again, it's nice that the powers that be granted a lot of latitude in this regard, as people were allowed to bring in whatever they'd like (many meet and greets have strict restrictions, or just as often no autograph opportunity at all).  Some brought really cool items to get signed.  Another bonus is that we were all given a cool mask of Manson (as well as a laminate and t-shirt), so plenty was provided with the package for autograph to those who did not bring anything special.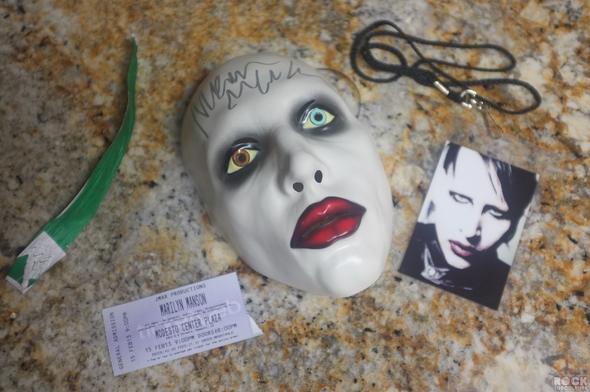 I'd never met the artist, and my first impressive was quite counter to what some might expect, knowing him only from how he has been portrayed by the media…  he was a really sweet and friendly, genuine man.  I said a few words and he immediately stuck out his hand for a handshake, which was cool (some artists are understandably "hands off" with fans).
I was one of the first in, so it was also fun to watch each fan emerge from the room set up for the meeting quite jubilant from their unique one-on-one experience.  One got a kiss; another had her ass autographed!
In the second time into the room, we each got photos taken with Manson, which was very cool…
Me with Marilyn Manson
We eventually made up way back up to the concert area, and we were also given early entry to the GA concert area as part of the package.
I was the second person in, and grabbed a spot a little left of center on the rail (never like to be dead center in the event the center mic blocks the lead singer's face).
Modesto Centre Plaza is basically one flat empty room – not specifically designed for concerts, and no seating anywhere.  Standing room only with some space cordoned off in the back for serving drinks (beer, wine, soft drinks).
Butcher Babies
Members
Heidi Shepherd (vocals)
Carla Harvey (vocals)
Henry Flury (guitar)
Jason Klein (bass guitar)
Chris Warner (drums)
Butcher Babies is a band that I was completely unfamiliar with prior to the show.  In doing a bit of research, I learned that the two leading ladies were formerly "Playboy TV and radio personalities", which goes along with the visuals from their performance on stage.
Visually, they are kind of like a group that has feet planted in two realities – the first Manson's and the other perhaps in Quentin Tarantino's celluloid world.
I think the only place I've ever seen shorter skirts was by concert goers at a Rihanna concert in London… (partially sarcastic here, but not totally).  If anything, whether or not you like the music, they make for compelling eye candy on the stage.
They had an incredibly energetic set, and seemed kind of born to launch a Marilyn Manson concert.  They understand the Manson fan, and quickly got them worked into a frenzy with their own brand of fast paced metal.  I have a feeling that if they shared a stage with the Pussycat Dolls, they would toss them off into the pit below, as sacrifice to the Heavy Metal Gods.
Butcher Babies definitely had one of the more engaging opening sets I've been to in some time, immediately taking control of and captivating the crowd.   They were also interactive, jump off the stage and onto the back of the barricade to reach into the crowd.  One of the times Heidi was directly in front of me – actually too close for me to even focus with my camera.
An impressive way to kick off the music, and a perfect match-up for Marilyn Manson.  Definitely worth checking out.
Below are some photos of Butcher Babies performing on stage (click on any image for higher resolution):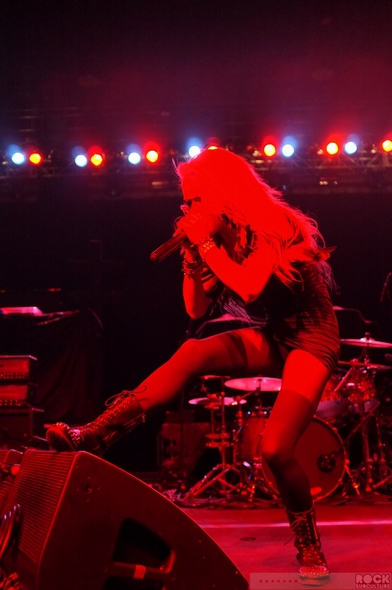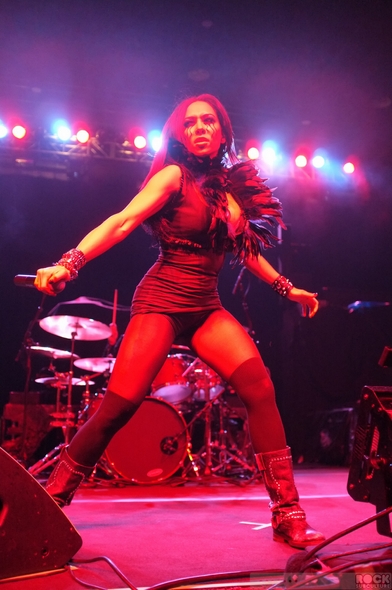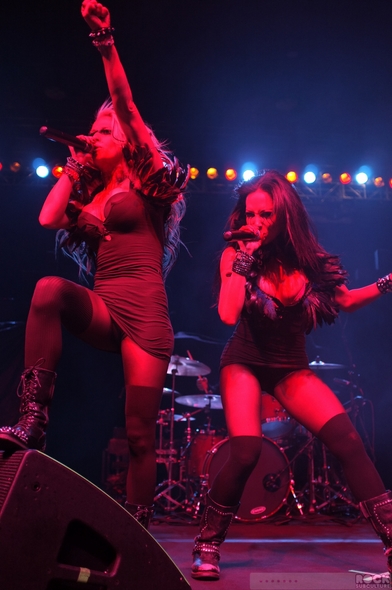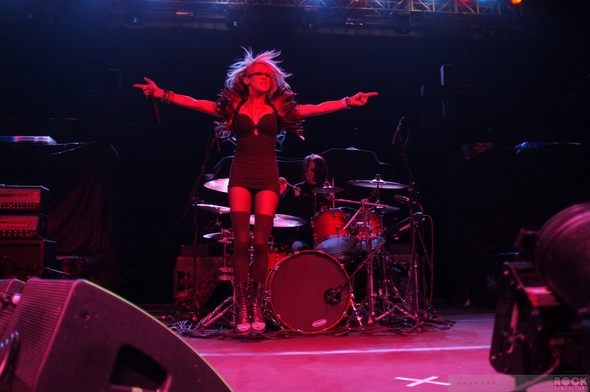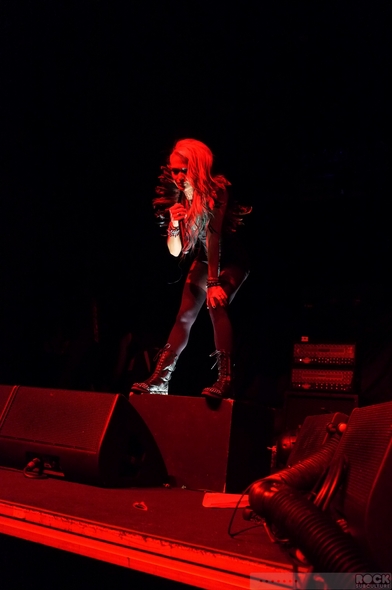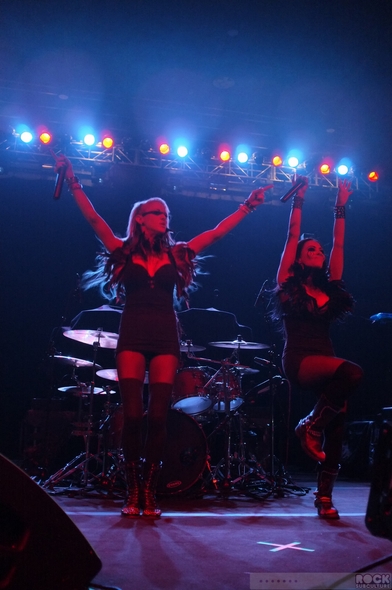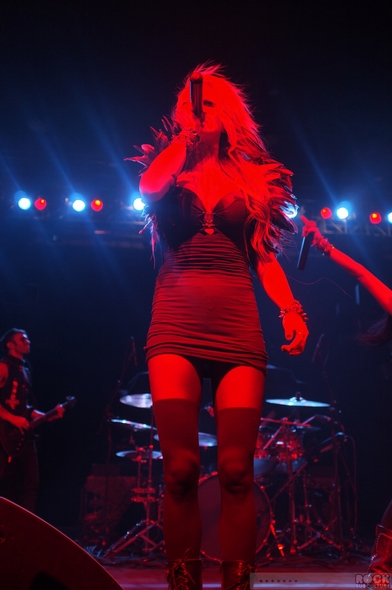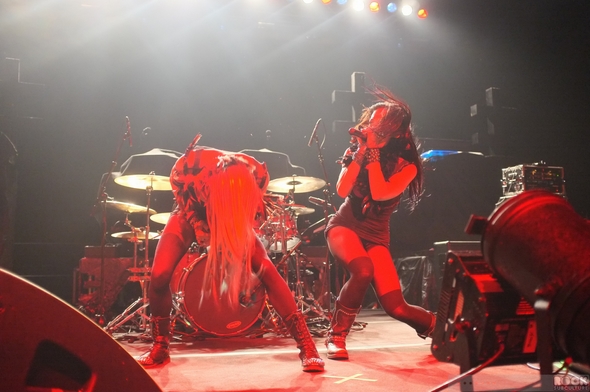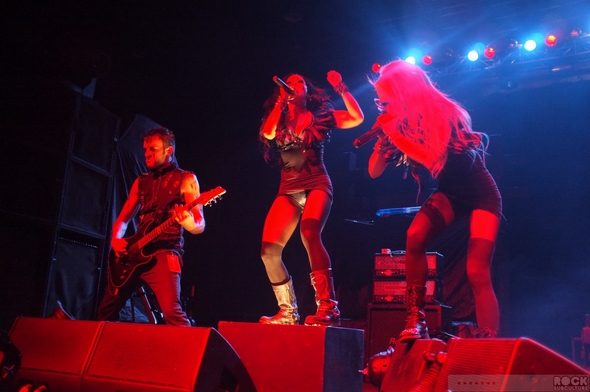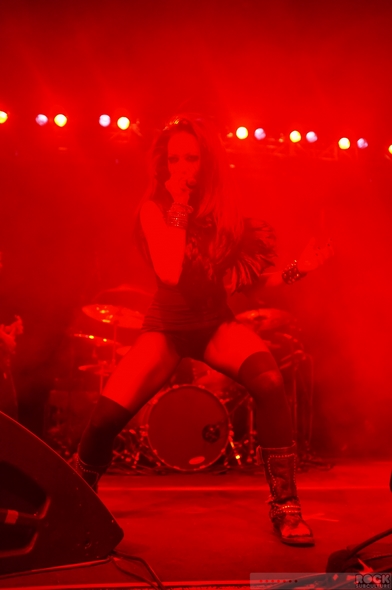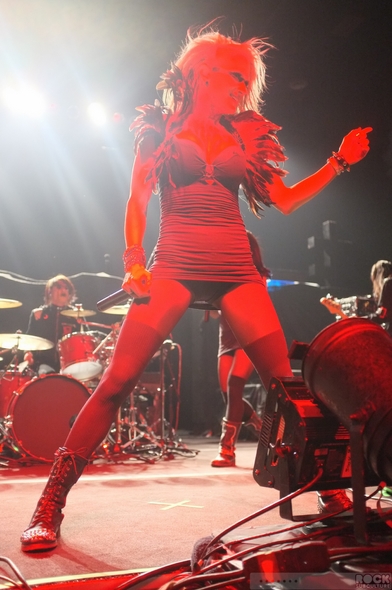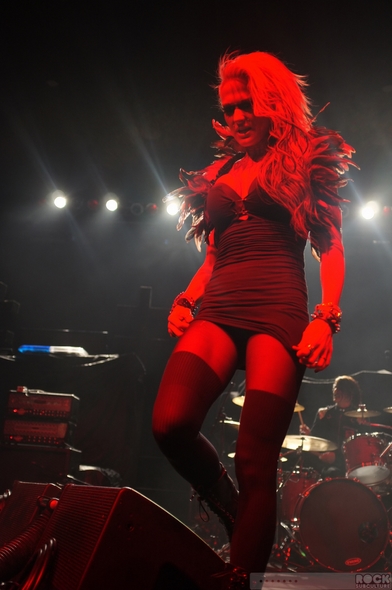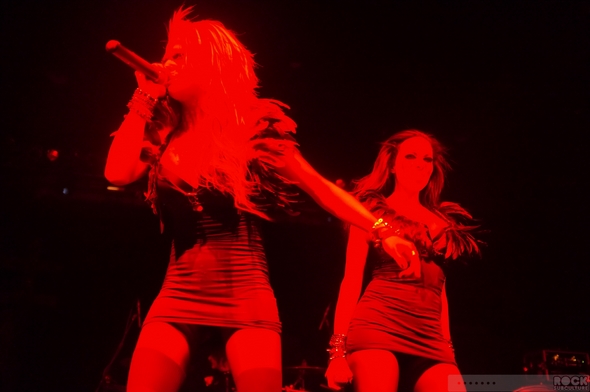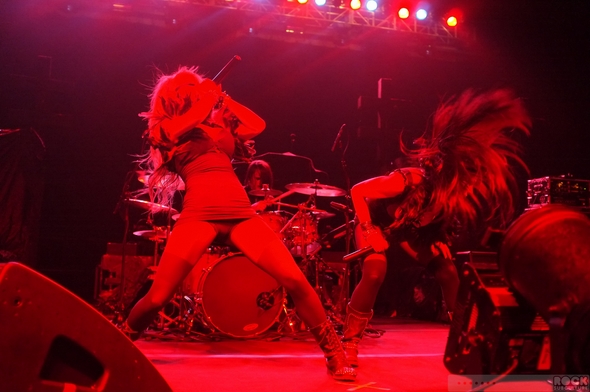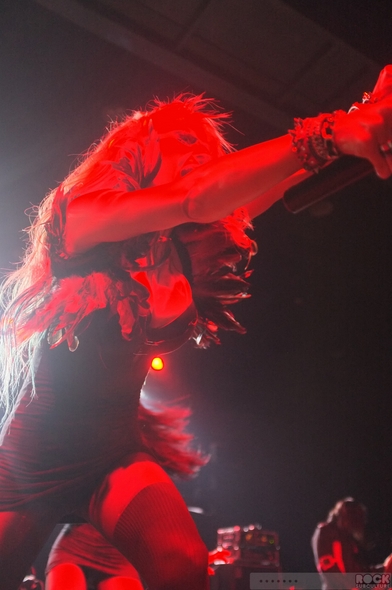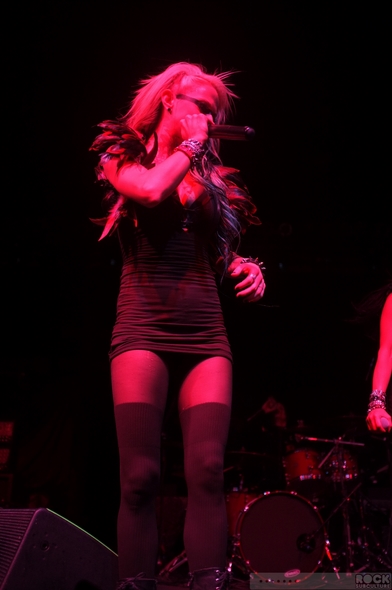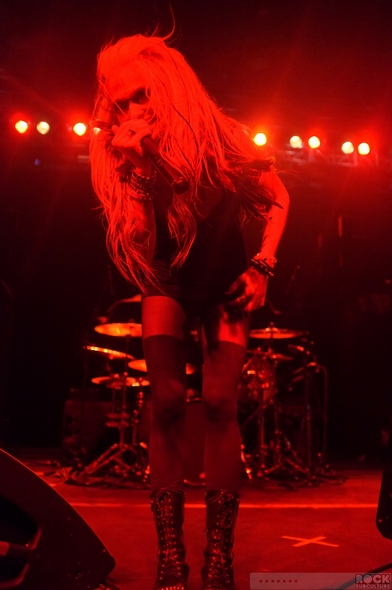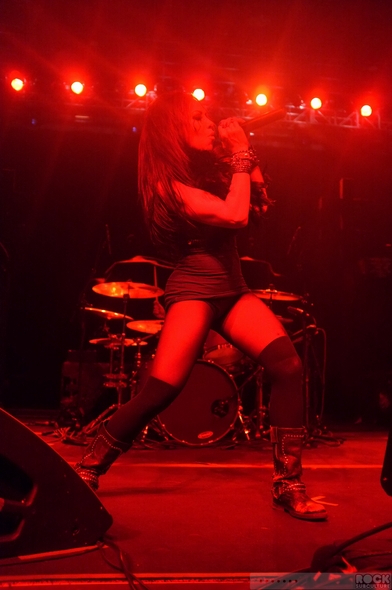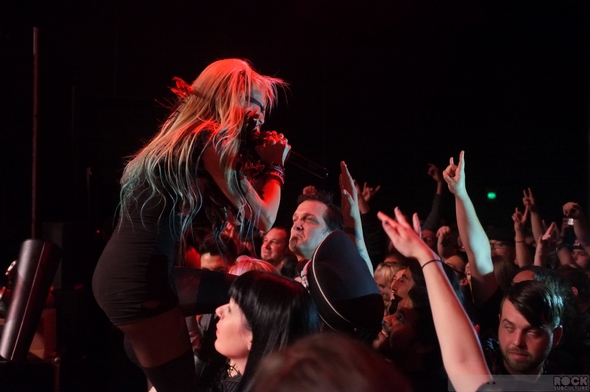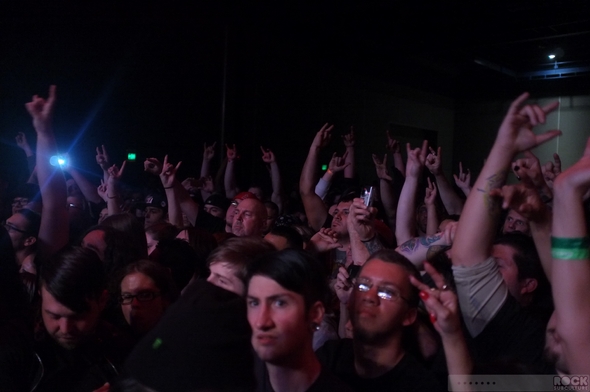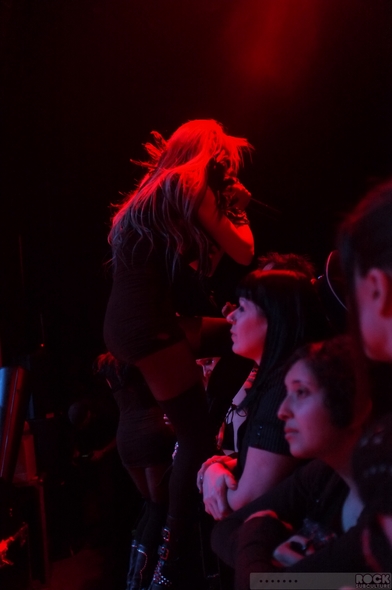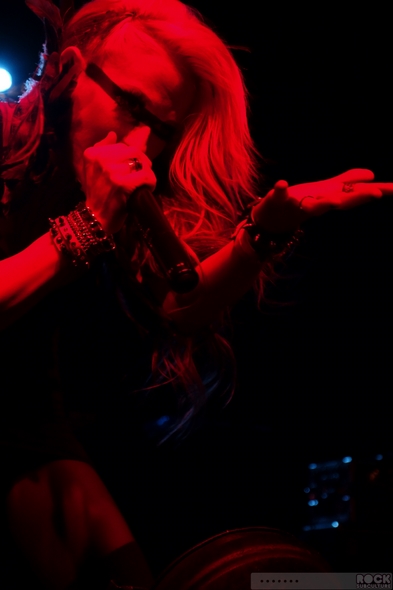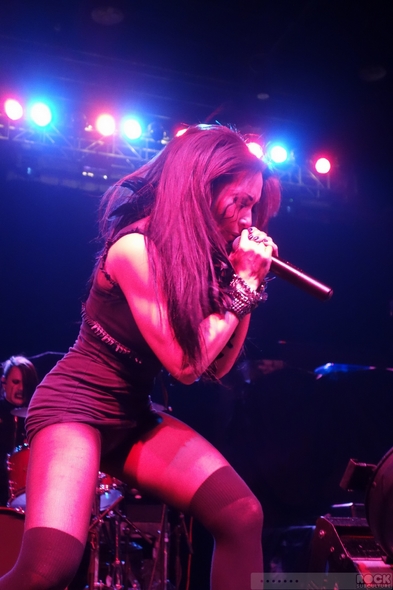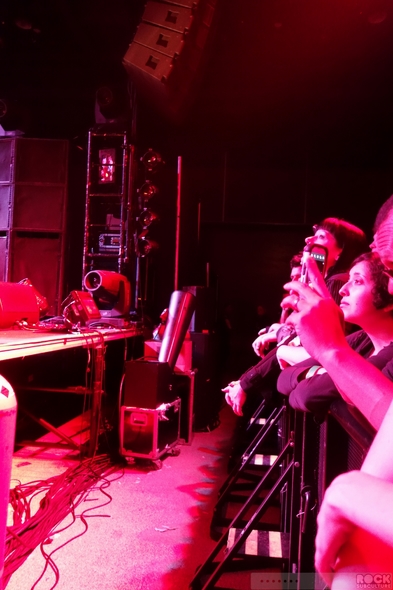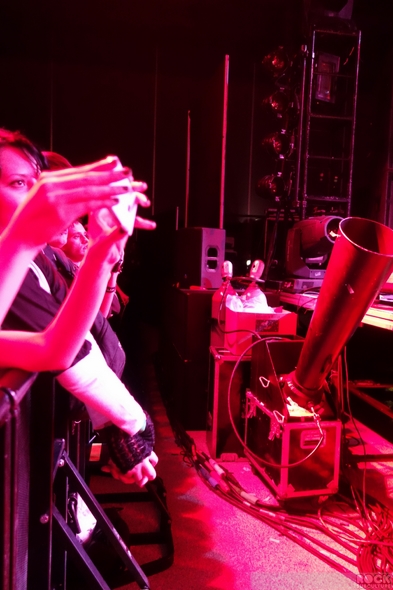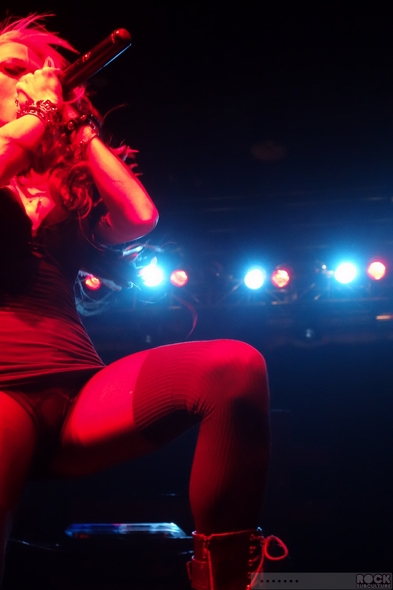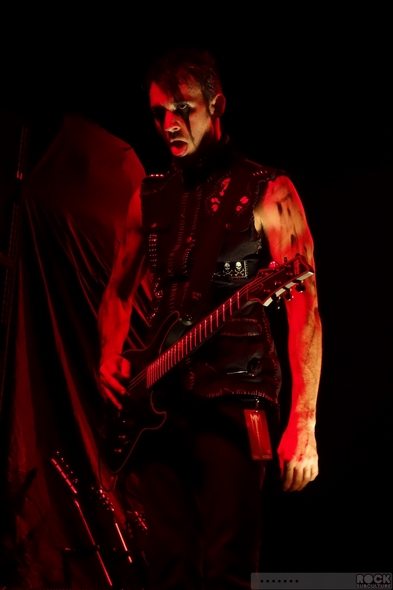 Marilyn Manson
Members
Marilyn Manson (vocals, guitar)
Jeordie Twiggy aka Twiggy Ramirez (bass guitar)
Fred Sablan (guitar)
Jason Sutter (drums)
Marilyn Manson came onto the scene in the early 90s, and Trent Reznor of Nine Inch Nails produced his first album in 1994.
Per Manson's autobiography The Long Hard Road Out of Hell, experiences in life and going back to childhood influenced the forming of his musical persona and band/brand.  His stage name was based on Marilyn Monroe and Charles Manson, a twisted kind of pairing, which is consistent with his blending of different styles of music including metal, goth, industrial, glam, and alternative rock.
He first gained some mainstream interest with his cover of the Eurythmics early 80s hit "Sweet Dreams (Are Made of This)", which showcased his uncanny ability to turn a recognizable song on its head and pull out something very different from the familiar association from the source material…  something darker.
As his career took off, he has sold a lot of records over the years, which is quite an achievement considering some would write him off as having too targeted and cult an audience and following.
He's since become a real fixture in pop culture at large, far eclipsing the world of music, and crossing over into film and art with his own craft in those disciplines.
Manson has definitely proven himself as quite an inventive artist, and one with a strong sense of a style that is unique and consistent to him and his work.
In the music world, he has received a number of Grammy Award nominations spread out across his career, and his work has been recognized by other industry organizations as well.
This tour features new tracks from 2012's Born Villain.
Onto the concert itself…  it is really as much theatrical as it is engaging musically.  And, as noted in my opening, he has a very direct way of connecting with members in the audience.
As noted, I was up front and center from the start of the evening, which made for a great photo opportunity.  Unfortunately, some in the audience were overly rough to everyone around them, and a woman in a wheelchair was kind of the vortex of all this, with the crowd of thousands pushing into her from behind and both sides, and no where to go forward (she was in-between me and another gentleman).
It took everything we had to keep her chair from being pushed over…  I did signal for a security guard (who were positioned way past the edges of the stage) to come over to help, though he seemed to be more interested in playing charades than actually doing his job and helping a woman in distress.  He finally did come over, saw what was going on, and instead of clearing a path to get her out of there, turned his back and walked away.
Somehow, thankfully, we were eventually able to get enough people's attention behind her so her friend could pull her back and out.
In any event at that point I'd lost my spot on the rail, so my close-up photos further below are pretty much limited to the first 3-4 songs only; things got extremely compressed…  where you aren't really "standing" so much anymore as you are a vertical person jammed in with everyone else, with nothing to hold onto and swaying around with the movement of the crowd.  I'd lost my handhold on the rail trying to help and didn't want to try to hold my camera up for more shots and block anyone's view, so I eventually opted to bail out to the back myself.
All of this is explanation for the fact that my photos don't reflect the many costumes changes made by Manson and one stage theatrics, which were really interesting.  I would recommend going to check it out, but the current tour is near the end, so there isn't too many opportunities left at present.
Overall, it was a really cool concert going experience, and I met a lot of awesome fans in the process.
Marilyn Manson himself has really had an impressive career and nothing seems to have slowed him down.  I actually wonder what his career would be like if he came onto the scene 20 years later than he did, as I think he might have been ahead of his time (see: Lady Gaga).
Below is the set list from the show:
Hey, Cruel World…
Disposable Teens
The Love Song
No Reflection
mOBSCENE
The Dope Show
Slo-Mo-Tion
The Flowers of Evil
Rock Is Dead
Personal Jesus
Sweet Dreams (Are Made of This)
King Kill 33°
Antichrist Superstar
1996
The Beautiful People
Murderers Are Getting Prettier Every Day
Below is a video of Marilyn Manson's cover of Depeche Mode's "Personal Jesus":
Below are some photos of Marilyn Manson performing on stage (click on any image for higher resolution):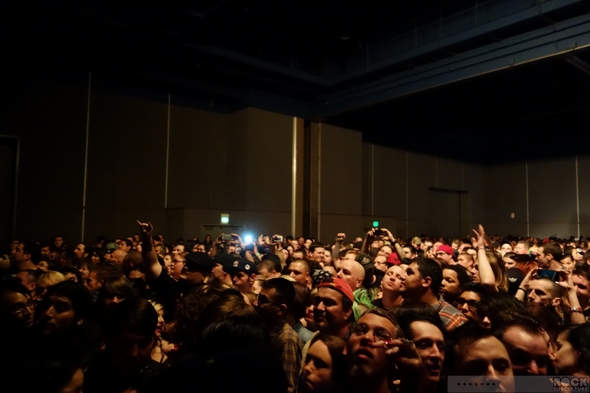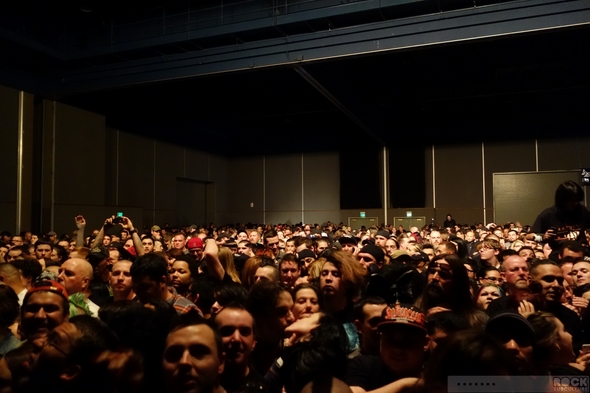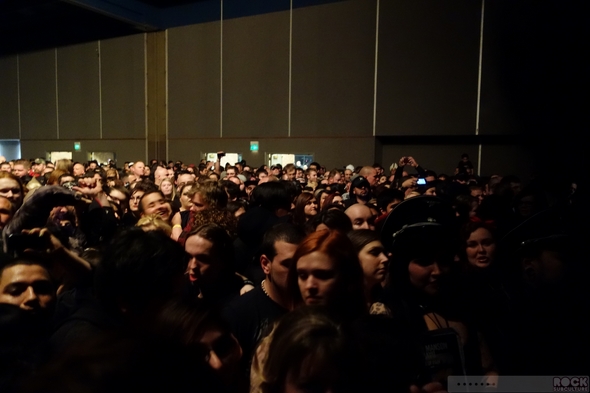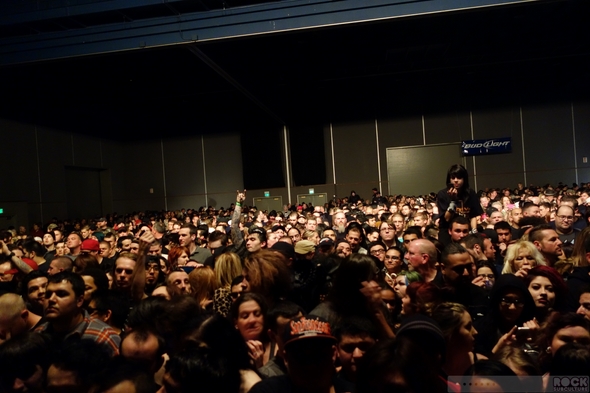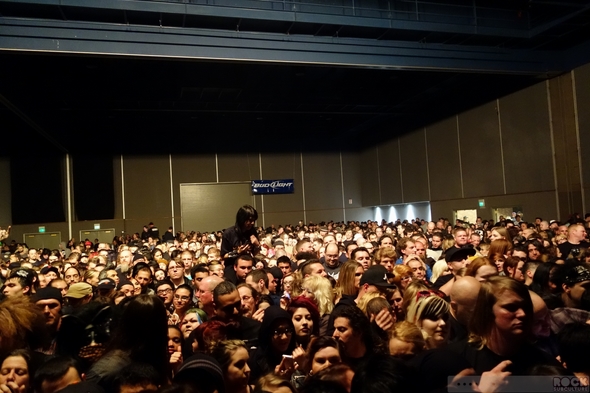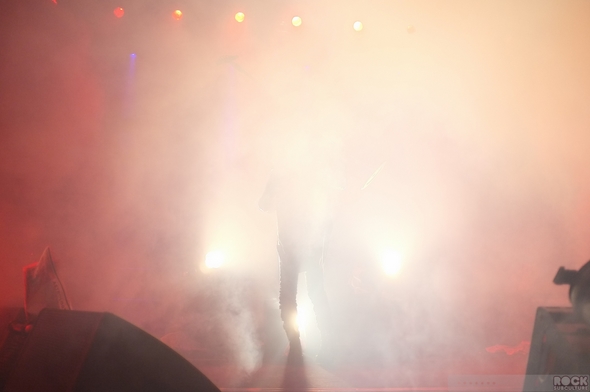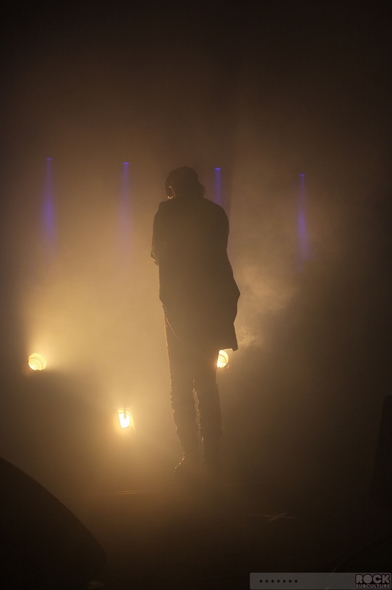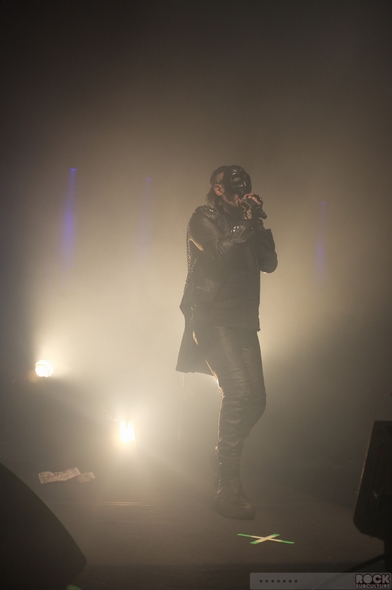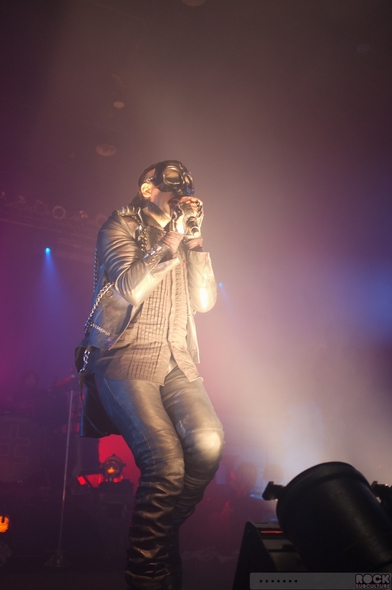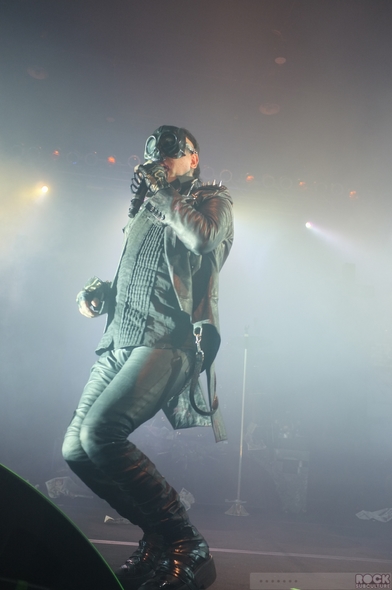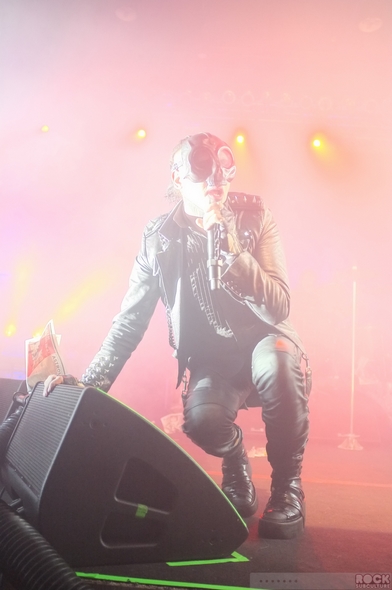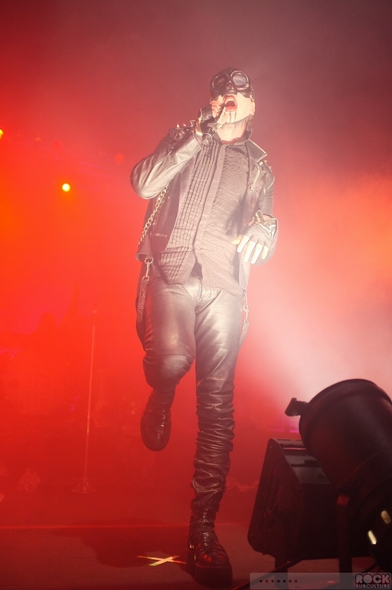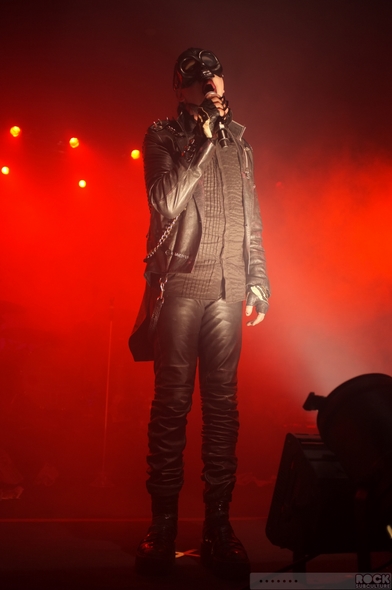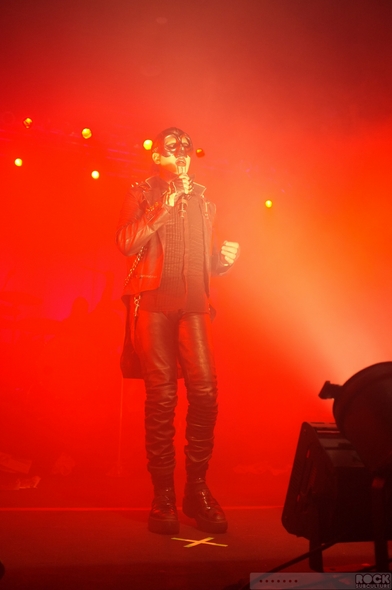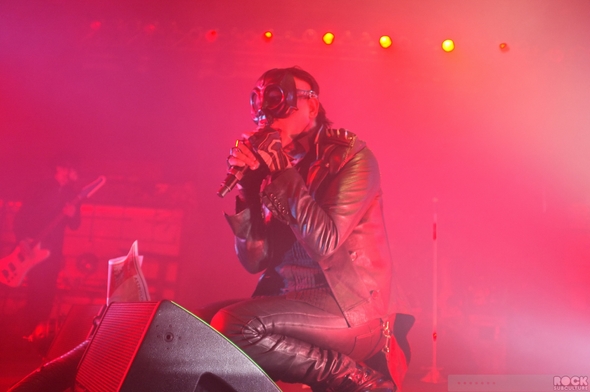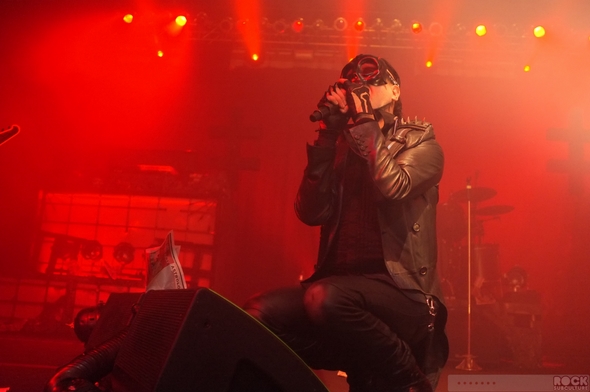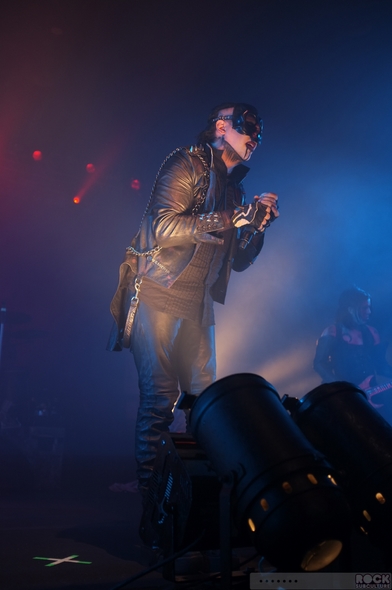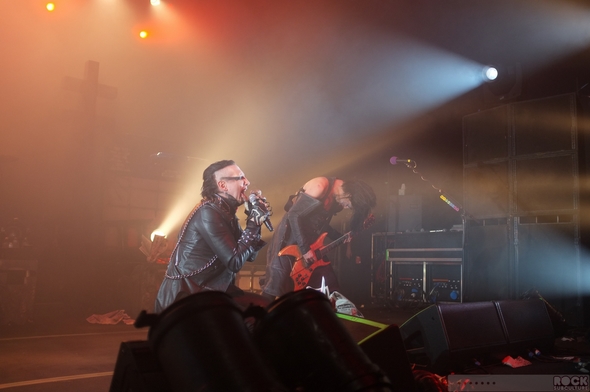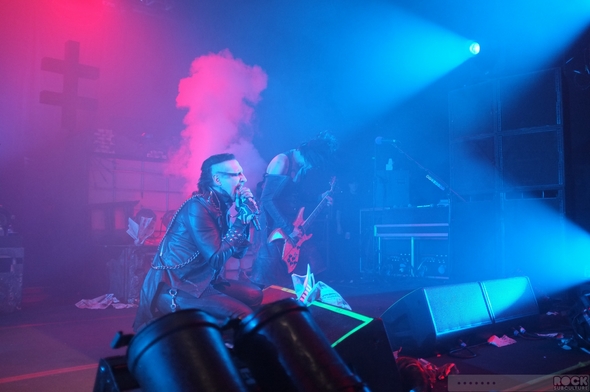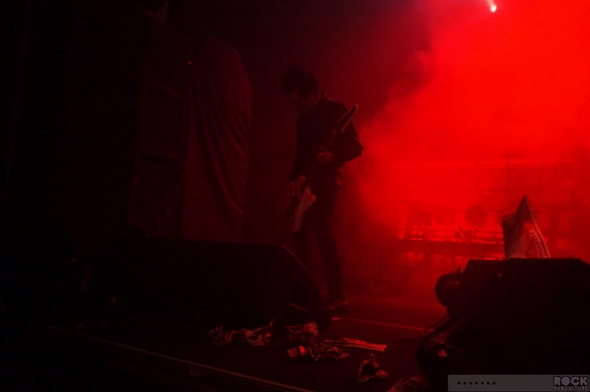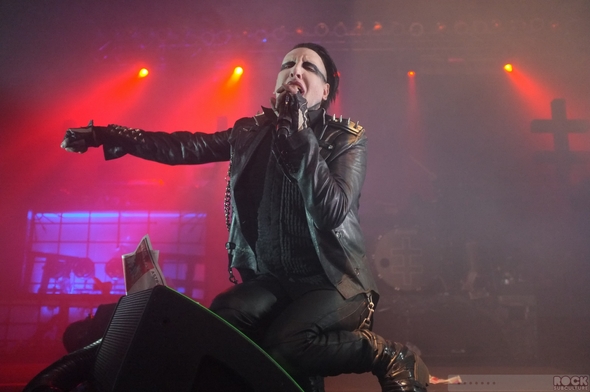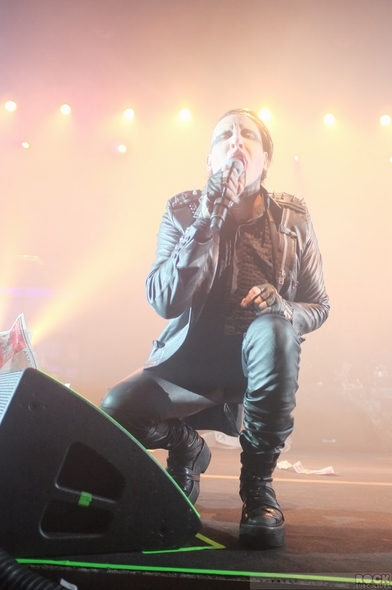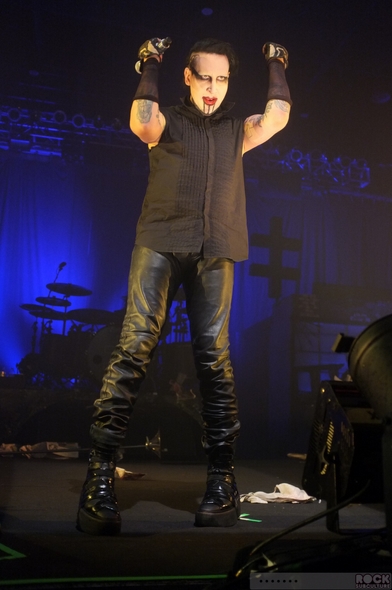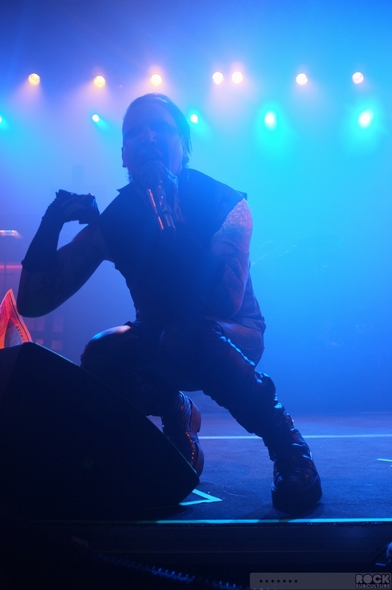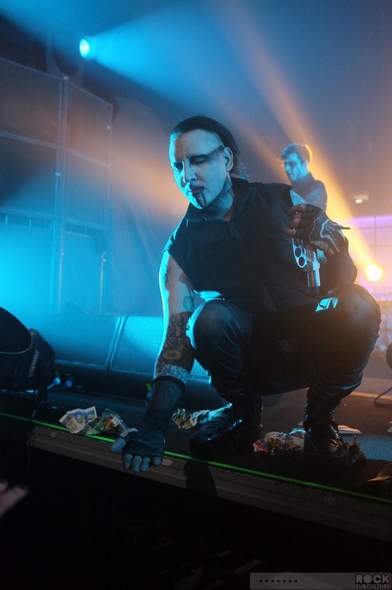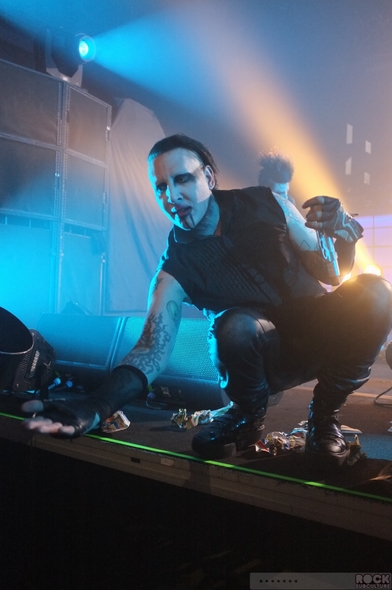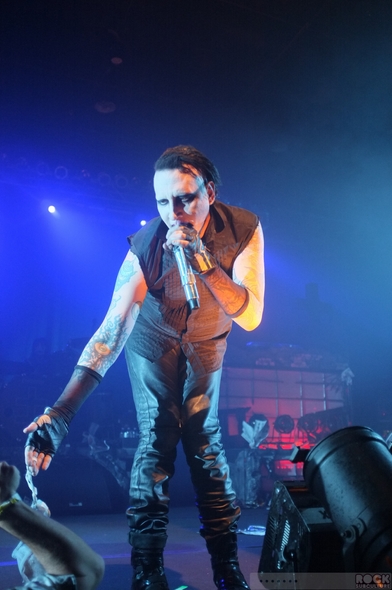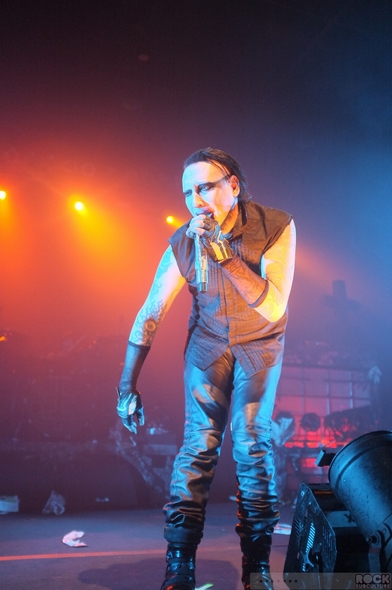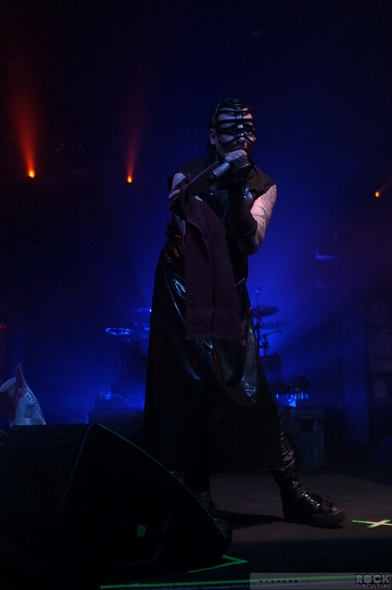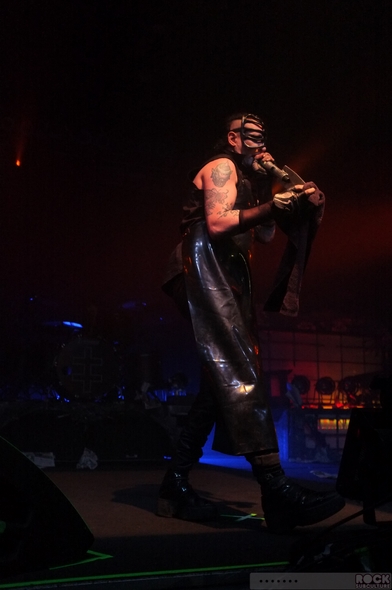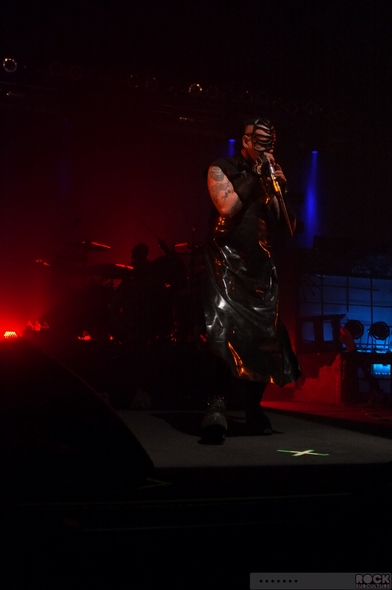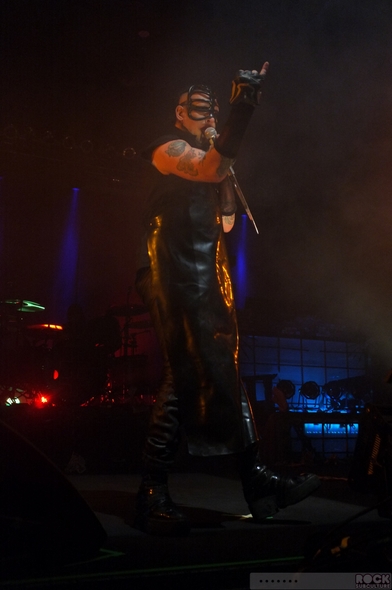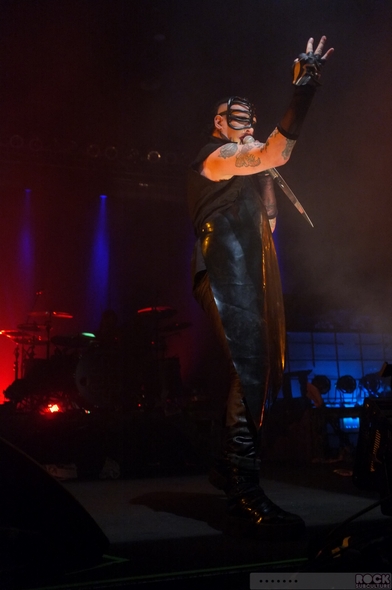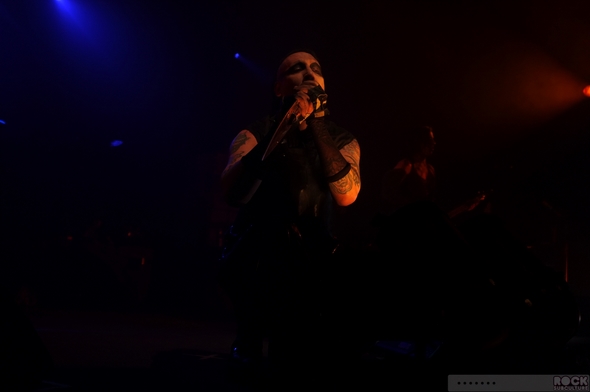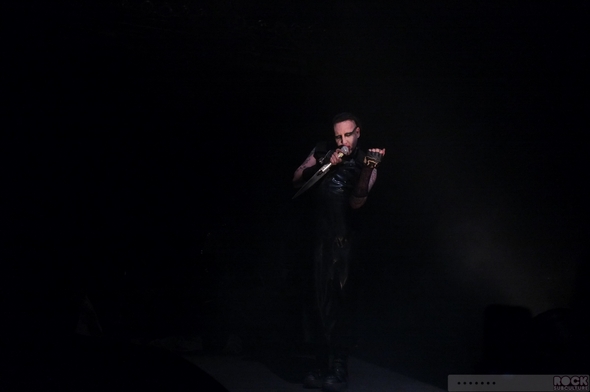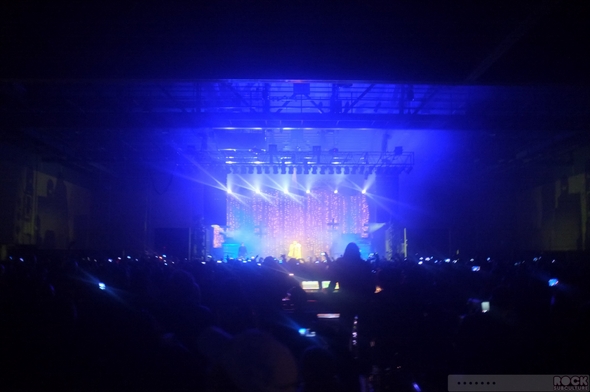 Jason DeBord