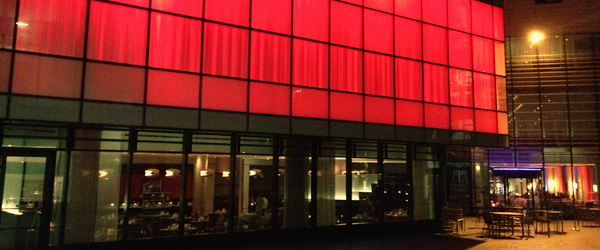 This is part of a continuing series of my impressions and experiences staying at various hotels and resorts while traveling to attend concerts worldwide. This review is for the Hilton London Tower Bridge Hotel in London, England for a stay in August 2012.  It definitely has earned my highest recommendation.
Property: Hilton London Tower Bridge Hotel
Location: London, England
Address: 5 More London – Tooley Street, London SE1 2BY, England
Phone: (888) 414-2018
Website: www.hilton.com
Room Type/Class: Double Hilton Guest Room (Room 1105, Room 1114 – though I believe these were upgrades from my booked room rate)
Date: August 19-27, 2012
TripAdvisor Page/Reviews: LINK
Booking Source: Direct via Web
Overall Rating: 5/5 [Note: Score is totally subjective based on price, location, and comparison to "like" properties within same area and price range]

I have stayed at a number of different hotels in London in the past three years or so, and this was my first stay at the Hilton London Tower Bridge.  I had not stayed in this general area previously, but there was a special 40% off offer through Hilton for their properties at the time that I was looking to book a two-week stay following the Olympics, and I thought that I would try something new.
The property itself felt very "new" in every way, and upon arrival I was impressed with the front desk staff and their efforts to accommodate an early check-in following a redeye transatlantic flight (which they did, and I appreciated it).
The lobby area is quite large, with two restaurants, a bar, and lots of places to sit and relax.  There is also a concierge desk which was always staffed and they were always extremely helpful as well.
The room I was booked it was on the 11th floor, near the top.  It was of a good size for a London room (though small by U.S. standards).  It was very nicely appointed, nice furniture, and a comfortable king-sized bed with a "real" mattress (unlike a lot of UK beds, which are frequently two smaller mattresses side-by-side or futon-like non mattresses, both of which can be uncomfortable).
Unusual for a London room, it featured both a soaking tub as well as a separate stall shower.  And unlike most London hotels, you don't feel like you are going to fall trying to get in and out of either.
The room features some closets with some shelving, but there is no where else in the room to store your clothes for an extended stay, so I would say it could get crowded with more than two people if you want to get your clothes completely unpacked out of your luggage.
There is a desk with wired or wireless Internet options (cost varies depending on your booking and your status with Hilton – it was free for me).  It was appropriately fast, and fast by UK standards.
There are a number of other in-room amenities, including a small fridge – though mostly stocked at a pay-per-use system, there is a small space for your own things.  There is also a coffee/hot water maker and some dishes and glasses. There is also an electronic safe in the room, just large enough to accommodate a 15.4″ laptop and other items on top.
The views from the room I was in were nice enough, but nothing spectacular – mostly looking at the offices in the adjacent commercial space.
There is an awesome executive lounge on the 9th floor with an outdoor balcony with high tables and chairs with awesome views, and in inside area with couches and dining areas.  There is a buffet breakfast most of the morning, wine, cheese and crackers, and appetizers in the evening, and other goodies.  I had access to this as a Hilton Gold member (all gratis), but am not sure of the availability, if any, for non members.  There are also a few computers to use here, and a printer (though if you need to print off your own system, make sure to bring a USB card (weren't compatible with SD cards).  This was a fantastic amenity though; can't recommend it enough.
In addition to all of those pluses, I can't rave enough about the location.  Fantastic.
The hotel is about a 10 or so minute walk from the London Bridge tube station (and a direct walk on the same street).
It is about a 2 minute walk to two different markets (one is probably the largest "grocery store" I've found in London), as well as a pharmacy, lots of take out food places, and some nice restaurants and other attractions.
For me, probably the nicest thing about the hotel is that you are about a three minute walk to the River Thames, with awesome views of the Tower Bridge, the Tower of London, the HMS Belfast, London Bridge, etc.  It's so awesome to stroll just outside of your hotel on a wide pedestrian-only sidewalk right to all of these attractions.
On top of all of this, I can't say enough nice things about the staff at the Hilton London Tower Bridge.  I would put them on par with the Four Seasons.  They really went out of their way on a number of occasions to help with some challenges I had, not related to the hotel, and I truly appreciate all of the help they offered (I had to cut my trip short due to a family emergency).  Special thanks and mention especially to Ms. Brazaityte, the Executive Floor & Lounge Manager.
All in all, the Hilton London Tower Bridge Hotel is far and away the best place I have stayed in London, and will definitely be returning there on my next trip, without a doubt.  I can't imagine anywhere else so perfectly matching my needs and exceeding my expectations.
One recommendation…  I would suggest contacting the hotel in advance of your stay to arrange for transport to and from Heathrow, if that applies, as they work with private drivers who will take you to and from for about 65 GBP – well worth it, as I made the trek via the Tube coming in, and it was a bit of a drag with the transfers and such, especially if you have substantial luggage.  If you travel light, not as bad, but the option is welcome.
One other note…  my last night at the hotel I had switched to another room (from 1105 to 1114) on the same floor, but further down the hall, and facing the other way out from the building.  There was a lot of noise from what I believe was the service elevator – doors slamming every few minutes during the times in which rooms were being cleaned.  Also, the WiFi connection was extremely faint compared with room 1105, where it was excellent (in room 1105, I could make Skype calls with great quality, while in room 1114, I couldn't even make an initial connection; additionally, my UK phone using Orange service had full signal in room 1105, and no signal at all in 1114).  I think at least the cell phone issue is likely related to the blocking of the adjacent commercial building on that side of the building.  Noted here as an FYI in the event you have issues in a room, it may be worth changing room – I was in 1114 only the one night, so it wasn't a big deal.
Since my trip was cut a bit short, I did not finish getting all of the photos I had planned on, but there is not much I can do about that now…
Below are photos I took of the Hilton London Tower Bridge Hotel during my stay: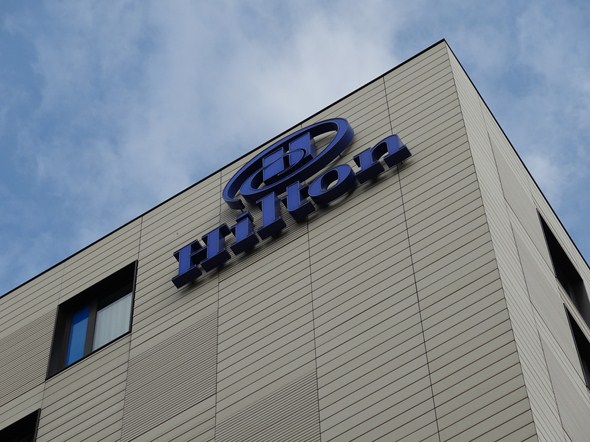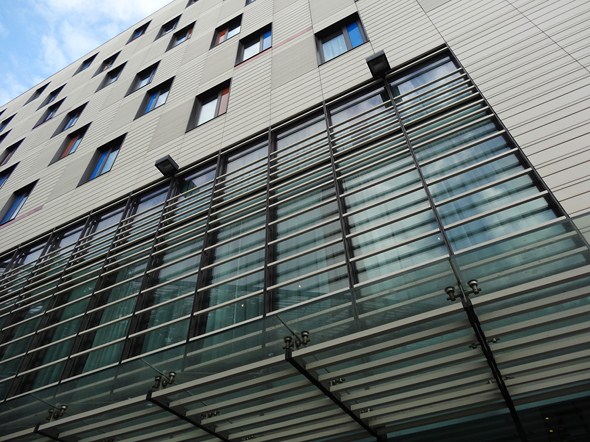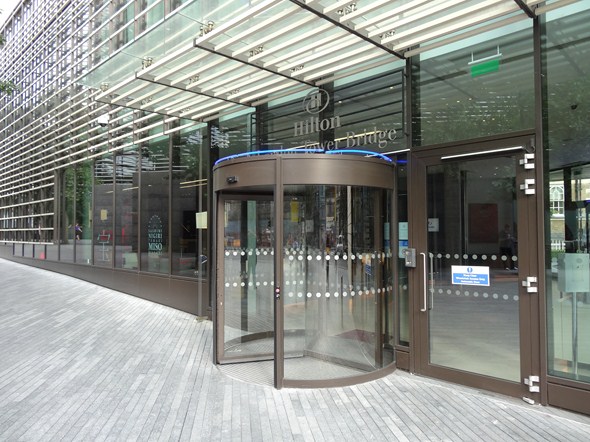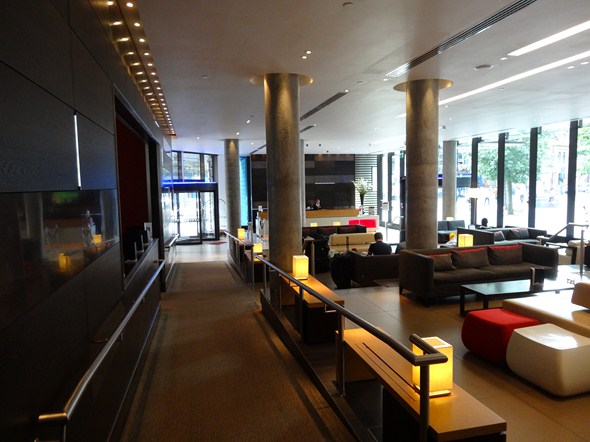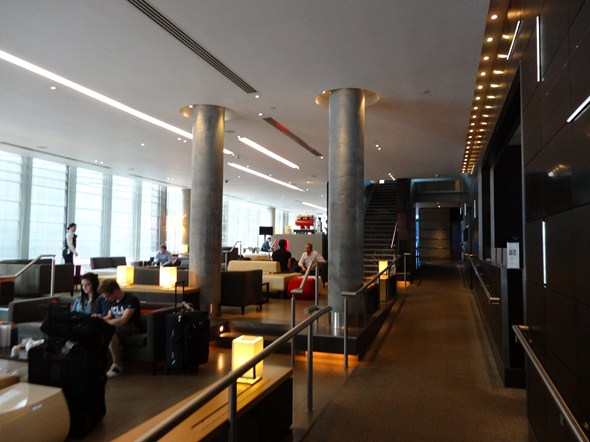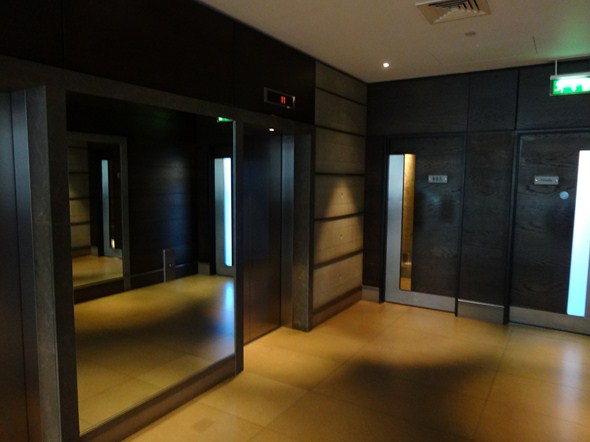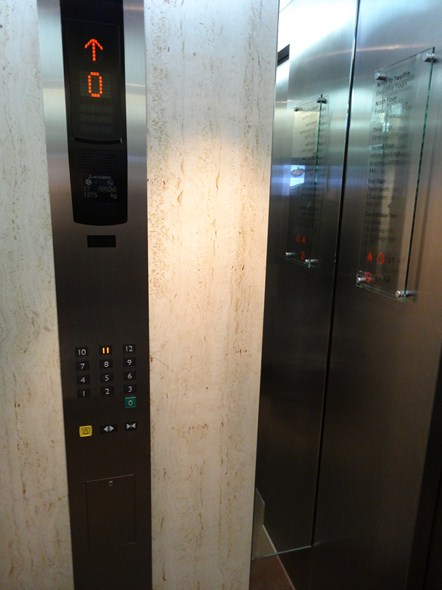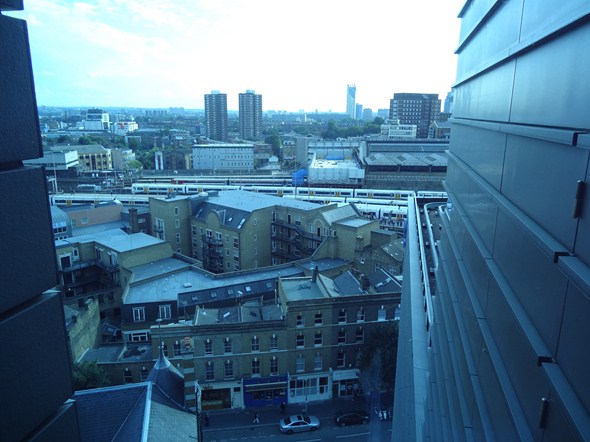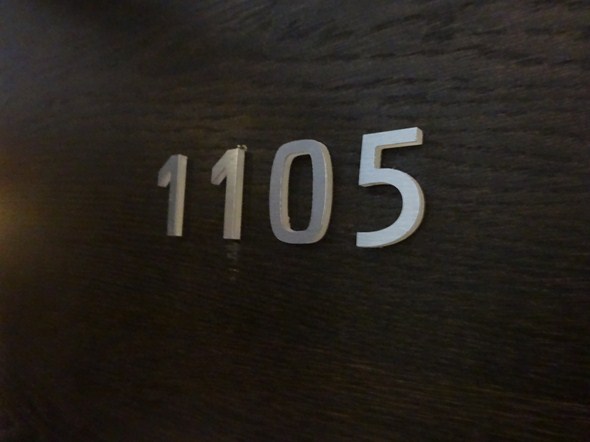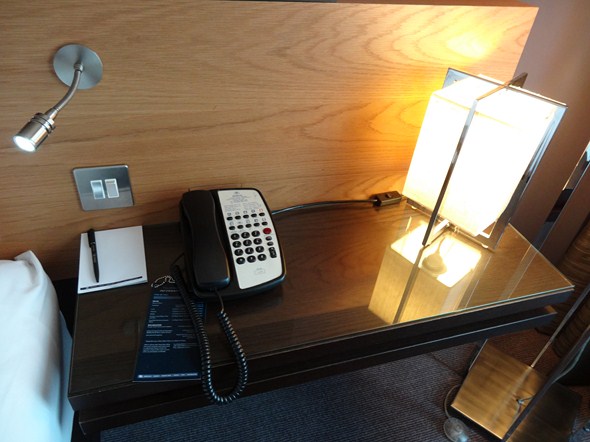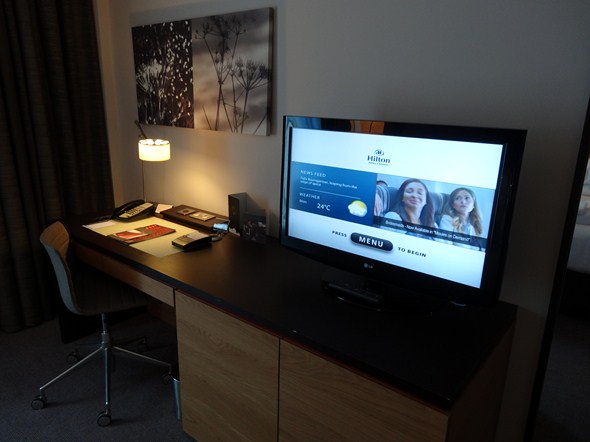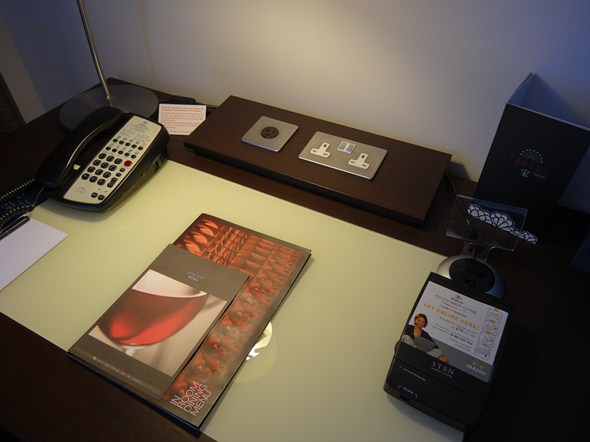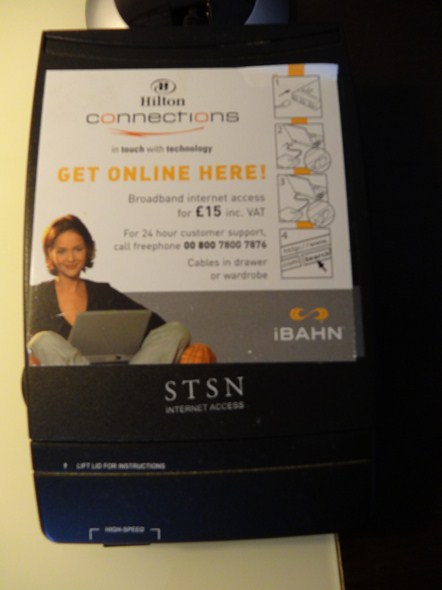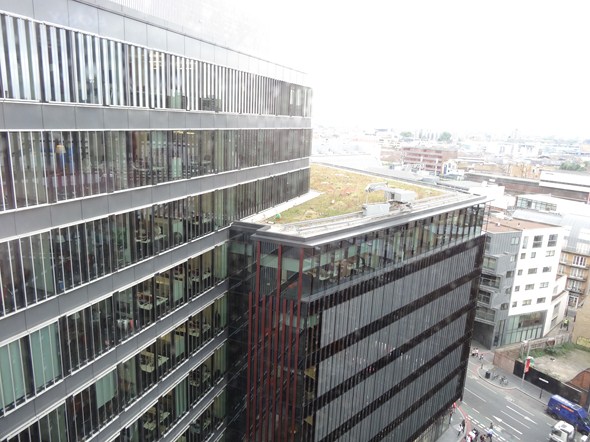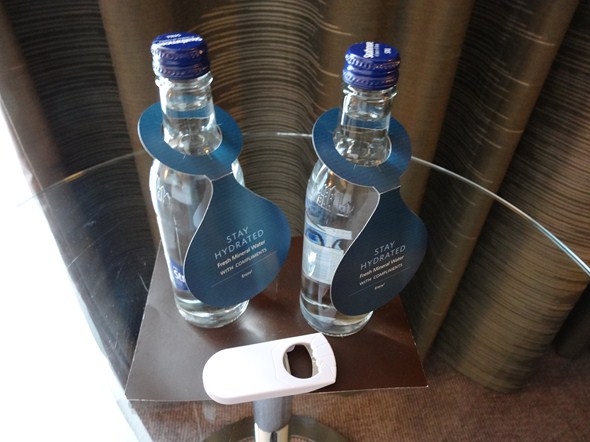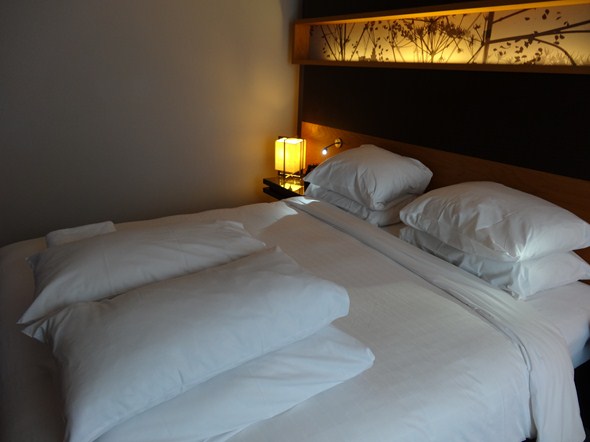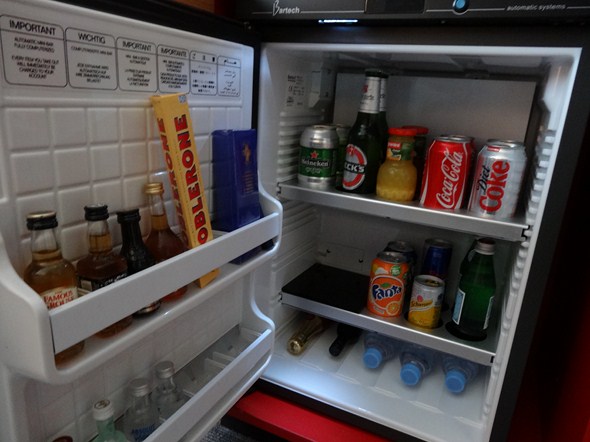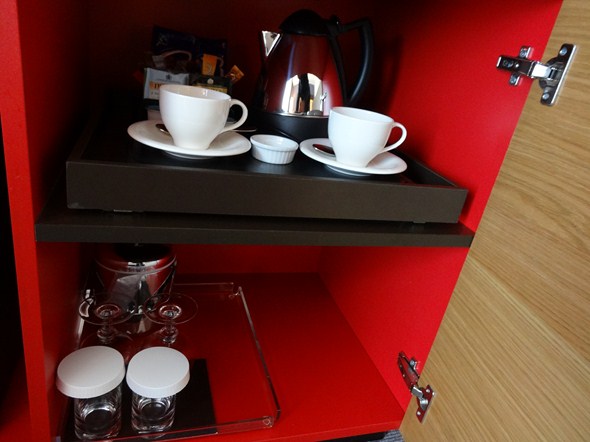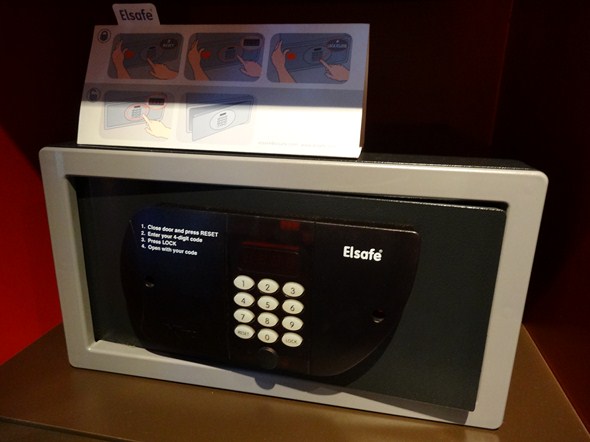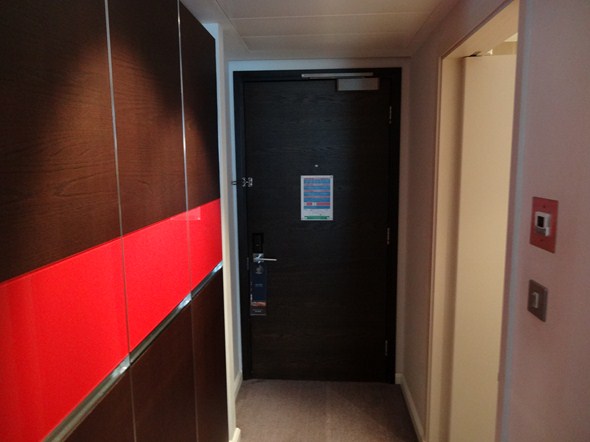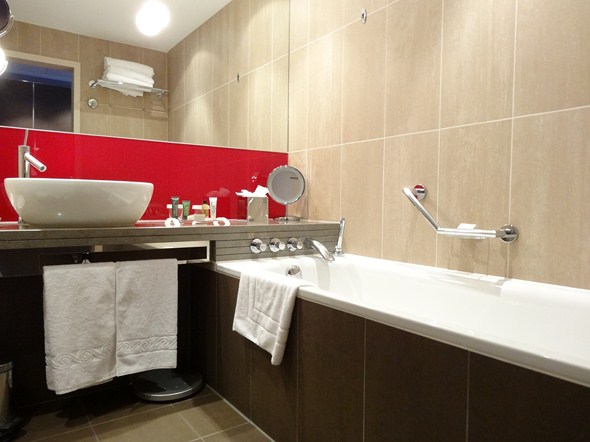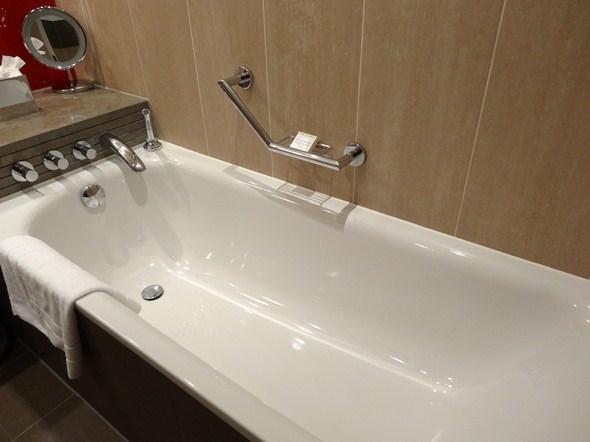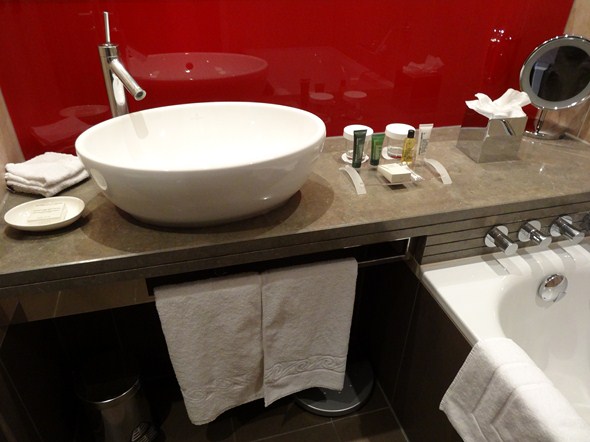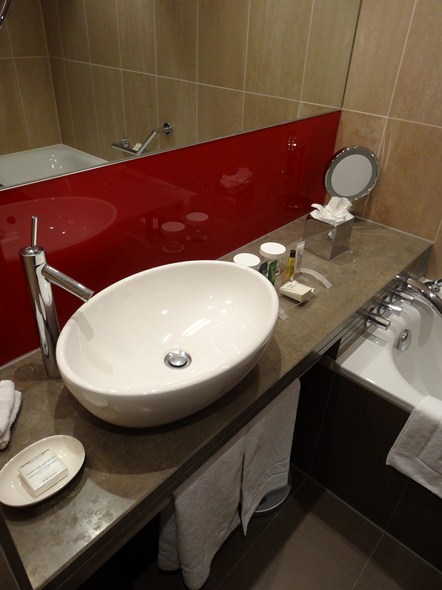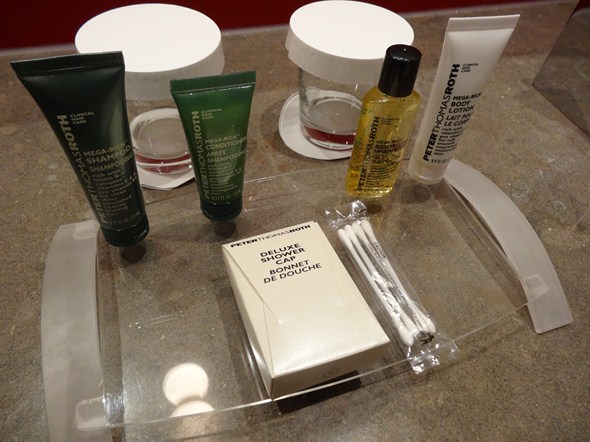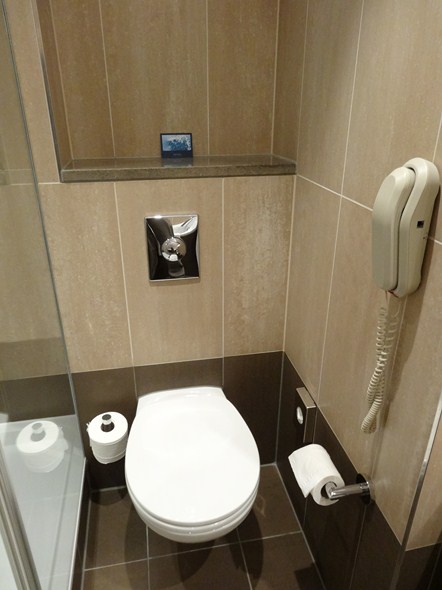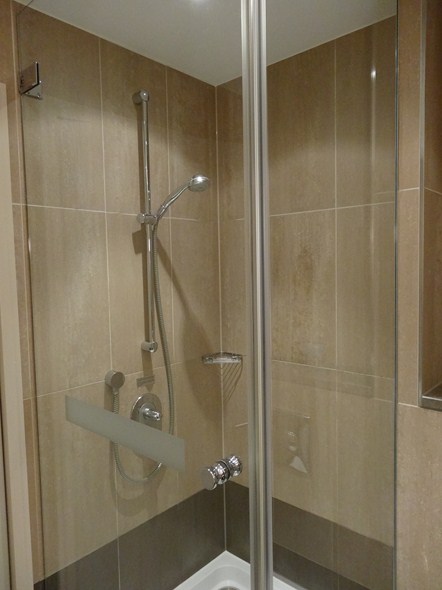 View from Executive Lounge balcony: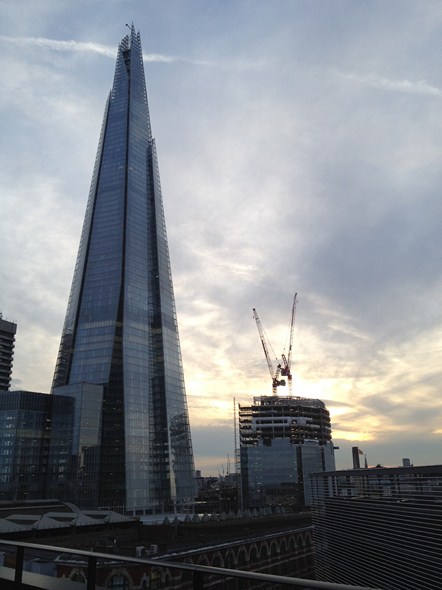 Lobby:
Ground Floor: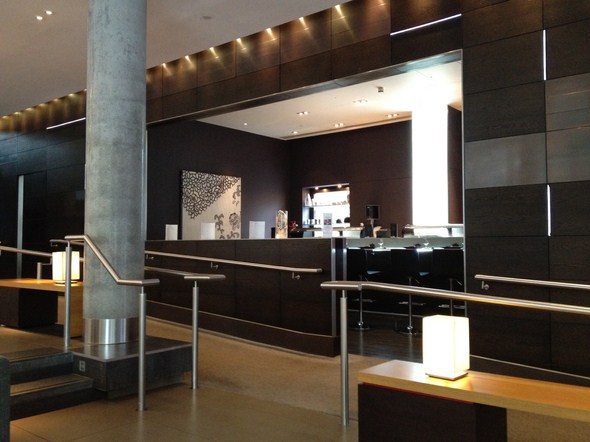 View Outside at Night, Walking from River Thames Area Toward Hotel on Left:
Below are some photos taken in and around the area just a few minutes walk from the hotel…  so close it all feels like an extension of the hotel…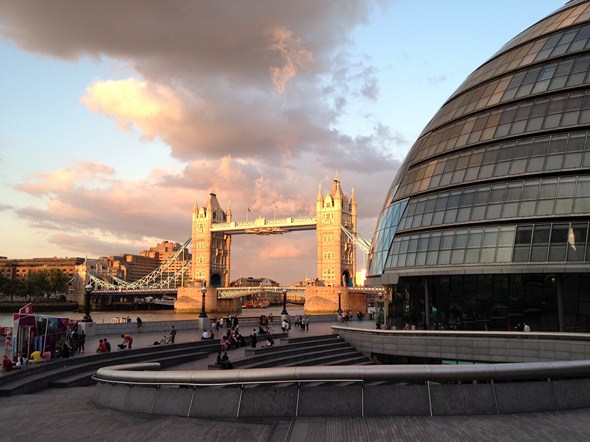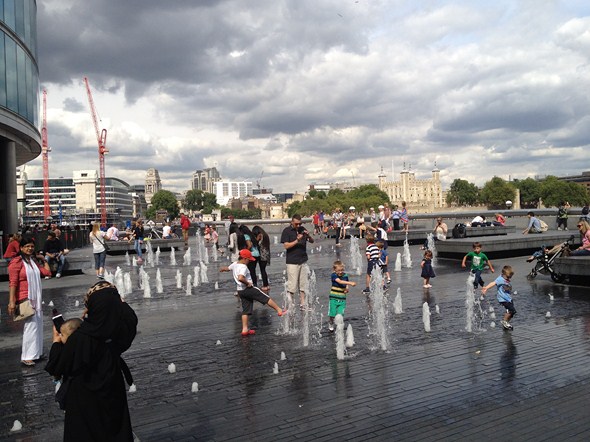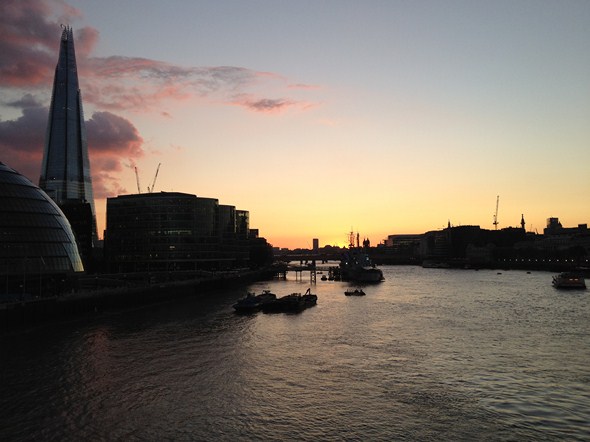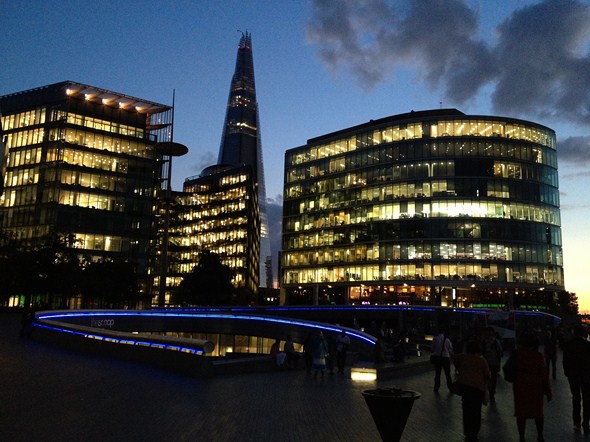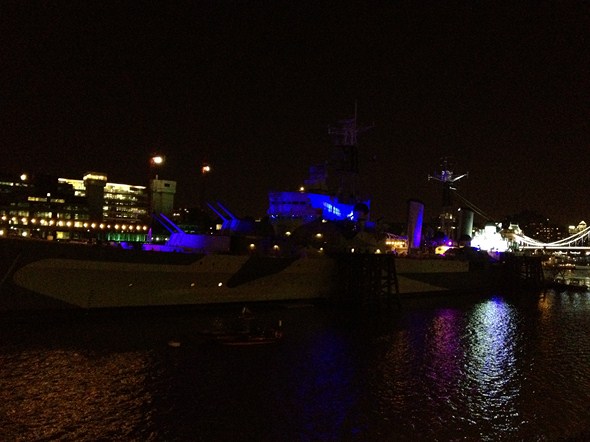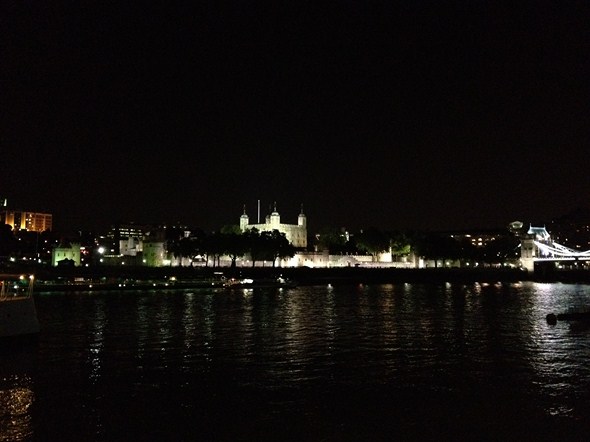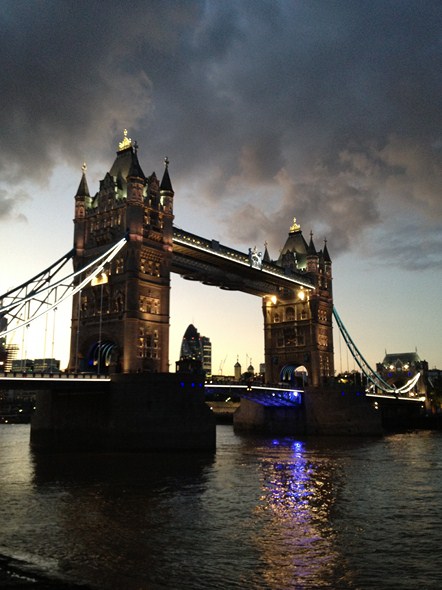 Jason DeBord