This is my personal account as a passenger on United Flight 959 on Monday, August 27, 2012, scheduled for travel from London at Heathrow Airport (LHR) to Chicago at O'Hare Airport (ORD), where I would have boarded a connecting flight back home to Sacramento (SMF).  After departing from London, the plane experienced equipment malfunctions related to engine problems, and returned to Heathrow for an emergency landing, utilizing just one of two engines, after which the landing gear reportedly caught fire (though there are conflicting accounts on this) on the runway and the landing gear and overheated engines were extinguished by ground crew.  A harrowing experience, and one of the only news stories that I could find about this specific incident lacked details, included one photo, and had a one line statement from a United spokesperson ("United Airlines' flight UA959 bound for Chicago returned to Heathrow on Monday after experiencing an unexpected engine surge; [t]he aircraft landed safely and without incident"). I thought it would be appropriate to memorialize the experience from the point of view of a passenger on the aircraft.  According to international news reports, this flight was the third in ten days that had engine problems resulting in emergency landings for the carrier.
This is in no way intended to criticize, diminish, or question the efforts of the crew assigned to this aircraft.  I am very grateful that they prioritized making sure that the aircraft landed safely.  This is also from my personal perspective, and given the stress of the situation and limited information available as a passenger, I allow for the possibility that I may make an error or omission in my recounting of the experience herein.
I had spent a full week leading up to this departure in London, and was scheduled to stay through September 1, but received a call from my parents on the morning of August 27 that prompted me to quickly change my flight to leave that day to return home in an emergency – my dog, who my parents were looking after in my absence, had suffered a severe mountain lion attack.  He survived, but was badly injured, so I changed my flights at the hotel, quickly packed, and made my way to Heathrow to begin my travel home via United Flight 959.
The flight was on a Boeing 767-300, and I was assigned seat 2A in the United Global First Class cabin (on my left side of the plane, facing forward, with a window seat).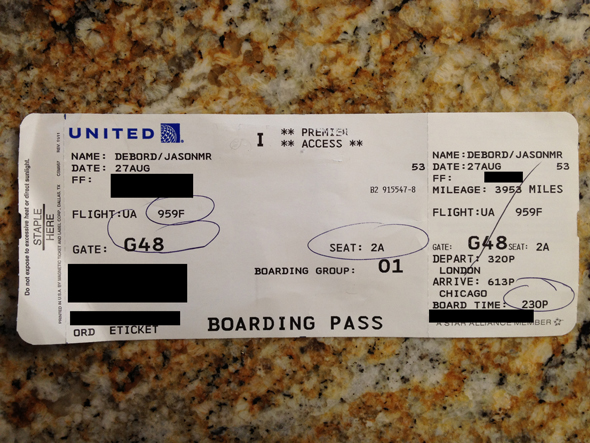 Boarding and pre-flight was unremarkable.  There was an announcement made just after take off that, due to expected turbulence, the cabin crew would be seated and strapped in for the first 30 minutes or so of the flight.  The scheduled departure time was 3:20 PM London time, and I believe it was more or less on time.
I did take a few photos with my iPhone, maybe 15 minutes or so into the flight, so below is an idea of the conditions in the air leading up to the engine issues/failure: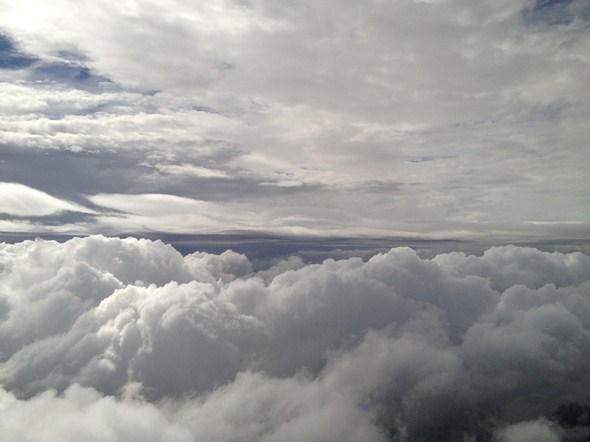 I assume it was approximately 30 or so minutes into the flight, the crew did come to ask us about our menu selections and drinks, though at some point shortly thereafter, something happened, and the crew were asked to return to their seats.  There was an announcement from the captain or co-pilot about engine trouble – that one of the engines had issues or had gone out.  I honestly don't remember exactly what was said.  I do believe, at the time that things started happening, it was about 40 minutes into the flight, as I recall looking at the map screen on the personal entertainment monitor that was about how long that we had been traveling.
We were told that we would be returning to the airport for an emergency landing at Heathrow.
It was somewhere around this time that things got much worse, at least from my perspective as a passenger, as suddenly everything on the aircraft went out in an instant – all power, all electricity, both engines.  The cabin was completely dark and there was no engine noise whatsoever.  There was no announcement preparing us for this, which made me believe it was not intentional, or initiated by the pilots.  From my seat, I could only make eye contact with the gentleman sitting to my right, and we both probably mirrored each others graven look.  At that point, I was certain we were going to crash.
Maybe ten or so seconds later, power/electricity came back on.  No explanation was provided for this after the event either, so I still have no idea of whether the captain initiated this for some reason or it was caused by some kind of failure.  Later, there were a few announcements made by the cabin crew, such as this one:
Note: recorded at 4:17 PM London Time
There were a few announcements leading up to the emergency landing, but there were no comments made whatsoever that I would characterize as "reassuring".  Which made me personally more concerned.   I learned after the event that this size plane can fly with one engine for some time, but no such information was provided while in the air, which would have been helpful to the passengers to know to alleviate some concern.  One thing I found kind of disturbing, was that some creepy elevator-style music followed one of the announcements, and I could not help but to be reminded of the scene from Titanic of the musicians playing as the boat sank into the ocean…  A snippet of the audio here:
Note: recorded at 4:21 PM London Time
The only point at which I felt some reassurance that we had some hope was when, in our return toward Heathrow, I could finally see ground again, as the return overall took about 30 minutes in total, I would estimate.  I did send a text message to my parents at 4:23 PM, once we were close enough to the ground, which was about one hour after take-off.
There were no announcements made as we approached the airport for landing, and as we approached and landed, I filmed the landing with my iPhone (we were never instructed to disable or deactivate our electronic devices, and had the plane crashed, I figured it might prove useful):

Note: shot at 4:32 PM London Time
Once on the ground, there were many, many emergency vehicles surrounding the aircraft, such as the fire trucks seen in this video, though most were on the other side of the aircraft (out of my vantage point):

Note: shot at 4:34 London Time
Some additional photos: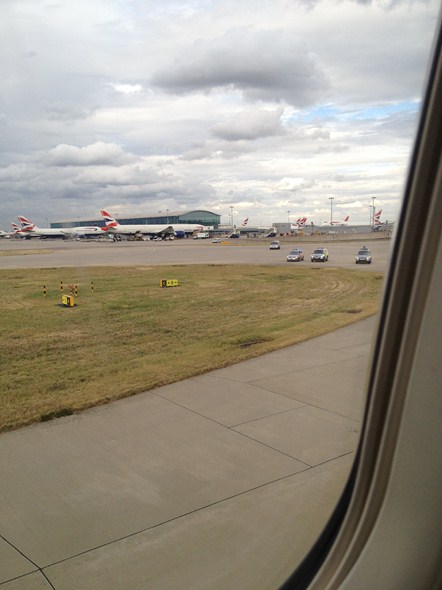 This was the only real explanation that we received about the events from the captain:
Note: recorded at 4:36 PM London Time
Shortly thereafter, the plane was engulfed in plumes of grey smoke.  I did not start filming this until it was almost out, as I was expecting an announcement to evacuate the plane, but such an announcement never came.  This is a video after what I believed happened was that they put out the fire (though a news report by the Daily Mail states that the plane was sprayed with water to cool the engines; however, one of the flight crew had said that the landing gear was so hot that it caught on fire).

Note: shot at 4:44 PM London Time
In this photo, you can see the amount of water oversprayed around the engine on the left side of the plane:
From the announcements that we did receive, it sounded as though the fuel was not dropped prior to landing (i.e. the references to coming in heavy), so it was kind of disturbing for me that we were not evacuated on the runway upon landing, especially if there was a fire or even threat of fire.  The announcement below was recorded in progress, but it was explained to us that the landing gear was on fire:
Note: recorded at 4:51 PM London Time
There were several announcements made about whether we would deplane there where we landed or be towed to the gate, and it was explained that we would have to wait one hour regardless.  Below is an example of one of those announcements:
Note: recorded at 4:55 PM London Time
Shortly thereafter, another message stating that we would be towed to the gate (though we ultimately were not towed to the gate, but another area):
Note: recorded at 4:59 PM London Time
In the video below, you can see just some of the emergency vehicles on site, with these vacating a little over an hour after landing:

Note: shot at 5:38 PM London Time
As we were towed, we were trailed by a caravan of emergency vehicles:

Note: shot at 6:02 PM London Time
Ultimately, we did not return to the gate at the terminal, but to a remote open area of the airport.  Mobile stairs were driven up to the main cabin door, and we deplaned from there, toward a number of waiting emergency personnel and law enforcement officers.  This was at about 6:30 PM London Time: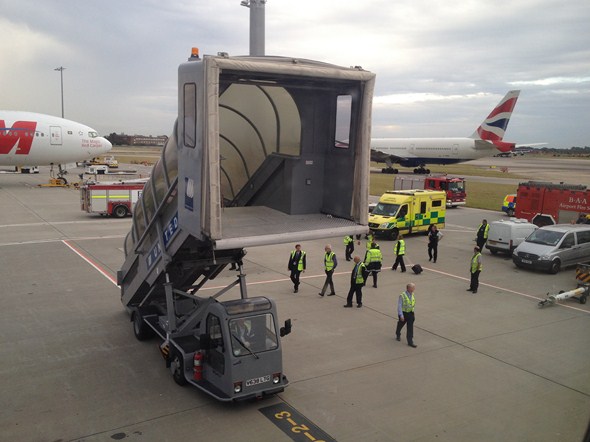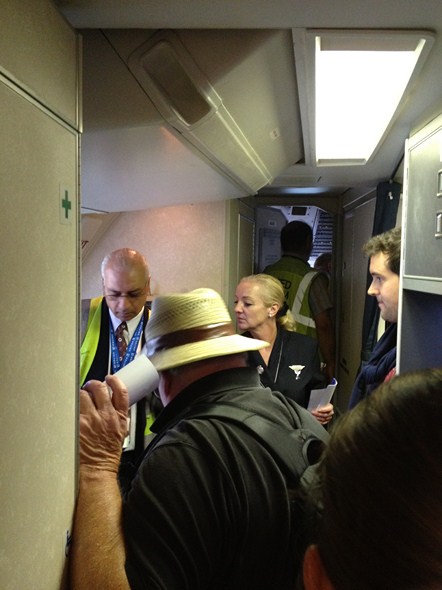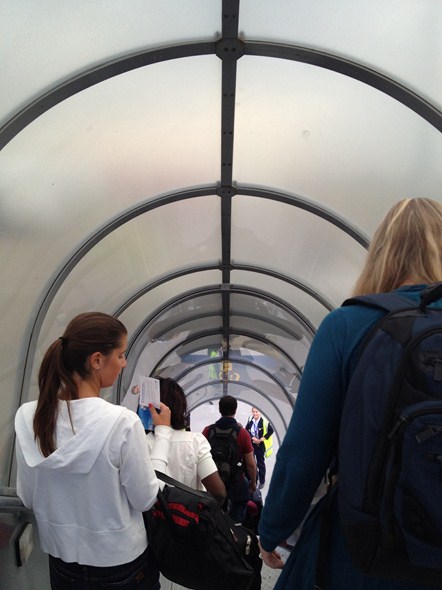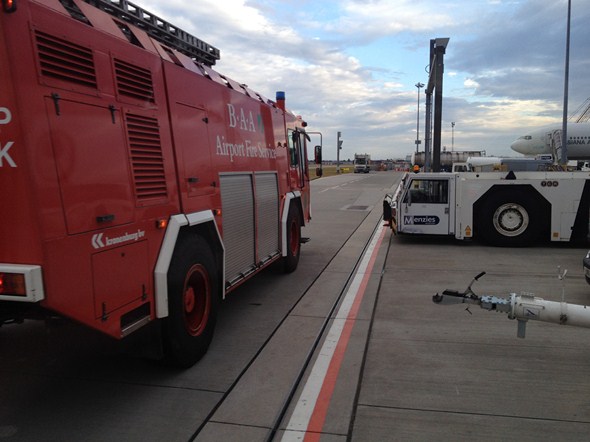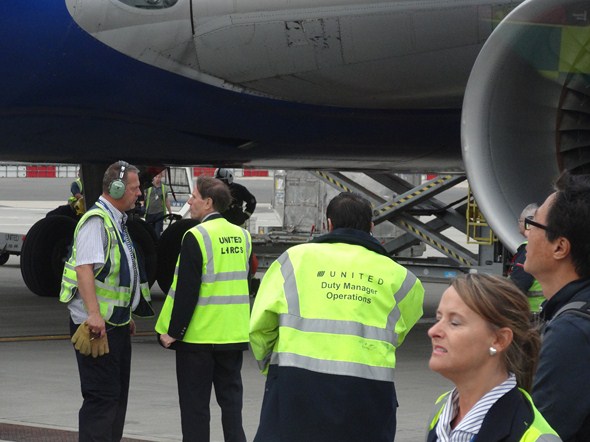 We were shuttled back and put directly into inbound immigration, who let those of us who originated in the UK prior to the flight pass through to baggage claim, where there were United Airlines representatives waiting with generic envelopes for each of us, which included these two documents:


We were then put on motor coaches to a local hotel, which was a bit of a debacle.  The driver left us at the wrong side of the hotel, which resulted in a five minute walk to the front desk, and they only had two employees to check in hundreds of passengers.  I went past the lobby at least an hour after I had checked in and the line still wrapped around inside the front desk area…
The automated rebooking for a replacement flight itinerary was also a problem, as I was downgraded from my purchased first class seat to an economy seat on the flight leaving the following day.  When I looked it up online, it showed that there was a seat available in first class, which is what I paid for in my original booking.  When I called the customer service number (special for first class) included in the package, the representative first told me that I couldn't have first class again because I already used it on the flight (yes, the one that just returned via emergency landing); then I was told I couldn't be rebooked in first class because I didn't give back my existing boarding pass (for the failed flight) at the gate… even though no one at the airport asked for it, and that we never returned to the gate because we were evacuated out near the runway and put directly into immigration.  The United Airlines comped two, 3-minute phone calls were of no help, as I spent over one hour Intl' long distance on the phone, and my issue was left unresolved, booked in the wrong class.  I called the same number a second time, hoping for a different outcome from a different representative, but was again unsuccessful.  I also filled out the online form at united.com/feedback as suggested in the supplied document, but have to date received no response.
I arrived at the airport early the next morning, and asked about this at check-in, and was told that first class was sold out.  I decided to wait at the United/Star Alliance lounge, and thought it couldn't hurt to ask one more time.  A woman came out from her office there and said that she was there the day before, with the arrival of the returned flight, and asked for my passport and boarding pass and kindly asked me to wait in the lounge.  She couldn't have been nicer, and went above and beyond to make sure I was rebooked in my same class of fare and flight, so I appreciate her efforts, as no one else I spoke with (on the phone or in person) up to that point seemed to care one way or another.
When I arrived in San Francisco from London (with the revised ticket with different routing), I learned that after departing from London this second time, United suffered a global, "systemwide outage" (see USA Today, "United reservation system crashes, FAA issues ground stop").  I was then delayed on my flight from San Francisco to Sacramento.  More, once that plane boarded about an hour or more late, the ground crew began to pull luggage off the plane due to weight issues – I would estimate about half was removed, and ultimately, we arrived about an hour and a half late.  One of my two pieces of luggage was never delivered, and though I filled out a report with my baggage claim ticket for the missing bag with United at the airport, I still do not have the missing bag, nor have I received any update as of the time of this writing.
The first news story I found about United Flight 959 was at Trust.org:
In any event, there is a story at the Daily Mail reporting that this was the third such incident with United Airlines in 10 days:
There was also an ABC News story (one of many such stories) about three other flights with issues that was published on August 20th:
Given that there have been three reported incidents in ten days, I thought there might be some benefit to publishing the details of my personal experience on the latest United Airlines flight to suffer such serious problems.
Please note all photographs, audio, and video published in this article are copyright Rock Subculture Journal, all rights reserved, and cannot be used without permission.
Jason DeBord
(916) 813-1797
[email protected]