Because I do travel for some concert events, I thought it might be helpful to share my impressions and experiences staying at various hotels and resorts, and doing so will build on the "travel for concerts" theme of this website.  This review is for the Trump International Hotel in Las Vegas, during my recent Las Vegas Trip (April 2012).
Property: Trump International Hotel Las Vegas
Location: Las Vegas, Nevada
Address: 2000 Fashion Show Drive, Las Vegas, NV 89109
Phone: (866) 290-1244
Website: www.trumphotelcollection.com/las-vegas/
Room Type/Class: Studio City View
Date: April 14-15Hotel/Resort Hotel/Resort Review: Trump International Hotel Las Vegas, Las Vegas, NV, 2012
TripAdvisor Page/Reviews: LINK
Booking Source: Hotwire
Overall Rating: 3.5/5
I had not been to Las Vegas for many years, so as part of my planning, I wanted to stay at two different (newer) properties, since the Strip has changed quite a bit since my last visit.
It appeared that some event or events must have been going on, as rates at the larger Strip properties were higher than the norm or sold out for the dates I was going to be staying.
I ended up deciphering the Hotwire offerings through the very helpful website BetterBidding.com, and found that one on the northern part of the Strip was the Trump International Hotel and the one I was interested on the south part of the Strip was the ARIA Resort & Casino.  Since the events I had made arrangements for were south, I decided to try out the Trump just my first night flying in.
Driving in from the airport, the Trump building is quite visible driving up the Strip; however, it took me a very, very long time to make my way across the Strip to get there…  probably 30-40 minutes.  If I had planned better, I would have plotted a course circumventing the Strip, but as it was, just followed the GPS.
The hotel offers free valet-only parking.  It is also adjacent to the Fashion Show Mall (the entrance via Macy's is literally across the street from the Trump entrance/lobby).  I believe there is also free self parking there (but am not sure about overnight).
The building itself is attractive, in a gaudy, Las Vegas kind of way.  The lobby is nicely appointed, but not terribly large or grand.
Check-in was smooth and quick.  I have a sense that they must have cameras out of sight, as front desk workers seem to appear almost instantly as people come up to the desk area, so the lack of waiting is a nice touch.
I was offered a larger one bedroom upgrade for an additional $50, which I passed on (I was traveling alone and there for just one night, so it didn't seem necessary).  She explained that the one bedroom suites are "twice as big".
I stayed on one of the upper floors.  Having the "twice as big" in my mind, I was surprised at the size of the base room I had booked (i.e.. "Studio City View") – it was very large.  It also had a weird kind of tint to it, from the gold window I suppose.
Very clean and felt "new".  It is a 100% non-smoking property, so that is appreciated in Las Vegas.  Very spacious with lots of storage.  Looked around, and could not find a safe in the room, which I thought was kind of odd for Vegas (but didn't find one in the ARIA either, so who knows).
As seen in the photos, there is also a kitchenette; I did not use this due to my short stay, but a nice added bonus.
The view out the window was actually not very good – a parking lot and some under construction projects – also, the ugly gold tint made it worse than it was (and I assume the tint is there for all of the rooms).
I read on Trip Advisor about the train noise, and I had one of those rooms – very noisy trains going by.  I'm honestly not too bothered by that sort of thing, but I can see how it would bother people.  I didn't find it problematic enough to request a change, and pretty much expected it since I reserved the room highly discounted via Hotwire.
The room included Internet access at no additional charge (included in resort fee).  There was WiFi, but also an ethernet port.  I called the tech line to find out how to get an ethernet cable, and they directed me to the front desk.  I went down and obtained an ethernet cable to borrow, and I was blown away at how fast the Internet connection was via the wired connection in the room.  I had a video to upload for my concert review from the night before, and while it would usually take 30-60 minutes on a good Internet connection, it uploaded in less than 10 minutes at the Trump.  I travel a lot for concerts and usually upload videos from my hotel room, and I can say hands down the Trump had the fastest Internet connection of any hotel I've ever stayed in, hands down.  Some hotels (especially in England and France), the same size file would take over 8 hours to upload.
This is a non-casino hotel, so there is no gaming, and really not much of anything on the main floor of the hotel.  There is a bar and not much else.  While it is nicely decorated overall, there is a bit of a sterile feeling to the place; a lack of personality.  The room itself…  it could be an Ikea sample bedroom.
One complaint… while a refrigerator is provided, it is empty.  Coming back to the room after a concert late at night, I have valeted my rental car and made my way up to the room, and realized that there were no beverages in the refrigerator (hadn't opened it prior to that).  I was parched and just hoping to find any kind of non-alcoholic beverage.  I wandered the halls looking for a vending machine… no luck.  I went down to the front desk; the gift shop was closed.  There was basically nothing, and nothing walking distance.  I ended up going to the bar in the lobby and asking for two Sprites to go…  LOL
Just seems like a massive oversight.  I don't know, maybe vending machines are too low class for Trump, but offering nothing at all – not even some overpriced stuff in the refrigerator in the room… seems kind of odd.
Overall, it was a fine hotel for one night.  The downsides being it's at the end of the strip where there is not much to do (other than the adjacent mall), and there's not much to do in the hotel either.  When I return to Vegas, I probably would stay at the ARIA again, or try a different, newer resort on the south end of the Strip.  The biggest plus for me was being able to quickly upload videos for the concert review I was publishing after the gig that night.
Below are photos I took of the resort and the room I stayed in: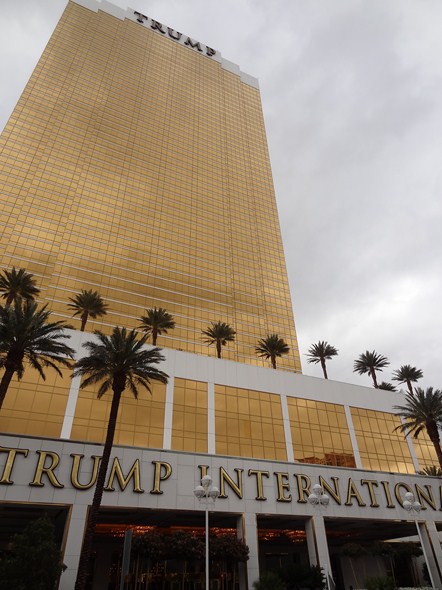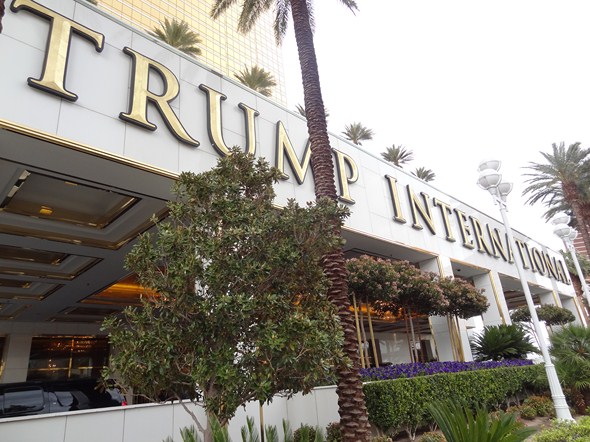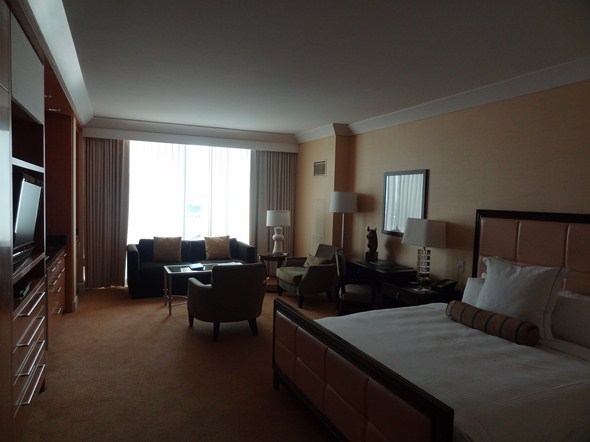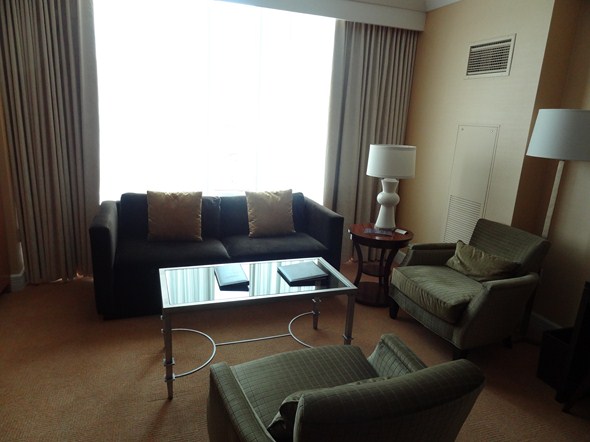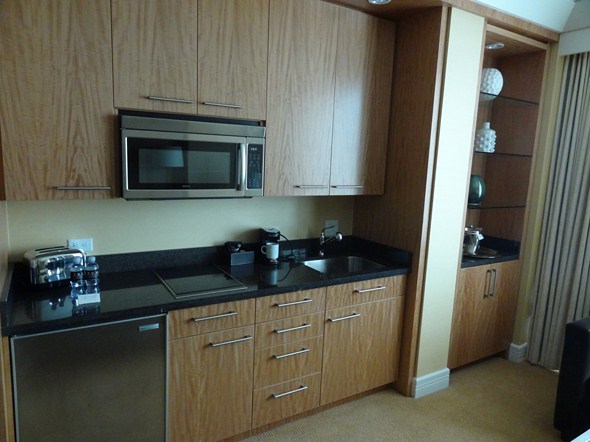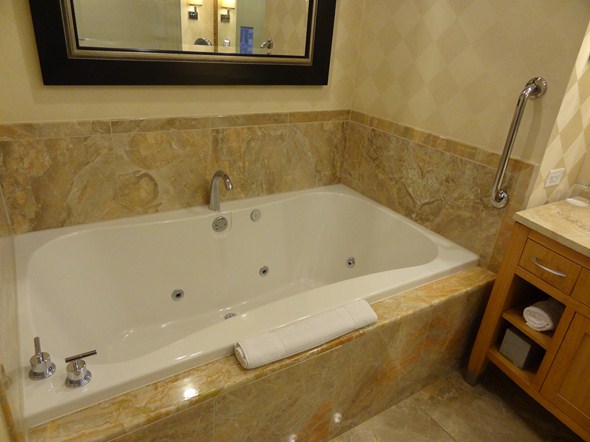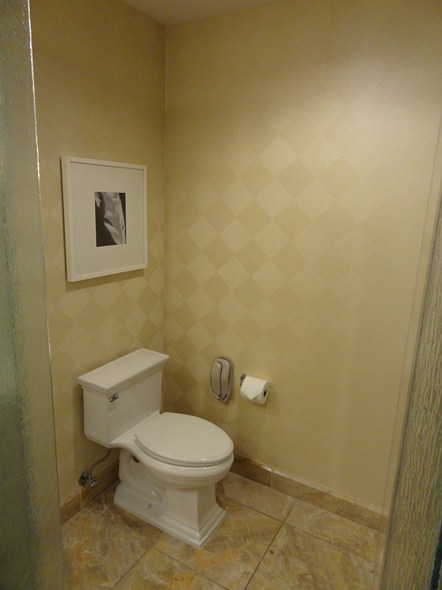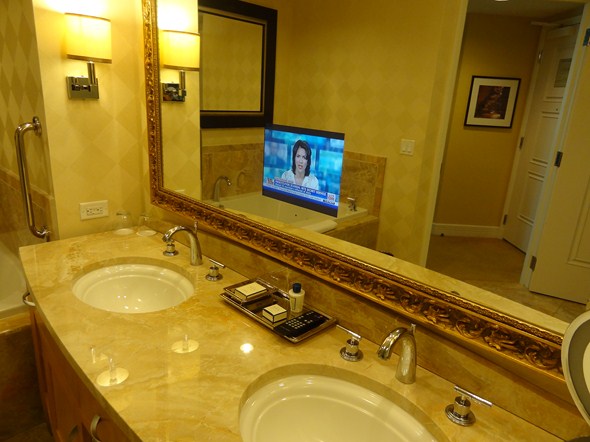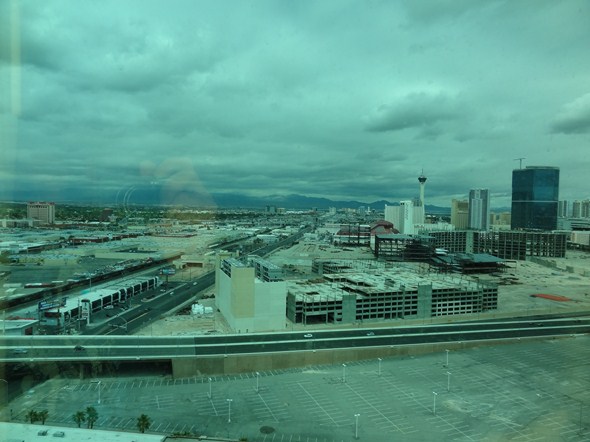 Views from the room… "gold"-tinted…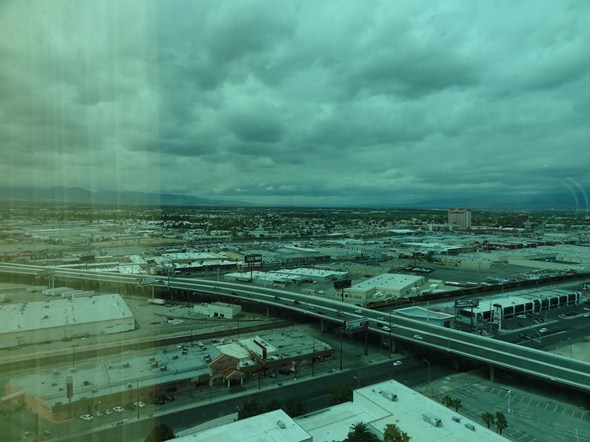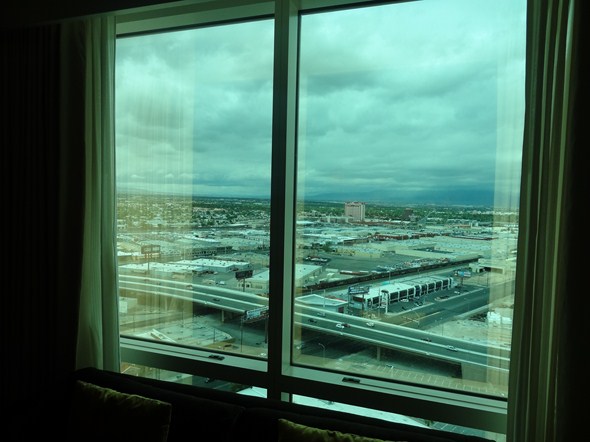 Jason DeBord