One of the most frequent questions asked of me by people who look at the photos and video that I take at concerts… what camera did I use?  I've given a personal explanation so many times, I thought it might be helpful to write a short article describing the camera I use and its features so that others can check it out, if they are in need of the perfect pocketable digital camera.  Fortunately, it is relatively inexpensive as well.  The model I have used is the Sony Cyber-shot DSC-HX9V
.
UPDATE JANUARY 2013 – CLICK IMAGE BELOW TO GO TO UPDATE REVIEW: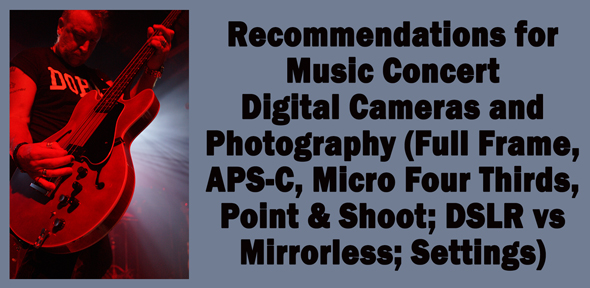 I do own a very nice camera (a Canon 5D Mark II), but obviously that is not a piece of equipment that the average concertgoer can bring into a concert (though I had no problem bringing it into Coldplay's Hidden Gig shows in England in 2010!).
I have also used an iPhone for many years, which (increasingly with each new iteration) can take fantastic photos and video for a phone, the complete lack of having the ability to zoom without severe quality degradation leave it as an awesome back-up, but not a good choice for making some nice photos that you can print out or put into a photobook, or even online to share with friends.  Even close to the stage, at the standard setting, it still "pushes back" what you see with your eyes and make things appear further away.
So when I did research for a pocket camera, these were my main criteria:
1) Small and compact, and can comfortably fit in my pocket.
2) Very basic in appearance, and no removable lens (to avoid issues bringing into concert venues).
3) Ability to shoot still photos and HD video with good quality sound.
4) A long zoom (and without a long lens protruding from the camera body).
5) Good quality in low light.
6) Good battery life.
7) Ability to turn off flash, red eye detection, and another other light that would emit from the front of the camera (i.e. anything that would distract or annoy the performing artist(s).
8) Ability to turn rear LCD backlighting down to next to nothing (i.e. light that would distract or annoy any other members of the audience near or behind me).
9) Relatively inexpensive cost (in case of damage or confiscation).
I considered many cameras, and ultimately purchased the Sony DSC-HX9V.  I was very pleased to find out that it truly fit all of my criteria, and takes fantastic photos and video.
Below are some photos of the camera, compared with the iPhone 4s in order to give an idea of the size – it's actually shorter in length than the iPhone, but thicker.  It is also very light.







I purchased this from Amazon in July of last year for $350.  Today it is offered on Amazon for $296. You can find it via this affiliate link
.
It shoots 16.2 MP still photos and 1080p video.
I've only had the battery run on me one time, and I think it was because I didn't fully recharge it from the show the night before.  It captures photos on SD cards.
During concerts, I don't used any special settings – I put it on full auto and point and shoot.
Having said that, I shoot a lot of photos, and probably delete 2 out of every three…  it does require a steady hand, and it definitely is of benefit to use the green tracking box on your primary point of focus (the camera will try to "find" the focal point of your shot; lifting your finger from the shutter button and then half pressing will reset the search).
I've never had any problems shooting with it at concerts, and usually hand it to security on my way into a venue to make sure that they are okay with it.
You can see the results of this camera in all of the concert review articles on this website (occasionally there may be a few iPhone photos throw in, but 95%+ are always shots from this camera).
As I write this article, I have learned that the successor to this camera, the Sony Cyber-shot DSC-HX10V
, was released last week.  This update also comes in a variety of colors (though I'd recommend black for concert use).  Only $30 more at $329 on popular online stores such as Amazon, it would seem to be a non-brainer to recommend the newest iteration of this model.  However, I came across one of the first reviews of this camera on DigitalCameraInfo.com, and they seem to be fans of the HX9V as well, saying it "stands as our best travel zoom camera of 2011".  However, they claim per their technical review of the replacement HX10V camera, that the quality of the photos shot with the older DSC-HX9V are superior, noting:
We were shocked by most of the image quality scores produced by this camera, especially color accuracy and noise reduction, both of which were significantly worse than the HX9V. We're not quite sure what happened here, maybe Sony is using a new sensor. But for whatever reason, image quality is the primary drawback of this camera.
Below is a link to their full review: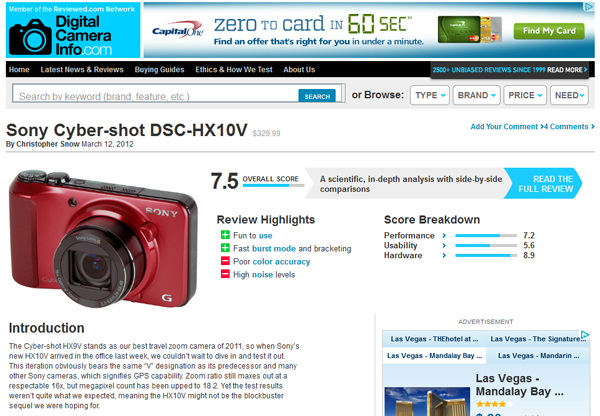 Also of note is that Sony is releasing an even higher end model of camera in this series in about a month – the Sony Cyber-shot DSC-HX20V
– which is listed as a pre-order item on popular electronics retail sites like Amazon, B&H Photo, and Buy.com.  If you are in the market for an excellent concert camera, can wait a month, and can spend the extra $100 (the Sony DSC-HX20V has a street price of $399), I have a feeling this will be worth the wait.
At nearly the same form factor, improved features, and an even longer zoom (improving on the already great 16X zoom with a 20X zoom) and something that they call "optical steadyShot image stabilization with 3-way active mode" for shooting videos, I have a feeling that the HX20V will be the best camera on the market for concertgoers.  There is also one more step up in pre-order status, the Sony Cyber-shot DSC-HX30V, with a street price of $420; the only distinction between the HX20V and the HX30V is that the latter has wireless battery charging and some WiFi capabilities.  The wireless capabilities don't appeal to me, so I have one of the HX20V's on pre-order and will post a new review late next month, once I have an opportunity to take it to a few shows.
Jason DeBord