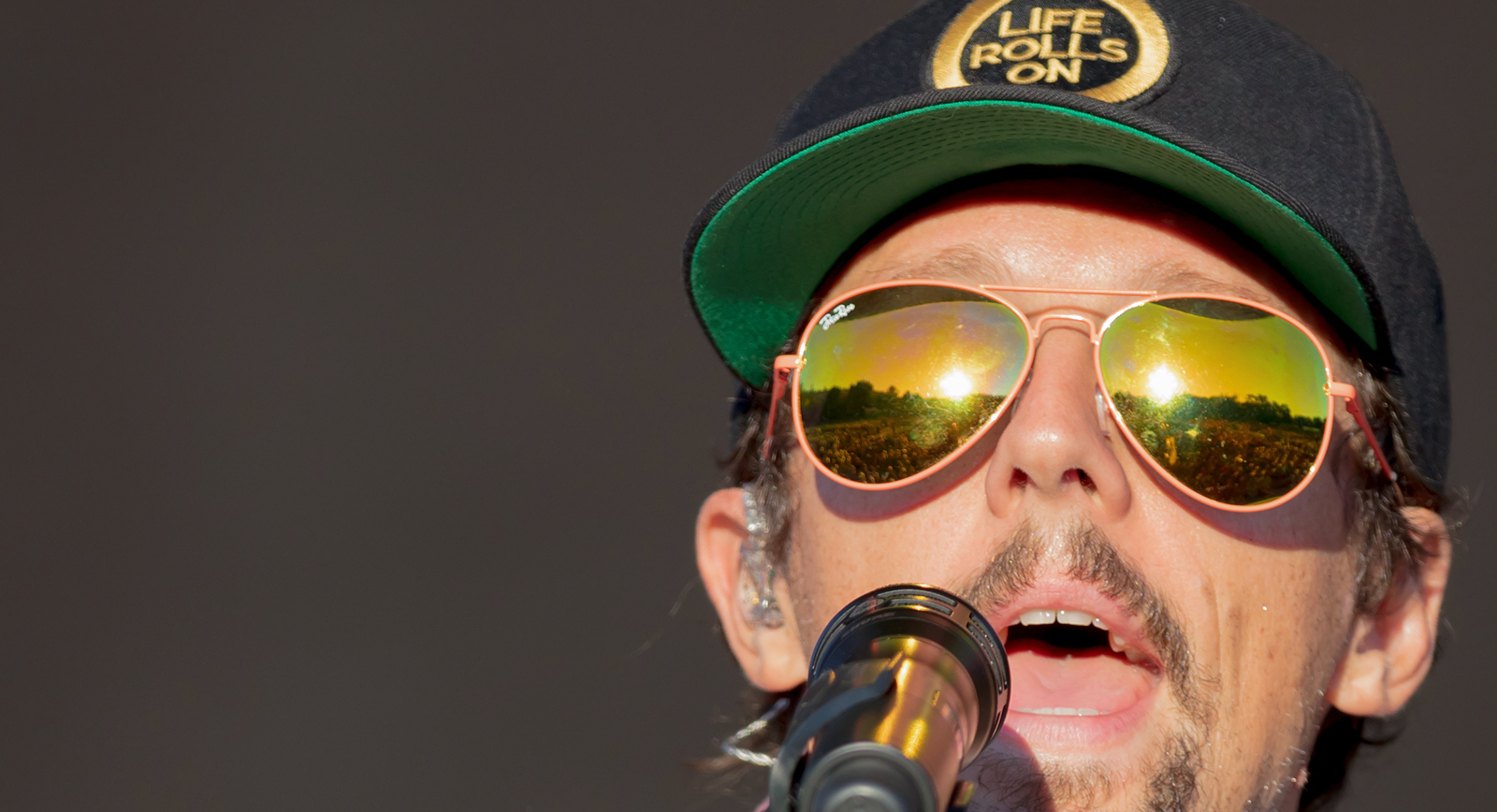 "Every little thing, is gonna be alright…  We're just gonna do this for fifteen minutes!"  Jason Mraz & His Superband closing out the first of two sets, channeling a bit of Bob Marley.  Which seemed quite appropriate, given his fun and optimistic "an evening with…" style show at Ironstone Amphitheatre on Sunday night, marking his only Northern California show on this tour.  Early in the first set, he advised the audience, "you are permitted to sing… you are invited to sing… you are practically obliged to sing…"  The audience accepted this challenge and most were up on their feet dancing and singing throughout the night.  Mraz certainly has a distinct outlook on life that he carries with him and that is contagious with his fans (who span all ages, gender, and culture), and I'd have to say it was certainly the most joyful show I'd seen out of dozens at this beautiful venue, and that's saying a lot.
Who: Jason Mraz & His Superband
Venue: Ironstone Amphitheatre at Ironstone Vineyards
Where: Murphys, California
Promoter: Richter Entertainment Group
When: June 25, 2017
Seating: (house photographer)
Richter Entertainment Group's Summer Concert Season is taking place in June, July, August and September this year at at Ironstone Amphitheatre in Murphys- one of my favorite venues.
The concert season every year is comprised of an eclectic mix of musical artists, styles and genres spanning different decades and eras in music, all benefiting from the state-of-the-art concert facility with top quality sound and lighting to placed each artist in the spotlight to showcase their music.
The amphitheatre features traditional assigned seating in the section directly in front of the stage, with a vast area behind that is designated general admission and allows patrons to bring their own lawn chairs and blankets with an opportunity to find the best spot from which to enjoy the show.
The greater setting of Ironstone Vineyards is stunning a beautiful – one of the rare concert venues where you can show up hours early and just take in the scenery, do some wine tasting, as well as have a stellar meal.
Learn all the details about this year's concert line-up and where to buy tickets on the official REG website at www.richtergroup.net.
Fri 06/09/2017 – Toby Keith with Grass Roots Revival
Sat 06/10/2017 – Boston with Joan Jett & The Blackhearts
Sat 06/17/2017 – John Mellencamp with Emmylou Harris, Carlene Carter, Lily & Madeleine
Sun 06/18/2017 – The Moody Blues
Sun 06/25/2017 – Jason Mraz & His Superband
Fri 07/21/2017 – Lindsey Buckingham and Christine McVie with The Wallflowers
Mon 07/24/2017 – matchbox twenty and Counting Crows with Rivers & Rust
Fri 08/11/2017 – Jake Owen with Drew Baldridge
Sun 08/13/2017 – Steve Miller Band with Peter Frampton
Fri 08/18/2017 – Willie Nelson & Family with Kacey Musgraves
Sat 09/09/2017 – Kenny G and George Benson
This was the fifth show of the season, and my wife Shelley and I did some additional photography at the pre-show in the wine caves at this show to give a glimpse into some of the cool stuff happening at the winery long before the doors even open for the main concert attraction.
Throughout these image galleries, some have a "Rock Subculture" watermark (shot by me) and some have a watermark from our sister professional photography services business, "Pixel Dust Moments" (shot by Shelley).  Scroll downwards to load the images and click any image to open the photo gallery:
Jason Mraz & His Superband
Members:
Jason Mraz (vocals, guitar)
Eric Hinojosa (keyboards)
Michael "Leroy" Bram (drums)
Andre Santana (bass)
Mona Tavakoll (percussion, drums, vocals)
Mai Bloomfield (cello, guitar, vocals)
Molly Miller (electric guitar)
Chaska Potter (guitar, mandolin, vox, vocals)
Noel "Toca" Rivera (vocutionist)
Jason Mraz is a genre-spanning multi-instrumentalist singer-songwriter who found his break performing at coffee shops in San Diego. His modest beginnings make his success even more impressive, as he has won two Grammy Awards and sold over seven million albums.
He moved from Virgina to San Diego in 1999 and worked as a roadie for Elgin Park and created a following playing in San Diego for years, and even released an acoustic album, Live at Java Joe's in 2001.
With the release of his debut studio album in 2002, Waiting for My Rocket to Come, he found an audience with his hit song, "The Remedy (I Won't Worry)".
In 2005, he found tremendous commercial success following the release of his second album, Mr. A-Z.
By the time he released his third album in 2008 – We Sing. We Dance. We Steal Things. – he had his biggest hit yet with "I'm Yours", which was his first Top 10 single.  As an example of his appeal across different genres, it topped the charts in four different radio formats.
Continuing his upward trajectory, his fourth album in 2012, Love Is a Four Letter Word, was his highest charting album to date.
His latest album, Yes!, was released in 2014, and it his first acoustic studio album, and recorded with the all-female folk band Raining Jane.
Outside of music, Mraz owns an avocado farm in Bonsall and is an investor in Cafe Gratitude (a vegan restaurant in Los Angeles).
He's developed a reputation for being very philanthropic and humanitarian with regards to a number of causes and organizations.
Prior to this event, I'd heard some of Jason Mraz's hit songs, but I was mostly unfamiliar with him as an artist, so this was my first full exposure to him and what he does.  Wow, he is really an incredible artist and performer.  He has a very welcoming nature, and though there were thousands in attendance, it felt more like a family get together as he chatted in-between and even during songs and had the crowd laughing throughout (I won't give anything away).
He sounded great and his band was amazing, and I really loved the music and his overall message and attitude.  I could see how he has amassed such a following and ongoing popularity and he has such an authentic connection with his audience.  As a novice and newcomer to his music, I don't really have more to add, other than that I'm intrigued and will now dig back through his catalog of work and really look forward to seeing him live again in the future.
Setlist:
Let's See What The Night Can Do
Make It Mine
The Remedy (I Won't Worry)
Common Pleasure
Work In Progress
So You Think You Can Dance
Chocolate
The Woman I Love
Beautiful Mess
Lucky
I'm Yours / Three Little Birds (Bob Marley & The Wailers cover)
Intermission
The Minute I Heard of Love
Browntown (Raining Jane cover)
Unfold
Love Someone
Shine
93 Million Miles / The Galaxy Song (Monty Python cover)
Might As Well Dance
Butterfly
Long Drive
Quiet
3 Things
I Won't Give Up
Love Is Still the Answer
Below are some photos of Jason Mraz & His Superband performing on stage (scroll down to load images and click any photo to open a virtual lightroom with higher resolution versions of each image):
Jason DeBord