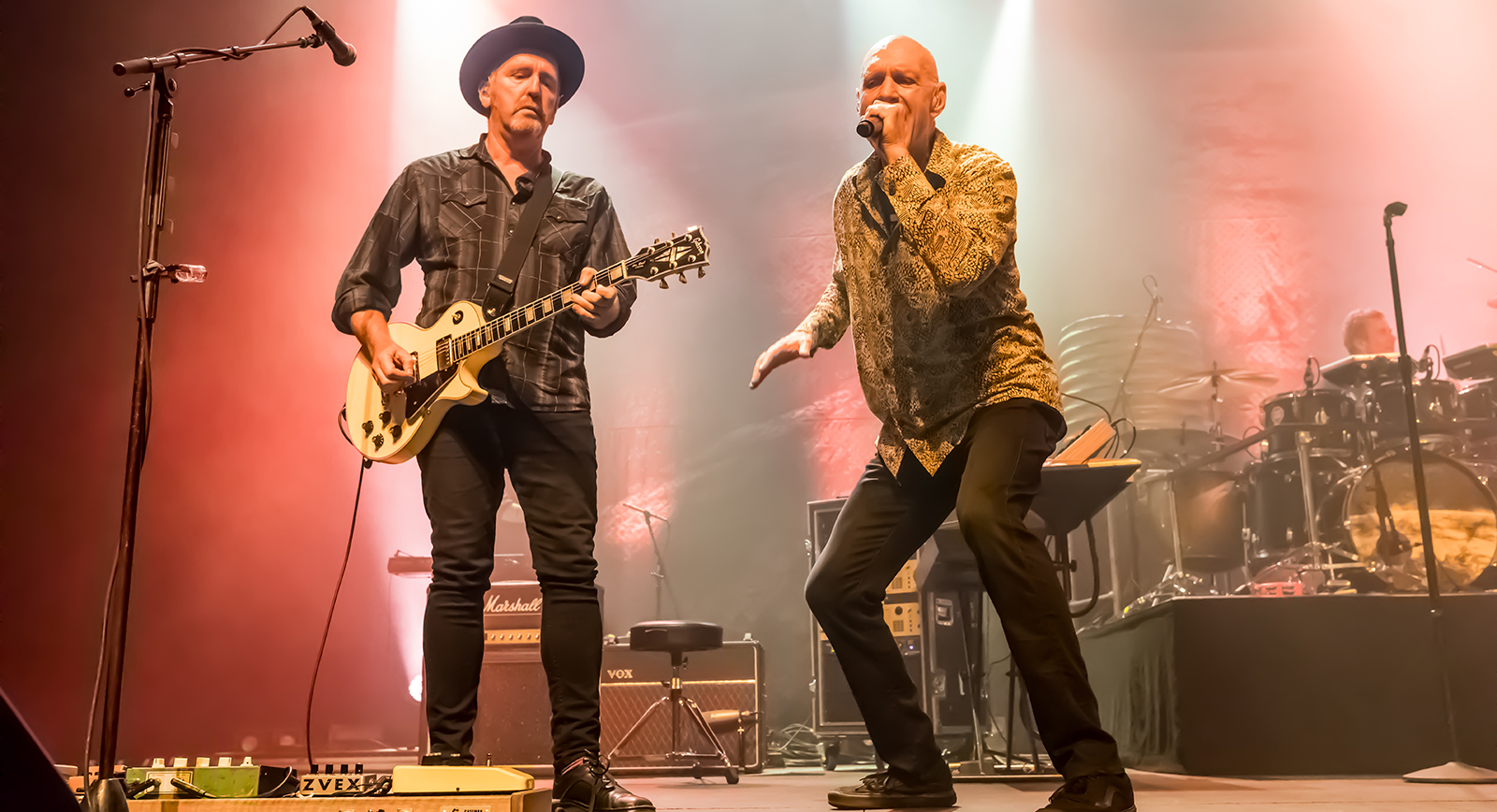 "We gotta remember and identify and know that the only thing we gotta fear with the craziness and the madness and some of the very difficult evil things that have happened, is not to be human, is not to be cooperative, not to be looking out for one another, but to be spreading the good stuff everywhere…"  Midnight Oil's ("the Oils") Peter Garrett, in his preface to "Put Down That Weapon", the band's second single off of their seminal 1987 album, Diesel and Dust.  Some 30 years later, lyrics from the song and the ideas that they invoke seem as poignant as ever.  The band has been mostly off the scene as Midnight Oil since they dissolved in 2002, so with their 2017 reformation and world tour, they have made an unexpected return to much acclaim and excitement.  I was a huge fan of that 1987 album as it blew up in the U.S. at the time, and I had never had a chance to see them perform live until this show at Fox Theater in Oakland on Saturday night.  It was nothing short of incredible, and will certainly rank as one of my favorite gigs of the year.  They are touring a lot in 2017 and crossing back to cities already visited, so I give my highest recommendation to turn out for one of these events…
Who: Midnight Oil
What: The Great Circle 2017 World Tour
Supporting: All Our Exes Live In Texas
Venue: Fox Theater
Where: Oakland, California
Promoter: Another Planet Entertainment
When: May 27, 2017
Seating: General Admission (with photo pass)

As word spread of the band's reunion, their live shows were selling out immediately upon release of tickets… and of course where there are sell out tickets, there are scalpers.
Having read stories here and there about scalpers and this tour intersecting, it would seem that Peter Garrett is not a fan of this practice and it's impact on all involved.  Interestingly, I checked StubHub a few days prior to this show, and there was a good number of GA and seated tickets for sale for just $6 (the ticket face value was $39.95).  Speculation is that the band/band management put up these tickets at the minimum StubHub listing price to counteract the scalpers who purchased tickets merely to resell at inflated values.  Bravo, if this is the case.
In any event, there was much buzz among the large crowd lined up outside the Fox Theater prior to doors, as a congregation of fans formed a queue that went to the corner and then down 19th Street.  The Oils are famous for their live concert events, and this seemed to draw both those who have experienced them previously as well as those anxious to do so for the first time.
There was a mix of people who have seen the band live going back to the 80s, some who had never seen them live, as well as those who are traveling to see multiple dates in multiple cities on this current tour.  Overall consensus was that the band's return is triumphant and that they are killing it with these lives shows.  Having now experienced this one myself, I wholeheartedly agree.
All Our Exes Live In Texas
Members:
Hannah Crofts (vocals, ukulele)
Georgia Mooney (vocals, mandolin)
Elana Stone (vocals, accordian)
Katie Wighton (vocals, guitar)
All Our Exes Live In Texas is a folk group from Australia with a debut album, When We Fall, that was released this year.
They were a great choice to open the event with an intimate and fun set in which each member of the band showcased her vocals and the chit chat in-between songs brought out their humor and personalities.  Their songs seem to be about experiences and brought to life in four part harmonies that imprint a distinct identity on their band.
The band was also supporting SOS Children's Villages on this tour, and you can learn more about the cause on their official site at www.sos-usa.org.
Below are some photos of All Our Exes Live In Texas performing on stage (click any image to open a virtual lightroom with higher resolution versions of each photo):
Midnight Oil
Members:
Peter Garrett (vocals, harmonica)
Rob Hirst (drums, vocals)
Jim Moginie (lead guitar, keyboards)
Martin Rotsey (lead guitar)
Bones Hillman (bass guitar, vocals)
Charlie McMahon (digeridoo)
Glad Reed (trombone)
Chris Abrahams (keyboards)
Midnight Oil have a very long and fascinating history, going back to their origins in 1972 wherein they performed as Farm, comprised initially of Jim Moginie, Rob Hirst and Andrew James, with Peter Garrett joining on vocals after responding to an ad.
The band ultimately changed their name in 1976 as a result of choosing it from other options, pulled out of a hat.
True to their post-punk style, the band did not connect with mainstream radio and media early on, which likely helped them with fans who appreciated their authenticity and unwillingness to create a product, but instead they pursued music as an artistic and substantive endeavor.
Their big break in Australia was their 1982 release 10, 9, 8, 7, 6, 5, 4, 3, 2, 1.  Even at this stage, politics featured in the themes and ideas behind their songs as well as some of the benefit concerts that they supported, and their live shows were something that fans felt were critical to what impressed with the band.
Midnight Oil had some exposure in the U.S. with their 1983 release of Red Sails in the Sunset, as the music video for "Best of Both Worlds" went into rotation on MTV at the time.  The video showcased some of the footage from live shows, which introduced the kinetic energy of their performances, Garrett's iconic look and unique movements, as well as their political perspective via borrowed news and documentary footage.
Also around this time, Garret became involved with real world politics by running as a Nuclear Disarmament Party (NDP) candidate for a seat in the Australian Senate in 1984, though fell slightly short on the needed votes.
The band finally broke out in a big way in the U.S. circa 1987 with the release of Diesel and Dust, which included the massive hits "Beds Are Burning" and "The Dead Heat". Their music introduced ideas about the Aboriginal nation and indigenous issues in Australia to mainstream audiences in other countries.
In 1990, the band had more success with a new album that year, Blue Sky Mining, with the title track proving to be popular and standing today as one of their most beloved mainstream hits.
To date, Midnight Oil have released eleven albums, and along the way have created debate, dialogue and thought about a wide range of ideas and issues.
Along the way, Garrett has been very involved in politics not just as an artist but as a politician himself, serving in a number of positions.
I personally began to follow that band circa 1987 with the release of Diesel and Dust.  Even today, listening to that album front to back, it transports me to a simpler time when I was around 14 years old or so.  Listening to the lyrics and trying to figure out what the meaning was behind the music at the time, we did not have the Internet and Wikipedia as a quick reference.  So for me, their music had this visceral attraction as music, but was also intriguing as it actually seemed to be about a great many things (which was in contrast to much of the music that was popular in the 80s).
The Oils was until now on a short list of bands I'd love to see live but never thought that I would at this point…
So how was their showing at Fox Theater?
Well, as one who attends more concerts than the average person, it takes more and more for something to really have an impact on me and impress me.  Midnight Oil's show certainly did.  It even passed the adrenaline test – giving up many moments where I get that tingle down my neck and spine.
The guys in the band are getting on a bit in age (all 60ish?) but you wouldn't notice from how they perform and command the stage.  Even with vigor as though they still have something to prove.
Even before they came out onto the stage, one image imprinted on my mind is of one of the technicians testing Peter Garrett's microphone…  set for his 6'4″ stature, it was almost comical as the roadie reached into the sky to try to set the microphone in place on the mic stand at the required height.  As the show opened, one of the many older guys in the audience began fist pumping his quad pronged walking cane in the air!  That was something I'd never seen at a live gig before.
The combination of Garrett's height, slender awkward posting and trademark shaved head has developed into an alternative music archetype that is instantly associated with the front man.  Along with his being different, being from Australia, it is for this American almost like he is from another planet (in a good way).  And his voice is better than ever.
With all the players on the stage, it became post punk meets high production, with beautiful lighting effects with a limited color palette that suited the band's visual iconography over the years (lots of reds and oranges and purples and yellows).  The music also cued sudden and dramatic lighting changes.  All with an appropriate earth-like backdrop behind them.
But none of this would have matter if they didn't bring the performance and the sound, and boy did they…
Opening with "Redneck Wonderland", it was immediately clear that the band could recreate their complex music live on stage not only faithfully and completely, but in a way that added depth and energy, and the sound quality was incredible.  Loud but undistorted.  Powerful.  And to see Garrett moving the way he does, embodying their music as if he was some kind of vessel for what we were hearing…
Of course, this band is not all about its singer.  All of the members really and truly impressed with their notable contributions to each song.
I had done my photography from the pit in front of the stage early on in the show, and afterwards retreated up to the rear balcony for a different perspective.  The band played just as well from that distance, but I found myself mesmerized by Rob Hirst's drumming – the man is phenomenal.  The drums always stood out to me in their music, but seeing it all put together in real time was beyond impressive (and the elevated perspective really made it a highlight of the show for me).
The Oils have such a unique sound that was original as each album was released at the time and stands up today as timeless.  The rhythm section build their layers of hooks and changes that make it all work, and I loved seeing it all come together throughout the night.
They closed out their pre-encore set with an onslaught of hits – "The Dead Heat", "Beds Are Burning", "Blue Sky Mine", "Dreamworld"…  amazing!
Set List:
Redneck Wonderland
No Time for Games
Now or Never Land
Put Down That Weapon
Too Much Sunshine
E-Beat
Sell My Soul
Sometimes
My Country
Luritja Way
Ships of Freedom
Kosciusko
River Runs Red
Only the Strong
The Dead Heart
Beds Are Burning
Blue Sky Mine
Dreamworld
Encore:
Wharf Rat (Grateful Dead cover)
Power and the Passion
Forgotten Years
Encore 2:
Along with this world tour, the band have just released Full Tank, a remastered CD box set including all of their albums and EPs, as well Overflow Tank – a four CD/eight DVD collection boasting 14 hours of previously unreleased and rare material.  The same is also due out on vinyl.
The two box sets – Full Tank and Overflow Tank – really showcases the band and their evolution in music over the decades.  Full Tank represents the eleven remastered studio albums, two EPs, and a DVD featuring all of their official music videos.  Overflow Tank boasts eight DVDs worth of documentaries and live concert recordings as well as four additional CDS with demos, B-sides and live audio recordings.  In all, it archives all of their work for the die hard fans who want everything The Oils.
Keep up with all things Midnight Oil on their official site at www.MidnightOil.com:
Below are some photos of Midnight Oil performing on stage (click any image to open a virtual lightroom with higher resolution versions of each photo).  Please do not copy, use, or republish any of these photos.
Jason DeBord