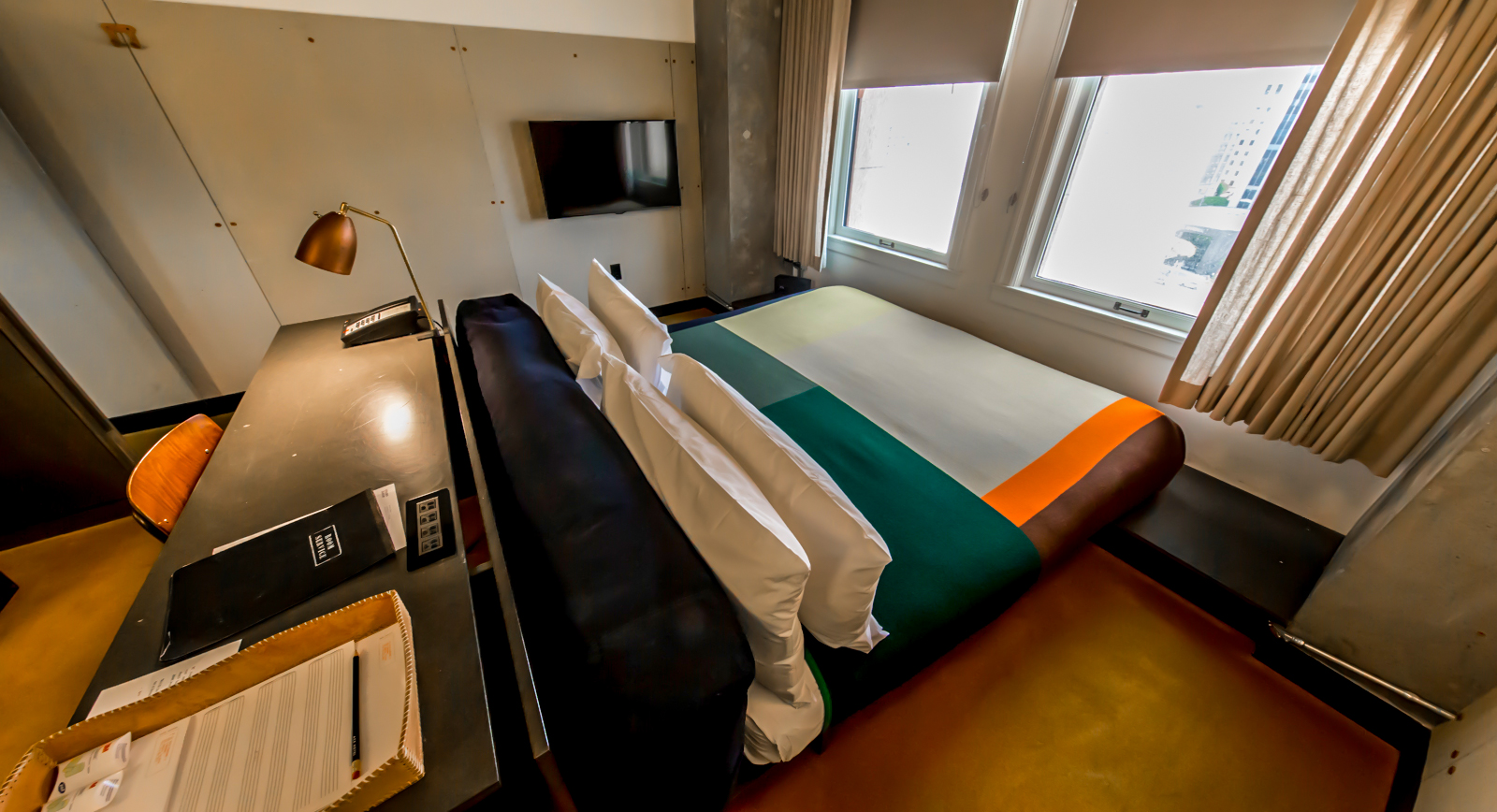 This is part of a continuing series of my impressions and experiences staying at various hotels and resorts while traveling to attend concerts worldwide. This stay was during my recent trip to Los Angeles in October 2015. This review is for the Ace Hotel Downtown Los Angeles.
Property: Ace Hotel Downtown Los Angeles
Location: Los Angeles, California
Address: 929 S Broadway, Los Angeles, CA 90015
Phone: (213) 623-3233
Website: www.acehotel.com/losangeles
Room Type/Class: Standard Class (Room 1006)
Date: October 19 – October 20, 2015
TripAdvisor Page/Reviews: LINK
Booking Source: Direct
Overall Rating: 2/5 [Note: Score is totally subjective based on price, location, and comparison to "like" properties within same area and price range]
This was a last-minute booking for me, as I was flying to Los Angeles to shoot and review a concert at the adjacent Theatre at Ace Hotel.
Overall, it is a stylish property with a lot of creativity in how it was put together, but it is in an awful area of Downtown Los Angeles and is, in my opinion, very overpriced for what you get.  My booking base price was $369 for one night (valet parking is an additional $36/day), which is kind of outrageous.  If I was not working next door for the concert, I would not have paid that much to stay there otherwise.
The decor is hip and stylish, putting an interesting sheen on an old building.  There is a small pool and bar on the rooftop, and there is definitely a hipster vibe all around (if you are into that…).
The front desk staff were, to their credit, friendly and helpful.
The room itself was very small with a cold, warehouse sort of feel.  The bed faces the window, which is cool, but it's not a very attractive view, looking at ongoing construction across the street (more on that in a moment).  The bed is also (oddly) low to the floor.  I was traveling solo, but it would be very cramp in there with even two people.
After the concert and returning to my room, I learned that there is pretty much zero soundproofing in the rooms (which was surprising since it feels like you are in a concrete coffin!).  I could hear everything and everyone everywhere – adjacent rooms, rooms above and below, the hallway…
There were people singing made up offensive songs in the next room for hours.  I ordered (good but pricey) room service and asked if they could do something about it, and he suggested waiting longer and then complaining again (and it was already passed 1 AM at that point).  Funny enough, they provide ear plugs in the room, so I guess it is an ongoing problem.
The noise never stopped, and I think I feel asleep at about 5 AM, only to be awoken by the loud construction starting up across the street at about 6 AM.  I ended up paying extra to change my flights so I could leave early (checked out before 8 AM) so I could go home and get some much needed sleep.
All in all it was a pretty terrible experience and costly to stay somewhere in which you could not get any sleep.  I did call to express these issues with management the next day, and they did make an adjustment to my bill, but it was still an expensive stay for not meeting the real basics for lodging.
Below are some photos taken during my stay: