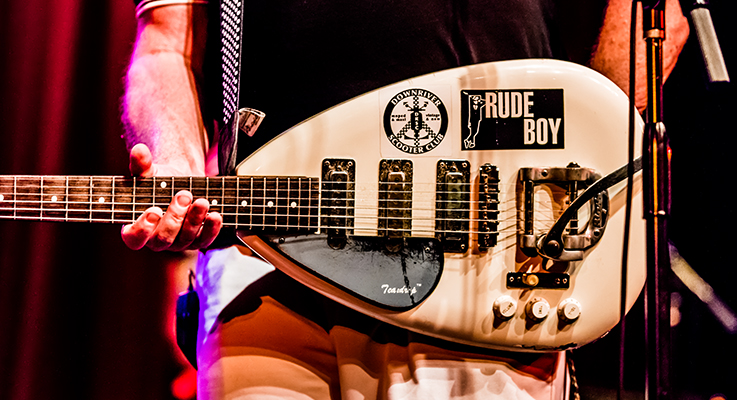 "I was going to save this one for later… just like me, I'm too excited, and I just can't wait!"  Dave Wakeling of The English Beat, teasing the crowd and then finally throwing down with popular hit "Save It For Later" not even halfway through their lengthy concert at City Winery Napa on Thursday night.  After finishing that song, toaster King Schascha exclaimed: "We could not be saving anything for later… after that, we officially want to welcome each and every one of you to the Dave Wakeling workout program. Just that seven minutes right there is the best workout you've had all week. And you did it while drinking alcohol.  More calories than ever. All you need to do for this membership is come to a Dave Wakeling Beat show."  King Schascha is one of several line-up changes in the band since I last saw them live back in January, and this is definitely my favorite modern-era incarnation of the band yet. They absolutely killed it on stage, and sounded better than ever with amazing energy and chemistry pouring into the sold out crowd (many of whom did get a great workout through the night).  If how good a performance makes you feel while it's happening was the only criteria for ranking a live show, I would have to say that this English Beat event was the concert of the year, and definitely the best I'd ever seen them, from the energy to the sound to the venue and atmosphere to the crowd, it all just came together beautifully.  I'm actually now worried about seeing them again in the future, as it would be hard to measure up to this one show.  Outstanding.

Who: The English Beat
Supporting: Rusty Zinn
Venue: City Winery Napa at the Historic Napa Valley Opera House
Where: Napa, California
When: October 8, 2015
Seating: Seat 35 & 36 (seating at table up against stage, stage right of center; plus photo pass)

This show was the first of two, back-to-back concerts at City Winery Napa (with a solo/acoustic Howard Jones concert the following night).
With City Winery Napa found inside of the former (and historic) Napa Valley Opera House, the 1880s two-story building was transformed into a new restaurant, bar, and live event venue by Michael Dorf, who founded the Knitting Factory in New York as well as additional City Winery venues in Chicago, Manhattan, and Nashville.  There is a restaurant and bar on the main level and upstairs is the concert venue with bar and upper balcony.  Food and a deep wine list is offered in the concert venue itself, most of which is made up of small tables lined up in rows, with four to a table.  When tickets for their events go on sale, you can choose your location and seats.  The layout is great – there really isn't a bad seat in the place, and the upper balcony offers a cool perspective.
Unfortunately, back in July, they announced that they would be shutting down, and have since stated that it will be closed on January 1st, 2016 going forward.
CEO Michael Dorf posted a letter on their official site stating:
While we anticipated a challenging market given the smaller local population and high tourist traffic, we thought we could at least achieve a cash-flow positive business within a couple of years. But no matter how hard we tried, no matter how much attention and staff we brought in to make it work, the velocity of business is just not there.
The New York-based company said it is opening a new venue in Atlanta early next year with additional targeted locations in Boston, Toronto, and Washington D.C. to follow.
Bob Almeida, chairman of the board of directors at the Napa Valley Opera House, has since stated that they "hope to have an agreement with a new operator in place before the end of the year… we do not intend to allow the theater to go dark".
Funny enough, this show with The English Beat was the first one that I attended that was sold out, so it felt like people were just becoming familiar with what an awesome venue it is, and they have done a great job bringing top notch talent to Napa.
So in some ways it was sad Thursday night to enjoy the atmosphere, knowing that the days are numbered for the place to continue on, but hopefully someone will come in and give it another chance in 2016.
The shows for The English Beat and Howard Jones were announced in unison, so I purchased tickets for the same seats up against the stage (slightly off center) at the same time to bring my wife with me and have a nice date night in addition to enjoying the concerts.
Rusty Zinn
Members
Rusty Zinn
Bob Welsh (guitar)
Randy Bermudas (bass)
John Hayes (drummer)
M

inh Quan

(keyboards)
Rusty Zinn is a singer-songwriter residing in Napa, and he and his band put on a fantastic reggae/blues style show in support of The English Beat.
I was really impressed with their sound and energy, and it really felt like "island" music to me (in a great way) and inspired me to pick up a few of his albums on iTunes, the most recent being The Reggae Soul of Rusty Zinn, which features his single, "Rise Up":
They are definitely worth checking out – I would go to one of their own headlining shows for a full set for sure.
Below are some photos of Rusty Zinn performing on stage (click any image to open a virtual lightroom with higher resolution versions of each photo):
The English Beat
Members
Dave Wakeling (vocals, guitar)
King Schascha (toaster)
Kevin Lum (keyboards)
Matt Morrish (sax)
Brian "Nucci" Cantrell (drums)
Brian Klemm (guitar)
Jeremy Connor (bass)
As mentioned in past reviews, Dave Wakeling is a really interesting figure in the music industry, always seeming to be happiest on stage doing his thing.  He has a genuine and deep reservoir of positive energy that comes out not just in his music, but his stories in-between songs and the friendly and welcoming expression that he always carries with him.  The real world sort of melts away as you get lost in his music (and if you are old enough, the accompanying nostalgia for that incomparable sound and musical style).  Dave Wakeling has created a music genre that stands alone, and he is its ambassador.
I've been a huge fan of The English Beat since childhood, and of course the related work by General Public and Ranking Roger. They put out an amazing catalog of music and really inspired and influenced a lot of great bands that followed.  But their music sounds classic yet timeless at the same time.
Currently, two versions of The Beat play today – the U.S. version fronted by Dave Wakeling (who lives in California) and the UK version fronted by Ranking Roger.
Operating on two continents, Dave Wakeling is the only original member of the U.S. version of the band, and, as mentioned, I feel the current line-up is the best yet.  Kevin Lum is a maestro on keyboards and along with Matt Morrish on sax, the two have been touring with Dave for some time.  Matt is an animal on sax, with plenty to do with those classic songs from the band.  This was my first time seeing Jeremy Connor on bass, who brings a lot of class and poise to the group, laying down those basslines with confidence.  I didn't have a good vantage point for guitarist Brian Klemm, but he played all those familiar riffs and such with precision, and Nucci Cantrell on drums kept pushing the show forward all night.
As far as The English Beat goes, Dave Wakeling's voice is the lead vocal one would most recognize from their collective body of work, and he still sounds awesome today, being indistinguishable from the studio recordings going back 30 years (though I would argue he sounds even better today – more character with age).
Last year, The English Beat launched a PledgeMusic campaign to fund a new album, which is expected to debut hopefully before the end of the year. It is still possible to participate in this campaign for cool swag and experiences, all in support of the new album, Here We Go Love. Click the link below for all the details:
For all other things English Beat, you can check out their official website at
www.englishbeat.net
.
I would also recommend checking out Dave Wakeling's biography on the official website, which can be found here, to learn a bit more about him and his journey in music… Excerpt:
Hailing from working-class Birmingham, England, Dave and The English Beat entered the music scene in the 1979. When The English Beat rushed on to the music scene in 1979, it was a time of social, political and musical upheaval. Into this storm came they came, trying to calm the waters with their simple message of love and unity set to a great dance Beat.

The six member band consisted of singer/songwriter Dave Wakeling (vocals & guitar), Andy Cox (guitar), David Steele (bass), Everett Morton (drums), Saxa (saxophone) and Ranking Roger (toasting). The band managed to fuse all of their respective musical influences – soul, reggae, pop and punk – into a unique sound that was highly danceable. Along with contemporaries such as The Specials, The Selecter and Madness, The English Beat became one of the most popular and influential bands of the British Ska movement.
After The English Beat broke up, and Dave Wakeling then formed General Public, which is further described in his own bio:
It was at this point that Dave Wakeling and Ranking Roger recruited Stoker (drums) and Mickey Billingham (keyboards) of Dexy's Midnight Runners, Horace Panter (bass) of The Specials, and former Clash guitarist Mick Jones to form General Public. Their first album, "…All The Rage", met with fantastic success, charting high in the U.S., U.K. and even winning the band a coveted Juno award in Canada for Best New Artist in 1984.

After the fantastic success of "…All The Rage", the band spent two years writing and recording their follow-up, "Hand to Mouth". Like "Whappen" before it, this sophomore effort was more introspective and than their first album, taking fans along with him in Dave's continual exploration of the light and dark side of human emotion. The album was a critical and fan favorite, and spawned two hit singles, "Too Much or Nothing" and "Come Again".
The last few times I've seen The English Beat in concert, they did not include anyone in the role of toasting, the presence of which I've always felt adds tremendously to the show.
This time around, in addition to other new players on the stage, King Schascha fills in the critical toasting and MC tasks, and really kicked the show up a few notches.  In the minute or two Dave takes now and then to change and/or tune a guitar, King Schascha turns on his quick wit and vocal abilities to throw out some rhymes.  At one point in the City Winery show Thursday night, Dave joked: "That's what happens around here nowadays… I take a few seconds to turn around to change my guitar, and he's written a new song…"
Below are the songs played by The English Beat Thursday night:
Rough Rider (Prince Buster cover)
The Tears of a Clown (Smokey Robinson & The Miracles cover)
Hands Off… She's Mine
I'll Take You There (The Staple Singers cover)
I Confess
Save It for Later
Doors of Your Heart
Sole Salvation
Can't Get Used to Losing You (Andy Williams cover)
Whine and Grine
Stand Down Margaret
Tenderness (General Public cover)
Ranking Full Stop
Mirror In The Bathroom
Jackpot
There was so much excitement in the room, there were two occasions wherein fans climbed onto the stage, danced with the band for a minute or two, then showed themselves off.
The English Beat music is definitely made to be played live, and as felt with this show in Napa, it kicks it all to another level entirely.
They definitely hit on all cylinders with me, as they transport me back to elementary school when I first started listening to them, borrowing my sister's cassette tapes (I was not yet cool enough to own them myself, but did eventually).  Bringing it all back to life live on stage, these live shows are an order of magnitude better than the familiar studio recordings…  it all feels so real and vibrant and alive in a concert setting, and with Dave Wakeling himself just ten feet away and smiling and expressing the song in every manner possible, it's all quite surreal (in an awesome way).  Definitely one of my top concert experience highlights of the year.
Below are some photos of The English Beat performing on stage (click any image to open a virtual lightroom with higher resolution versions of each photo):
Jason DeBord