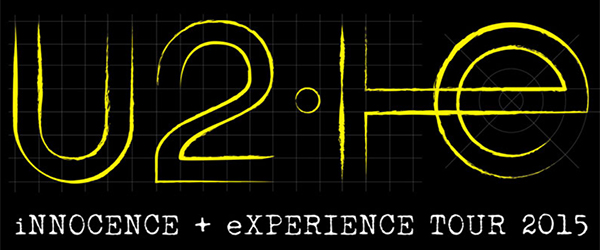 In a few weeks, U2 will be kicking off their first indoor arena tour in over a decade, in support of last year's Songs of Innocence.  The iNNOCENCE + eXPERIENCE Tour will take U2 to 20 cities worldwide for 70 concerts over the next six months, with multiple dates in each city (from two to eight), running through November.  Special shows are reportedly being planned for Dublin fat the end of the year to benefit the U2-initiated Music Generation project.
It will all kick off in Vancouver on May 14th, and the North American leg will run May through July and then Europe will follow from September through November.
From early reports of the stage set-up, it appears that a catwalk bisects the GA floor into two halves in at least some of the arenas.  The setlist is supposed to alternate from "innocence" to "experience" from night to night (with a fixed set list for the first half of each show and a changing second half, split by an intermission).
Full details about the world tour and tickets can be found at the official U2 site at www.U2.com:
Below is the list of dates for this tour:
Thu 05/14/15 Vancouver, BC Rogers Arena
Fri 05/15/15 Vancouver, BC Rogers Arena
Mon 05/18/15 San Jose, CA SAP Center At San Jose
Tue 05/19/15 San Jose, CA SAP Center At San Jose
Fri 05/22/15 Phoenix, AZ US Airways Center
Sat 05/23/15 Phoenix, AZ US Airways Center
Tue 05/26/15 Inglewood, CA Forum
Wed 05/27/15 Inglewood, CA Forum
Sat 05/30/15 Inglewood, CA Forum
Sun 05/31/15 Inglewood, CA Forum
Wed 06/03/15 Inglewood, CA Forum
Sat 06/06/15 Denver, CO Pepsi Center
Sun 06/07/15 Denver, CO Pepsi Center
Fri 06/12/15 Montreal, QC Bell Centre
Sat 06/13/15 Montreal, QC Bell Centre
Tue 06/16/15 Montreal, QC Bell Centre
Wed 06/17/15 Montreal, QC Bell Centre
Wed 06/24/15 Chicago, IL United Center
Thu 06/25/15 Chicago, IL United Center
Sun 06/28/15 Chicago, IL United Center
Mon 06/29/15 Chicago, IL United Center
Thu 07/02/15 Chicago, IL United Center
Mon 07/06/15 Toronto, ON Air Canada Centre
Tue 07/07/15 Toronto, ON Air Canada Centre
Fri 07/10/15 Boston, MA TD Garden
Sat 07/11/15 Boston, MA TD Garden
Tue 07/14/15 Boston, MA TD Garden
Wed 07/15/15 Boston, MA TD Garden
Sat 07/18/15 New York, NY Madison Square Garden Arena
Sun 07/19/15 New York, NY Madison Square Garden Arena
Wed 07/22/15 New York, NY Madison Square Garden Arena
Thu 07/23/15 New York, NY Madison Square Garden Arena
Sun 07/26/15 New York, NY Madison Square Garden Arena
Mon 07/27/15 New York, NY Madison Square Garden Arena
Thu 07/30/15 New York, NY Madison Square Garden Arena
Fri 07/31/15 New York, NY Madison Square Garden Arena
Fri 09/04/15 Torino, Italy Pala Alpitour
Sat 09/05/15 Torino, Italy Pala Alpitour
Tue 09/08/15 Amsterdam, Netherlands Ziggo Dome
Wed 09/09/15 Amsterdam, Netherlands Ziggo Dome
Sat 09/12/15 Amsterdam, Netherlands Ziggo Dome
Sun 09/13/15 Amsterdam, Netherlands Ziggo Dome
Wed 09/16/15 Stockholm, Sweden Ericsson Globe
Thu 09/17/15 Stockholm, Sweden Ericsson Globe
Sun 09/20/15 Stockholm, Sweden Ericsson Globe
Mon 09/21/15 Stockholm, Sweden Ericsson Globe
Thu 09/24/15 Berlin, Germany O2 World
Fri 09/25/15 Berlin, Germany O2 World
Mon 09/28/15 Berlin, Germany O2 World
Tue 09/29/15 Berlin, Germany O2 World
Mon 10/05/15 Barcelona, Spain Palau Sant Jordi
Tue 10/06/15 Barcelona, Spain Palau Sant Jordi
Fri 10/09/15 Barcelona, Spain Palau Sant Jordi
Sat 10/10/15 Barcelona, Spain Palau Sant Jordi
Tue 10/13/15 Merksem, Belgium Antwerps Sportpaleis
Wed 10/14/15 Merksem, Belgium Antwerps Sportpaleis
Sat 10/17/15 Cologne, Germany Lanxess Arena
Sun 10/18/15 Cologne, Germany Lanxess Arena
Sun 10/25/15 London, United Kingdom The O2 – London
Mon 10/26/15 London, United Kingdom The O2 – London
Thu 10/29/15 London, United Kingdom The O2 – London
Fri 10/30/15 London, United Kingdom The O2 – London
Mon 11/02/15 London, United Kingdom The O2 – London
Tue 11/03/15 London, United Kingdom The O2 – London
Fri 11/06/15 Glasgow, United Kingdom The SSE Hydro
Sat 11/07/15 Glasgow, United Kingdom The SSE Hydro
Tue 11/10/15 Paris, France Palais Omnisports de Paris-Bercy
Wed 11/11/15 Paris, France Palais Omnisports de Paris-Bercy
Sat 11/14/15 Paris, France Palais Omnisports de Paris-Bercy
Sun 11/15/15 Paris, France Palais Omnisports de Paris-Bercy
Click on the image below for the latest and up to date full Rock Subculture Journal schedule of pop and rock music concerts/tours coming up for review (2015 Rock Subculture Schedule):

Jason DeBord