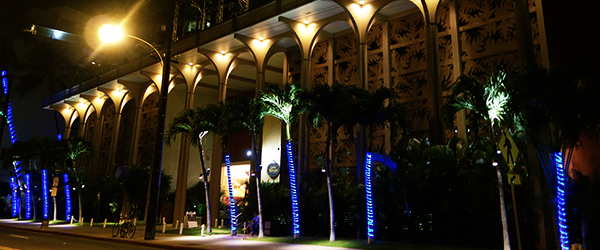 This is part of a continuing series of my impressions and experiences staying at various hotels and resorts while traveling to attend concerts worldwide. This stay was during my recent trip to Hawaii (Oahu and Maui) in July/August 2013. This review is for Queen Kapiolani Hotel near Waikiki Beach in Honolulu, Hawaii on Oahu.
Property: Queen Kapiolani Hotel
Location:  Honolulu, Oahu (Hawaii)
Address:  150 Kapahulu Avenue, Honolulu, Oahu, HI 96815
Phone:  (866) 970-4164
Website:  www.queenkapiolani.com
Room Type/Class: Corner Ocean View (Room 1218)
Date: July 29-31, 2013
TripAdvisor Page/Reviews: LINK
Booking Source: Direct (AAA Rate)
Overall Rating: 3.5/5 [Note: Score is totally subjective based on price, location, and comparison to "like" properties within same area and price range]

This was a short notice trip for me (about one month notice) to cover the Cure concert in Honolulu, and it was a busy time of year for a visit to Hawaii, so some of my first choices were sold out or very pricey, so I thought I would seek out a more economical alternative.  I'm frankly more of a fan of Maui and Kauai, and Honolulu is a bit touristy/busy/urban for my tastes (for Hawaii), just to give an idea of my perspective.
In any event, I thought it would be most productive to stay in Honolulu to avoid a lot of driving for my short, two-night stay.  I found a good deal for Queen Kapiolani Hotel in Honolulu on their official site for $116.10/night with their AAA rate, and though I was completely unfamiliar with the hotel, I thought I would try it out since it was only for two nights.
I did have a rental car, and had read in advance that the hotel was valet parking only, so anticipated doing just that.  In approaching the hotel, the turn required to access the valet area on the other side of the hotel was blocked by a garbage truck…  I waited about 4-5 minutes, and decided to explore the vast parking lot for the zoo across the street as an alternative option.  I parked in front of one of the self help pay meters, and called the support number to make sure that they allow parking overnight – they do.  Their rates are $1 per hour, pre-paid.  You can insert cash or a credit card, and type in your license plate number (so that nothing needs to be left in your car or on your dash).  Valet is $25 per day at the hotel (plus tip), so this was more economical and easier – all you have to do is exit the front of the hotel and cross the two lane street (which is not too busy), so this was a convenient parking option.
I arrived a little bit after 2:00 PM, hopeful I could check-in.  The front desk attendant was not very friendly, and said that check-in was not until 4:00 PM, though a room may be available before that…  I asked if they could call me if a room was ready before that – she said no, but I could call them.
I had lunch at Teddy's Bigger Burgers a block or two away (which was great) and returned a little bit after 3:00 and there was a huge line of people waiting to check-in in the lobby, so waited in line again, and about 15 minutes later was helped and able to check in.
I asked about Wi-Fi, which was important to me as I was going to be publishing a concert review with many photos the following night, and I was told that Wi-Fi was temporarily down, and to come back later for a code to access once it is back up.  Long story short, Wi-Fi was not available during my entire two-night stay.  As a consequence, I had to tether my phone and went way over my data plan (which obviously had an associated cost), but there was no alternative since the hotel did not provide Internet service.
The elevators seem to be too few/too slow to properly service the hotel, so be prepared for a wait in using them (at least in my experience over a few days).
The room itself was nice, with great views, but was very dated.  If that doesn't bother you, it is a non issue.  I've found a lot of the small, non-big brand/chain hotels along Waikiki are the same.  Worn and dated, but clean enough.
One nice feature is that the windows are not pane windows but tilt open like shutters, and the room I stayed in had these on the wall to the side of the bed facing the ocean as well as the kitchenette, so you can get some good airflow going if there is any.
The kitchenette is a nice feature, with refrigerator and microwave, as well as sink and dishes.
It is very close to the beach and all of the attractions in Waikiki – just one and a half blocks – so it is really in a prime location.
Overall, the price was great, the view with balcony was great, the location was great..  The room is dated and lacked Internet.  If I was looking for a relatively cheap stay in Waikiki again, I would consider staying here again.  Even still, I would give it three and a half stars because there is still a lot of room for improvement (and it would be worth paying more if it was more updated and the Internet worked, etc.).
Below are some photos taken during my stay: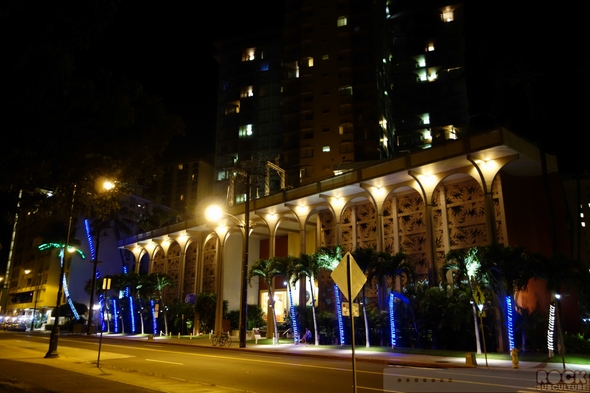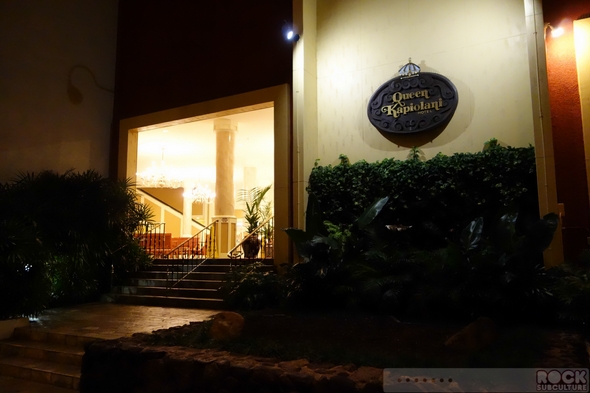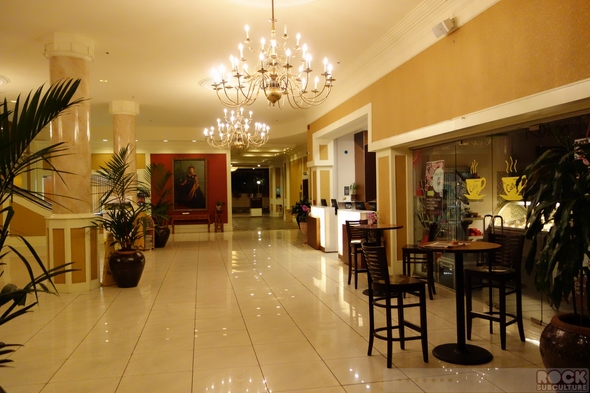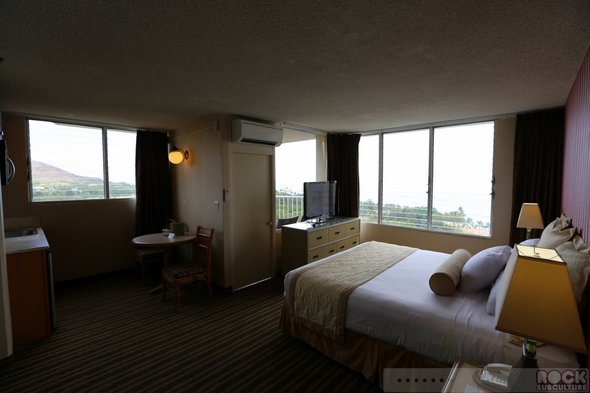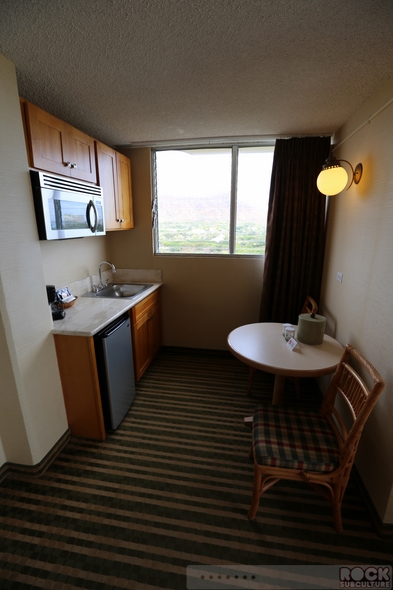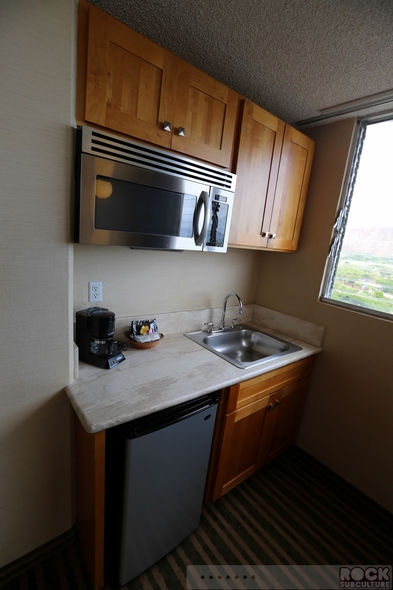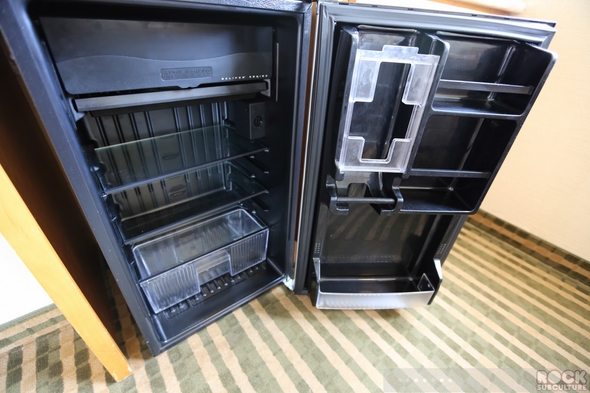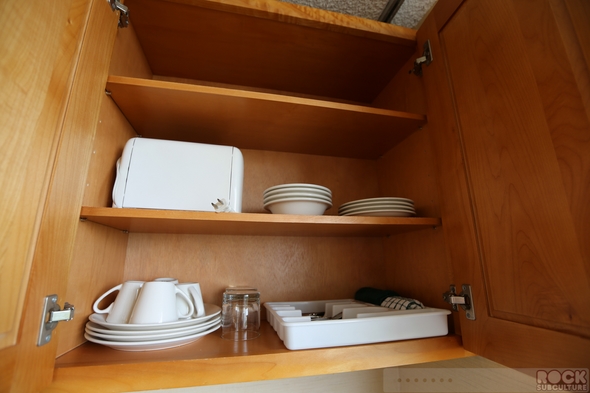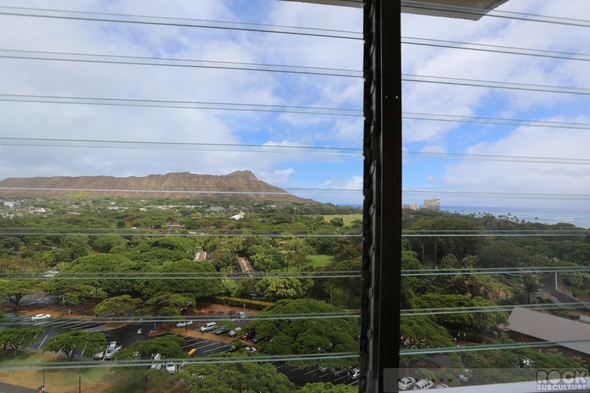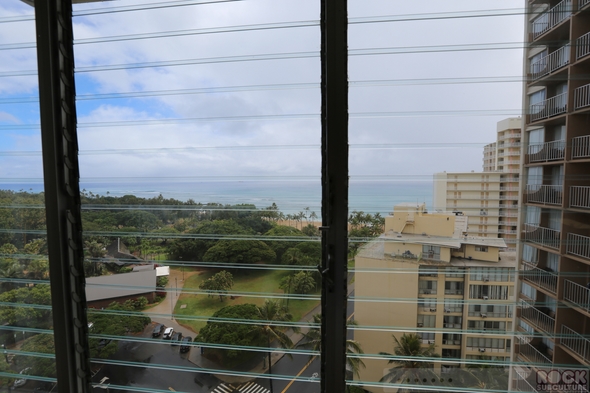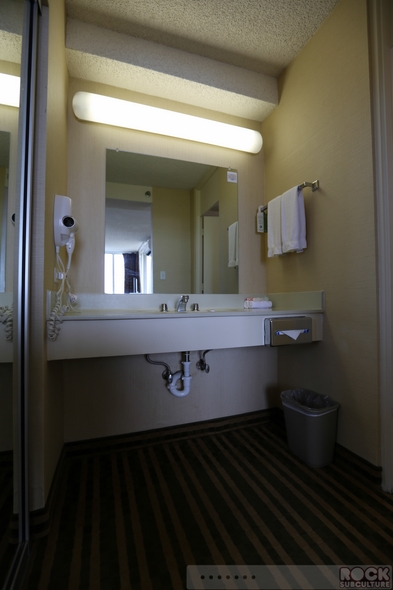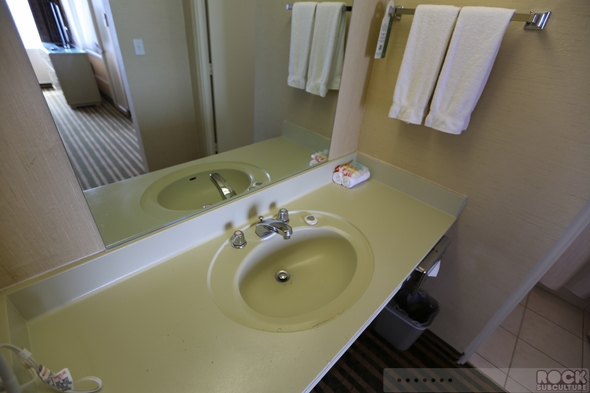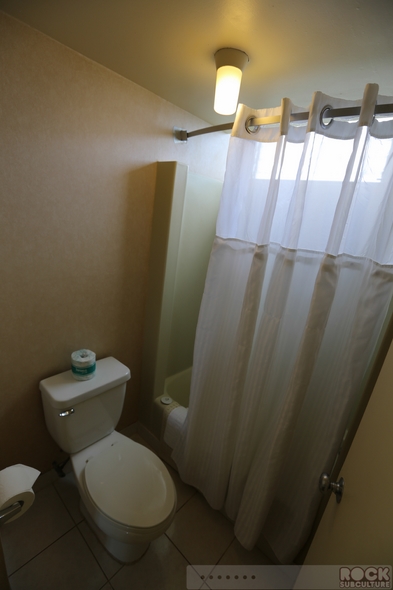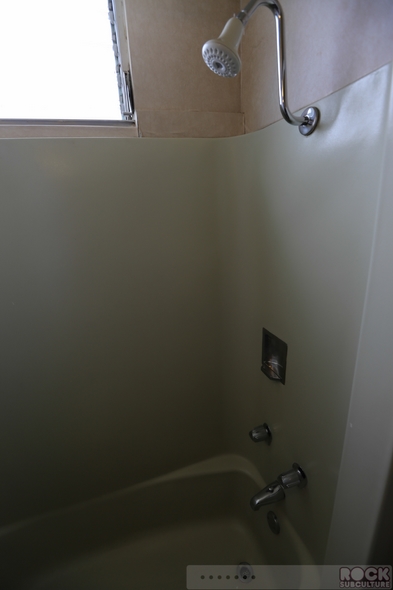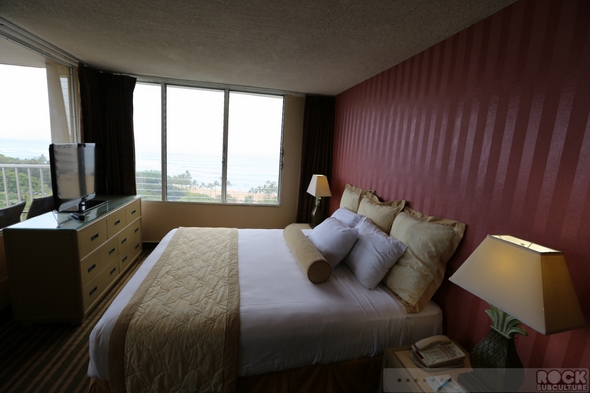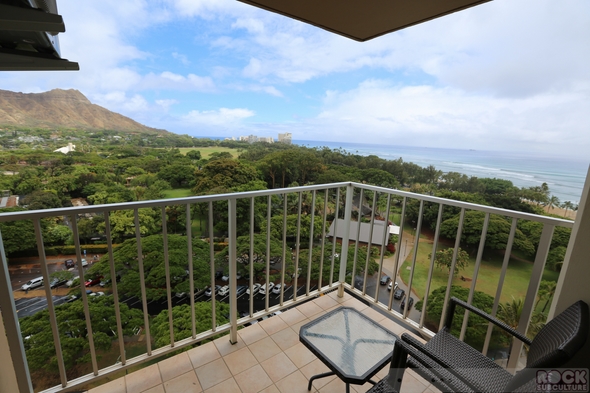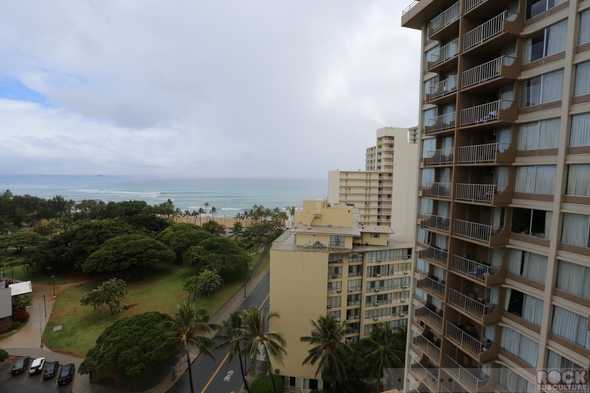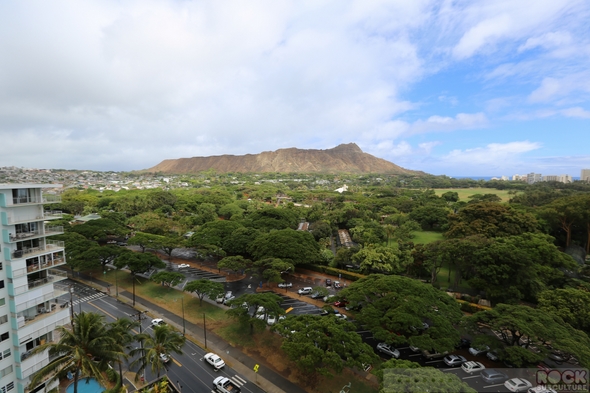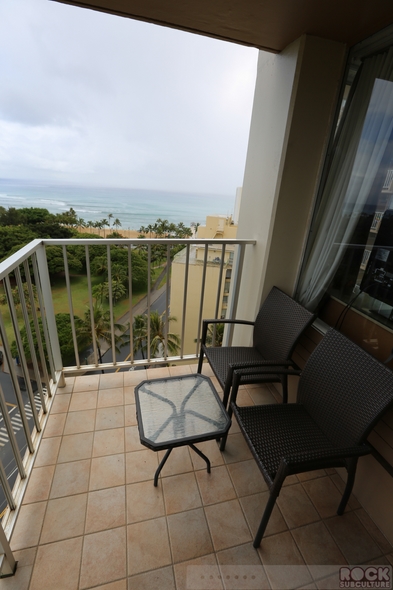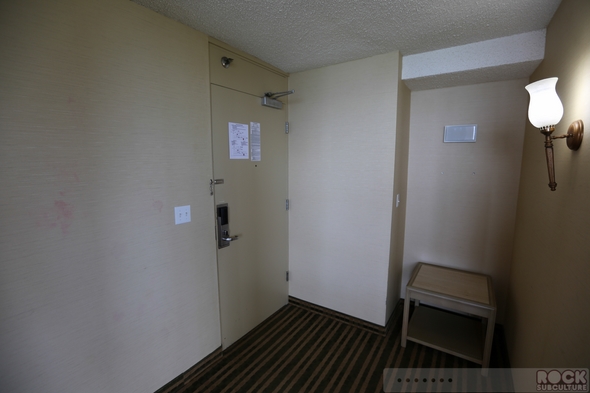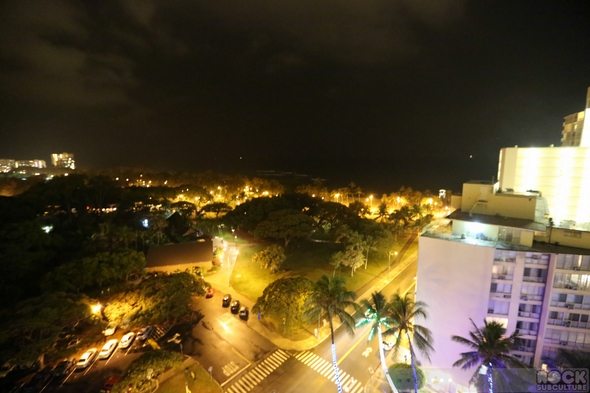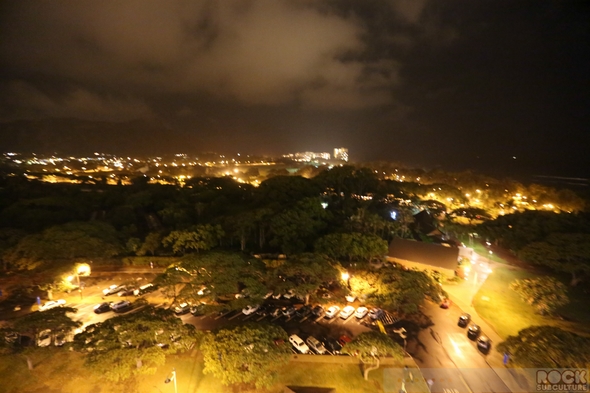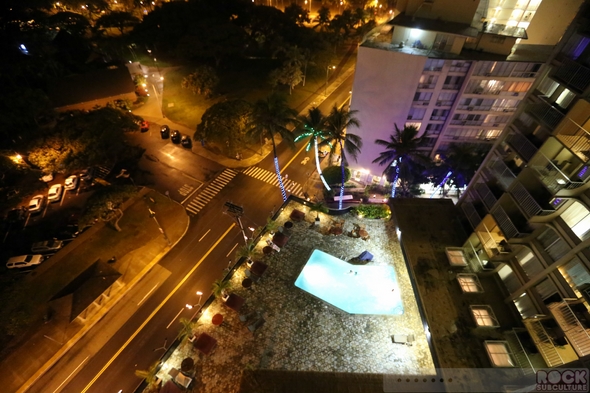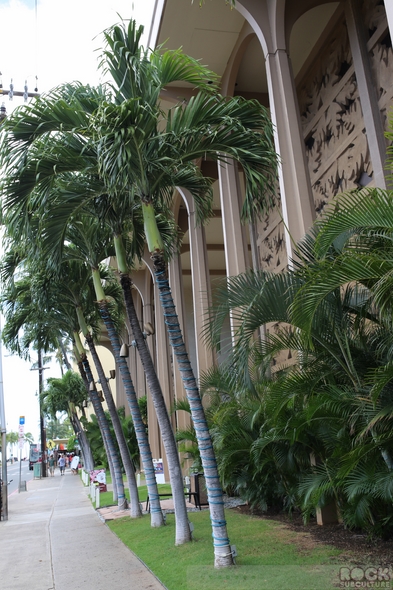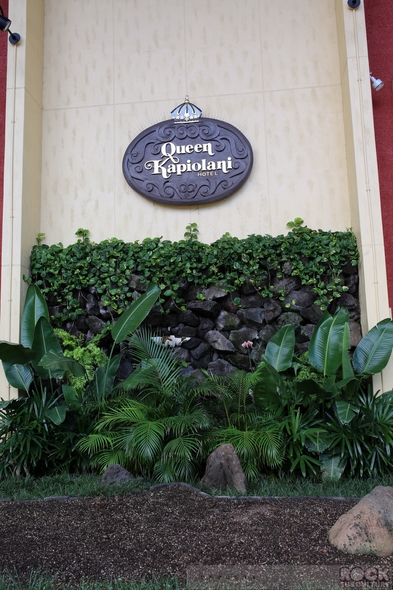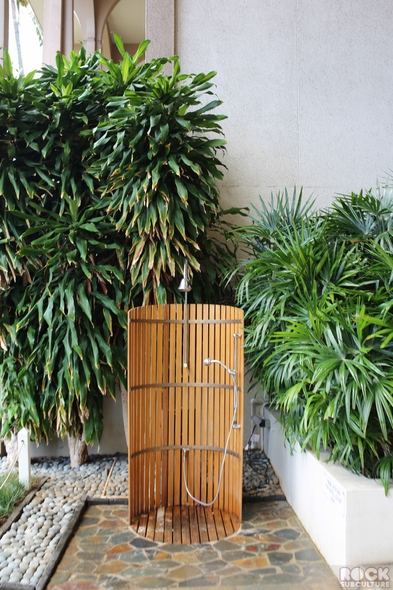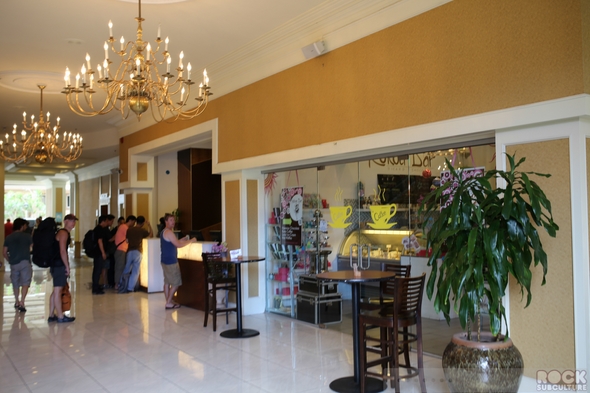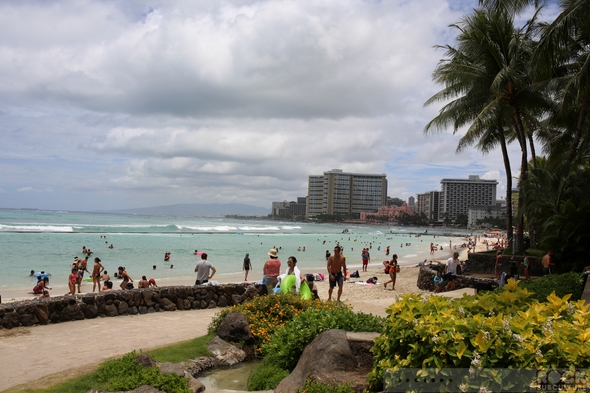 Jason DeBord