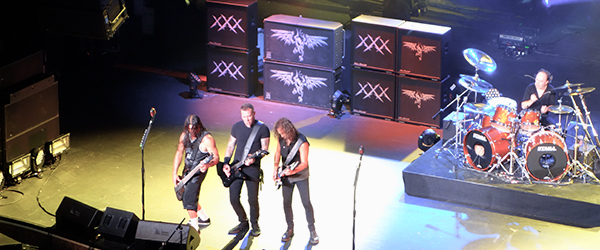 "What do you think?  You're scared…  you want to know more, you want to see the whole thing"…   Capping off "Metallica Day" at Comic Con International: San Diego (i.e. San Diego Comic Con) with a "secret" concert at Spreckels Theatre, the metal band's front man James Hetfield makes a mid-gig reference to the IMAX 3D film, Metallica Through The Never.  The Rock and Roll Hall of Fame band gave away tickets to the intimate 1,463 capacity concert venue during their Comic Con Hall H appearance earlier in the day (and funny enough, Hall H accommodates a much larger crowd of around 7,000.  I know from picking up my own ticket at the special will call earlier in the day that many Fan Club members were also in attendance, so it was a pretty great energy from the crowd.  Though the show was not too long (they came on an hour late at about 11 PM and finished up well before 12:30 AM), it was a fairly relentless onslaught of the metal music fans came to hear.

Who: Metallica
Venue: Spreckels Theatre
Where: San Diego, California
Promoter: Blackened Recordings & Goldenvoice
When: July 19, 2013
Seating: Right Mezzanine, Row K, Seat 12 (Last Row Right in Middle Balcony)
This was a special, one off show, special to San Diego Comic Con and the annual pop culture event that draws a crowd of around 150,000 over four and a half days each year, going back to the 70s (for my San Diego Comic Con coverage, check my other site, The Original Prop Blog, at www.originalpropblog.com).
Below is the trailer for their film, Metallica Through The Never:
Funny enough, I think I know more about guitarist Kirk Hammet from the band than their music – my other site, the Original Prop Blog, is about collecting original props and costumes from film and television, and a high end piece I used to own was sold to Hammet many years ago.
While Heavy Metal isn't a genre of music I spend a lot of time listening to, who isn't familiar with at least some of Metallica's work?  I'd never seen them in concert before, so when this "secret" concert was announced shortly before the start of Comic Con, I was hopeful that I might be able to secure a ticket (and was successful).
The location of the show wasn't announced until those who won tickets or got on the guest list went to pick them up at the Westin Gaslamp Quarter in Downtown San Diego Friday morning, and I arrived a little bit before the temporary pick up location was opened…  it seemed like the majority of the people there was from the Metallica Fan Club, though they gave out tickets at their Hall H panel at Comic Con later in the day ("Metallica Day").
The venue was Spreckels Theatre just around the corner from the Westin, and though the hard tickets shows a 10:00 time, and we were told later that doors would be at 9:00, they actually opened up even a bit before that.  Below is a photo of the hard ticket from the event: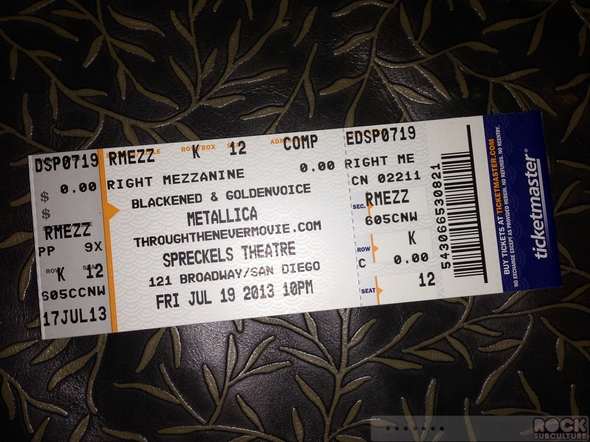 The theater was all numbered seating, with floor seats, a mezzanine, and a balcony above that.  My seat was at the back of the mezzanine, so I did not bother to take many photos (so unlike nearly all of the reviews on this site, this one has a meager offering of unspectacular distant photos just to give some idea of the small, intimate venue for this large and loud band).
The crowd did get a bit restless, wondering when the show was actually going to start, as 10:00 was long gone by the time they took the stage, at close to 11:00.  In all, they tore through a set over nearly an hour and a half, and truly everyone I spoke with was either a hard core fan of the band or had some kind of business connection to them.
Below is a photo of the setlist and some of the probably hundreds of guitar picks thrown into the audience at the end of the show, in promotion of their upcoming film:
Below is the one video I shot to give some sense of the special show, for their hit song, "Enter Sandman":
Below are a handful of photos from the mezzanine and then the floor at the close of the show: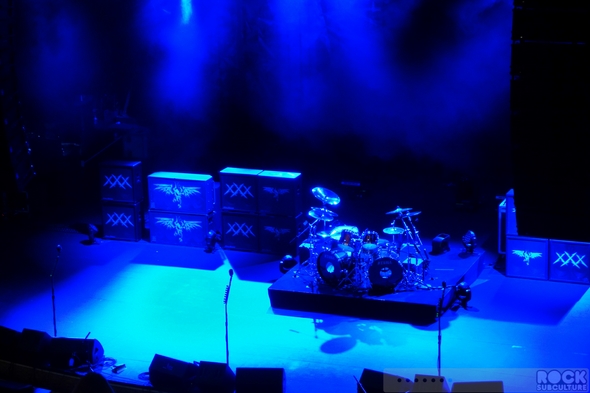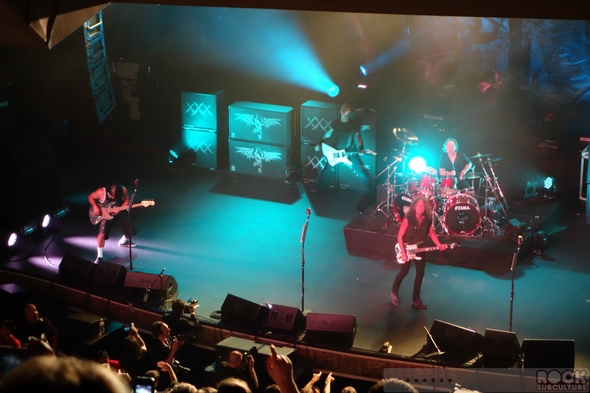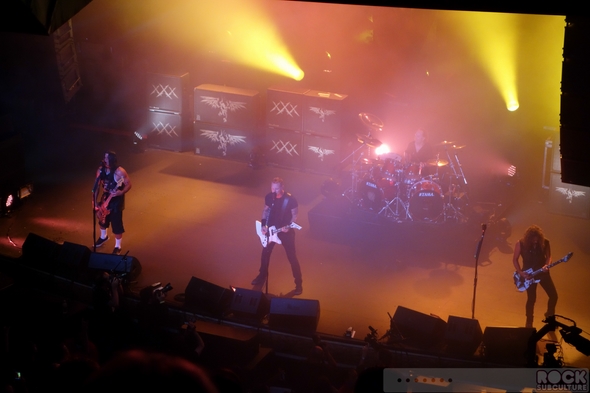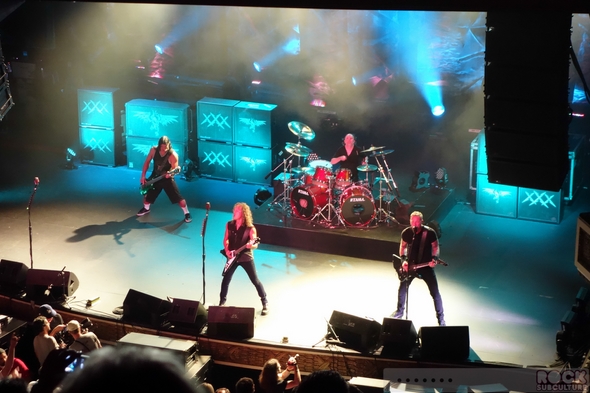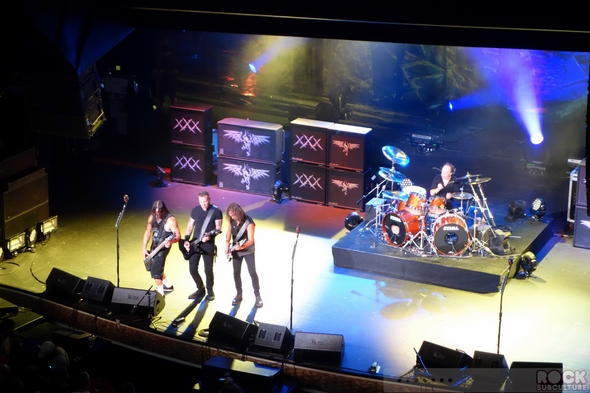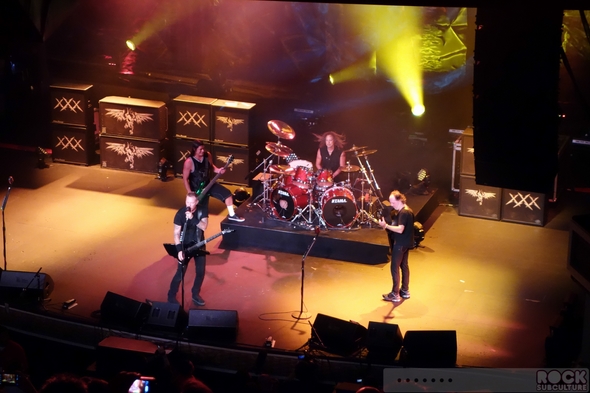 1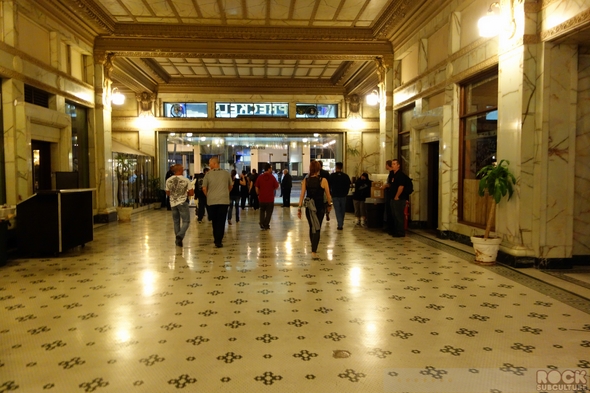 Jason DeBord