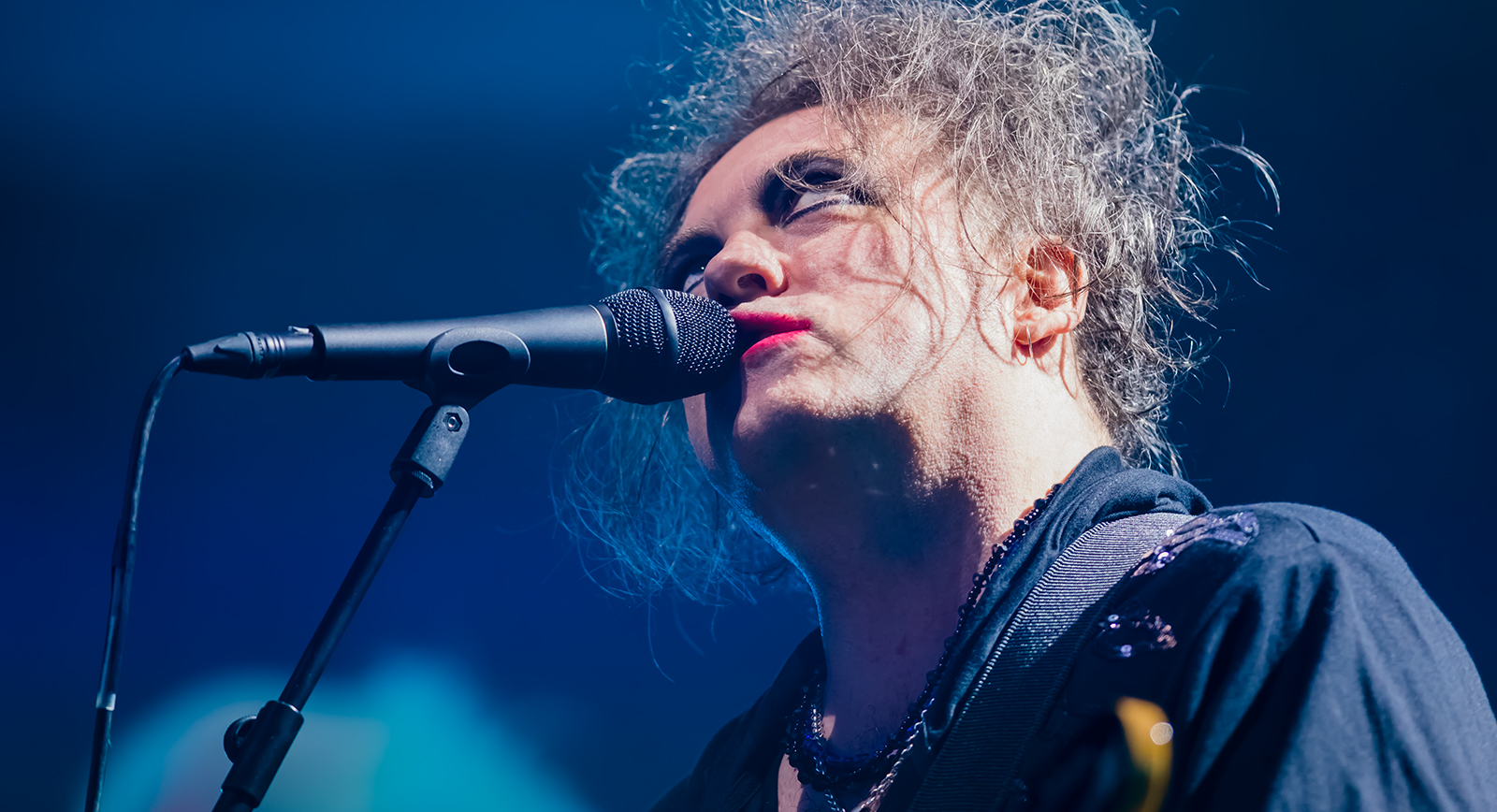 "Put your hands in the sky…"  Robert Smith of The Cure dispenses with the chit chat in-between songs for the most part, but fans of the band are so into every thought expressed in every song that the subconscious grooves in the back of their mind move them to connect with the moment, as as he sang those words during "From The Edge Of The Deep Green Sea", a majority of the sold out crowd at Shoreline Amphitheatre reached up to the blue above.  Not even a "hit" song for the band, that is the power of their music among the devoted.  But it wasn't just those long-time, hardcore fans that turned out for this show, but quite a number of "casual" fans as well, as this current tour is their first major one in the U.S. in about seven years.  Apparently, their absence has been felt and their return is cause for celebration.  They are not touring just the U.S., but the world at large through the end of the year.  With their sprawling set lists and shows running around three hours non-stop with three or four encores, one wonders how they physically keep up…  yet the shows they put on are stellar and truly unique experiences.  The band has been recording and performing for so long – formed four decades ago – it is something just to hear the music from such different eras all performed in the same style and sound, with Smith's matured vocals making them better than ever.  A spectacular evening of music from one of the most original and talented bands of my generation – live music events don't really get much better than this.  One of the "must see" tours of the year, hands down.
Who: The Cure
Supporting: The Twilight Sad
Venue: Shoreline Amphitheatre
Where: Mountain View, California
Promoter: Live Nation
When: May 26, 2016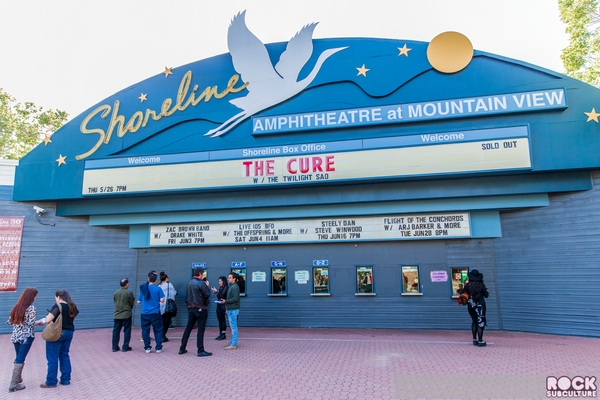 This long sold out stop on the tour was held at Shoreline Amphitheatre in Mountain View, California.  I don't frequent the venue too often, as it is quite a drive for me, but it does hold a special place in my heart.  Back in high school and college, when big concert venues were few and far between, Shoreline was where all the big shows happened (and still do), so even driving three and a half to four hours from Sacramento was just what one did to see the important artists on tour, unless they happened to also be playing Cal Expo (and if the shows were bands like The Cure or Depeche Mode or Duran Duran, you'd go to both).
It has changed a lot over the years, and there are ways in which it hasn't changed as well.  Now you pass Google on the way in; back in the late 80s and early 90s, it was a Google-free world.  Yet sitting within Shoreline Amphitheatre, closing your eyes, and listening to The Cure playing "A Forest", you can be transported back to those simpler times…
With this event, doors opened at 5:30, supporting artist The Twilight Sad came on at 7:00 and The Cure started at around 8:30 and played until about 11:15.
I was lucky enough to meet the band in Hawaii a few years ago, and Robert Smith off stage is just as you might imagine him… kind of quiet and shy and soft spoken, but very friendly and gracious and warm and engaging.  Like a big teddy bear come to life.
The Twilight Sad
Members:
James Graham (vocals)
Andy MacFarlane (guitar)
Mark Devine (drums)
Touring Members:
Johnny Docherty (bass)
Brendan Smith (keyboards)
The Twilight Sad are a post-punk band from Scotland formed in 2003.  They've released four studio albums, the latest being Nobody Wants to Be Here and Nobody Wants to Leave.
I thought they were a great choice to support The Cure…  youthful, but with music that is complimentary yet different and distinct.  They put on a great set, and front man James Graham reminded me a bit of Ian Curtis from Joy Division.  Their music is a bit on the somber side but with nice changes and unique riffs and sounds.  Worth checking out.
Below are some photos of The Twilight Sad performing on stage (click any image to open a virtual lightroom with higher resolution versions of each photo):
The Cure
Members:
Robert Smith (vocals, guitar)
Simon Gallup (bass guitar)
Roger O'Donnell (keyboards)
Jason Cooper (drummer)
Reeves Gabrels (guitar)
I've been fortunate enough to see The Cure perform live at a few special shows in the last couple of years – as part of  "The Great Circle Tour" at Neal S. Blaisdell Arena in Honolulu, Hawaii in 2013 as well as their headlining appearance for Teenage Cancer Trust at Royal Albert Hall in London, England in 2014.
So some of this background synopsis on The Cure is borrowed from my recent features on those other shows…
The British band was formed in 1976 and has had a variety of musicians come and go, with Robert Smith always fronting the band and being the face of the band as he has developed into becoming quite a musical icon going back even to their early days. Credited as one of the founders of goth, he has somehow always managed to interject some cheer into their works as well, going a bit against type and expectations, and even veering into some serious pop sounds. Not a man to be stereotyped.
In many ways (as with some of the other artists I'm most fond of), I think Robert Smith is maybe too unique of an artist to ever be fully appreciated by the mainstream, though I suspect maybe as an artist he sees that as a compliment.
Growing up with the music of The Cure, it was a fixture in the soundtrack of my life, to be sure, with certain songs and albums always having an association with different times and experiences.
One of my favorite albums growing up was the compilation, Staring At The Sea: The Singles, which I listened to countless times. Somehow, The Cure put out album after album filled with amazing songs, time after time. Though very active and influential during the 80s, I don't really consider them "an 80s band". Their sound is really so unique it is timeless. Neither does it sound like New Wave.  They are really hard to categorize, as they don't sound like anyone, and no one has really emulated their sound either. Both instrumentally and vocally (with Robert Smith's incredibly unique voice and delivery), they stand alone.
I think for me they are at their core kind of a post punk/pop punk band. In addition to their sound is the tone and subject matter, which is pure Robert Smith at the core, and reflective of his unique vision of the world. He is an amazing songwriter, and the results make me wonder if he approaches his songs as a form of poetry at some level.
Robert Smith has always struck me as having the nature of a puppy – kind of a pure and innocent view of the world…  I even get this from his performances, which are uniquely whimsical (or at least whimsical-like), which goes hand in hand with his unique vocal signatures, like the growling and dynamic and playful way of singing like no one else.
The band has definitely written and recorded some of my favorite songs of all time… "A Forest", "Fascination Street", "A Night Like This", "Hot Hot Hot!", "Why Can't I Be You?", "Killing An Arab", "Primary", "Play for Today", and many others. They suck you in with mood, catchy riffs, and more. There aren't a lot of music artists who can craft songs that you can't get away from… how do you hear the opening for "Fascination Street" and do anything but listen to the whole song? With many other artists, some songs have good bits, or choruses, and maybe have some less interesting stretches – with The Cure, the songs are stellar from end to end… the best of The Cure you just crank up the volume and let it envelope you; take you to a different place or give you a different perspective on the here and now. Their music isn't pop crap – it is real art. And to experience that live, in person, and hear it and feel the drum beat and the basslines and see the band on stage – a singular concert going experience.
And their live shows are really something to experience…  dozens and dozens of songs from different eras, you never know what to expect from one moment to the next.
One of the big changes with this new world tour is the production – a lot has been enhancede with graphics projected behind them as well as the lighting, much of it crafted uniquely to each song.  Even the little touches here and there, like with the lyrics, "laughing at the Christmas lights" triggering a flashing of red and green lights on the light bar above the stage.  Attention to details like this makes the show "work" on a grander scale when playing to a 22,000+ capacity venue like Shoreline.
But then there is the up close experience that is unmistakable…  Robert Smith has such a quirky charisma and seeing his facial expressions and especially his eyes as he sings and performs really is something else – you have to experience it to fully appreciate it.
The sound at Shoreline was stellar – everything was dialed in wonderfully and created an atmosphere in which you could forego the earplugs and just absorb the sonic bliss of the evening.
True to form, the show was long (in a fantastic way) and sprawling…  below is the set list for this date, and I added the original album associated with each song as well as year to give a sense of how much the show popped from one era to the next as well as which albums received the most love and attention this time around…
Setlist:
Open (Wish, 1992)
alt.end (The Cure, 2004)
A Night Like This (The Head on the Door, 1985)
Push (The Head on the Door, 1985)
In Between Days (The Head on the Door, 1985)
Kyoto Song (The Head on the Door, 1985)
Screw (The Head on the Door, 1985)
The Walk (single release 1983, later part of Japanese Whispers compilation)
Let's Go to Bed (single release 1982, later part of Japanese Whispers compilation)
Lullaby (Disintegration, 1989)
Fascination Street (Disintegration, 1989)
From the Edge of the Deep Green Sea (Wish, 1992)
Pictures of You (Disintegration, 1989)
Last Dance (Disintegration, 1989)
High (Wish, 1992)
Lovesong (Disintegration, 1989)
Just Like Heaven (Kiss Me, Kiss Me, Kiss Me, 1987)
Primary (Faith, 1981)
Want (Wild Mood Swings, 1996)
End (Wish, 1992)
Encore #1:
It Can Never Be the Same (new unrecorded song circa 2016)
Cold (Pornography, 1982)
Play for Today (Seventeen Seconds, 1980)
A Forest (Seventeen Seconds, 1980)
Encore #2:
Step Into the Light (new unrecorded song circa 2016)
Shake Dog Shake (The Top, 1984)
Burn (The Cure, 1994)
Wrong Number (single release 1997, later part of Galore compilation)
Encore #3:
Dressing Up (The Top, 1984)
The Love Cats (single release 1983, later part of Japanese Whispers compilation)
Hot Hot Hot!!! (Kiss Me, Kiss Me, Kiss Me, 1987)
The Caterpillar (The Top, 1984)
Close to Me (The Head on the Door, 1985)
Why Can't I Be You? (Kiss Me, Kiss Me, Kiss Me, 1987)
Boys Don't Cry (Boys Don't Cry, 1980)
The Head on the Door from 1985 proved to be especially poignant with this show with six songs from the album, followed by 1989's Disintegration with five songs and Wish from 1992 with four.
It's really hard to choose a "favorite" album by The Cure, but the two that I have the most nostalgia for are probably Kiss Me, Kiss Me, Kiss Me from 1987 and Disintegration from 1989, as I was in high school during this time and played them over and over.
At 43 years old today and as a child of the 80s, The Cure was (and still is) one of my favorite bands, and I have such a strong association with my high school years and my favorite bands kind of closing out that decade with what I view to be albums that best represent their work and progression during that era…  So high school for me began in 1987 with The Cure's Kiss Me, Kiss Me, Kiss Me, New Order's Substance, and Depeche Mode's Music for the Masses… and then the decade ended with 1989 and The Cure's Disintegration, New Order's Technique, and then Depeche Mode's Violator in 1990.  The end of an era of music.  Not that the bands stopped, but those albums represented the best of that overall genre of music that kind of stopped on a certain level with those works, and then everything changed with The Pixies and Nirvana and the Smashing Pumpkins and other newer artists at the time.
One interesting thing about The Cure playing more than three dozen songs in a set is that there is still so much left unplayed…  they have so much incredible music.  But huge kudos to them for playing so many songs in one stretch and always changing it up.  The fact that they can play such a wide variety of songs is remarkable.  Many bands practice and hone 12-15 songs and play the same sets night after night.  The Cure keep it real.
Though Robert Smith is the individual most associated with the band, each of the current members have amazing careers in music themselves, with and without The Cure. Simon Gallup on bass goes back to 1979 with The Cure, while Roger O'Donnel joined on keyboards in 1987, though was also a member of Thompson Twins and The Psychedelic Furs. Jason Cooper starting working with The Cure on drums in 1995, and has also done work in composing music for film. Reeves Gabrels has an extensive work in the industry, including Grammy Award nominated work with David Bowie, and he started collaborating with The Cure in 1997. A really stellar line-up for the band that have been solid for many years now.
Being older myself now, it is interesting to look at the band and how they are received today, and compare and contrast with how things were growing up…  I was always feeling like an outsider and gravitated to music from artists like The Cure, who had such a different outlook and view of the world, and more interesting and thoughtful things on their minds…  The Cure wasn't even on the collective radar of the self-declared popular and pretty people of the world back in the 80s and especially the 90s.  Today, reading Facebook and looking at media from people who seem to be becoming aware of the band just now, there seems to be some revisionism that makes me laugh a little.  But none of it changes the relationship of the long time fan with the band and their music, it just shows that a lot of the masses are still catching up to what they were missing all along.  And that's a good thing.
In any event, The Cure are better than ever, and I could seriously turn out for their shows again and again and just savor every moment, because they are just that amazing.
Below are some photos of The Cure performing on stage (click any image to open a virtual lightroom with higher resolution versions of each photo):
Jason DeBord