Please visit this page to view a sample portfolio of my concert photography: LINK TO PORTFOLIO
Please visit this page to contact me: CONTACT ME
About The Rock Subculture Journal
The Rock Subculture Journal is a website and resource that celebrates rock and roll and popular music and related subgenres, in a variety of forms… from concert reviews and related photography to interviews and news to analysis and opinions regarding everything from studio recordings to live performances to collectible artifacts and memorabilia.
With the Rock Subculture Journal, I really wish to celebrate a love of music, and especially the incredible opportunities to go and see favorite artists perform live, and in some rare cases, even meet and interact with them.
One of the most challenging aspects for this endeavor has been coming up with a name for it…
In the end, with some help from my friend and fellow music lover Oz, I settled in on the Rock Subculture Journal (or simply Rock Subculture for short).
Music is a very subjective thing, and I love many styles and genres of music, so the biggest challenge was finding one word (other than "music", which is too broad), to cover all that I love. And the best word for that seemed to be "rock", short for "rock 'n roll" or "rock music".
I think Wikipedia has a nice definition of Rock music, which opens with the following paragraph:
Rock music is a genre of popular music that developed during and after the 1960s, particularly in the United Kingdom and the United States. It has its roots in 1940s and 1950s rock and roll, itself heavily influenced by rhythm and blues and country music. Rock music also drew strongly on a number of other genres such as blues and folk, and incorporated influences from jazz, classical and other musical sources.
I believe that the American Heritage Cultural Dictionary has an appropriate definition for subculture:
A group within a society that has its own shared set of customs, attitudes, and values, often accompanied by jargon or slang. A subculture can be organized around a common activity, occupation, age, status, ethnic background, race, religion, or any other unifying social condition, but the term is often used to describe deviant groups, such as thieves and drug users. ( See counterculture.)
What I like about this, and in my own personal experience, is that rock and popular music actually brings together a diverse group of people who might not ever otherwise meet or socialize, if not for a shared interest in certain bands, artists, or styles of music. Music really transcends occupation, age, status, ethnic background, race, and religion – I think it can speak to us on a much different level that puts all of those other elements aside.
Lastly, I sought a word that would be sum up my own objectives in publishing articles on this site, and journal seemed perfect to me (at least the first three definitions):
1. a daily record, as of occurrences, experiences, or observations.

2. a newspaper, especially a daily one.

3. a periodical or magazine, especially one published for a special group, learned society, or profession.
So all in all, this site is a resource for fellow fans of music, and I continue to publish frequent articles that cover long favorite as well as new and emerging artists, their activities and live concert events, some news, a variety of resources, tips about buying tickets for and attending gigs, travel tips and ideas, information about collecting related memorabilia, some showcases of such memorabilia, interviews, and more.
I publish my e-mail and phone number on this site publicly, so if you would like to get in touch with me, please feel free to do so. I am always happy to talk music, as well as meet people at various concerts.
About Jason DeBord
The Rock Subculture Journal is an effort to share my love of music, connect with fellow fans and artists, and to share and memorialize experiences at live events, as well as participate in the dialogue about bands and artists in contemporary rock and pop music. I write about my own experiences and opinions in the form of articles shared on this site.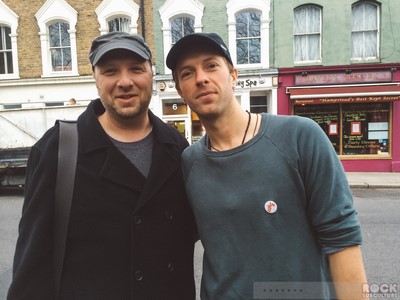 – with Chris Martin of Coldplay
As music is extremely personal and subjective, the content of the Rock Subculture Journal reflects my own personal tastes when in comes to music. So I thought it might make some sense here to share a little bit about myself, to frame my articles in the context of the music that I follow and enjoy and why.
You can also check out my January 2015 interview with the Monterey County Weekly here: LINK
My name is Jason DeBord, and some who come across this site might know me or know of me via my long-running sister website, the Original Prop Blog. The Original Prop Blog, which has been a significant resource to those in the entertainment memorabilia art market since 2007, began as a non-profit news and information resource intended to help consumers navigate the world of collecting original popular culture artifacts, namely props, costumes, and other artifacts made for and used in film and television productions.
I have been a fan of "genre" film and television my entire life, and do have a background in the study of these popular arts. While my undergraduate degree was in English and Literature (Bachelor of Arts in English from California State University Sacramento), my subsequent graduate studies were exclusively in film and television. I studied at Loyola Marymount University's School of Film and Television and graduated with a Master of Fine Arts in Communication Arts.
– with Robert Smith of The Cure

I was born in 1973, and grew up listening to popular, contemporary music as a child, and always had an attraction to and fondness for music. I've always felt a powerful connection with music, in that it can serve as your own soundtrack to everyday life, and I've always felt a certain "marker" to time and place with the first time I've heard certain artists or songs, or at important times of my life, where when I later hear the same music, it can almost transport me back to that time and place, my perspective on life, how I was feeling, what was going on at the time, etc. So music serves as the powerful connection to different places in my life.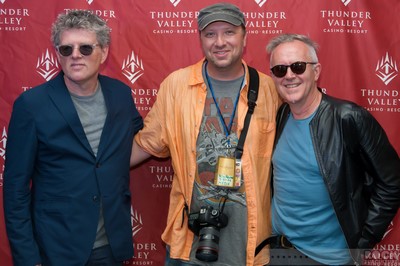 – with Tom Bailey of Thompson Twins and Howard Jones

The era of music that really spoke to me though, was notably the music produced in the 1980s. Though I loved most everything in the 80s (even the cheesy stuff), my absolute favorite was what fell into the genre that, at the time, was called "Modern Rock". I do remember though, at 10 years old, the first cassette tape I ever purchased was Michael Jackson's Thriller, and I distinctly remember buying Duran Duran's Seven and the Ragged Tiger and Billy Ido's Rebel Yell about a year later. I have an older sister, so her and her friends would turn me onto new music regularly (I remember one of her friends giving me a mix tape with lots of B-52s, and one song I was never able to identify for years and years – World Destruction by Time Zone with John Lydon).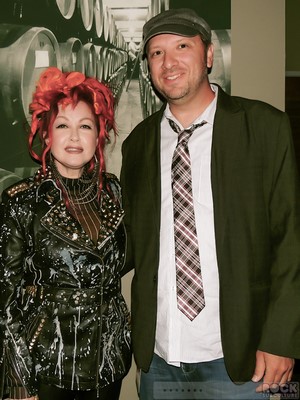 – with Cyndi Lauper

Growing up, I remember listening to Casey Kasem's American Top 40 to hear the latest music, and I would actually use the radio with tape deck built in to record songs onto tapes so I could listen to the songs I loved the most over and over (this was obviously several decades before the Internet and iTunes). Primitive technology and quality by today's standards, but it worked.
The first concert I ever attended, funny enough, was Run DMC and the Beastie Boys at Cal Expo in Sacramento in 1987. I'd listened to the License to Ill cassette tape so much in the 8th grade I literally wore it out and broke it.
Also in 1987, a few months after the Beastie Boys and Run DMC show, I saw Lisa Lisa and the Cult Jam, with Exposé opening, at the same venue. In fact, I was certain during the concert, that Ann Curless of Exposé was staring right at me during the performance, which seems kind of ridiculous today, but as a young teen, I was a believer. But right then and there, I realized what a powerful experience it was to be able to listen to a record and then go and stand before the very artists that made the music, and perform it live, on stage. Remarkable. I was hooked.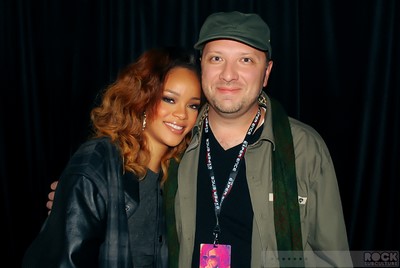 – with Rihanna

Other favorite shows at a young age included Depeche Mode and Duran Duran (still among my very favorite bands to this day).
Once I was old enough to drive, I began going to concerts… living in the Sacramento area, it was a lower tier draw for many of the artists and bands I followed, so I often would drive into San Francisco/the Bay Area for shows (which was a 2.5-3 hour drive). While in high school and into college, I would often see as many as one show a week.
– with Vince Clarke and Andy Bell of Erasure, as well as my fiancee Shelley

The funny thing is, in retrospect, back in those days, there was no buying concert tickets online… if I knew a certain show was going on sale (which I would have to learn about from reading the local paper, or looking for flyers at record shops), I would get up early on a Saturday morning to go sit out in front of a store that had a Ticketmaster computer (mostly Tower Records, though Macy's did for some time as well), and wait in line with others and hope for the best. Most shows were general admission, but some that were seated, you always hoped to get in the front row, but never scored such tickets. We were all at the mercy of the person selling us the tickets and literally printing them out, who was never in much of a hurry.
– with LL Cool J

Over the years, I was lucky to see many, many awesome shows. Some I'd see locally and in San Francisco, back to back (like Depeche Mode, The Pixies, and Morrissey). I got to see New Order, U2, Violent Femmes, They Might Be Giants, Sugar, Tori Amos, Throwing Muses, Cocteau Twins, Ministry, Nine Inch Nails, the Cure, Thompson Twins, Erasure, Green Day, No Doubt, Siouxsie and the Banshees, Information Society, Sugarcubes, The The, the Cranberries, Frente!, Sonic Youth, the Cranes, the Smithereens, Pet Shop Boys, Hally & Oates, Cyndi Lauper, Smashing Pumpkins… Really early Concrete Blonde and the Pixies. I remember skipping my high school senior prom to see Book of Love and seeing OMD the same year. I was lucky enough to see Nirvana's 1993 charity concert at the Cow Palace with L7 and the Breeders. After moving to Los Angeles, I saw the final Oingo Boingo concert at Universal Amphitheater on Halloween 1995 (later turned into a VHS and CD release). I also got to meet Peter Murphy that year at the Virgin Megastore for a signing (and Jewel of all people opened for him on the tour, though she was fairly unknown at the time).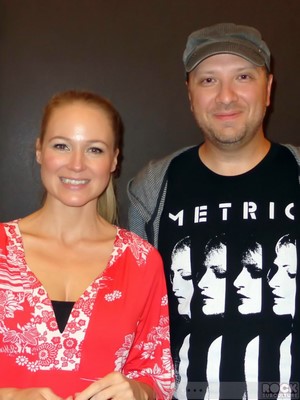 – with Jewel

Also, while in high school, I would spend a lot of my money at Spirit Records on Sunrise Blvd in Rancho Cordova and The Beat in Downtown Sacramento buying many, many import CDs and vinyl 12″ singles that were made for England and European countries, as well as Japan. These were very costly, as was buying CDs based on the cover and talking to record store employees, not really having any idea what they sounded like (and buying a lot of duds).
Probably the best "blind" purchases I ever made were the "Just Say Yes" series from Sire Records (particularly the first three – Yes, Yo, Mao), which introduced me to some incredible music at the time. The compilations include tracks (some rare, remix, and b-sides) from artists like Depeche Mode, Figures on a Beach, Underworld, Book of Love, Ministry, My Bloody Valentine, Erasure, NASA, Mighty Lemon Drops, James, Echo and the Bunnymen, Throwing Muses, Danielle Dax, Morrissey, Ofra Haza, Tom Tom Club, Ice-T, The Smiths, The Ramones, The Replacements, k.d. land, Lou Reed…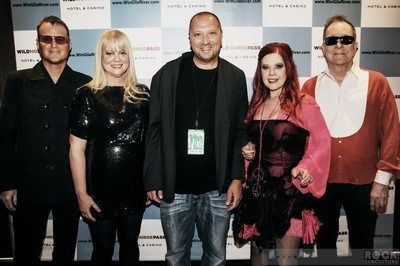 – with The B-52s

Obviously, a lot has changed over the years due to technology – most notably with the Internet (social networking, online previewing/purchasing of songs, information) and cell phones and cameras (high quality photos and videos at concerts).
In those early days, there was no way to take a photo, let alone shoot video at a concert. Today, it is ubiquitous. At any point during a concert, you look around and see a sea of pocket digicams and cell phones shooting photos and video. Obviously, there are positives and negatives to such dramatic changes, but overall, I mark it as highly positive, as now fans have an opportunity to memorialize there own experiences.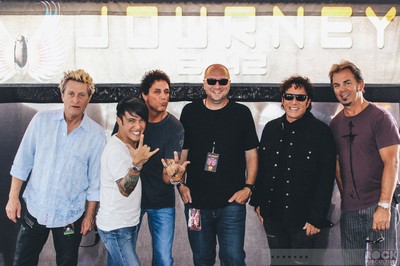 – with Journey

In the past few years, starting with a trip to England to attend some Coldplay concerts, I have published some articles about my experiences attending concerts, and shared some photos and video. This began on my other site, the Original Prop Blog, and today, with the launch of this website, those articles have been copied over to launch this site.
While off topic for the other site, it seemed to be in the cards even back then to spin off another site where such content would be the focal point.
As a collector, I have also done some collecting of stage and studio used equipment from some of my favorite bands, so I thought that using some of my expertise in the movie prop world could translate over to music as well. I am a fan of finding, authenticating, and preserving rare popular culture artifacts, and just as attending a concert is a thrill, so, too is finding anything from an instrument or even a set list or guitar pick used by a favorite band or artist in producing their music and performing in concert.
– with Method Man and Redman

In any event, I have found much success in meeting new people and making new friends with my movie and television related website, and I hope the same is true with this new venture into maintaining a music related site and resource.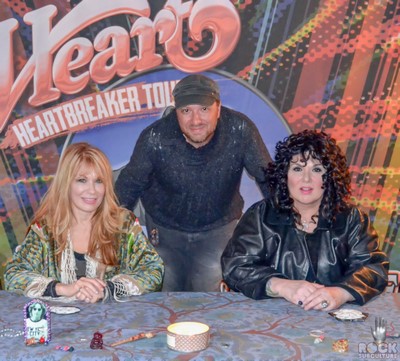 – with Nancy Wilson and Ann Wilson of Heart

I publish my e-mail and phone number on this site publicly, so if you would like to get in touch with me, please feel free to do so. I am always happy to talk music, as well as meet people at various concerts.
Jason DeBord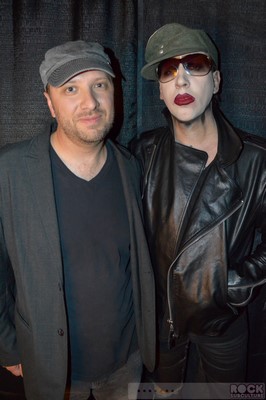 – with Marilyn Manson