"It's not my instrument; for the last time…"  Not very talkative during a concert, a funny line blurted out by Robert Smith, front man for The Cure, after returning a cowbell to the side of the stage, during a sprawling set that ran continuous for nearly four hours, with no less than three full encores.  The second of two nights playing to benefit Teenage Cancer Trust, The Cure played sans opener, coming on a about 7:30 and performing 29 songs…  then the came back for a six song encore…  then another seven song encore…. and finally a last three song encore.  The sound was amazing, and the band was brilliant.  An amazing evening with a stellar crowd, at a historic venue, all for a very worthy cause – it doesn't get much better than this show…

Who: The Cure
Venue: Royal Albert Hall
Where: London, England
Promoter: Teenage Cancer Trust in Partnership with The Body Shop
When: March 29, 2014
Seating: Door 9, 2nd Tier, Door 61, Seats 1 & 2 (front row balcony)

I raved on and on about The Cure and their first show ever in Hawaii last year (see The Cure "The Great Circle Tour" at Neal S. Blaisdell Arena | Honolulu, Oahu in Hawaii | 7/30/2013), and it's hard to best a show 1) in Hawaii, 2) where I met the band, 3) I shot the photographed professionally, and 4) I watched the rest of it from the front row…  but this was truly a special concert in London last night.
As explained in my preview for this series of shows, Teenage Cancer Trust "lead the world in the care of young people with cancer", and in partnership with The Body Shop, this week they have been holding their 2014 concert series at The Royal Albert Hall.  This year, headliners included Ed Sheeran (March 24th), an evening of comedy featuring Micky Flanagan and John Bishop as hosted by Jason Manford (March 25th), Paolo Nutini (March 26th), OneRepublic (March 27th), The Cure (March 28th and March 29th), and Suede (March 30).  This year marks the 35th anniversary of The Cure's debut album, Three Imaginary Boys, and their two shows sold out pretty much instantly, as they were announced.
The Cure
Members
Robert Smith (vocals, guitar)
Simon Gallup (bass guitar)
Roger O'Donnell (keyboards)
Jason Cooper (drummer)
Reeves Gabrels (guitar)
I really don't even know where to begin with my background on The Cure, and this is my synopsis in the next few paragraphs that I came up with in my last review of the band. The British band was formed in 1976 and has had a variety of musicians come and go, with Robert Smith always fronting the band and being the face of the band as he has developed into quite a musical icon going back even to their early days. Credited as one of the founders of goth, he has somehow always managed to interject some cheer into their works as well, going a bit against type and expectations, and even veering into some serious pop sounds. Not a man to be stereotyped.
In many ways (as with some of the other artists I'm most fond of), I think Robert Smith is maybe too unique of an artist to ever be fully appreciated by the mainstream, though I suspect maybe as an artist he sees that as a compliment.
Growing up with the music of The Cure, it was a fixture in the soundtrack of my life, to be sure, with certain songs and albums always having an association with different times and experiences, memories.
One of my favorite albums growing up was the compilation, Staring At The Sea: The Singles, which I listened to countless times. Somehow The Cure put out album after album though, filled with amazing songs, time after time. Though very active and influential during the 80s, I don't really consider them "an 80s band". Their sound is really so unique it is timeless. It doesn't sound like New Wave. Like I said, they are really hard to categorize, as they don't sound like anyone, and no one has really emulated their sound either. Both instrumentally and vocally (with Robert Smith's incredibly unique voice and delivery), they stand alone.
I think for me they are at their core kind of a post punk/pop punk band. In addition to their sound is the tone and subject matter, which is pure Robert Smith at the core, and reflective of his unique vision of the world. He is an amazing songwriter, and the results make me wonder if he approaches his songs as some form of poetry at some level.
Robert Smith has always struck me as having the nature of a puppy – kind of a pure and innocent view of the world… uncertain and with wild mood swings. I even get this from his performances, which are uniquely whimsical (or at least whimsical-like), which goes hand in hand with his unique vocal signatures, like the growling and dynamic and playful way of singing like no one else.
The band has definitely written and recorded some of my favorite songs of all time… "A Forest", "Fascination Street", "A Night Like This", "Hot Hot Hot!", "Why Can't I Be You?", "Killing An Arab", "Primary", "Play for Today", and many others. They suck you in with mood, catchy riffs, and more. There aren't a lot of music artists who can craft songs that you can't get away from… how do you hear the opening for "Fascination Street" and do anything but listen to the whole song? With many other artists, some songs have good bits, or choruses, and maybe have some less interesting stretches – with The Cure, the songs are stellar from end to end… the best of The Cure you just crank up the volume and let it envelope you; take you to a different place or give you a different perspective on the here and now. Their music isn't pop crap – it is real art. And to experience that live, in person, and hear it and feel the drum beat and the basslines and see the band on stage – a singular concert going experience.
I actually came out to London for this trip basing it around this concert, and taking my girlfriend to her first ever show for the band (and first visit to England as well), so it's been a truly amazing experience all around.  At the end of the show last night, she said it was the best concert that she's ever seen, so I think that says quite a bit.
This was my first show at the historic Royal Albert Hall, and it is an amazing venue.  Very unique, and while I usually love to be right up against the stage, it was quite nice to relax in a front row balcony "box" and get the full effect of the crowd and optimal sound (as well as sit for nearly four hours).  Really loved it and can't wait to see another show at Royal Albert Hall.
And on that note, the sound was superb – one of the rare shows in which I complete skipped over use of ear plugs.
I took photos of the set list and each of the encores that followed from my balcony seat.  Below is what was played Saturday night:
Plainsong
Prayers for Rain
A Strange Day
A Night Like This
Stop Dead
Push
In Between Days
2 Late
Jupiter Crash
The End of the World
Lovesong
Mint Car
Friday I'm in Love
Doing the Unstuck
Trust
Pictures of You
Lullaby
High
Harold and Joe
The Caterpillar
The Walk
Sleep When I'm Dead
Just Like Heaven
From the Edge of the Deep Green Sea
Want
The Hungry Ghost
Wrong Number
One Hundred Years
Disintegration
First Encore:
If Only Tonight We Could Sleep
Shake Dog Shake
Fascination Street
Bananafishbones
Play for Today
A Forest
Second Encore:
Catch
The Lovecats
Hot Hot Hot!!!
Let's Go to Bed
Freakshow
Close to Me
Why Can't I Be You?
Third Encore:
Boys Don't Cry
10:15 Saturday Night
Killing an Arab
The setlist really represents touch points throughout the career of the band. Different eras (not just for the band, but those who have followed them as music was created, published, and released), different moods, different themes. Maybe most interesting about it's kind of meandering and non-linear approach is that it all ends where it began – with their first single (the retrospectively politically controversial "Killing an Arab") and it's B-side (10:15 Saturday Night), which I have my own strong nostalgia-based associations with from the aforementioned Staring at the Sea singles album which I pretty much wore out.
As with my experience in Hawaii, even with a massive show like this, the band has so much great material, they still can't cover it all in one show.
As with last year, it struck me about how the band play amazingly well together, and really seem to enjoy playing live music.  They excel at recreating their studio sound on the stage.
Though Robert Smith is the individual most associated with the band, each of the current members have amazing careers in music themselves, with and without The Cure. Simon Gallup on bass goes back to 1979 with The Cure, while Roger O'Donnel joined on keyboards in 1987, though also was a member of Thompson Twins and The Psychedelic Furs. Jason Cooper starting working with The Cure on drums in 1995, and has also done work in composing music for film. Reeves Gabrels has an extensive work in the industry, including Grammy Award nominated work with David Bowie, and he started collaborating with The Cure in 1997. All were fantastic last night. A really stellar line-up for the band, and phenomenal live.
The lighting throughout the show was excellent, and there were multiple moving and stationary video cameras at different vantage points that recorded the entire show, so I wouldn't be surprised to see an edited down version of the show on something like World Stage on Palladia or something.
I also have to make special mention about Simon on bass guitar… brilliant. With a lot of bands the bass is not much more than a bassline in the background, but it is vital with The Cure and especially with most of their songs, and it was some of the best bass playing I've heard in some time. Stellar. On stage, Simon also brings a lot of life to the show visual, as he prowls around during the songs, while the other members are fairly tied to their respective stations.
Fantastic show and amazing audience – maybe one of the best I've seen – real hard core fans from all over the world, celebrating each song in bliss and singing along all the words.  Amazing event.
This was a no press show, so I unfortunately don't have really quality photos to share this time around.  I did snap a few photos with my pocket camera and iPhone to give some idea of what things looks like, and I share those below (click any image for higher resolution versions of each photo):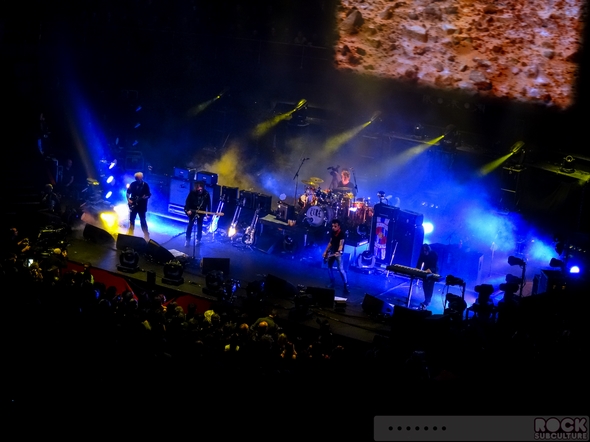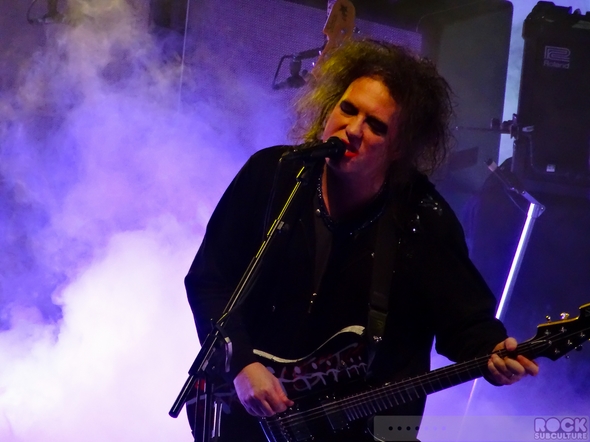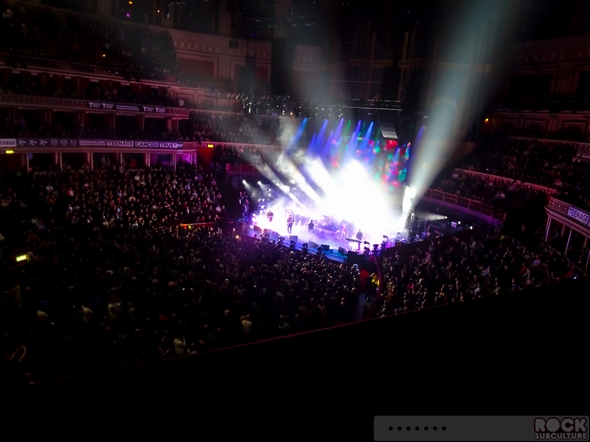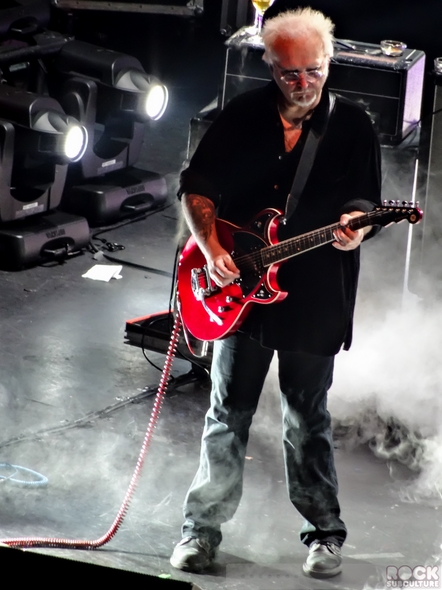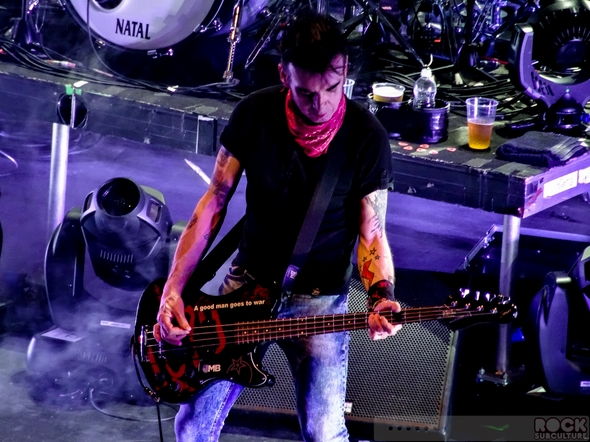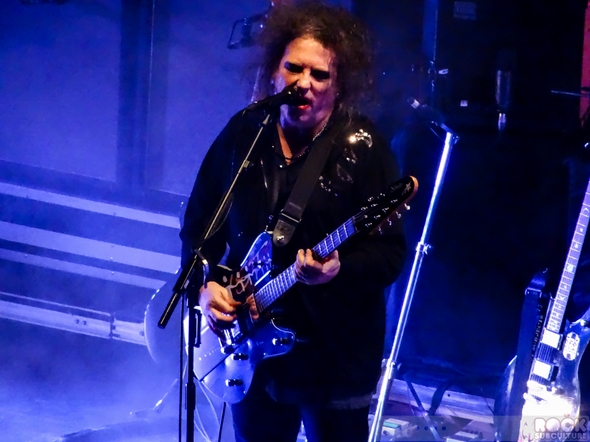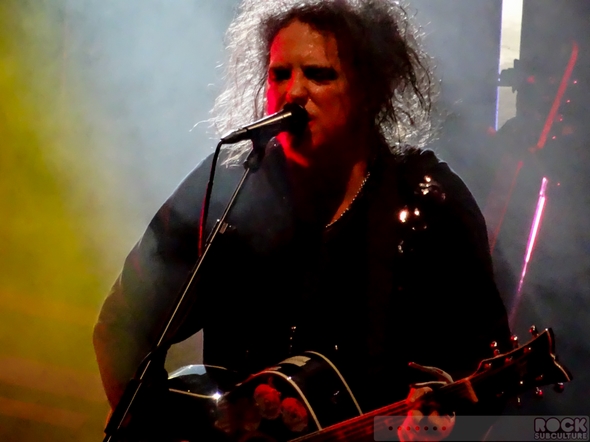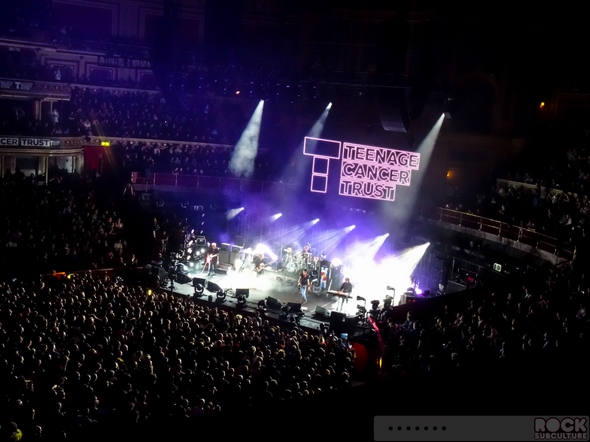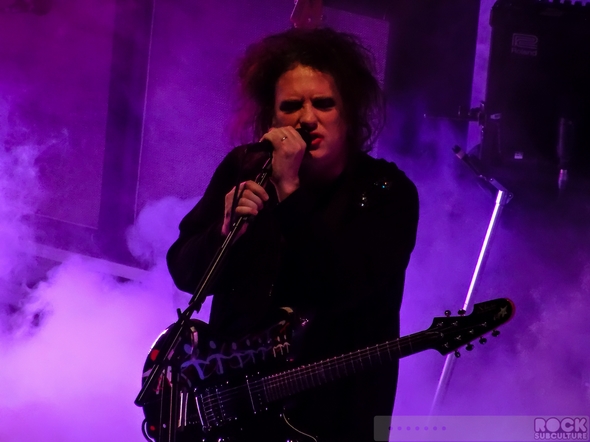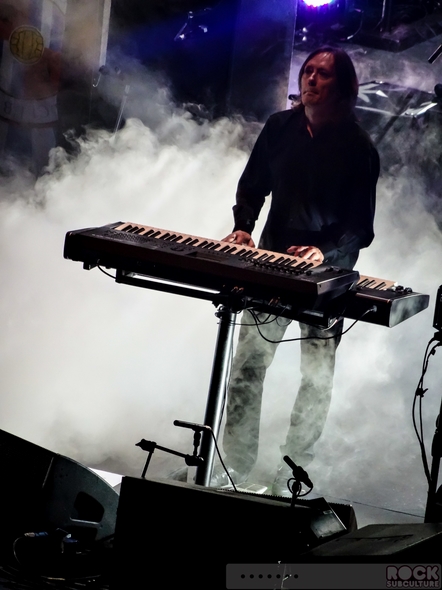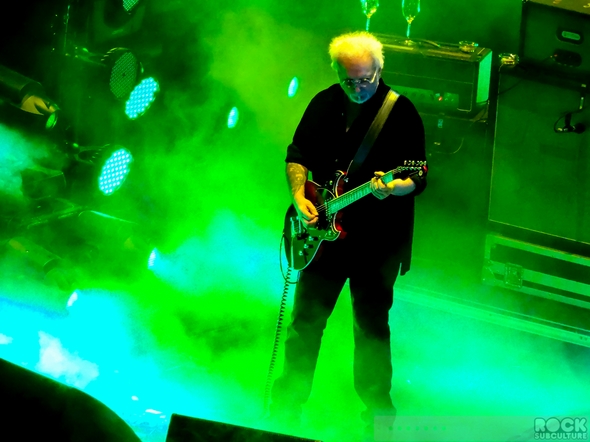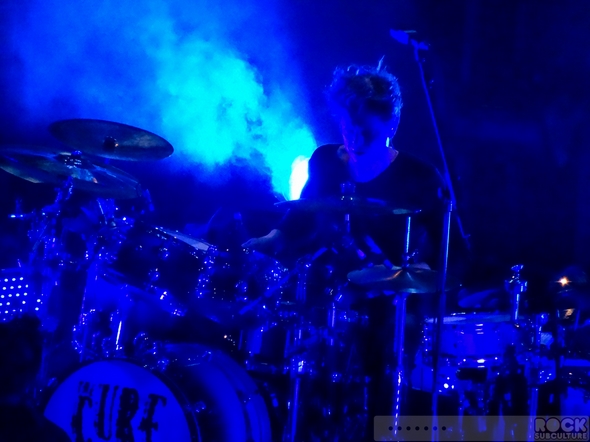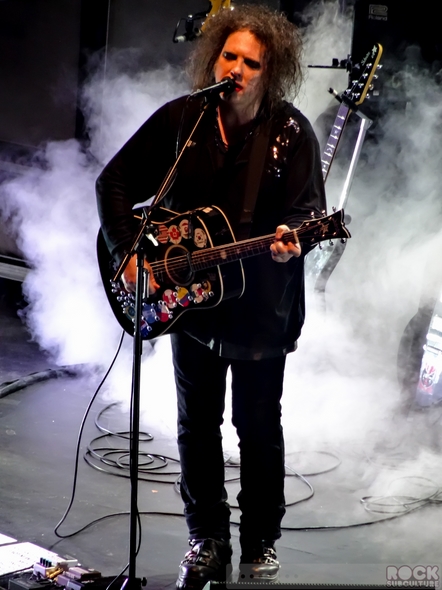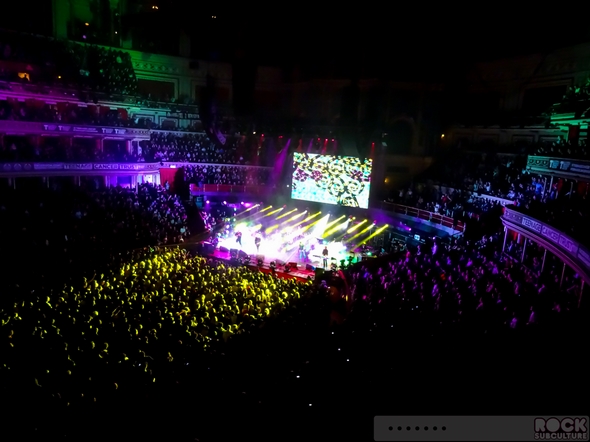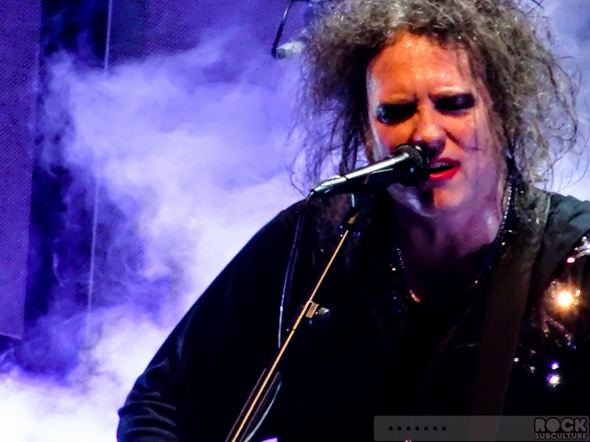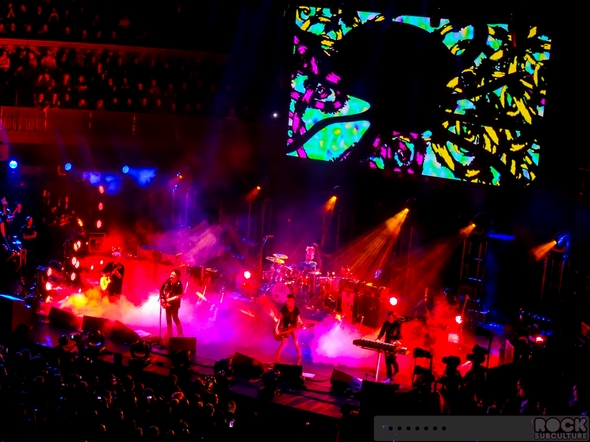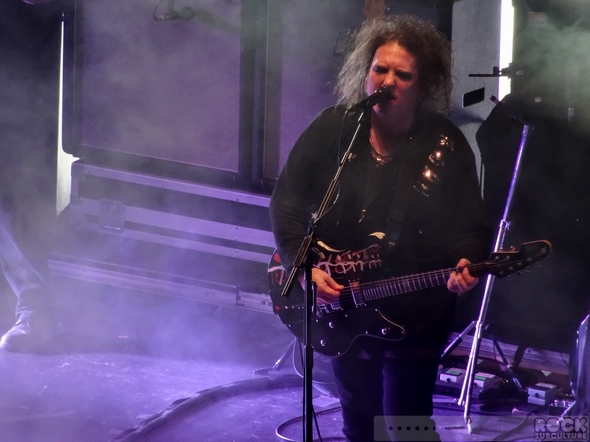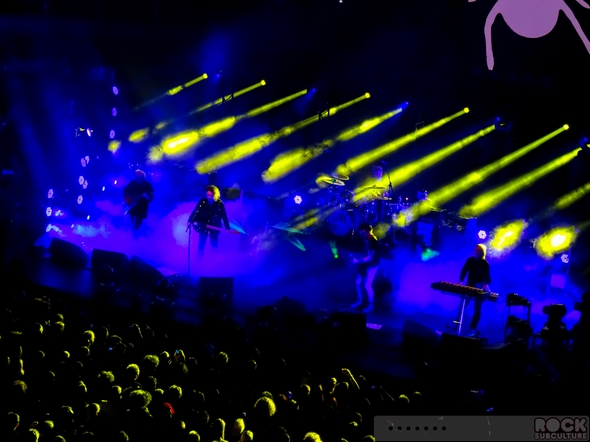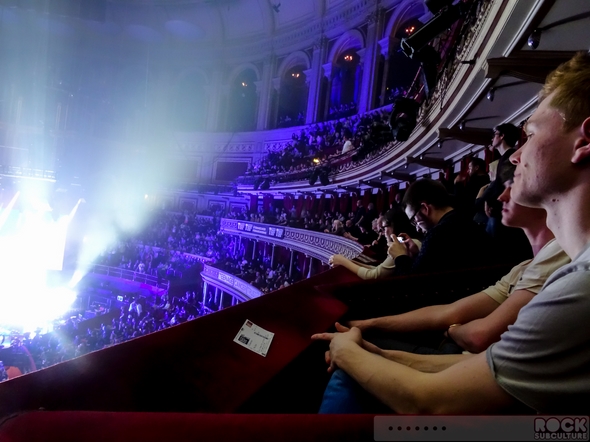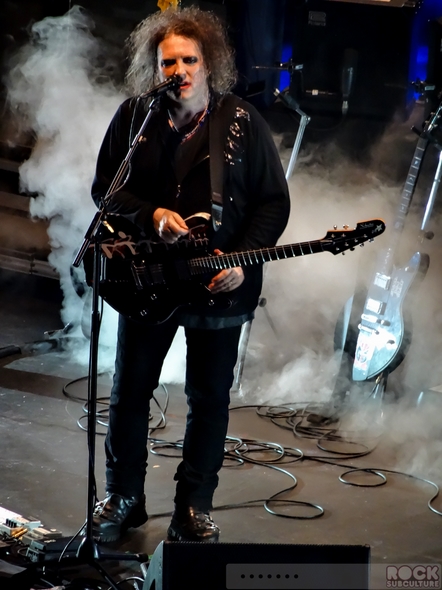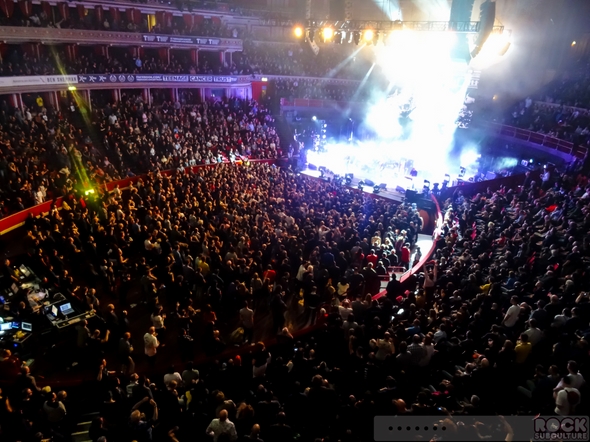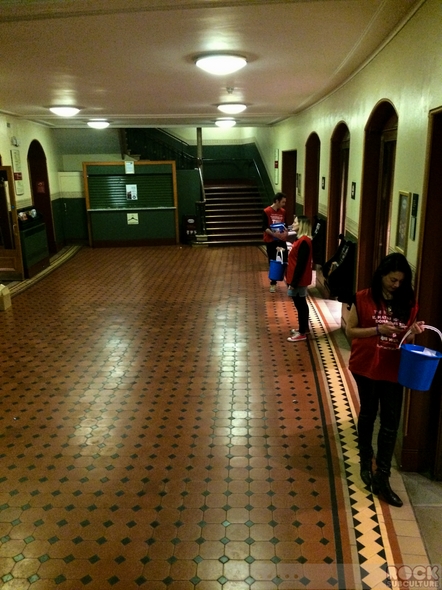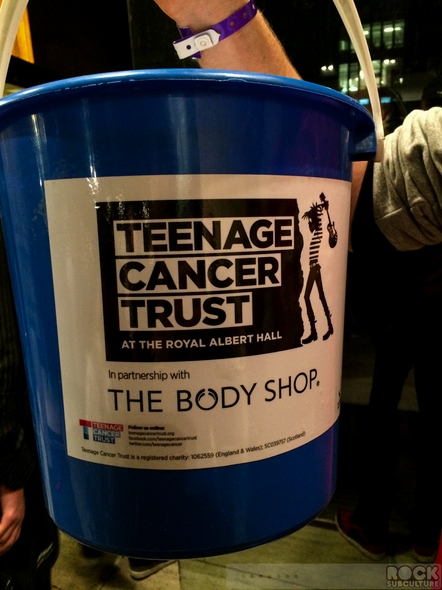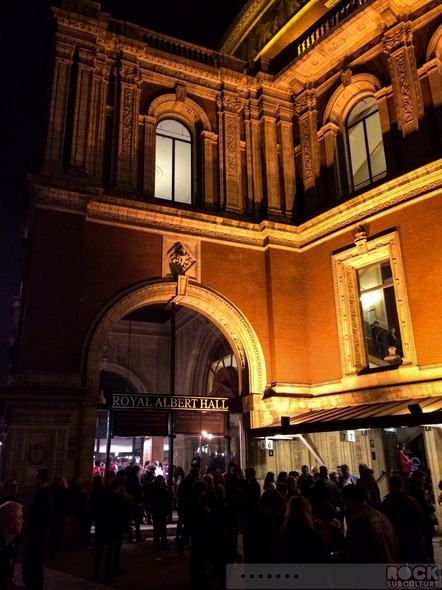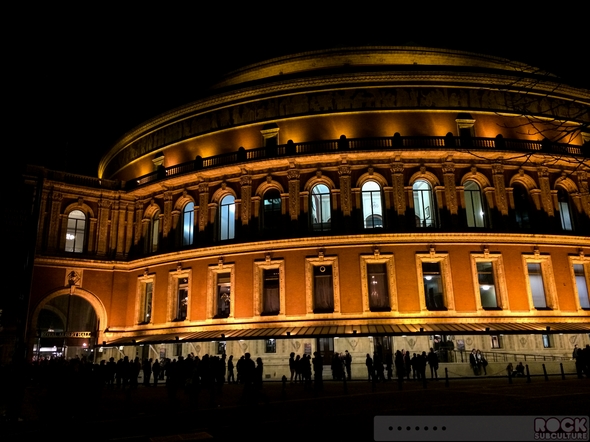 Jason DeBord