Playing on stage for nearly three and a half hours, with just two 2-minute breaks and almost no in-between song chit chat, The Cure was all about songs and performance at the Neal S. Blaisdell Arena in Honolulu, Oahu last night, making the legendary band's first ever concert in Hawaii maybe one of the best for those lucky enough to score tickets at the sold out arena.  Last night's rocking show was all about fan service, from the sprawling 38-song set list to the special meet and greet opportunity for those who were able to get one of the coveted front row seats on the floor; the decades old group that is impossible to categorize played a dream set of many of their seemingly endless catalog of hits, spanning their entire career. Though they've been one of my own favorite bands since the 80s, I haven't seen them live since their Wish Tour in the early 90s. I've been to over 60 concerts so far this year and with that probably have seen sets by well over 100 artists, and I would definitely rank this as one of my Top Three shows so far in 2013. Having traveled special to the islands for this special concert event – part of their "The Great Circle Tour" – it was definitely more than worth it as it was an unforgettable experience.

Who: The Cure
Who or Supporting: Clones of the Queen
Venue: Neal S. Blaisdell Arena
Where: Honolulu, Hawaii
Promoter: BAMP Project & Live Nation
When: July 30, 2013
Seating: Section BB, Row 1, Seat 1 (also photo pass first three songs)
This is really the definition of a one off show, and once I'd seen the first mention of it by Hawaii's BAMP Project, I had a feeling it would be difficult to pass up any opportunity to experience this event, if at all feasible. As reported last month, special to this show they included a meet and greet opportunity for those who purchased one of the 42 front row seats (with a portion of those ticket sales benefiting Hawaii Arts Alliance).  I was lucky enough to get one right as they went on sale, as did my friend Darrell in Honolulu (who I met via a set of Morrissey shows in Oahu and Maui last year).
Darrell is an amazing fan of music in his own right, and got in touch with many other fans leading up to the show and organized a Cure Happy Hour at Kinkaid's Fish, Chop and Steakhouse the afternoon before the show. I attended this as well and it was great to meet a number of devout followers of The Cure from all over the United States and around the world.
Funny enough, there was some inadvertent timing with this show, as Tropical Storm Flossie has been in the news and threw a wrench into the travel plans of many flying into Oahu for the show on Monday and Tuesday. I was departing Northern California myself Monday morning, and of the two flights destined for Hawaii, I am thankful I was booked on the one that wasn't canceled due to the weather (the other one was).
The meet and greet was scheduled to occur just prior to the show, so I got to experience that myself. As I wanted to shoot and review the opening band, Clones of the Queen, I was able to go in with the first group of ten to meet the band.
I've done a number of meet and greets over the years and they are all different, so you never know what to expect. Darrell was told by Ticketmaster that each participant could bring one item to be signed, so earlier in the day I raced over to Hungry Ear Records (an awesome local music store) and got an original vinyl copy of The Top.
As we were led over to the backstage area, the full band was there waiting for us, and even had Sharpie's to sign things, which was awesome. It was pretty casual, and the bandmembers were very friendly and completely unpretentious and took way more time with us than I expected… to chat a bit one on one, give autographs, and take some photos.
I meet quite a few musicians, but for me, meeting Robert Smith is about as big as it gets. I've been a huge fan of The Cure and their work since I was a kid, and he just always struck me as a fascinating figure and incredibly talented artist, so it was amazing to exchange a few words.  For me, he is one of the biggest music icons of my generation.
Below is a photo of me with Robert Smith and my signed copy of The Top: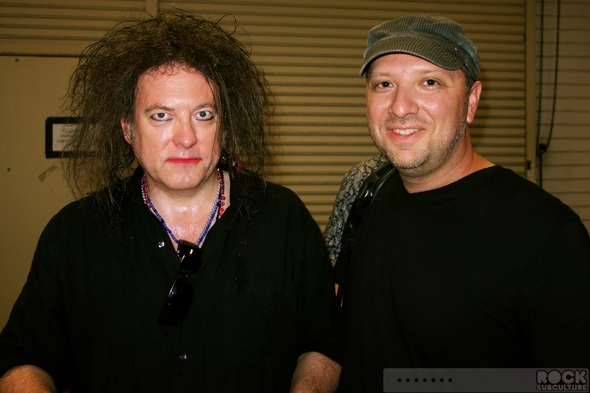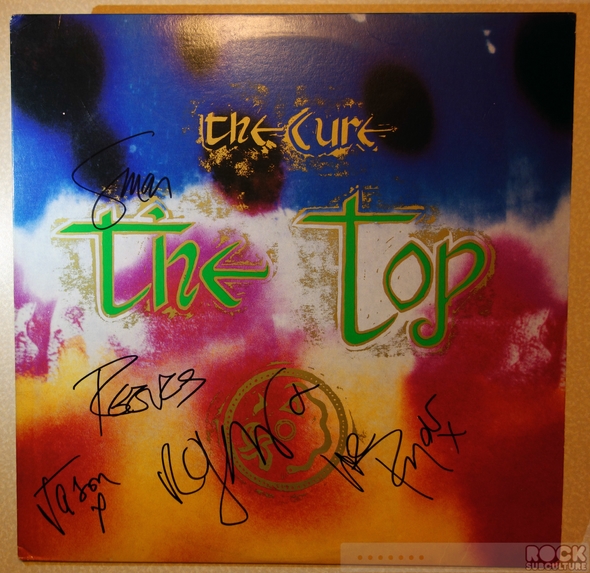 I thought it would be cool to get The Top signed, as last year I purchased (former band member) Porl's Roland JX-3P synthesizer, which was used during that era (1983-1985) and it appeared in most of the videos for their live concerts and TV appearances, so maybe someday I will work out a way to display it all together. Porl sold some of his gear from his days with The Cure at auction last year.  Below is a photo of Porl's JX-3P as it is today, and some screencaptures from it being played on The Tube in 1984: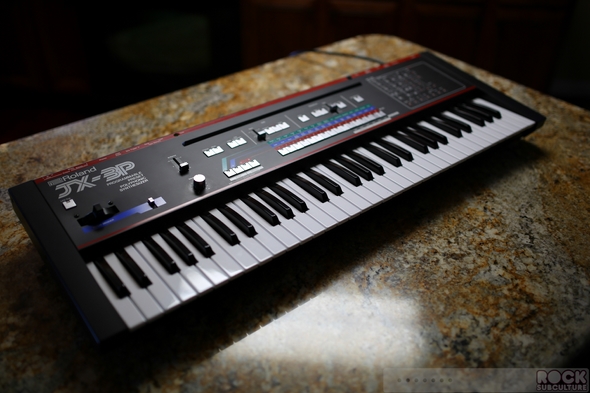 After the meet and greet, I raced into the venue to see and photograph Clones of the Queen, who came on stage just as I turned on my cameras.
Clones of the Queen
Members
Ara Laylo (vocals)
Paul Bajcar (guitar)
Matthew McVickar (electronics)
I was not familiar with Clones of the Queen prior to this show, and unfortunately didn't have time to preview their work in recent weeks, so had no idea what to expect. In short, the Honolulu band was amazing. Really love their sound and they rock it live. The funny thing is that their singer, Ara, at one point deep into their set remarked that she was nervous. Honestly, I thought they really belonged up on that big stage and never would have known had she not talked about her experience while performing at the Arena.
They describe themselves as striving "for spirited ambience and enjoy experimenting with structure, layering, and concepts", and  "[t]he name comes from the ant species Mycocepurus smithii, in which every individual is a genetic duplicate of the queen".
They put on an excellent show and I would certainly go to see them headline their own concert, and plan to follow them going forward.  Their music is something I would totally fall in love with if I'd found it outside the context of this concert. I can sort of "feel" some influences, but they don't really sound like anyone else.
If you visit their official site, you can follow a link to stream/download their latest EP for free, as well as purchase as part of a special limited edition, which is worth checking out and adding to your new music rotation.
Funny enough, I was standing side stage after their gig, waiting for The Cure to come on for their set, and Ara came out, so I had a chance to talk with her and her fiancee and they were the nicest people. She was kind enough to pose for a few photos (though in little light), which are the first two that follow below: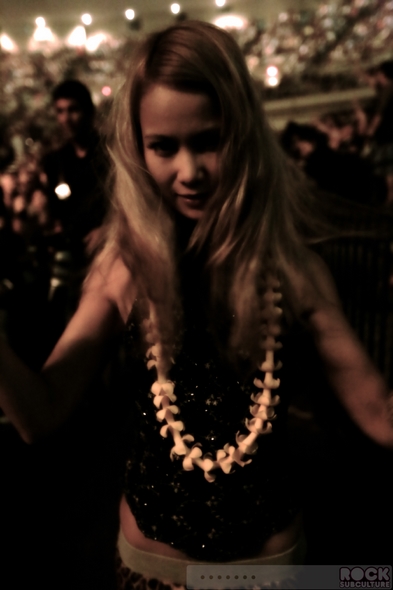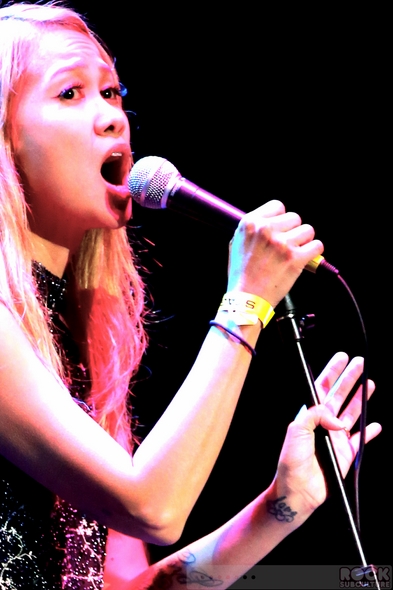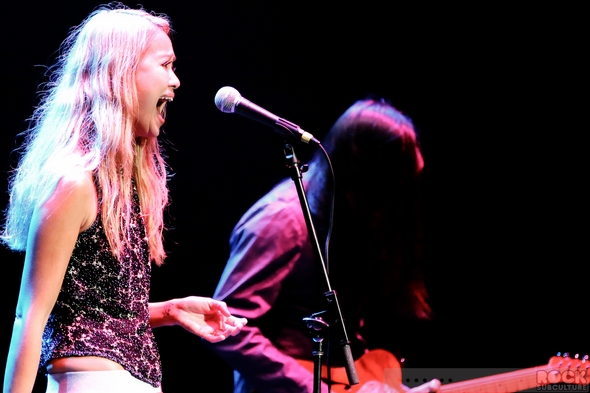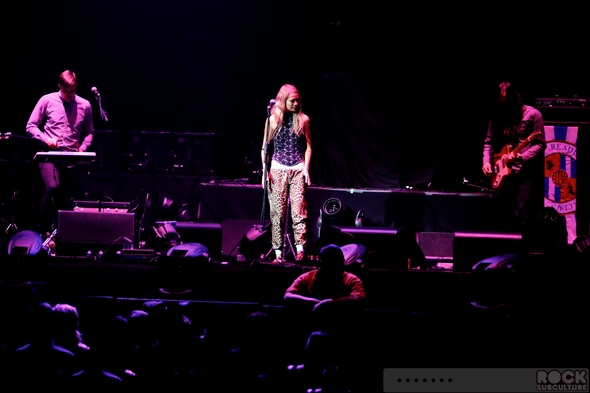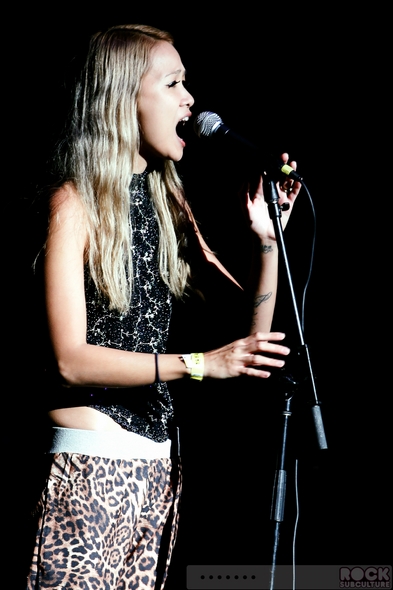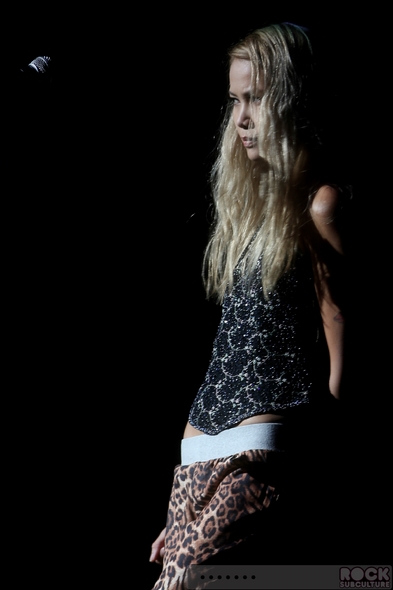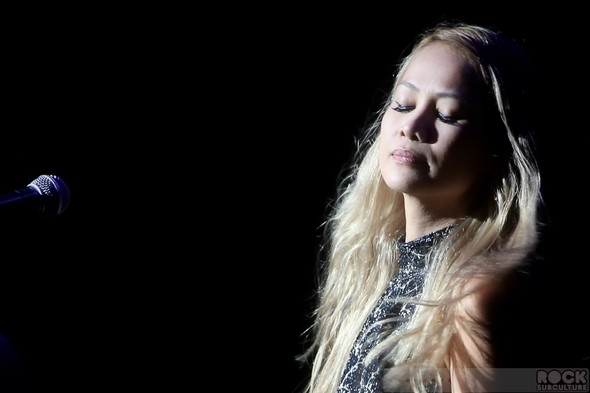 The Cure
Members
Robert Smith (vocals, guitar)
Simon Gallup (bass guitar)
Roger O'Donnell (keyboards)
Jason Cooper (drummer)
Reeves Gabrels (guitar)
I really don't even know where to begin with my background on The Cure. The British band was formed in 1976 and has had a variety of musicians come and go, with Robert Smith always fronting the band and being the face of the band as he has developed into quite a musical icon going back even to their early days.  Credited as one of the founders of goth, he has somehow always managed to interject some cheer into their works as well, going a bit against type and expectations, and even veering into some serious pop sounds.  Not a man to be stereotyped.
In many ways (as with some of the other artists I'm most fond of), I think Robert Smith is maybe too unique of an artist to ever be fully appreciated by the mainstream, though I suspect maybe as an artist he sees that as a compliment.
Growing up with the music of The Cure, it was a fixture in the soundtrack of my life, to be sure, with certain songs and albums always having an association with different times and experiences, memories.
One of my favorite albums growing up was the compilation, Staring At The Sea: The Singles, which I listened to countless times. Somehow The Cure put out album after album though, filled with amazing songs, time after time. Though very active and influential during the 80s, I don't really consider them "an 80s band". Their sound is really so unique it is timeless. It doesn't sound like New Wave. Like I said, they are really hard to categorize, as they don't sound like anyone, and no one has really emulated their sound either. Both instrumentally and vocally (with Robert Smith's incredibly unique voice and delivery), they stand alone.
I think for me they are at their core kind of a post punk/pop punk band. In addition to their sound is the tone and subject matter, which is pure Robert Smith at the core, and reflective of his unique vision of the world.  He is an amazing songwriter, and the results make me wonder if he approaches his songs as some form of poetry at some level.
Robert Smith has always struck me as having the nature of a puppy – kind of a pure and innocent view of the world… uncertain and with wild mood swings. I even get this from his performances, which are uniquely whimsical (or at least whimsical-like), which goes hand in hand with his unique vocal signatures, like the growling and dynamic and playful way of singing like no one else.
The band has definitely written and recorded some of my favorite songs of all time…  "A Forest", "Fascination Street", "A Night Like This", "Hot Hot Hot!", "Why Can't I Be You?", "Killing An Arab", "Primary", "Play for Today", and many others.   They suck you in with mood, catchy riffs, and more.  There aren't a lot of music artists who can craft songs that you can't get away from…  how do you hear the opening for "Fascination Street" and do anything but listen to the whole song?  With many other artists, some songs have good bits, or choruses, and maybe have some less interesting stretches – with The Cure, the songs are stellar from end to end…  the best of The Cure you just crank up the volume and let it envelope you; take you to a different place or give you a different perspective on the here and now.  Their music isn't pop crap – it is real art.  And to experience that live, in person, and hear it and feel the drum beat and the basslines and see the band on stage – a singular concert going experience.
I ended up in some of my friend Darrell's own photos from the show, so below is one of those to give an idea of my point of view after roaming the sides of the floor and shooting the first three songs with my pro camera gear – this is where I was able to enjoy the rest of the show (that's me in the lower left corner with the grey hat, in front of the security guard with the red shirt):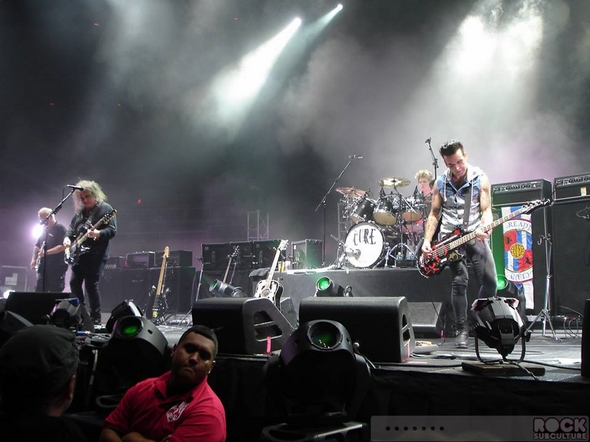 So it's probably best to lead into the show itself with the amazing set list, which framed the whole evening.
Below is a photo of Robert Smith's set list from the stage – one of the stage crew gave it to a fan in the front row, who was kind enough to let me photograph it for this article and to share with other fans of The Cure: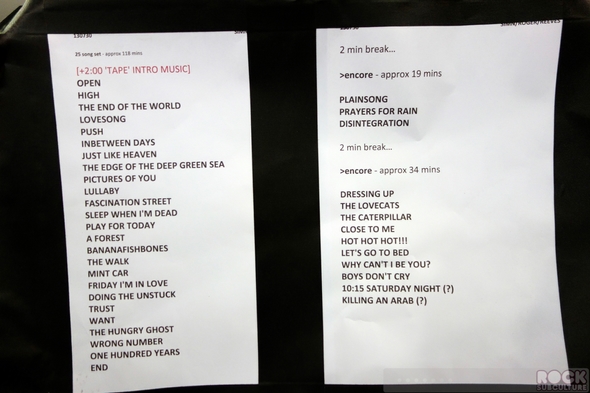 Below is the full set list…
Setlist:
1. Open
2. High
3. The End of the World
4. Lovesong
5. Push
6. In Between Days
7. Just Like Heaven
8. From the Edge of the Deep Green Sea
9. Pictures of You
10. Lullaby
11. Fascination Street
12. Sleep When I'm Dead
13. Play for Today
14. A Forest
15. Bananafishbones
16. The Walk
17. Mint Car
18. Friday I'm in Love
19. Doing the Unstuck
20. Trust
21. Want
22. The Hungry Ghost
23. Wrong Number
24. One Hundred Years
25. End
Encore #1
26. Plainsong
27. Prayers for Rain
28. Disintegration
Encore #2
29. Dressing Up
30. The Lovecats
31. The Caterpillar
32. Close to Me
33. Hot Hot Hot!!!
34. Let's Go to Bed
35. Why Can't I Be You?
36. Boys Don't Cry
37. 10:15 Saturday Night
38. Killing an Arab
The setlist really represents touch points throughout the career of the band.  Different eras (not just for the band, but those who have followed them as music was created, published, and released), different moods, different themes.  Maybe most interesting about it's kind of meandering and non-linear approach is that it all ends where it began – with their first single (the retrospectively politically controversial "Killing an Arab") and it's B-side (10:15 Saturday Night), which I have my own strong nostalgia-based associations with from the aforementioned Staring at the Sea singles album which I pretty much wore out.
What was missing?  Well, we all have our favorites.  Would have loved to have seen/heard "Three Imaginary Boys", "Charlotte Sometimes", "A Night Like This", "Never Enough", "Jumping Someone Else's Train", "Plastic Passion", "Accuracy", "Primary", "Like Cockatoos", "Speak My Language"…  I could go on and on, but obviously, that just shows how much material that they have to work with in putting together live shows.  Even with a 38-song setlist they can't hit everything that is obvious.
The first thing that struck me about the show is that the band seems like a really happy group and play amazingly well together. It was a very tight set and they replicated their sounds to studio quality performances. And the sound in the arena was great (which can be a challenge for multi-purpose indoor arenas). During the meet and greet, one of the band members even remarked to me that it was the first indoor show they've done in some time, since they've been on the festival circuit of late.
Though Robert Smith is the individual most associated with the band, each of the current members have amazing careers in music themselves, with and without The Cure.  Simon Gallup on bass goes back to 1979 with The Cure, while Roger O'Donnel joined on keyboards in 1987, though also was a member of Thompson Twins and The Psychedelic Furs.  Jason Cooper starting working with The Cure on drums in 1995, and has also done work in composing music for film.  Reeves Gabrels has an extensive work in the industry, including Grammy Award nominated work with David Bowie, and he started collaborating with The Cure in 1997.  All were fantastic last night.  A really stellar line-up for the band, and phenomenal live.
It was really a world class performance, from the minimalist staging to the foggy, colorful lighting and the "down to business" rocking attitude of the band.
A lot of rock concerts result in mixing various instruments and vocals to where things become kind of a wall of sound and a bit of a distorted (in the worst way) mess, but with The Cure show last night, all of the different parts were distinct and separate and everything sounded fucking amazing.
I also have to make special mention about Simon on bass guitar… brilliant.  With a lot of bands the bass is not much more than a bassline in the background, but it is vital with The Cure and especially with most of their songs, and it was some of the best bass playing I've heard in some time. Stellar.  On stage, Simon also brings a lot of life to the show visual, as he prowls around during the songs, while the other members are fairly tied to their respective stations.
Robert Smith rarely left his center mic position, since he is singing and playing guitar, there's really not much opportunity.  Of course, he has his entertaining on stage flourishes with gestures and facial expressions, which I had the benefit of fully appreciating being right up front.
I think it was after he returned for the first of two encores that Robert Smith kind of made his way around the edges of the stage to express some gratitude to the fans in all parts, in his earnest sort of way.
It's hard to pick out highlights, as the whole thing was like a never ending "am I really here experiencing this?" kind of an event.
The audience – a mix of locals as well as fans from all over the globe – was really quite great.  Nearly everyone was on their feet from start to finish, and you could feel the energy in the room in the same way you could feel the warm humidity outside of the arena – warm and palpable.
The whole thing was like a giant celebration of all things The Cure.  Definitely a life long, concert going experience for me that will always be remembered, and remembered vividly.
Below are some photos of The Cure performing on stage, and some shots in and around the venue (click any image for higher resolution versions of each photo):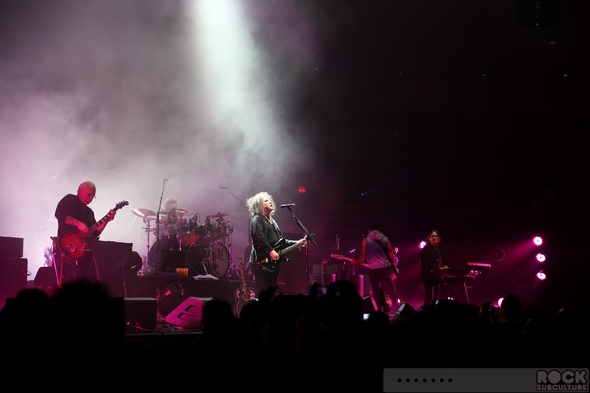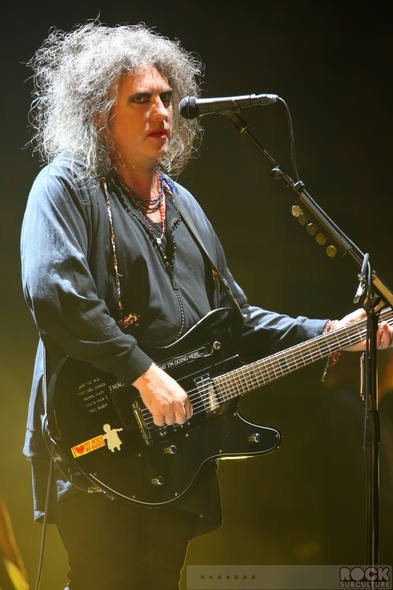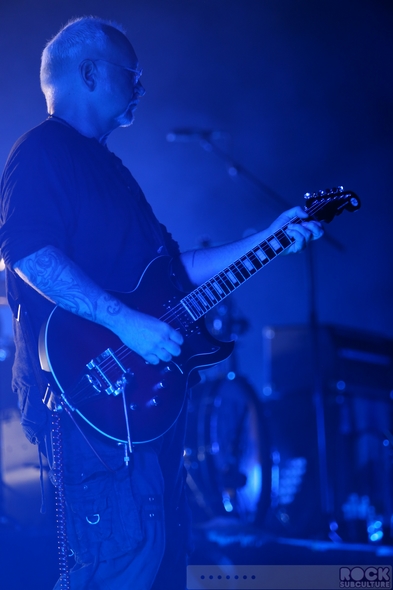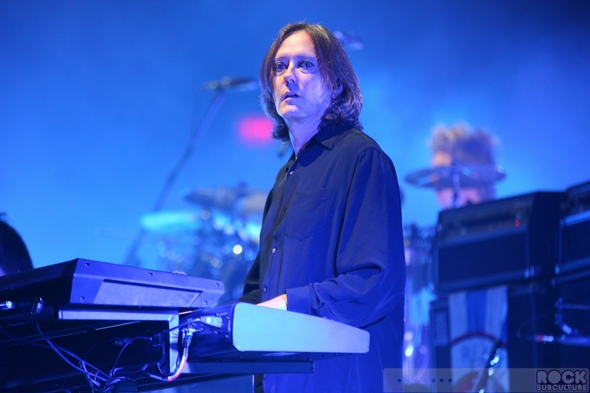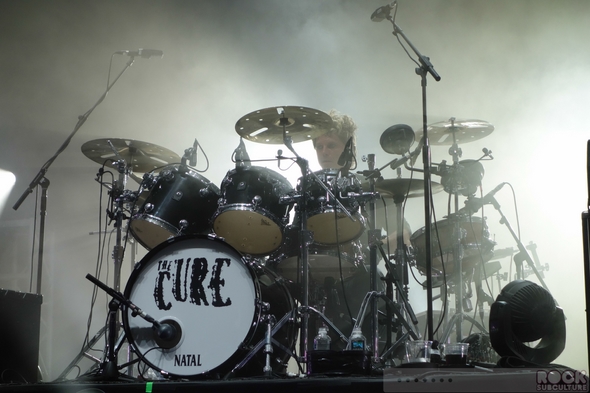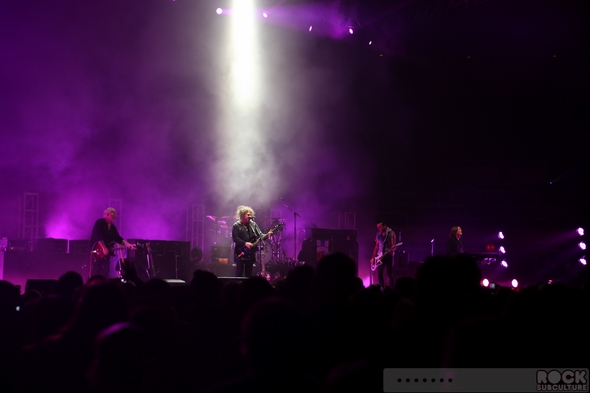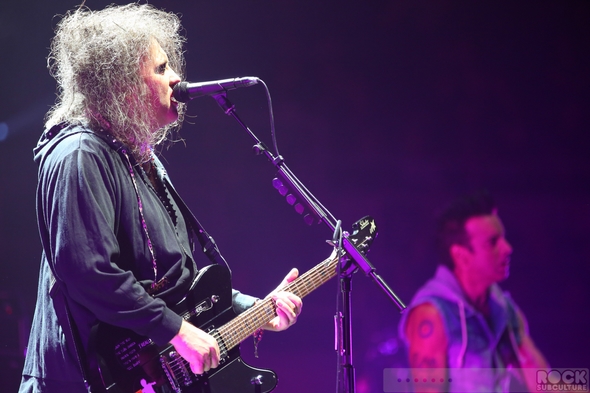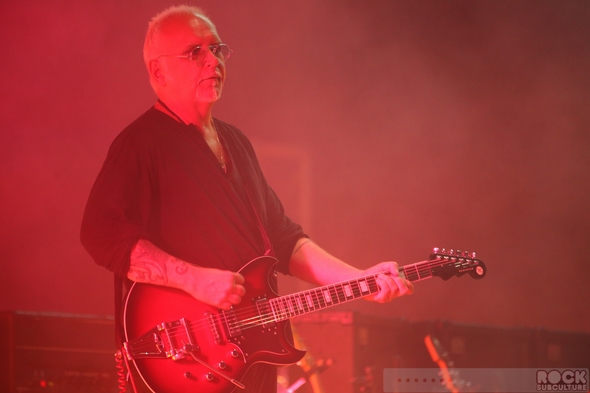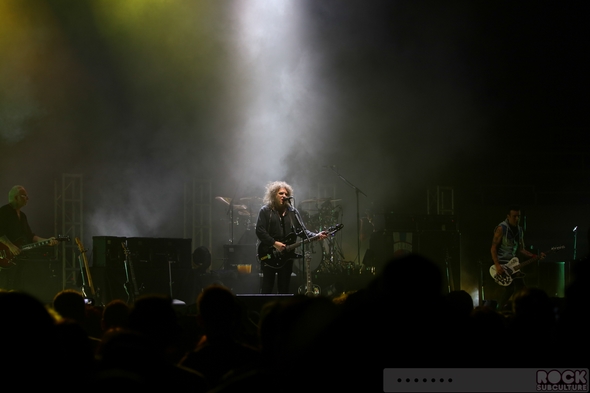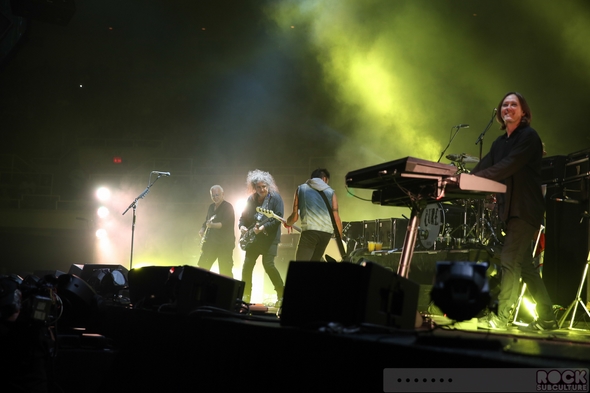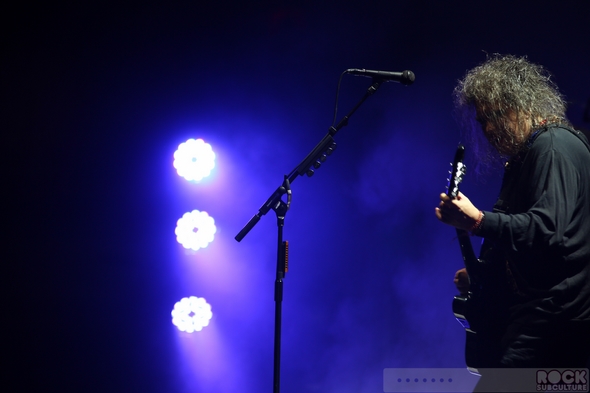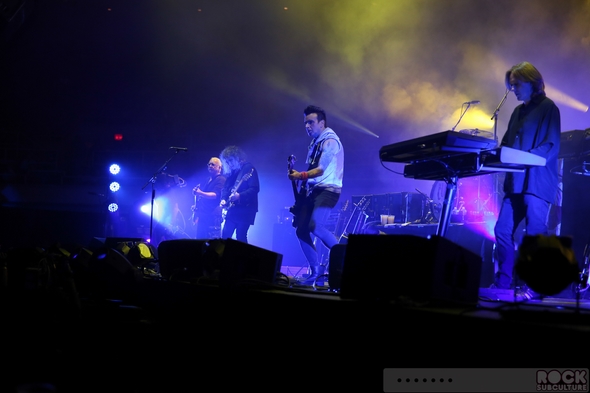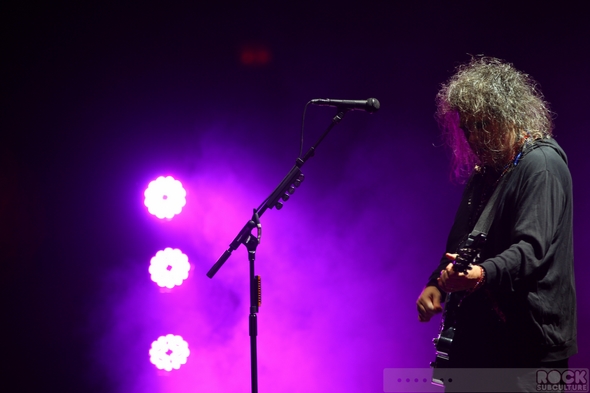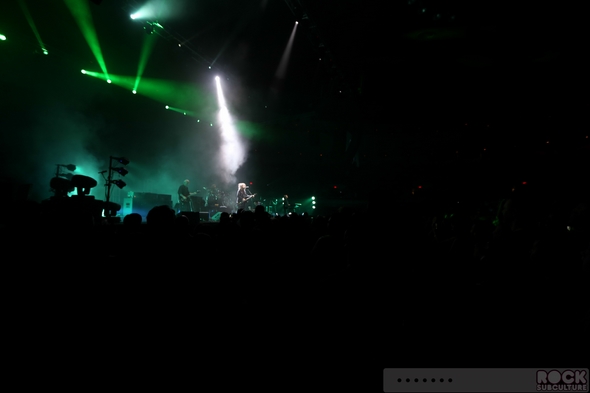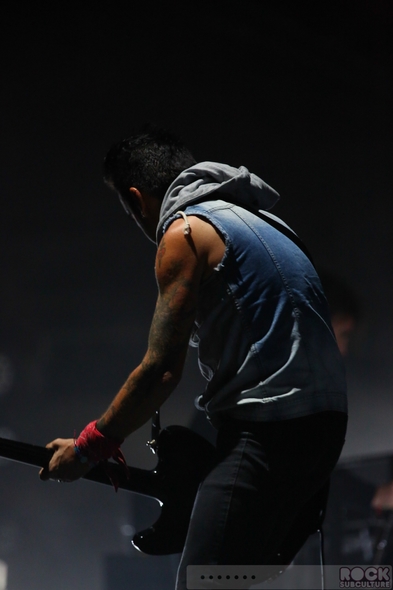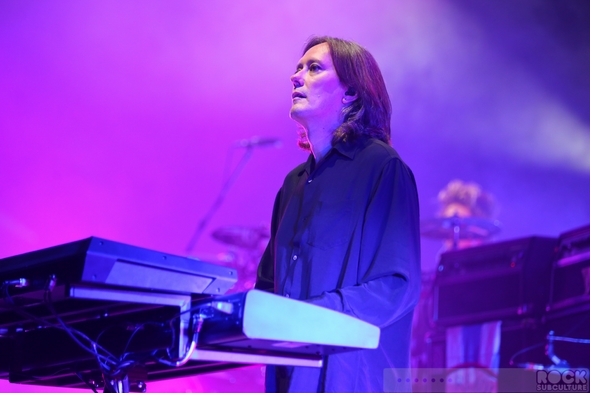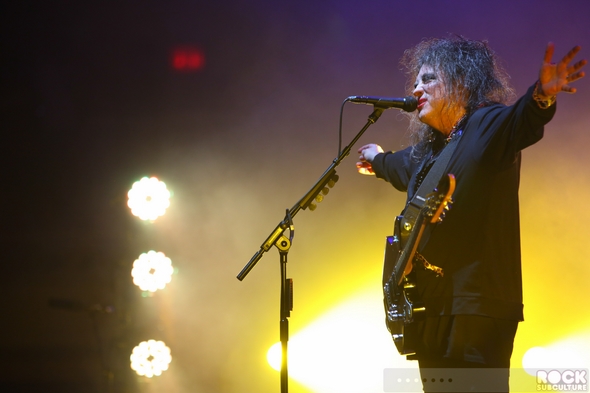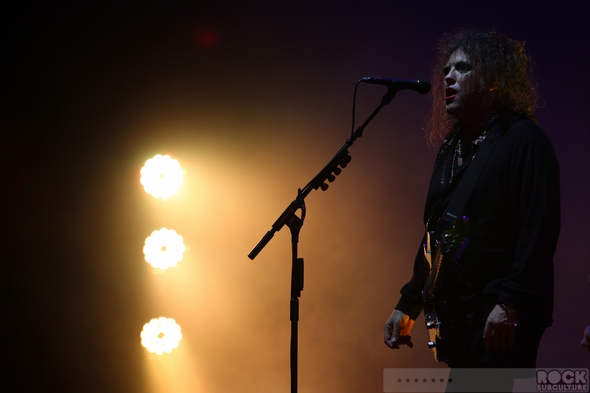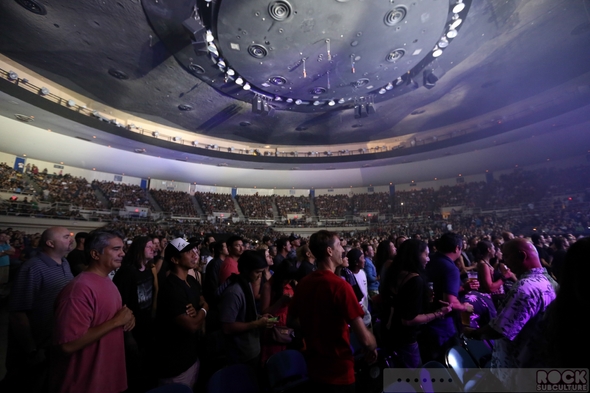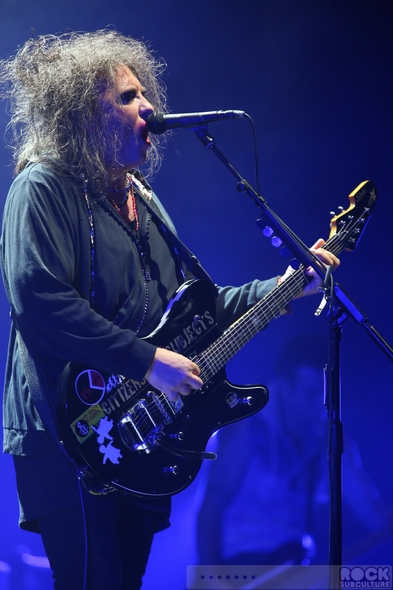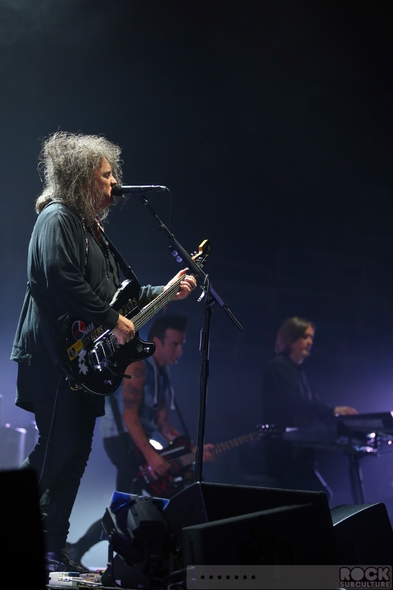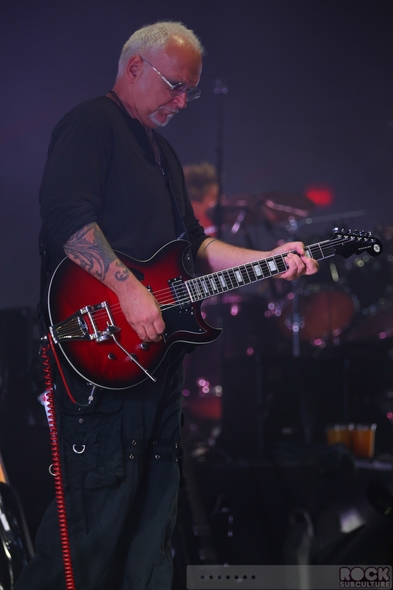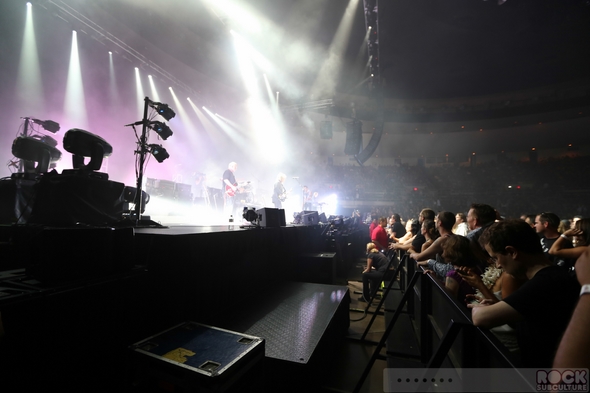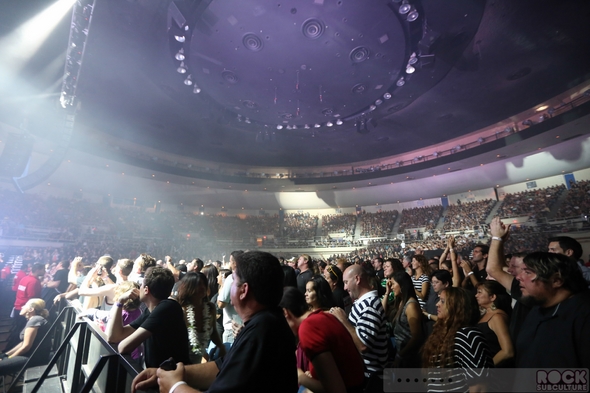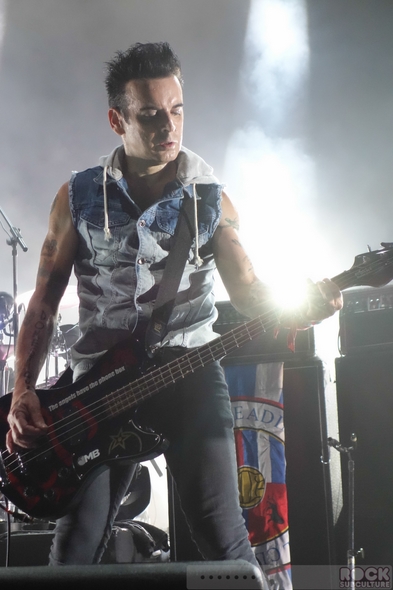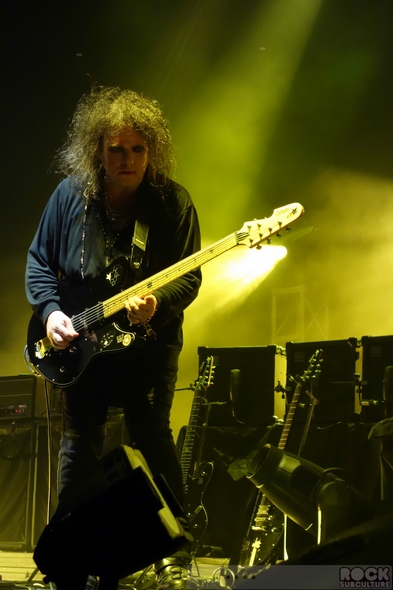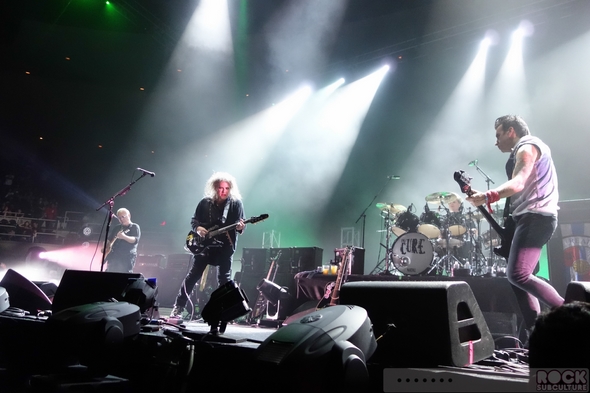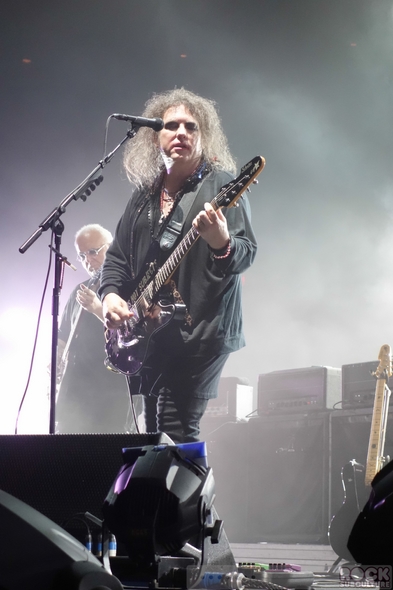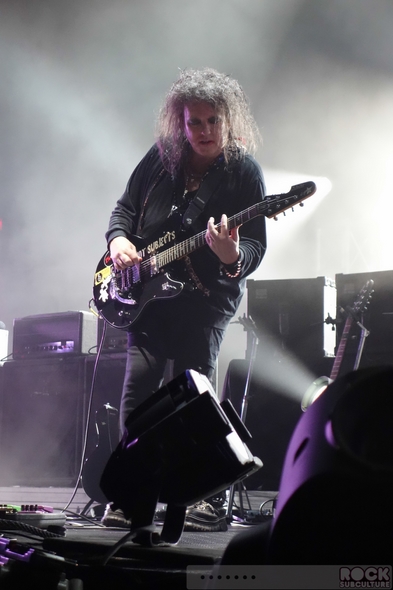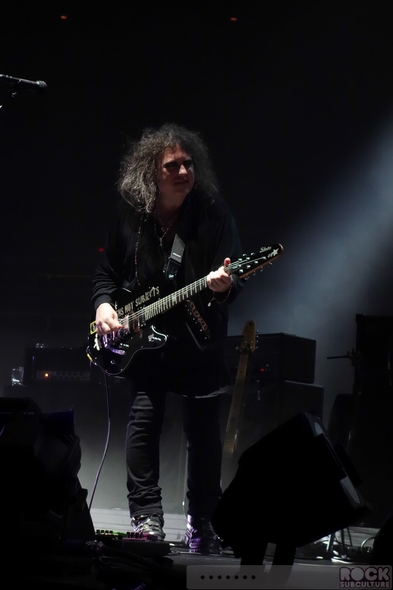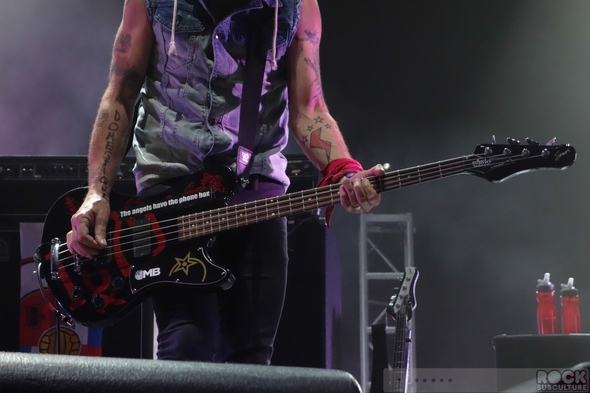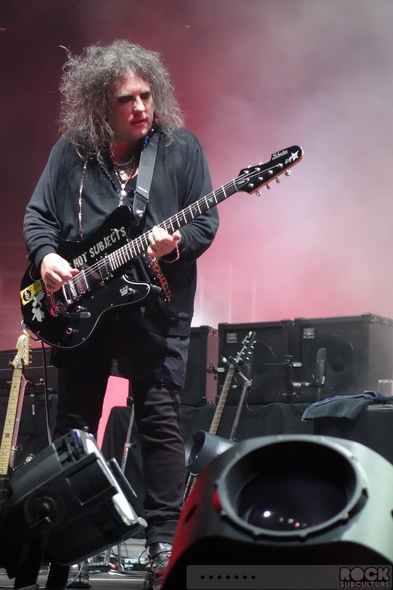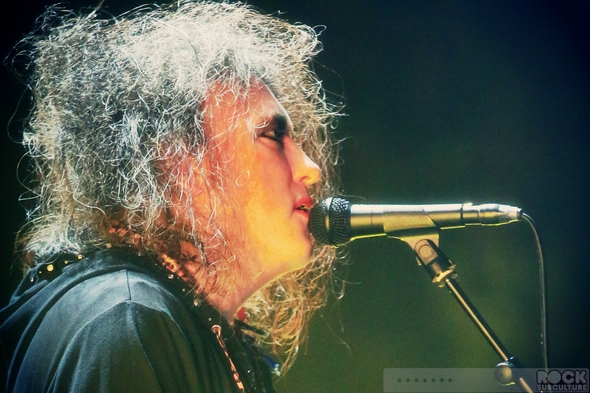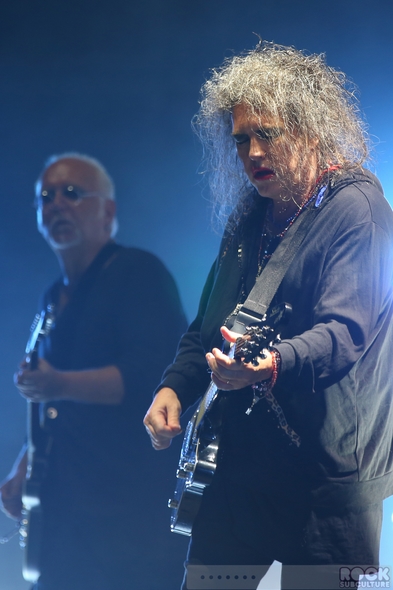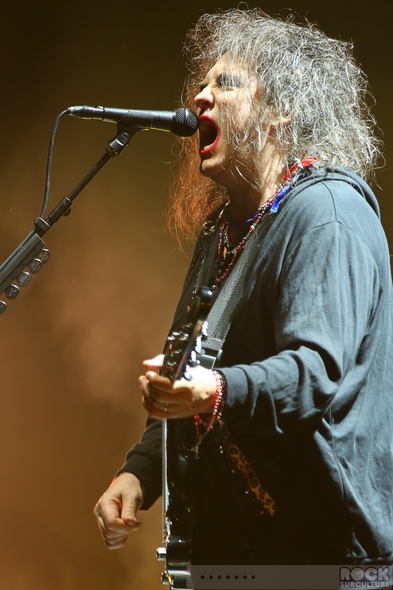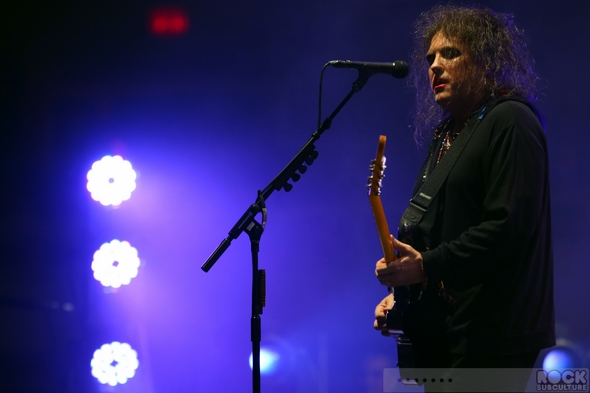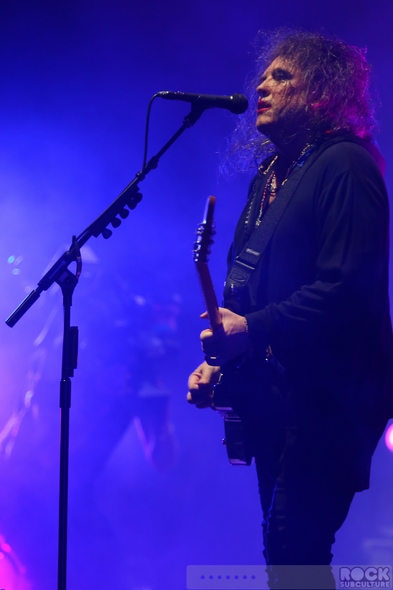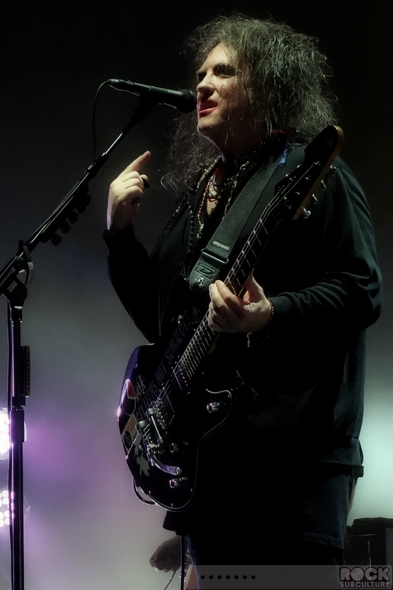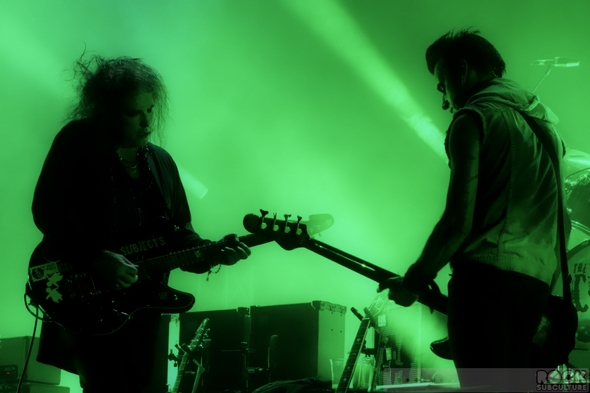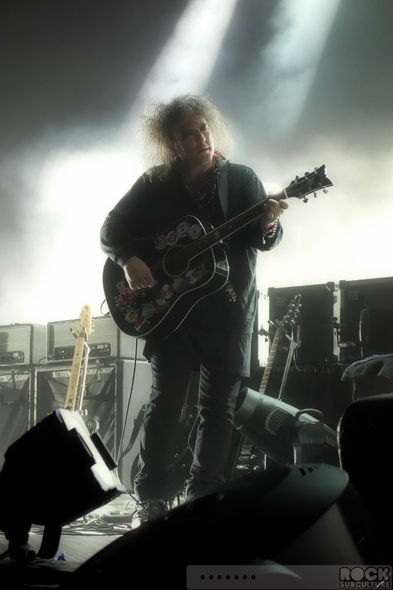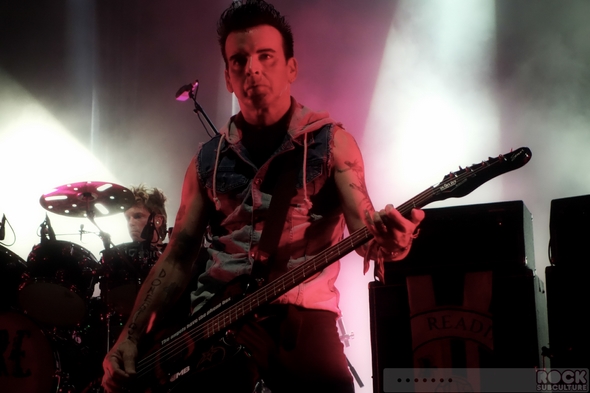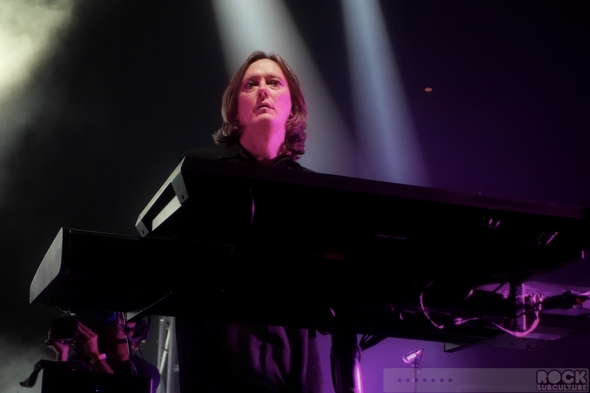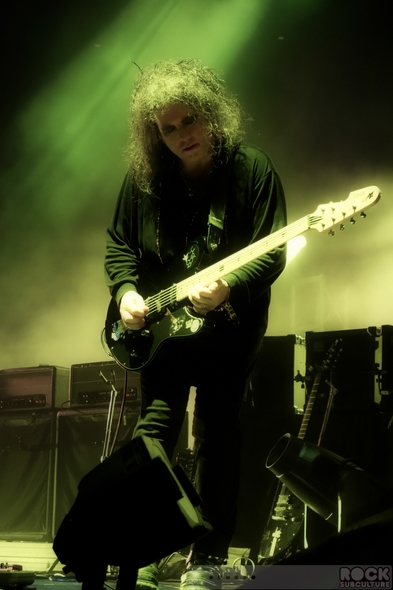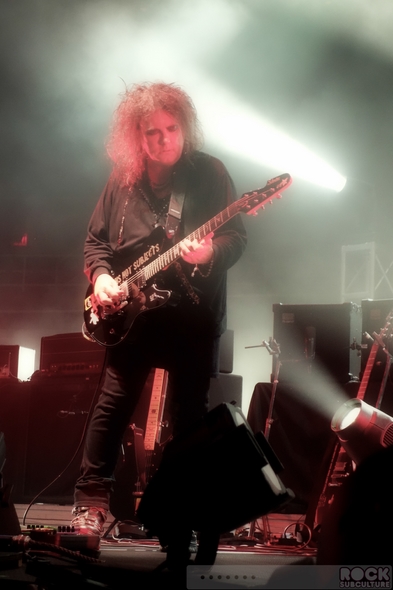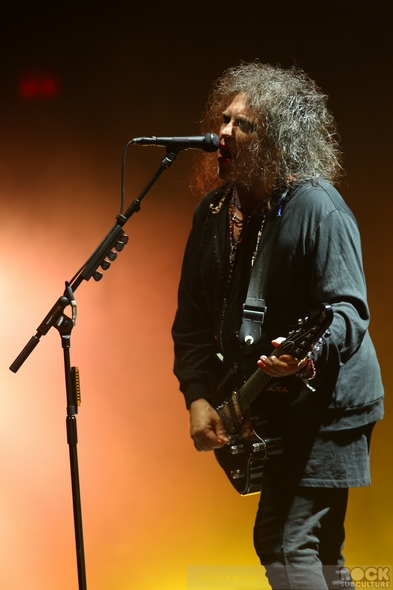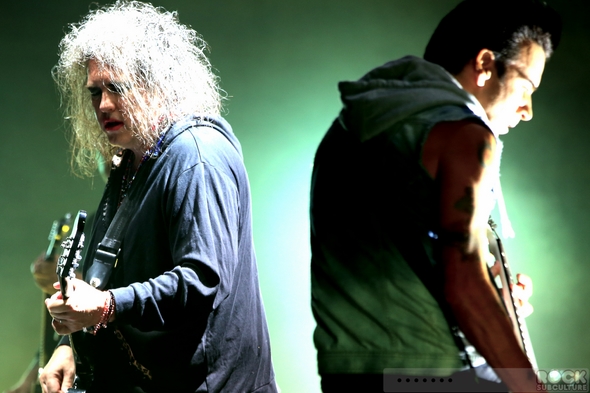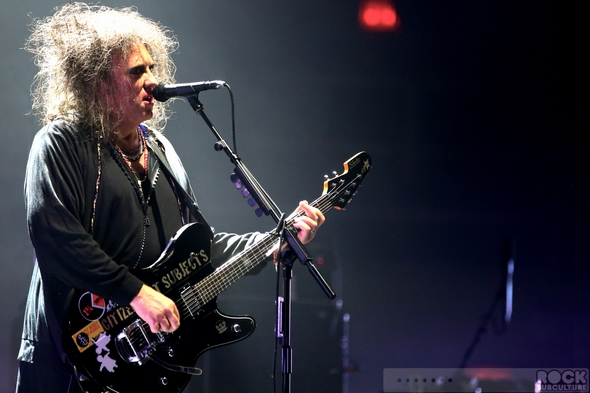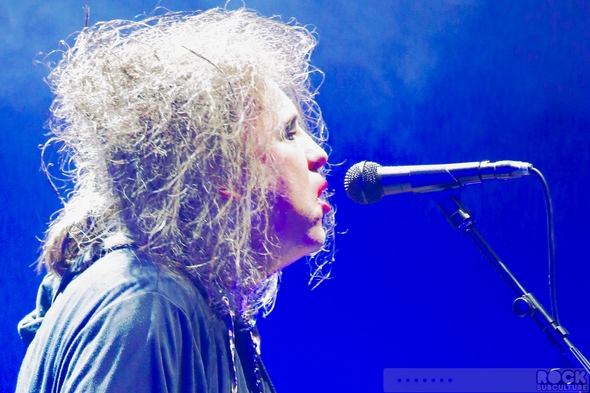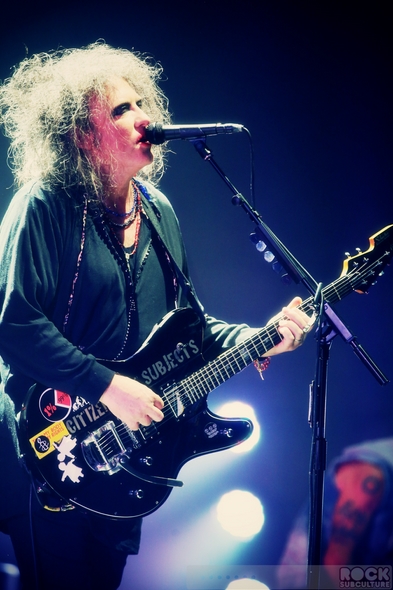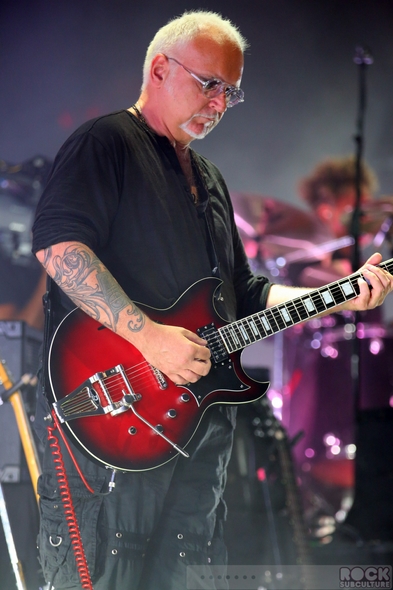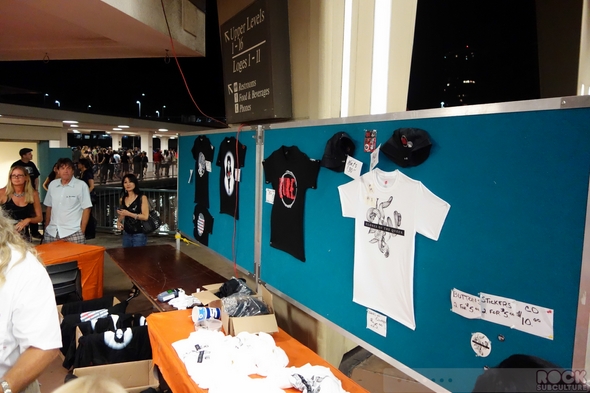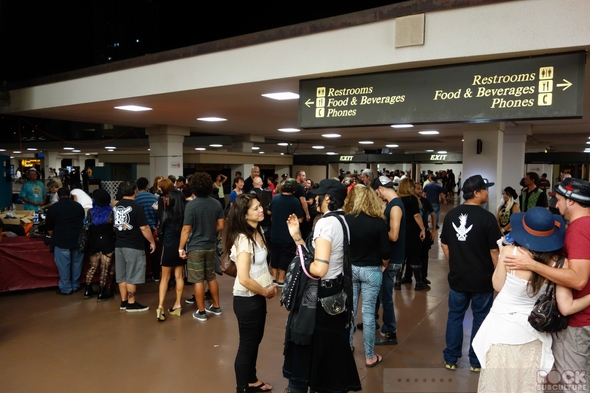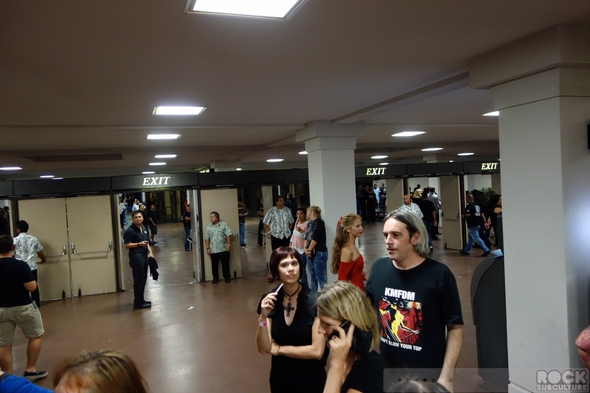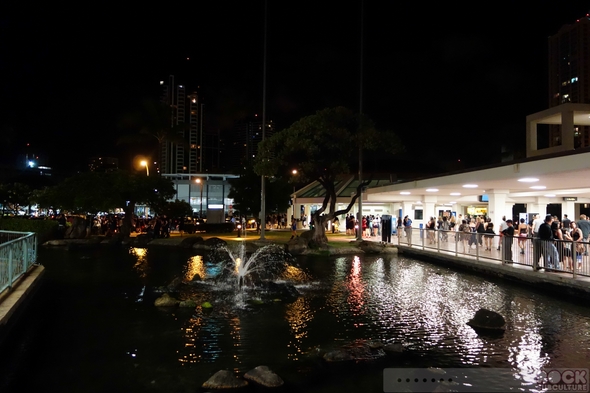 Jason DeBord